Music streaming application Spotify Technology SA has grown to exponential heights since its launch in 2008 – with 299 million monthly active users now under its belt.
With the company going public in mid-2018 – you can now buy shares in Spotify from the UK. All you need to do is open an account with an FCA broker that gives you access to the Ney York Stock Exchange.
In this guide, we show you how to buy Spotify shares online in the UK. We'll also discuss which FCA stock brokers allow you to do this in the easiest and most cost-effective way – alongside some background information on Spotify shares and how they've been affected by the covid pandemic.

Buying US-listed stocks like Spotify from the UK is actually very simple. This is because there are dozens of FCA stock brokers that allow you to invest in foreign companies online.
However, you need to look at several other factors before choosing an online broker – such as dealing fees, payment methods, and user-friendliness.
To ensure you are able to buy Spotify shares online in the UK in a simple and low-cost manner – below you will find two hand-picked trading platforms that stand out from the crowd.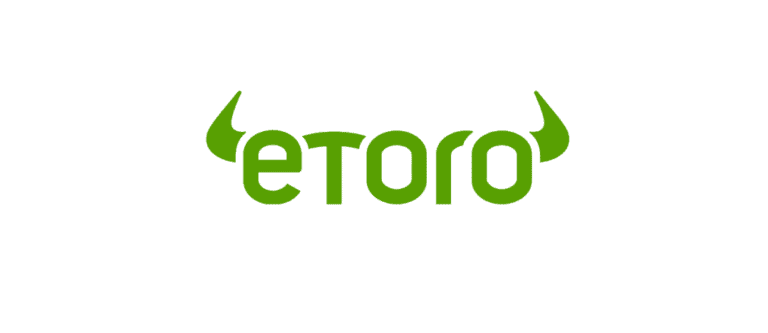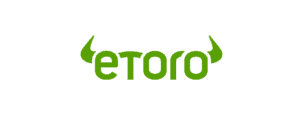 eToro is arguably the best low-cost stock broker in the UK. This popular trading platform now boasts 13 million active traders – all of which benefit from a 100% commission-free experience. In other words, you can buy, sell, and trade at eToro without paying a single penny in dealing fees. This is the case across 1,700+ shares and 17 stock exchanges.
Crucially, with hundreds of listed companies from the New York Stock Exchange, eToro allows you to buy shares in Spotify with ease. In addition to this, you can invest in firms listed in the UK, France, Canada, Sweden, the Netherlands, Saudi Arabia, and more. The minimum amount that you will need to invest in Spotify is just $50 at eToro. This is great, as the firm has a current stock price in excess of $266.
As such, eToro allows you to buy a 'fraction' of a Spotify share. Although this trading platform stands out for its low-cost pricing model, there are several other benefits of using eToro. For example, the platform offers an abundance of educational materials and an all-round user-friendly experience. You will also have access to a fully-fledged mobile app – which allows you to buy and sell shares while on the move. This is available on both iOS and Android devices and can be downloaded free of charge.
Additionally, eToro also offers an innovative Copy Trading service that allows you to 'copy' an experienced investor. Every stock that the investor buys and sells will subsequently be mirrored in your eToro portfolio. This comes with no extra fees or commissions. Getting started at eToro takes minutes and requires a minimum deposit of just $200. Supported deposit methods include debit/credit cards, e-wallets, and a bank transfer. Finally, eToro is partnered with the FSCS and licensed by the FCA.
Pros:
User-friendly online stock broker
Buy shares without paying any commission or share dealing charges
1,700 + shares listed on UK and international markets
Buy shares or trade CFDs
Social and copy trading tools
Accepts PayPal
Mobile trading app
Holds an FCA licence
Cons:
Not suitable for advanced traders that like to perform technical analysis
67% of retail investor accounts lose money when trading CFDs with this provider.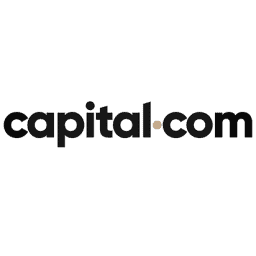 Looking to access Spotify shares in a more sophisticated manner? If so, you might want to check out Capital.com. This UK stock trading site specialises in CFDs (contracts-for-differences) – which allows you to trade Spotify shares as opposed to owning them outright. The CFD stock will simply mirror the real-world stock price of Spotify on a second-by-second basis. In turn, this allows you to trade Spotify in a 100% commission-free manner.
Additionally – you will benefit from industry-leading spreads. At the time of writing, $0.71 – or about 0.26%. With that said, trading Spotify CFDs at Capital.com provides so much more than just a low-cost entry to the stock market. On the contrary, you can also apply leverage of up to 1:5. This means that you can trade with five times the size of your account balance. Furthermore, by trading Spotify CFDs – you will also have the option of 'going short'.
For those unaware, this means that you will be predicting that the value of Spotify shares will go down. This is great if you think that the shares are overvalued or that a market correction is imminent. Outside of its stock CFDs, Capital.com also allows you to trade forex, indices, commodities, and cryptocurrencies. If you have little experience of trading online, Capital.com has your back. On top of educational resources and a dedicated learning app – the platform also offers demo trading facilities.
This allows you to trade with paper funds – meaning that you are not risking your own capital. In terms of getting started, Capital.com allows you to set up an account with a minimum deposit of just £20. To benefit from this low minimum you will need to deposit with a debit/credit card or an e-wallet like Paypal. You can get the ball rolling online or via the Capital.com stock trading app. Finally, Capital.com is licensed by the FCA and thus – your funds are protected.
Pros:
Trading on hundreds of US and UK shares
Educational app for new traders
AI assistant identifies your weak points
Trade ideas generated daily
Excellent charting and analysis interface
100% commission free trading
Cons:
Cannot build custom trading strategies
75.26% of retail investor accounts lose money when trading CFDs with this provider.
Step 2: Research Spotify Shares
It's been a topsy-turvy start to life as a PLC for Spotify – with various ups and downs since its 2018 IPO. This new-age company operates in somewhat of a niche market – albeit, it is already home to hundreds of millions of active users.
There is, however, a long way for this music streaming application to go – especially in terms of operating income. After all, it wasn't until 2019 – a mere 11 years after the app was launched, that Spotify first managed to turn a profit.
As such, we would suggest taking a closer to look at Spotify before making an investment. In the sections below, we'll cover some background information on the firm including its share price history – alongside a brief discussion on what the future potentially holds for the stock.
What is Spotify?
Launched in 2008 in Stockholm, Sweden, Spotify Technology SA is a music and audio streaming app. It gives users from more than 90 countries access to a music library of over 60 million songs at the click of a button. Users are able to download the Spotify app free of charge on both Android and iOS devices – as well as via desktop software. In terms of its revenue model – this can be described as a 'Freemium' service.
This means that it is able to make money in two key forms – advertisements and paid-for subscriptions. Regarding the former, those that choose to remain a free user of Spotify will be subjected to regular advertisements. Furthermore, free users face certain limitations – such as not being able to select specific songs from within an album.
Instead, free users must listen to music on shuffle-mode. Although this part of the Spotify business model is fee-free for the user, the firm is able to generate revenue via its advertising partners. With that said, this provides a very small segment of Spotify's overall turnover. Instead, the company makes the vast bulk of its operating income from its monthly subscription service. Of its 299 million monthly active users (as of June 30th 2020), 138 million are paid premium subscribers.
The specific fee charged can depend on the user's location, albeit, in the US this averages $9.99 per month. There are also accounts for students and families – both of which come at different prices. Of the revenue that Spotify generates, it keeps 30%. The rest is distributed to those behind the content – i.e. artists and/or record companies.
Spotify Share Price History & Market Capitalisation
So now that you what Spotify Technology is and how its business model works – we now need to look the firm's historical price action. Firstly, Spotify went public in April 2020. Opting for the New York Stock Exchange (NYSE) as opposed to the tech-orientated NASDAQ, its shares opened up at just under $166. This price-point was well above the $132 reference range put forward by Morgan Stanley.
Nevertheless, the shares then went on a somewhat uninspiring run over the course of the proceeding few months – reaching $192 in August. Although this represents an IPO upswing of 15% – this was a far cry from market expectations. Furthermore – and perhaps most importantly, Spotify shares run out of gas at the $192-mark, with the trend subsequently moving in the opposite direction.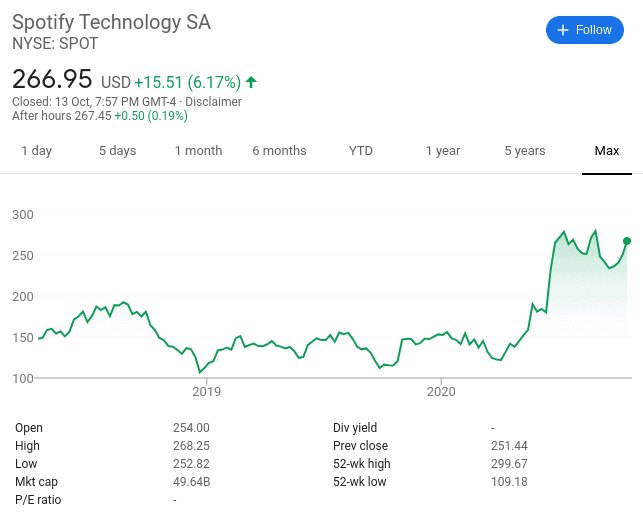 In fact, the shares hit all-time lows of $106 in December 2018. This translates into a loss of 44% from its initial IPO price of $166. The good news, however, is that Spotify stock has been moving in an upward trajectory ever since. At the time of writing, you'll need to $266 for a single stock. This is a turnaround of 150% from its $106 lows and a 60% upswing from its IPO listing price.
We should note that much of the stock's success has started in March 2020. This is because the stocks went from $133 to $300 in just 6 months of trading. Although the shares have since cooled off slightly, this does offer new investors the opportunity to enter the market at a more favourable price.
Spotify has a current market cap of 49.885B.
Spotify Shares Dividend Information
It likely won't surprise you that Spotify is not a dividend stock. Not only did the firm only go public in 2018 – but it only turned a profit for the first time in 2019. As such, this growth stock likely won't be paying a dividend for many, many years. Instead, an investment in Spotify offers great upside potential in terms of stock price growth.
Looking for the best dividend stocks of 2020? Read our guide on which dividend stocks are worth considering.
Should I Buy Spotify Shares?
There is a lot to consider when investing in a growth stock like Spotify. One the one hand, the upside potential is much higher than you will find with an established blue-chip stock like IBM or AstraZeneca. However, as are the risks. To ensure you have a full birds-eye view of what to expect when you buy Spotify shares for the first time – below we outline some important information to consider before parting with your money.

Note: Spotify reports its financial results in euros – even though the firm has its shares listed in the US. 
The Financials
First and foremost, let's take a look at the financials. In its most recent earnings report, Spotify reported revenues of €1.9 billion – representing an increase of 13%. At 138 million paid subscribers, this translates into an increase of 27%.
This is highly fundamental when you consider the wider impact of the coronavirus pandemic – i.e. job losses, furlough schemes, and all-round cutbacks on non-essentials.
So far, so good. However, investors should be concerned about the firm's mounting losses. Q2 results showed an operating loss in the region on €167 million. Although losses were expected by the markets anyway – it was anticipated that this would be in and around €63 million.
Strong Competition
On the one hand, Spotify has done extremely well to attract 299 million users – with 138 million of this future translating into fully-fledged paying customers. As per the research conducted by MIDia in June 2020 – this means that Spotify holds the lion share of the estimated 400 million customer base that pays for music streaming services. At 36%, this is miles ahead of Apple and its iTunes service.
However, Apple Music- alongside tech stocks like Amazon and Alphabet – do possess certain advantages over Spotify. For example, each of the aforementioned tech firms carries significant free cash flows that give them the required ammunition to increase its market share with relative ease.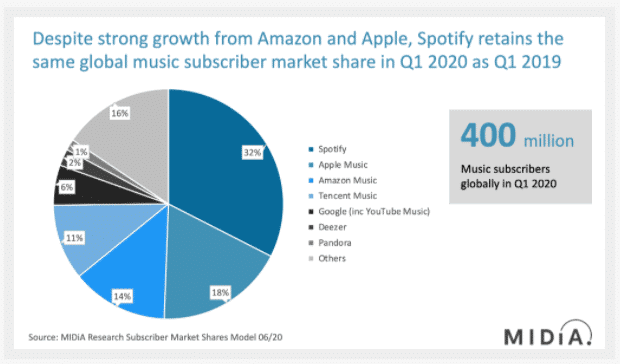 In addition to their strong cash flow positions, the likes of Apple and Amazon each have the added benefit of a multi-billion device base. That is to say, Apple is home to 1.4 billion device owners – whether that's in the form of iPhones, iPads, iPods, or its Mac desktop range.
This means that the firm has a ready-made audience that could be persuaded to make use of its music streaming services. Then you have Amazon – which has its speakers and smart devices in millions of homes around the world. All in all, while Spotify sits comfortably at the top of the music streaming tree – it has substantial competition on its hands.
Podcast Domination
Spotify has made its intentions clear that it aims to offer more than just music streaming services. At the forefront of this is its aggressive exposure to the multi-billion dollar podcasting scene. This includes the recent acquisition of leading YouTube podcast the Joe Rogan Experience – in a deal that was reported to be worth in excess of $100 million.
With that said, this is minute in comparison to some of the other podcast acquisitions the firm has made to date. For example, Spotify spent nearly $419 million buying the rights to podcast network Gimlet, Anchor, and Parcast in 2019, and a further $211-ish million on The Ringer.
While these figures might at first glance appear somewhat uncanny, it is important to remember just how many listeners regulatory tune in to popular podcasts. For example, Joe Rogan alone attracts 190 million listeners per month. This translates into significant potential for Spotify in terms of increase subscriptions and marketing revenues.
Step 3: Open an Account and Deposit Funds
Finished researching Spotify shares and wish to proceed with an investment right now? If so, we are going to walk you through the process step-by-step. To clarify, you will need to open a brokerage account with your chosen trading site – deposit some funds, and then complete a Spotify share order.
If you've never done this before, we are going to show you the process with commission-free, FCA-regulated platform eToro.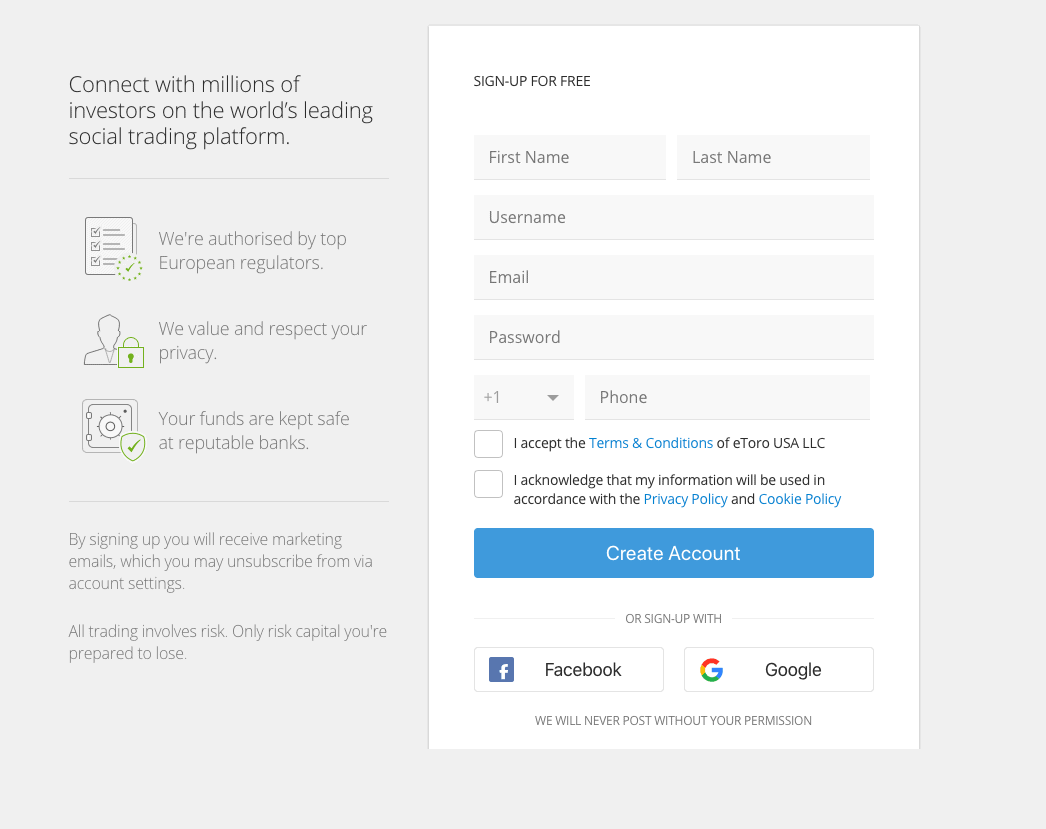 Opening an account at eToro takes just a couple of minutes. Simply visit the eToro website, click on the 'Join Now' button, and enter some personal information.
This includes:
Full name
Nationality
Date of birth
Home address
National insurance number
Contact details
Username and password
Next, you will be asked to upload some identification documents. This ensures that eToro remains compliant with anti-money laundering laws and the regulations imposed by the FCA. As such, quickly upload a copy of your passport or driver's license. In addition to this, eToro also needs a document proving your home address. This can either be a utility bill or bank account statement issued within the last 3 months.
Note: You can upload the above documents at a later date if you do not plan on depositing more than $2,250 right now. 
Once you've uploaded the above documents, it's then a case of meeting a $200 minimum deposit.
You can choose from the following payment options:
Debit cards
Credit cards
Bank transfer
Skrill
Paypal
Neteller
Note: All of the above payment methods are credited instantly – apart from a bank transfer. 
Step 4: Trade or Buy Spotify Shares
Now it's time to buy Spotify shares with your funded eToro account. First, enter 'Spotify' into the search box. When the Spotify logo pops up like the below – click it.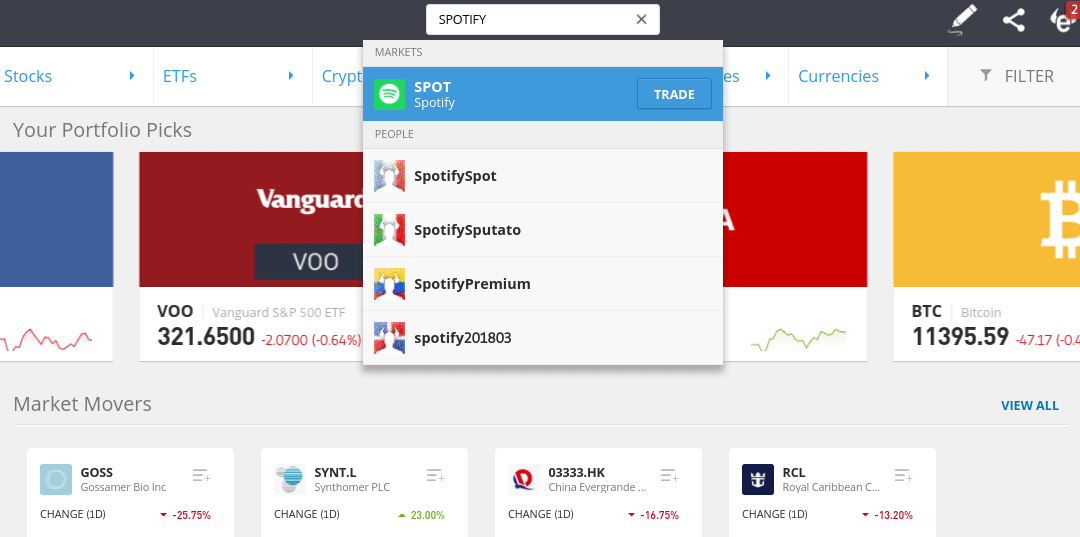 On the next page, click on the 'Trade' button.

An order box will now populate. This simply requires you to enter your total investment amount – in USD. As noted above, the minimum investment is just $50 – meaning that you can buy a fractional share of Spotify.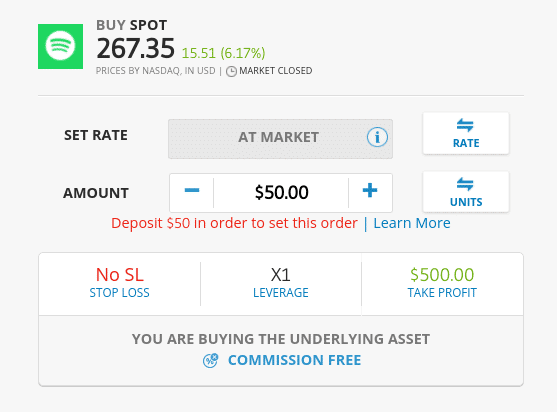 Finally, click on the 'Open Trade' button to complete your commission-free purchased of Spotify stock.
Spotify Shares Buy or Sell?
Spotify is a young and exciting tech company that arguably – could be worth significantly more in the distant future. In fact, there is every chance that in years to come you will look back in disbelief that you had the possibility to buy Spotify shares when the firm was valued at $49 billion.
Crucially, the application is now home to over 299 million users – with Spotify holding the lion share of the paid-for music streaming scene. On the other hand, Spotify is still reporting mounting losses – so this investment is not free of risk and uncertainty.
On the contrary, there is no guarantee that the firm will continue to dominate the industry – especially when you look at the prowess and financial strength of its main competitors – Apple and Amazon.
The Verdict?
Buying Spotify shares online in the UK is a process that can be completed quickly, safely, and cheaply when using a trusted broker like eToro. The platform allows you to do this on a 100% commission-free basis without you needing to pay any ongoing fees.
Best of all, although Spotify shares are currently priced in excess of $266 each – eToro allows you to invest from just $50 through fractional ownership. By following the steps outlined in our walkthrough above – you can complete the Spotify share investment process is less than 10 minutes.
Simply click the link below to get started!
eToro – Buy Spotify Shares With Zero Commission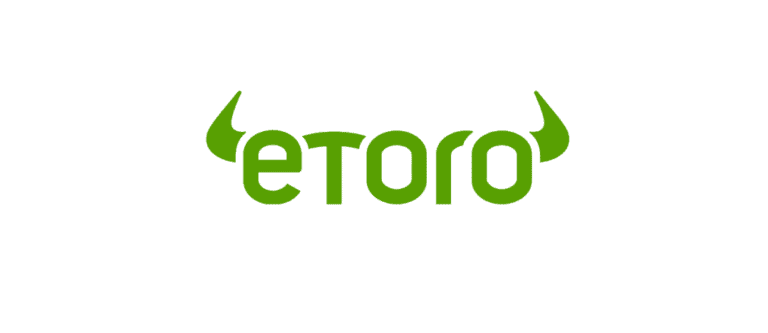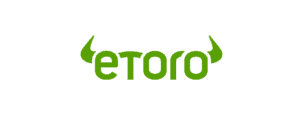 67% of retail investor accounts lose money when trading CFDs with this provider.
Other Tech Shares
Looking to invest in other tech shares? Check out the companies below.
FAQs
[sc_fs_multi_faq headline-0="h3″ question-0="How many people use Spotify?" answer-0="As per its Q2 earnings report, Spotify is home to over 299 million users. Of this, 138 million are paying customers. In turn, this means that Spotify currently holds a market share of 36%.       " image-0="" headline-1="h3″ question-1="What stock exchange are Spotify shares listed on?" answer-1="Spotify is listed on the New York Stock Exchange under the ticker symbol SPOT.   " image-1="" headline-2="h3″ question-2="How does Spotify make money?" answer-2="Spotify has two key revenue sources in what can be described as a 'Freemium' business model. Firstly, the firm offers free accounts to those that do not wish to pay a monthly subscription. In turn, these users will be subjected to advertisements of which Spotify generates revenue. Secondly – Spotify also makes money from the monthly subscription fees that is charged to its premium members. This contributes the vast bulk of Spotify's income.  " image-2="" headline-3="h3″ question-3="How much were Spotify shares originally worth?" answer-3="When Spotify went public in April 2018 – you would have paid in the region of $166." image-3="" headline-4="h3″ question-4="How do you buy shares in Spotify in the UK?" answer-4="To buy shares in Spotify as a UK resident, you simply need to open an account with an FCA broker like eToro. Then, it's just a case making a deposit with your debit/credit card and deciding how much Spotify stock you want to buy.    " image-4="" headline-5="h3″ question-5="Who is the CEO of Spotify?" answer-5="Daniel Ek is the co-founder and current CEO of Spotify." image-5="" count="6″ html="true" css_class=""]