With 3 UK interest rate rises set for 2022, the Big Four UK banks (Natwest, HSBC, Lloyds and Barclays) have now got plenty to look forward to financially and represent a strong investment prospect. A UK Banks ETF allows you invest in the cream of the UK finance sector as well as gain exposure to other popular stocks in a nicely-diversified, low-risk basket.
Below we review 5 of the popular 5 UK Banks ETFs for 2022. To give you a clearer picture of the their strengths, we have looked in particular at what sectors their portfolios focus on, their price performance during and after the pandemic, and future price prospects.
Popular UK Banks ETF for 2022
With many UK Banks ETFs to choose from, let's take a look at five popular ETFs in this sector. You can scroll down or click on the link to review them in detail
Popular UK Bank ETFs Reviewed
Now let's take a closer look at the popular ETFs that track UK bank stocks.
1. Core FTSE 100 UCITS ETF (ISF) 
This UK Banks ETF gives you exposure to the Big Four UK banking stocks, as well as all other members of the UK's FTSE 100 index. As a proportions of its £10bn portfolio, ISF holds:
Barclays plc: 1.56%
HSBC Holdings plc: 4.64%
Lloyds Banking Group plc: 1.66%
Natwest Group plc: 0.6%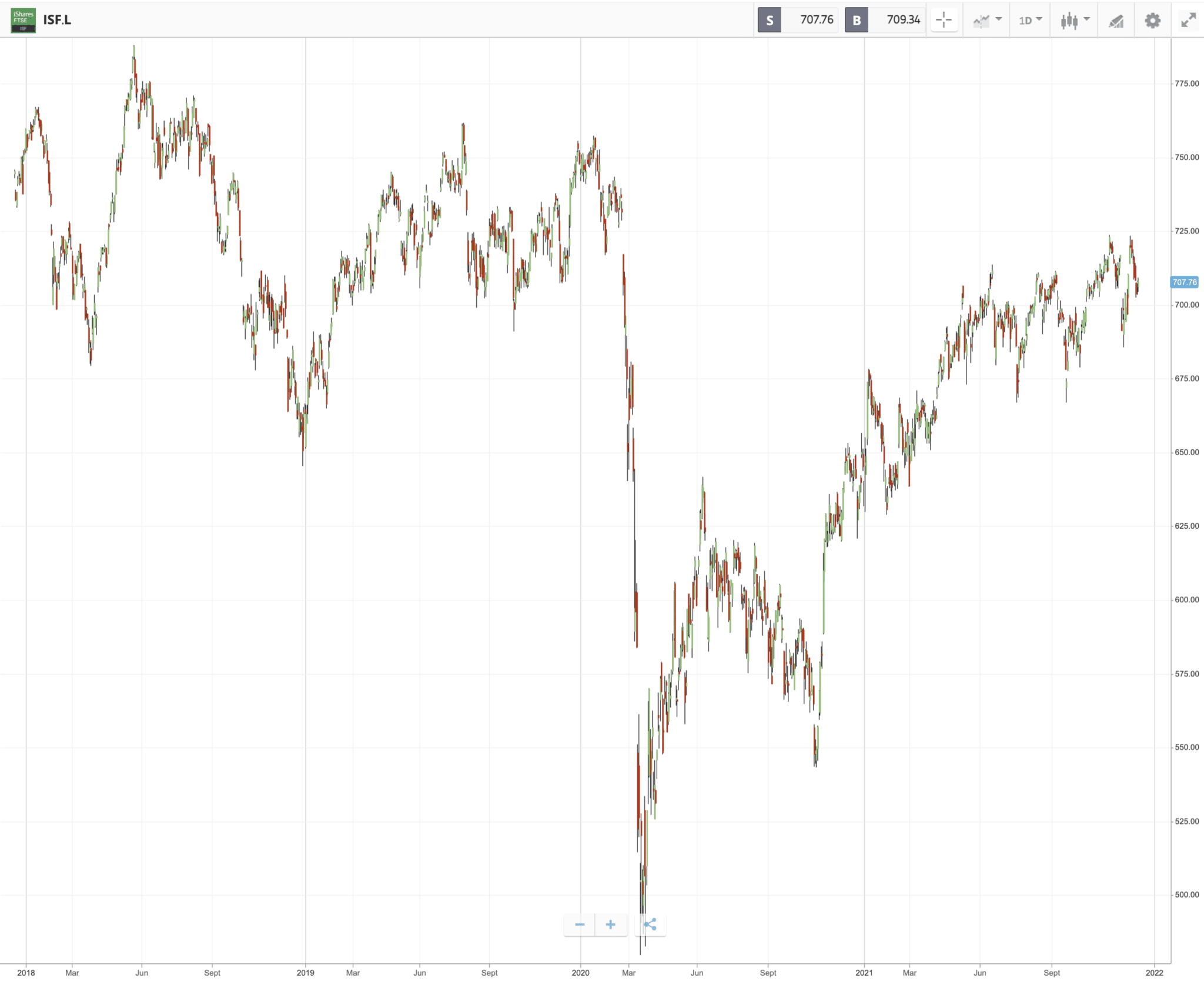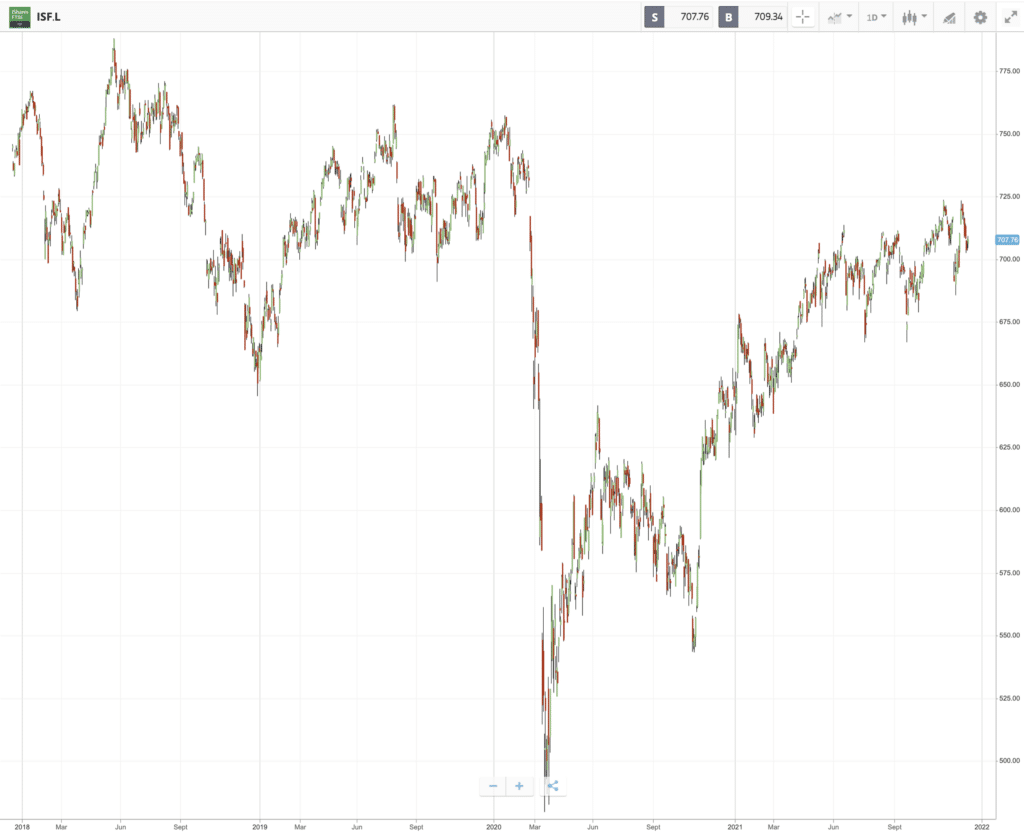 In this ETF, along with key UK banking stock, you get the biggest, most robust stocks on the London Stock Exchange. The biggest 5 stocks held are British-Swedish pharma company AstraZeneca plc with 6.64% of total assets held, household staples giant Unilever plc (5.21%), Big Four UK bank HSBC Holdings plc (4.64%), drinks giant Diageo plc (4.6%) and consumer healthcare stalwart GlaxoSmithKline (4.05%).
Holdings in the financials sector make up 17.87% of the portfolio, with only consumer staples at 17.97% held in larger proportion.
As a tracker fund, ISF offers a super-low Total Expense Ratio (TER) of 0.07%. That means for every rise in value of assets held, just 0.07% will be withheld from investors to pay for running costs.
In terms of price performance, ISF – like many ETFs – got hammered during the pandemic, recording a -18% return for the financial year Sept. 2019 – Sept. 2020. The price recovered this year, however, bouncing back with a 25% return for 2020-2021.
68% of retail investor accounts lose money when trading CFDs with this provider.
SWDA offers a small exposure to UK banking stocks as part of a $46bn portfolio of 1,582 global stocks.
Barclays plc: 0.07%
HSBC Holdings plc: 0.2%
Lloyds Banking Group plc: 0.07%
Natwest Group plc: 0.03%
Financial stocks make up 13% of this ETF. Stock in US banking giant JP Morgan Chase and Company is the biggest financial holding, with 0.78%.The biggest sector holding is in Information Technology (23%), which accounts for this ETF's strong price performance during and after the pandemic. Financial year 2019-2020 saw a price gain of 10.4% for SWDA and this year saw a spectacular gain of almost 29%.
The largest 5 SWDA holdings are Apple Inc. (4.64%), Microsoft Corporation (3.78), Amazon Inc. (2.51%), Google A (1.42%) and Google C (1.36%). The sixth-biggest holding is Facebook/Meta (1.3%) – which completes this ETF's holding in the tech giant 'FAAMG' group.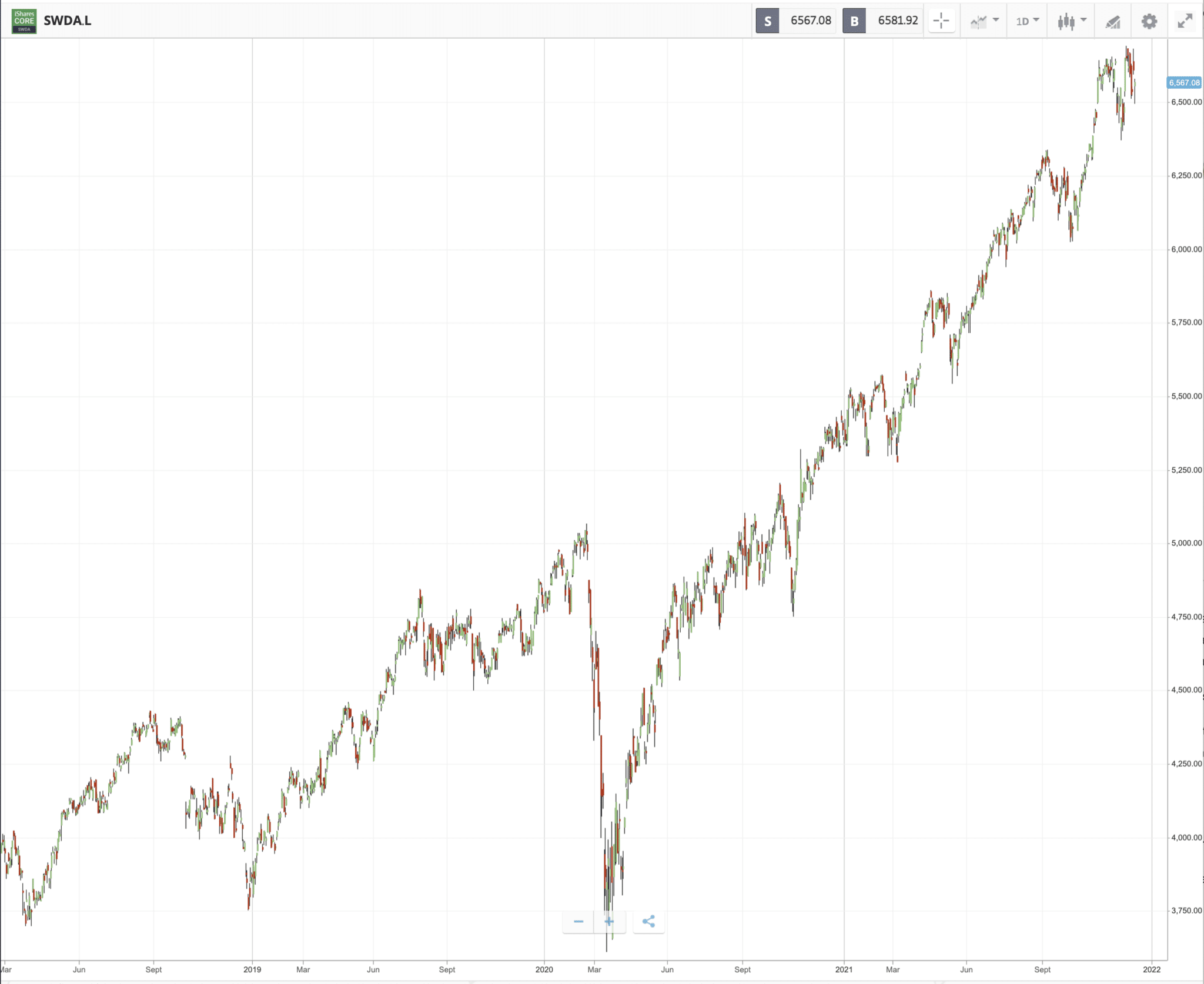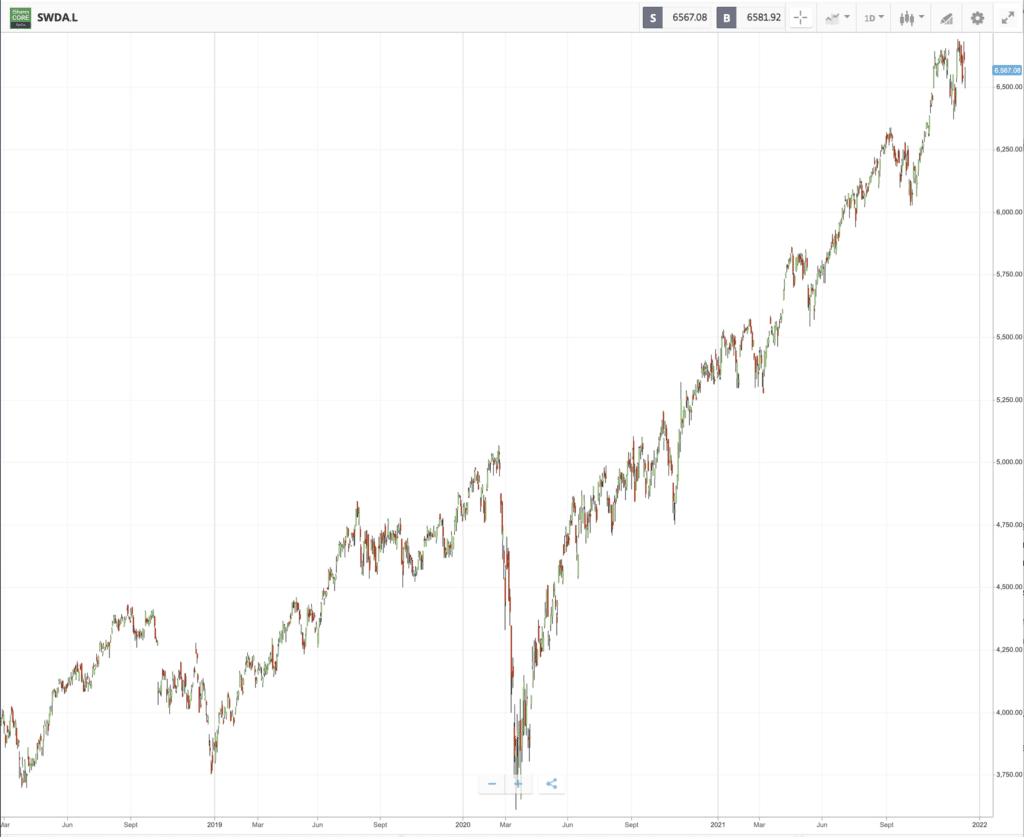 This ETF is listed on the London Stock Exchange, the SIX Swiss Exchange, Euronext in Amsterdam, the German Borse Xetra, the Borsa Italiana of Italy and the Bolsa Mexicana De Valores of Mexico.
SWDA offers a Total Expense Ratio of 0.20%. This means it is 0.13% more expensive to run than its UK iShares tracker counterpart ISF. But that is not surprising. This ETF is ambitiously global in its scope, offering exposure to 85% of the listed equities in 23 countries.
Like ISF above, this ETF could act as a low-risk anchor for your portfolio. It has dealt with pandemic pressures well. It offers exposure to the UK banks as well as truly global diversification in large-cap companies.
Launched in 2007 by BlackRockAsset Management, this ETF is domiciled in Ireland. It is valued at over €6.4bn and provides diversified access to a broad range of European companies. The portfolio numbers 433 stocks, with the finance sector being the largest sector invested in with 15.7% of assets. Industrials comes second with 15.0% and healthcare third with 14.7%.
Because of its European focus, IMEU has bigger holdings in the UK banks than the global SWDA ETF featured above:
Barclays plc: 0.37%
HSBC Holdings plc: 1.1%
Lloyds Banking Group plc: 0.4%
Natwest Group plc: 0.16%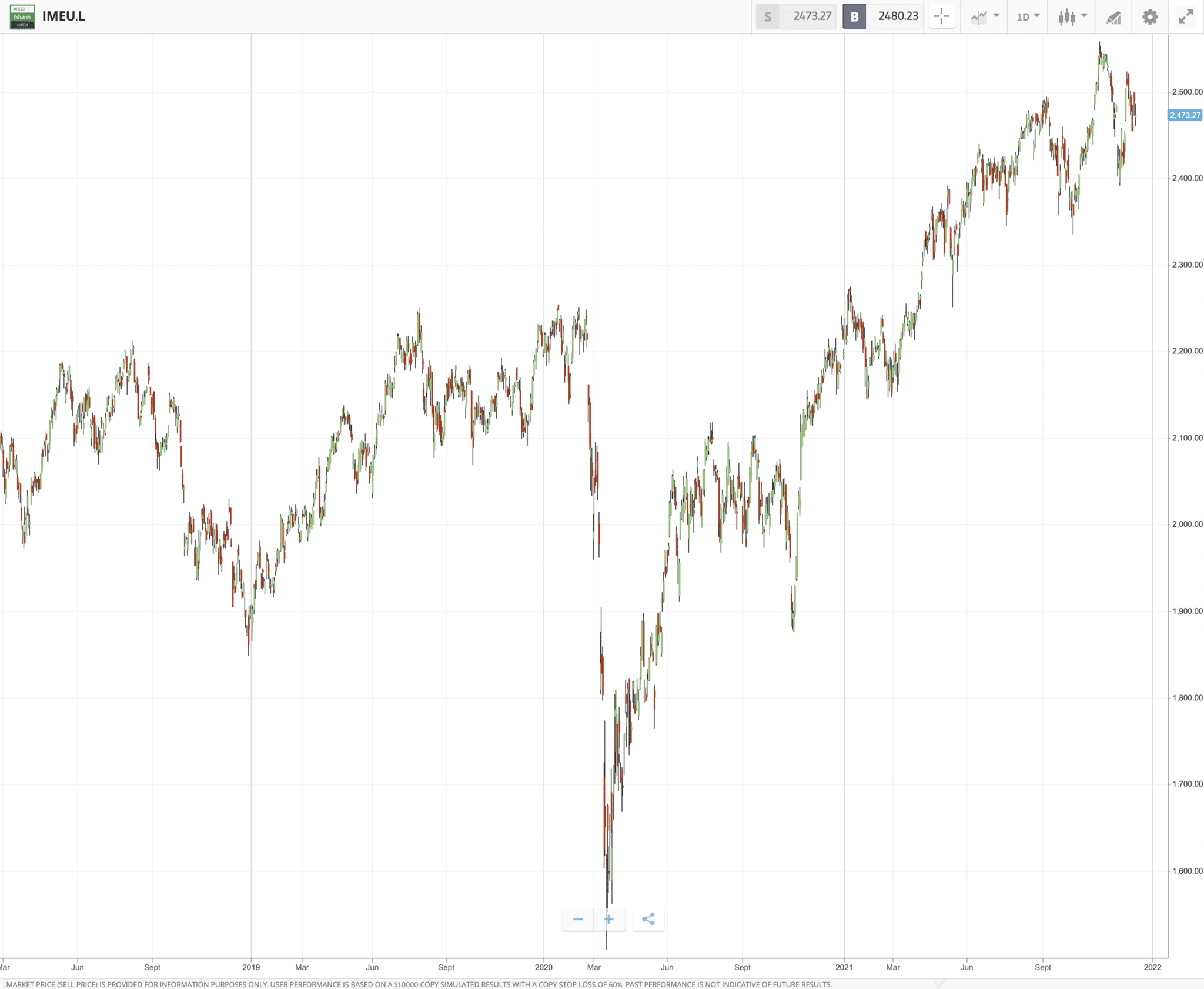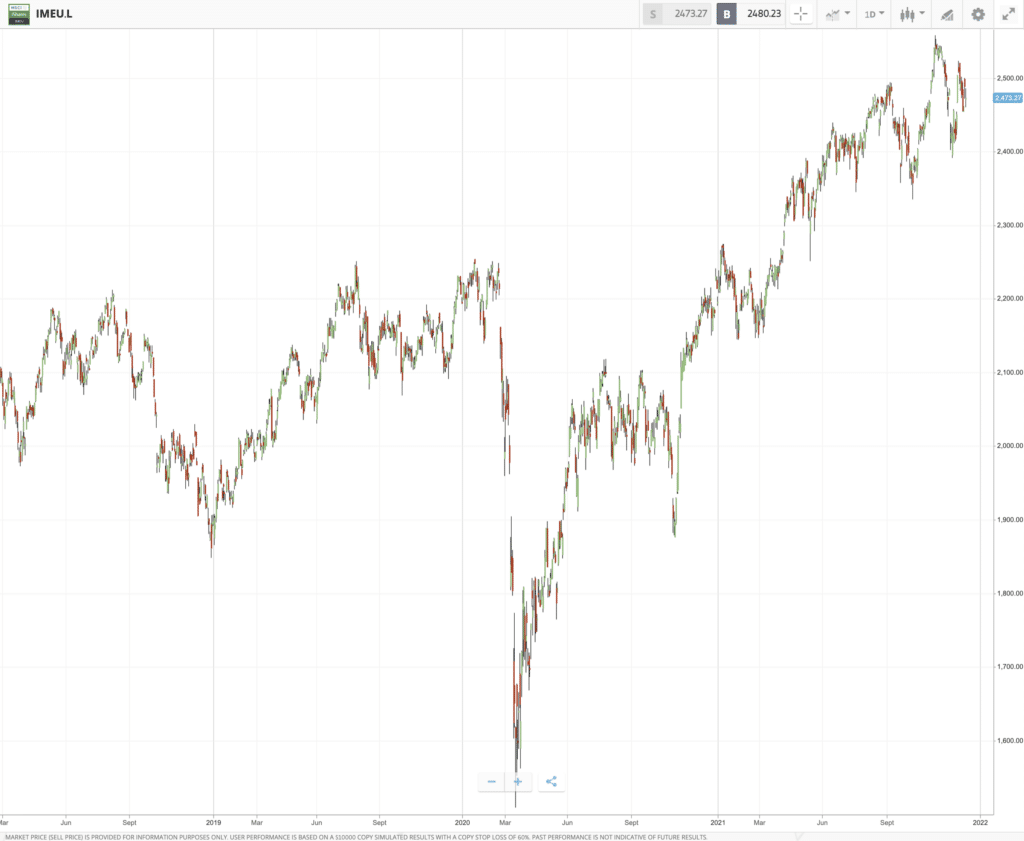 This ETF, like the FTSE-based ISF, was hit badly by the pandemic. SWDA recorded a 7.6% drop in price in the financial year 2019-2020. But, like the European economies it tracks, SWDA rebounded this year with a spectacular 29% rise in price.
The biggest 5 stocks of this ETF read like a Who's Who of European business. Consumer staples giant Nestle takes the biggest proportion of the portfolio (3.5%), followed by Dutch suppliers to the computer chip industry ASML Holdings (2.85%), Swiss healthcare veterans Roche Holdings (2.6%), Paris-based luxury goods firm LVMH (Moet Hennessy Louis Vuitton) (2.0%), and Danish pharma company Novo Nordisk (1.78%).
SWDA offers a Total Expense Ratio (TER) of 0.12%. For a tracker ETF, this is what we would expect. Remember that ETF expenses are 'baked into' your transactions, so you will not receive a TER bill. It is always, however, worth checking the TER of an ETF to confirm that you are not buying into a mismanaged fund.
Founded in 2010 by BlackRock Asset Management, this tracker ETF follows the MSCI United Kingdom Index which itself is similar to the FTSE 100 index. Large cap UK companies, offering strong yields and low price volatility are the focus.


Compared to the ETFs covered so far, this is a small fund with total net assets of £118m. But we are not off-piste here: CSUK, like ISF, SWDA and IMEU is a UCITS ETF, which means it is properly-regulated.
The largest five holdings are the same as for ISF, but in a slightly different order: AstraZeneca plc (7.1% of the portfolio), Unilever plc (5.59%), Diageo plc (5.0%), HSBC Holdings plc (4.96%) and GlaxoSmithkline plc (4.41%).
Consumer staples are the biggest sector covered, taking 19.5% of the fund. The financial sector takes the second-largest share of the portfolio, with 17.3%. The Big 4 UK banks are well-represented:
Barclays plc: 1.67%
HSBC Holdings plc: 4.96%
Lloyds Banking Group plc: 1.78%
Natwest Group plc: 0.69%
Thanks to the calamitous impact of the pandemic on the FTSE, a 20% reduction in share price was registered by this ETF for the financial year 2019-2020. This was followed this financial year by a price increase of 25%.
Although not strictly a FTSE 100 tracker, this ETF is very similar to the Core FTSE 100 UCITS ETF (ISF) covered above. On the plus side, CSUK offers 1% more exposure to UK banks. But this ETF took a slightly bigger hit during the pandemic than ISF and is  less efficient with a Total Expense Ratio of 0.33% compared to ISF's 0.07%.
This index ETF – ticker label UKSR – is a UK Banks ETF with a focus on ethical investing. Of the Big Four UK banks, 3 are represented:
Barclays plc: 3.46%
Lloyds Banking Group plc: 3.70%
Natwest Group plc: 1.41%


UKSR follows the MSCI UK IMI Extended SRI Low Carbon Select Index, which investment bank UBS describes as 'a benchmark for investors seeking exposure to popular ESG United Kingdom companies while avoiding products whose social or environmental impact is considered to be negative by investors.' (ESG means Environmental Social Governance, and is the metric used in the investment world to evaluate the ethical worth of companies).
With a Total Expense Ratio of 0.28%, UKSR is not an inefficient ETF.
UKSR's largest 5 holdings are British-Dutch pharma company Astra Zeneca plc (5.27%), British-Dutch IT firm Relx plc (5.23%), producer of consumer healthcare products Reckitt Benckiser Group plc (5.06%) consumer healthcare giant GlaxoSmithkline plc (5.05%), and consumer goods multinational Unilever plc (4.82%).
UKSR has delivered a different price performance profile to the 4 other index funds reviewed above. Year-to-date, it has delivered a return of 13.63%. In 2020, the pandemic crisis had only taken 5.36% off its price by the end of the year. The year before that, 2019, had seen an impressive price gain of 22.85%.
Just under a quarter of UKSR's portfolio are financial companies, with industrials making up the second-largest holding with 18.26%. One potential deficiency in its holdings is its low technology allocation (3.36%).
What is a UK Banks ETF?
What is an ETF?
An ETF is an exchange-traded fund. ETFs evolved out of mutual funds, and thus invest in a basket of companies on behalf of a pool of investors. With investment diversified, a fund offers far lower risk than investing in a single stock – but don't expect the gains to be dramatic over the short-term.
Not only do ETFs feature they feature lower fees than mutual funds, but they can be traded like conventional stocks and shares meaning you can purchase in and out as you please.
UK Banks ETFs – Low-Cost, Low-Risk Exposure to the Big Four UK Banks
UK Banks ETFs are Exchange Traded Funds (ETFs) which feature UK banks that specialise in lending/borrowing rather than investing. Hence ETFs for UK banks include the Big Four UK banks: Barclays, HSBC, Lloyds, and Natwest.
No ETF focuses purely on these UK banks. But plenty of ETFs are available which feature them as part of a wider UK, European or even global focus on established large-cap stocks with low price volatility and often a strong dividend record.
Are UK Banks ETFs a Valuable Investment?
The FTSE has not bounced back from the pandemic as energetically as hoped. Some analysts say this is down to continued pressure on travel, retail, and entertainment stocks in particular caused by ongoing governmental attempts to curb the pandemic. As reported by the BBC, the UK's Office for Budget Responsibility confirmed too in October 2021 that, 'supply bottlenecks had been exacerbated by changes in the migration and trading regimes following Brexit.'
On the plus side, uncertainty over interest rates has recently been resolved. The Bank of England put up interest rates to 0.25% in the second week of December 2021. Paul Dales of Capital Economics explains in the Daily Telegraph that, 'this move came despite the escalating Covid-19 situation and increases the chances that interest rates will rise to the level of 1pc priced into the markets for the end of next year.' A further 3 rate rises are thus on the cards.
With its low-cost, low-risk exposure to the Big Four UK banks, an ETF UK banks could be a possible investment option. However, it is important to conduct your own research before investing in any trade, since there are risk associated with every investment you make.
Where to Purchase UK Banks ETF
You can purchase UK Banks ETFs with online ETF brokers. Below we review two popular brokers:  eToro and Libertex.
1. eToro
eToro is the global broker of choice for over 20m investors from 160+ countries. As well as the popular ETFs, eToro offers a range of stocks, commodities, indices and crypto to get stuck into – with all non-CFD trades commission-free. Founded back in 2006, this broker has developed a slick platform that is a cinch to use with enormous support for the newbie investor.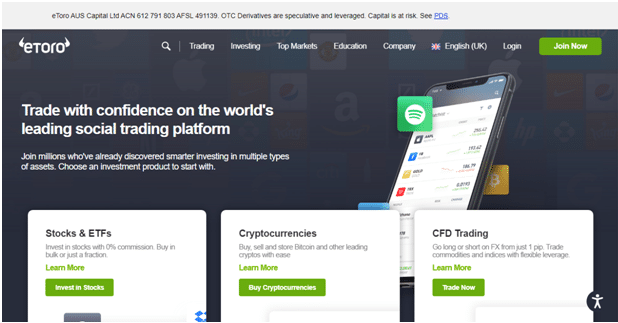 When buying an ETF with eToro, you are charged no commission fees. You can invest with as little as $10 (new minimum trade announced). The spread on eToro ETFs tend to be very reasonable: on the popular UK Banks ETF Core FTSE 100 UCITS ETF (ISF), for example, the spread is 0.2%.
eToro stands out further as an ETF broker because you can purchase ETFs conventionally or you can opt for a CFD (Contract-for-Difference) trade and go short on an ETF as well as leverage your position by up to 5x. Usually, brokers offer you either option – but not both.
Signing up with eToro does not take long, and only 2 forms of ID are required to get going. Another boon offered by the broker is the wide choice of deposit options, including PayPal. Deposit is free, but a flat withdrawal fee of $5 applies.
When it comes to extras, eToro comes into its own. Not only is there the eToro smartphone app, for investing on the move. There is the eToro Money crypto wallet which allows you to get your hands on real crypto and stake it for rewards. And then there are eToro's two in-house innovations: CopyTrader and Smart Portfolios. These are a real plus for new investors.
CopyTrader allows you to copy the trades of more experienced investors in real-time. Smart Portfolios allows you to purchase into strategic portfolio positions for free.
All of eToro's offering is regulated. As one of the popular FCA brokers, eToro is further regulated by CySEC (of Cyprus) and ASIC (of Australia).
| | | | | | |
| --- | --- | --- | --- | --- | --- |
| Stock Broker | Minimum Deposit | Fractional Shares? | Pricing System | Cost of Buying Stocks & ETFs | Fees & Charges |
| eToro | $10 | Yes – $10 minimum | 0% commission on ALL real stocks, spreads for CFDs | Market spread is not included when buying real stocks | No Deposit fees, $5 withdrawal fee, $10 inactivity fee, no account management fees. |
Sponsored ad. 68% of retail investors lose money trading CFDs at this site
2. Libertex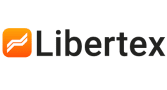 Established back in 1997, CFD broker Libertex has refined its offering over 24 years in business to offer a select group of 250 tradeable assets, with less than 100 stock-based CFDs and a clutch of key ETFs – including a UK Banks ETF. Extensive CFD options are available for crypto, forex, commodities and indices.
Regulated by Cysec, Libertex has won over 40 international awards in its time, including Most Trusted Broker Europe in the Ultimate Fintech Awards 2021.

Aside from tight spreads, a key feature of Libertex is that it supports six platforms in all: Libertex/Libertex Pro, MT4 Market/Pro, or MT5 Market/Pro. More experienced traders will appreciate the versatility offered here.
Less experienced investors will appreciate the offering of two types of account: Libertex, for general CFD trading with a range of gearing and charting options, and Libertex Invest which allows you to trade conventional stocks and is suitable for longer-term investing.
With Libertex, fees depend on which of its platforms you are using. With Libertex standard you can open a UK Banks ETF trade with as little as £20. An overnight fee of 0.0302% applies to long positions and 0.0030% for short positions. A negligible commission fee of 0.0003% applies to ETF trades.
Like eToro, deposits with Libertex do not incur a fee. Bank wire withdrawals attract a fee of 2-10 EUR, and credit/debit card withdrawals incur a 1 EUR fee.
Remember that when trading ETFs with CFDs you do not get to own the underlying ETF stock. Instead, you trade off a position related to the ETF price.
83% of retail investor accounts lose money when trading CFDs with this provider.
How to invest in a UK Banks ETF
Step 1: Open an Account
Head over to the homepage of your chosen broker and begin the account set-up process. You will be required to fill in your personal details – including your full name, email address and mobile number. Create a username and password for the platform to continue.
Step 2: Verify Your Documents
Most reputable brokers in the UK are regulated by the FCA – which is why users may be required to verify their accounts. To do this, simply upload proof of ID (a copy of your driver's license or passport) and proof of address (a copy of a bank statement or utility bill). Once these documents have been uploaded, your broker should verify them in a couple of minutes.
Step 3: Deposit funds
The next step is to deposit funds into your trading account. Most brokers may support 1 or more of the following payment methods:
Credit card
Debit card
Bank transfer
e-wallet
Choose your preferred payment option and deposit the funds into your account.
Step 4: Invest in UK Banks ETFs
Once your account has been funded, proceed to search for any UK Banking ETFs on your platform's search bar. Fill in the amount you want to credit into the trade, and confirm your transaction.
Conclusion
UK Banking ETFs may be a way for users to diversify their asset holdings and add another asset class into their portfolio. After analysing ur reviews on the popular ETFs available in this sector, make sure to conduct your own research and create your investment strategies before entering in any trades.
Frequently Asked Questions on UK Bank ETFs
What is a popular ETF for bank stocks?
What ETFs cover bank stocks?