EXMO Review UK 2021 – Features, Fees, Pros & Cons Revealed
Fact Checked
Everything you read on our site is provided by expert writers who have many years of experience in the financial markets and have written for other top financial publications. Every piece of information here is fact-checked.
Disclosure
Please note that we are not authorised to provide any investment advice. The information on this page should be construed for information purposes only. We may earn commissions from the products mentioned on this site.
EXMO is a British digital asset exchange that offers an easy way to buy and sell cryptocurrencies. With more than 27500 active users, it is considered one of the largest cryptocurrency exchanges in Europe in terms of volume and liquidity.
So, if you are based in the UK and thinking about opening an account with this exchange, this EXMO review UK guide will help you find the answers. We'll help you find out if this is a good platform and if there's a better alternative for UK investors.
EXMO Review Summary
EXMO is one of the largest digital asset exchanges in Europe
It offers 189 crypto-to-crypto and fiat-to-crypto pairs and a wide range of crypto services and tools
What is EXMO?
EXMO is a British cryptocurrency exchange that was founded in 2014 by Ivan Petuhovskii and is headquartered in London, UK. The company has additional offices in Moscow, and Kyiv, and employs more than 150 people. EXMO is not a giant cryptocurrency exchange like Binance, Coinbase, and Bitstamp – however, it claims to currently have over 1.5 million registered users on its platform and it lists 189 currency pairs including a crypto-to-fiat combination of the most traded fiat currencies in the world (EUR, USD, and RUB).
In addition, EXMO has its own crypto coin, known as EXMO coin (EXM), which serves as the internal utility token on the EXMO exchange and has been rising in value pretty steady from the start of the year. When using the coin on the EXMO exchange, users get additional discounts, bonuses, and special opportunities while at the same time, the EXMO exchanges can raise funds with its own token and expand the exchange's services.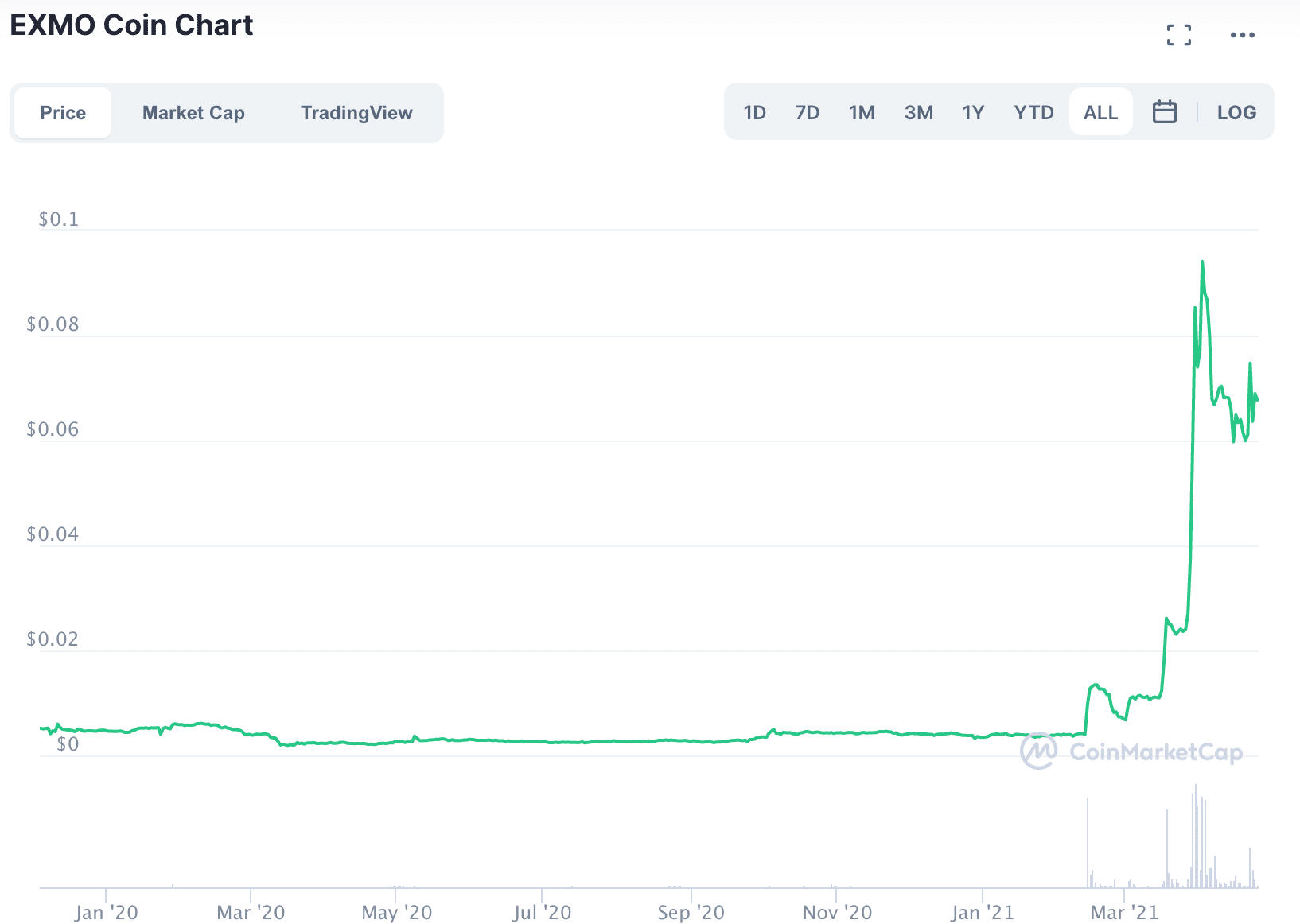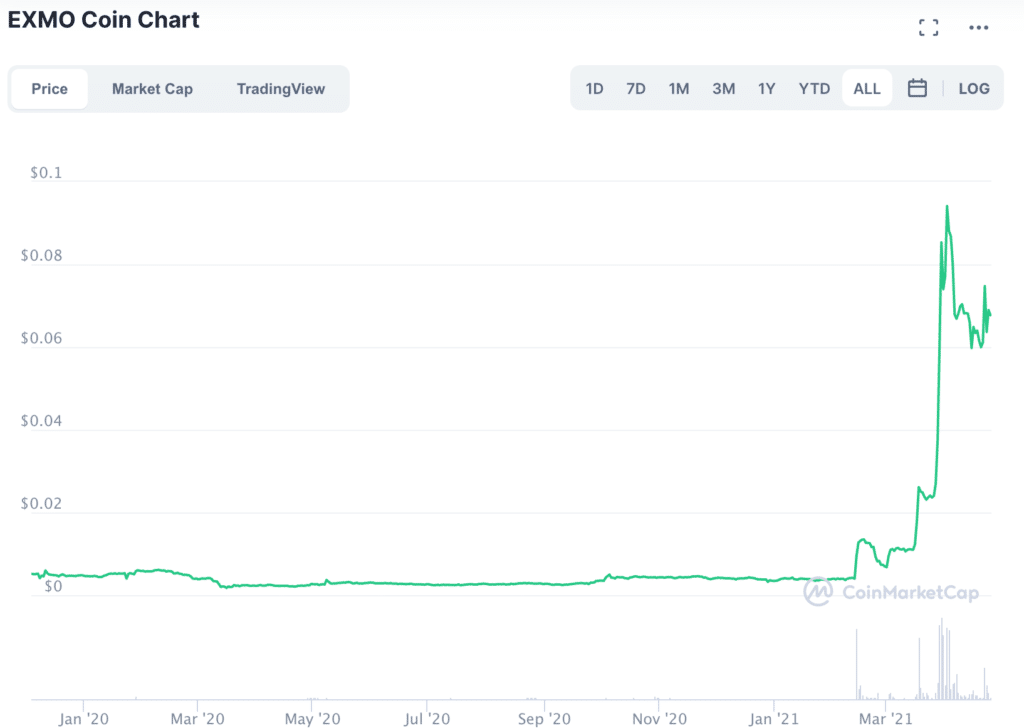 Supported Coins
As we mentioned, EXMO is a relatively small exchange in the market, however, it supports an extensive range of 60 crypto coins and 189 crypto-to-crypto and crypto-to-fiat pairs on its platform, which makes it one of the most diverse cryptocurrency platforms out there along with Binance, Poloniex, and Kraken. On this platform, investors can buy and sell crypto coins like EXMO coin, Bitcoin, DASH, Ethereum, Litecoin, Dogecoin, Tether, Monero, EOS, and many more.
At large, the exchange offers users to trade currencies versus the following fiat and crypto coins: BTC, ETH, USD, RUB, and EUR.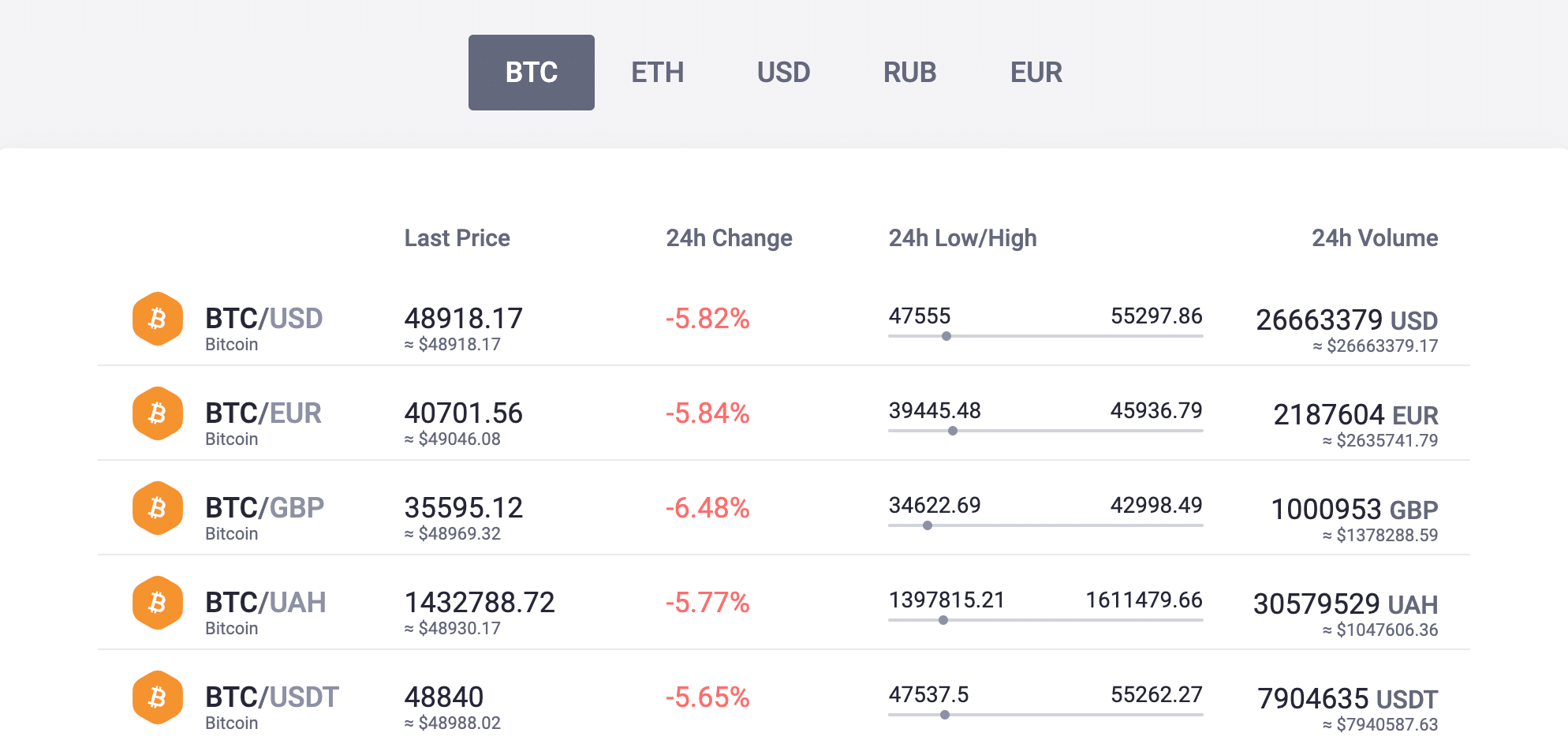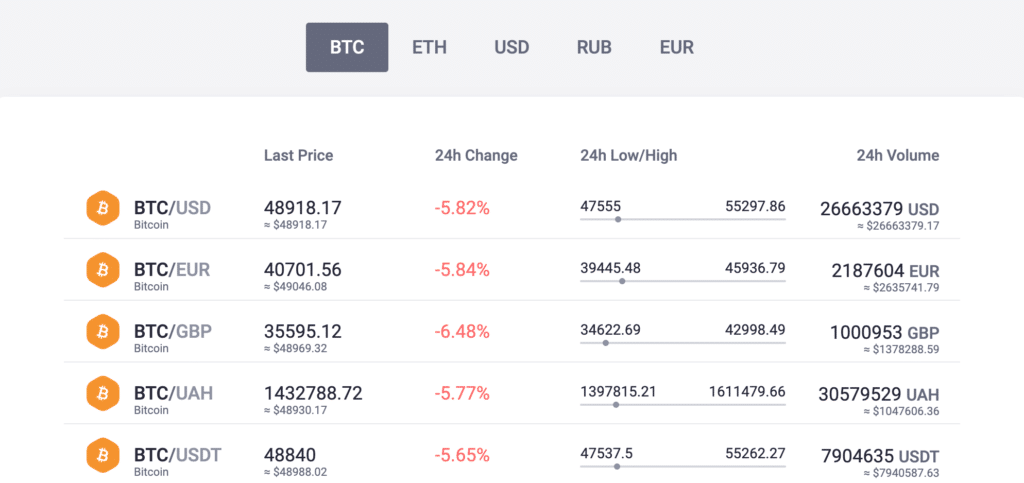 EXMO Fees
Like most crypto exchanges, EXMO charges payment and trading fees. The fees are clearly displayed on the website and unlike other exchanges that make it very complicated to understand the fees and charges, EXMO has made a great job in the way it presents all the charges investors need to pay on the exchange. Here's a full breakdown of the exchange's fees:
Payment fees
Much like many other crypto online trading platforms, EXMO does not charge any deposit fees when users fund their accounts with cryptocurrencies. When it comes to funding your account with fiat currencies, however, it all depends on the payment method you choose. In that aspect, the good thing with EXMO is that it shows all the payment fees on the order form before you make a transaction so you can calculate the cost at the time of purchase or sell. For example, if you want to add funds to your account with GBP, you'll be transferred to the next page.


As for withdrawals, the platform charges different fees for each crypto coin, fiat currency, and payment method. For example, when you withdraw funds with bitcoin on EXMO exchange, you need to pay a fee of 0.0005 BTC (around £19). For Bitcoin Cash, a fee of 0.001 BCH, and for Ethereum, a fee of 0.008 ETH.
Below, we have covered all the fees charged by the exchange when depositing and withdrawing funds with British Pounds.
| | | |
| --- | --- | --- |
| Payment Methods | Deposit Fee | Withdrawal Fee |
| Chaps | 20 GBP | 0.15%+20 GBP |
| Visa/MasterCard | 1.99% + 0.3 GBP | – |
| UK Faster Payment | 3 GBP | 0.15%+3 GBP |
| WIRE Frick Bank | 10 GBP | – |
| BACS | 3 GBP | – |
| EXMO Gift Card | 0% | – |
Trading fees
EXMO exchange offers a maximum maker and taker fee of 0.3%, which is slightly higher than the average in the industry and to what is offered on other exchanges like Binance, Poloniex, and Bithumb. With that in mind, EXMO also offers a fee structure that varies based on the trader's 30-days trading volume, and as such, trading fees significantly reduced when trading volume rises. Moreover, it has a cashback charging program that is suited for high-volume traders and gives back returns on commission on a daily/weekly basis.
| | | |
| --- | --- | --- |
| 30-day Trade Volume in USD | Maker Fee | Taker Fee |
| 0-5000 | 0.30% | 0.30% |
| 5000-10000 | 0.22% | 0.30% |
| 10000-25000 | 0.20% | 0.28% |
| 25000-50000 | 0.16% | 0.26% |
| 50000-100000 | 0.14% | 0.22% |
| 100K-250K | 0.10% | 0.20% |
| 250K-500K | 0.08% | 0.18% |
| 1M – 20M | 0.04%-0.02% | 0.14%-0.1% |
EXMO Buying Limits
EXMO maintains a very low order limit requirements for the vast majority of currency pairs on its platform. For example, the minimum order size you need to meet in order to buy BTC/USD is just 0.00002, which is around 1 USD. For Ethereum, there's a minimum order size of 0.001 (around 2.5 USD).
In terms of the maximum withdrawal limit, it offers a withdrawal of $500,000 in USD, £100,000 in British Pounds, and €300,000 in Euros.
EXMO Wallet
EXMO also offers an online digital wallet where users can store, send and receive fiat and crypto funds. The EXMO wallet is simple and easy to use and is available on the exchange web-based platform and on the mobile app. Moreover, it displays pretty much everything you need on a digital wallet and the navigation is easy to use.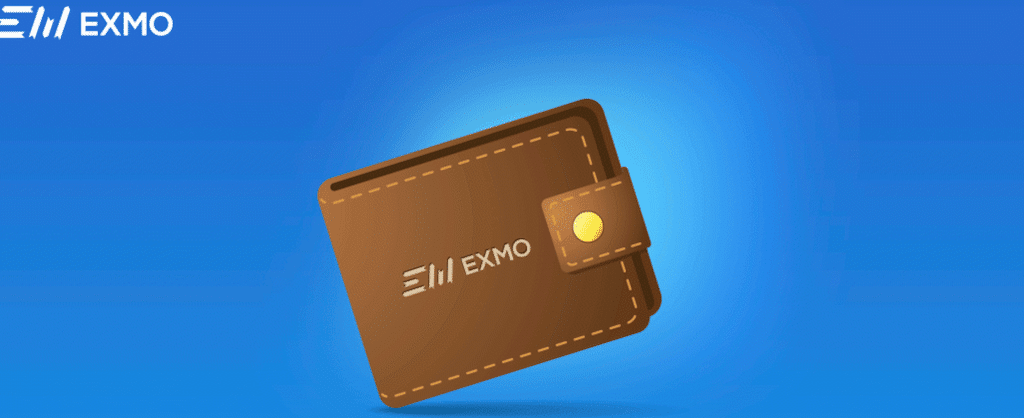 When it comes to the security of the EXMO wallet, this should be seen as a high priority. And, though EXMO is considered a reputable, trusted, and regulated digital assets exchange – we still recommend that you transfer the funds to a cold wallet where no one can steal your coins. After all, this is a small exchange that stores some of the clients' funds on hot wallets and experienced a security breach last year in which 5% of total assets stolen.
Mobile App
In addition to its web-based trading platform, EXMO offers an excellent mobile application that contains order books, interactive charts, account settings, wallet, and trading history. In other words, you can manage your entire trading account via the EXMO mobile app.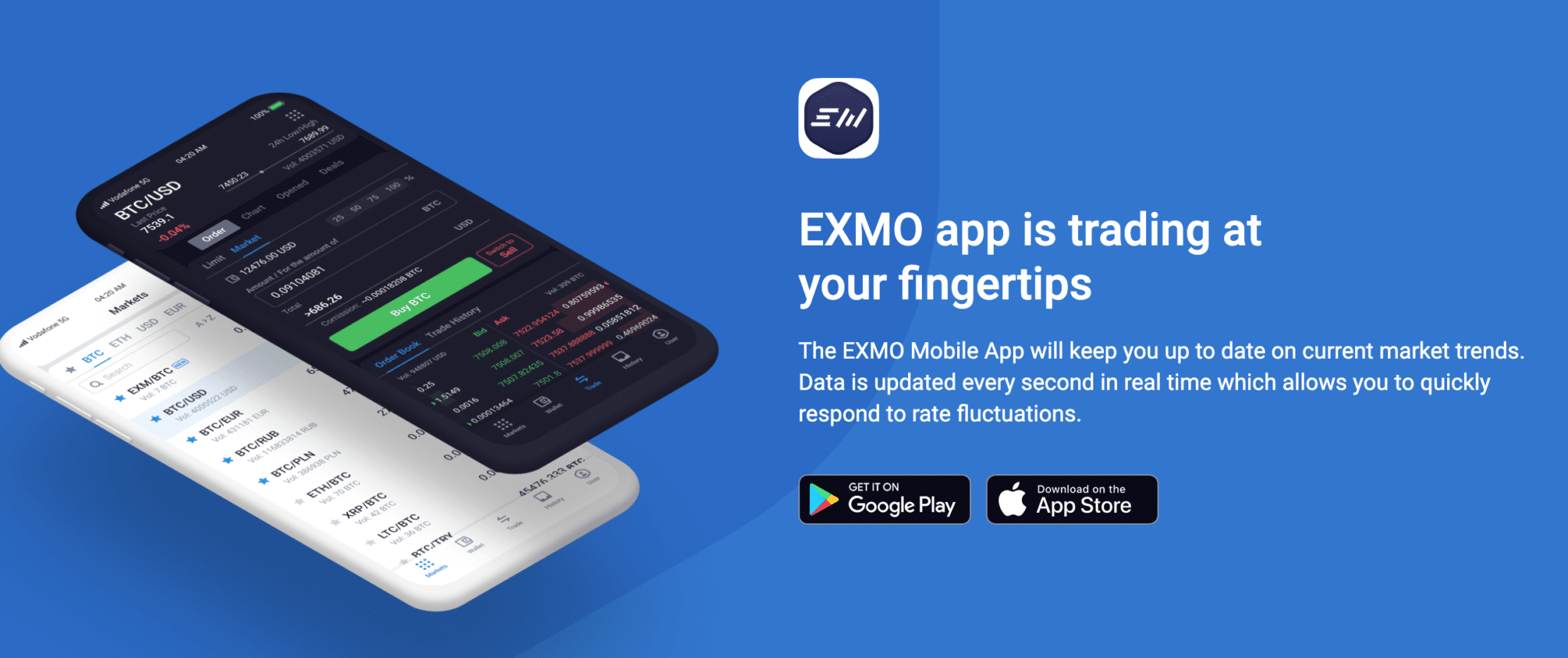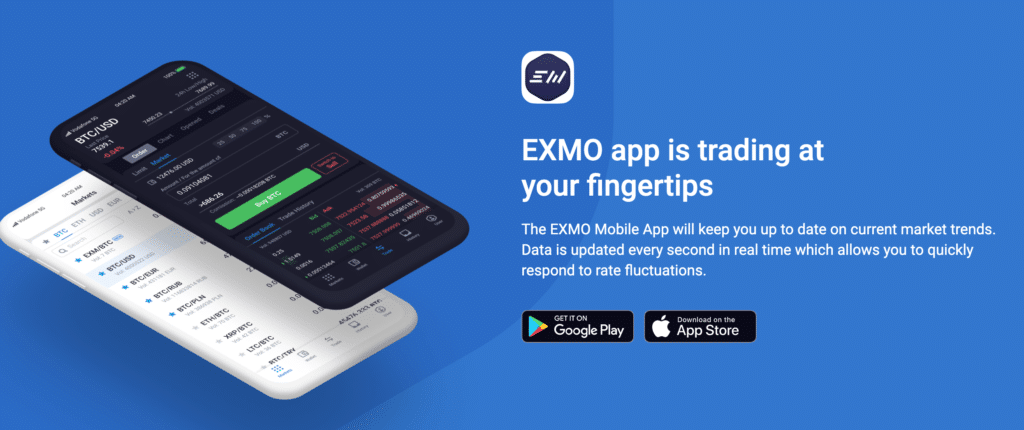 In terms of functionality and user experience, the EXMO mobile app is very intuitive and has a great rating on all stores as well as on TrustPilot. On Google Play, the EXMO mobile app has a score of 4.7 from 1642 reviews, on Apple Store a review of 3.6 from 23 reviews, and on TrustPilot a rating of 4 from 216 reviews.
Minimum Deposit
The minimum deposit requirement at EXMO varies depending on the form you would like to fund your account with. If using one of the leading cryptocurrencies, the exchange requires you to meet the following minimum amounts:
BTC – 0.002
EXM – 1
USDT Tether – 10
LTC – 0.001
DOGE – 10
DASH – 0.01
ETH – 0.01
XRP – 10
BCH – 0.001
ADA – 5
For fiat currencies, EXMO maintains the following minimum and maximum deposit requirement:
| | | |
| --- | --- | --- |
| Fiat Currency | Minimum Deposit | Maximum Deposit |
| US Dollar | 5 | 10000 |
| British Pound | 5 | 7000 |
| Euro | 6 | 9000 |
| Russian Rubble | 3100 | 48000 |
| Polish złoty | N/A | N/A |
| Ukrainian hryvnia | 400 | 14000 |
| Kazakhstan Tenge | N/A | N/A |
| Turkish Lira | N/A | N/A |
User Experience
There are two sides of a coin when it comes to the user experience and navigation on EXMO's platform. On the one hand, from our experience, the platform is a bit slow and we found many small bugs and some usability problems. On the other hand, the dashboard is designed so you get everything you need from one page. From that dashboard, you can navigate to the wallet, deposit and withdrawals, buy crypto with a credit card, private messages, news, etc. Also, the great thing about EXMO is that it has created a platform that can be used for simple and advanced trading.
Further, EXMO's platform has many UI features that enable users to customize the platform to their specific requirements. For example, you can easily change the platform's grid type, enable sound notifications, and switch from dark to light mode.
And, most important of all, the advanced full-featured interface is designed in a way that ensures you get everything you need on one screen – A list of all the coins, interactive chart, level 2 order book, trade history, and an order form with advanced order types that include market, stop, and limit.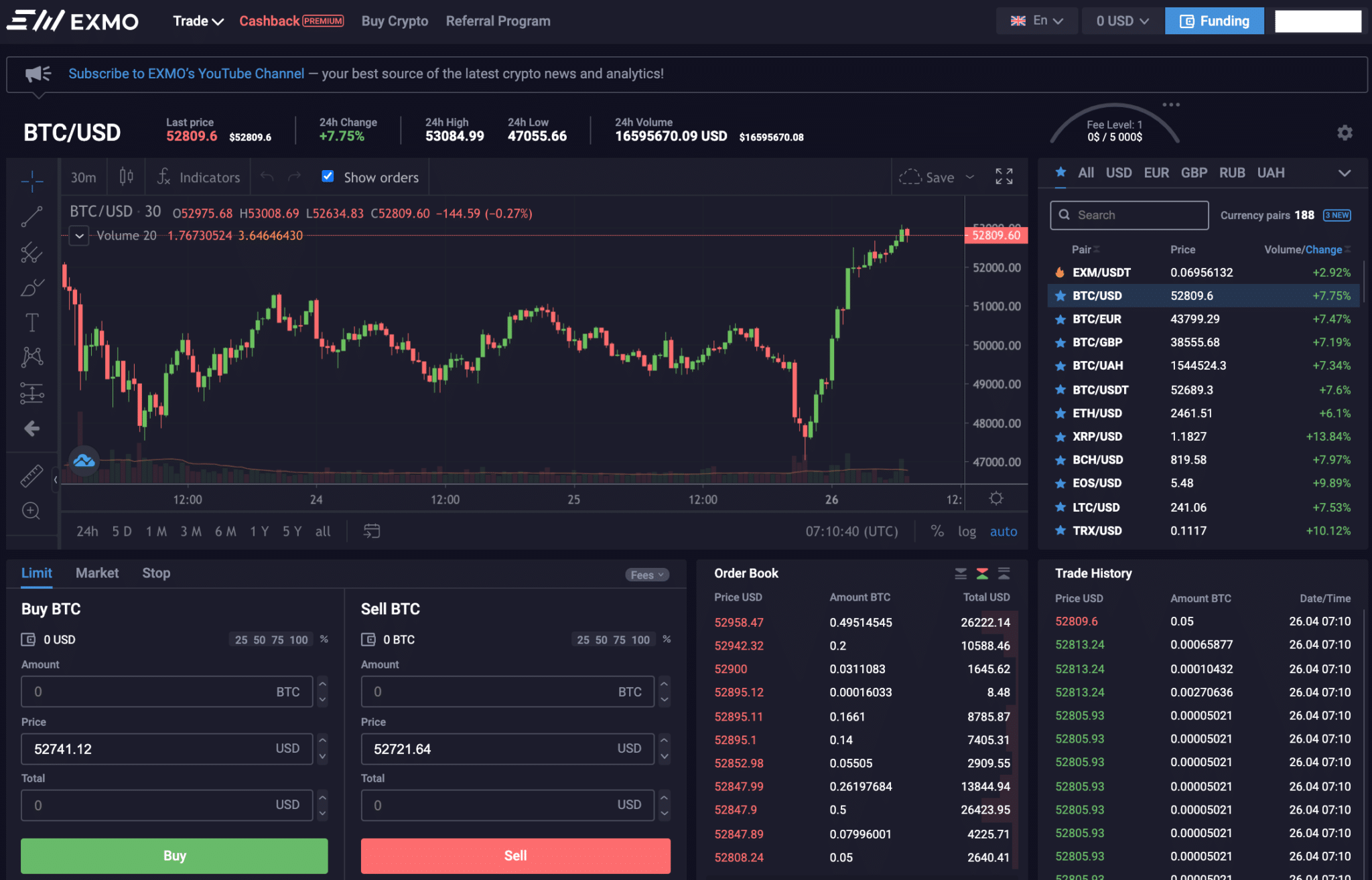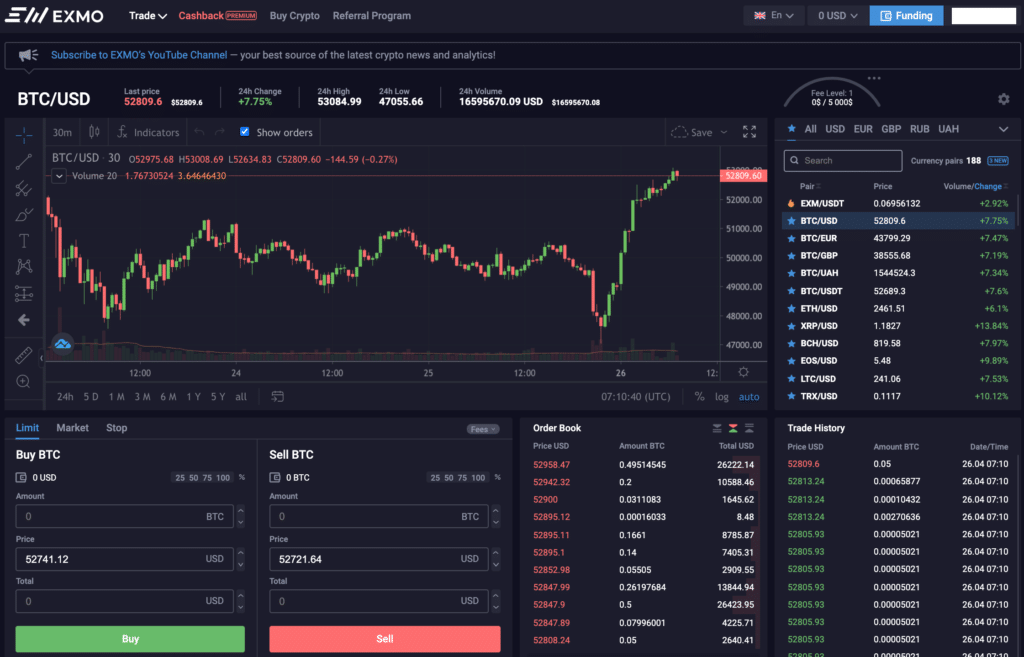 Tools and Features
EXMO offers a variety of tools and features for all levels of traders. This includes:
Copy Trading
Copy Trading is not a very common feature on cryptocurrency exchanges. However, EXMO is one of the few exchanges that provide this service, though you'll have to purchase the EXMO coin in order to use this tool.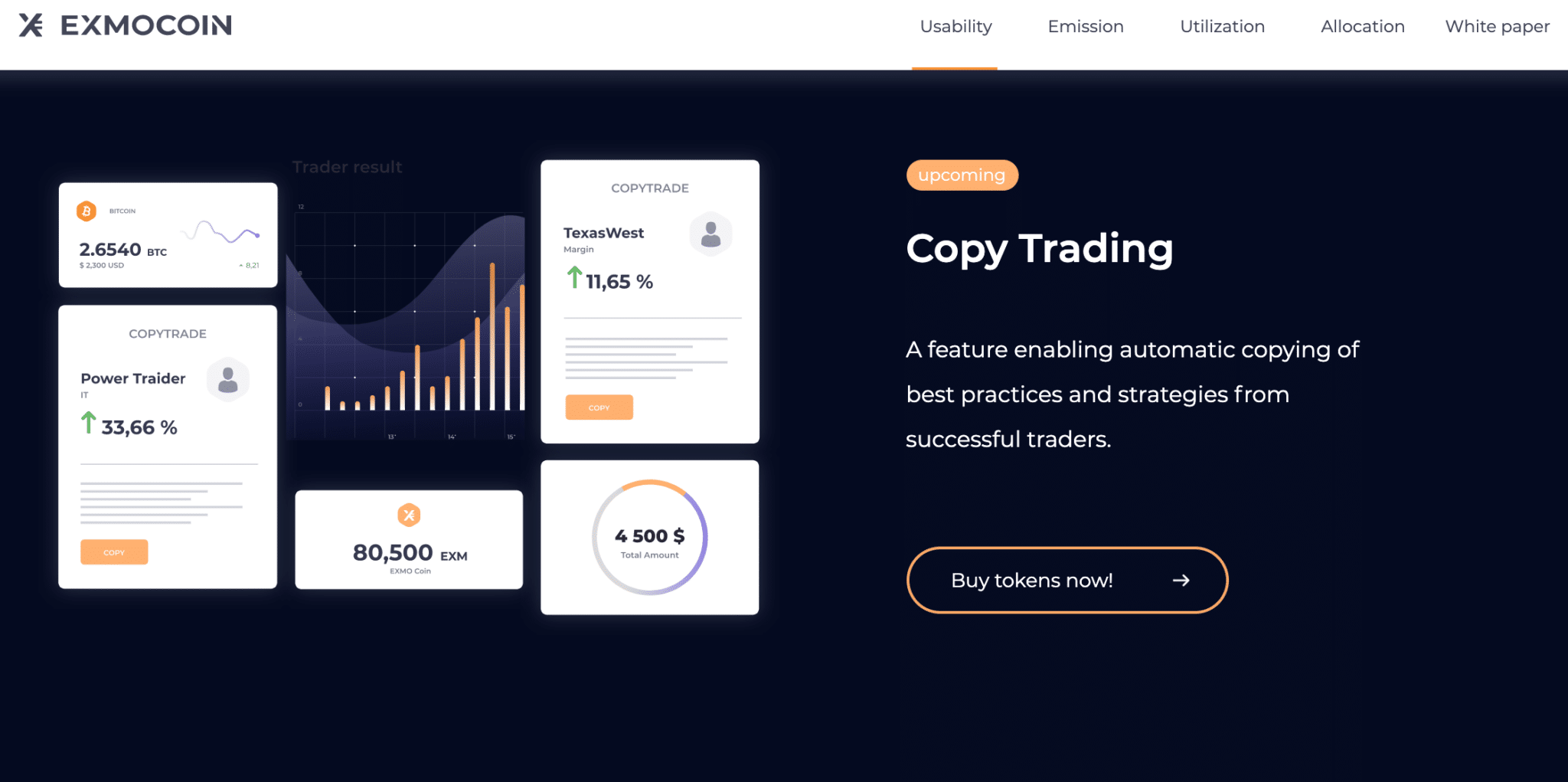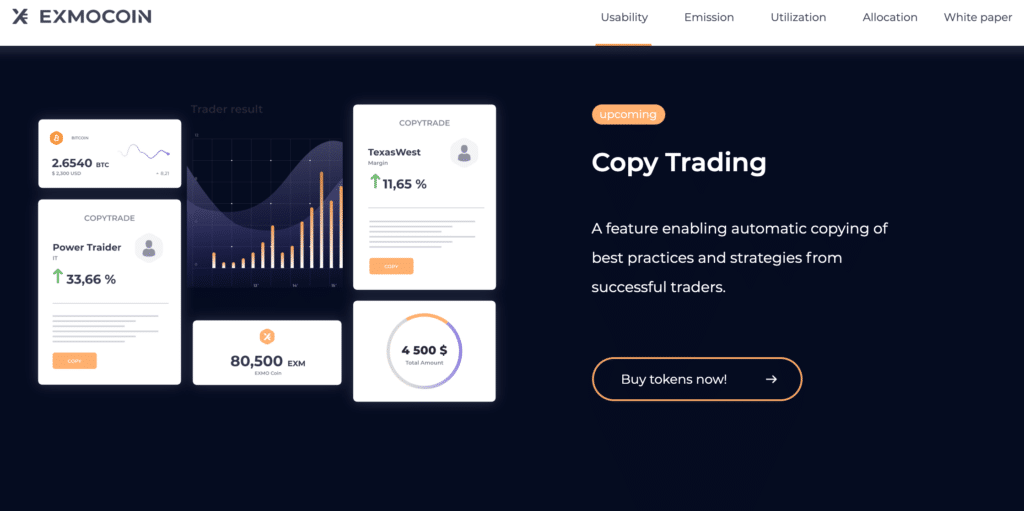 EXMO Coin
As previously mentioned, EXMO has an internal coin that can be used on the exchange and enables user to get many benefits that include:
Cashback –  You can reduce your commission by up to 50%
Copytrading – With the EXMO coin, you can copy trades of other successful traders
Margin fee – Preferential rates for margin loans
Cloud mining – Access to cloud mining
EXMO Gift Card
EXMO has released an in-house gift card that can be used to transfer crypto funds from one user to another on the EXMO exchange or generate a code as a gift. You can also top up your EXMO account with the EXMO gift card with crypto or fiat funds (0% commission), and use payment methods that are not available on EXMO exchange but can be used among EXMO's users. In terms of security, the EXMO gift card has a combination of 57 characters, which obviously makes it an extremely safe and secure payment system.
Voting
Another great feature available on EXMO is the ability to vote for the next project/token to be listed on the exchange. The winner gets a reward of priority listing rights of the chosen coin on EXMO platform.


Payments
When we compare EXMO to other cryptocurrency exchanges, it has a very clear display of payment methods and the fees charged for every method you choose. In general, EXMO supports funding via either cryptocurrencies or fiat coins. If you decide to fund your account with cryptos, you can choose one of the 60 coins available on EXMO's platform, including the EXMO coin.
Otherwise, it also allows users to fund their accounts using the following fiat currencies: GBP, USD, EUR, RUB, UAH, PLN, and, TRY. For every fiat currency, EXMO offers different payment methods.
| | |
| --- | --- |
| Fiat Currency | Payment Methods |
| GBP | UK Faster Payments, Chaps, Bacs |
| USD | advcash, Visa, Payeer, Matercard |
| EUR | advcash, Visa, Payeer, Matercard, SEPA, Wire Transfer, Bank Frick |
| RUB | advcash, Visa, Payeer, Matercard, Qiwi, |
| UAH | advcash, Visa, Matercard |
| PLN | Visa, Mastercard |
| TRY | Visa, Mastercard |
Regulation & Licensing
In general, EXMO is a registered firm in the UK and complies with the laws and regulations of the United Kingdom and the European Union. But more importantly, last year in December the FCA granted EXMO a temporary registration status, and the exchange is currently registered as a crypto asset business until 9th July 2021, pending the determination of the Financial Conduct Authority.
EXMO is also registered with FinCEN under the registration number 31000165989944 and follows the AML, CTF, and KYC policies.
Contact and Customer Service
Generally, EXMO takes a personal approach to each client so it is no wonder that its customer support is one of the best in the industry with a range of communication channels and helpful staff. The EXMO support team is working 24/7 and the response time within a day. The platform is also available in the following languages: English, Spanish, French, German, Italian, Portuguese, Romanian, Chinese, Russian, Ukrainian, Polish, and Turkish.
In terms of contact methods, you can contact the support via dedicated emails that are available on the Contacts page. Then, you can also contact the support team by submitting a ticket form and best of all, on the EXMO trading dashboard you get access to a live chatbox where you can interact with other users and directly contact the support team.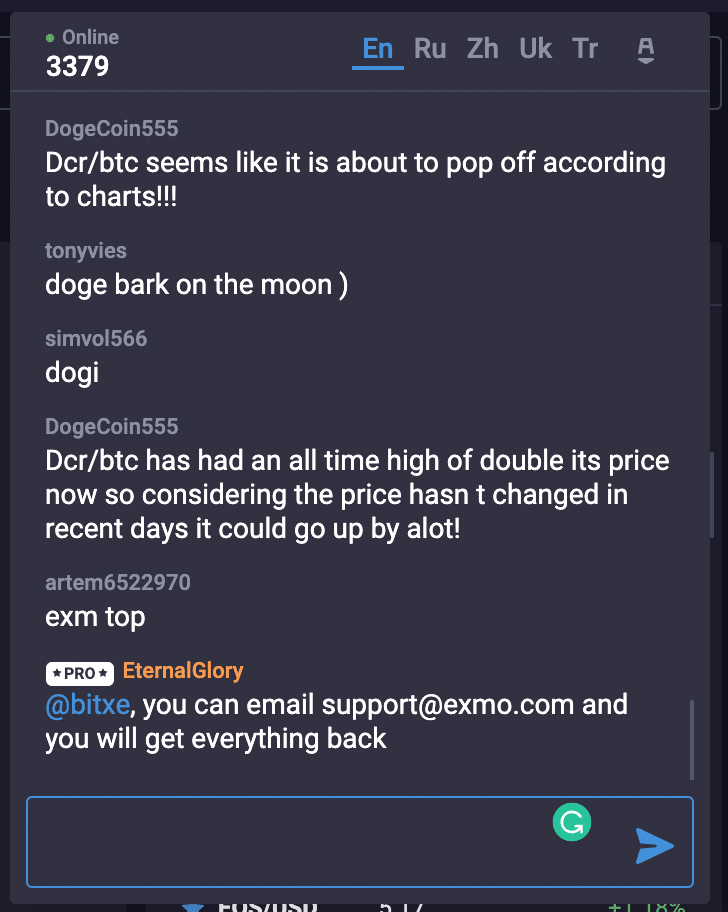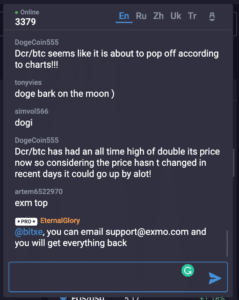 Finally, EXMO also offers an FAQ section called EXMO Wiki and a different section on its site of cryptocurrency articles, forecasts, and guides.


How to Use EXMO
If following our EXMO UK review, you want to get started with this exchange, you simply need to follow the steps below.
Step 1: Create an Account 
The first step you need to take is to visit EXMO's website and create an online account. In the registration form, you are required to create a username (in the Login box), insert your email address, phone number, and create a password.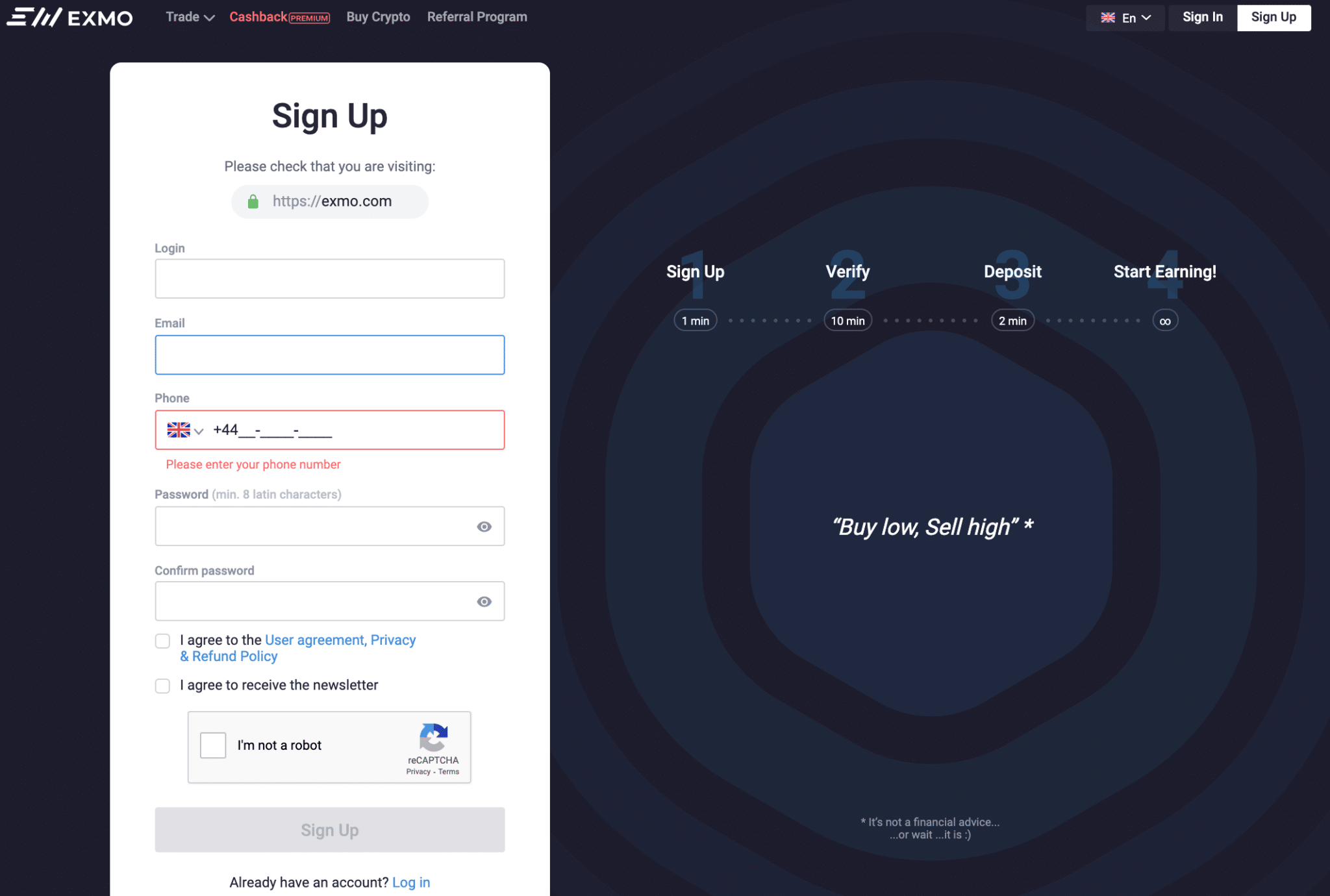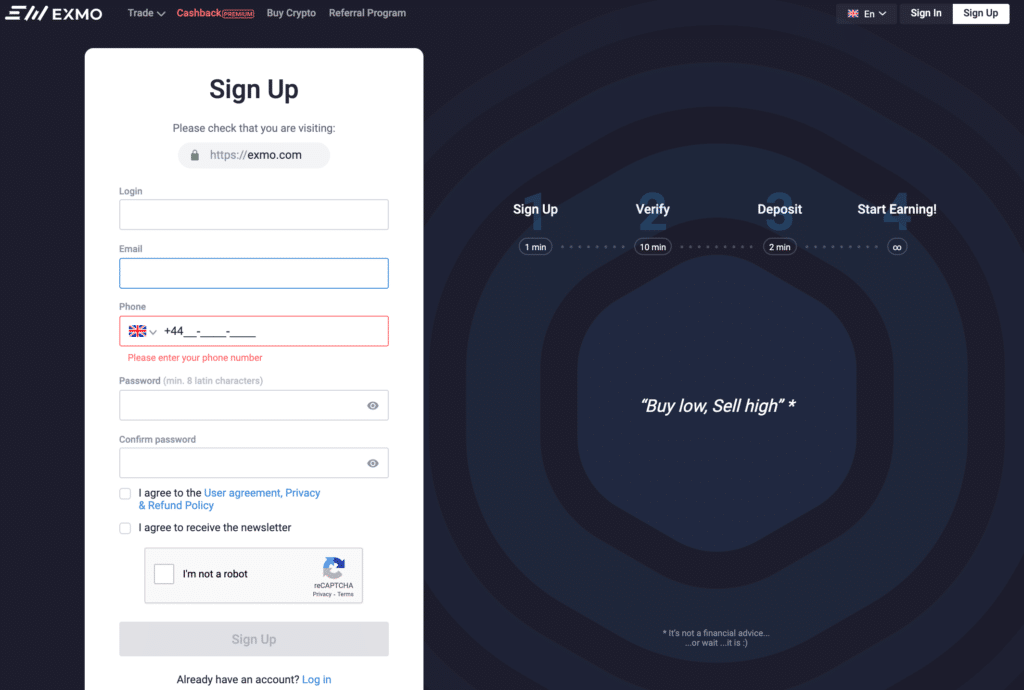 Then, EXMO immediately asks to insert a code sent to your mobile phone.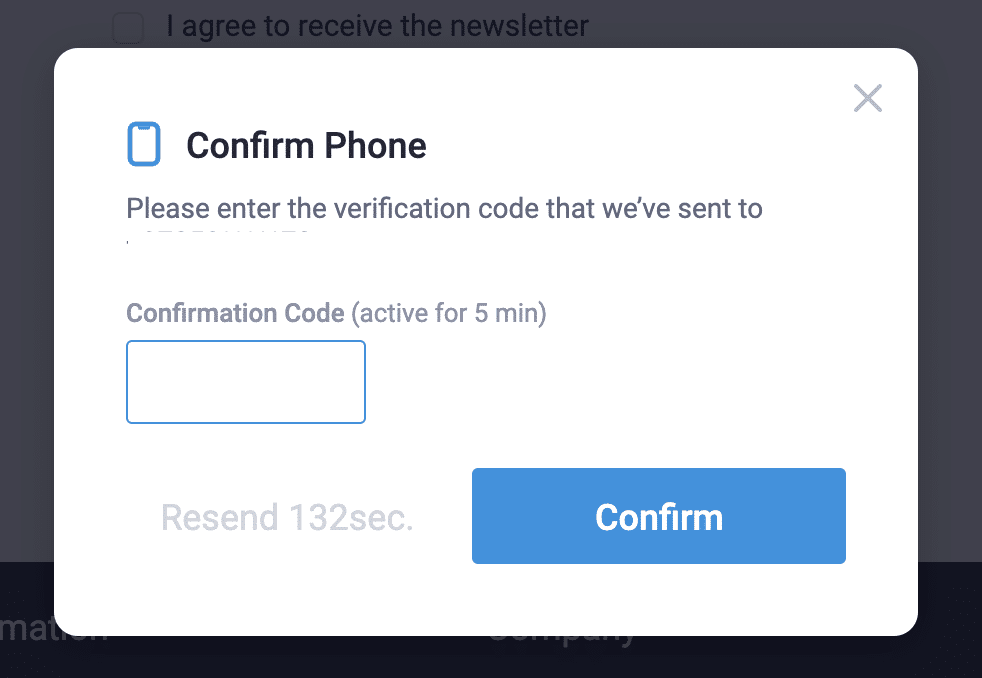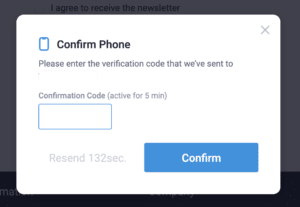 Next, you need to verify your email address in the email sent to you by EXMO. Once you have verified your email address, you are then transferred to the trading dashboard.
Step 2: Verify Your Identity
As an FCA-registered firm, it is no wonder that EXMO requires you to verify your identity before you are allowed to start trading. In order to verify your identity, you need to navigate to 'Account Verification' from the drop-down menu on your profile logo on the top-right corner of your screen.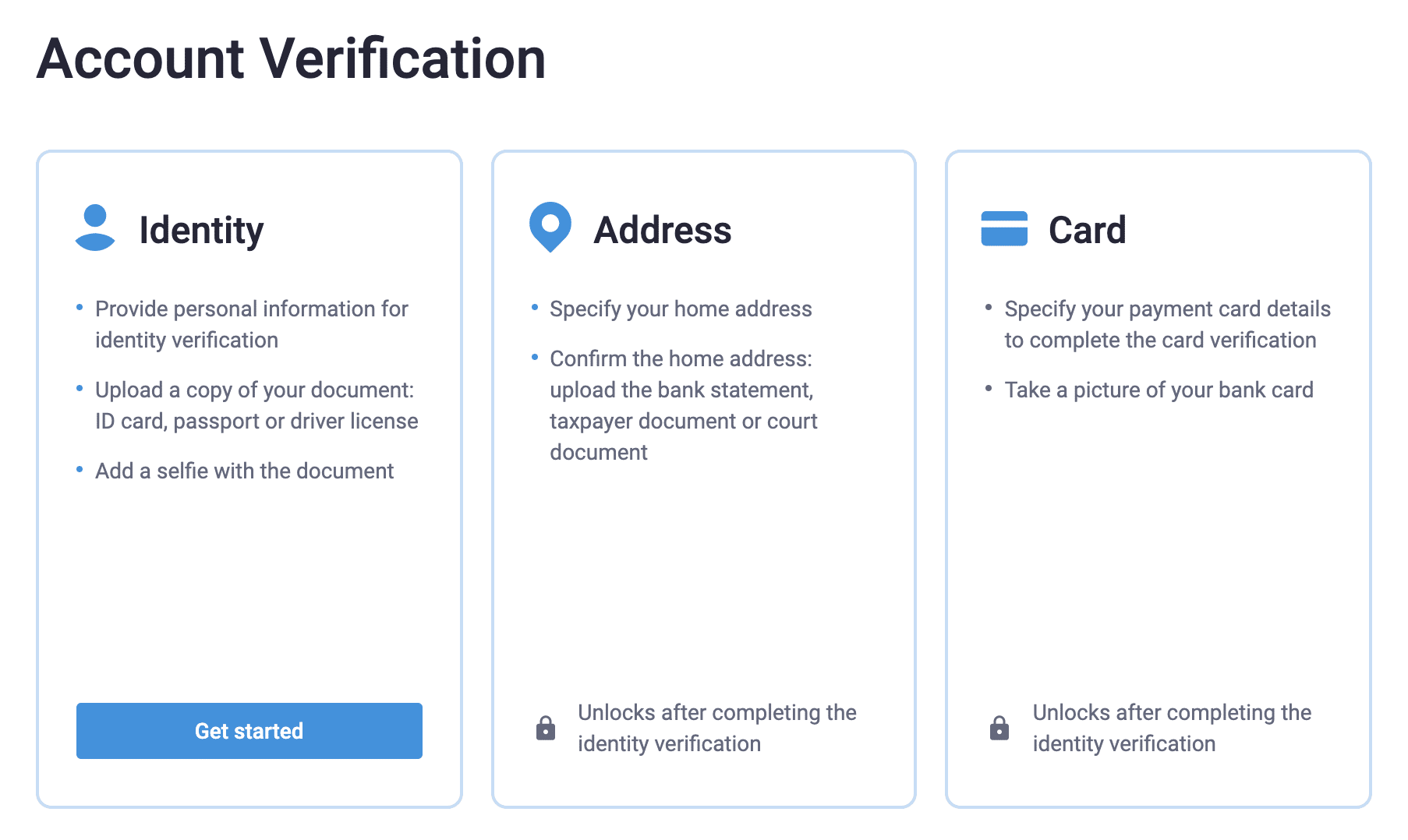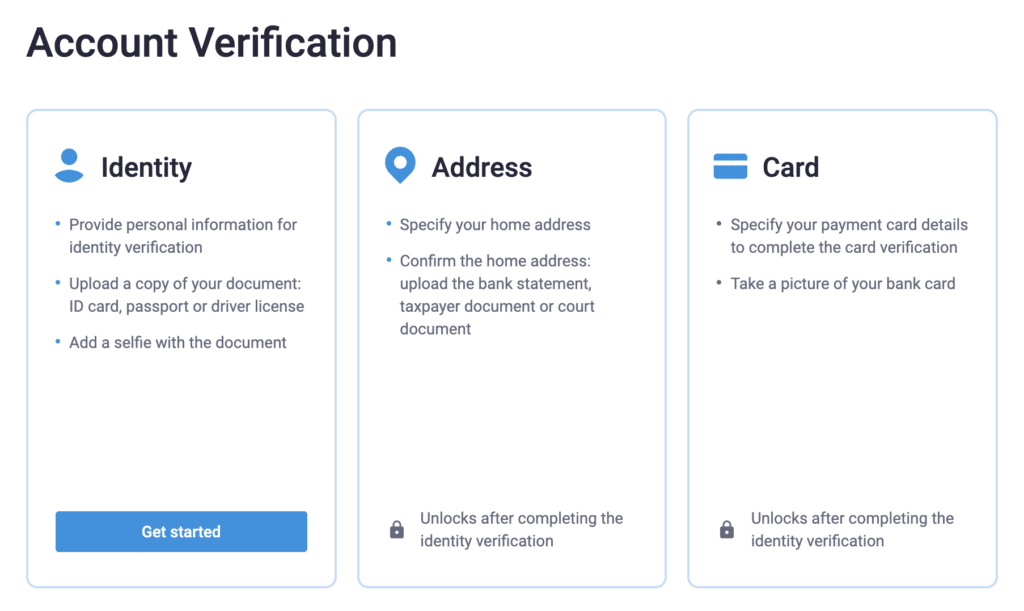 From there, you need to click on the Get Started button to start the verification process and then submit the necessary details and documentation.
Step 3: Fund Your Account
Once your account is verified, you can then add funds to your account. From the dashboard, click on the 'Funding' tab, and on the next page, you'll be able to choose the way in which you want to make the deposit (fiat or cryptocurrencies).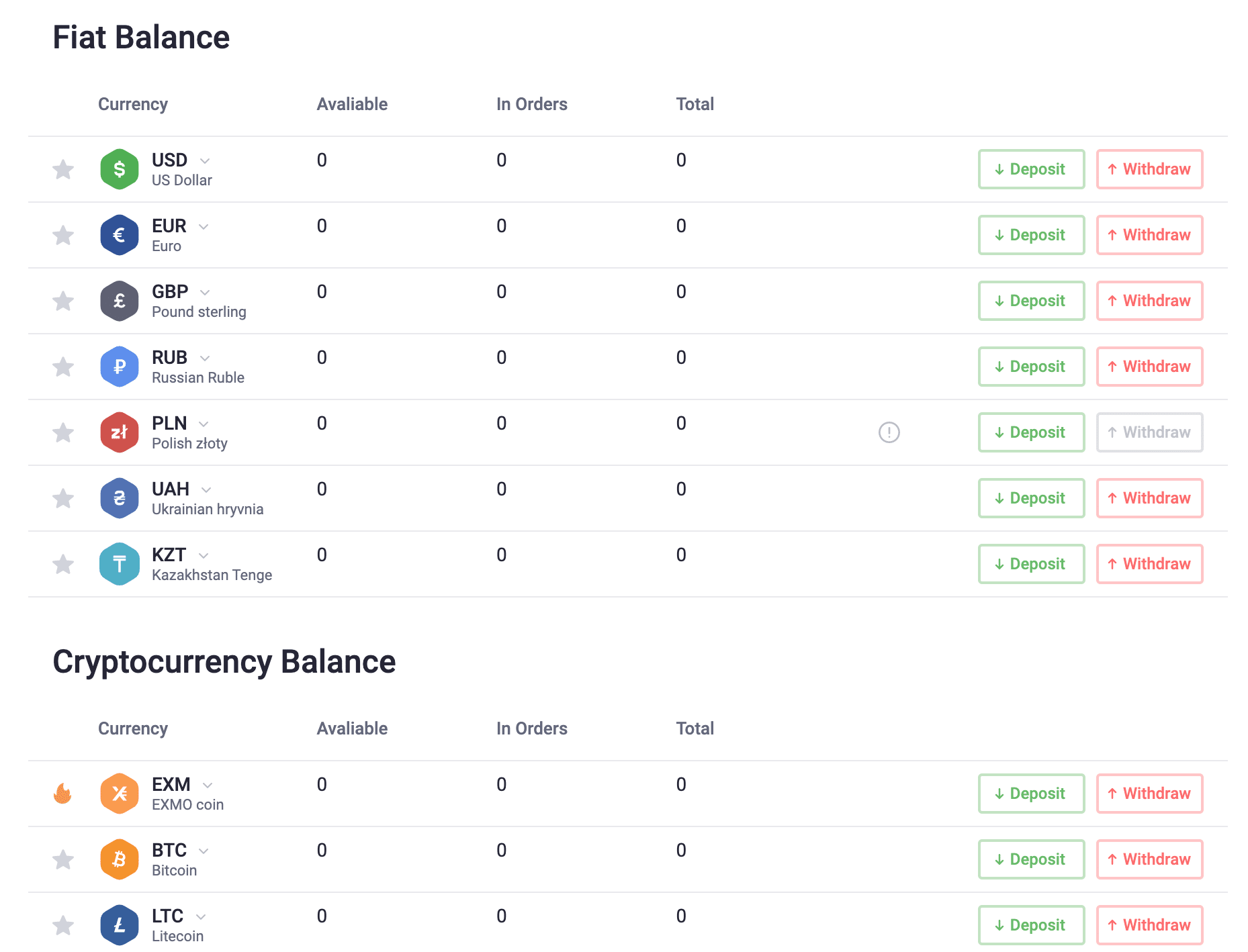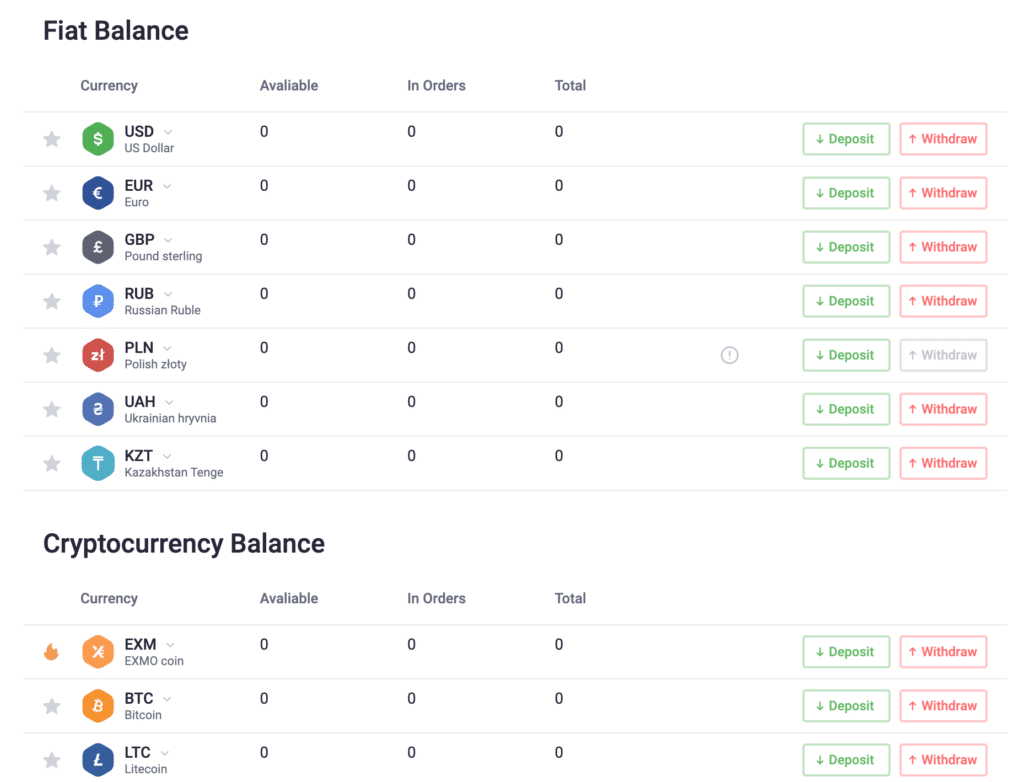 Take note that EXMO offers different payment methods for each fiat coin. For example, when a UK investor wants to fund the account with British Pounds, EXMO provides the following methods: Visa, Swift, Bacs, UK Faster Payment, Chaps, and EXMO Gift card.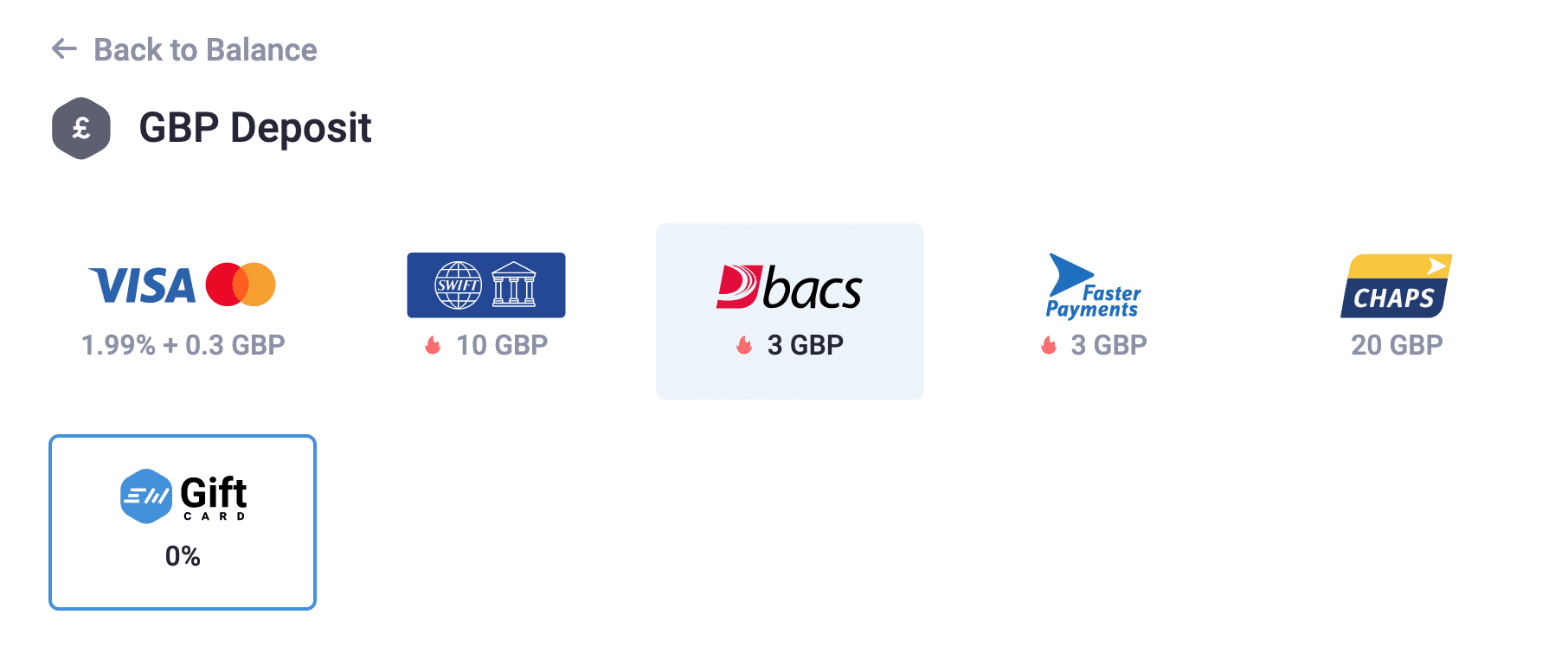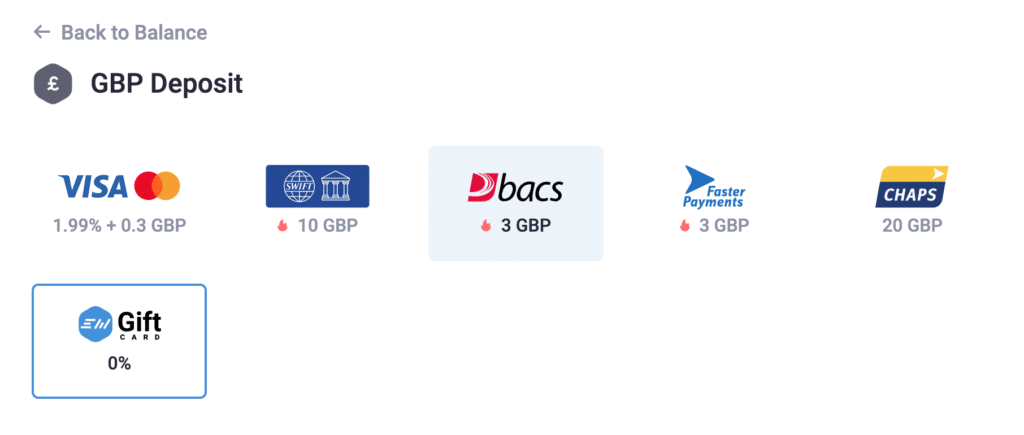 For funding your account with USD, the exchange allows you to use Visa, Swift and EXMO Gift card.
Step 4: Trade Bitcoin and Cryptocurrencies 
Now that you have funds in your EXMO account, you can start trading cryptocurrencies. As we previously mentioned, the platform allows you to use the simple way to buy cryptocurrencies or the advanced. For this demonstration, we are going to show you how to buy digital coins on EXMO in the simplest way.
To do that, click on the 'Simple' button from the Trade tab on the top menu bar.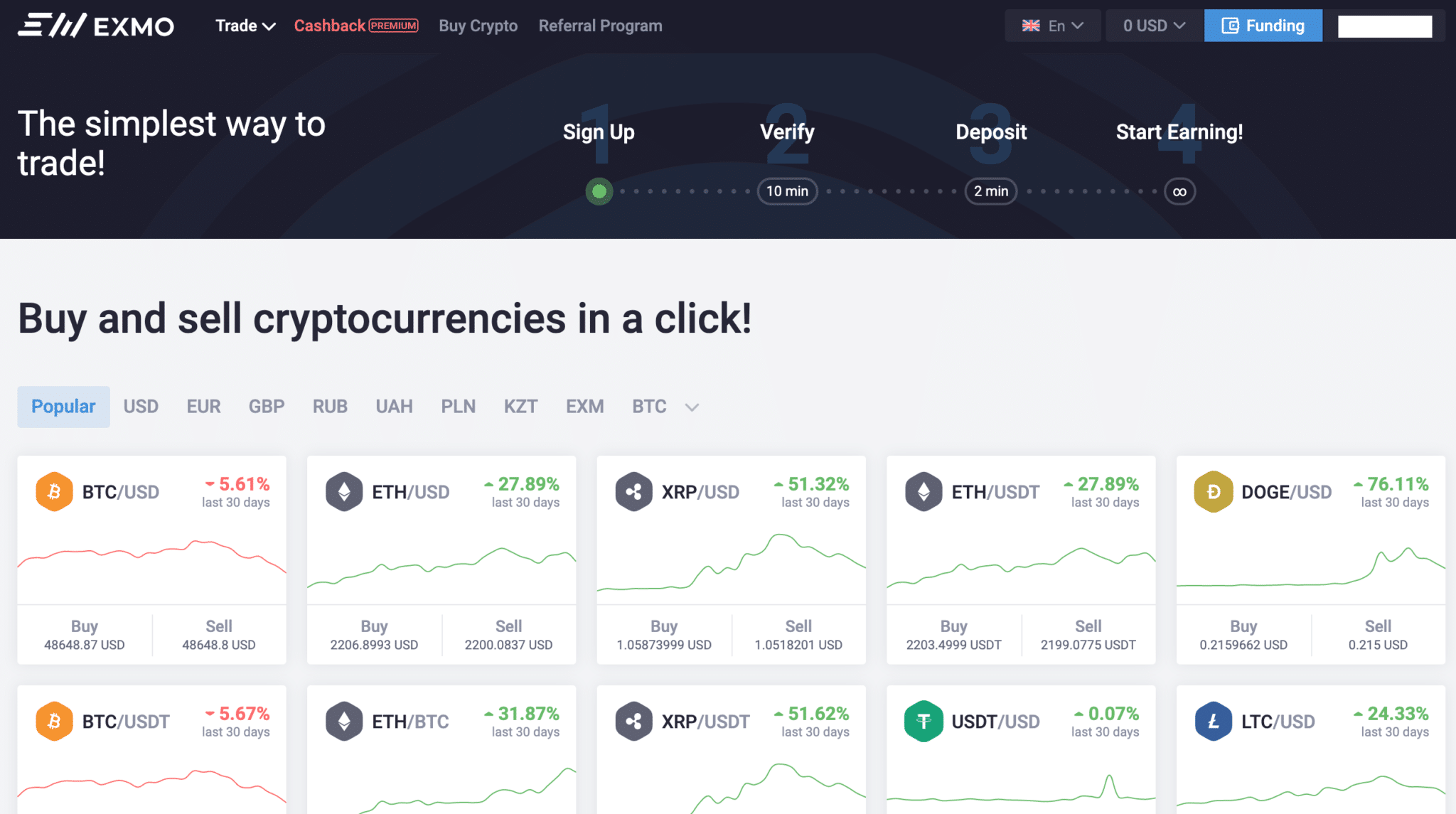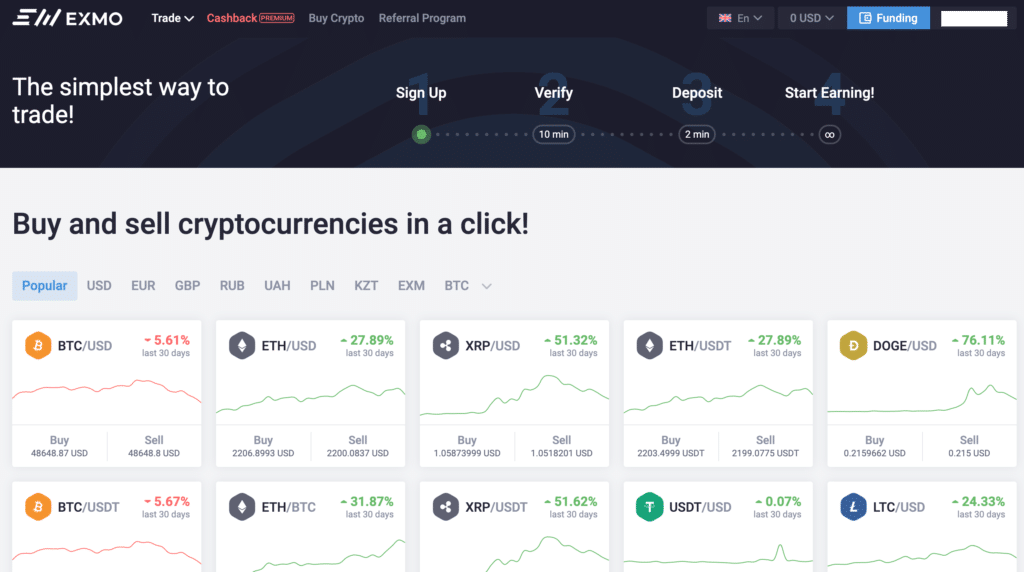 From this page, choose the coin you wish to buy and an order form will be opened up. Then, in the order form simply enter the amount you wish to invest in the chosen cryptocurrency and click on Buy to send the order to the market.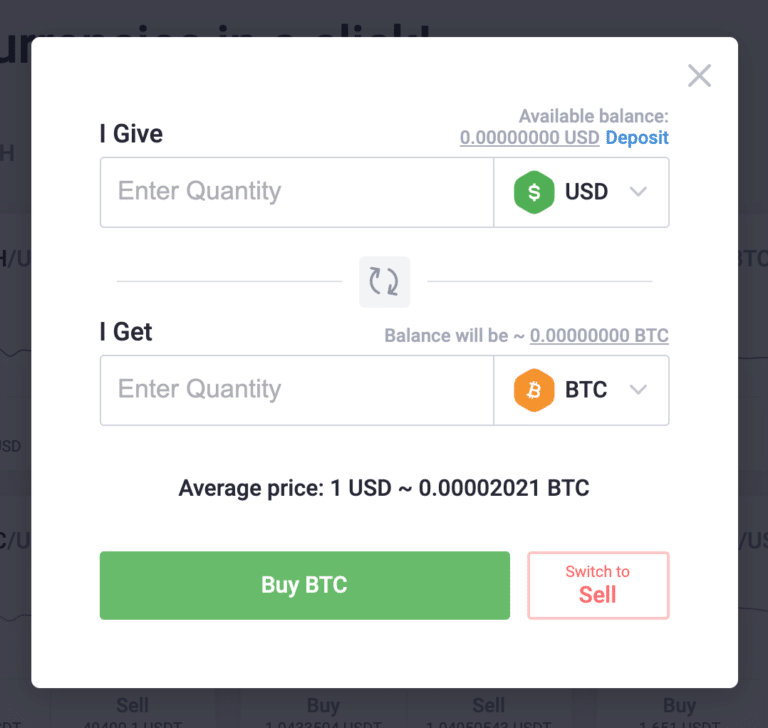 Another way to instantly buy cryptocurrencies without having to fund your account is to instantly buy cryptos with credit and debit card. To do so, you'll have to click on the 'Buy Crypto' on the top menu bar and insert the order amount.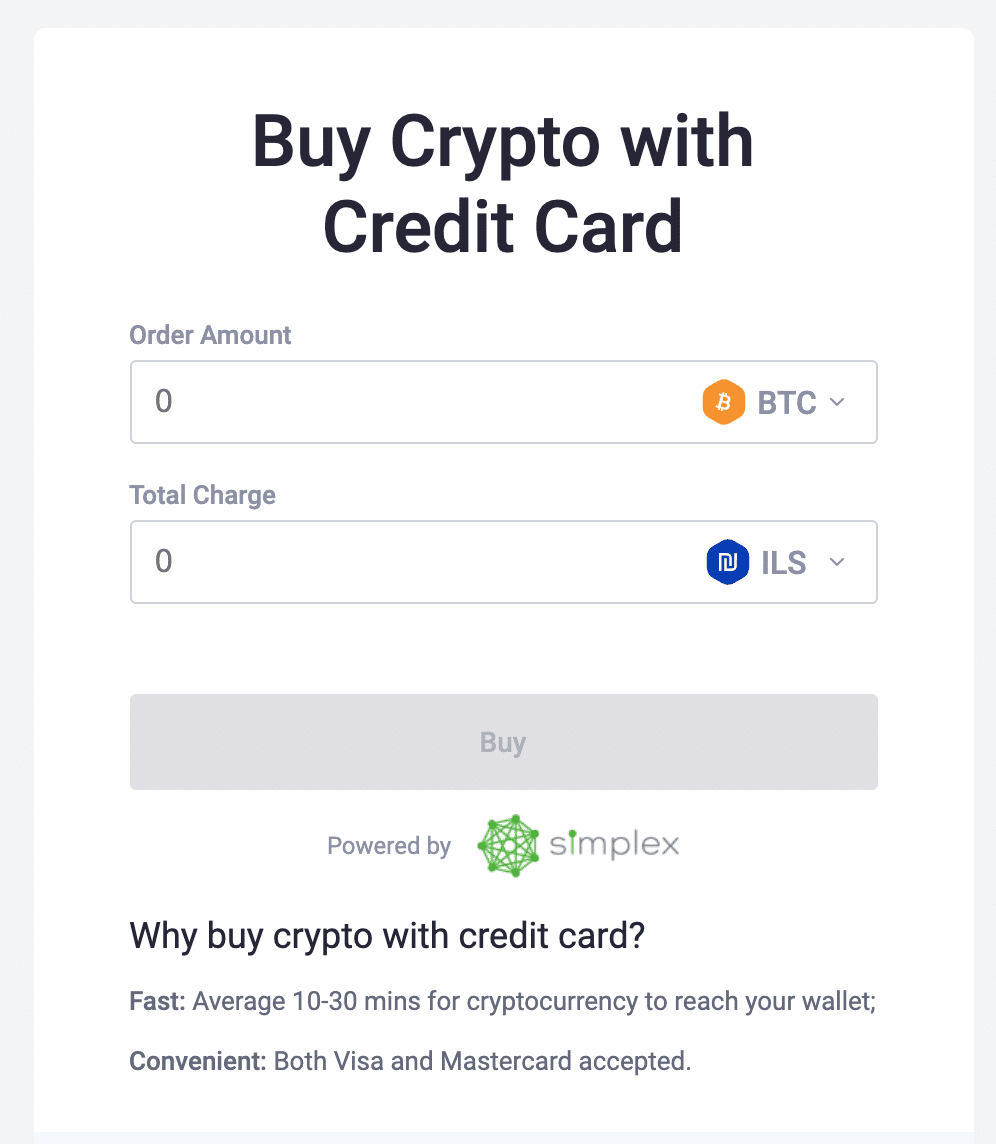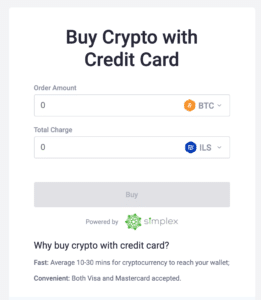 EXMO – Best Cryptocurrency Exchange UK
It is more than likely that you won't have any regrets if you decide to open an account and start trading with EXMO. Overall, it is a great cryptocurrency exchange and for the time being, it is temporarily registered by the FCA in the UK.
This EXMO review UK found that this platform is one of the best for UK investors due to the facts that it offers you to fund your account with British Pounds, it is registered and authorized in the UK, and it charges fees that are in line with the standard in the industry.
Further, we really liked the look and layout of the platform as well as the transparency provided by EXMO. The exchange clearly lays out all the fees and ensures you have all the information before you deposit funds into your account or you are about to make a trade.
FAQs
Is EXMO regulated in the UK?
What cryptocurrencies can buy with a credit card at EXMO?
Does EXMO support PayPal?
What cryptocurrencies can I trade at EXMO?
What is the maximum amount you can withdraw at EXMO?