Best MT5 Brokers UK
Fact Checked
Everything you read on our site is provided by expert writers who have many years of experience in the financial markets and have written for other top financial publications. Every piece of information here is fact-checked.
Disclosure
Please note that we are not authorised to provide any investment advice. The information on this page should be construed for information purposes only. We may earn commissions from the products mentioned on this site.
While most technical traders seek a platform that supports MT4 – MT5 is quickly gaining ground. This is because MT5 was built to give you access to a broader range of financial instruments – including CFDs, futures, stocks, and forex.
MT5 also comes with additional tools and features – such as those centered on pricing timeframes, technical indicators, and market depth. this guide reviews some of the Popular MT5 Brokers UK for 2022.
Popular MT5 Brokers UK List
If you're looking to start trading with some of the popular MT5 brokers UK- check out the list of some of our picks down below. We talk about the core functionality and conduct an in-depth analysis on 4 popular brokers in this sector.
FX Open
XM
Popular MT5 Brokers UK Reviews
In choosing the right trading platform for your needs – you need to look beyond just whether or not the broker supports MT5. In addition to this, you also need to explore what the MT5 brokers and investment apps offer in terms of supported markets, commissions and spreads, payment methods, regulation, and more.
To save you from countless hours of research – below you will find MT5 broker reviews for the popular providers in this space.
1. Pepperstone 

If you are a seasoned trader that typically stakes large volumes – you'll want to analyse Pepperstone. This is because the provider is arguably one the most popular MT5 brokers UK for Raw Spread Accounts. For those unaware, this is similar to an ECN broker Account – whereby you will be buying and selling your chosen financial instruments directly with other market participants.
In turn, when trading forex pairs like EURUSD, USDJPY, GBPUSD, USDCHF, and AUDUSD – you will not pay any spreads at all. Instead, you will pay a flat commission per slide – which will vary depending on the base currency. For example, when utilizing the Raw Spread Account via MT5 – you will pay a commission of £2.29 on GBP pairs and $3.50 on USD pairs.

This is cost-effective – especially when trading larger quantities. Although other asset classes will come with a spread, Pepperstone is still very competitive. For example, Raw Spread Account holders will pay from just 2.40 pips on the Dow Jones 30, 0.05 pips on Gold, and 2.5 pips on Spot Crude Oil.
As you will be trading complex instruments at Pepperstone, all markets can be traded with leverage. When it comes to funding, Pepperstone supports a wide range of UK payment types. This includes Visa, MasterCard, Paypal, and bank transfers. This MT5 broker is authorized and regulated by the Financial Conduct Authority (FCA) and has been offering financial services since 2010.
Sponsored ad. Your capital is at risk.
2. AvaTrade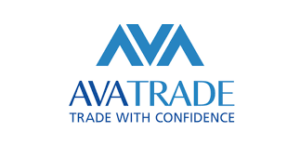 Although MT5 as a platform supports forex EAs (expert advisors) anyway – not all brokers are overly keen on automated systems. This couldn't be further from the truth with AvaTrade – as this popular MT5 broker supports forex EAs in more ways than one.
For example, AvaTrade offers a variety of guides and strategies as to how you may get the most from automated systems. This covers everything from custom indicators, scripts, and libraries. Additionally, AvaTrade also supports Copy Trading when using the platform via MT5. This allows you to mirror the buy and sell orders of a seasoned MT5 trader.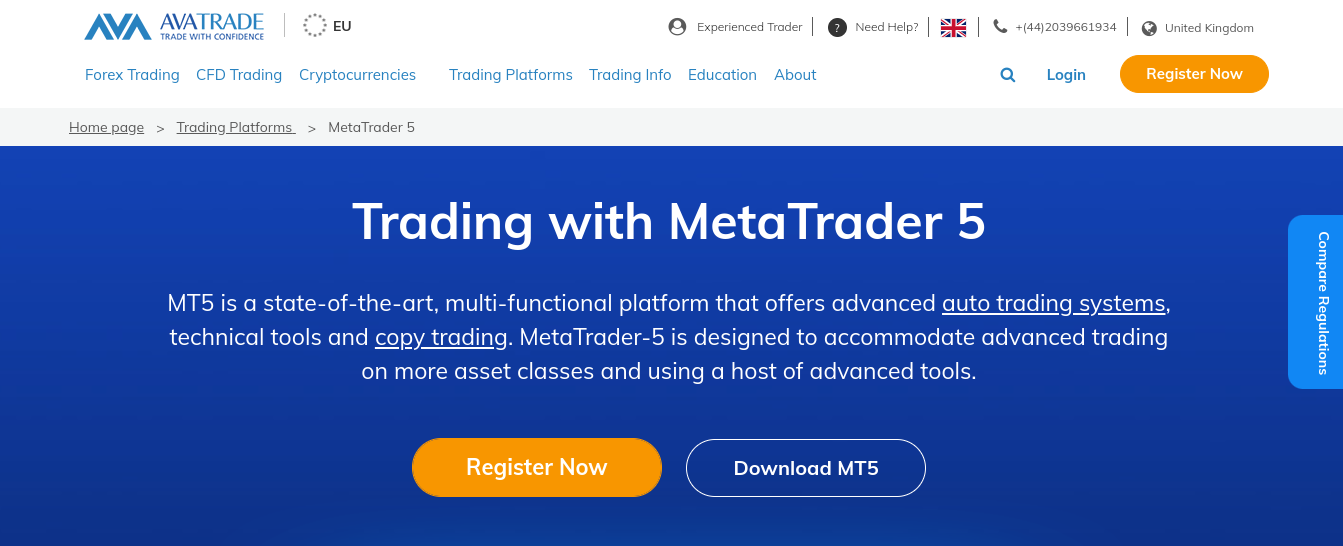 In terms of what you can trade, AvaTrade specializes as a CFD trading platform. Through MT5, this supports forex, stocks, index funds, commodities, and ETFs. Leverage is available on all of the aforementioned CFD asset classes – as per FCA limits. AvaTrade also offers fully-fledged demo accounts – which you may hook up to MT5.  All you need to do is quickly open an AvaTrade account and sign in to MT5 with your demo credentials.
If you want to start trading via MT5 with real money straight away, AvaTrade requires a small minimum deposit of just £100. You may fund your account instantly using a UK debit/credit card – or wait a couple of days via a bank wire. AvaTrade supports MT5 through its own website or via desktop software. There is also support for the MT5 app on iOS and Android. When it comes to fees, AvaTrade is a commission-free broker that on many financial instruments – offers industry-leading spreads.

For example, EURUSD and USDJPY will cost you a spread of just 0.9 pips and 1.1 pips respectively. Crude Oil and Gold are also competitive at 0.03 pips and 0.34 pips. When it comes to stock CFDs – companies like Apple, Google, Amazon, Facebook, and Tesla can be traded at a spread of just 0.13%. Finally, AvaTrade is heavily regulated and is authorized to operate in many jurisdictions.
Sponsored ad. 74% of retail CFD accounts lose money with this provider.
3. FX Open
As you likely know – the key problem with a lot of MT5 brokers is that they are market makers. In simpler terms, this means that they often trade against your positions – so there is a conflict of interest. With this in mind, it's worth considering an MT5 broker that offers ECN/STP Accounts – such as FX Open.
As the name suggests, this online trading site is heavily focused on forex markets. This covers a wide selection of major, minor, and exotic currencies. With that said, FX Open also allows you to trade CFDs in the form of Gold, Crude Oil, indices, and shares. In terms of its MT5 brokerage accounts – there are two options to choose from. If you are planning to trade large volumes – you might opt for the ECN Account. This is because floating spreads start from 0 pips upwards.

The minimum deposit on this ECN Account is surprisingly low at just £300. Orindailrly, ECN Brokers require you to meet an account minimum that often runs into thousands of pounds. The ECN account will attract a commission of just $1.50 per slide. If you are planning to trade with smaller amounts, then the STP Account at FX Open is worth considering. This also requires a minimum deposit of just £300 – but you won't be charged any commissions.
You will, however, need to pay a less competitive spread than the ECN Account offers. Either way, both accounts are fully compatible with MT5. If you are planning to install a forex EA or automated robot system into MT5 – you'll be pleased to know that FX Open offers a free VPS (Virtual Private Server). This will allow you to have your EA/robot trading for you 24 hours per day without it lagging.

In terms of funding your FX Open account, this popular MT5 broker and the popular STP broker supports debit and credit cards – with no fees attached. A local bank transfer is also an option, as is Webmoney. Withdrawals come at a minimum of £10 and £20 when using a debit/credit card and bank wire – respectively. Finally, although FX Open isn't as well known as other MT5 brokers in the space – it has been operational since 2003. Most importantly, it is regulated by the FCA and retail client funds are protected by the FSCS.
Sponsored ad. 74% of retail investors lose money trading CFDs at this site.
4. XM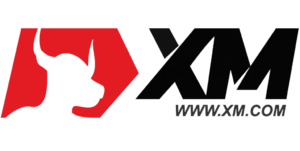 While many traders in the UK will look to specialize in a specific asset class or market – others prefer to take a more diversified approach. If the latter sounds like you – it might be worth looking into XM. This popular MT5 broker gives you access to over 1,000 financial markets across six core asset classes.
In the case of forex, this covers 55 currency pairs across the majors, minors, and exotics. If stock trading is more your thing – this is where XM really excels. This is because the platform supports hundreds of stock CFDs from 18 different marketplaces. This includes stocks listed in the UK, US, France, Spain, Belgium, Italy, and Greece. There are also stocks from emerging economies such as Brazil and Russia.

Other supports asset classes at XM include agricultural products, equity indices, precious metals, energies. When it comes to pricing, this will depend on which account type you open – of which there are three. The Micro Account – which is suited to newbie traders that wish to stake small volumes, allows you to trade without paying any commission. Spreads on this account start from 1 pip and the contract size per forex pair is 1,000 units.
These market conditions are the same with the Standard Account, albeit, the contract size is 100,000 units. You then have the XM Zero Account – which is more suited to experienced traders. Although you will pay a small variable commission per slide, you will pay 0 pips on most markets. What we really like about this MT5 broker is that the minimum deposit threshold is very low. This stands at just $5 on the Micro and Standard Account, and $100 on the XM Zero Account.
Sponsored ad. 74% of retail investors lose money trading CFDs at this site.
MT5 Brokers Fees Comparison
Below we outline the main fees that we came across when conducting our MT5 broker reviews.
| | | | |
| --- | --- | --- | --- |
| MT5 Broker UK | Commission | Spreads From | Platform Fee |
| Pepperstone | 0% | 0 pips on Raw Account | None |
| AvaTrade | 0% | 0.9 pips on EURUSD | None |
| FX Open | 0% on STP, $1.50 on ECN | 0 pips on ECN Account | None |
| XM | 0% on Micro/Standard account | 0 pips on XM Zero Account | None |
Take note, brokerage fees change on a regular basis – so be sure to check this yourself before making a deposit.
What is MT5?
MetaTrader 5 – or simply MT5 – is a third-party trading platform that can be connected to your chosen stock broker site. Not all MetaTrader brokers support MT5 – as its MT5 counterpart still dominates this space. Nevertheless, by trading via the MT5 platform – you will have instant access to a suite of advanced trading tools and features.
For example, MT5 is loaded with several order types, dozens of technical indicators, and chart drawing tools – and you fully customize your trading screen. Perhaps the main attraction with MT5 is that you have the option to also install forex EAs and automated trading systems. More on this shortly.

It is important to note that MT5 is merely a middleman between you and your broker. That is to say, MT5 does not determine which assets and markets you can trade – nor does it dictate the spreads and commissions that you'll need to pay. Instead, MT5 is an interface that gives you more flexibility when it comes to analysis and placing orders.
MT5 allows you to get a full birds-eye view of your respective brokerage account. For example, you may view your current balance, historical profit and loss, and the status of outstanding positions. Ultimately, MT5 is there to forward your trades to the respective broker in real-time.
Features of Using MT5 Trading Platform
If you are yet to use MT5 yourself, you might not be aware of why so many seasoned traders may be interested to use the platform to purchase shares and sell financial instruments.
Below we discuss these features and benefits in more detail.
Technical Analysis
If you are a trader that relies on technical analysis – MT5 has everything that you will need.  In total, this includes 38 widely used technical indicators and 44 drawing tools.
Regarding the former, this covers all indicator groups – such as volume, trends, oscillators, and volatility. MT5 is also a must for advanced technical traders because it offers 21 different timeframes. When using a bog-standard brokerage web trader – you might only have access to 3 or 4.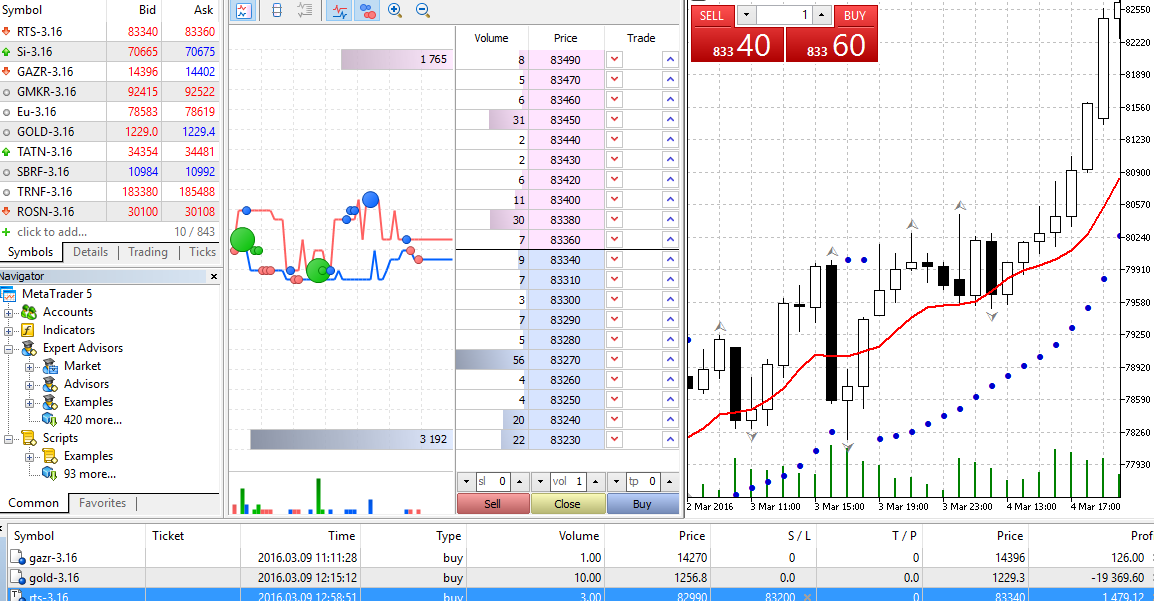 An additional stand-out feature of MT5 is that it offers an unlimited number of charts. This means that you may also customize your screen layout to show pricing action from as many assets as you wish.
Fundamental Analysis
Although both MT5 and MT4 are synonymous with technical trading – it should be noted that the platform is also valuable when it comes to fundamental research.
This is because the platform has a built-in news feed from a variety of financial reporting sites. This will give you access to real-time broadcasts centering on pricing feeds, company earnings reports, newsletters, and more. As such, MT5 ensures that you are regularly kept abreast not only on the technicals – but the fundamentals, too.
Order Types
When using the web trading platform offered by your chosen broker – you might find that you have access to very little in the way of orders. Sure, you'll likely have access to buy/sell orders, limit orders, stop-loss orders, and take-profit orders – but that might be just about it.
On the contrary, when trading with one of the popular MT5 brokers UK – you will have access to heaps of more advanced and flexible order types. For example, This includes 6 pending orders,2 trailing stop-losses, 2 stop orders, and 2 market orders.
These can be broken down further depending on your trading objective – with MT5 covering Exchange, Request, Market, and Instant execution.  Having access to such a broad range of orders on MT5 ensures that users can trade in a risk-averse manner.
Automated Trading
MT5 is one of the popular automated trading platforms in the market. This is because it offers full support for both forex EAs and automated robots. All you need to do is download your chosen software system and install it into the MT5 desktop platform that you have on your device.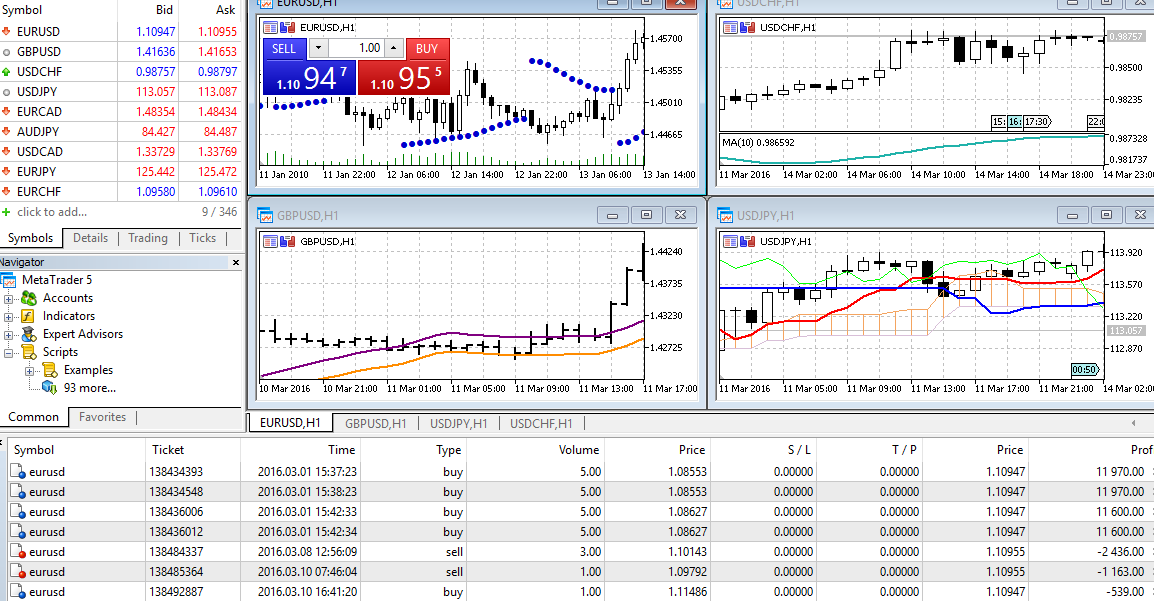 Then, you may fully customize your automated system before it goes live. For example, you can set pre-determined metrics such as maximum stake sizes in relation to your balance, target stop-loss and take-profit prices, and specific assets that should or shouldn't be traded. In fact – as our MT5 brokers UK offer demo accounts – you have the option to test your automated system out risk-free.
Copy Trading
Another popular feature that the popular MT5 brokers UK offer is support for Copy Trading. This is actually a tool provided by the MT5 platform itself and it allows you to trade in a fully passive manner. Unlike forex EAs or robots – you won't be relying on a pre-programmed software file.
Instead, you will select a seasoned trader that has registered for the MT5 Copy Trading program by analyzing their historical performance. If you are confident that the trader meets your financial goals and tolerance for risk – you have the option to then copy all ongoing positions like-for-like.
Unlike eToro – which is an FCA broker that offers Copy Trading, MT5 actually charges a fixed subscription. The amount you pay will vary depending on the specific trader that you elect to copy.
How to Get Started with an MT5 Broker
If you're ready to start trading on MT5- follow the steps below. We walk you through the end-to-end process of opening an account with a suitable broker of your choice.
Create an Account
Getting started takes a matter of minutes. Simply make your way to your brokerage's website and begin the sign-up process. This will open a sign-up form and you'll be required to enter your name, email address, as well as choose a username and password for your new trading account.
Complete the Verification Process 
Users may be required to complete a simple KYC process, if they invest with a regulated broker. Upload a copy of your passport or driving license as proof of identity, and a copy of a recent utility bill or bank statement as proof of address.
Deposit Funds
With a fully verified account, you're one step closer to start trading a range of assets with the click of a button.  Depending on the broker you choose, you can transfer funds using a debit card, credit card, bank wire transfer, as well as e-wallets such as PayPal, Neteller and Skrill.
Choose your preferred payment method and deposit your funds into the account.
Download MT5 (If Applicable)
In order to get the most out of MT5 – it's best to download the platform to your desktop computer. This will allow you to benefit from its core features – such as Copy Trading, forex EAs, and advanced technical indicators. With that said, depending on the broker you choose, MT5 can be downloaded directly on web as well.
Log in to MT5
All MT5 platforms require you to log in before you can gain access. You will be logging in with your brokerage credentials – so in this case, the username and password that you created when you opened your trading account.
Once you log in – you will be able to see your username and your current account balance.
Search for Asset and Place Order 
You are now ready to start trading on MT5. As you are using your account , you can trade hundreds of markets – from stocks and forex to commodities and ETFs. You can use the MT5 search function to find your desired market or use the filter buttons from the top of the page.
Once you have found the supported market that you wish to trade – you will need to set up an order. Opt for a buy order if you think the financial instrument will rise in value or a sell order if you think the opposite. You can also set up limit, stop-loss, and take-profit orders.
Once you confirm the trade – MT5 will forward the position to your broker in real-time.
 Conclusion
If you are a seasoned trader that wants access to more sophisticated tools and features – MT5 is well worth looking into. Many would argue that this third-party trading platform is valuable since it gives you a comprehensive set of technical indicators, chart reading tools, and automated trading systems.
You will, however, need to sign up with a trusted MT5 broker before you may use the software.
FAQs
What is the minimum deposit for MetaTrader 5?
Does MT5 support cryptocurrencies?
How do you use a forex EA on the MT5 trading platform?
What is a popular forex trading platform for MT5?