With the stock market constantly fluctuating, keep up with the best shares to buy can be easier said than done. After all, there's so much to consider when investing in a stock. However, you don't have to do so alone, because we've done our research and picked out the ten best shares to buy right now.
In this edition of our monthly stock market analysis, we are going to look at the Best Shares to Buy Now in September 2021 – with our expert analysis covering September 13th to September 16th.
Original price data as of Dec. 9, 2020. Updated data and YTD returns are as of September 16th, 2021. 
---
Before we take a closer look at the best shares to buy today, here's a quick look at our top 10 picks:
You can buy all of these top shares, as well as many others, at eToro and pay 0% fees!
---

1. Walt Disney Co (DIS) – Overall Best Stock to Buy Right Now (HOLD)
Industry: Consumer Services
Current price: $183.27
Market value: $332.97 billion
Dividend yield: N/A
YTD return: 3.15%
September 13th to September 16th: Disney released its financial results for its fiscal Q3 last week, which ended up being much better than analysts anticipated. Revenue in the third quarter was $17 billion, which was 45% more than Q3 last year. Furthermore, EPS figures were noted at $0.80, which was far higher than industry experts expected.
Most of Disney's business segments performed admirably, with amusement parks and experiences revenue increasing by over 100% – although this is to be expected, given that parks were closed during 2020 thanks to the pandemic lockdown. Notably, Disney+ subscribers reached 116 million, highlighting how well Disney's streaming service has done to try and compete with the likes of Netflix.
We like Disney's stock as the company has been trading sideways for quite some time, providing an excellent level to buy shares. The company's brand appeal is exceptional, whilst most business segments seem to be producing the goods. In the future, if Disney continues on this path, we could see a return to the all-time highs experienced in March 2021.
---
2. Sea Limited (SE) – Buy This Stock for Exposure to Asian Market (HOLD)
Industry: Technology
Current price: $325.50
Market value: $175.09 billion
Dividend yield: N/A
YTD return: +66.02%
September 13th to September 16th: Most people will not have heard of Sea Limited, but this company looks set to make some huge strides over the next year. Sea Limited is headquartered in Singapore and owns Shopee, SeaMoney, and Garena, three popular Asia-based tech companies. The latter is the firm's gaming segment, which has a considerable reach.
Another segment, Shopee, aims to offer a similar service to Amazon and is making waves in Asia. This segment has even begun broadening its horizons and is now operating in Brazil and Mexico. Much hype surrounds Shopee in these markets, as it offers a viable alternative to the current dominant firms.
Sea Limited generated a remarkable $4 billion during the first half of 2021, which is more than double what they brought in during the same period in 2020. This highlights the impressive growth shown by the company, which is expected to continue as economies return to normal following COVID-19. With a YTD return of over 66%, now might be the ideal time to add Sea Limited to your portfolio.
---

3. Amazon (AMZN) – Best Long-term Stock Investment for 2021 (Hold)
Industry: Technology
Current price: $3,513.62
Market value:  $1.78 trillion
Dividend yield: None
YTD return: 10.26%
September 13th to September 16th: Amazon shares continue to trade in a narrow range around $3,250. We're still waiting to see if Amazon shares can break above $3,500. If and when that happens, look for a sustained upward price movement to follow.
Amazon boasted massive gains in the first half of 2020 as the COVID-19 pandemic gripped the world. The shares started last year at less than $1,900 each, and finished the year at over $3,250 each.
Along the way, Amazon solidified its dominance in global eCommerce and made itself an essential part of global infrastructure. Not only is its core online retail business growing year-on-year, but it is involved in heaps of other innovative products and services. This includes its ever-growing Amazon Prime subscription model, as well as cutting-edge technologies like cloud computing and artificial intelligence.
We don't see Amazon shares slowing down any time soon, so it's among our top picks in 2021.
---

Industry: Social Media
Current price: $381.36
Market value: $1.08 trillion
Dividend yield: N/A
YTD return: +41.80%
September 13th to September 16th: Everyone has heard of Facebook. The social media giant is a component of most equity portfolios, as the stock price keeps increasing gradually, regardless of market conditions. Facebook's stock price recently reached all-time highs of $376 in July – and the recent pullback provides an optimised level to invest at.
Facebook's recent Q2 results saw revenue increase by 56% from the previous year's figures, whilst EPS figures also beat analyst's estimates. Looking ahead, much of Facebook's focus will be on virtual reality through their investments in Oculus and other VR-based companies. If Facebook can develop systems that can be monetised within this sector, it'll add a huge revenue generator for the company.
We recommend Facebook as an addition to your equity portfolio as the company has strong earnings regardless of economic conditions, whilst still looking to innovate for the future. Hate him or love him, Mark Zuckerberg is a man with big ideas – and if these ideas come to fruition, it'll mean great things for the Facebook stock price.
---
5. Airbnb (ABNB) – Best Travel Stock to Buy Right Now (HOLD)
Industry: Lodging
Current price: $163.93
Market value: $103.05 billion
Dividend yield: N/A
YTD return: +17.81%
September 13th to September 16th: Airbnb's IPO was one of the most exciting financial events of 2020, exceeding expectations massively. The timing of Airbnb going public was relatively problematic, given the uncertainty within the sector, thanks to the COVID-19 pandemic. However, between December and February, the company's stock price soared by 33% – although since then, it hasn't been plain sailing.
We believe Airbnb is an excellent addition to equity portfolios over the long term, given the company's disruptive business model. Q2 2021 sales were 299% higher than Q1, highlighting just how well Airbnb have rebounded. Furthermore, net losses shrunk whilst booking value increased drastically. All of this occurred when the lockdown was still easing – which adds even more optimism for the second half of 2021.
As countries reopen and travel becomes more common, Airbnb's service looks set to become increasingly more popular. In addition to this, consumer tastes are changing, with younger people more interested in homestays rather than hotel stays. These factors, combined with the company's relatively attractive price, make Airbnb one of our top picks for the latter half of 2021.
---
6. British American Tobacco (BAT) – Best Stock to Buy for Passive Income (HOLD)
Industry: Tobacco
Current price: 2670p
Market value: £61.26 billion
Dividend yield: 8.01%
YTD return: -3.03%
September 13th to September 16th: British American Tobacco has been around for nearly 120 years, and as the name implies, the company manufactures and sells tobacco-based products such as cigarettes. Currently the third-largest tobacco company as measured by market cap, British American Tobacco has pivoted well in recent years following the culture shift towards vape products. However, most investors lean towards the company's stock due to the exceptional dividend that is paid.
British American Tobacco pays around an 8% dividend yield, which is far higher than the average company on the FTSE 100. Tobacco companies tend to offer higher dividends to attract investors, as many people will steer clear of buying these stocks due to them being 'sin stocks'. However, if you are not concerned with the ethical side of things, then British American Tobacco stocks are a great way to earn a passive income stream.
In addition, BAT is still performing well in terms of sales. Developing nations are still large consumers of cigarettes, meaning that British American Tobacco sold just under 640 billion cigarettes last year. It's likely that demand will always be there for cigarettes, and with the company now offering vape products, BAT's stock might still have some upwards potential going forward.
---
7. Square (SQ) – Best Innovative Stock to Buy Today (HOLD)
Industry: Financial Services
Current price: $254.72
Market value: $117.09 billion
Dividend yield: N/A
YTD return: +15.17%
September 13th to September 16th: Square has had a pretty volatile few months, experiencing a remarkable decline in April followed by an even more significant increase in August. The company, founded by Twitter founder Jack Dorsey, focuses on financial services and POS systems in particular. In addition to these systems, Square offers a super popular 'Cash App', which allows payments to be made seamlessly between two parties.
One of the main things going in Square's favour is that the Cash App now offers crypto trading, which has added a massive boost to the company's revenues. Revenue increased 143% in Q2 2021 compared to Q2 2020, highlighting how fast the company has grown.
Going forward, Square is continuing to innovate by launching new services and purchasing smaller companies. Square recently bought Afterpay, which adds another dimension to their offering. As consumers increasingly look for alternatives to traditional systems, Square could be set to fill that void – leading to significant price increases in the months to come.
---
8. JPMorgan (JPM) – Best Dividend Stock to Buy Today (HOLD)
Industry: Financial Services
Current price: $157.36
Market value: $470.22 billion
Dividend yield: 2.29%
YTD return: +25.02%
September 13th to September 16th: JPMorgan is one of the most well-established firms globally, providing a wide variety of financial services to retail and institutional clients. The company is currently the largest bank in the US and has continued to increase revenues year on year – even during the height of the COVID-19 pandemic in 2020.
One of the great things about JPMorgan is that it generates revenue from various sources. Many banks rely on interest payments and credit card transactions to bolster income; however, JPMorgan generates massive amounts through investment avenues. This is in contrast to many other banks that focus mainly on retail clients.
JPMorgan pays a consistent quarterly dividend, which is excellent for investors looking to generate a passive income stream. The company tends to increase its dividend every year, with this year's increase expected to come in the latter half of the year. So, if you are looking for a stable firm with a reliable dividend, we would recommend considering an investment in JPMorgan.
---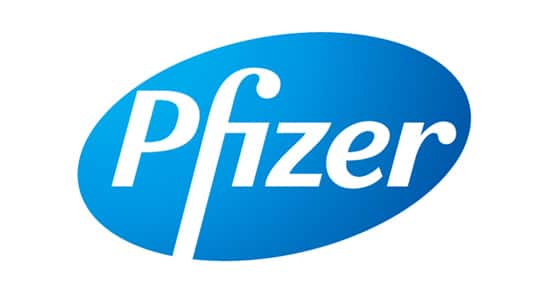 9. Pfizer (PFE) – Best Pharmaceutical Stock to Buy Right Now (HOLD)
Industry: Pharmaceutical
Current price: $45.64
Market value: $255.83 billion
Dividend yield: 3.59%
YTD return: +23.96%
September 13th to September 16th: Pfizer is one of the largest pharmaceutical companies globally and has been in the media over the past year thanks to the company's development of a COVID-19 vaccine. The company expects to manufacture nearly 3 billion doses in 2021 and has already distributed vaccines to 91 different countries and regions. Shares are currently up over 16% since the turn of the year – and are rapidly approaching the all-time highs from 1999.
We feel that Pfizer represents an excellent long-term investment due to the company's substantial revenue-generating activities. The Pfizer vaccine is expected to generate $26 billion for the company in 2021, an exceptional amount. Notably, Pfizer doesn't just rely on this vaccine – the company has numerous other drugs that create more than $1 billion in income for Pfizer every year.
In addition to solid revenues, Pfizer also pays a healthy dividend of 3.59% to shareholders, which is paid quarterly. With revenues increasing at a rapid rate and the company's bullish momentum showing no signs of stopping, Pfizer looks set to be a great addition to investment portfolios worldwide going forward.
---
10. Snowflake (SNOW) – Best Cloud Computing Stock to Buy Today (HOLD)
Industry: Computer Software
Current price: $323.52
Market value: $97.35 billion
Dividend yield: N/A
YTD return: 16.27%
September 13th to September 16th: You may or may not have heard of Snowflake, but the company have sprung onto the scene over the past few years. Snowflake is a company that offers cloud-based data storage services designed to appeal to a huge variety of businesses. In fact, Snowflake has such a good reputation and future prospects that Warren Buffet even has a substantial investment in the firm.
Cloud computing is one of the fastest-growing markets worldwide and is expected to grow by nearly 15% per year between now and 2027. Furthermore, recent Q2 results have shown that Snowflake's revenue more than doubled from last year, highlighting how well run the company is. Snowflake even has more than double the number of customers that generate over $1 million for the firm since this time last year.
Looking ahead, the future is exceptionally bright for Snowflake. Cloud data storage seems to be the way that many industries are heading, with companies such as Amazon and Microsoft already having developed their own cloud-based platforms. Time will tell whether this stock can reach the heights that many believe, but it is definitely a good investment for investors with higher risk tolerance.
Get Free Stock Tips to Your Inbox Now
What Stocks Should You Invest In?
Discover how to find winning stocks
Receive weekly stock tips from the Pros
Get Access Now
US-based equities suffered last week, as the S&P 500, NASDAQ, and Dow Jones all produced a negative return. Much of this decline was due to poor performances from top constituents such as Apple and the strict new vaccine mandates handed down by Joe Biden.
UK-based equities were also down, with the FTSE 100 and FTSE Allshare down by 1.68% and 1.67%, respectively. Investor sentiment has been rocked recently thanks to growing COVID-19 cases, which have raised fears around the economic recovery.
S&P 500: -1.57%
NASDAQ Composite: -1.59%
Dow Jones: -1.94%
FTSE 100: -1.68%
FTSE Allshare: -1.67%
---
The following shares didn't quite make the cut this week – but are most definitely worth keeping an eye on over the next week.
Blackberry: Blackberry has been at the front of Reddit's meme stock craze, but actually has solid fundamentals. With cyber security going to be increasingly important going forward, keep an eye on this one once volatility dies down.
Johnson & Johnson: This COVID-19 vaccine maker has been trending strongly upwards since October. The stock has lost significant ground in recent weeks due to manufacturing issues and the pause on distribution over fears that the vaccine could cause blood clots in some people. We see this pullback as a potential opportunity to buy. The Johnson & Johnson vaccine is one of the first one-shot vaccines developed for COVID-19 and as manufacturing capacity ramps up, the shot could be the prime weapon against COVID-19 around the world. Plus, the US government is likely to recommend a second dose of the shot, which is good news for J&J's bottom line.
While there are many different types of shares out there, there are also thousands of different company shares from around the world that you can invest in. Different shares of companies come in all shapes and sizes, so it's important to do your research and ensure you invest in the companies that best match your portfolio. Let's take a look at some of the most popular companies to invest in in the UK.
---
If you want to buy shares in one of the companies listed above, you will need to use an online stock broker. In this respect, most newbie investors consider eToro for the following reasons:
You can buy shares without paying a single penny in commissions
You can buy shares from just $50 (about £35) per trade
You can easily deposit funds with a debit/credit card, UK bank account, or e-wallet
The platform is tailored to those with little to no experience of buying shares online
The platform is regulated by the FCA and covered under the FSCS.
Here what you need to do to buy shares from eToro:
Step 1: Open an Account
First and foremost, head over to the eToro website and elect to open an account. You will now be asked to enter some personal information – such as your full name, home address, date of birth, and contact details, You'll also need to choose a username and a strong password.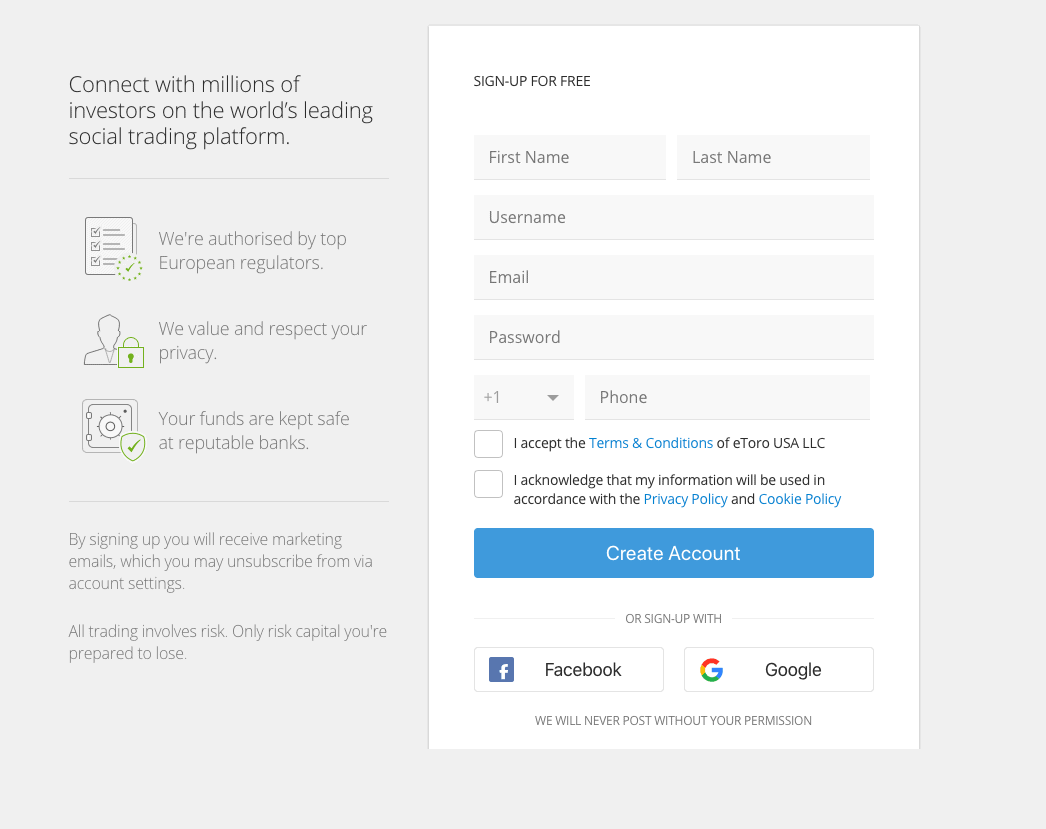 Step 2: Upload ID
On top of the Financial Conduct Authority (FCA), eToro is also regulated by ASIC (Australia) and CySEC (Cyprus). As such, it is required to identify each and every user that opens an account. All you need to do is upload a copy of your UK passport or driver's license, followed by a utility bill or bank account statement.
Step 3: Deposit Funds
You will now be asked to deposit some funds. eToro accepts a variety of UK payment methods, including:
Debit Card
Credit Card
UK Bank Transfer
Paypal
Skrill
Neteller
You will need to meet a minimum deposit amount of $50. Your GBP deposit will be converted to USD (0.5% conversion fee), as this allows you to access both UK and international markets at the click of a button.
Once your account has been funded, you can then buy your chosen shares. If you know which of the above companies you wish to buy shares in, simply enter it into the search box at the top of the screen, and then click on the 'TRADE' button. In our example, we are looking to buy BP shares.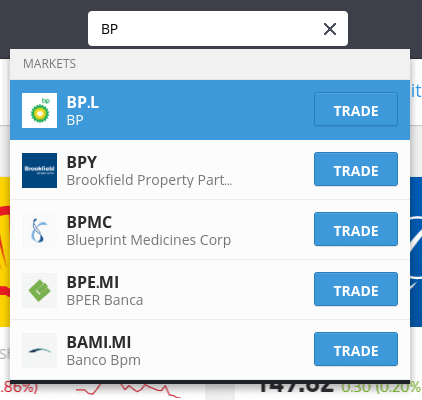 You will then see an order box that asks you to enter the amount that you wish to buy. This is in US dollars and not the number of individual shares. As we noted earlier, you can buy from just $50 (around £35) worth of shares at eToro, so there is no requirement to buy a whole stock.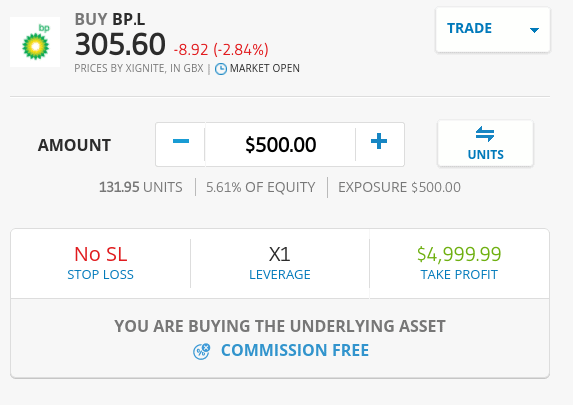 Finally, click on the 'OPEN TRADE' button to complete the share investment process!
---
Figuring out what stocks to buy and sell on a weekly basis involves a lot of analysis. Our research team scans the market for investment opportunities to bring you the best stocks to buy each week. Here are some of the main ways we decide which shares are best:
Fundamental Analysis
The first thing our team does when researching a stock is to get an idea of what it's worth. This value analysis, better known as fundamental analysis, involves looking at companies' revenue, profits, cash flow, and earnings to calculate an estimate of their fair prices.
When a company's calculated fair value is higher than its current stock price, that's a good sign that the market is undervaluing the shares. Our portfolio includes many shares that are undervalued because these stocks have high upside and relatively low downside.
Technical Analysis
We also use technical analysis to find short-term investment opportunities. Technical analysis involves looking at a stock's price movements to determine where the price will go next. Our research team is able to find technical patterns like bullish breakouts, price momentum, and reversals to trade every week.
One of the advantages of using technical analysis to identify stock picks is that common patterns typically have well-defined price targets. So, when we recommend a new stock to buy, we have a specific price trajectory and profit target in mind.
Analyst Ratings
While our analysis team is composed of seasoned experts, we think it's worthwhile to get a second opinion. That's why we always look to see what Wall Street analysts think about the stocks we recommend.
Wall Street analysts typically make their 12-month price targets for individual stocks public. We can check those price targets against our own targets from fundamental and technical analysis. If they agree, we can be confident in our recommendation. If they don't agree, we investigate why and explain to investors why we believe our analysis is correct.
Market News
Since our portfolio is updated weekly, market news has a big impact on the shares we recommend and price changes within the portfolio. Our research team keeps an eye on news developments throughout the week to identify catalysts that could propel a stock higher or lower. When news impacts the stocks already in our portfolio, we update investors so that you always know what's going on.
Ultimately, picking the best shares each week is a tough job. The market is unpredictable and even the best analysts on Wall Street have a tough time beating the market consistently. Our portfolio has a strong track record since launch, but remember that you should never invest more than you can afford to lose.
Want to learn more about how to find the best shares? You can read more on how to pick stocks here.
---
As you'll see from our list of the best shares to buy in August 2021, most of our portfolio consists of US stocks. This is because the US economy is roaring back as it reaches high vaccination rates against COVID-19. Pfizer, Apple, Moderna, Amazon, and others are expecting a frenzied summer of sales. We are especially keen on Amazon for its strong and stable characteristics, and on Disney for its long-term value.
Over in the UK, very few FTSE 100 shares are worth more than they were prior to the pandemic. In fact, the FTSE 100 Index itself is still down for the year.
The latest addition to our portfolio is Wells Fargo. The company has had a great 2021 so far – and with their asset cap looking likely to be removed soon, now is a great time to add Wells Fargo to your portfolio.
If you want to invest in the best shares to buy today, there's no better place to do so than eToro. Simply click the link below to sign up today!
---
eToro – Buy the Best Shares With No Commission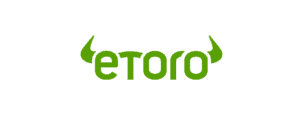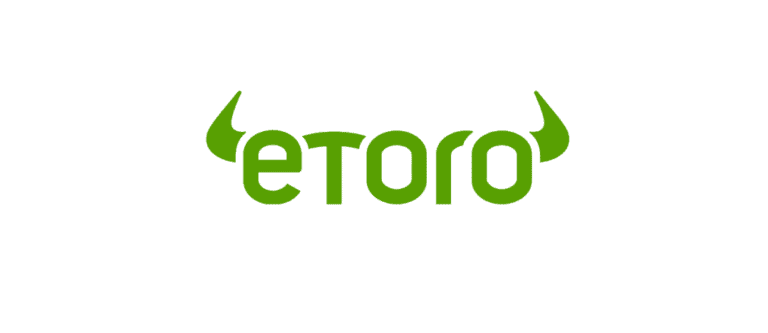 67% of retail investor accounts lose money when trading CFDs with this provider.
What are the best shares to buy right now?
Which shares pay the best dividends?
What is the best time to buy shares?
Where can I buy the best shares?
Read next
Stock Trading UK For Beginners 2021
With the stock market constantly fluctuating, keep up with the best shares to buy can be easier said than done. After all, there's so much...