Mew Wallet Review UK – Fees and Pros & Cons Revealed
Fact Checked
Everything you read on our site is provided by expert writers who have many years of experience in the financial markets and have written for other top financial publications. Every piece of information here is fact-checked.
Disclosure
Please note that we are not authorised to provide any investment advice. The information on this page should be construed for information purposes only. We may earn commissions from the products mentioned on this site.
Having a place you can store your crypto holdings is just as important as choosing the perfect crypto asset to invest in. In this MEW Wallet Review UK guide, we examine MyEtherWallet – an in-between crypto wallet service, its features, ease of use, and the digital assets it supports.
What is MEW Wallet?


According to its website, MEW Wallet is a free, client-side interface that allows you to interact directly with the Ethereum blockchain. It's an easy-to-use, open-source platform that enables users to generate wallets, interact with smart contracts, and perform several other functions on the Ethereum network.
Short for MyEtherWallet, MEW is a wallet application that generally supports the Ether token and several key Ethereum-based digital assets like Ethereum Classic and ERC-20 tokens. It's an in-between interface that allows you to send and swap your ETH and ERC-20 tokens, sign messages, and verify them. You can also use the wallet to interact with the Ethereum Name Service (ENS), decentralized applications (DApps), and the entire Ethereum project ecosystem.
MEW is compatible with both Android and iOS devices – a convenient advantage for the wallet. However, it does not have a desktop version, putting it on the back foot compared with industry stalwarts like the Coinbase Wallet.
MEW was developed in 2015 by Taylor Monahan and Kosala Hemachandra, and it has since gone on to become the go-to digital storage source for Ethereum-backed digital tokens. Its creators created MyCrypto.Com, a pro-Ethereum wallet service with a broader scope – and a desktop version.
Beyond its support for ETH-based tokens, the MEW coin wallet also works with hot wallets, including Ledger Wallet, Trezor, Alchemy, Bity, CoolWallet, and others.
The development team prefers calling the short-term wallet MEW. Our MEW Wallet Review UK discovered the following services for MEW wallet:
1. Temporary Custody Of ETH & ERC-20 Tokens
Although MEW is not your conventional cryptocurrency wallet, it is meant to store ETH and several ERC-20 tokens. It keeps your crypto assets safe, and you can also easily send and swap tokens on the Ethereum blockchain. For a temporary crypto custodian, MEW has a great security infrastructure. This includes a complex six-digit passcode, the option to enable biometric security, and a recovery phrase that lets you back your wallet address up if you forget your passcode.
2. Market Price And Balance Tracking
MEW lets you monitor the market price of all ERC-20 tokens. You can compare these prices to options like USDT, USDC, BUSD, and more. You will also follow the performance of decentralized finance (DeFi) protocols with the MEW wallet download.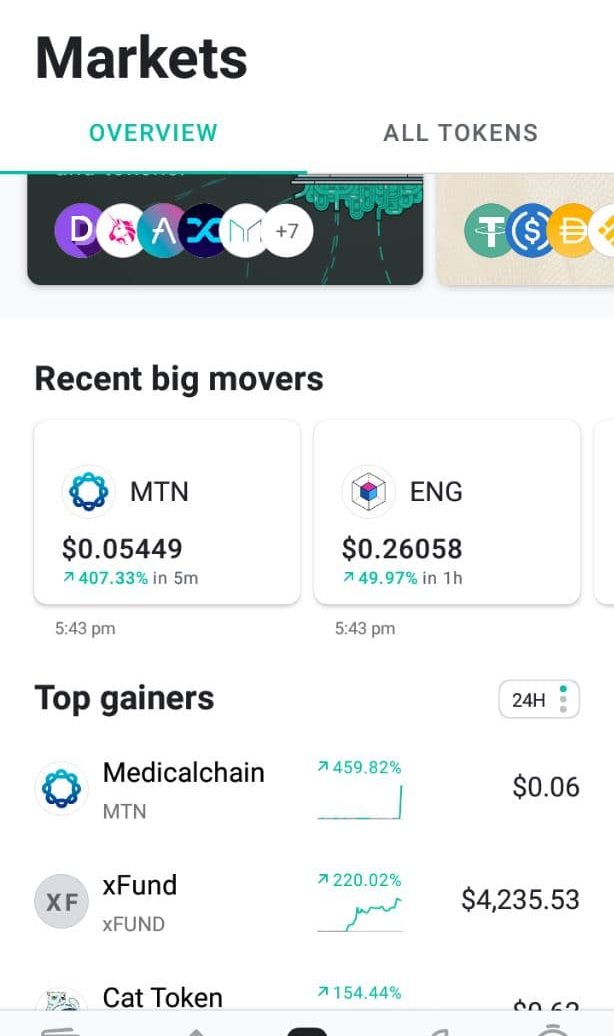 Since most DeFi protocols and assets are built on the Ethereum blockchain, it will be easier to track them using the wallet. Regarding your wallet balance, the MEW coin wallet will keep you updated on your wallet balance at all times. It also offers an easy way of funding your account thanks to credit and debit card support.
3. MEW Earn
MEW also offers an earning scheme for users to generate passive income from their crypto holdings. However, this feature is only for the upcoming ETH 2.0 launch. MEW wallet download promises users up to 7.44 percent annual percentage returns (APR) for their staked ETH.
4. Access To The DeFi And NFT World
DeFi is short for decentralized finance – a field where Ethereum has become a major facilitator. Non-fungible tokens (NFTs) let users own unique digital assets that are listed on a blockchain. like DeFi, NFTs have also grown in popularity over the past year.
If you are interested in these two fields, MEW coin wallet grants you access to the DeFi and NFT world. You can access unique and interesting platforms like NFT marketplace Rarible, DeFi protocol Aave, decentralized layer-2 protocol Loopring Exchange, and a number of other unique crypto projects.
5. Swap Tokens
You can easily swap your ETH for any number of tokens with the MEW wallet ledger. All you need to do is head to the "Swap" section and input the amount of ETH you want to swap and the token you would like to get in return. In no time, you will be funded with the new tokens.
MEW Wallet Pros & Cons
Just like other cryptocurrency wallets like Exodus wallet, MEW has its own advantages and hiccups. it is important for you to know about these nuances before choosing to work with the wallet.
Pros
Allows for secure interaction with the Ethereum network
Available on Android and iOS
Open-source
intuitive interface
Zero fees
Allows fiat swap for crypto
Integrates with other hardware wallets
Features an "Education Center" for new users
Cons
Does not have a desktop version, although there's a Google Chrome extension
Prone to phishing attacks
Difficult to setup
No integration to cryptocurrency exchanges
Does not support other altcoins or non-ERC-20 tokens
Supported Coins
As we pointed out earlier, MEW coin wallet is a specific digital wallet that's a bit picky. It does not offer support for every altcoin out there in the crypto market. Aside from the native utility token Ether, it supports more than a few hundred ERC-20 tokens.
Below are some of the top cryptocurrencies supported on the MEW wallet ledger:
ETH
USDT
USDC
LINK
UNI
AAVE
MATIC
cDAI
cUSDC
COMP and others
MEW Wallet Fees
Transactions on the MEW wallet ledger attract a mining fee which is given as rewards to miners who secure the Ethereum blockchain network. The Ethereum blockchain employs a proof-of-work (POW) mining and consensus mechanism.
Due to the popularity of the network following the explosion of decentralized finance (DeFi) and non-fungible tokens (NFTs), the Ethereum network suffers from congestion and high transaction fees. There is hope for reduced gas fees as Ethereum shifts to the Proof-of-Stake (PoS) consensus algorithm, but that might not come for another year or so. In the meantime, here's a breakdown of the fees:
Buy Ether
| | | |
| --- | --- | --- |
| USD | Fees | ETH You Receive (USD) |
| $50 | 0.01 ETH | $39.3 |
| $100 | 0.02 ETH | $88.42 |
| $150 | 0.03 ETH | $137.55 |
| $250 | 0.05 ETH | $235.8 |
| $500 | 0.11 ETH | $473.75 |
| $1,000 | 0.21 ETH | $947.5 |
| $2,500 | 0.53 ETH | $2,368.75 |
MEW will let you know a breakdown of the fees based on the period you're sending the funds out.
MEW Wallet Safety & Security
Like every other crypto wallet, MEW wallet ledger has had its fair share of hacks and phishing attacks in the past. However, it still scores a decent mark in terms of security. Some of its top security features include the following:
PIN
When you create your wallet, MEW coin wallet will demand for a six-digit unique code only known to you. As expected, the wallet recommends that you don't use a PIN that can easily be guessed.
Biometric Capture
MEW also engages biometric capture to promote your security. You will have to input your fingerprint whenever you want to sign in. if your device has facial recognition, the wallet can also use that as the primary biometric security component. Most smartphones come with fingerprint sensors, which makes this security feature a must-have. It is convenient and very secure, providing the best of both worlds.
Seed Phrase
If you forget your six-digit code by chance, you can easily recover your funds through a set of 25 randomly generated letters – known as a seed phrase. You can create the seed phrase as soon as you create your wallet.
While MEW doesn't have as many security features as some other wallet options, you should be safe as long as you observe good security practices.
MEW Wallet User Experience
MEW coin wallet is an easy-to-use platform. Its clean and interactive UI makes it effortless for users to find their way around the MEW coin wallet, and you can get started in no time.
The app's core offerings are listed on the bottom of the screen, so you can easily find what you are looking for. As a beginner, you can also benefit a great deal from the beginner's guide. This will help you navigate around the wallet properly, saving you a great deal of time.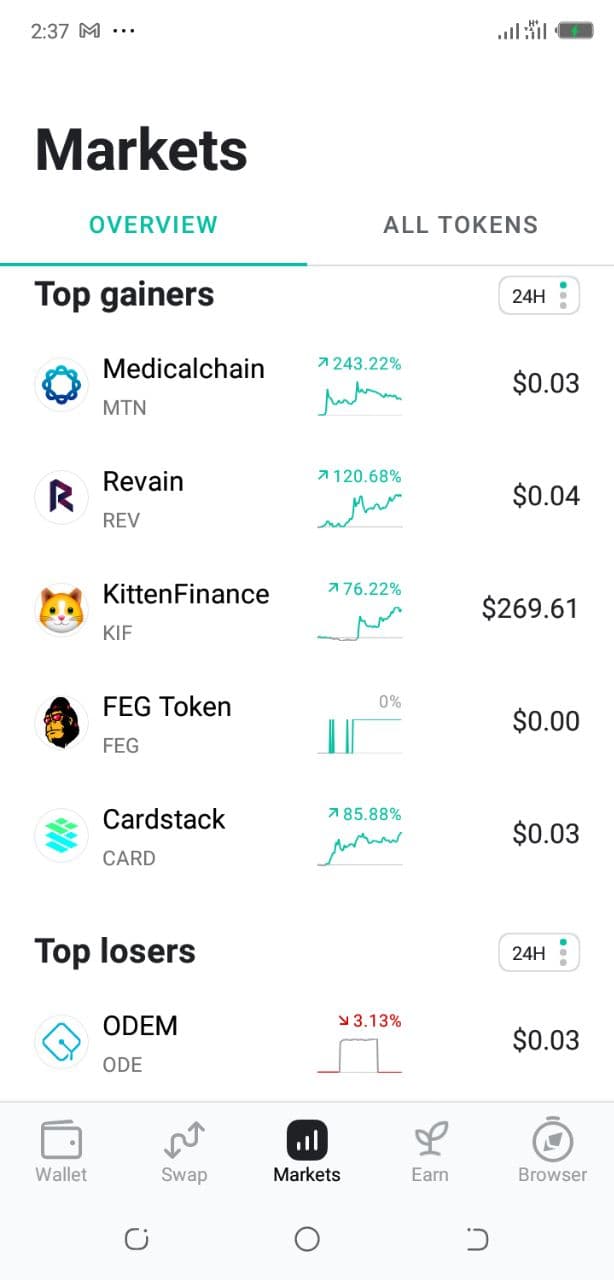 In terms of performance, MEW wallet download does not freeze up when in use. You can easily move through the app's core offering by just swiping through the MEW coin wallet.
Transferring Funds
Transferring coins with the Mew wallet requires you to follow these steps;
Download the MEW wallet app and log in.
You can find the "Send" button directly under the "main account" section
Choose the sending option you would like to use, e.g., MetaMask, Trezor, Ledger, KeyStore, private key.
Now check the next page for your coin balance.
You'll be asked to provide the recipient's wallet address. Copy/paste the receiver's wallet address, and add the token amount and GAS fee.
Click on 'Generate Transaction' and confirm
Your transaction is immediately broadcast to the network.
Click 'verify the transaction.'
After you verify the transfer, it will be posted to the blockchain and sent to the receiver.
Receiving Funds
When receiving funds in your wallet, ensure you provide accurate details to the sender. For receiving funds on the Mew wallet, follow these steps;
Log into the wallet's home page
Click on "Receive"
The wallet will immediately show your address and a barcode that you can scan
Copy your wallet address or hold up the barcode
You should receive the token in your wallet within minutes.
MEW Wallet Features
Our MEW Review UK found the following features peculiar to the MEW wallet download users:
Markets section keeps you in the loop on various market trends and price movements
Simple QR scan code to receive and send funds
Education center to learn about how blockchain and the DeFi space works
Balance alert notifying you of your wallet balance
Auto wallet backup
Receive funds in USD only
Earn – the ETH 2.0 staking service
Swap your tokens and move Bitcoin into ETH
MEW Wallet Contact and Customer Service
Unlike some other wallets, the MEW wallet does not have a live chat option where users can send in their issues and inquiries for help. Instead, the company has a regularly updated Knowledge base of frequently asked questions (FAQs) on the website. These FAQs range from getting started and security measures to tokens and Gas fees. Users can easily go through the list to get what they are looking for.
Mew wallet ledger also has an email where users can send a mail to the customer care team via [email protected]. Although the platform doesn't have phone support, it has a good social media presence where one can reach. A quick look at the wallet's Facebook page revealed general satisfaction of MEW's customer support, with people describing it as highly effective.
MEW Download Process
As stated earlier, MEW wallet ledger is only available for Android and iOS devices so you will need a smartphone to utilize this platform. To get started storing your ETH and ERC-20 tokens, just follow the steps below:
Step 1: Visit the MEW Wallet Download Website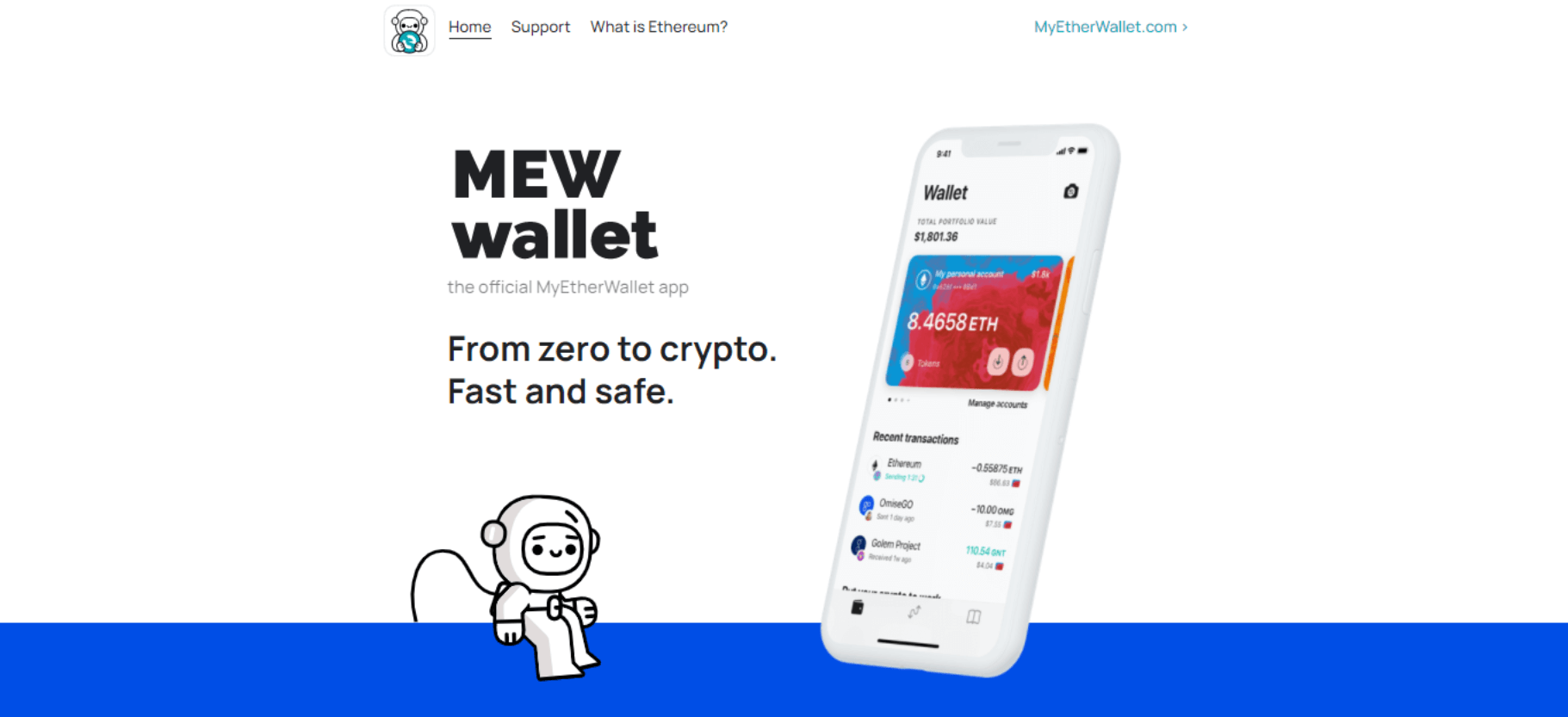 The first thing to get started is to visit the MEW wallet ledger official website. Be very careful when you click on the link to avoid going to a fake crypto wallet website. If you are with your smartphone, just head to Mewwallet.com. It is important to go through the official website and click on your device's correct operating system.
Step 2: Download the App
Search for "MEW Wallet – Ethereum Wallet" on the app store and install it directly to your device.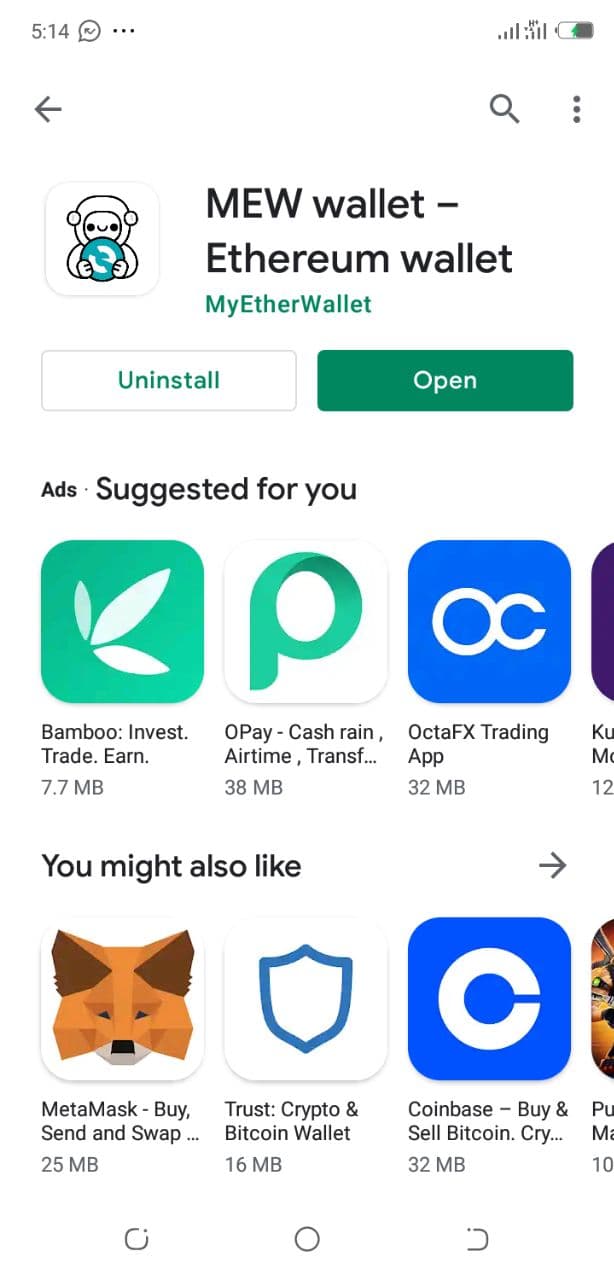 Step 3: Setup Your Wallet
When the installation is complete, you will be asked to put in a unique six-digit code to create a new wallet. Make sure you note this code down somewhere safe.
You will also be asked to do a biometric scan to further secure your MEW wallet ledger. The biometric scan could be your face or your fingerprint.
After this, you can select to use a recovery phrase in the event you lose your passcode.
You will be given a random set of 25 letters. Note that down because you will be asked in the next step.
Step 4: Transfer Funds
Now that your MEW wallet download has been created, you can now proceed to fund your account. To get started, click on "Buy Ether" to get started and select the package you're comfortable with.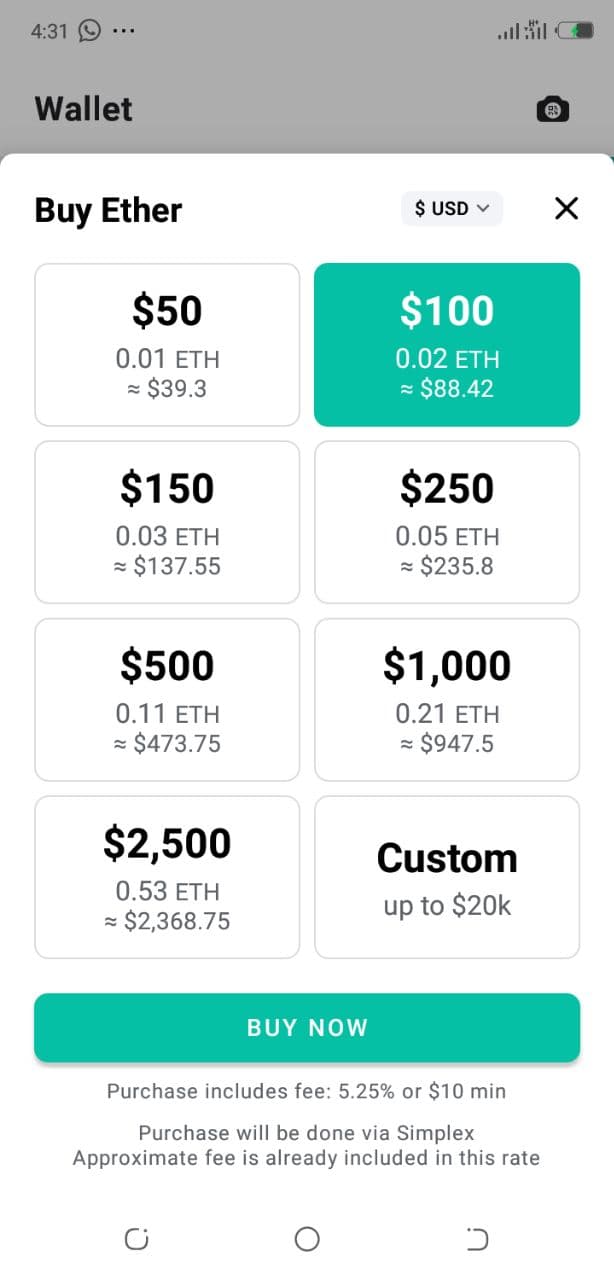 The Verdict
From the MEW wallet review, it is evident that the wallet is a decent choice for storing Ethereum and ECR-20 tokens. By using safety measures such as biometric captures and a PIN, this wallet ensures protection of your assets. 
Interested investors can start using the MEW wallet in only a few minutes. After downloading the app, you can set up your wallet and start trading cryptos.
FAQs
How do you install the MEW wallet?
How do I transfer money from my Mew wallet?
What should I do before making a large transaction on the Mew wallet?
Can MEW be used with other wallets?