Pfizer Share Price UK
Fact Checked
Everything you read on our site is provided by expert writers who have many years of experience in the financial markets and have written for other top financial publications. Every piece of information here is fact-checked.
Disclosure
Please note that we are not authorised to provide any investment advice. The information on this page should be construed for information purposes only. We may earn commissions from the products mentioned on this site.
Pfizer, the American biopharmaceutical is one of the biggest winners of the pandemic due to Cominarty's blockbuster success. However, make sure to check out the Pfizer share price forecast before you purchase the stock. 
The Pfizer stock price is up 38.11% year-on-year due to the company's strong 2021 performance. But it has started trading sideways in January, which led to a -16.26% year-to-date fall.
In this article, we give you a review of the Pfizer stock and analysts predictions on the stock price in the upcoming years.  We will also give a  review of popular online brokerages that allow users to invest in Pfizer and other stocks. 
Pfizer Company Share Price UK
Pfizer is a Manhattan, New York-based company established in 1849. It is a developer, manufacturer, and distributor of pharmaceutical products worldwide. More than 50% of its total revenue comes from its main target market, the United States. It has also maintained a strong presence in China and Japan which accounts for 6% of its annual sales.
Before its Cominarty success, the American biopharma already generates a steady $1 billion worth of revenue from its novel treatments. These include a pneumococcal conjugate vaccine named Prevnar 13 and its breast cancer treatment under the Ibrance brand.
The company currently holds the 64th spot in the Fortune 500 companies and generates gross revenue of $69 billion per year.
2022 Pfizer Share Price Forecast 
Pfizer Group share price had just fallen to an important support level after touching $48.61. The stock currently trades at $47.44 and is expected to decline further in the near term. The immediate support line is found at $41.74.
Traders have been worried about Pfizer's performance this year. About 70% of the entire population in the United States and Europe have already received full immunization, meaning that Cominarty demand may dwindle soon.
On the upside, resistance is found at $50.15, which is a level it has not touched since August 2021.
Pfizer Earnings Summary

Pfizer updated a 92% increase to its annual operating revenue of $81.30 billion in 2021 from $41.70 billion in 2020. Its vaccine sales is estimated to rake $55 billion this year as it plans to manufacture 4 billion Cominarty shots in 2022.
However, Pfizer stock price now traverses through a rough road despite its strong financial standing. There is an anticipation of revenue drop as analysts see some signs of flattening infection curve. And this led to souring investor confidence over the past three months.
Pfizer Share Price Forecast for 2026
Some stock analysts are mentioning the possibility of the price of Pfizer to trade at $120.00 apiece, while the most conservative estimate is $91.46. The company's ever-expanding partnership and business portfolio is why analysts are assuming a favourable turn to the price of Pfizer.
Beyond Covid Revenue
Pfizer is a well-established developer, manufacturer, and distributor of its homegrown products long before its Covid success. Pfizer has no problem with business diversification with expertise in therapeutics, biologics, cardiovascular, and immunotherapy. 
Moreover, it is a leader to several profitable umbrella brands and has ongoing partnerships with big names such as BioNTech, Merck, and Bristol-Myers Squibb Company. It is a steady company with a solid business portfolio. 
Pfizer Share Price History 
The Pfizer management team tagged 2021 as a watershed moment for its business operations. Its vaccines and medicines catered to 1.4 billion patients last year, with six in ten people inoculated by Cominarty in the US alone. To understand Pfizer stock better, here is a rundown on the company's fundamentals that moved price positively so far:
Ranking and Market Capitalization
Pfizer Inc is ranked 31st among 203 companies in the pharmaceuticals industry. It placed 113th out of 1,037 in the healthcare sector, with a market capitalization of 269.81 billion. Its enterprise value is 280.40 billion, higher than its direct competitor Astra Zeneca's 202.78 billion.
Revenue and EPS

This year, the management sees its annual revenue going triple-digits to $100 billion on average this year, half of which will come from coronavirus vaccine sales. 
While an adjusted diluted EPS midpoint, calculated by dividing adjusted net income with adjusted diluted average shares outstanding, is forecasted to come at $6.45. 
52-week High and Low
PFE recorded its 52-week high in mid-December 2021 at $61.71. While its 52-week low is at $34.33.
P/E Ratio
The price-to-earnings ratio or P/E ratio is determined by dividing the current stock price over the company's earnings per share. It is a valuable tool to measure if a stock is overvalued or undervalued.
Pfizer's P/E ratio is 12.30, close to the S&P 500's average of 13 to 15 points.
Price Performance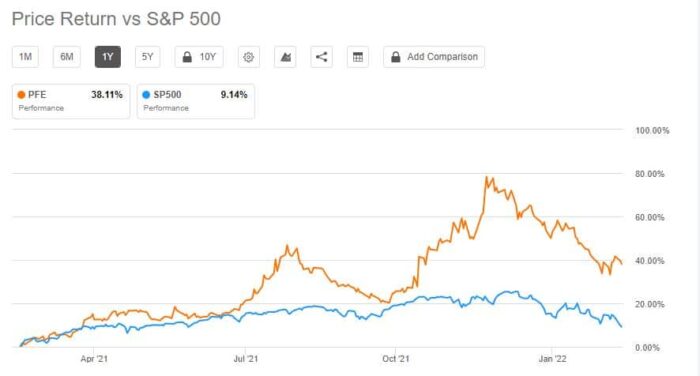 PFE is up by 38.11% year-over-year, comparatively higher than the S&P 500's 9.14% advance over the same period.
On the flip side, the year-to-date decline is at -19.66%, as it failed to consolidate positive momentum since the start of the year. It is down by more than 8.00% in February.
Pfizer Dividend History
The American pharma giant is a well-loved dividend stock among investors. It has a dividend yield of 3.31%, nearly double the S&P 500's 1.27%. 
It raised its dividends by 2.6% to $0.40 a share this year; the 12th consecutive year it managed to do so.
Upcoming Projects
Pfizer is continuously adding projects to its pipeline to strengthen long-term business expansion and get ahead with the competition against rivals like AstraZeneca. Below are some of its projects that could potentially become the company's biggest moneymakers for the near and long term.
Paxlovid
Once Covid officially downgrades to flu-like symptoms, Paxlovid may be an important revenue source for Pfizer. 
More than 40 countries worldwide have already given the pill an emergency authorization. The company expects 120 million drug treatment courses for the full year of 2022, with an expected annual sales worth $22 billion.
Growing mRNA Business 
Pfizer is making a substantial investment in mRNA technology and envisions this sector to become one of its core operations this decade. mRNA has a big potential to crosscut other industries such as cancer, rare genetic disorder, and autoimmune diseases.
The company recently signed an agreement with Beam Therapeutics to expand its mRNA efforts to therapeutics. This collaboration will target solutions for rare genetic diseases of the liver, muscle, and central nervous system.
Its recent acquisition of Trillium is also expected to expand its portfolio to oncology and build its name in blood cancer treatment.
Investment in R&D
Pfizer promised to continue allocating capital on growth initiatives in the coming years. A lined acquisition of Arena worth $6.7 billion to enhance its R&D capabilities in immunoinflammatory diseases. The immunology market will grow 8.1% annually and be worth $160 billion by 2028.
The discussion has been approved by Arena's stakeholders and is expected to undergo antitrust approvals in the first half of the year.
Where to Purchase Pfizer Shares UK 
There are a lot of online platforms where users can purchase shares in the UK. Whether you plan to make a short-term investment or a long-term one, users should do so with a suitable broker that offers low fees on trades and multiple tools & features to support you in the investment process. 
Below, we will be reviewing a popular platform that allows users to purchase Pfizer shares in the UK.
Conclusion
The Pfizer company remains one of the most established names in the pharmaceuticals sector. It continuously invests in R&D projects which says so much about its goal-oriented nature. Capital allocations for such initiatives are expected to result in sustained operational growth and healthy business operations, even after the Covid-19 pandemic.
Should you choose to invest in Pfizer, users should choose a safe, reliable, and low-fee platform that meets your investment criteria. However, remember to conduct your own research and analyse the company's financial statements properly, before making any investment. 
FAQs
What is the highest price Pfizer stock has ever been?
Does Pfizer pay a dividend?
What is the target price for Pfizer stock?