The vast majority of stocks experienced double-digit percentage losses during the COVID-19 lockdown – but Amazon wasn't one of them. On the contrary, the online retailer benefitted from the market's volatility. To buy Amazon shares you will need have access to the US-based NASDAQ stock exchange.
In this article, we explain <strong>how to buy Amazon shares</strong> online in the UK. This covers the steps required to buy Amazon shares, as well as some popular UK brokers to do this with.
✅ Step 1: Open an account with a regulated broker
Open an account with an FCA-regulated broker by signing up with your email address.
🔎 Step 2: Verify your account
Verify your account by uploading proof of ID and proof of address.
💳 Step 3: Fund your account
Meet your broker's minimum deposit threshold via credit/debit card, bank wire transfer, or e-wallet.
🛒 Step 4: Buy Amazon shares
Type "AMZN"  into the search bar and click on 'Trade'. Enter your desired investment amount and finalise the trade.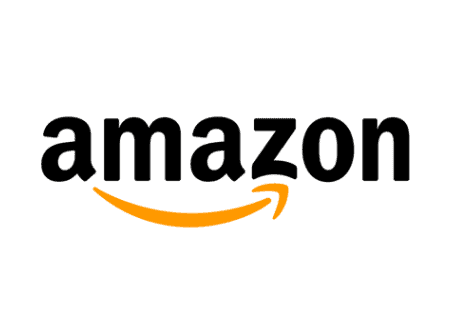 With Amazon now boasting one of the largest market capitalisations globally, it will come as no surprise to learn that lots of UK brokers allow you to buy its shares.
As such, you need to spend some time looking at the types of fees and commissions the platform charges, what payment methods are supported, and crucially – whether or not the broker is licensed by the FCA.
Taking all of this into account, below you will find some popular UK stockbrokers that allow you to buy Amazon shares online.
---
1. Capital.com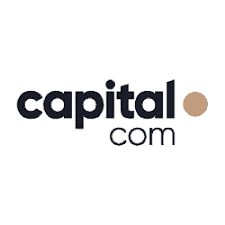 Another popular online trading platform is Capital.com. Capital.com has a solid reputation within the trading community, thanks to the platform's transparent fee structure and intense regulation. In terms of the latter, Capital.com is currently regulated by numerous organisations, such as the FCA, ASIC, CySEC, and the NBRB.
As a broker that focuses on CFD trading UK, Capital.com ensures that investors have a vast range of assets to choose from. This includes over 3500 stock CFDs, 30 stock index CFDs and 100 ETFs. Notably, Capital.com also offers real stock trading – although both real stocks and CFDs are commission-fee to trade. The only thing investors need to be wary of is the spread, which can vary from asset to asset.


The minimum deposit with Capital.com is $20 (£15.20) and can be made via credit/debit card, bank transfer, or e-wallet. Capital.com supports five different base currencies, meaning you can fund your account in a non-GBP currency using PayPal or Apple Pay. In addition, Capital.com charges no deposit or withdrawal fees either.
When trading, clients can opt for the browser-based platform, the mobile app, or even MetaTrader 4 (for those interested in forex trading UK). The browser-based platform features real-time price charts and a selection of technical indicators, allowing you to conduct equity analysis. There's also an array of order types to use – and you can even set instant price alerts on the mobile app.
| | |
| --- | --- |
| Stock Trading Fees | 0% commission + spread |
| Deposit Fees | No |
| Withdrawal Fees | No |
| Inactivity Fees | No |
| Monthly Account Fees | No |
Sponsored ad.
83.45% of retail investor accounts lose money when trading CFDs with this provider. You should consider whether you can afford to take the high risk of losing your money.
2. eToro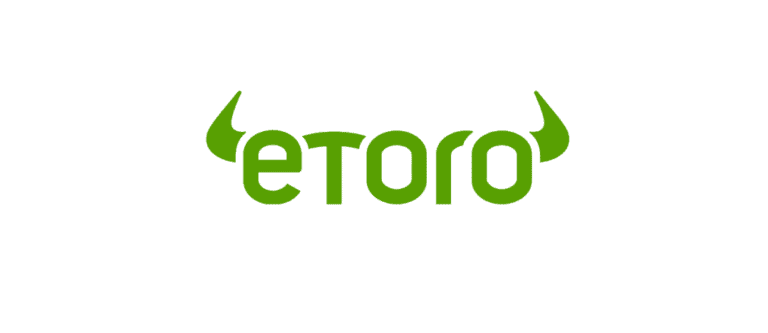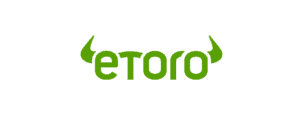 eToro is a popular broker that provides access to more than 2000 stock CFDs, including Amazon. This broker has transparent pricing, as you can buy shares without needing to pay any commissions or annual fees.
One of eToro's features is that the platform allows you to both buy shares in the traditional sense and trade share CFDs. By trading CFDs, you can speculate on the price going down and use eToro's 1:5 leverage to make larger trades.
eToro is also known for being a social trading platform, meaning that you can engage with other members of the trading community. It also offers copy trading tools, such as the popular 'CopyPortfolio' tool that allows you to copy the entire portfolios of top-performing investors.
Minimum deposits start at $10, which is around £7.60. With that said, eToro does not require you to purchase whole Amazon shares, which are now priced at well over $3,000 each. Instead eToro offers fractional share trading, allowing you to invest from just $10, meaning you can buy a 'fraction' of an Amazon share.
When it comes to the safety of your funds, eToro is regulated by the FCA, as well as ASIC (Australia) and CySEC (Cyprus), so your funds are protected. Another benefit of eToro is that it offers a stock trading app that you can use to buy Amazon shares on your mobile.
| | |
| --- | --- |
| Stock Trading Fees | 0% commission + spread |
| Deposit Fees | No (0.5% conversion for non-USD deposits) |
| Withdrawal Fees | $5 (£4) per withdrawal |
| Inactivity Fees | $10 (£7.60) per month after one year |
| Monthly Account Fees | No |
Sponsored ad. 68% of retail investor accounts lose money when trading CFDs with this provider.
---
In this part of our guide, we explore some of the most important factors that you need to consider prior to buying Amazon shares.
Launched in 1994 by Jeff Bezos, Amazon began life as an online bookstore. It then moved into other areas of online retail, such as DVDs, CDs, and consumer goods. Just three years after its foundation, Amazon made the decision to go public. Opting for tech-oriented NASDAQ, Amazon shares were initially priced at $18. This valued the company at just under $500 million.
It was a somewhat rocky ride for Amazon in the years to follow, as Amazon benefited greatly from the dot com boom. But, and much like the rest of its industry counterparts, Amazon suffered heavily in the fallout of the subsequent dot com crash. In fact, it took near-on 14 years for its shares to regain the heights it achieved before the crash.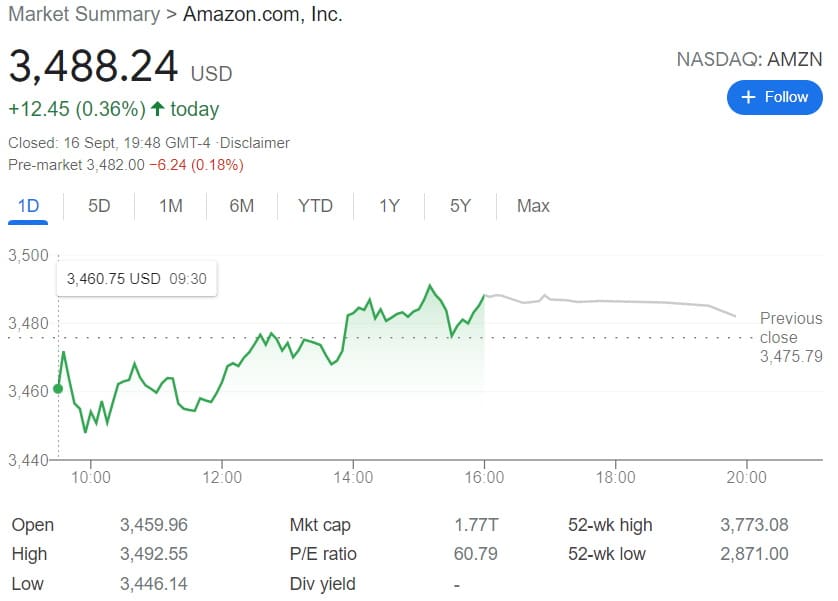 Since then, it has been nothing but an upward trajectory for Amazon shareholders. In fact, at the time of writing in April 2022, Amazon shares are priced at $3177. This translates into a stock price increase of 17,553% from its initial IPO price of $18. However, you also need to factor in several stock splits along the way.
Amazon Dividend Information
You might be surprised to learn that the Amazon is yet to pay a single cent in dividends.
However, the company has reiterated that it plans to reinvest its dividends to keep the business growing. After all, the company has diversified into heaps of other, cutting-edge sectors that are cash-flow heavy. This includes artificial intelligence, cloud computing, and digital streaming.
Whenever you're investing in a company, whether it be Amazon or the likes of Facebook or Netflix, it's always important to do your research. Below we list some of the factors to keep in mind when completing your research.
Since its IPO in 1997, Amazon has grown to become one of the biggest publicly-traded stocks with a market cap of $1.62 trillion. Most market analysts hold the tech company's diverse portfolio accountable for its continual success. Some experts even forecast Amazon's market valuation reaching the $2 trillion mark within the next few years. 
So it really was a case of the early bird catching the worm for Amazon shareholders in May 1997. 
Core Retail Business Continues to Thrive Year-on-Year
When we see the kind of stock market growth that Amazon has encountered in the past few years, you would normally attribute this to an up-and-coming firm like Tesla. However, it is important to remember that Amazon and its primary core business model, online retailing, have been around since 1994.
Adding in the factor of pent-up demand caused by the pandemic, and it looks like a great environment for Amazon to thrive. Q4 2021 results noted a 9% increase in revenue from the previous year, whilst net income rose to $14.3 billion – nearly double what it was in Q4 2020.
Loyalty of the Amazon Brand is Key
Customer loyalty is absolutely key if Amazon intends to retain its position at the top of the online retailing space. This is especially the case when you look at the numbers associated with its Prime membership service. According to data from Digital Commerce 360, Amazon Prime customers based in the US show a 93% retention rate after the first year, with this rate rising to 98% in the second year. This showcases just how loyal Amazon's customers are.
Also, a Bank of America study found that 67% of Prime members are either unlikely or very unlikely to cancel their plan. While 6% said they planned to cancel, this is actually 2% less than the same study that was carried out the year prior.
Unprecedented Diversification
While online retail is booming for Amazon, let's not forget about its other projects. For example, the firm recently entered the online grocery space. In order to get a firm grip on this sector, as well as investing big in Deliveroo and landing a chunk of their shares, Amazon is expanding its super-fast 1/2 hour delivery times. Moreover, it has also scrapped its $15 monthly fee for the majority of its Prime members.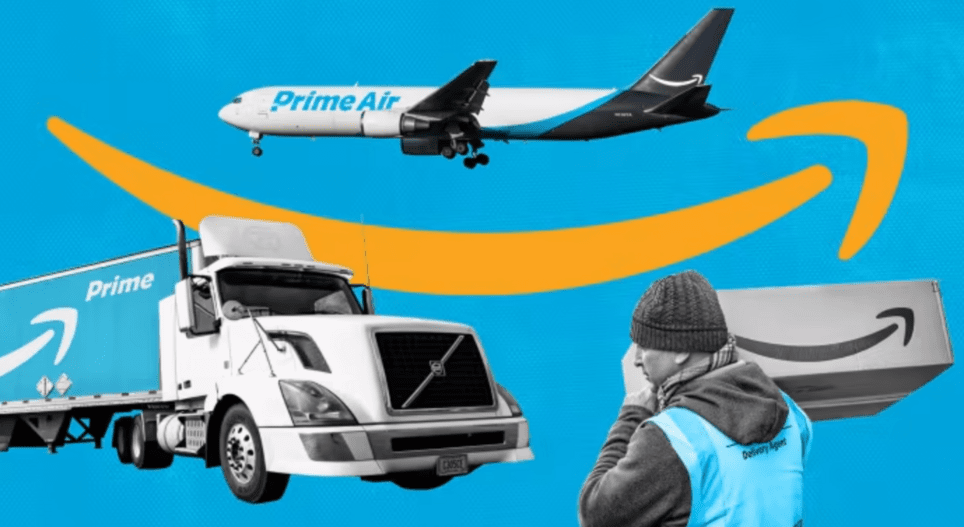 Then you have Amazon Web Services (AWS), which generated a remarkable $62.2 billion in revenue in 2021. This is more than triple what Google's cloud-computing segment achieved. Amazon is also increasing its exposure to artificial intelligence and drone deliveries.
Unparalleled expansion
Of course, Amazon's price-to-earnings ratio of 51.97 may appear to be on the high end of the spectrum at first glance. However, by taking a different perspective we can see just how quickly the tech and e-commerce giant's business is expanding. Amazon's growth momentum more than justifies its premium market valuation. 
Amazon's quarterly revenue for Q2 2021 was $137.4 billion, representing an increase of 9% compared to 2020's figures. The company's growth doesn't end there. When we cast our eyes to Amazon's historical data we can see that it has continued to generate record annual revenues. For example: 
Annual revenue for 2018: $232.887B representing a YTD increase of 30.93%

Annual revenue for 2019: $280.522B representing a YTD increase of 20.45%

Annual revenue for 2020: $386.064B representing a YTD increase of 37.62%

Annual revenue of 2021: $469.8B representing a YTD increase of 21%
Crucially, its cloud computing and e-commerce businesses are accounting for most of the company's growth. Amazon's consumer-targeted sales segment is still perfoming exceptionally well, whilst Amazon Web Services (AWS) revenue grew by more than 40% compared to Q3 2021. 
Amazon Stock Investment Fundamentals
What is the P/E ratio?
The P/E ratio measures the interaction between a stock's price and its earnings per publicly-issued share. To calculate the P/E ratio, you need to divide the current market price of a stock by its earnings per share. 
Typically speaking, if you're searching for a value stock you want to find a low P/E ratio, while the opposite is true for growth stocks. When companies have record earnings, it's a good indicator that many investors are interested in investing.  
At the time of writing, when you divide Amazon's share price dividend by the per-share earnings over a one-year period you get a trailing price/earnings ratio of 51.97. Simply put, Amazon shares trade at roughly 51.97x recent earnings.
Let's compare Amazon's P/E ratio with several other blue-chip stocks listed on the NASDAQ exchange: 
| | |
| --- | --- |
| Company Stock | P/E Ratio |
| Amazon (NASDAQ: AMZN) | 51.97 |
| Apple (NASDAQ: AAPL) | 29.54 |
| Meta Platforms (NASDAQ: FB) | 16.29 |
| Alphabet (NASDAQ: GOOGL) | 25.48 |
| Netflix Inc (NASDAQ: NFLX) | 34.83 |
| eBay Inc (NASDAQ: EBAY) | 16.74 |
| Paypal Holdings Inc (NASDAQ: PYPL) | 33.76 |
What is the PEG ratio?
The P/E to growth ratio, otherwise referred to as PEG, is measured by dividing a stock's P/E ratio by its EPS growth rate. A PEG ratio under one indicates a company's shares could be a good investment. The PEG ratio is typically believed to work with growth stocks. This means stocks that are generating high earnings faster than the industry average. 
With this in mind, Amazon shares have a PEG ratio of 2.53 as of April 2022. A PEG ratio greater than 1 could suggest the company's shares are overvalued at the current growth rate, or it could be a sign of potential growth. 
Let's compare Amazon's Forecast 12 month forward PEG Ratio with several other blue-chip stocks listed on the NASDAQ exchange: 
What is EBITDA?
EBITDA is an acronym that stands for earnings before interest, taxes, depreciation, and amortization. EBITDA is an earnings metric that helps to understand a company's ability to create cash flow for its shareholders and for evaluating its operating performance. 
All in all, EBITDA is a useful tool to decide if a company is worth investing in but it's not a substitute for other key metrics like net income and P/E ratios. Furthermore, the items that are excluded from EBITDA still have financial consequences on a company's profitability and growth. 
According to WSJ.com, Amazon's EBITDA for 2021 was $59.17 billion. To put that into context, let's compare and contrast Amazon's EBITDA to other popular NASDAQ stocks: 
| | |
| --- | --- |
| Company Stock | EBITDA for 2021 |
| Amazon (NASDAQ: AMZN) | $59.17B |
| Apple (NASDAQ: AAPL) | $120.23B |
| Meta Platforms (NASDAQ: FB) | $54.72B |
| Alphabet (NASDAQ: GOOGL) | $91.15B |
| Netflix Inc (NASDAQ: NFLX) | $18.63B |
| eBay Inc (NASDAQ: EBAY) | $3.49B |
| Paypal Holdings Inc (NASDAQ: PYPL) | $5.52B |
Amazon ESG Score  
ESG is an acronym for environmental, social and governance. These are the three criteria used to measure a business' sustainability. Companies that are committed to ESG initiatives typically publish measurable results in regular sustainability reports. Nevertheless, some ESG reports are more reliable than others.
Most market analysts recommend searching for sustainability reports that follow ESG regulations set by the Global Reporting Initiative as well as the United Nations Principles for Responsible Investment. Some recent research suggests that ESG stocks yield competitive or better financial returns compared to non-ESG-committed companies. 
Amazon's ESG Risk Ratings 
Let's take a closer look at Amazon's environmental, social and governance risk ratings according to Yahoo Finance. 
| | | | |
| --- | --- | --- | --- |
| Total ESG Risk Score | Environment Risk Score | Social Risk Score | Governance Risk Score |
| 30 | 62nd Percentile | 5.9/100 | 14.3/100 | 9.8/100 |
Environmental Risk Score

– Amazon's environmental risk score of 5.9 indicates that the NASDAQ giant is one of the leading companies when it comes to reducing its carbon footprint. A lower environmental risk score means it's doing its part for environmental sustainability. 

Social Risk Score

– Amazon's social risk score of 14.3 could imply that the company has good management procedures in place, catering for both its employees and the communities it interacts with. 

Governance Risk Score

– With a governance score of 9.8, the ESG rating for Amazon could suggest that the company has effective leadership, adequate board independence, and sound business ethics. 
If you're looking to sell and short Amazon shares we'll show you how to do so in a few simple steps:
Open a CFD or spread betting account with an FCA-regulated broker

Type the ticker AMZN into the search bar

Select your position size

Tap on

Sell 

Authorize the position and monitor it. You might also want to place limit orders to help minimize potential losses. 
What is SIR? (Short Interest Ratio)
Amazon's short interest ratio is calculated when you divide the amount of shares currently shorted by the mean amount of shares traded within standard market hours. Amazon's short interest ratio currently sits at 1.1. This means it would take roughly 1.1 days to cover or buyback all of the shares that are currently being shorted. 
| | |
| --- | --- |
| Company Stock | Short Interest Ratio |
| Amazon (NASDAQ: AMZN) | 1.10 |
| Apple (NASDAQ: AAPL) | 1.49 |
| Meta Platforms (NASDAQ: FB) | 1.48 |
| Alphabet (NASDAQ: GOOGL) | 1.59 |
| Netflix Inc (NASDAQ: NFLX) | 2.22 |
Open an Account and Deposit Funds
So now that you have a bit of background information about Amazon, you are ready to take the next step. As such, we are now going to take you through the steps of buying Amazon shares online in the UK.
Certain FCA-regulated platforms allow you to buy Amazon shares without paying any fees or commissions, and you can instantly deposit funds with a debit/credit card or e-wallet.
So, the first thing that you need to do is head over to your chosen broker's website and open an account.
On top of choosing a username and password, you will need to provide a range of personal information. This will include your full name, home address, date of birth, and contact details.
You will also be asked to verify your identity. You can do so by uploading the following documents:
Passport or Driver's License
Recent Utility Bill or Bank Account Statement
You will also likely need to meet a minimum deposit threshold. However, if your broker offers fractional share trading, you can buy 'portions' of a share if you wish.
In terms of supported payment methods, many brokers accept the following options:
Debit Card
Credit Card
Paypal
Skrill
Neteller
UK Bank Transfer
Rapid Transfer
iDEAL
Klarna / Sofort Banking
Online Banking – Trustly (EU region)
POLi
Now that you have funded your brokerage account, you are ready to buy Amazon shares. Enter 'Amazon' into the search box on your broker's dashboard and then click on the result that pops up .
To complete the investment process, you will be asked to enter your total stake. As long as the amount is above the broker's minimum investment threshold, you will be able to place a trade. Finally, click on 'Open Trade' to buy Amazon shares.
With Amazon consistently listed as one of the world's most valuable companies, it's natural that there will be regular news updates related to AMZN shares. Let's explore some of the most talked-about news stories concerning Amazon for the week beginning August 15th 2022:
It was a positive week for Amazon investors, as shares rose by just over 1%. Amazon has now posted a gain in the last four weeks and is up 41% from June's lows.
Amazon received a boost last week as consumer price index (CPI) figures came in lower than expected. This hints that inflation could have peaked, which is great news for Amazon's margins.
Finally, Bloomberg announced last week that legendary investor George Soros had upped his stake in Amazon. Soros Fund Management had purchased more Amazon shares a few weeks ago, before the recent price increases.
Conclusion
In summary, those who backed Amazon during the start of its corporate journey are now staring at 6-figure percentage gains. At present, there is no telling just how big this NASDAQ stock can get.
As such, if you're looking to get your hands on some Amazon shares in the safest way possible, it's important to partner with an FCA-regulated broker that offers investor protection within the UK.
Looking to invest in other tech shares? Check out the companies below.
How much were Amazon shares when the firm first went public?
How much are Amazon shares?
Does Amazon pay dividends?
What is the minimum number of Amazon shares that I can buy?
How do I buy Amazon shares?
How many Amazon shares are there?
Who owns shares in Amazon?
How many shares does Jeff Bezos have in Amazon?
Have Amazon shares ever split?