Ethereum (ETH) was created by Russian-Canadian programmer Vitalik Buterin in 2013. He devised it as a new type of blockchain that could be mined more efficiently than Bitcoin by using less energy and time, while also allowing for more complicated contracts than are possible with Bitcoin's scripting language.
Before we show you how to buy Ethereum, you need to find the right broker or exchange. You can compare the best crypto brokers and exchanges, along with their fees and features, below. You can even change the investment amount and cryptocurrency you're investing in to see how much each broker charges!
In this guide, we show you how to buy Ethereum in the UK. On top of walking you through the step-by-step investment process, we also explore what the future holds for this popular digital currency.
How to buy Ethereum (ETH) in UK – Quick Step Tutorial
Don't have time to read through our guide in full? If so, follow the quickfire steps outlined below to buy Ethereum in less than 10 minutes!
✅ Step 1: Open an eToro account
Visit eToro's official website and tap on 'Join Now'. Enter your details and choose a username and password.
🔎 Step 2: Verify your account
As eToro is fully regulated in UK by top-tier financial authorities you'll need to verify your account by uploading proof of ID and proof of address before buying any crypto.
💳 Step 3: Fund your account
Deposit a minimum of $10 (around £7)  into your trading account via credit/debit card, bank wire transfer, or e-wallets such as PayPal or Skrill.
🛒 Step 4: Buy Ethereum
Type "ETH"  into the search bar and click on 'Trade'. With a minimum investment of $10 you can buy fraction of one ETH with 0% commission.
Cryptoassets are highly volatile unregulated investment products. No UK or EU investor protection.
What is Ethereum (ETH)?
Ever wondered what the best crypto to invest in is? Much like Bitcoin, Ethereum is a digital currency. In fact, the two projects carry several characteristics that are like-for-like. For example, both cryptocurrency projects are 'decentralized' – meaning that no single person or organization owns the Ethereum network.
Similarly, neither Bitcoin nor Ethereum is backed by a government or nation-state. Additionally, both digital currencies are built on top of the 'blockchain' – meaning that all transactions are fast, secure, and transparent.
However, it is important to note that this is where the similarities stop. This is because the underlying Ethereum technology is able to do more than just facilitate digital transactions.
For example, Ethereum offers something called 'smart contract' technology. In its most basic form, this allows two or more people to enter into an agreement without needing to trust each other. We cover this in more detail later. Ethereum transfers are also faster than Bitcoin and the blockchain is able to handle a lot more transactions.
Crucially, most people in the UK buy ETH in a speculative nature. That is to say – and much like Bitcoin, people invest in this digital currency in the hope that they make money. You will be able to do this if you sell the coins at a later date for more than you originally paid. Recently, Ethereum has also been regarded as one of the best Bitcoin alternatives to invest in.
With many crypto-enthusiasts looking to stake and loan their crypto holdings you might be surprised to learn that you can earn 7% interest per year on your ETH holdings. Read our complete AQRU review to find out more.
---
Where to Buy Ethereum in the UK
So now that we have covered the ins and outs of how this digital currency works, we now need to discuss where to buy Bitcoin. We have narrowed our list of platforms down to just five, which you will find below.
---
1. eToro – Overall Best FCA Broker to Buy Ethereum in the UK
eToro is a regulated online brokerage site that also offers CFDs. The platform is super popular in the UK, with more than 13 million clients worldwide. eToro is very simple to use, so it is a good option if you are looking to buy Ethereum for the very first time.
In fact, the end-to-end process of registering, funding your account, and investing takes less than 10 minutes. In terms of what assets eToro hosts, this covers a vast number of investment classes.
For example, it hosts 16 different cryptocurrencies – including Ethereum. These are tradable against lots of fiat currencies. You can also buy shares from 17 different stock exchanges – which covers companies in the UK, US, Germany, Sweden, and more. eToro also offers a good selection of ETFs.
On top of being super user-friendly, eToro is popular because of its 100% commission-free offering. This means that you can buy Ethereum in the UK without needing to waste money on brokerage fees. There are no fees to keep your account open either, so you can hold on to your Ethereum investment for as long as you like.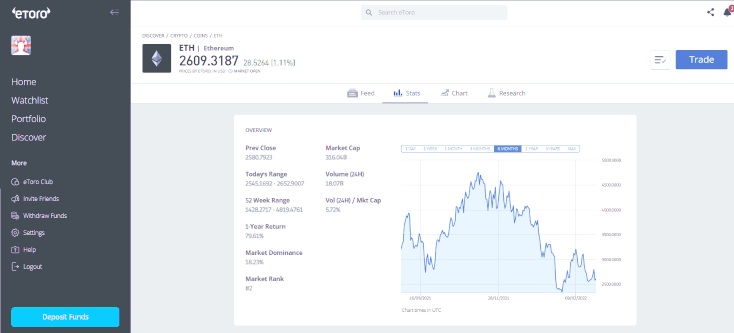 If you are interested in a longer-term investment strategy, you might want to consider an eToro CopyPortfolio. These are managed portfolios that allow you to invest passively. There are dozens of strategies to choose from – including cryptocurrency assets.
When it comes to safety, eToro is licensed by the FCA, ASIC, and CySEC. It is also partnered with the FSCS protection scheme, but this doesn't apply to cryptocurrency holdings like Ethereum. Instead, this covers stocks, ETFs, and CFD instruments.
Nevertheless, you can get started with eToro by meeting a minimum deposit of $50. You can do this instantly with a UK debit/credit card or an e-wallet like Paypal and Skrill. Once you have made a deposit, you can invest from just $25 into Ethereum, leaving the balance to other assets.
Cryptoassets are highly volatile unregulated investment products. No UK or EU investor protection.
---
2. Crypto.com – Best Exchange To Buy Ethereum with User-Friendly Trading App
Another great platform to consider if you're looking to buy Ethereum UK is Crypto.com. Although Crypto.com was initially mainly used in the US, the platform is now making headway in the UK thanks to its low fees and user-friendly trading process. Alongside ETH, Crypto.com users can invest in over 150 different cryptos – all for only 0.4% per trade. Notably, users can get a 10% fee reduction if charges are paid in Crypto.com coin.
Deposits in FIAT and crypto are free to make with Crypto.com – and users can even make GBP deposits instantly via Faster Payments. Alternatively, Crypto.com also allows users to buy Ethereum with a credit card, with no fees for the first 30 days of trading. However, after this fee-free period, this will cost 2.99% per trade to invest in this manner.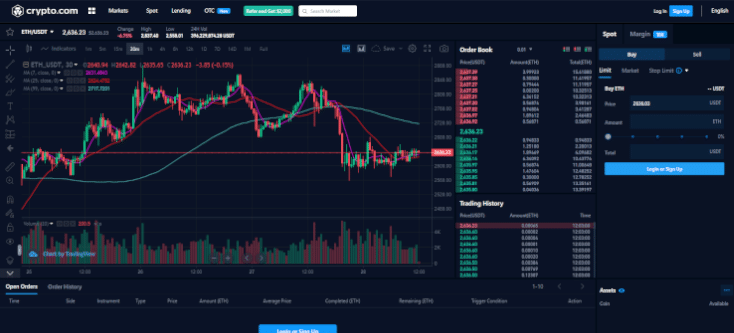 The Crypto.com app has a fantastic design, complete with price alerts and a real-time breakdown of your portfolio performance. The app also allows users to deposit crypto and obtain a crypto-loan, requiring no credit check. Users can even send and receive ETH (and other coins) through the app with no fees. Finally, Crypto.com even has a dedicated 'University' section featuring an array of educational articles to aid beginners.
Your money is at risk.
3. Huobi – Top Crypto Exchange with ETH 2.0 Staking Support
If you're looking for an alternative platform to buy Ethereum UK, we'd also recommend checking out Huobi. Huobi is a Seychelles-based crypto exchange that is one of the top ten largest exchanges globally in terms of trading volume. Users can invest in over 350 crypto assets with Huobi, including a wide array of crypto-to-crypto trading pairs. The platform even offers a selection of Ethereum derivatives, such as futures and swaps, to bolster trading opportunities.
When you buy Ethereum with Huobi, the platform will only charge a 0.2% maker/taker fee. This fee can be reduced by half if you pay for the charges with Huobi Token – the platform's native crypto. Alternatively, users can also buy Ethereum (and other coins) using their credit or debit card. However, there will be four different fee components to invest in this way, making it relatively expensive.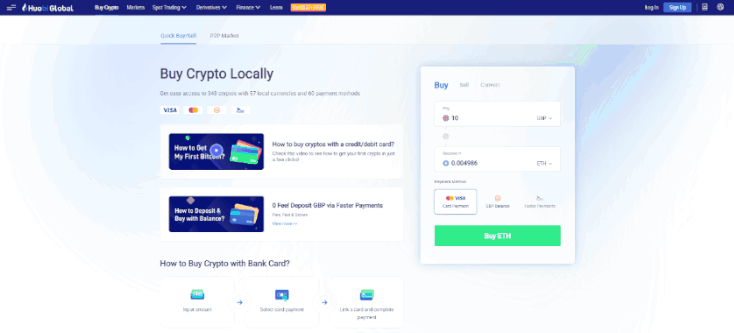 Users can trade on Huobi's web-based exchange or the mobile app, with the latter targeted more towards beginners. The app has an easy-to-navigate interface and allows users to buy and sell cryptos in just a few taps. Huobi also offers a free crypto wallet app, which will enable you to store Ethereum with complete control over your private keys. Finally, Huobi will even support ETH 2.0 staking, making it easy to earn a passive income.
Your money is at risk.
---
---
4. Coinbase – User-Friendly Broker To Buy ETH With Over 35 Million Customers
If you don't have an interest in other asset classes like stocks and simply want to use a specialist cryptocurrency platform – Coinbase is worth a look. This platform is the most popular cryptocurrency broker in the space and it now commands a client base of over 35 million users.
The main attraction with Coinbase is that it offers a simple way to enter the cryptocurrency space for the first time. This is because it takes minutes to open an account and you can easily deposit funds with a UK debit/credit card or bank transfer.
Then, you'll have a wide selection of cryptocurrencies to choose from – including Ethereum, Bitcoin, Litecoin, XRP, Bitcoin Cash, and more. Once you have completed your Ethereum purchase, you have a couple of options regarding storage. If you want to keep the funds at Coinbase, this is fine.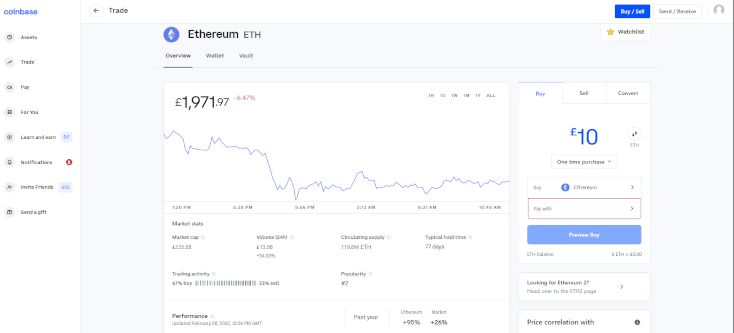 After all, the platform utilized top-grade security controls – such as cold storage (98%), two-factor authentication, wallet lock-ups, multi-sig addresses, and more. Additionally, Coinbase has a huge team of skilled employees – which includes a fully-fledged risk-management department.
Furthermore, and perhaps most importantly, Coinbase is authorized by the FCA. However, there is a major drawback in choosing Coinbase as your go-to platform to buy Ethereum in the UK – especially if you want to use a debit card. This is because you will be charged a fee of 3.99%. As such, a £500 purchase would cost £19.95.
Although UK bank transfers are free, you do need to factor in the Ethereum trading commission. This stands at 1.49% per slide – meaning you pay it when you buy Ethereum and again when you sell. All in all, Coinbase is great for convenience and security, but this does come at a cost.
Your money is at risk.
---
5. Binance – Popular Exchange To Buy Ethereum That Supports UK Debit/Credit Cards


We briefly made reference to Binance, not least because it is the largest cryptocurrency exchange globally. In the 24 hours prior to writing this guide, more than $15 billion worth of cryptocurrencies have changed hands at the trading platform.
It should be noted that Binance is more suited to experienced traders that are looking to buy and sell crypto assets on a short-term basis. This is because the platform offers hundreds of pairs, heaps of trading tools, and super-low commissions.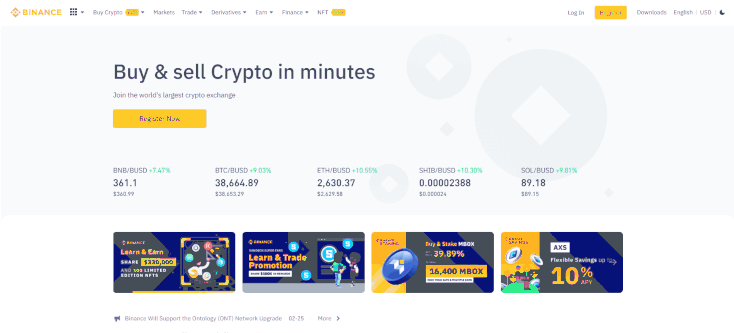 For example, the platform charges an entry-level trading commission of just 0.10%. However, if you want to buy Ethereum with a debit or credit card, you will be charged a transaction fee of 2%. This does make Binance slightly less attractive. On the flip side, this is a lot cheaper than Coinbase.
As we've seen there are tons of cryptos to choose from on Binance. Are you contemplating what the best new cryptocurrency to buy in 2022 is? With BNB you can buy Lucky Block – a new crypto token set to revolutionize the lottery industry as we know it.
Nevertheless, once you buy Ethereum from Binance, you can withdraw the coins to a private wallet. Or, you leave them in your web-wallet for convenience. We do like the Binance SAFU offering, which is a reserve pot to cover the potentiality of a future hack. This is funded from the trading commissions that Binance collects.
Your money is at risk.
---
Is Ethereum a good investment?
With so many cryptocurrencies now in existence (there are over 7,000 at the time of writing), knowing which one to invest in can be challenging.
To help clear the mist, below we list some of the reasons why you might decide to invest in Ethereum in the UK.
Huge Financial Returns to Date
The value of Ethereum has increased exponentially since the project was first launched in 2015. Back then, you would have paid just under $3 for each Ethereum coin. Just over two and a half years later, the very same cryptocurrency hit all-time highs of $1,400.
This represents financial returns of over 45,000%. This means that an initial £500 'punt' on Ethereum in 2015 would have grown to over £225,000.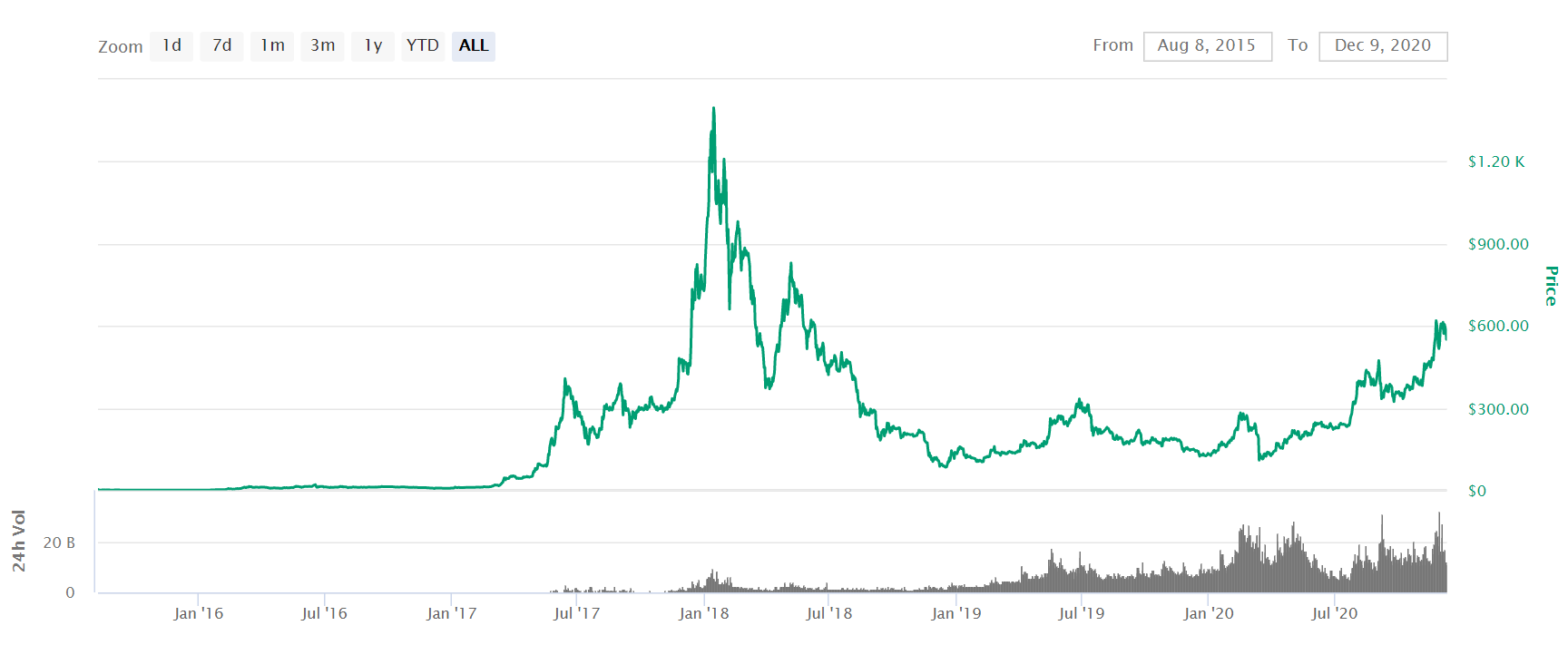 Although the price of Ethereum has since moved in the opposite direction, the digital currency has performed very well in 2020. Starting the year at $129, Ethereum has since hit 52-week highs of over $600. That's a growth of over 360% in less than a year of trading.
Small Market Capitalization
At the time of writing, Ethereum carries a market capitalization of $62 billion. This is worth more than most companies listed on the London Stock Exchange.
However, some would argue that due to its global reach – this is a relatively small valuation. After all, the Ethereum blockchain has the capacity to solve a lot of real-world problems.

As such, you still have the chance to buy Ethereum at a good price.
Smart Contracts
Perhaps one of the most appealing aspects of Ethereum is that it is able to facilitate smart contract transactions. The concept here is somewhat complex, but we'll explain it in Layman's terms.
So, a smart contract is a piece of code that allows two or more people to enter into an agreement. Once deployed, the terms of the smart contract cannot be changed, amended, or manipulated.
This allows people to enter into contractual agreements without needing to trust each other. Most importantly, these smart contracts operate in an autonomous manner – meaning there is no requirement for manual input.
For example:
Let's say that you wish to purchase flight insurance via a smart contract
The flights cost you £1,000 in total
You pay a small premium that amounts to the ETH-equivalent of £50
The terms of the smart contract state that you will have your tickets refunded – plus £500 in compensation, if the flight is canceled or it departs more than 6 hours late
Your flight is subsequently canceled and the smart contract releases your £1,500 payment automatically
If you're wondering how the Ethereum blockchain is able to do this – the underlying technology is able to scan thousands of third-party sources, to determine whether or not the flight actually took off. Once the technology reaches a consensus, it is able to deploy the smart contract payment.
All of this was achieved without human intervention. Flight insurance is just one example of how Ethereum smart contracts could revolutionize a whole sector – but there are many, many others.
Ethereum Technology is Better Than Bitcoin
Bitcoin is often hailed as a solution to global payments. Sure, the technology is fast, secure, and cheap in comparison to traditional transaction methods. However, it must be noted that Ethereum performs even better.
For example:
Ethereum transactions take just 15 seconds to confirm, while Bitcoin takes 10 minutes.
Ethereum can currently handle about 16 transactions per second. Bitcoin can handle 7.
Ethereum transactions are cheaper than Bitcoin, due to greater scalability capacities. This would appeal to financial institutions looking to make cross-border payments.
With that said, Ethereum is rolling out its next-generation blockchain protocol in the coming months. This will take things to a whole new level – with the blockchain expected to go from 16 transactions per second to hundreds of thousands. This smashes through the capacities of Visa, MasterCard, and Paypal.
Transparent Leadership
On the one hand, both Bitcoin and Ethereum are decentralized cryptocurrencies – so no single person or authority has control over the network.
However, it should be noted that Ethereum has clear leadership in the form of the Ethereum Foundation (as well as Ethereum Labs). This is led by the founder of the cryptocurrency – Vitalik Buterin.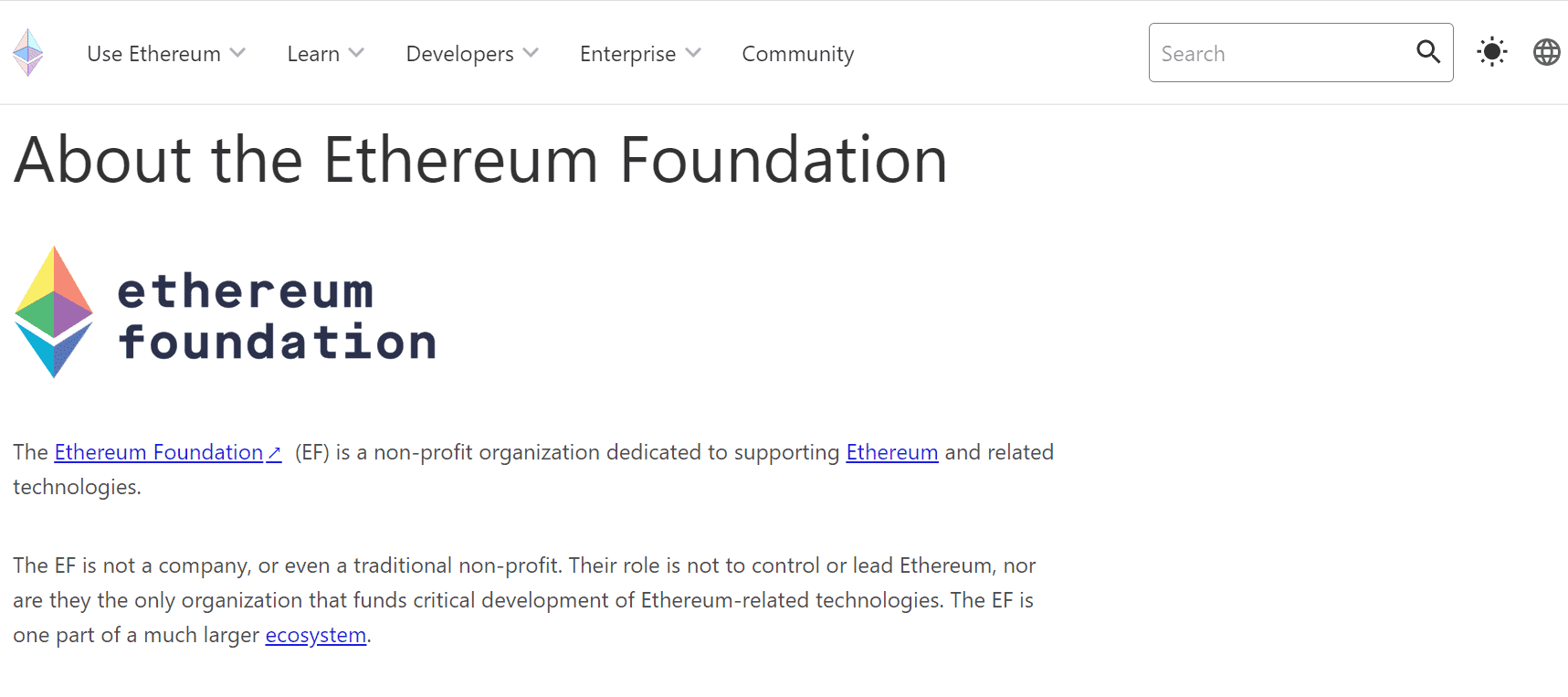 This is good news for investors in the UK that seek some form of accountability through a public face. Bitcoin, on the other hand, has no clear leadership.
You can Invest Small Amounts
At the time of writing, Ethereum is hovering around the $600-mark. The good news is that you do not need to invest anywhere near this much when you buy Ethereum in the UK.
On the contrary, by using a broker that supports fractional ownership, you can invest small amounts. At eToro, for example, you buy just $25 worth of Ethereum. This is great for two key reasons.
Firstly, cryptocurrencies are speculative assets, but a purchase of just $25 is somewhat inconsequential. Secondly, this allows you to deploy a dollar-cost average strategy.
This might see you invest $25 at the end of each month over many years. Every time you invest you will buy Ethereum at a different price – subsequently allowing you to average out market volatility.
Most Cryptocurrencies are Built on top of Ethereum
A lot of people in the UK don't know this, but the majority of cryptocurrencies in existence today are actually built on top of the Ethereum blockchain. This means that they do not have their own proprietary technology.
Instead, these cryptocurrencies are 'ERC-20' tokens that need the Ethereum blockchain to function. The reason that so many digital currency projects have taken this route is that Ethereum makes the process of building a cryptocurrency so easy.
In turn, this drives up the demand for the Ethereum coin. After all, ERC-20 transactions require fuel to function – which is facilitated by Ethereum.
Your Investment is Liquid
When you buy Ethereum in the UK, you are investing in an asset class that is super-liquid. In simple terms, this means that you can convert your Ethereum coins back to pounds and pence whenever you see fit. This is for several key reasons.
Firstly, Ethereum is a multi-billion pound digital asset that trades on hundreds of third-party exchanges. As such, you will never struggle for liquidity – meaning that you will always find a buyer at the click of a button. This is no different from selling stocks and shares through an online broker.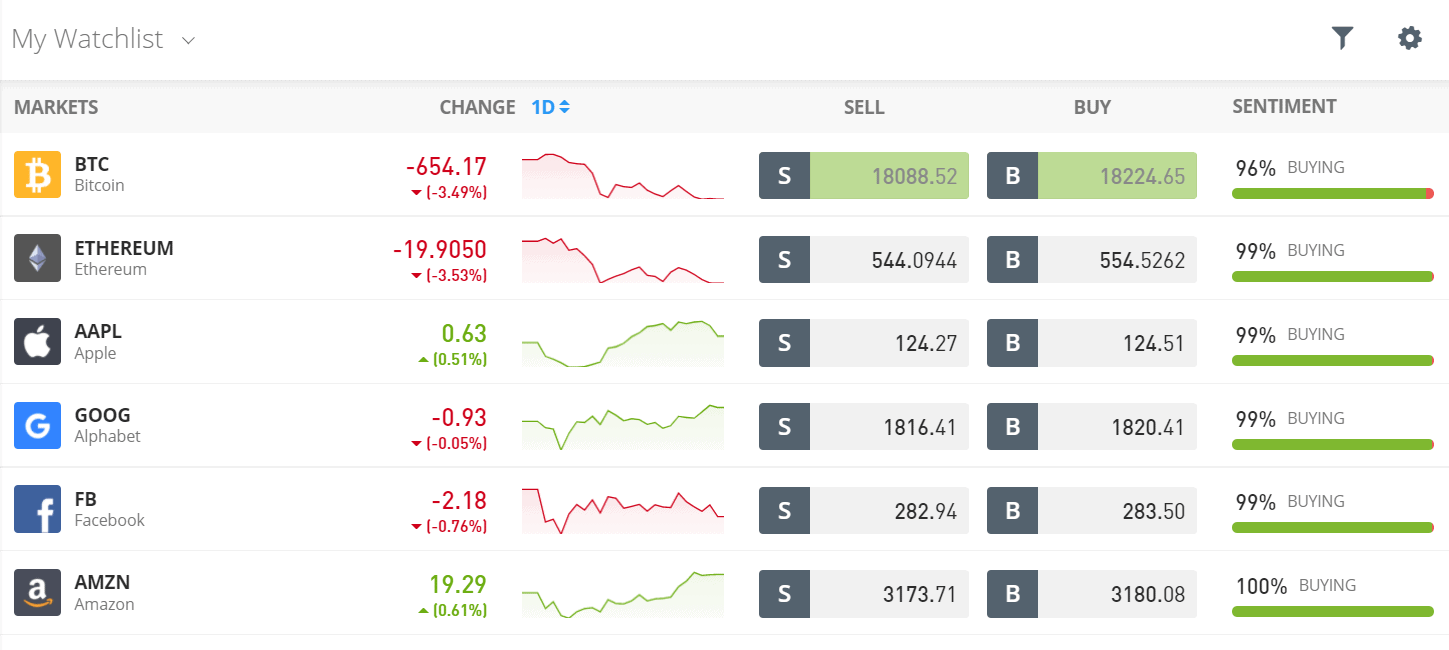 Cryptoassets are highly volatile unregulated investment products. No UK or EU investor protection.
Secondly – and unlike the traditional stock exchange arena, cryptocurrencies are actually traded 24 hours per day, 7 days per week.
As such, there is no requirement to wait until Monday morning to be able to cash your holdings out. In fact, by using an FCA broker like eToro, all you need to do is click on the 'Sell' button. In doing so, the proceeds of your Ethereum investment will be added to your cash account and instantly available for withdrawal.
How Much Does it Cost to Buy Ethereum?
Ethereum – like most cryptocurrencies, is typically priced in US dollars. This is no different from major commodities like oil natural gas, gold, and silver – each of which are bought and sold in USD. However, some platforms also offer Ethereum pairs against the British pound.
Nevertheless, the price of Ethereum will change each and every second – much like stocks do. This is because its value is dictated by market forces via demand and supply. For example, at the time of writing, Ethereum is priced at $556. This amounts to about £415. However, 24 hours prior, Ethereum was priced at about $580 – or £433.
The good news – and as noted above, is that you don't need to invest in a full digital coin when you buy Ethereum in the UK. On the contrary, you can buy a 'fraction' of a coin. Once again, this starts at just $25 when using eToro – which is about £19.
How to Buy Ethereum Stock?
While buying Ethereum directly from the exchange or in the form of CFDs via a stockbroker like eToro can be easy and fast as well, many prefer to buy Ethereum-related stocks or Exchange Traded Funds (ETFs). For example, companies like Ether Capital (OTCMKTS: DTSRF) or HIVE Blockchain (CVE: HIVE) may allow you to get indirect exposure to Ethereum.
Another way is to invest in ETFs or funds like the Grayscale Ethereum Trust (ETH) or the Ether fund that was recently launched in the Toronto Stock Exchange. eToro is also offering a managed built-in Cryptocurrency CopyPortfolio that bundles together Bitcoin, Ethereum, Ripple, Litecoin, and other cryptocurrencies.
How to Buy Ethereum with Paypal
Most investors in the UK think that the best way to buy Ethereum is with a debit card or credit card. Some will also opt for a bank transfer. However, if you want to buy Ethereum with Paypal, this is entirely possible.
But, very few brokers support e-wallets, so you need to shop around. eToro actually allows you to buy Ethereum with Paypal, Skrill, and Neteller – as it is a proponent of e-wallets. You will still benefit from a commission-free Ethereum purchase and the minimum investment stands at just $25.
Once you have made a purchase with Paypal, the Ethereum coins will remain at eToro. Then, when you get around to selling your Etheruem investment, you will be able to withdraw your cash balance back to Paypal. Finally, it's then just a case of withdrawing your Paypal balance back to your UK bank account – which is usually instant.
How to Buy Ethereum with Bitcoin
If you want to buy Ethereum with Bitcoin – you are performing a cryptocurrency exchange. This is the most traded crypto-to-crypto pair in the industry, so you have hundreds of third-party exchanges to choose from. Binance is a popular choice with UK investors, as the platform offers super-low pricing.
The example below explains how to buy Ethereum with Bitcoin at Binance, albeit, the process remains the same across most exchanges:
You quickly open an account with Binance (less than 1 minute as no ID is required)
You transfer Bitcoin from your private wallet into Binance (10-20 minutes for funds to appear)
Search for the pair 'ETH/BTC'
You are looking to exchange your Bitcoin into Ethereum, so create a 'buy order'
A few seconds later the order will be matched and the Ethereum coins will be added to your Binance wallet
Once you complete the above transaction, you can either leave your Ethereum coins at Binance or withdraw them out of your private Ethereum wallet.
How To Buy Ethereum Safely
One of the biggest things holding UK investors back from cryptocurrencies like Ethereum is that they are concerned about safety.
On the one hand, there are too many examples of people being scammed in the cryptocurrency scene. This has come in various forms, such as cryptocurrency exchange hacks or malware attacks.
However, the good news is that it is entirely possible to buy Ethereum safely by following a set of core guidelines.
At the forefront of this is ensuring that you only buy Ethereum in the UK from a broker that is authorized and regulated by the Financial Conduct Authority (FCA). The body does not hand out licenses to any Tom, Dick, and Harry – especially when it comes to cryptocurrency brokerage services.
So, by using an FCA broker to buy Ethereum in the UK, you will benefit from the following safety nets:
When you first open an account with the broker, you will need to provide some personal information. This then needs to be verified by uploading a copy of your passport or driver's license. This ultimately keeps crime away, as nobody can buy or sell Ethereum without providing ID.
The FCA broker in question is required to keep your investment funds in segregated bank accounts. In simple terms, this means that it cannot use your money to fund its own day-to-day operations.
The platform needs to clearly display the risks involved in buying Ethereum. After all, crypto assets are high risk.
An additional benefit of sticking with FCA-regulated brokers is that you will be able to buy Ethereum with an everyday payment method – like a debit or credit card.
Risks of Buying Ethereum
While it is true that Ethereum has increased in value by thousands of percentage points since it was launched in 2015, you still need to have a firm grasp of the risks. After all, you will be investing your own money into this digital currency – so make sure you consider both the pros and cons.
This includes:
You can Lose Money
It goes without saying that all investments can result in a financial loss – and Ethereum is no different. Don't forget, the value of Ethereum is determined by demand and supply. As such, if there are more sellers than buyers in the marketplace, then naturally, the price of Ethereum will go down.
For example, let's suppose that you jumped on the bandwagon in early 2018 – which is when Ethereum last hit all-time highs of $1,400. Just four months later in April, Ethereum was worth just $380. That's a downward spiral of 72% in a super short period of time.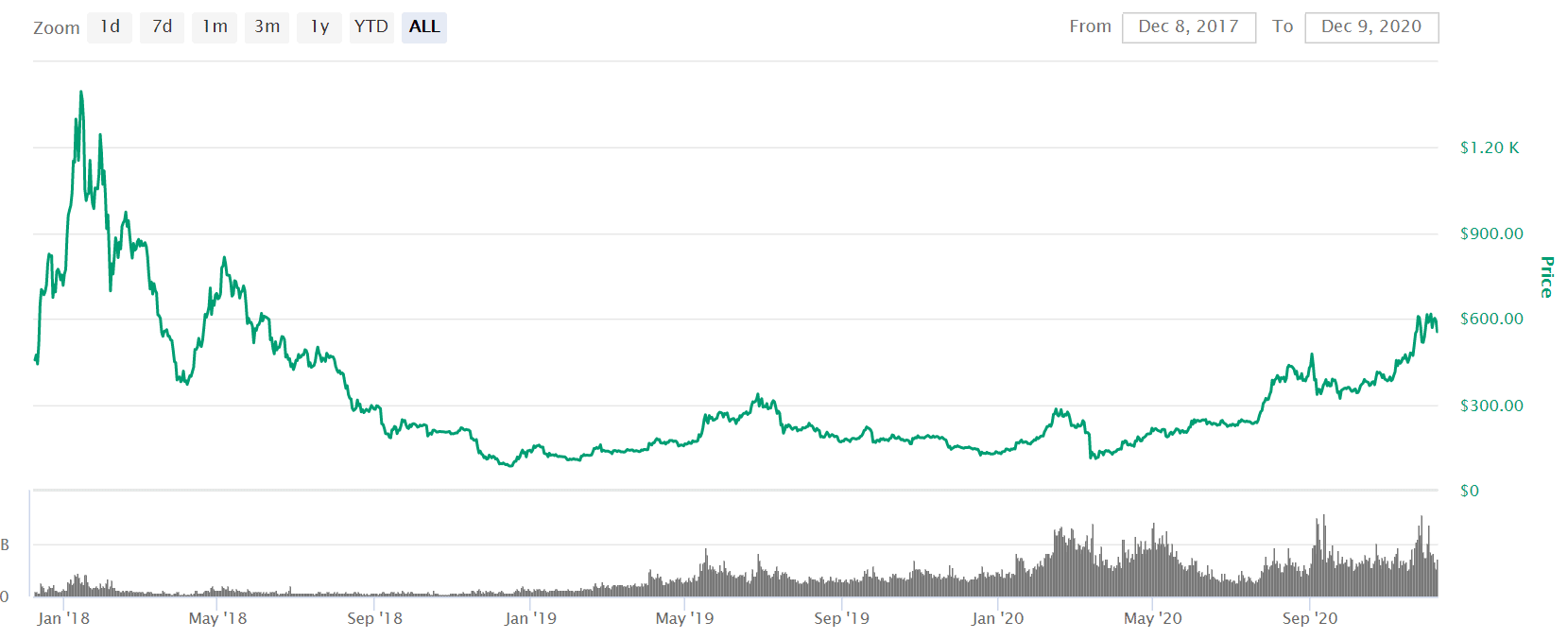 Similarly, had you bought Ethereum in July 2019, you would have paid $263 per coin. In December of the same year, the same cryptocurrency was worth just $128 – representing a loss of over 50% in just 5 months of trading.
On the flip side, had you entered the market at $128 – your investment would have grown by over 300% just 12 months later – based on late 2020 prices. All in all, Ethereum – like all highly volatile digital assets, moves up and down very, very quickly. As such, just make sure you understand that there is every chance you might get back less than you originally invested.
There are Hundreds of Unregulated Platforms Selling Ethereum
Ethereum is the second-largest cryptocurrency in terms of market capitalization and trading volume. As such, it goes without saying that there are hundreds of cryptocurrency exchanges that give you access to this digital coin. However, in the vast majority of cases, these platforms will not be authorized or regulated by the FCA.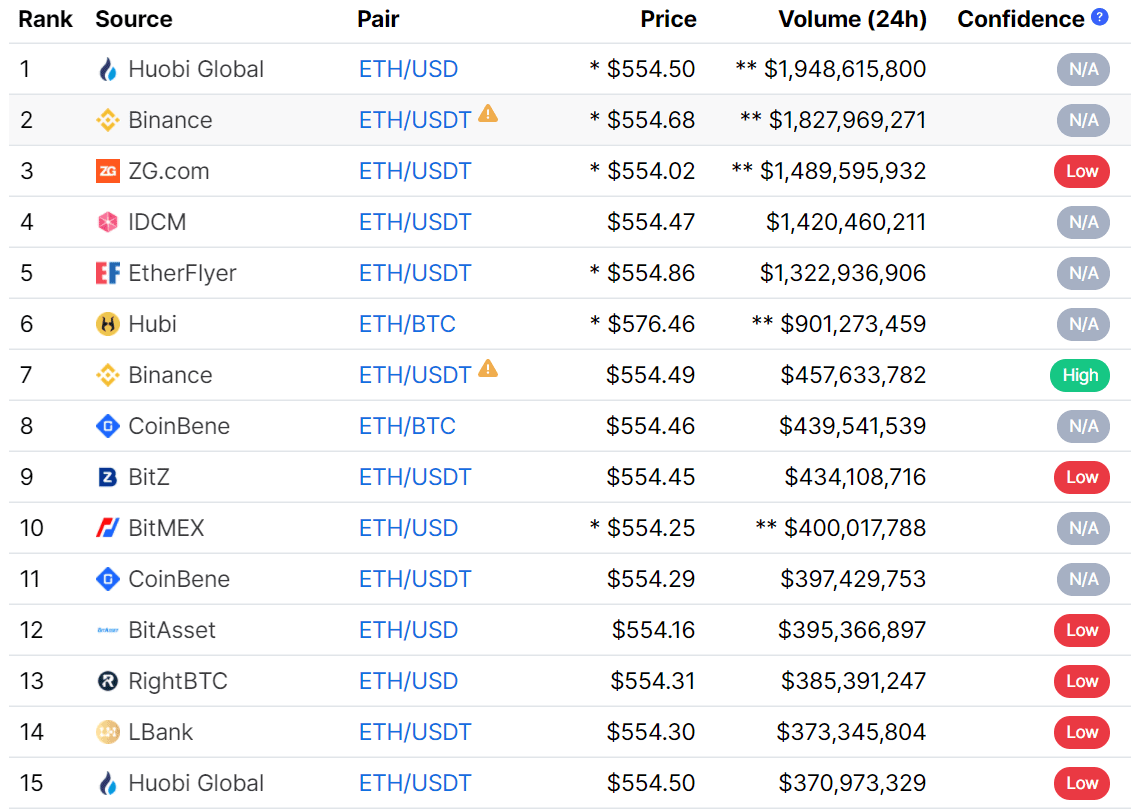 In fact, they won't hold a license at all – meaning that they are operating in an unregulated manner. This is hugely problematic for newbie investors in the UK that don't quite understand the risks of using an unlicensed exchange.
After all, you are entrusting your money with a provider that doesn't answer to a reputable regulatory body. As such, this is why we strongly advise that you only buy Ethereum in the UK with a broker that is regulated by the FCA. In doing so, you will benefit from all of the regulatory protections that we discussed earlier.
You Might be 100% Responsible for Your Ethereum Coins
The traditional way of buying Ethereum is as follows:
You open an account with an exchange or broker
You deposit funds
You buy Ethereum
You withdraw the Ethereum coins to a private wallet
The above process appeals to a lot of cryptocurrency investors because it allows them to store their coins in a private digital wallet. These wallets are available via desktop software, mobile apps, and even a hardware device. Once the coins are in your wallet, nobody but you has control over the funds.
However, this does come with a slight caveat. This is because you will be 100% responsible for keeping your digital wallet safe and away from the wrong hands.
For example, if your home computer was remotely hacked or you lost your mobile phone, the respective wallet could be compromised. If it was, then the hacker would all but certainly steal your Ethereum coins. In doing so, there would be no way for you to get the funds back.
Once again, this is why we suggest considering an FCA broker like eToro. The reason for this is that eToro does not allow you to withdraw your coins out and thus – it takes full responsibility for their safekeeping. Put simply, this consists of high-level security controls beyond the capabilities of a novice cryptocurrency investor.
Selling Ethereum
If you looking to buy Ethereum in the UK – then you are likely doing so because you want to make money. To do this, you need to sell the coins at a higher price than you originally paid. This works in exactly the same way as buying shares.
In terms of how you actually sell Ethereum, this depends on the method you used to buy the coins.
For example:
If you use eToro, you can sell your investment at the click of a button.
Then, you just need to withdraw the cashback to your debit/credit card, e-wallet, or bank account.
However, if you decided to use a cryptocurrency exchange and then withdrew the Ethereum to a private mobile, desktop, or hardware wallet – the process would be a bit more tedious.
This is because you will first need to transfer the coins to a broker (like Coinbase), convert the Ethereum back to fiat money, and then withdraw the funds to your bank account.
---
How to Buy Ethereum (ETH) in UK – eToro Guide
Ready to buy Ethereum in the UK right now with a debit/credit card or e-wallet? If so, the steps outlined below will you how to complete the purchase commission-free at FCA broker eToro!
Step 1: Open a Brokerage Account at eToro
All eToro users are verified, so you'll need to begin the process by opening an account.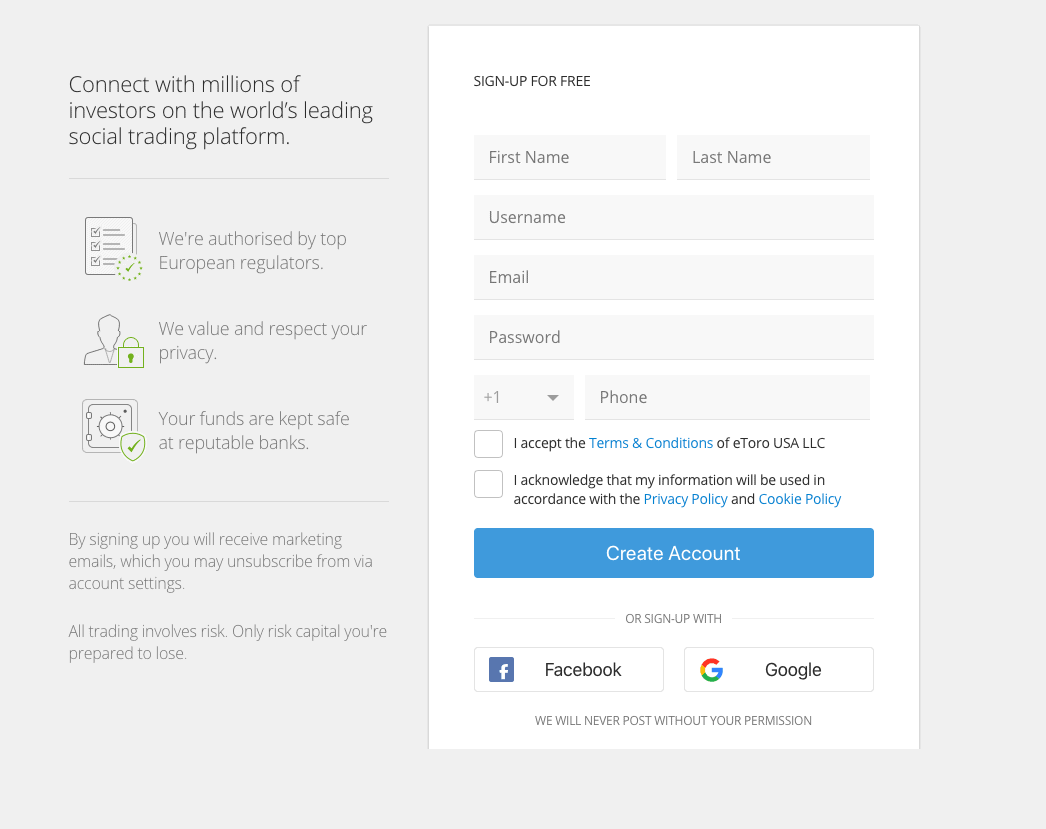 Cryptoassets are highly volatile unregulated investment products. No UK or EU investor protection.
This will require you to enter your personal information and contact details. Additionally, you will need to verify your mobile number and create a username/password.
Next, you will be asked to upload a copy of your ID and proof of address. If you are not planning to buy more than $2,250 (about £1,800) worth of Ethereum, you can upload the required documents later. You will need to do this before being able to make a withdrawal, though.
Step 2: Download the eToro App (Optional)
If you're planning to buy and sell Ethereum on the move, then it's worth downloading the eToro investment app. You will use the same login credentials to access the app as you created in the prior step.
Step 3: Deposit Funds
You will now need to deposit some funds. This needs to be at least $50. You can choose from a debit/credit card, Paypal, Skrill, or Neteller for an instant deposit. Or, you can transfer funds from your bank account – but, you'll need to wait a few days for this to arrive.
Step 4: Search for Ethereum
Now that your account is funded, you can buy Ethereum. Like the screenshot below, simply search for 'ETHEREUM' and click on the result that loads up.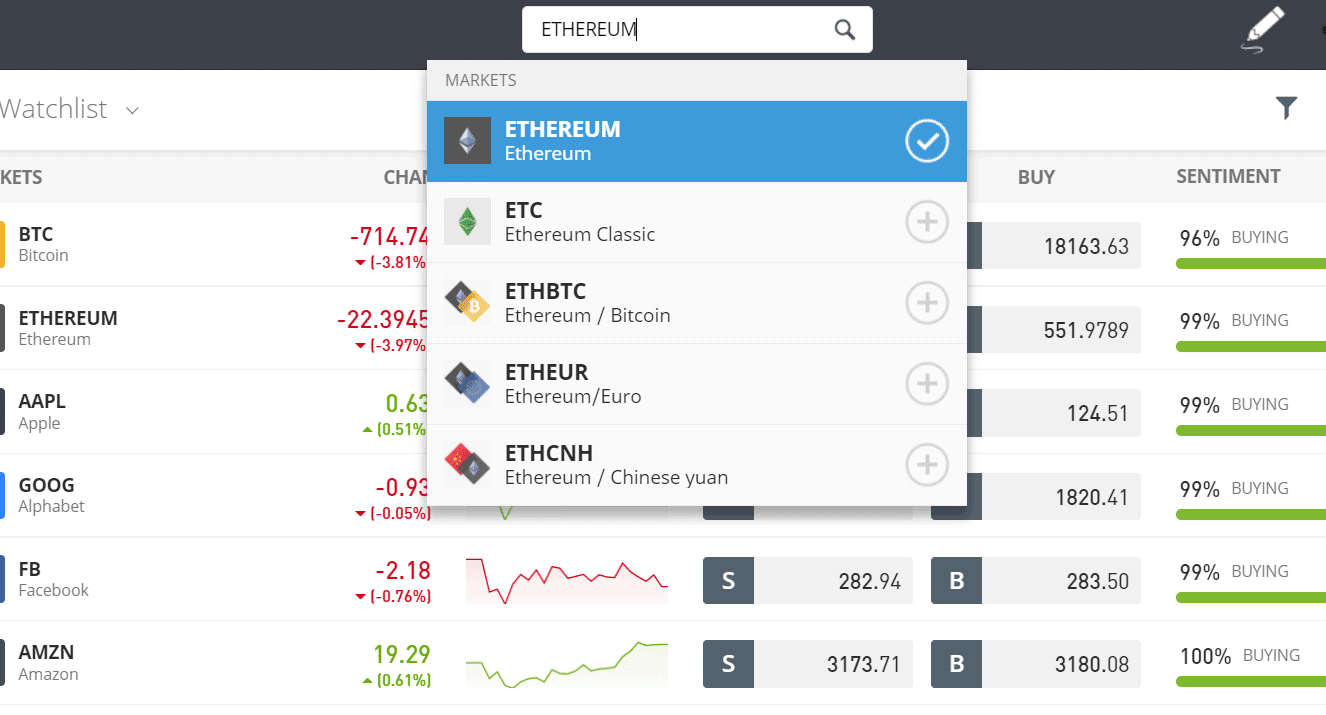 Cryptoassets are highly volatile unregulated investment products. No UK or EU investor protection.
On the next page, click on the 'Trade' button.
Step 5: Buy Ethereum
You will now need to submit a buy order – which is standard practice at all cryptocurrency trading sites. To keep things simple, all you need to do is enter your stake in the 'Amount' box. This needs to be stated in USD and at an amount of at least $25.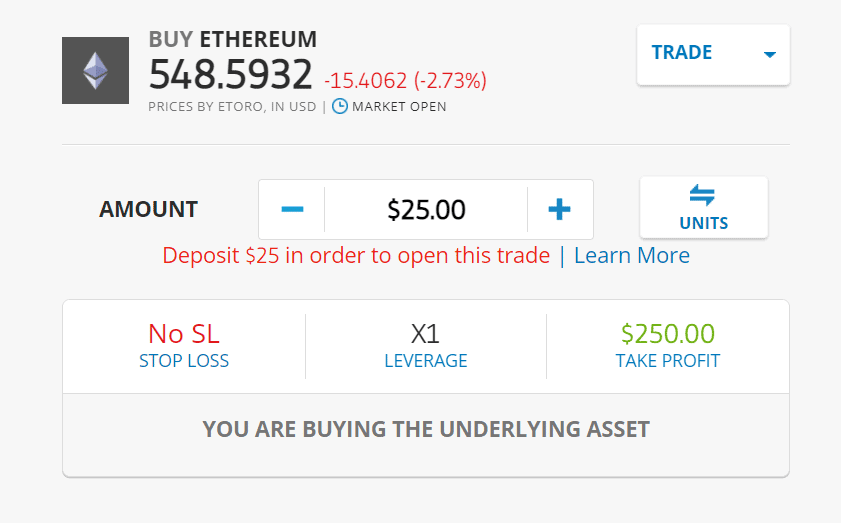 To complete your commission-free Ethereum purchase, click on the 'Open Trade' button. The Ethereum coins will then be transferred to your portfolio. You can cash the coins out 24/7 at the click of a button – commission-free.
---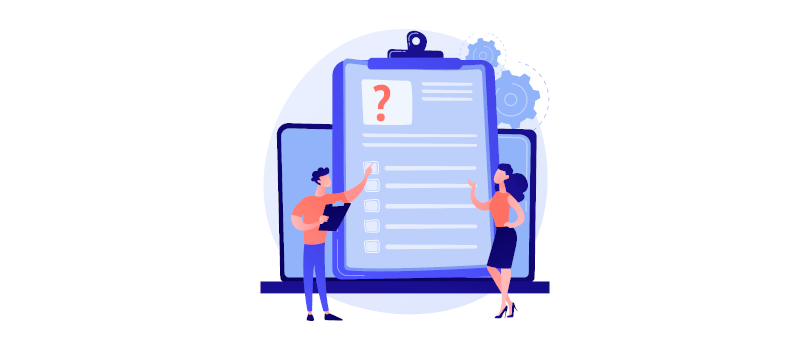 Latest Ethereum News
Given that Ethereum remains the second-largest cryptocurrency in the world (as measured by market cap), there are regular news events that can affect the coin's price. Let's take a look at some of the most pressing events for the week beginning August 8th 2022:
It was another positive week for ETH investors, as the token's price rose by just under 1%. This marked the fifth week in a row that Ethereum has closed higher, with the price now trading just above the $1700 level.
The Chainlink protocol's team announced last week that it would remain aligned with Ethereum following the long-awaited 'Merge'. Any forked version of the Ethereum chain that uses a Proof-of-Work (PoW) consensus will no longer be supported.
Finally, Vitalik Buterin was quoted last week saying that 'Layer-2' scaling solutions will soon mean that crypto payments will "make sense" again. These solutions, specifically those working with 'rollups', can reduce transaction costs drastically compared to other mechanisms.
Conclusion
As we explained throughout this guide, buying Ethereum online in the UK is simple, convenient, and super cost-effective.
Well, it is when using a trusted FCA-regulated broker like eToro. Not only can you be sure that you are buying Ethereum through a licensed Ethereum platform, but you can instantly deposit funds with a debit/credit card or e-wallet. The final icing on the cake is that you won't need to pay any commission to buy or sell Ethereum at eToro.
If you're looking for the best way to buy Ethereum UK right now – click on the link below!
Cryptoassets are highly volatile unregulated investment products. No UK or EU investor protection.
Frequently Asked Questions on Ethereum (ETH)
Where to buy Ethereum in UK?
How do I get cheap Ethereum?
What is the UK Ethereum minimum investment?
How do you sell Ethereum in the UK?
Can you buy Ethereum with Paypal?