If you're tired of earning a pittance with the likes of savings accounts and government bonds, you might be suited for high yield investments.
These are financial assets that have historically paid an above-average rate of return. But of course, the risks that you take with this segment of the investment scene is going to be higher – especially when it comes to market volatility.
If this is a trade-off that you feel comfortable taking, here we discuss the high yield investments in the UK. We also discuss UK brokers to access high yield investments and how you can get started with a dealing account today.
High Yield Investments 2021
Here's a list of high yield investments that made our cut. Scroll down to find out more about what each investment class offers.
Tech Stocks
Real Estate Investment Trusts
Permanent Interest Bearing Shares
ETF Bond Funds
Nvidia 
High Yield Investments in the UK
High yield investments are available in their drones. In order to meet our criteria, the investment in question must historically yield an above-average amount. We have set these criteria at a target annual yield of at least 10%. All of the high yield investments that we have opted for can all be accessed online from the United Kingdom by using an FCA-regulated broker.
1. Tech Stocks
While many sectors in the financial space suffered in 2020 – the tech stock scene has to date been unaffected by the coronavirus pandemic. In fact, this is somewhat of an understatement, as tech stocks are without a doubt the highest yielding shares of the year. For example, the likes of Amazon and Apple are up 70% and 57% YTD, while Paypal and Netflix are looking at gains of 82% and 54%.
You then have growth tech stocks that have provided yields. For example, Etsy is up a whopping 174%, while Square stockholders are looking at returns of 144%. All in all, those holding a portfolio of tech stocks at the start of the year are doing very well. While very few tech stocks yield dividends, this doesn't really matter.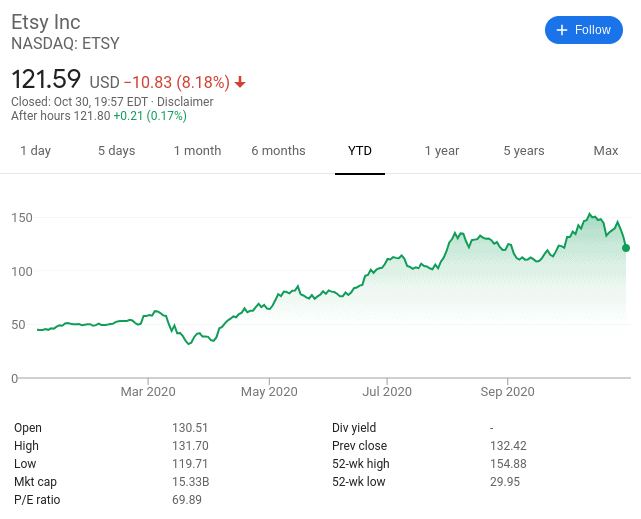 After all, you stand the chance to make significantly more in the form of capital gains anyway. On the flip side – and like a lot of high yield investments, the risks that you take with tech stocks are always much higher. This is because many companies active in the space are in possession of unproven business models.
More specifically, the market value of tech stocks is often driven by future earnings. Of course, there is never any guarantee that market projections will come to fruition, so do bear this in mind. You can mitigate your long-term risks by creating a diversified portfolio of tech stocks.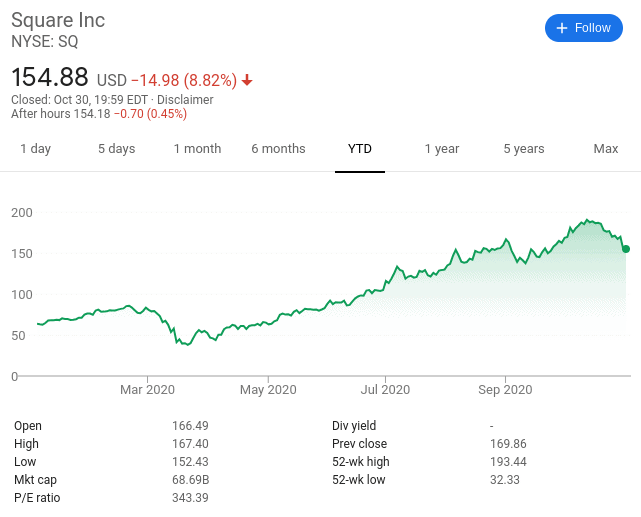 This can be achieved with ease when using an online stock broker that supports fractional ownership. This simply means that you can buy a 'fraction' of a tech stock as opposed to needing to purchase a full share. This is particularly important in the case of tech stocks which in some cases – have a per-share value that runs into the hundreds of dollars.
An option in this respect is FCA broker eToro – which allows you to invest in over 1,700 different stocks from just $50 (about £40). As such, by making a deposit of £400, you could create a diversification plan that consists of 10 different tech stocks at £40 each. You could go one step further by investing in an ETF that focuses exclusively on tech stocks.
Sponsored ad. Your capital is at risk.
2. Real Estate Investment Trusts (REITs)
If you're looking for high yield investments in the form of real estate – you might struggle if you don't have access to a large amount of capital. Fortunately, there is a workaround to this in the form of a Real Estate Investment Trust (REIT). In a nutshell, REITs are backed by thousands of investors of all shapes and sizes.
Run by large-scale financial institutions, REITs will pool investor funds together and then build a portfolio of properties. In some cases, the REIT will specialize in a particular area of the property scene – such as residential, commercial, office space, retail, or healthcare. By investing money into a REIT, you have two manners in which you can grow your money and enjoy a high yield.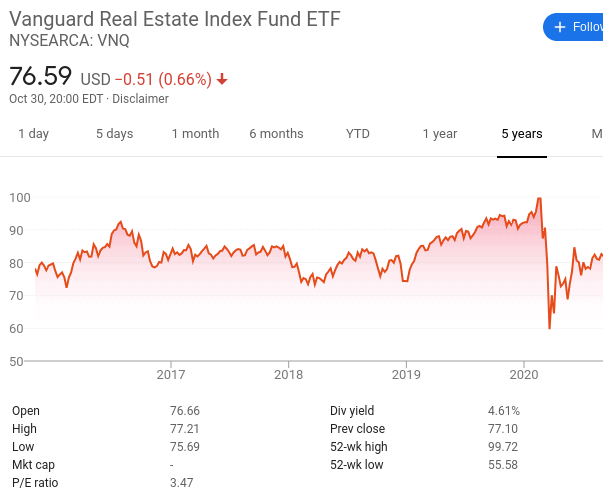 Firstly, as an investor, you will be entitled to your share of rental income. After all, whether its a residential complex or a shopping mall – the REIT will charge tenants rent. Due to the sheer number of properties that the REIT is likely to have in its portfolio, you'll typically receive a batch payment every three months – fewer fees.
Secondly, it goes without saying that over the course of time, the value of the properties held by the REIT should increase. This is known as appreciation. In theory, when the REIT's portfolio collectively appreciates, as should the value of your investment. This is because REITs are usually backed by exchange-traded funds (ETFs) – which turn, are listed on public stock exchanges.
Crucially, the specific value of the ETF is determined by the NAV (Net Asset Value) of all properties held. What we also like about this high yield investment class is that it is liquid. This means that you can cash out your investment whenever you see fit. This is in stark contrast to investing in real estate yourself, as you would need to wait for the property to be sold.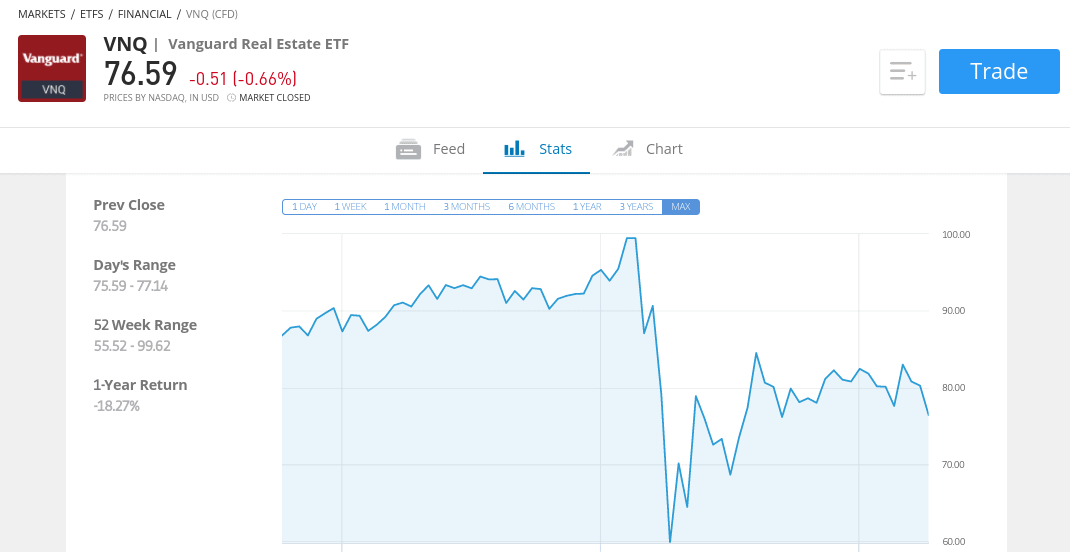 In terms of annual returns, there really isn't a hard-and-fast average to speak of. This is because there are simply too many variables to take into account. For example, it will depend on the type of properties that the REIT targets, as well as the specific housing market that the real estate is located.
When it comes to choosing a REIT yourself, there are hundreds of institutions active in the space. With that said, one of our favourites at the moment is that the of the Vanguard Real Estate ETF. The REIT in question gives you access to the US real estate sector in a diversified manner. In the 2019 calendar year, returns of 33% were realized.
However, the REIT is actually down 18% in 2020 YTD. Although this isn't ideal, it must be noted that the wider real estate industry has been hit hard by the pandemic. This is especially the case with REITs that have exposure to the commercial rental scene – as traditional shop-front businesses have had a torrid time this year.
On the flip side, this does mean that you can buy in this high yield investment as a major discount. For example─ at current prices of $76, if and when the Vanguard Real Estate ETF is able to get back to pre-pandemic levels of $99 – this would represent an increase of over 30%.
Sponsored ad. Your capital is at risk.
Discussing 'high yield investments' in the same sentence as 'safe and secure' is somewhat of an oxymoron. After all, the age-old concept theory in the financial markets is that the greater the returns you seek, the more risk that you need to take.
With that said, if we were to discuss a high yield investment with the safest credentials – it would have to be Permanent Interest Bearing Shares (PIBS). For those unaware, PIBS are debt instruments issued by UK banks and building societies. In simple terms, they are corporate bonds in all but name.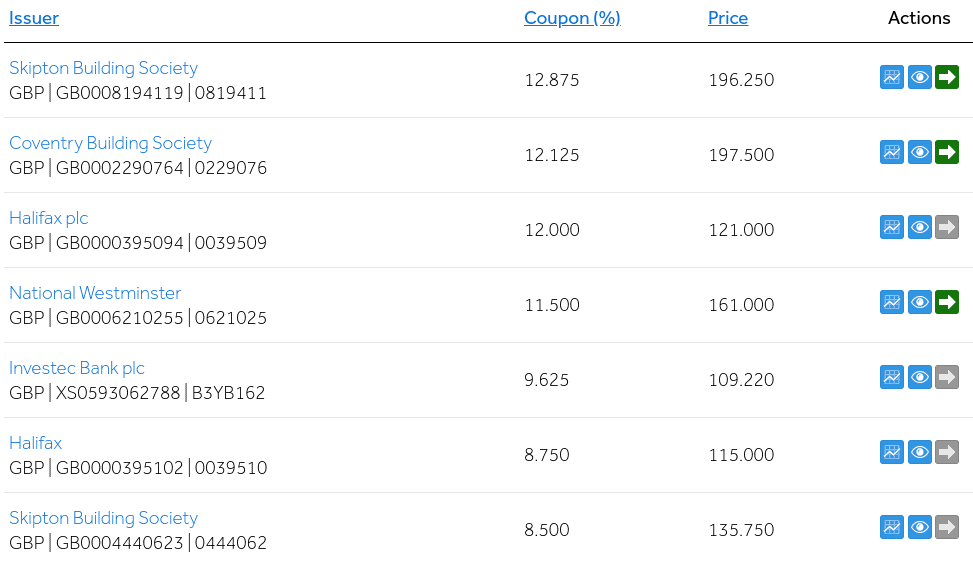 This is because:
PIBS are a way for banks and building societies to raise capital from outside investors
PIBS come with fixed interest rates
Issuers distribute coupon payments every 3 or 6 months
The running yield of PIBS will change as per market conditions
In all but a few cases, PIBS come with a fixed maturity date
You will not receive your principal investment back until the PIBS mature
But, it is important to note that by holding PIBS, you do fall lower down the pecking order if the bank or building society in question ran into financial difficulties. In return for this above-average risk, PIBS often provides investors with a very generous high yield.
To give you an idea of what you can currently get – check out some examples below:
Halifax PLC – 9.9% 
Investec Bank – 8.8% 
National Westminster – 7.1% 
Skipton Building Society – 6.5%
Nationwide Building Society – 6.2% 
It is important to note that the figures outlined above are based on the 'running yield'. This should not be confused with the coupon rate. For example, the coupon rate on Halifax PIBS is 12%. This means that you bought the PIBS when they were first issued, you would have got an annual yield of 12%.
However, as the PIBS are now in high demand (because of the high yield on offer), you need to pay a premium to buy them. As such, the effective yield that you will receive each year is slightly lower at 9.9%. Crucially, we must stress that although the above providers are partnered with the FSCS, your PIBS investment is not covered in the event of a default.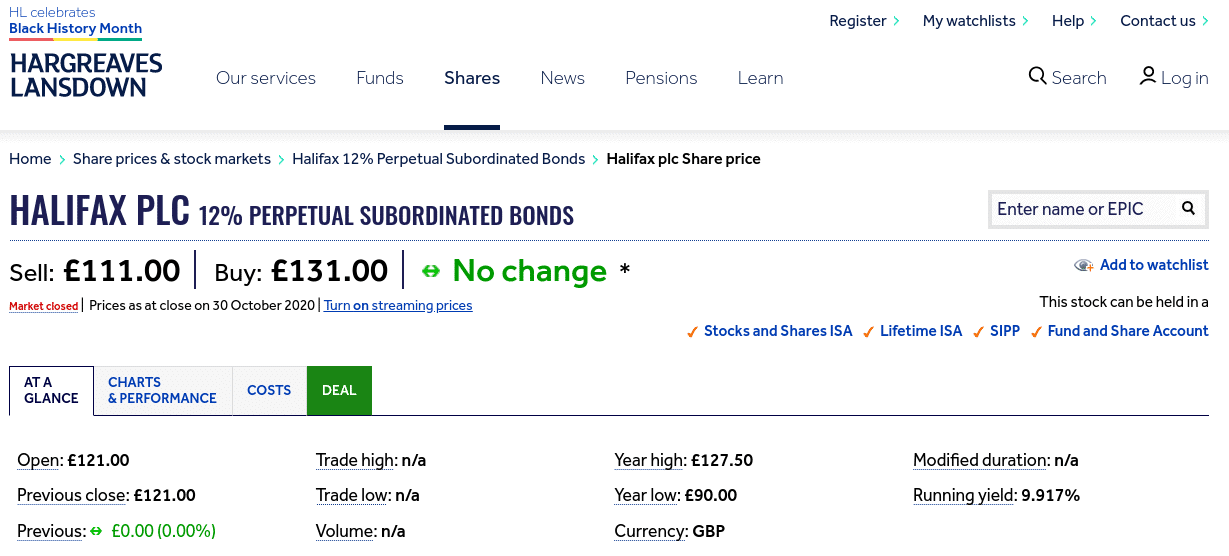 This is only the case if your money was stored at the bank or building society in the form of a cash deposit (current or savings account).
If you like the sound of this particular segment of the UK high yield investment scene, we should note that very few online brokers give you access. At the time of writing, the only platform that we are aware of that allows you to buy PIBS online is that of Hargreaves Lansdown.
Sponsored ad. Your capital is at risk.
4. ETF Bond Funds
When you invest in traditional bonds, you often need to lock your money up for several years. In some cases, this can even run into several decades. As such, this won't be suitable for those of you that might need access to your cash at the drop of a hat. You can still invest in the lucrative bond market via an ETF bond fund.
In a nutshell, ETF bond funds will purchase a large basket of bond instruments. In fact, this often runs into the hundreds or even thousands of individual bonds. This will usually target a specific market. For example, low-risk bond funds will hold instruments issued by governments from strong economies – such as the US, UK, or Japan.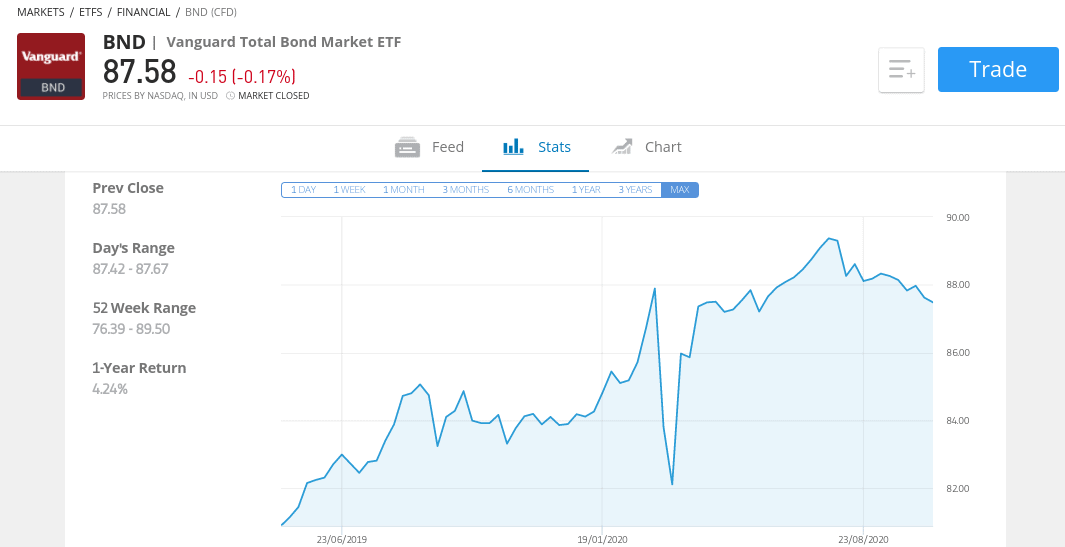 But, if you want to chase the high yield ETFs then you will likely need to opt for an ETF bond fund that targets higher risk sectors. For example, the bond fund might buy bonds issued in emerging markets. In turn, the coupon rates on these high yield bonds are going to much higher.
Crucially – and as we noted earlier, by investing in an ETF your investment has high liquidity. This is because you can exit your investment at any given time during standard market hours. As such, whether you decide to hold on to your investment for weeks, months, or years – you'll never need to wait more than a few days to access your money – should you decide to sell. This makes ETF bonds popular short term investments.
In terms of choosing an ETF bond fund – a popular option with UK investors at present is that of the Vanguard Total Bond Market ETF. The bond fund in question holds almost 10,000 different instruments from a variety of markets and economies. You can invest in the fund via eToro without paying a single penny in commission and of course – cash out whenever you like.
You can invest in ETFs with zero commission using eToro, an ETF platform UK.
Sponsored ad. Your capital is at risk.
5. NVIDIA
If you're looking for high yield, low risk investments, we really like the look of NVIDIA shares. Although you might not have heard of the company, it is actually one of the largest stocks in the United States in terms of market valuation. At the time of writing, this stands at more than $309 billion.
The firm is primarily involved in the production of graphics processing units. It is by far the largest supplier in the gaming space – albeit, NVIDIA is also involved in mobile and desktop computing chips, too. The company also a number of subsidiaries under its belt, including the recent $40 billion purchase of ARM.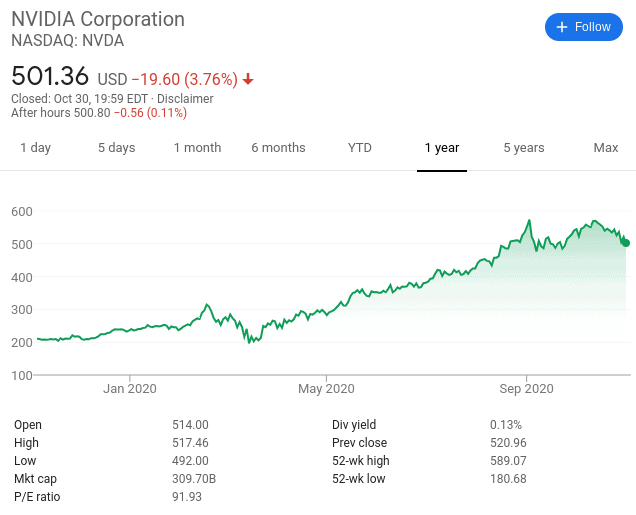 The reason that this selection makes our list of high yield investments is as of early November 2020, the stocks are up over 109%. Returns of this magnitude are nothing short of uncanny when you consider the wider impact of the covid pandemic and thus – past performance does not provide any guarantees of future performance.
But, although such large returns might signal a potentially high risk investment and unsustainable business model – this couldn't be further from the truth.
On the contrary, NVIDIA has shown little in the way of fluctuations and is as strong and stable as it gets in the stocks and shares space. For example, it arguably falls under the scope of a 'staple stock', meaning that its products will always be in demand irrespective of how the economy is performing. This is because it holds such a dominant position in the GPU and computing chip sectors.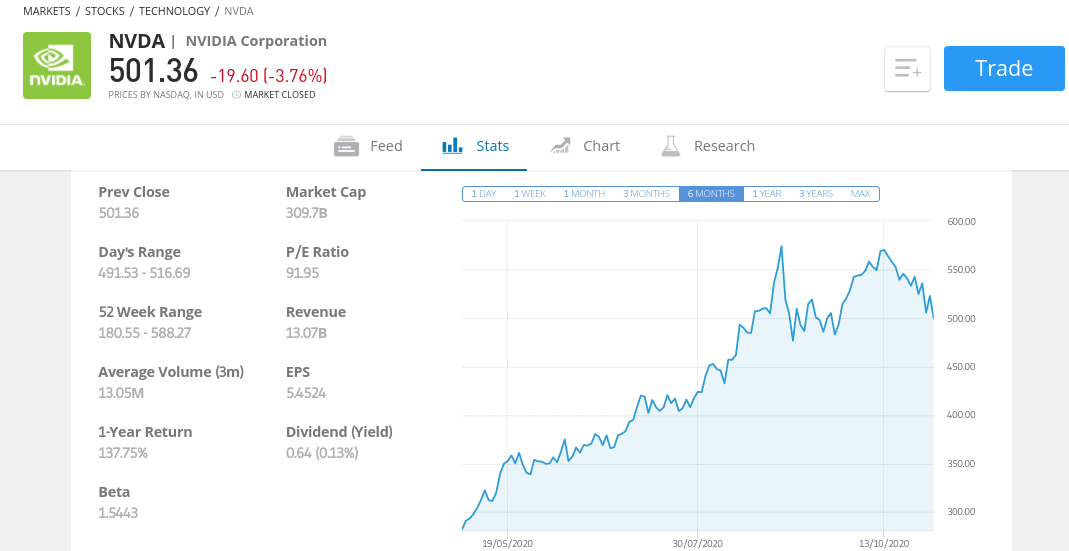 In addition to this, NVIDIA has a strong balance sheet that will ultimately see it through bear market cycles. For example, it currently holds cash reserves in excess of $1.3 billion – up 64% from the previous year. In addition to this, NVIDIA is not an up-and-coming tech stock with an unproven business model.
Far from it – as the firm has been trading since 1993. CEO Jensen Huang has been at the helm since the company was founded – so stockholders can rest assured that NVIDIA is in safe hands. Once again, you can invest in this high yield stock at eToro commission-free and at a minimum of just $50.
Sponsored ad. Your capital is at risk.
Platforms to Invest in High Yield Investments UK
Not only do you need to perform in-depth research on a high yield investment before taking the financial plunge, but you then need to find a suitable broker to buy the asset from. This in itself can be time-consuming, as there are many factors that need to be considered before you sign up. This includes everything from tradable markets and dealing fees, to supported payment methods and security.
To save you heaps of time, below you will find a selection of UK trading platforms that allow you to invest in high yield investments.
1. eToro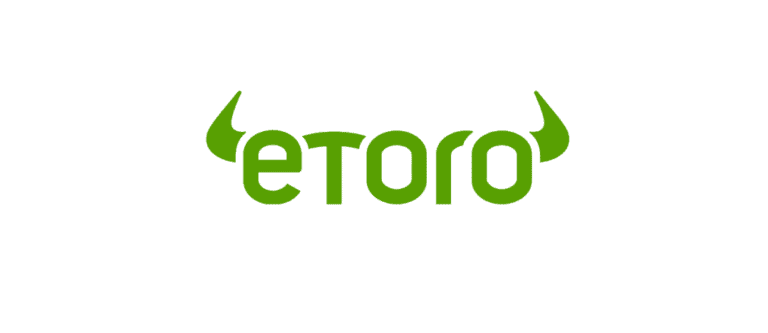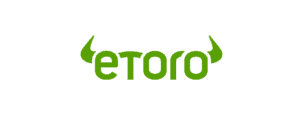 eToro is a safe and secure online broker that allows you to invest in a cost-effective manner. In fact, this trading site does not charge any commissions or dealing fees whatsoever. You won't pay any monthly fees either, and withdrawals are charged at $5. As such, you can invest in your chosen high yield investment without breaking the bank.
In addition to this, eToro is suitable for diversification purposes. This is because you can invest from just $50 into stocks and $25 into cryptocurrencies. If you invest in an ETF that is listed in Europe, you can also invest from just $50. Other than the aforementioned withdrawal cost, the only other charge that you need to consider is the 0.5% foreign exchange fee that is charged on deposits.
With that said, eToro waves UK stamp duty, so you make the 0.5% fee back when you buy UK shares. In terms of what high yield investments the platform supports, the eToro stock library consists of over 1,700 shares from 17 UK and international markets. This includes plenty of tech and high-growth stocks, alongside firms operating in the emerging markets. You'll also have access to over 150 ETFs – including bond funds and REITs. 16 digital currencies are available too.
As an added bonus, eToro offers a feature that allows you to copy the portfolio of an experienced investor. You can choose from thousands of investors and base your decision on the trader's historical performance at the platform. In terms of payment methods, eToro covers a lot of bases. This includes UK debit/credit cards, bank transfers, and e-wallets like Paypal. The minimum deposit is just $50. And of course – eToro is regulated by the Financial Conduct Authority (FCA) and your money is covered by the FSCS.
Sponsored ad. Your capital is at risk.
2. IG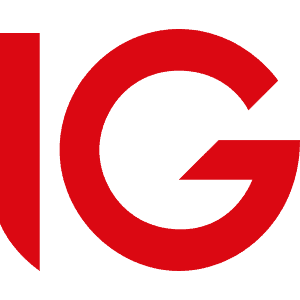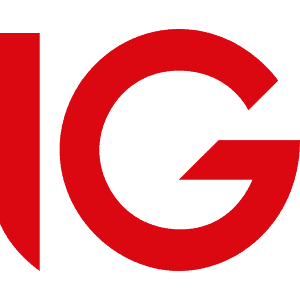 Although not the cheapest broker in the UK trading scene, IG arguably has the largest range of asset classes. You will have access to over 12,000 markets – many of which fall within the remit of a high yield investment. This covers thousands of shares from a variety of the UK and international markets, alongside ETFs, investment trusts, and mutual funds. ISAs are also supported which is suitable for remaining tax-efficient.
Dealing fees start at £8 per trade, which is reduced to £3 when you place at least three orders per month. There are no fees to deposit and withdraw funds unless using a credit card (0.5%-1%). The minimum deposit stands at £250. This brokerage house is well respected in the UK as it has been operational since 1974. Alongside an FCA license and FSCS partnership, IG is listed on the London Stock Exchange with a multi-billion pound valuation.
Sponsored ad. Your capital is at risk.
What are High Yield Investments UK?
Put simply, high yield investments are financial assets that come with a much higher 'risk vs return' ratio. In other words, although your chosen high yield investment gives you the opportunity to grow your capital much faster, the underlying risk of losing money is greater.
With that said, being able to quantify the levels of returns offered by high yield investments is no simple feat. After all, you would need to compare it against the returns offered by lower-risk assets. One such example would be that of a traditional UK savings account.
Crucially, although your deposit is effectively risk-free up to the first £85,000 as per the FSCS, you'd be lucky to make more than 1-2% per year. Then you have the likes UK gilts (government bonds) that pay in the region of 1% – sometimes less depending on the maturity date.
With this in mind, such an amount of interest on offer is forcing UK investors to seek high yield investments that come with a greater element of risk.
Some examples of high yield investments are listed below:
Tech stocks
Emerging market shares
Emerging market bonds
PIBS
Cryptocurrencies
Peer-to-peer lending
Real estate crowdfunding
Low-grade corporate bonds
All in all, a more sensible approach to high yield investments is to diversify as much as possible. This means that you should not put all of your eggs into a single high yield investment. Instead, you should split your capital across multiple higher risk asset classes – such as those listed above.
In addition to this, it might be wise to reserve just a small percentage of your investment capital for this particular area of the financial markets. For example, you might consider allocating 80-90% in more safe investments – and the balance into high yield investments.
How to Choose the High Yield Investments
Although we have already discussed UK high yield investments available today, this is a subjective viewpoint. As such, you are strongly advised to learn the art of researching investments yourself, as opposed to relying on third-party opinions, to help form effective investment strategies.
To help point you in the right direction, check out the list of considerations discussed below.
Historical Returns
On the one hand, historical returns have no influence on the future direction of an asset. After all, there is no guarantee that the strong past performance of an investment will continue moving forward. On the contrary, there is every chance that the opposite will happen. However, historical returns are still one of the ways to gauge what sort of growth you should target.
For example, let's suppose that you invested in a tech stock like Amazon. While returns of 70% this year are nothing short of amazing when you factor in the wider economic climate, we need to look a much larger data set. In doing so, we can see that Amazon stocks have grown by 360% over a 5-year period.
We could go back even further to 1998, whereby Amazon stocks have grown by over 42,000%. All in all, we can see that this high yield investment is not just a flash in the pan but a stock that has outperformed the markets by an astronomical figure for over two decades.
Ultimately, the key point we are making here is that you should spend ample time setting realistic expectations to try and assess what sort of yield you should be getting for the amount of risk being undertaken.
Risk
It goes without saying that all investments come with risk. But, the amount of risk that you will be taking by targeting high yield investments is going to be greater. There is no hard-and-fast way to quantify the odds that your investment decision will fail, as there are simply too many variables. As such, you need to take a qualitative approach.
For example, let's suppose that you invest in a REIT. You would first need to understand the types of properties that the REIT invests in, alongside the specific housing market. You would then need to factor in things like occupancy rates, appreciation projections, and of course -the wider economy.
In addition to this, you need to perform lots of research on the 'what ifs'. That is to say, if the US real estate market crashes, determine to what extent that will this impact your investment, Or, in the case of PIBS, what the chances are of the building society defaulting on your coupon payments during a recession.
Minimum Investment
Some asset classes come with a higher minimum investment than others. This should play a major part in your high yield investment research process. After all, by investing too much into a single asset you will be increasing your exposure and thus – you might be risking more than you should be.
For example, if you were to use a traditional online stock broker – you might be required to meet a minimum share investment in excess of £500. This is hugely problematic – even more so when opting for high yield investments. This is because you will not be able to diversify unless you have a considerable amount of capital behind you.
Fortunately, newbie-friendly online brokers like eToro allow you to invest from just $50 per stock investment irrespective of what the shares are priced at.
Current Value 
Shrewd investors will look to enter and exit an investment at the right time. For example, when lots of tech stocks temporarily crashed in March 2020, this would have been a suitable time to enter the market. After all, there are countless examples of such companies generating double-digit returns.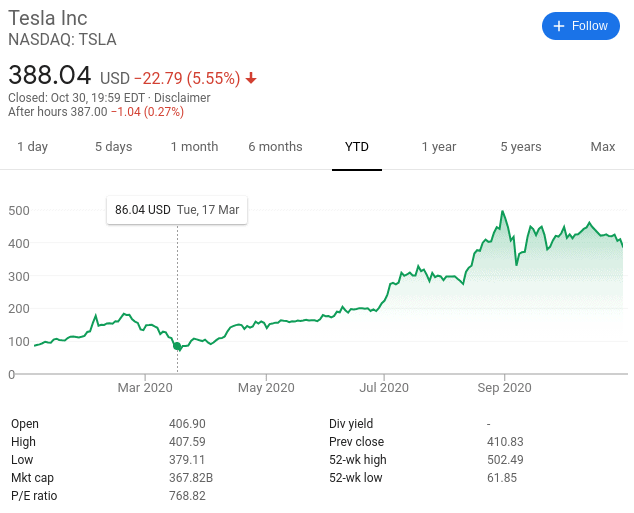 At the other end of the spectrum, you need to ensure that your chosen high yield investment isn't overvalued. If it is, this means that you are paying a price that is above and beyond the asset's intrinsic value.
Conclusion
In times of low interest rates being offered by UK banks, many investors are looking at alternative ways to grow their money. At the forefront of this are investments that pay a much higher yield. With that being said, you do need to have an understanding of the additional risks being undertaken. After all, the higher the returns you seek, the more risk you need to take.
Nevertheless, if you're keen to buy some high yield investments from the comfort of your home, eToro allows you to do this in a 100% commission and burden-free environment. All that is needed is a small $50 minimum deposit – which you can do with a UK debit/credit card with ease.
FAQs
What's the safest investment with the highest return?
What happens to high yield bonds in a recession?
What are high yield investments in the UK?
How do you buy high yield bonds?
What yield do stocks pay?
What happens if a high yield investment goes bust?