Alphabet is a parent company of Google, the most popular and used search engine in the world. The company is headquartered in Mountain View, California, and is not only holding Google but has other businesses and products, including YouTube, Access, Blogger, Waymo, CapitalG, Chronicle, GV, Nest, Verily, and Google X. Alphabet is known as the most defensive company of the 'FANG' (or FAANG) stocks, a term that refers to the most popular US technology companies including Facebook, Amazon, Apple, Netflix, and Google.
In this guide, we show you the easiest and cheapest way of buying Alphabet (Google) shares in the UK. We'll also analyze Alphabet share price history and see if it's the right time to buy or sell its shares.
How to buy Alphabet Shares in UK – Quick Step Tutorial
✅ Step 1: Open an eToro account
Visit eToro's official website and tap on 'Join Now'. Enter your details and choose a username and password.
🔎 Step 2: Verify your account
As eToro is fully regulated in UK by top-tier financial authorities you'll need to verify your account by uploading proof of ID and proof of address.
💳 Step 3: Fund your account
Deposit a minimum of $10 (around £7)  into your trading account via credit/debit card, bank wire transfer, or e-wallets such as PayPal or Skrill.
🛒 Step 4: Buy Alphabet shares
Type "GOOGL"  into the search bar and click on 'Trade'. With a minimum investment of $10 you can buy fractional shares of Alphabet with 0% commission.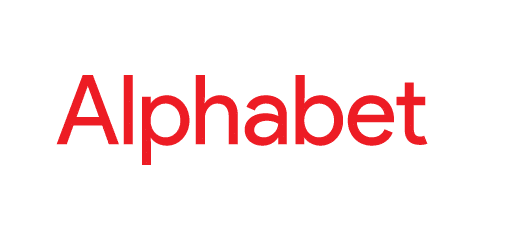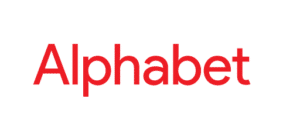 If you want to buy US shares like Alphabet Google, you will need to use a UK stockbroker that gives you access to US shares listed on the NASDAQ stock exchange. Alphabet is a popular share and as such, most brokers allow you to trade this share.
With that in mind, choosing the right broker is crucial, since it will have a strong impact your trading success. You'll need to find an FCA-regulated broker that enables you to buy shares of Alphabet and maintains low trading commissions. To help you find the right broker for your needs, let's take a look at two of our most highly recommended UK share dealing platforms.
eToro is an online broker offering clients to trade on forex, commodities, indices, cryptocurrencies, and many of the best shares. This broker provides the ideal platform if you're looking for the easiest and most cost-effective method of buying Alphabet shares. Registering a trading account with eToro is relatively easy and straightforward. You will, however, need to meet a £160 minimum deposit.
If you are looking for a different type of trading experience, eToro is a perfect solution. It is the largest social trading platform in the world, allowing investors to utilize a range of social trading tools and features. The CopyTrade and CopyPortfolios are some of eToro's functionality tools that enable you to automate your investments. This essentially means you can copy the trades of other users or choose built-in portfolios that bundle together different assets based on a particular market or region.
One of the key benefits of eToro is its low fees. You can trade shares on its platform with 0% commission, and the spreads are below the average. The other fees you need to consider are an inactivity fee and a flat $5 charge on withdrawals. The broker also allows fractional trading, meaning you can buy a portion of a share that is less than one full share. This is particularly useful in the case of Alphabet share.
When it comes to regulation, eToro is fully regulated by the UK's Financial Conduct Authority and protects clients' funds as all accounts are secured by the Financial Services Compensation Scheme (FSCS).
Pros:
Buy shares with no commission
More than 800 global shares
Buy shares or trade CFDs
Allows you to invest in CopyPortfolios
Fractional trading
Social and copy trading tools
Accepts PayPal
User-friendly mobile trading app
FCA regulated
Cons:
Limited technical analysis charting package for advanced traders
67% of retail investor accounts lose money when trading CFDs with this provider.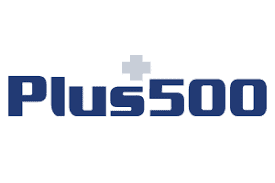 Since its foundation in 2008, Plus500 has made a name for itself in the online space by offering free trade commission on an innovative but extremely user-friendly trading platform. If opting for Plus500, you will get access to hundreds of shares from various exchanges through CFDs including shares of Alphabet. This UK-based broker offers a spread of 1.25 or 0.08% when trading Alphabet shares and the minimum amount required to make an investment is 0.5 share. Moreover, you will be able to trade with a leverage of 5:1 on shares like Alphabet.
On this platform, investors can also take advantage of a fully feature-packed trading platform that includes an advanced charting package, a plethora of risk management tools, an economic calendar, and a price alerts service. In order to get started, Plus500 maintains a minimum deposit requirement of £100, which you can do via a bank wire transfer, credit/debit card, or Paypal. If you would like to test the platform, you can open a demo trading account for free, with virtual money.
Pros:
Commission-free CFD platform – only pay the spread
Price alert feature
Offers a demo trading account
Excellent mobile app
Retail clients can trade share CFDs with leverage of up to 5:1
A range of risk management tools
Regulated by the FCA
Cons:
Does not offer social trading
More suitable for experienced traders
72% of retail investor accounts lose money when trading CFDs with this provider.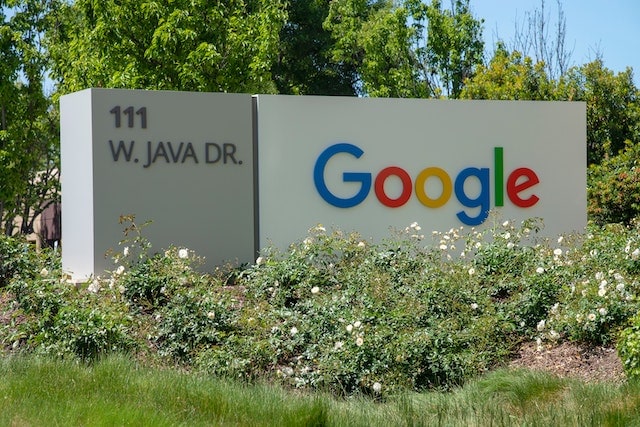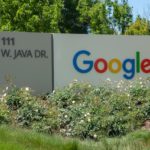 Whether you're looking to invest in Alphabet or other big tech companies like Amazon or Apple, it's always important to do your research.
Alphabet shares are a good option to consider, whether it is for a long-term investment or as an asset for day trading activity. It is currently trading near historical highs and the fundamentals indicate that the most recent correction caused by the Covid-19 pandemic has opened a window of opportunity for investors. Nevertheless, it's crucial that you have more information about the company and its share performance to make the best investment decision.
Alphabet is a huge, diversified, and strong company that became the parent company of Google and several other companies in 2015. Alphabet reserved Google Inc.'s share price history and the share still trades under the ticker symbol GOOG and GOOGL. The reason why Google has created two classes of shares; Class A Shares (SYMBOL: GOOGL) and Class C Shares (SYMBOL: GOOG), is because the company's founders, Larry Page and Sergey Brin, clearly had an intention to retain primary control of the company.
Google's IPO took place on August 19, 2004, at a price of $85 per share. Since then, the share has been on a long uptrend, and on September 02, 2020, it reached an all-time high of $1717.39. More importantly, Google's parent company has joined the trillion-dollar companies club in January and is the fourth American company to hit a market cap of $1 trillion.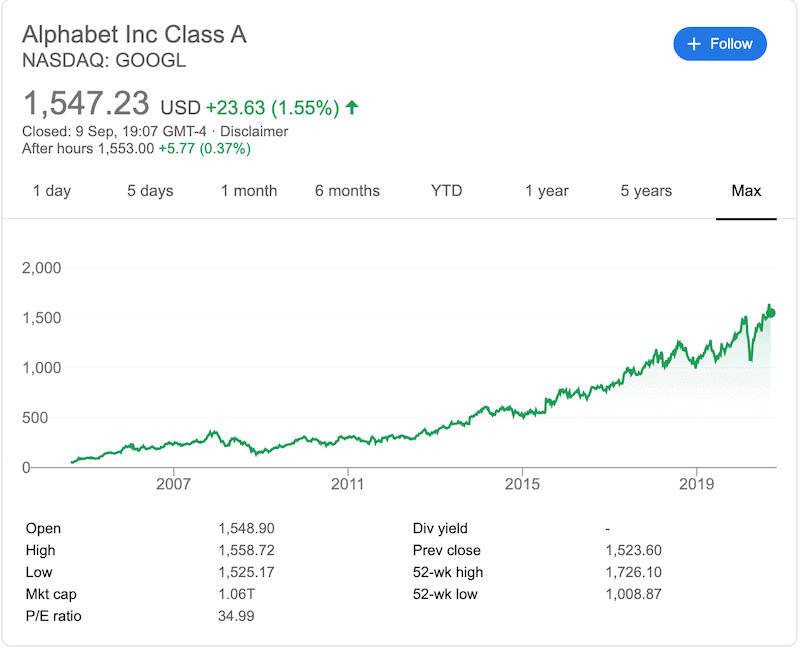 At the time of writing in September 2020 – Alphabet's share price is $1547.23. The YTD return for Alphabet now stands at +16.37%. Remarkably, the company's Forward P/E ratio of 34.06 implies that investors still have high expectations for future growth, mainly due to the recent positive earnings report released in July.
As of 2020, Alphabet has never paid a dividend to its shareholders. Google is a growth company and its management had declared several times that earnings should be retained and used to grow the business further.
During times of uncertainty in the market, investors will look for shares that are resilient to an economic recession. Google's search ads service would be the most resilient income for Alphabet during a recession, however, we must mention that Alphabet shares dropped nearly 40% between February to March when the coronavirus panic escalated in the US and around the world.
Nonetheless, given the high volatility and uncertainty in the stock market right now, it is crucial to identify high-quality profitable companies that have the strength to overcome an economic slowdown. To help you make the right decision, below you will find some of the reasons why analysts are bullish on the company.
Google is Dominating the Digital Advertising Field
Google, along with Facebook, dominates a combined 70% of the digital advertising market in the United States. At the time of writing, it doesn't seem like there be a company that can challenge Google search engine in the near future. Evidently, Google's search engine controls over 90% of the global market share and 87% of the US market.
In 2019, Google was responsible for the majority of Alphabet's revenues with an annual income of $160.74 billion. The majority of Google's revenue of $134.81 billion, as expected, comes from its advertising service. When you also take into consideration that Google has no competition in the search engine business as well as online ad services, it seems as its domination is absolute.
Waymo Leads the Self-Driving Car Race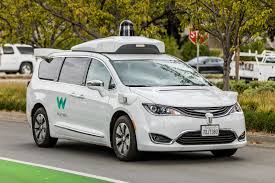 Alphabet also owns Waymo, which is an American self-driving driving technology development company actively working toward making the first fully autonomous car. As of September 2020, Waymo ranks behind Tesla in the self-driving race but if it succeeds to achieve its goals in the future, that would be a huge boost to the Alphabet share price.
Google is Also A Dominant player in the Cloud Computing Market
Google is also the third-largest provider of cloud computing services behind Microsoft Azure and Amazon Web Services (AWS). Google's cloud computing service can be another solid income for the company as cloud services have high revenues with relatively low expenses.
Step 3: Open an Account and Deposit Funds
If you still want to buy Alphabet shares after you've done your research on the company and its share price performance, you'll need to open a brokerage account at a UK dealing platform. To help you get started, we'll show you how to open an account and place orders in the market using our top-rated broker eToro.
The first thing you need to do is to navigate to the broker's website and choose 'Join Now' on the homepage.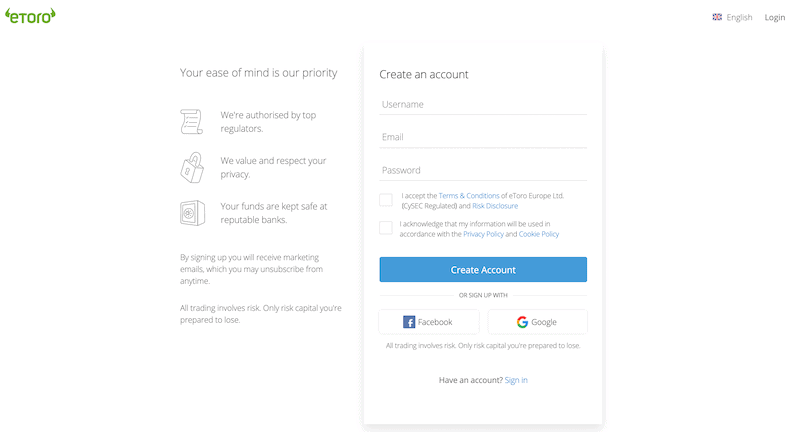 67% of retail investor accounts lose money when trading CFDs with this provider.
On the next page, you'll have to create a username and password or you can simply sign up using your Facebook or Google account. To complete the registration, you also need to enter personal information that includes your full name, email address, date of birth, nationality, and national insurance number.
As mentioned before, eToro is an FCA regulated broker, which means that all clients must verify their identity before they can deposit funds. Therefore, you will be required to verify your identity by uploading a copy of your driver's license or passport and verify your proof of residence by uploading a recent utility bill or bank account statement.
As soon as eToro approves your account, you can make a first deposit to your account. For UK investors, eToro requires a minimum deposit of £150 to start trading which can be done through one of the payment methods provided by the broker:
Debit Card
Credit Card
Paypal
Skrill
Neteller
UK Bank Transfer
Now that you have funds in your account, you are ready to buy Alphabet shares. To place your first order, log into eToro's trading dashboard and search for Alphabet or GOOG at the search box.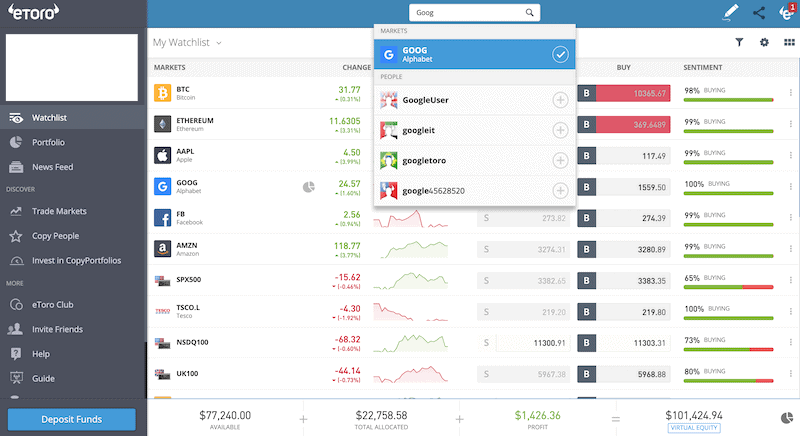 67% of retail investor accounts lose money when trading CFDs with this provider.
eToro then channels you to Alphabet (Google) share page where you will be able to analyze the share and place a buying order. For the latest, click on the Trade button to open an order form.

In the order form, you will need to set up a 'market order' to buy the share immediately at the best price available in the market. You also need to insert the amount you wish to invest in Alphabet shares and then click on the 'Open Trade' button to complete the purchase.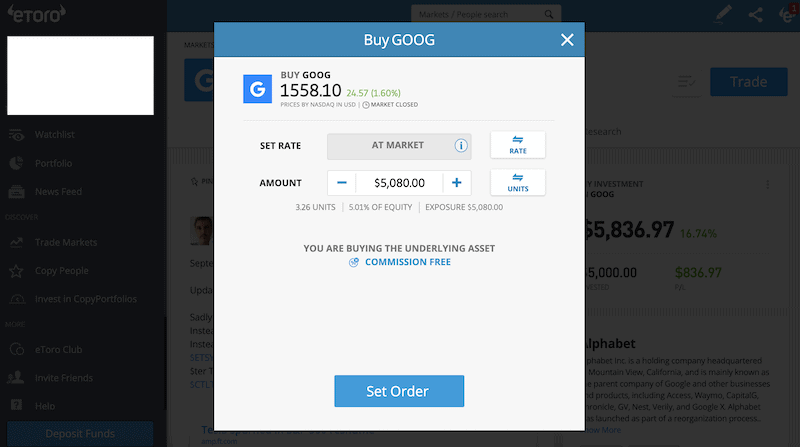 Note: If you are buying Alphabet shares outside of standard market hours (9.30 am to 5 pm, Eastern Standard Time), you will need to click on 'Set Order'. Your Alphabet shares purchase will then be completed when the markets open.
At the time of writing, there are so many reasons to buy Alphabet shares, and about one reason to sell the share – is a correction in the share price. As we already know, what goes up must come down and correction is expected at some point.
In terms of the fundamentals, there's a reason why analysts remain bullish on Alphabet and more importantly, why investors continue to favor Alphabet. Google's free cash flow stands at 17.4% and its 5-year average ROCE is quite impressive at 14.9%. Ultimately, these figures indicate that Alphabet is a defensive stock, but at the same time, it has huge growth potential. As long as the company continues to show a profit and grow, it is very difficult to recommend selling Alphabet.
In simple terms, short selling stocks is a trading method in which an investor is betting against a stock. Essentially, you initially borrow shares from your broker and then sell them to another investor with the goal of buying them back at a lower price.
Unfortunately, many brokerage firms in the UK have restrictions placed on short-selling trading. As such, we recommend that you use an authorized CFD broker like eToro or Plus500 that enables you to short sell shares with low trading fees and margin requirements.
The Verdict
Really, there's no need to need to introduce Google. It is one of the largest companies in the world and its search engine is one of the most profitable products ever invented. But Alphabet is much more than just Google as it owns and operates a line of businesses that include Waymo, X Development, CapitalG, YouTube, Waze, Nest, DoubleClick, and many more.
Ultimately, Alphabet is a long-term investment, with diversification of strong and profitable companies such as Google, YouTube, and Nest, and huge potential growth from startups and small enterprises such as Waymo, Fiber, Calico, and more.
Simply click the link below to get started!
eToro – Buy Alphabet Shares UK With No Commission
67% of retail investor accounts lose money when trading CFDs with this provider.
Looking to invest in other tech shares? Check out the companies below.
FAQs
What stock exchange is Alphabet listed on?
Does Alphabet (Google) pay dividends?
What is the minimum amount of Alphabet shares I can buy?
Is Alphabet a component of stock indices?