For anything but penny stocks, the most traded shares in the world are all based in inaccessible Russia and China stock exchanges. For stocks you can actually get your hands on, we give you a snapshot of the ten most traded stocks in UK, US and Europe today.
In this guide, we review the 10 most traded stocks and and analyse the different brokerages that allow users to invest in them.
Most Traded Stocks List 2021
The 10 most traded stocks today in the UK, US and Europe are:
UK telecoms giant British Telecom (A): 373m shares traded
UK banking giant Lloyds Banking Group: 315m shares traded
US technology giant Apple Inc: 114m shares traded
US automotive stalwart Ford Motor Company: 103m shares traded
UK telecoms giant Vodafone Group plc: 78m shares traded
US electric vehicle (EV) supplier Lucid Group Inc.: 74m shares traded
US cinema giant AMC Entertainment Holdings Inc.: 74m shares traded
US natural gas supplier Southwestern Energy: 49m shares traded
US telecoms giant AT&T: 47m shares traded
US technology star Nvidia: 43m shares traded
| Rank | Exchange | Name | Ticker | Today's Volume | Today's Price | Mkt. Cap |
| --- | --- | --- | --- | --- | --- | --- |
| 1 | FTSE | British Telecom (A) | BT A | 373m | £174.85 | £17.3bn |
| 2 | FTSE | Lloyds Banking Group | LLOY | 315m | £46.33 | £32.9bn |
| 3 | NASDAQ | Apple Inc. | APPL | 114m | $177.55 | $2.92tn |
| 4 | NYSE | Ford Motor Group | F | 103m | $20.52 | $82.3bn |
| 5 | FTSE/NASDAQ | Vodafone Group Plc | VOD | 78m | £113.26 | £40.6bn |
| 6 | NASDAQ | Lucid Group Inc. | LCID | 74m | $29.58 | $65.0bn |
| 7 | NYSE | AMC Entertainment Holdings Inc. | AMC | 74m | $23.33 | $12.0bn |
| 8 | NYSE | Southwestern Energy | SWN | 49m | $5.10 | $5.2bn |
| 9 | NYSE | AT&T | T | 47m | $22.50 | $160.7bn |
| 10 | NYSE | Nvidia | NVDA | 43m | $288.91 | $715.6bn |
(Figures from the London Stock Exchange, Nasdaq, NYSE, Macrotrends and Yahoo! Finance; December 13th, 2021)
1. British Telecom (A)
Ticker: BT A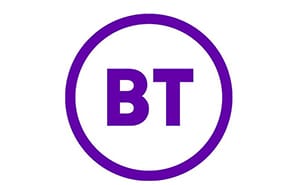 Today's Share Volume Traded: 373m
Current Share Price: £174.85
Listed: FTSE
Founded: 1980
HQ: London, UK
Market Capitalisation: £17.3bn
Number of Employees: 105k
Sector: Telecoms
Key Subsidiaries: Plusnet, Openreach, EE Limited
BT is a sprawling UK telecoms giant with numerous holdings, including £40bn Openreach, which manages all the internet infrastructure in the UK.
Profit slumped from £2.5bn in 2016 to £1.5bn in 2019, and share price is down roughly 65% on 2015. Revenues are projected to rise to £2bn in 2023.
In May 2021, BT committed £15bn to supply 25m homes with fibre broadband by 2026. This investment will deliver a significant government-guaranteed return. As a result, Altice, the second-largest French telecoms firm, took a 12.1% stake in BT worth £2.2bn in early June.
BT's share price rose over £200 as a result in the second half of June on take-over rumours. It dropped to £135 by the end of October, but has since recovered sharply. Take-over is unlikely. That's because, with the UK National Security and Investment (NSI) Act, the UK government will have new powers from January 4th 2022 to block foreign take-over of British firms.
BT is projected to trade at a 2023 Price-to-Earnings ratio of 8.5 – compared to a historical average of around 11. That makes it look undervalued, particularly with its investment in fibre broadband to yield return.
A 4.4% dividend yield of 7.5p per share is pencilled in for this financial year.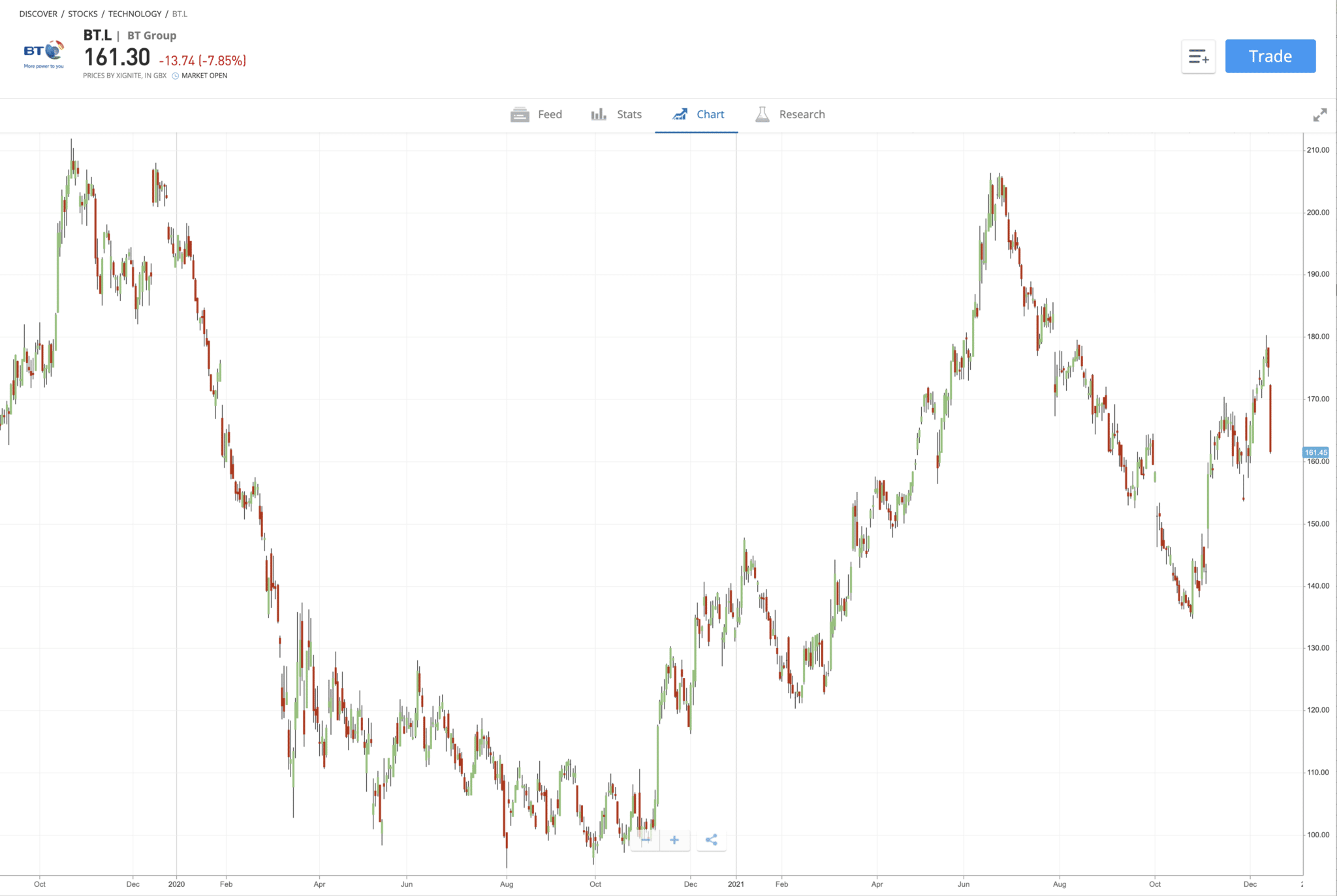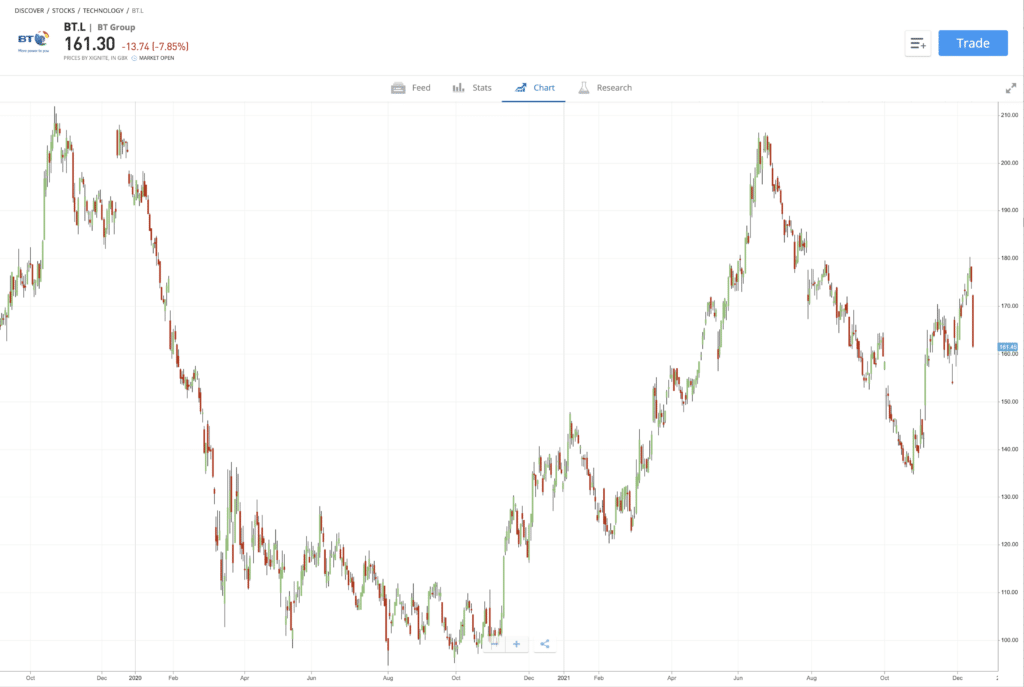 68% of retail investor accounts lose money when trading CFDs with this provider.
2. Lloyds Banking Group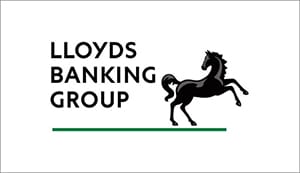 Ticker: LLOY
Today's Share Volume Traded: 315m
Current Share Price: £46.33
Listed: FTSE
Founded: 2009
HQ: London, UK
Market Capitalisation: £32.9bn
Number of Employees: 65k
Sector: Finance
Key Subsidiaries: Lloyds Bank, Bank of Scotland, Scottish Widows
The history of Lloyds goes back to the foundation of the Bank of Scotland in 1695. Alongside HSBC, Barclays and the Natwest Group, Lloyds Bank is one of the Big Four UK Banks. It has divisions in private equity, retail and commercial banking, insurance and consumer finance.
The Lloyds share price took a steep dive over the first three months of 2020, falling from over £60 to below £40. The price continued to fall, dipping below £25 in late September 2020. Since then the price has risen to £50, and then oscillate down to the low £40s.
Over the past 5 years, the Lloyds share price is down over 15%. Industry analysts say that three reasons for Lloyd's disappointing price performance are the competitive UK banking sector, low revenue potential from rock-bottom interest rates and the cost of obsolete legacy technology. Lloyds world-renowned insurance business, Lloyd's of London, has also struggled with claims from the Covid epidemic and Hurricane Ida – but reported a £1.4bn profit for the first six months of 2021.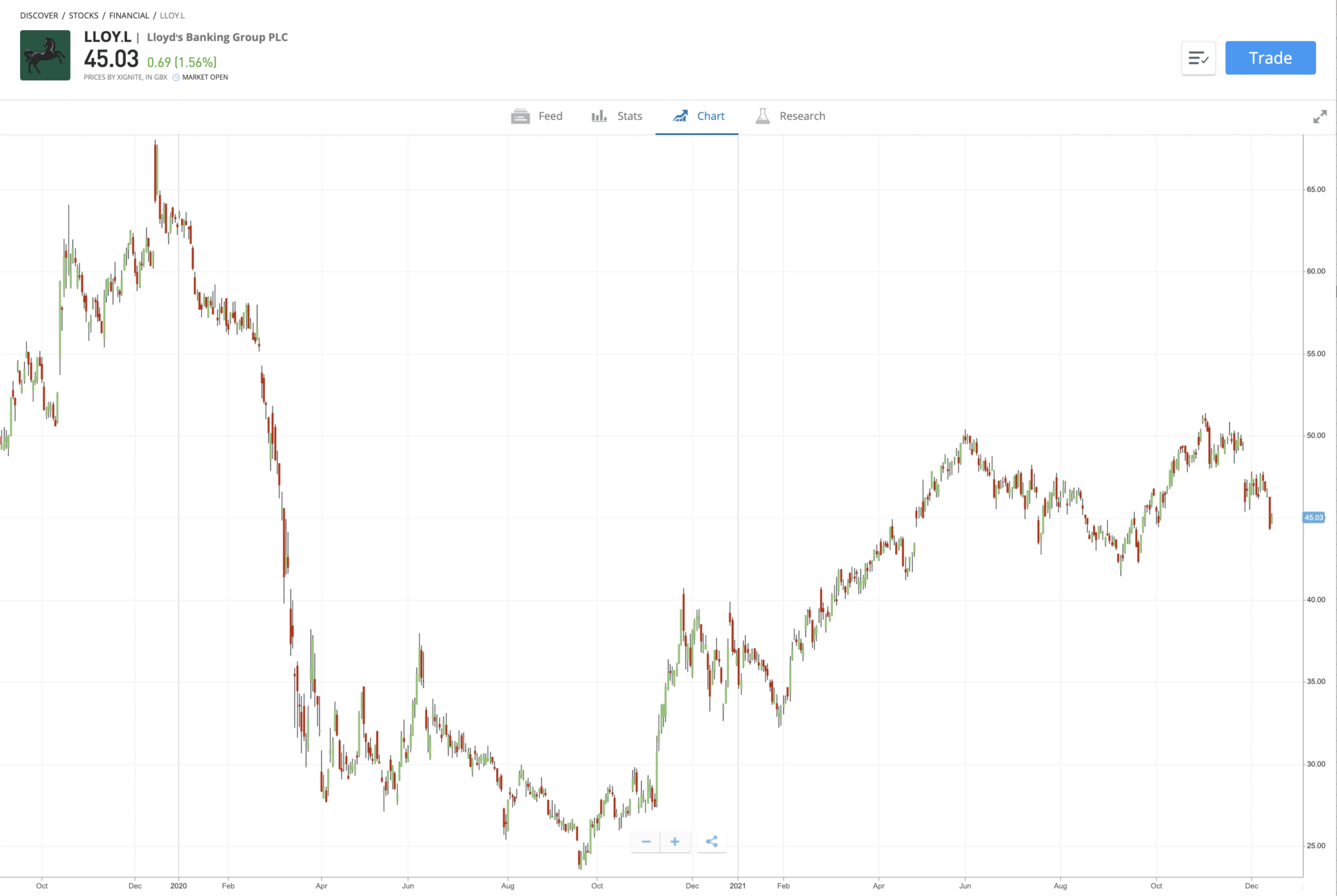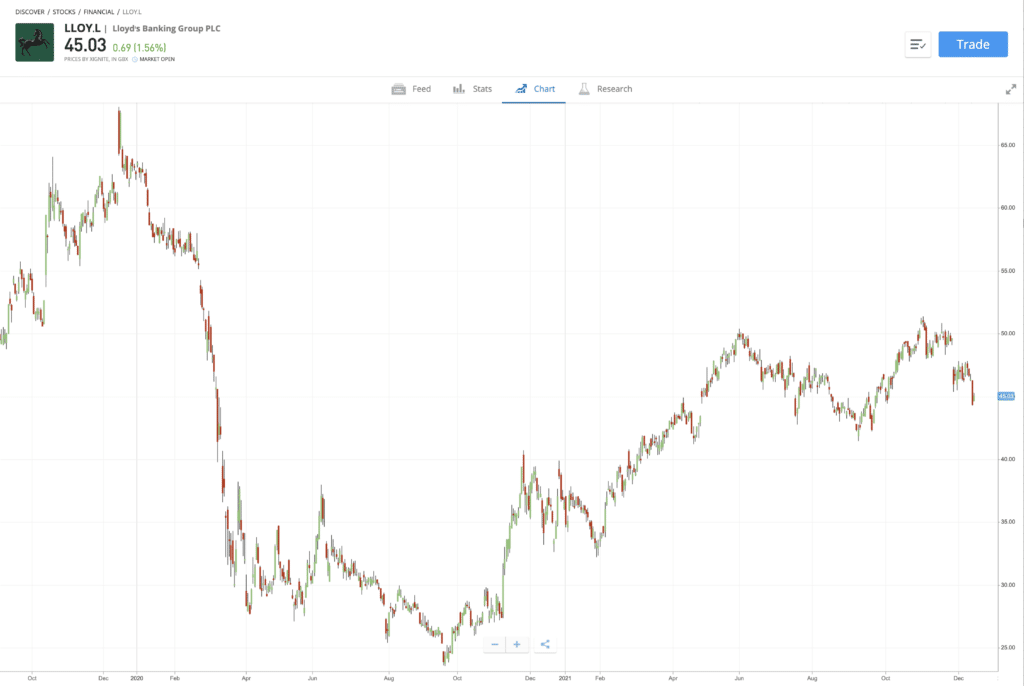 3. Apple Inc.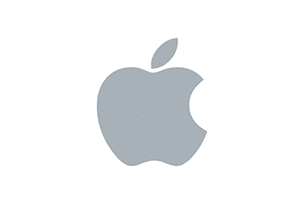 Ticker: AAPL
Today's Share Volume Traded: 114m
Current Share Price: $177.55
Listed: NASDAQ
Founded: 1976
HQ: Cupertino, California, US
Market Capitalisation: $2.92tn
Number of Employees: 147k
Sector: Technology
Key Subsidiaries: Braeburn Capital, Beats Electronics, Claris
With a market capitalisation approaching $3trn, Apple is the world's most valuable company. It is worth over 80% of the entire crypto sector. The firm is one of the big 5 tech 'FAAMG' stocks:
Facebook (FB) – social media
Apple (APPL) – computers and smartphones
Amazon (AMZN) – online retail
Microsoft (MSFT) – computers and cloud
Google (GOOG & GOOGL) – cloud
Apple Inc. is behind the ubiquitous iPhone, iMac and Macbook ranges, Apple TV and Apple Music, and the macOS computer operating system that boasts almost a 10% global market share behind Microsoft's Windows.
Since a low of under $40 at the beginning of 2019, Apple shares have climbed steadily, weathering a sharp fall in early 2020 due to the Covid crisis. Currently the price is peaking over $180 with an 11% rise in just the last week.
Reuters reports that 'Apple shares have returned 22% per year since the 1990s', beating the S&P 500 Index by 13%.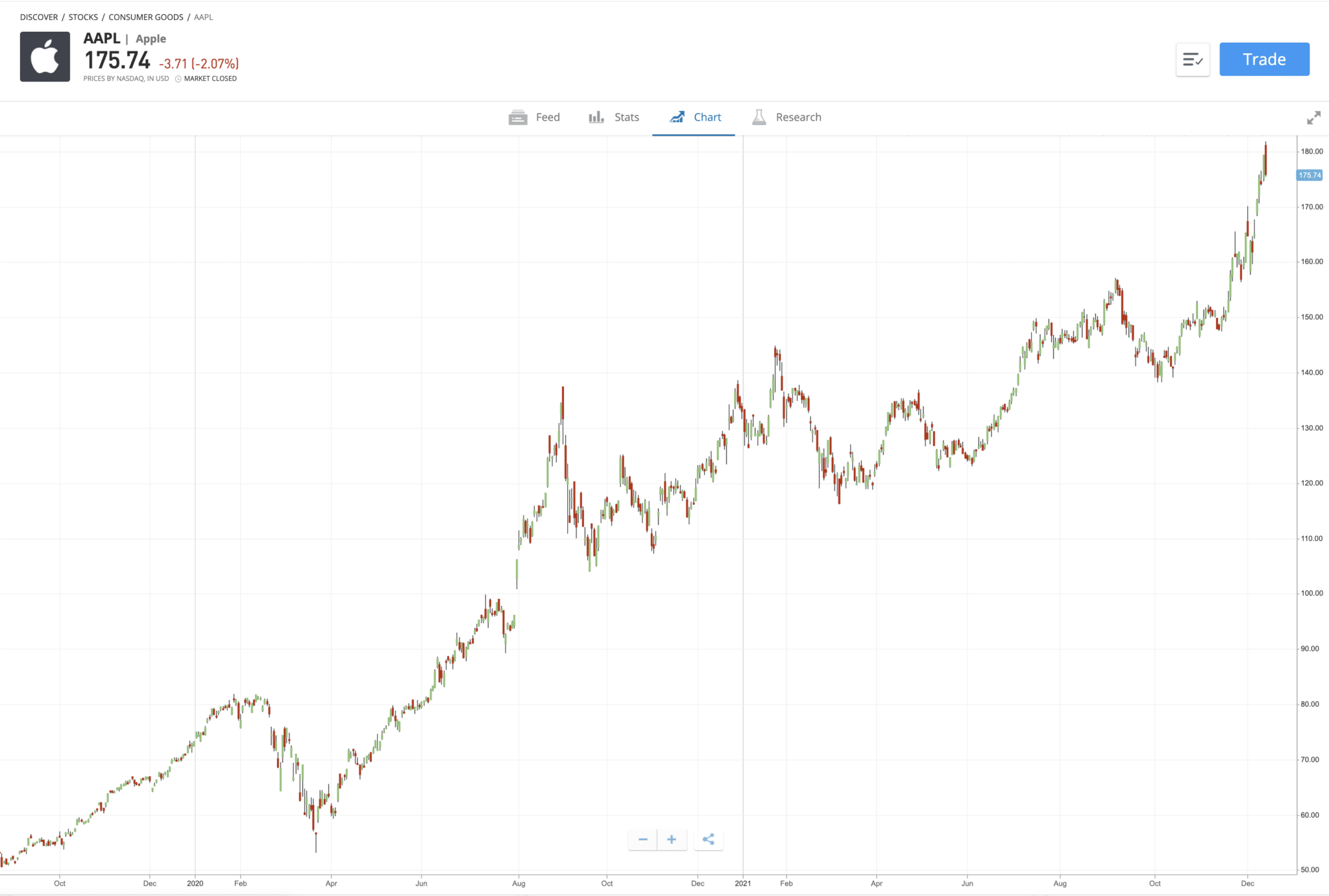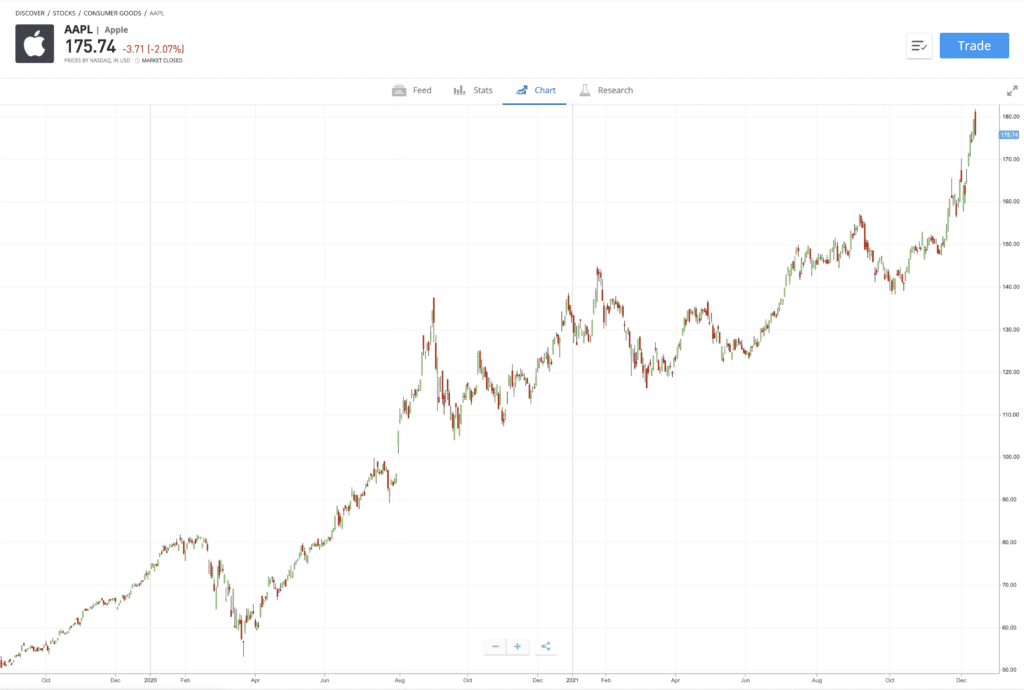 4. Ford Motor Company

Ticker: F
Today's Share Volume Traded: 103m
Current Share Price: $20.52
Listed: NYSE
Founded: 1903
HQ: Dearborn, Michigan, US
Market Capitalisation: $82.3bn
Number of Employees: 186k
Sector: Automotive
Key Subsidiaries: Ford Motor Credit Company, Lincoln, Ford Otosan
Since the Covid crash that hit global markets in April 2020, the price of Ford shares has gone on the rampage. From an April low of less than $5, the share price rose to $13 by September 2022 and has since rocketed to above $20.
Over the course of the year, the Ford price has benefitted -along with the rest of the US automotive industry – by President Biden's plans to reward car manufacturers for going green.
The most recent surge in Ford's price is down to financial results reported in late October as well as a judicious investment decision to buy into the EV (electronic vehicle) market that is so central to the global green agenda. Ford has a 12% stake in Rivian (RIVN), the Electronic Vehicle manufacturer that came to market in early November, 2021 at $78 per share at IPO and trades now above $110. The two firms have discontinued plans to co-develop an EV, but this had no negative impact on the price of their shares.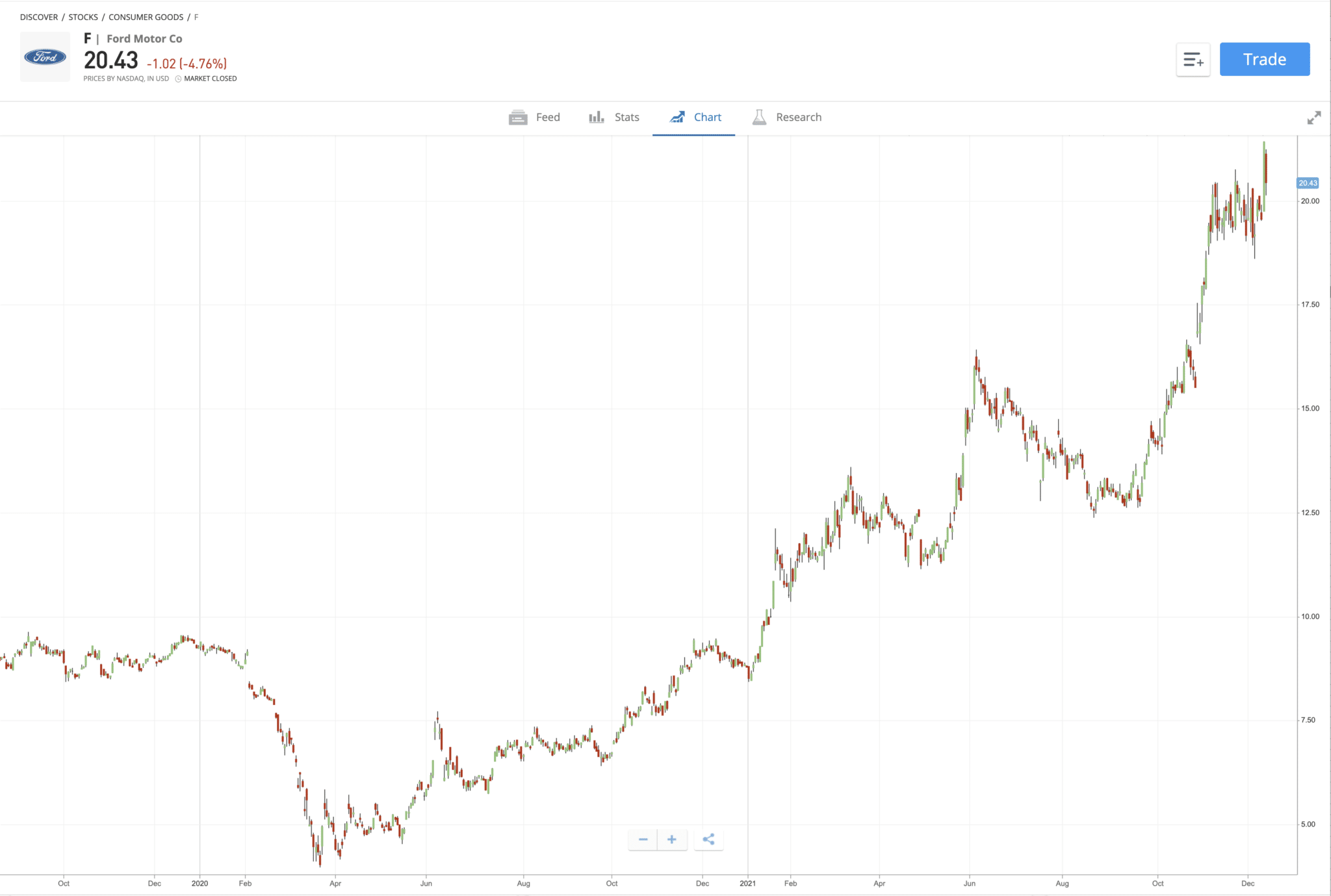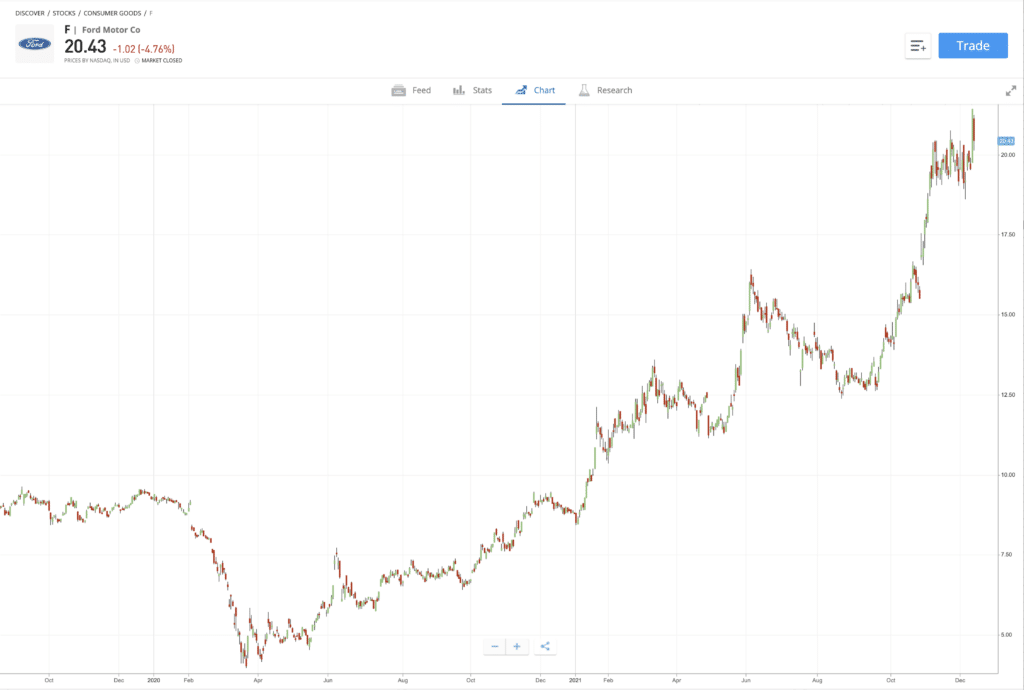 5. Vodafone Group Plc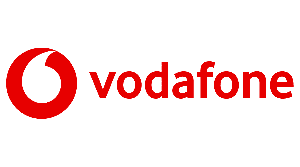 Ticker: VOD
Today's Share Volume Traded: 78m
Current Share Price: £113.26
Listed: FTSE and NASDAQ
Founded: 1991
HQ: Newbury, UK
Market Capitalisation: £40.6bn
Number of Employees: 93k
Sector: Telecoms
Key Subsidiaries: Vodafone Kabel Deutschland and others
The Vodafone Group is a UK-based telecoms giant, with services in mobile, fixed line and broadband telecoms including Africa's largest payment platform, M-Pesa (50m monthly active users). There are 330m Vodafone Group users in all spread over 65 countries.
Since 2014, Vodafone stock on the NASDAQ has more than halved in price. In February 2014, a share was worth almost $42. Now a share is worth less than $15. Recently, VOD recovered from a pandemic low of less than $12 to hit over $20, but has trailed off over the last six months to just under $15.
A big problem with Vodafone is that it is highly-leveraged. It has £47.9bn of debt – compared to a market capitalisation of £40.6bn. Telecom stocks are widely-thought to be undervalued, but having this sort of debt on the balance sheet does not look good to potential investors, despite the low share price.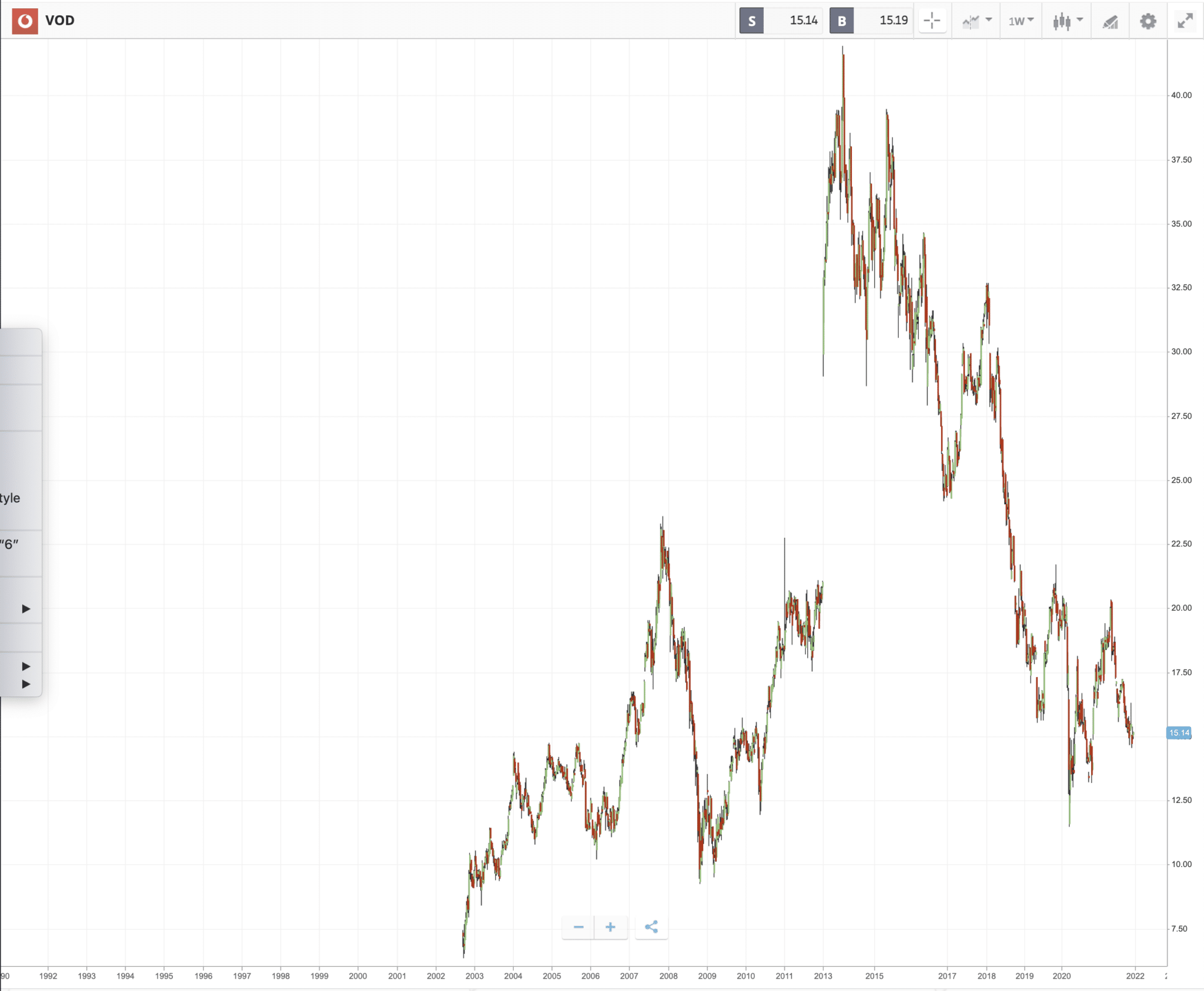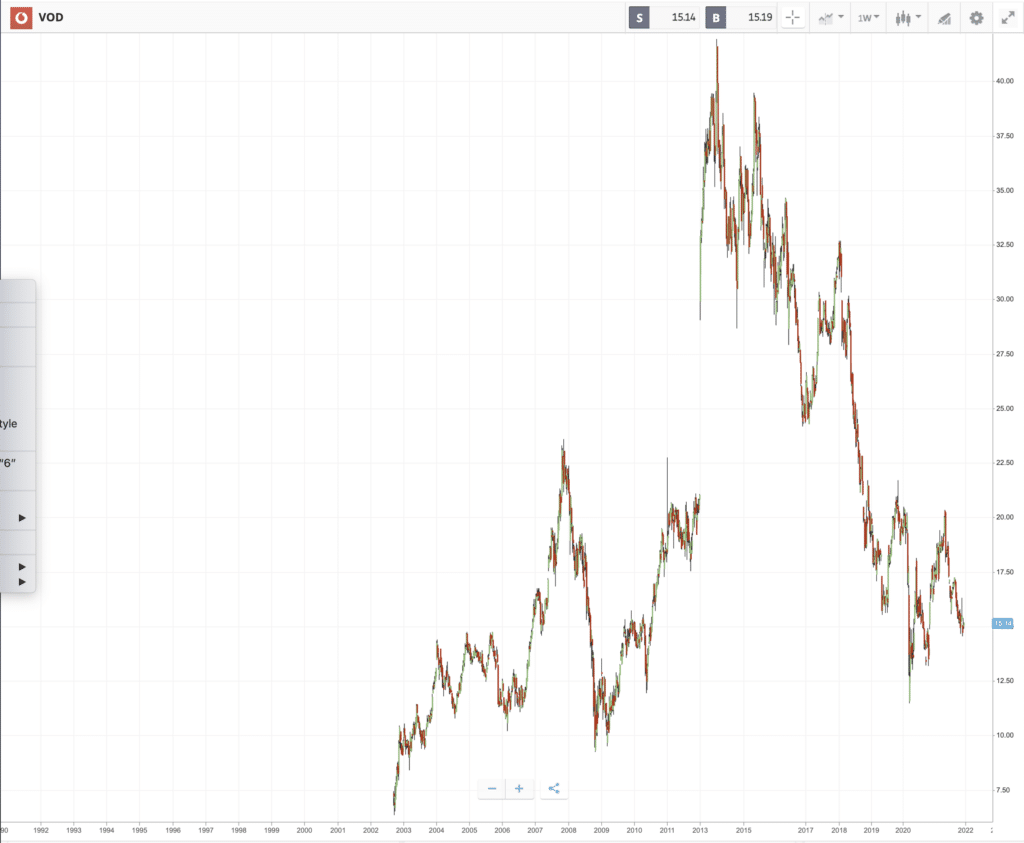 6. Lucid Group Inc.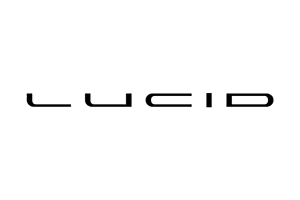 Ticker: LCID
Today's Share Volume Traded: 74m
Current Share Price: $29.58
Listed: NASDAQ
Founded: 2007
HQ: Newark, California, US
Market Capitalisation: $65.0bn
Number of Employees: 2k
Sector: Automotive (EV)
Key Subsidiaries: NA
Lucid Group Inc. is a merger of Lucid Motors, a manufacturer of luxury Electronic Vehicles, and Churchill Capital Corp, a special-purpose acquisition company (SPAC). Special purpose acquisition is another way of taking a company public, whereby the SPAC – a company in name only with cash holdings – buys the other company. A SPAC is another way of doing an IPO (Initial Public Offering).
Lucid has two Electronic Vehicles in development and production: the luxury sedan Lucid Air (production started in September 2021) and the Gravity luxury SUV out in 2023.
Lucid shares dived in value in early December 2021 after the company announced an offering of $1.75bn in senior convertible notes. The price has also recently been hit by news that the US Securities and Exchange Commission has subpoena-ed the firm for documents in a probe of its deal with Churchill Capital Corp.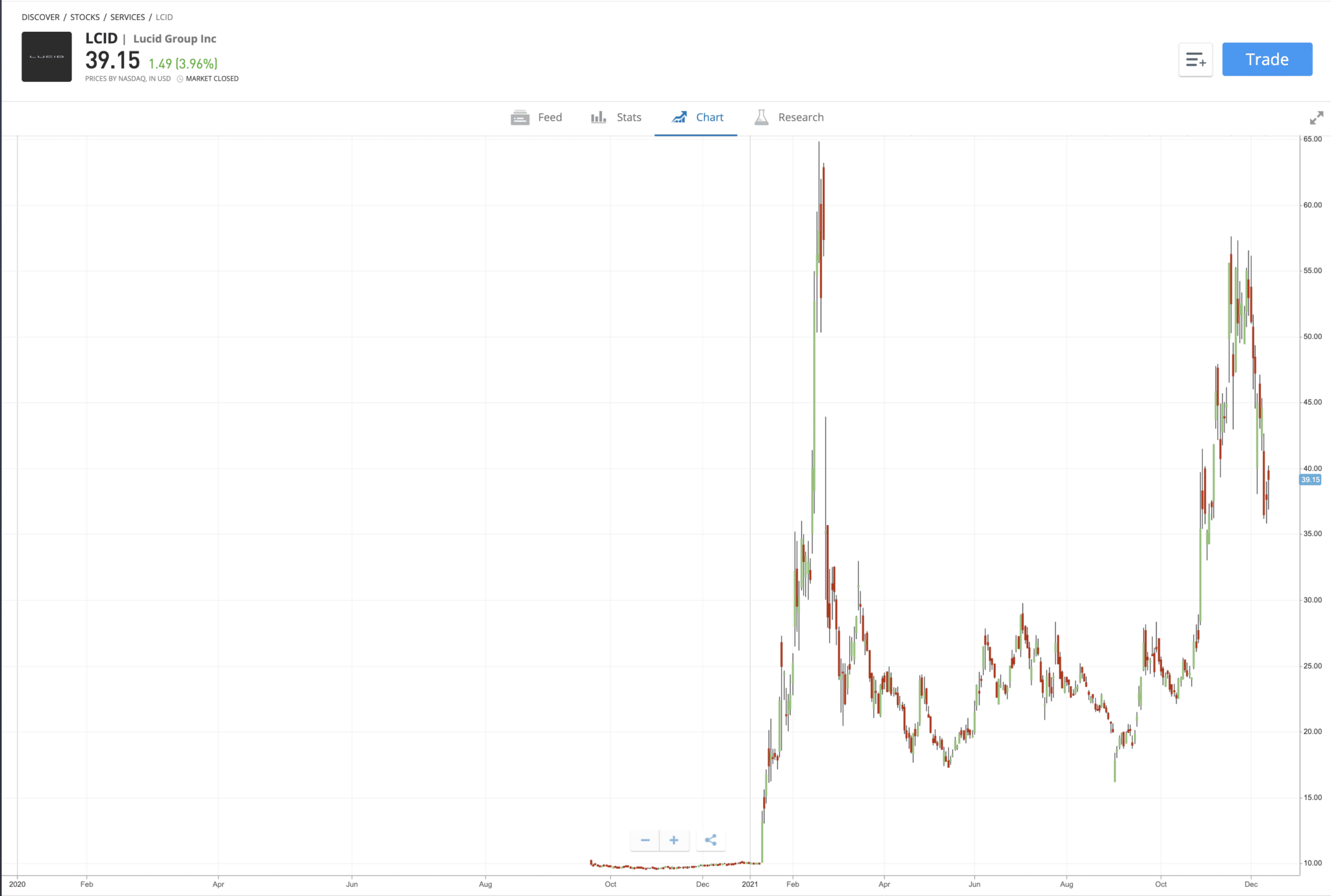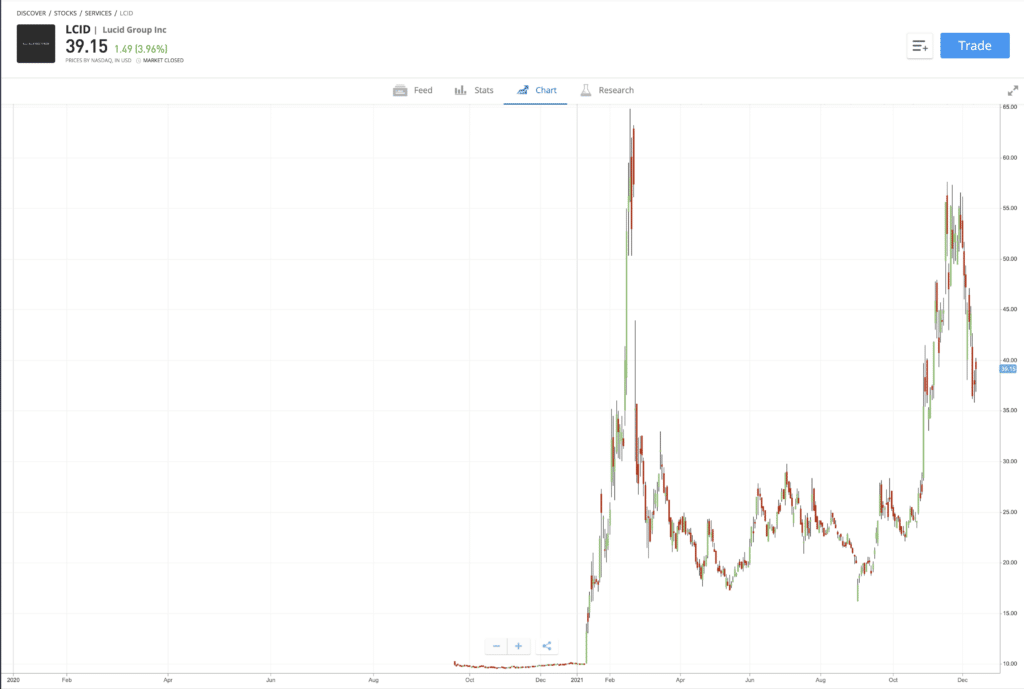 7. AMC Entertainment Holdings Inc.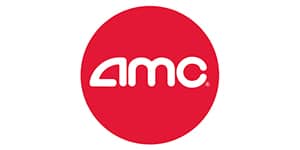 Ticker: AMC
Today's Share Volume Traded: 74m
Current Share Price: $23.33
Listed: NYSE
Founded: 1920
HQ: Leawood, Kansas, US
Market Capitalisation: $12.0bn
Number of Employees: 25k
Sector: Entertainment
Key Subsidiaries:
AMC is America's biggest movie theatre chain with 10,000 movie screens in over 15 countries. It has also become a 'meme stock' – ie. a favourite of home investors who have learnt about it via social media.
Back in January this year, the AMC share price fell to a low of $1.91 as bankruptcy loomed. As a movie theatre provider, AMC was hit badly by the prolonged lack of movie audiences caused by the pandemic. Interest by retail investors rocketing the price up 65-fold to an all-time-high of $72 in June. But since then the price has come down to less than $25.
AMC shares began to cascade down further after news on Friday 10th December that CEO Adam Aron and CFO Sean Goodman had sold AMC stock. CEO Aron sold $9.65m shares as part of a pre-announced move for estate planning (ie. tax optimisation).  CFO Sean Goodman sold all his AMC shares for roughly $565k. Analytics firm Ortix say short-sellers have made $1.1bn from the AMC share slide since the beginning of December.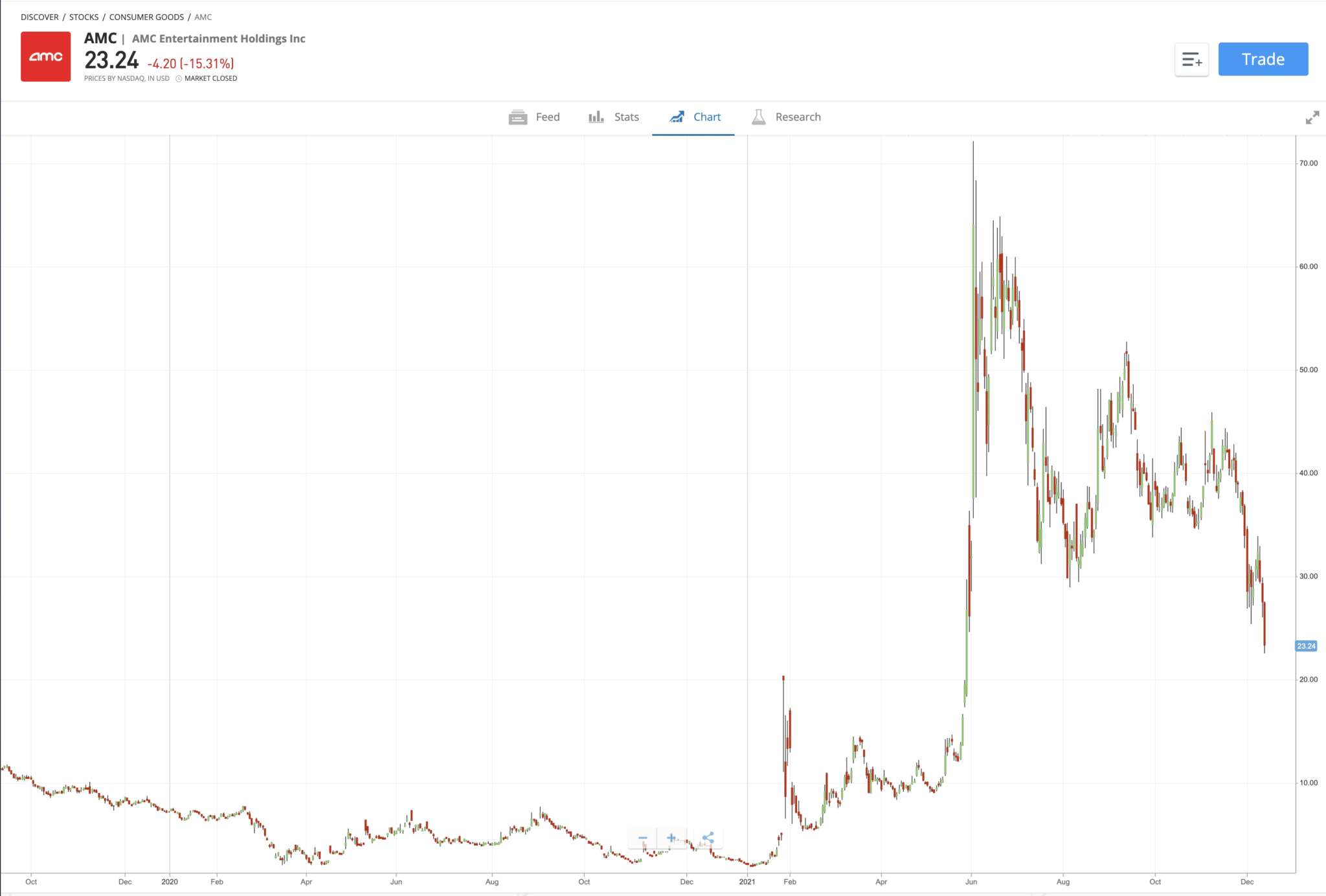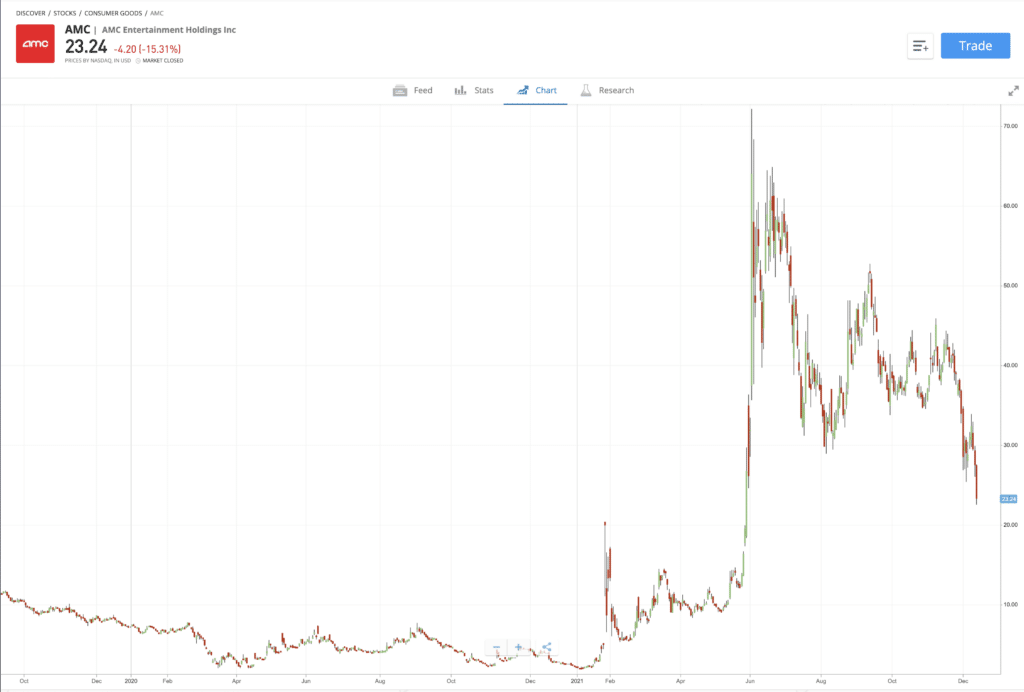 8. Southwestern Energy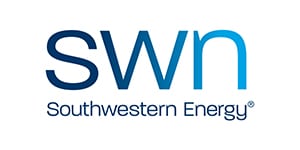 Ticker: SWN
Today's Share Volume Traded: 49m
Current Share Price: $5.10
Listed: NYSE
Founded: 1929
HQ: Spring, Texas
Market Capitalisation: $5.2bn
Number of Employees: 0.9k
Sector: Energy
Key Subsidiaries: Indigo Natural Resources LLC
Southwestern Energy is the third-largest producer of natural gas in the lower 48 US states. It produces, markets and transports natural gas, natural gas liquids (NGLs) and oil. Its operations are focussed in Arkansas and Pennsylvania. SWN owns over 800,000 acres of mining operations in the Appalachia Basin.
In September 2021, SWN acquired Indigo Natural Resources in order to expand its operations into Lousiana's Haynesville Shale Basin.
The US has escaped the natural gas shortages facing Europe over 2021. But since the pandemic crash of early 2020, SWN shares have increased in price by almost 500%: from $1.14 in March 2021 to almost $6 in late September.
With an average trading volume of around 20m shares a day, SWN is one of the most traded stocks in the UK.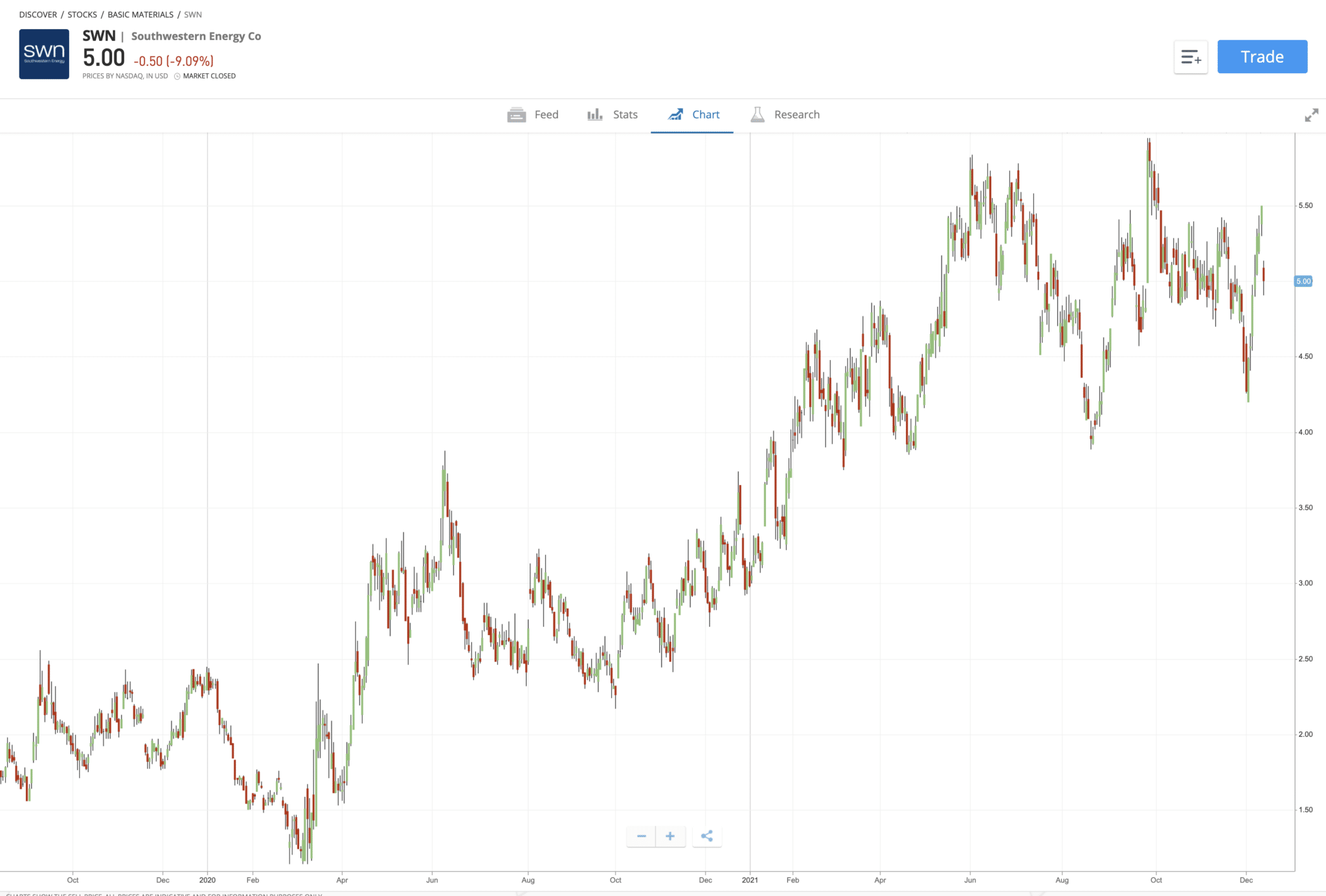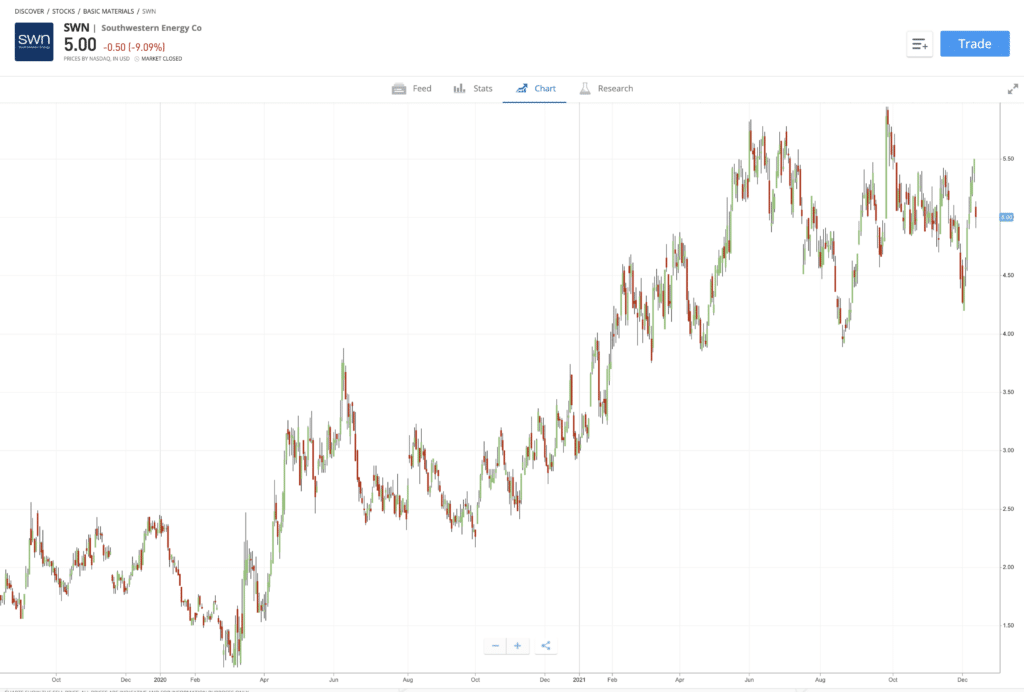 9. AT&T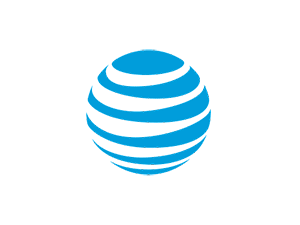 Ticker: T
Today's Share Volume Traded: 43m
Current Share Price: $22.50
Listed: NYSE
Founded: 1885
HQ: Dallas, Texas, US
Market Capitalisation: $160.7bn
Number of Employees: 230k
Sector: Telecoms
Key Subsidiaries: AT&T Communications, DIRECTV, Cricket Wireless, Warner Media
AT&T is the world's biggest telecommunications company. It is also the largest US provider of mobile phone services. The firm's history goes back to Alexander Graham Bell inventing the telephone. Bell's original Bell Telephone Company founded AT&T as a subsidiary in 1885.
AT&T stock has been diving in value since the pandemic crash that hit global markets in early 2020. After highs pushing $40 a share in Q4 2019, shares have almost halved in value down to $22.
AT&T's specific problem, like fellow telecoms player Vodafone Group, is in debt. $180bn was borrowed to fund the acquisition of DIRECTV in 2015 and Time Warner in 2018. AT&T are this year selling off DIRECTV spinning off their Warner Media subsidiary into a new company merged with Discovery – which can potentially make their balance sheet look more attractive.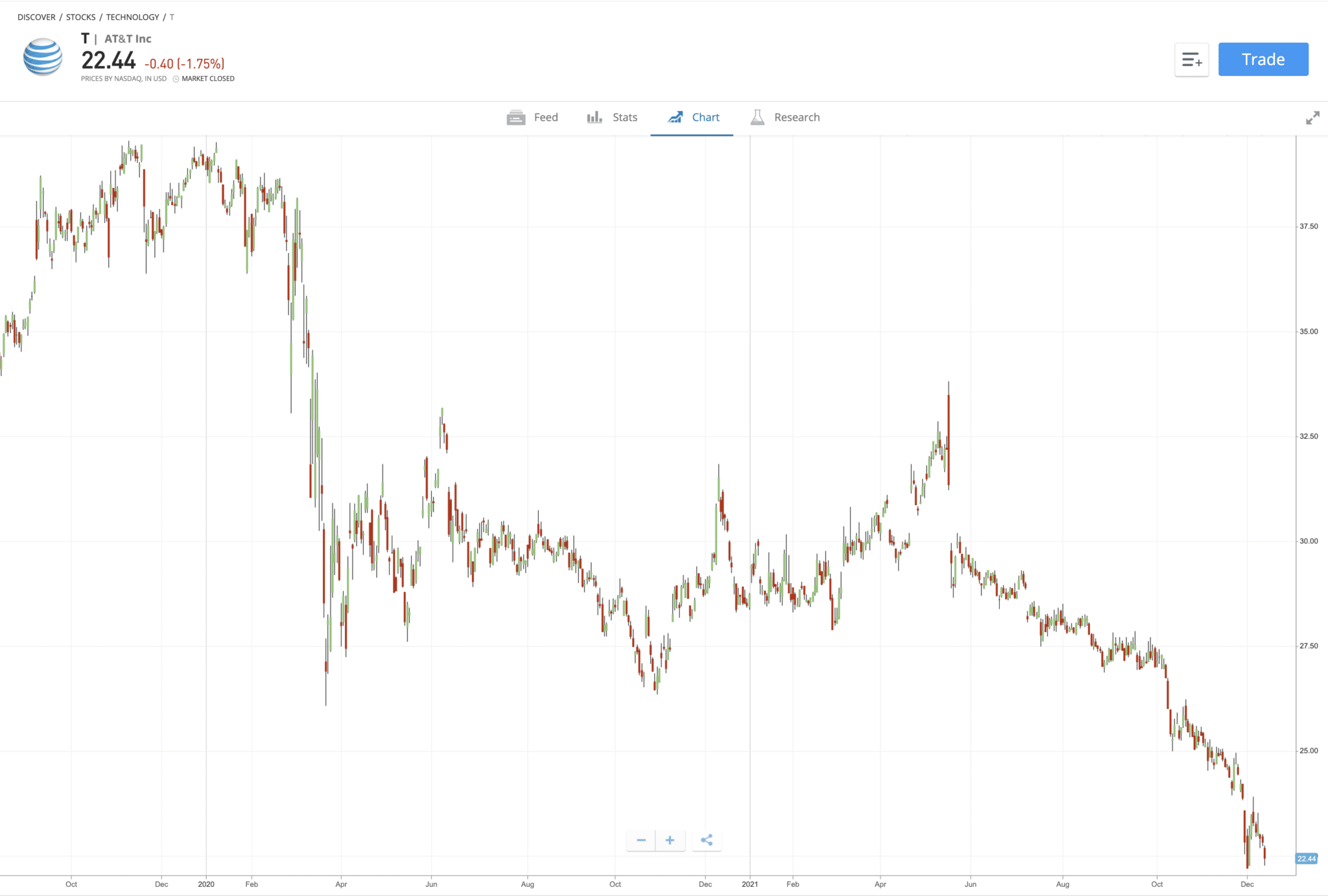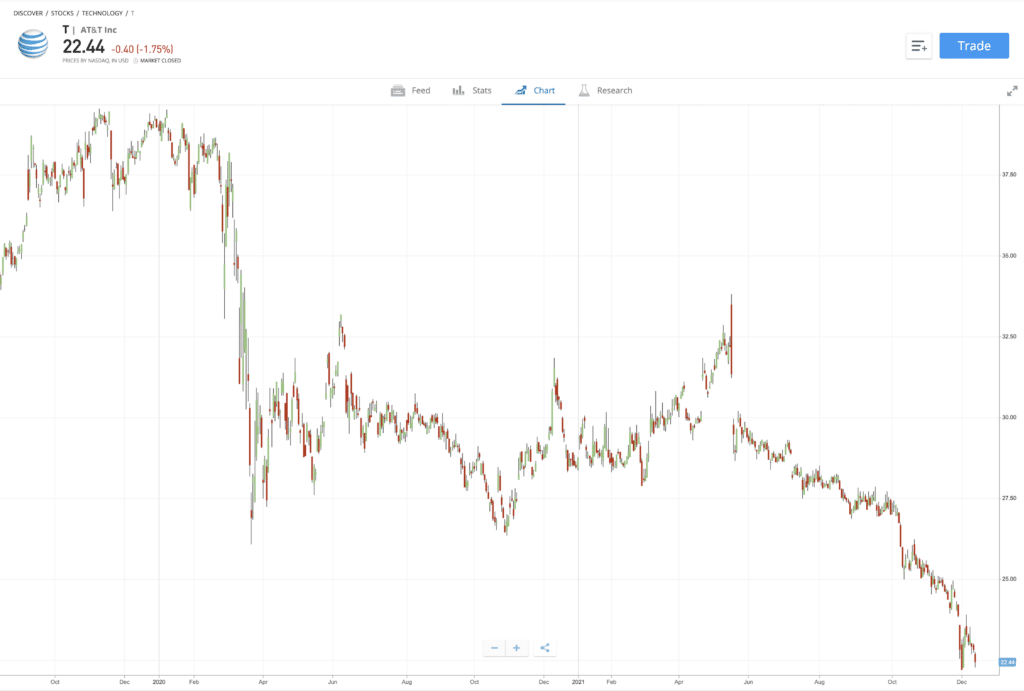 10. Nvidia Corporation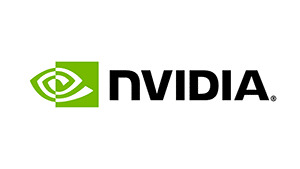 Ticker: NVDA
Today's Share Volume Traded: 43m
Current Share Price: $288.91
Listed: NASDAQ
Founded: 1993
HQ: Santa Clara, California, US
Market Capitalisation: $715.6bn
Number of Employees: 18k
Sector: Technology
Subsidiaries: Mellanox Technologies, DeepMap, Parabricks LLC
Nvidia is the world's biggest maker of chips for AI and graphics.
The price of Nvidia stock took off in early November 2021 from under $270 to hit a high over $340. Since late November, the price has tumbled back down to around $280. This looks a lot like market froth being corrected. If anything, Nvidia shares could be in for a continued fall. Nvidia is valued at 93 times trailing earnings, which is very expensive compared to semiconductor chipmakers like Micron (17 P/E ratio) and Qualcomm (23 P/E).
Nvidia does not produce the semiconductor chips that have been hit by a global shortage. It uses semiconductor chips in the production of its graphics (GPU) chips; production actually being outsourced. In November, Nvidia spent $1.6bn to secure a source of chips and avoid supply chain issues.
Nvidia forecast high Q4 revenues in mid-November on the back of the surge in interest in AI and the possibilities of computer metaverses. Reuters report that, 'Nvidia Chief Executive Jensen Huang said he believes Nvidia could eventually fetch up to $1,000 a year from up to 40 million virtual world creators and designers.'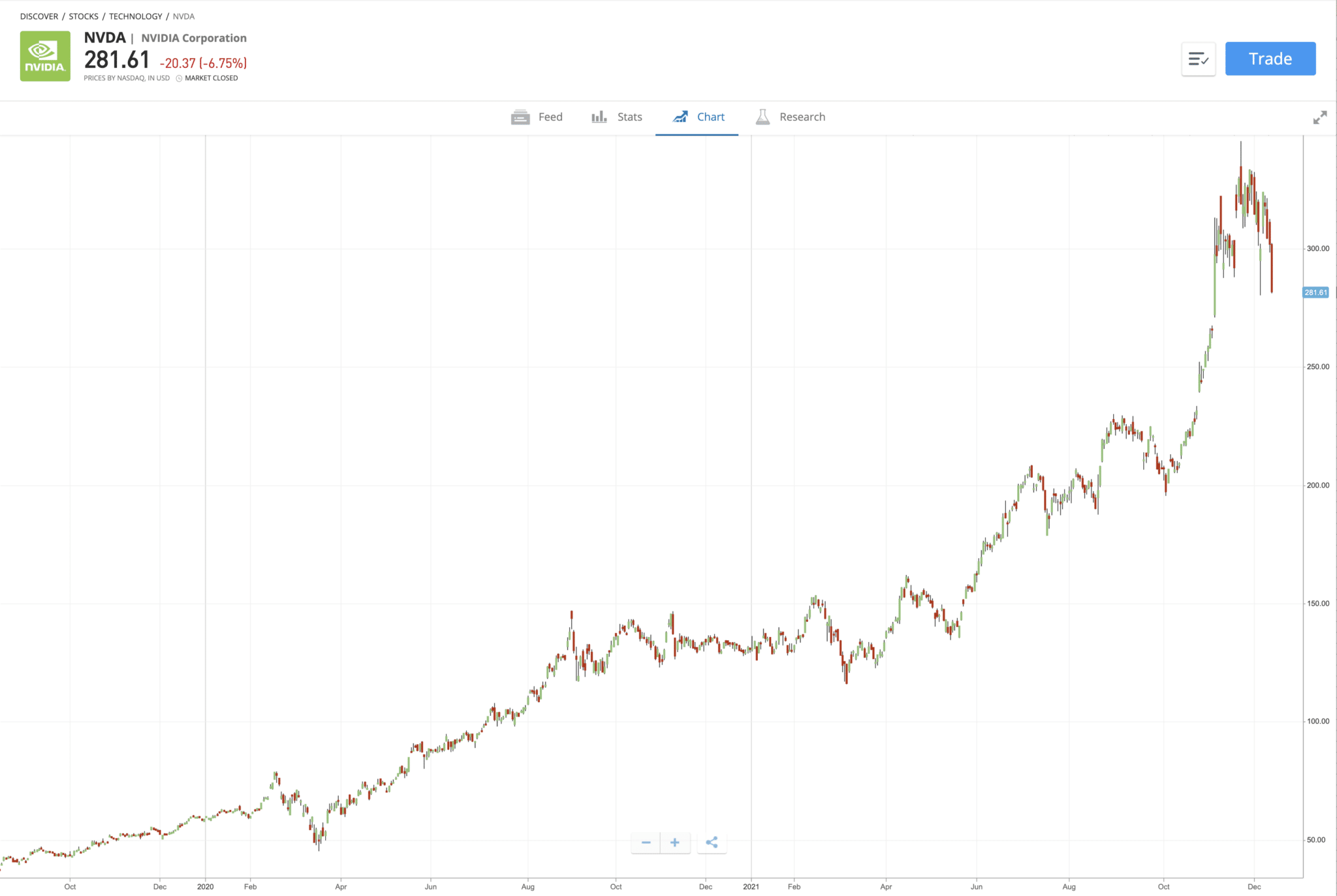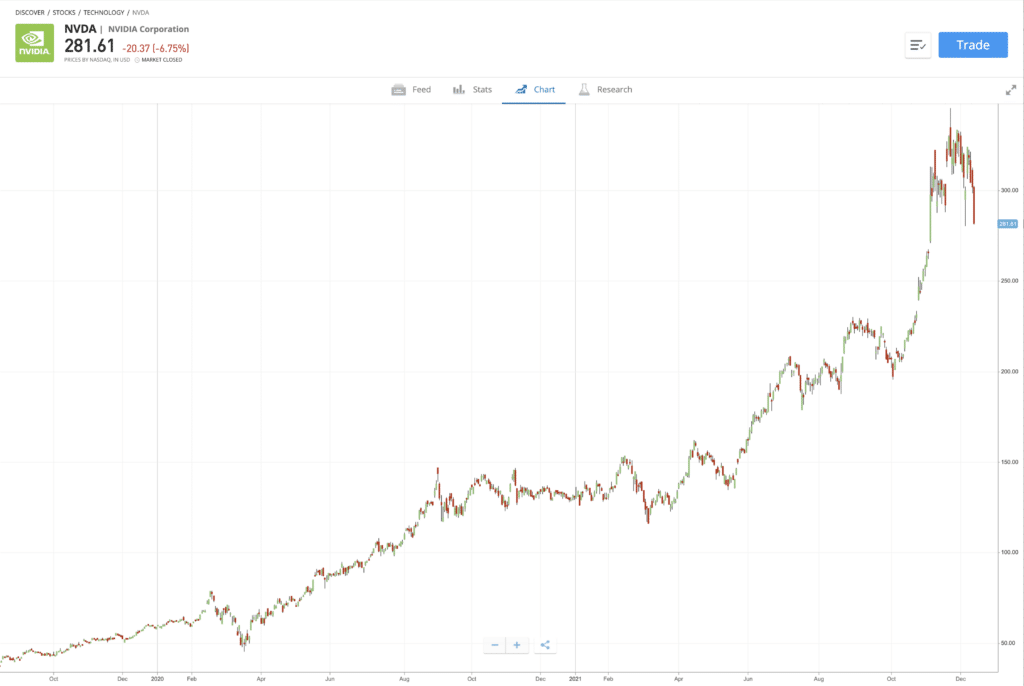 Are the Most Traded Stocks Always a Valuable Investment?
Heavy trading in a stock can indicate the opposite of a good investment because investors are trying to flee a sinking ship. For example, the price of AMC Entertainment (in our list above) is dropping fast as interest amongst private investors wanes and the operational issues posed by the pandemic continue to belabour the cinema and entertainment chain. Likewise, AT&T is experiencing some seriously heavy downwards price pressure at the moment.
Often stocks are heavily traded because they are known to private investors. This is certainly the case for telecoms giants AT&T, BT and Vodafone. Therefore, users should make sure to conduct their own research before investing in any stocks.
Most Traded Penny Stocks
Penny stocks are shares in small companies. The precise definition of a penny stock is a share that is valued at less than £1 in the UK and less than $5 in the US.
Penny stocks are listed in UK on the AIM exchange. The most traded stocks on AIM today are:
Eurasia Mining plc (EUA) – rare and precious metals miner operating in Russia
Greatland Gold plc (GGP) – rare and precious metas miner operating in Australia
Revolution Beauty Group plc (REVB) – UK-based make-up manufacturer and retailer
Boohoo Group plc (BOO) – UK-based fashion group
Sumo Group (SUMO) – UK-based video games developer
You can trade penny stocks with etoro just as you would with mid-large cap stocks.
Brokers to Buy the Most Traded Stocks
If you are looking to invest in the most traded stocks, it makes sense to do so with popular stock brokerages.  Below we review two brokers that allow users to invest in the most traded stocks in the UK.
1. eToro 
With global broker eToro, you can trade multiple stocks including the most traded ones on our list without paying commission. You can invest with as little as $10 (new minimum trade announced).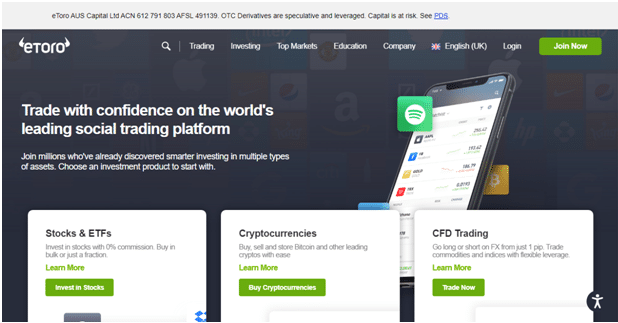 Since its establishment in 2006, eToro has attracted 20m+ investors thanks its wide choice of global stocks, 250+ ETFs, commodities, indices and more.
Getting verified does not take long with eToro. As with other regulated brokers, you will need to prove your ID and your address. Then you can deposit funds. eToro accepts GBP via a number of payment methods. No deposit fee applies (but a 0.5% currency conversion applies).
With your funds in place, you can begin your search for the most traded stocks. You can search by name or by industry and exchange. You can then browse through plenty of stats, newsfeed data and charting possibilities before you commit to your trade. With eToro, you can leverage some trades as well as go short on some stocks.
eToro puts a high premium on helping the newbie investor with its in-house social trading options. With CopyTrader you can copy more experienced traders for free. And with Smart Portfolios (minimum investment $500) you can purchase into strategic portfolio positions devised by experts. eToro's help guides are very clear and easy to search through, and you can contact customer support via an email ticker system.
As an FCA-regulated broker, eToro offers stringent regulation (FCA, CySEC and ASIC).
| | | | | | |
| --- | --- | --- | --- | --- | --- |
| Stock Broker | Minimum Deposit | Fractional Shares? | Pricing System | Cost of Buying Stocks | Fees & Charges |
| eToro | $10 | Yes – $10 minimum | 0% commission on ALL real stocks, spreads for CFDs | Market spread is not included when buying real stocks | No Deposit fees, $5 withdrawal fee, $10 inactivity fee, no account management fees. |
Sponsored ad. 68% of retail investors lose money trading CFDs at this site
2. Capital.com
Capital.com is a dedicated CFD broker with 175,000 confirmed investors. The broker offers access to stocks, crypto, forex, commodities and ETFs across 3,800 markets in all. You can invest in the most traded stocks, as well as browse Capital.com's selection of 1000+ shares and 100+ ETFs. Tight spreads are offered with zero commission on stock purchases.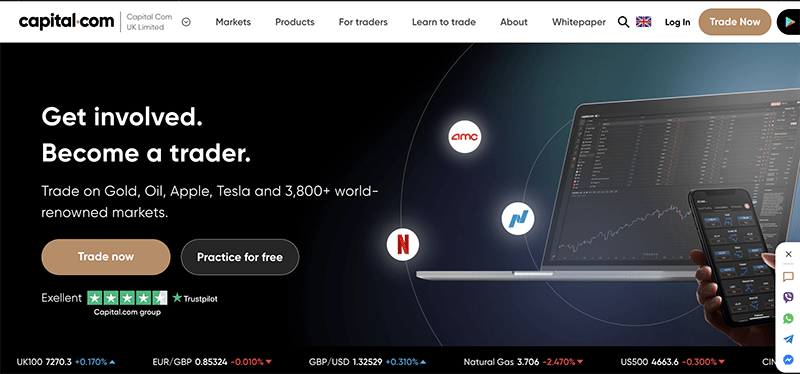 Regulation with Capital.com is provided by the UK's FCA, ASIC and CySEC. Capital.com is CASS-compliant, which means retail funds are segregated and investor funds are protected by the UK's Financial Services Compensation Scheme.
You can deposit GBP with Capital.com easily. As a CFD broker, all trades with Capital.com are conducted as CFDs (Contracts-For-Difference). This means that, although you never get to actually own the underlying stock, you do get to go short on stocks if you want to, as well as leverage your trades. Minor CFD overnight fees apply.
Capital.com boasts a slick user interface as well as multiple charting options. The trading experience offers sophisticated trading options as well as a massive choice of forex and spread betting assets.
79.17% of retail investor accounts lose money when trading CFDs with this provider.
How to Purchase the Most Traded Stocks UK
Users can begin trading in stocks after picking a suitable stock broker that can cater to their personal requirements. After choosing your preferred broker, here is how you can begin the investment process:
Step 1: Open Account
Head over to the homepage of your chosen broker and begin the account set-up process. You will be required to fill in your personal details – including your full name, email address and mobile number. Create a username and password for the platform to continue.
Step 2: Verification
Most reputable brokers in the UK are regulated by the FCA – which is why users may be required to verify their accounts. To do this, simply upload proof of ID (a copy of your driver's license or passport) and proof of address (a copy of a bank statement or utility bill). Once these documents have been uploaded, your broker should verify them in a couple of minutes.
Step 3: Deposit funds
The next step is to deposit funds into your trading account. Most brokers may support 1 or more of the following payment methods:
Credit card
Debit card
Bank transfer
e-wallet
Choose your preferred payment option and deposit the funds into your account.
Step 4: Invest in Most Traded Stocks
Once your account has been funded, proceed to search for any stock you wish to purchase on your platform's search bar. Fill in the amount you want to credit into the trade, and confirm your transaction.
Conclusion
Having reviewed the most traded stocks today, users have multiple investment options which can possibly make it into their portfolio. You should make sure to research the stock properly and only then make any investments.
Should you choose to invest in any stocks, you can pick a suitable stock broker that will facilitate you in the investment process.
Frequently Asked Questions on the Most Traded Stocks
What are the most traded stocks?
What are the most actively traded penny stocks?
What are the most actively traded Nasdaq stocks?
What are the most traded FTSE stocks?
What are the most traded AIM shares?