Since the late 90s, many e-commerce retail businesses have been established and become key elements in the supply chain of the global economy. But while every country has its own eCommerce platforms, some e-commerce sites like Amazon and Alibaba have grown to a global scale.
Alibaba, which is known by many as the Chinese Amazon, is the largest retail e-commerce company in the world in terms of gross merchandise volume, even bigger than Amazon. As such, the Alibaba stock has been on a nice run since the company went public, though many believe the stock has a huge growth potential much like other tech stocks that have been exploded in recent years.
If you are thinking of buying shares of Alibaba, this guide will answer all of your questions. We'll analyze the Alibaba stock price performance since the IPO, take a close look at the company's fundamentals, and decide whether Alibaba shares are worth buying right now. In addition, we also suggest top UK stockbrokers that offer you to buy shares of Alibaba in the UK and show you the process to make an investment in Alibaba.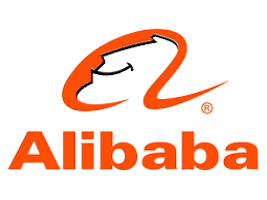 There is some unclarity about Alibaba stock exchange listing. Alibaba is a Chinese company and is listed on the Hong Kong stock exchange since 2007, though it was delisted in 2014, and then again listed shares on the Hong Kong Stock exchange in 2019 in the largest IPO of the year. Surprisingly, Alibaba is also not listed on the Shanghai Stock Exchange. But luckily for UK investors, Alibaba went public On September 19th, 2014 on the New York Stock Exchange. This means you'll have to find a UK brokerage firm that gives you access to US shares like Alibaba.
To help you find the right broker, below we have listed two of the best UK stockbrokers to buy Alibaba shares in the UK.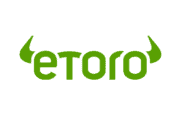 eToro is one of the most popular trading platforms in the UK and worldwide, with a community of 12 million members and more than 800 global shares to trade on. As eToro covers the US and Asian stock markets, investors get access to Alibaba shares from the New York stock exchange as well as from the Hong Kong stock exchange.
One of the things that make eToro so special is the fact that you can buy shares directly from 17 different exchanges or via CFDs. As such, you can alternate between the two methods based on your trading strategy. If you are planning to hold Alibaba Group for a long period of time, it would be better to buy its shares outright as you will not have to pay overnight interest rates. However, if you wish to be more active when you trade Alibaba shares, CFDs are a better option due to the zero commission policy and the leverage ratio of 5:1.
But above all, eToro is most suited for investors who are looking for social trading platform. If opting for eToro, you will join a different type of trading environment that is similar to any other social network like Facebook, Linkedin, and even Twitter. For instance, you'll be able to view posts of other members, start discussions, and share trading ideas. eToro also offers to copy trades of other investors in the community when utilizing the CopyTrade tool.
In the UK, eToro requires a minimum of around £140 to start trading. Bear in mind that trading via this platform is commission-free and the only fee you have to pay is a conversion fee of 0.5% when you make a deposit and $5 when you make a withdrawal.
Pros:
Commission-free share trading platform
You'll get access to shares, ETFs, currency pairs, commodities, indices and cryptocurrencies
Allows you to buy shares outright or CFDs
Supports fractional trading
Social trading platform
Accepts a wide range of payment methods, including PayPal
User-friendly web platform and mobile trading app
Regulated by the FCA
Cons:
Limited technical analysis charting package and trading tools for advanced traders
67% of retail investor accounts lose money when trading CFDs with this provider.

Founded in 1997, Libertex is another popular CFD trading platform that offers users to trade on a range of assets including shares, commodities, forex, ETFs, cryptocurrencies, and indices. This broker gives investors access to two trading platforms – the Libertex proprietary trading platform and the popular MetaTrader4.
While Libertex offers a relatively narrow selection of shares compared to other trading platforms like eToro and Plus500, it does provide access to Alibaba Group shares and other popular shares with zero commission offering. Moreover, the spreads on shares are extremely competitive and typically range between 0.1%-0.2%. Besides the spread, Libertex does not charge any other trading and financing fees.
When it comes to trading platforms, you will get access to the Libertex Web Trading platform and also to the MT4. As such, you'll be able to use more than 100 analytical tools, a professional charting package, and automated trading tools. When you use the automated trading signals service, you can simply view and/or copy the trades of other successful trades from the library of Forex Expert Advisors.
Libertex is also offering users to open an account with just £10. The broker is regulated by the Cyprus Securities and Exchange Commission (CySEC) and is considered one of the safest options in the industry.
Pros
Trade CFDs for top UK and US companies, including shares of Alibaba Group
No account fees or commissions
Very competitive spreads
Advanced trading platforms available on both web and mobile
Plenty of market research tool including market sentiment
Cons
Customer support available by email only
Limited selection of stock CFDs
Your money is at risk.
Alibaba shares have faced high volatility and price fluctuations since the beginning of the year. But overall, the share has gained more than 20% due to the increasing demand for online orders caused by the Covid-19 pandemic. With that in mind, it's crucial to analyze the stock's price historical performance, the company's fundamentals and financials, and the impact of the coronavirus pandemic on Alibaba shares.
Alibaba Group was founded in 1999 by Jack Ma and a team of 17 students with the idea to create an online marketplace. Just three years after the foundation, Alibaba has posted its first profitable year and in 2005, Yahoo has bought 30% of the company for $1bn. Still, though the Chinese eCommerce platform was a big thing in China, India, and other countries across Asia, it was an unknown name in North America and Europe.
Alibaba's growth in China and Asia was impressive in the first years of operation, however, the company's growth stage has really accelerated since its record $25bn IPO on the New York Stock Exchange in 2014. Since then, Alibaba has become a permanent member of the largest companies in the world in terms of market capitalisation. As of November 2020, Alibaba is ranked the 8th largest company worldwide with a market valuation of nearly $685bn.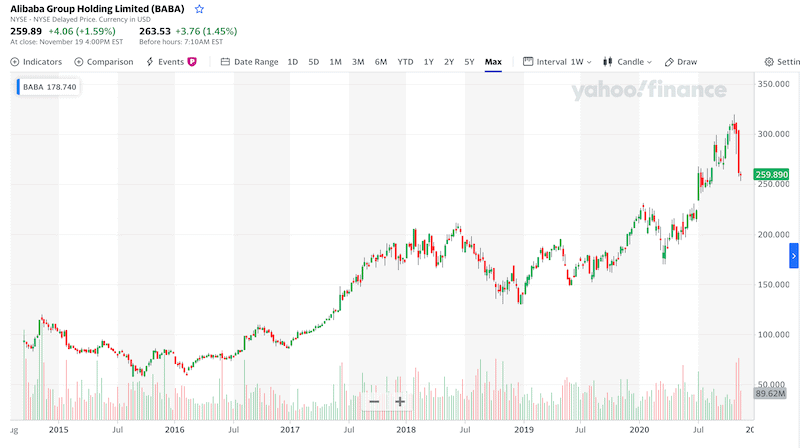 When the company went public in September 2014, Alibaba's share price was $68 per share. This means that investors who have invested in Alibaba in its IPO gained a return of around 300% or an average of 50% per year. In 2020, Alibaba gained a YTD return of 22% at the time of writing, which is not that high when you compare to other well-performing eCommerce platforms like Chewy, FedEx, and Amazon.
Since early November, Alibaba stock is facing a correction in price primarily caused by the collapse of the world's largest IPO of Alibaba's Ant Group and the pullback in tech stock prices due to Pfizer's announcement of a Covid-19 vaccine.
Alibaba Group Holding Limited currently has a market capitalization of $685bn, which makes it the 8th largest company in the world in terms of market cap. The Chinese company reported earnings per share (EPS) for the last quarter of $2.72, beating analysts' forecasts of $2.13, and an annual EPS of $7.90 for the last 12 months. The company's annual EPS growth from the previous year has increased by 58.95%.
Its PE ratio currently stands at 27.91, which is below the average of 53.36 in the Internet & Direct Marketing Retail industry and indicates that Alibaba share performance was not performing as well as most of eCommerce and tech stocks.
As of November 2020, Alibaba is currently not paying dividends and has never paid a dividend because of its nature of a high-growth company. Moreover, like many other fast-growing tech companies, Alibaba is not expected to pay dividends in the near future.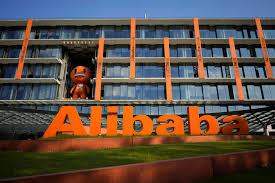 Alibaba shares fell by around 16% since the beginning of November, largely due to the expected release of Pfizer and Moderna Covid-19 vaccine. But more importantly, the suspension of the affiliate company of Alibaba Group Ant Group by Chinese regulators on November 3 has been a strong catalyst for a pullback in the Alibaba share price. Further, the decision of the Indian government to ban 59 Chinese apps has impacted Chinese tech companies, including Baidu, Tencent Holdings, and Alibaba. At the same time, Alibaba is still one of the most popular eCommerce platforms in the world and there are several reasons why the stock is poised for more upside.
The Most Dominant Player in China's eCommerce Market
According to eMarketer, Alibaba Group controls a market share of 56% of the Chinese eCommerce market. Alibaba's main competitor in China, JD.com, is far away beyond in second place with a market share of around 16.7%. In that sense, it's worth mentioning that the majority of Alibaba's revenue currently comes from its dominancy in China's retail marketplaces. If Alibaba succeeds to expand to other regions across the world, its growth could be as dynamic as that of Amazon and other eCommerce giants.
Alibaba is also making a strong effort to become to dominate the online grocery market in China as it tries to overcome its rival JD.com. As such, the company has invested $3.6 billion in the last year in order to become the largest eCommerce platform of food shopping.
Alibaba Cloud Computing Business is Becoming Profitable
Alibaba Cloud, also known as Aliyun, was founded in 2009 and has been one of the fastest-growing divisions of the company in recent years, though its cloud computing division has never reported a net profits and is expected to finally become profitable in the next months. The company's cloud computing business still falls behind Amazon in terms of total market share and contributes only 8% of Alibaba total revenues, however, it has recently said that it is expected to invest 200bn yuan in its cloud computing division over the next three years, and the company is expecting to see more revenues coming from this service.
It's also worth mentioning that as many customers move from IaaS into Artificial Intelligence cloud computing solutions, Alibaba's revenue from its cloud division has a lot of room to grow within and outside of the Chinese market.
Stable Growth
Overall, Alibaba has grown consistently over the years and there's no reason in sight to expect a reversal of this trend. For the quarter ended September 30, 2020, Alibaba reported another strong quarter with revenue growth of 30% YOY to $22.84bn and adjusted EBITDA up 28% year-over-year. Another reason for optimism is Alibaba's cloud computing revenue that grew by 60% from the previous, largely driven by the acceleration in digitalization across the Chinese market.
But above all, the Alibaba share is undervalued in relation to its free cash flow figures. In the last year, the Chinese tech company has reached an outstanding amount of $21.2 billion in free cash flow, an increase of 27.7% from the previous year.
Step 3: Open an Account and Deposit Funds
If following your research, you are still wish to buy shares of Alibaba Group,  we are now going to show a step-by-step process on how to open an online trading account and place a buying order in the market. For the purpose of demonstration, we show you the process using eToro, however, note that the process largely the same with any other trusted brokerage firm.
To get started, head to eToro's site and click on the 'Join Now' button.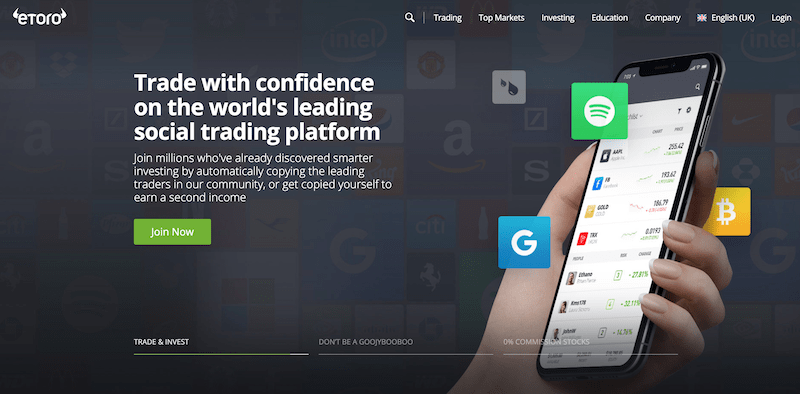 Next, you will be prompted to a sign-up form where you need to enter your email address and create a username and password. In the next step, you need to fill in a questionnaire about your previous trading experience and financial background, and then you will be asked to verify your identity in order to comply with the FCA requirements. You can do that by uploading a copy of your passport or driver's license along with a copy of a recent financial statement or utility bill.
As soon as you get an email from eToro about your account approval, you can then log in to the dashboard and click on the deposit funds button. In the UK, eToro requires a minimum of £140 to get started, which you'll be able to fund your account using one of the provided payment methods below:
Debit Card
Credit Card
Paypal
Skrill
Neteller
UK Bank Transfer
By now, you should have enough information about Alibaba and as soon as your eToro account has been approved, you are ready to buy Alibaba shares. To start the buying process, navigate to the eToro dashboard and search for Alibaba in the search bar. As mentioned previously, eToro offers Alibaba shares in the US as well as in Hong Kong. To buy Alibaba shares via the US market, click on the first result that pops up in the drop-down menu (ticker symbol BABA).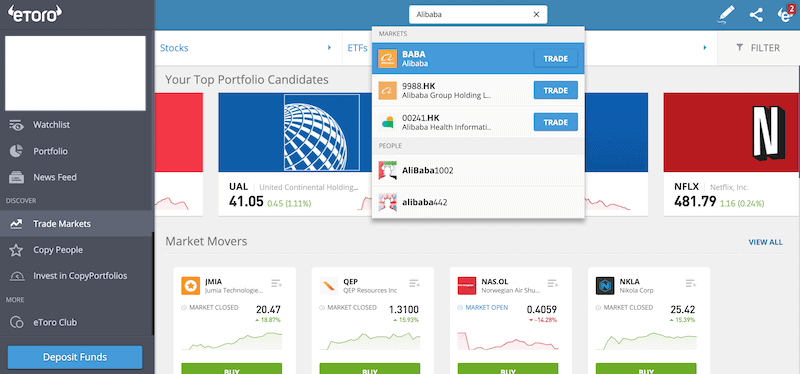 Once you click on the Buy button, you will be taken to an order form.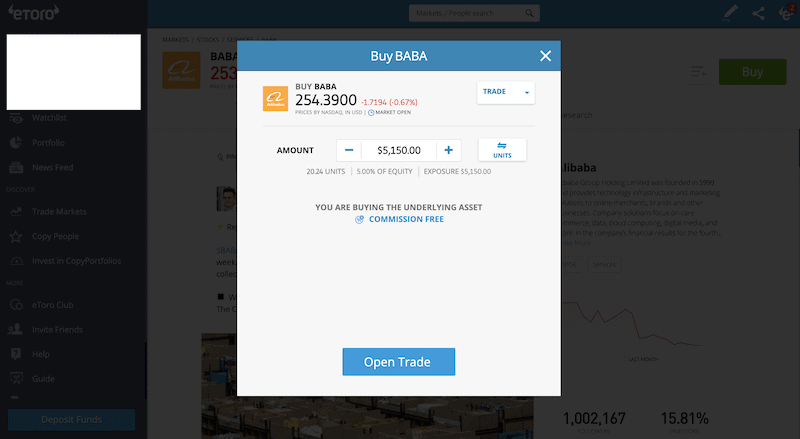 In the order, you'll have to enter the amount you want to invest in Alibaba and then click on the Open Trade. To view and modify your position, navigate to your portfolio on the left side menu. From there, you can enter stop loss and take profit orders and close the positions whenever you want.
There's no doubt that Alibaba faces major challenges both abroad and domestically. The latest collapse of Ant Group's IPO is a big concern for Alibaba. Some even say that China's President Xi Jinping was personally made the decision to postpone Jack Ma's Ant IPO. Further, the Chinese government has recently released new draft antimonopoly rules for online platforms operating in the country (with a strong focus on Alibaba) in order to constrain the companies' power and dominancy.
However, despite the problems that the Chinese company is facing, Alibaba stock is still a great company with strong fundamentals. Not only Alibaba is dominating the Chinese e-commerce market, but it is also very likely that the giant eCommerce platform will expand to new markets within the next few years, particularly as most US and Chines companies are optimistic following the Joe Biden victory.
In a nutshell, Alibaba controls a huge market share in the largest country in the world in terms of population. And, with new developments like its cloud computing service, the expansion into the US and other regions in the world, and the efforts to become the largest online grocery online platform in China – Alibaba stock has the potential to keep rising. With all that in mind, we currently believe that Alibaba shares are a buy right now.
The Verdict
Alibaba stock has been on a rollercoaster since the beginning of the year. Much like other eCommerce platforms, the stock price fell in the first two months of the year and then soared to an all-time high of $317.14 on October 27, 2020. Since then, Alibaba's share price dropped around 16% due to the collapse of the Ant Group IPO. However, in our view, the recent drop in price only makes Alibaba shares a better buy overall. Alibaba is one of the largest companies in the world with a market cap of $685bn, and the share price still looks fairly cheap when looking at the company's growth rate in recent years.
If you ready to buy Alibaba shares, simply click the link below to get started!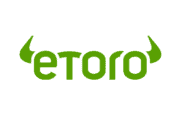 67% of retail investor accounts lose money when trading CFDs with this provider.
Looking to invest in other tech shares? Check out the companies below.
FAQs
[sc_fs_multi_faq headline-0="h4″ question-0="Who is the chief executive of Alibaba?" answer-0="Daniel Zhang is the CEO of Alibaba since 2015." image-0="" headline-1="h4″ question-1="What stock exchange is Alibaba listed on?" answer-1="Alibaba group holding limited is listed on several top exchanges including the Hong Kong Exchange, Frankfurt stock exchange and the New York Exchange. The company's primary listing is on the NYSE under the ticker symbol BABA." image-1="" headline-2="h4″ question-2="Is Alibaba bigger than Amazon?" answer-2="In terms of market capitalisation, Amazon is still the largest eCommerce platform in the world with $1.5tn compared to Alibaba's $700bn. Amazon's revenues is also much higher than Alibaba's – the US eCommerce platform generated $280bn in 2019 compared to Alibaba's revenue of around $42bn in the same year. In conclusion, Amazon is bigger than Alibaba." image-2="" headline-3="h4″ question-3="How do I buy shares of Alibaba?" answer-3="The easiest way to buy shares of Alibaba is via a
CFD platform
that allows you to speculate on the price of an asset without owning it. This means that you do not have to deposit a large amount of money and go through a long registration process. Moreover, when you use CFD platform, you can leverage your positions and avoid paying high trading fees." image-3="" headline-4="h4″ question-4="Can I invest in Alibaba via an ISA or SIPP?" answer-4="Technically, yes you can. There are many ISA or SIPP accounts that enable users to invest in individual US shares. With that in mind, we advise that you check with the brokerage firm if there are any limits on the amount you can distribute to your ISA or SIPP account per year.  " image-4="" count="5″ html="true" css_class=""]