Pharmaceutical stocks are public companies that operate in the healthcare sector. This can be anything from research and development, manufacturing, licensing, or the distribution of drugs and treatments.
In this guide, we explore the best pharmaceutical stocks to buy in 2021. We also discuss the best UK brokers to buy pharmaceutical stocks online, as well as walk you through how to invest in pharmaceutical stocks today.
What are Pharmaceutical Stocks?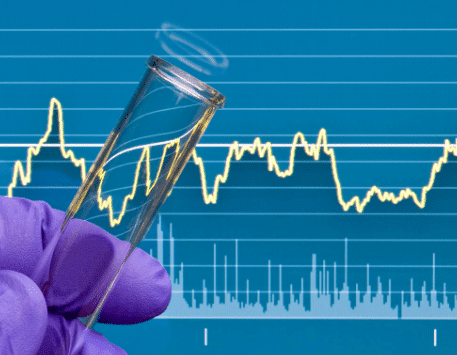 Put simply, pharmaceutical stocks are companies that operate in the healthcare sector. Some – like GlaxoSmithKline and AstraZeneca, have huge multi-billion pound market capitalizations that have a global presence.
Such pharmaceutical companies are involved in the entire end-to-end process of research and developing new treatments, manufacturing drugs, and then distributing the final product.
In other cases, some pharmaceutical stocks are up and coming, with much smaller market capitalizations. These are known as rising pharmaceutical shares and might specialize in a certain niche of the healthcare space, and offer much higher growth potential.
Why Invest in Pharmaceutical Stocks?
Pharmaceutical stocks are often sought-after by investors for a number of reasons, which we expand on below.
Buy pharmaceutical stocks now at eToro now with 0% commission. eToro is our best recommended trading platform with a huge asset range and a great user friendly platform.
Defensive Stocks
One of the main draws of pharmaceutical stocks is that they possess 'defensive' qualities. In Layman's terms, a defensive stock is often immune, or less impacted, to a wider stock market downfall. This is because it offers products and services that are always in demand. As you can imagine, pharmaceutical shares are in the business of developing, producing and distributing products associated with health and medicine.
As a result, there will always be a need for such products – irrespective of how the economy is performing. For example, while the vast majority of companies making up the S&P 500 went down in value in 2008, the likes of Vertex Phamaceuticals Inc. increased its stock price by over 30.8%.
Then you have Edwards Lifesciences Corp – a manufacturer of medical devices, which saw its stocks increase by just under 20% during the same period. Ultimately, the stock markets will always move in cycles, so a basket of pharmaceutical stocks (alongside other defensive sectors) is worth considering during times of economic uncertainties.
Strong and Stable
Some of the largest stocks on the FTSE 100 and NYSE operate in the pharmaceutical arena. In fact, the largest constituent of the FTSE 100 Index is that of AstraZeneca, which carries a market capitalization of over £111 billion.
These strong and stable characteristics are why pharmaceutical stocks are often referred to as 'high-grade'. That is to say, investors have very little concerns about holding stocks in firms like Johnson & Johnson, Pfizer, GlaxoSmithKline, or Novartis – as their balance sheets are so strong.
Consistent Dividends
Leading on from the above section, strong and stable pharmaceutical shares often have a long-standing track record of paying consistent dividends. This is great if you are looking to add some dividends stocks to your portfolio.
To give you an idea of which pharmaceutical stocks pay dividends, below you will find a selection of the most prominent.
Amgen: 3.0%
Gilead Sciences: 3.6%
GlaxoSmithKline: 4.5%
Novartis: 3.5%
PetMed Express: 4%
Sanofi: 3.5%
The above yields are based on Q1 2020 distributions. Crucially, by holding a portfolio of dividend-paying pharmaceutical stocks you have the opportunity to benefit from compound interest. This is because you can re-invest your dividend payments into new pharmaceutical stocks, and subsequently grow your money faster.
Easy to Diversify
When we talk about diversification in the stock markets, this generally means holding a basket of shares from multiple sectors. With that being said, it is also possible to diversify within specific large-scale industries such as the pharmaceutical space.
This includes:
End-to-End Providers: In the case of multi-billion-pound pharmaceutical stocks like GlaxoSmithKline and Novartis, these companies are involved in the entire end-to-end supply chain. That is to say, these companies spend billions each year researching new drugs and treatments. They also manufacturer existing drugs, license them to third parties, and of course – distribute the final product.
Research and Development: Some pharmaceutical stocks are involved purely in research and development. Such companies will focus on specific niches within the healthcare space, with the view of discovering new treatments. If and when they are successful, they will typically license the drug to major manufacturers.
Manufacturers: In other cases, some pharmaceutical stocks are focus exclusively on production. In other words, those behind the rights to the treatment will get the firm to mass-produce the respective drug. These companies have expertise in manufacturing goods in medical-grade factory conditions.
Distributors: Distributors are responsible for selling drugs and treatments to the end market. This could be anything from the health sector of a certain country or state or direct to private hospitals and pharmacies.
Pharmacy Chains: An additional sector that you might want to consider in the pharmaceutical space is that of pharmacy chains. One of the largest players in this space is  – CVS Health Corp, which has over 24,000 locations throughout the US. The firm in question is listed on the New York Stock Exchange with a huge market capitalization of $80 billion.
Pharmaceutical ETFs are Now a Thing
If you think that creating a diversified portfolio of the best pharmaceutical stocks is challenging, you will be pleased to learn that you can now access the market through an ETF (exchange-traded fund). For those unaware, ETFs allow you to invest in dozens (sometimes hundreds) of stocks through a single trade. Best of all, the ETF provider will buy and sell stocks on your behalf and even distribute your share of dividends.
For example, the SPDR S&P Pharmaceuticals ETF contains some of the best pharmaceutical stocks to buy in the industry. To give you an idea of just how diverse this particular ETF is, below you will find a list of the shares it holds.
| | | | |
| --- | --- | --- | --- |
| Horizon Therapeutics Public Limited Company | 218,028 | $11,210.14 | 5.37% |
| Axsome Therapeutics Inc. | 138,986 | $3,182.60 | 5.00% |
| Eli Lilly and Company | 69,973 | $161,863.92 | 4.96% |
| Catalent Inc | 144,380 | $12,494.91 | 4.61% |
| Perrigo Co. Plc | 195,077 | $7,486.96 | 4.49% |
| Bristol-Myers Squibb Company | 178,824 | $134,765.81 | 4.46% |
| Zoetis Inc. Class A | 74,920 | $65,926.53 | 4.36% |
| Jazz Pharmaceuticals Plc | 95,955 | $5,952.00 | 4.32% |
| Merck & Co. Inc. | 131,645 | $196,677.97 | 4.30% |
| Mylan N.V. | 630,139 | $8,369.38 | 4.27% |
Best Pharmaceutical Stocks to Buy 2021
So now that you have a firm grasp of how this industry works and why you might consider adding some shares to your portfolio, we are now going to discuss some of the best pharmaceutical stocks to buy in 2021. As always, just make sure you perform your own research prior to taking the plunge.
1. GlaxoSmithKline – Strong and Stable With Healthy Dividends
If you're a risk-averse investor that seeks strong and stable stocks, look no further than healthcare giant GlaxoSmithKline. As noted earlier, this particular pharmaceutical stock is a major player in the industry, with a huge market capitalization of over £80 billion. Listed on the London Stock Exchange, the stock can be purchased with ease.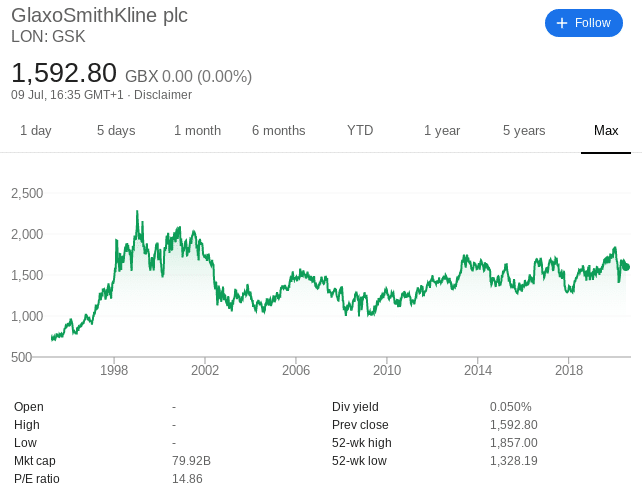 Although the firm is involved in most sectors within the wider pharmaceutical industry, it particularly excels in treatments related to cardiovascular, neurological, and respiratory issues. One of the main reasons why investors are flocking to GlaxoSmithKline is that it has a super long-standing history of paying healthy dividends.
At the time of writing in Q2 2020, this stands at a respectable trailing yield of 4.5%. It is also important to note that GlaxoSmithKline (alongside Sanofi) is in the process of signing a deal with the UK government with respect to the supply of a COV-19-related treatment. The deal is reported to be worth in the region £500 billion.
2. AstraZeneca – Stocks up 30% Year-on-Year in Q2 2020
While there is no denying that GlaxoSmithKline is a super-giant in the pharmaceutical arena, AstraZeneca is even bigger and is one of the very best pharmaceutical stocks to buy. In fact – and as noted above, of all the FTSE 100 companies the firm is situated in number one for the largest market capitalization – which at the time of writing stands at £111 billion.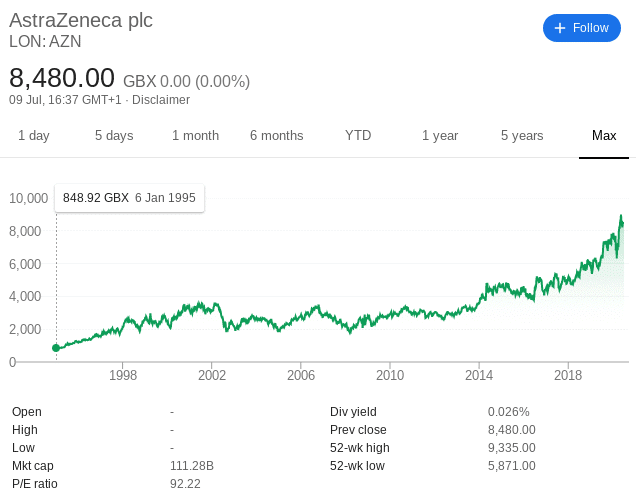 Now, there are two reasons why investors cannot get enough of AstraZeneca. Firstly, the firm offers stable dividend distributions, which it has done now for many, many years. It's most recent trailing yield stood at 2.5%, which is in and around the industry average.
However, the main driver behind our liking of AstraZeneca is just how well its stock price is doing. For example, in 12 months (July 10, 2019) you would have paid 6,489p per share. Fast forward to today's prices (July 12, 2020) and the very same shares are now worth 8,480p. This represents a huge upswing of over 30%. Once again, this demonstrates just how useful pharmaceutical stocks can be during times of global crisis (COV-19).
3. GW Pharmaceuticals – Catch This Innovative Pharmaceutical Stock While You Still Can
GW Pharmaceuticals is a UK-based pharmaceutical company that was founded in 1998. The company is involved specifically in cannabinoid-based medicines – and has huge success in developing treatments for multiple sclerosis treatment. It also focused on developing treatments for childhood-onset epilepsy.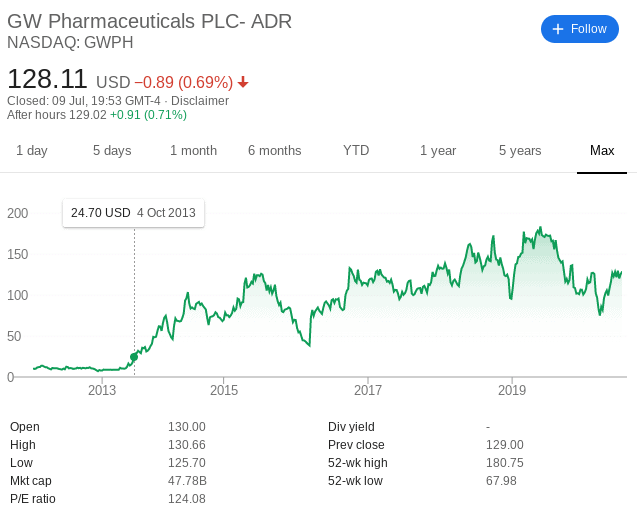 This particular share also falls within the remit of a cannabis stock, so you have the chance to gain exposure to an industry that many believe is set to grow exponentially over the coming years. Crucially, to say that early backers of GW Pharmaceuticals have been rewarded is an understatement.
This is because its stocks were priced at just $10 back in 2012. And today? Well, the same shares are now priced at $128 as of July 2020. As the firm is yet to distribute any dividends, your earning potential will be based purely on capital gains. If you are interested in GW Pharmaceuticals stocks, the firm is listed on the US-based NASDAQ exchange.
4. Amphastar Pharmaceuticals – High-Growth Pharmaceutical Stock Listed in 2014
If you are looking to add some pharmaceutical stocks that offer a higher risk vs reward ratio, it might be worth considering the merits of Amphastar Pharmaceuticals. Although the firm was launched back in 1996, it only went public in 2014. Opting for the NASDAQ exchange, this particular pharmaceutical stock has a market capitalization of just under $1 billion.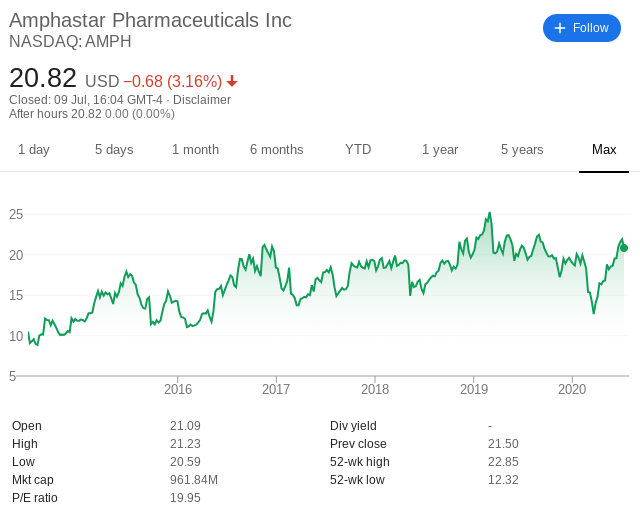 In the grand scheme of things, this actually makes Amphastar Pharmaceuticals 'small fry' in comparison to the other picks we have discussed thus far. On the flip side, this does mean that the upside potential of the firm is potentially huge. In terms of its performance, Amphastar Pharmaceuticals was valued at just over $10 per share in 2014.
It last hit all-time highs in early 2019 at a price of $24. At the time of writing in July 2020, its shares are valued at just over $20. This represents a 6-year increase of just over 100%. Much like in the case of GW Pharmaceuticals, Amphastar Pharmaceuticals is yet to pay any dividends. As such, this is purely a growth stock.
5. XBiotech Inc – 100% Gains in 12 Months and P/E Ratio of Just 1.56
XBiotech is a biotechnology company that is involved in several clinical-stage treatments. As of Q2 2020, the firm is involved in an antibody therapy trial for COV-19-related issues. Although this particular pharmaceutical stock is listed on the NASDAQ exchange, it has a micro-market capitalization of just $422 million. With that being said, the firm has performed extremely well in recent times.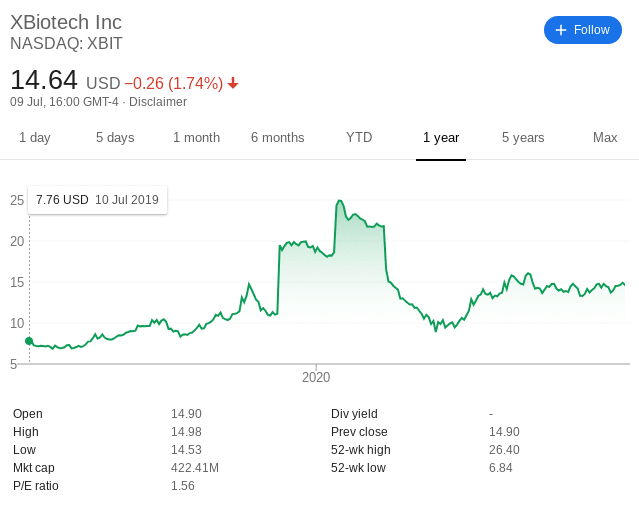 In fact, with the shares moving from $7.76 to $14.90 in just 12 months, this represents a 1-year increase of 92%, which is why it's one of the best pharmaceutical stocks to buy. We should also note that the firm is currently trading at a P/E ratio of just 1.56 times. This potentially indicates that the stocks can be purchased at a major discount.  However, the risk vs reward ratio is much higher here with XBiotech, so it's important that you understand the risk.
How to Choose the Best Pharmaceutical Stocks for You
So now that we have discussed five of the best pharmaceutical stocks of 2021, we now need to explain some of the things that you need to consider when selecting your own picks. After all, there are hundreds of pharmaceutical stocks active in the space, which is significantly more than the five we have selected.
Growth, Dividends, or Both?
You first need to figure out what your long-term investing goals are. That is to say, are you looking to concentrate on high-growth pharmaceutical shares, or those that pay healthy dividends. If it's the former, then you are going to be more suited for the likes of Amphastar Pharmaceuticals and XBiotech.
This is because the firms have smaller market capitalizations and are yet to pay dividends. As such, the overarching focus is going to be on growth. If this is realized, then this should hopefully be reflected in the respective stock price. At the other end of the spectrum, if you are simply looking for a low-risk stock that pays consistent dividends, you might be more suited for a firm like GlaxoSmithKline.
While the upside potential is going to much smaller, the stock has a long-standing history of paying dividends. If you want to combine both growth and dividends, then focus on companies that offer a similar profile to AstraZeneca.
Look at the Financials
As is the case with any investment, you need to spend some time exploring the financials. That is to say, look at some key accounting ratios that seasoned investors utilize to determine the viability of an investment.
For example, the P/E ratio tells us whether or no the stock is trading at a premium or discount. Then, you have the likes of the debt-to-equity ratio, which gives us a closer look at how healthy the firm's balance sheet is.
Is the Pharmaceutical Stock Overexposed?
Large-scale pharmaceutical stocks will be highly diversified into dozens of medical and drug areas. In other words, they never put all of their eggs into one basket. Instead, they will collectively work on several treatments at any given time. However, some of the smaller rising pharmaceutical stocks active in the space concentrate on a single treatment.
This can be both a good and bad thing. Let's take GW Pharmaceuticals as a prime example, not least because its treatments and drugs are centred on cannabis plants. On the one hand, as more and more governments around the world begin to relax laws on medical cannabis usage, this can only be a good thing for shareholders of GW Pharmaceuticals.
On the other hand, the industry is highly susceptible to legislative changes. That is to say, if a major market like the US or Canada decided to pull the regulatory plug on cannabis, GW Pharmaceuticals. could be in trouble. As a result, it's always a good idea to have a well-balanced portfolio of pharmaceutical stocks. In doing so, you will stand the best chance possible of mitigating your long-term risks.
Learn More: Read our in-depth guide on how to pick stocks and shares to avoid relying on third-party opinions!
What Are the Risks of Investing in Pharmaceutical Stocks?
The risks of investing in pharmaceutical stocks are much the same as any other investment. In other words, there is never any guarantee that you will make money. In fact, there are plenty of pharmaceutical shares that are yet to reach their full potential and many others that are staring at a stagnant share price.
One of the overarching reasons for this is that much of the industry is based on research and development. That is to say, pharmaceutical companies spend billions of pounds attempting to discover new treatments.
Of course, there is no certainty that they will be successful, meaning that cash resources are being drained at the rate of knots. Even if a treatment does come to fruition, it then needs to go through the long and drawn-out process of clinical trials. After that, the firm in question is required to get regulatory approval, which again, offers no guarantees.
Where to Buy Pharmaceutical Stocks
So now that you have had the chance to consider the good and bad points of investing in pharmaceutical stocks, we are now going to discuss how you can get your hands on some shares of your own. Put simply, if you want to buy pharmaceutical stocks you will need to find a suitable online stock broker. Not only do you need to ensure that the broker offers your chosen shares, but you also need to look at metrics surrounding fees, commissions, user-friendliness, safety, and supported payment methods.
To help point you in the right direction, below you will find a selection of UK stock brokers that allow you to buy pharmaceutical stocks with ease.
1. eToro – Best All-Round Broker to Buy Pharmaceutical Stocks (Commission-Free)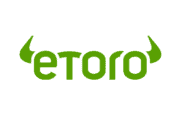 eToro is a popular online share dealing platform that offers the perfect balance between user-friendliness, safety, and cost-effectiveness. Firstly, the standout selling point of using eToro is that it allows you to buy shares without paying any fees. You will also avoid the need to pay any monthly or annual charges.
As such, you can buy pharmaceutical stocks on a commission-free basis. In fact, you will also have access to a number of ETFs that specialize exclusively in pharmaceutical stocks. All ETFs at the platform come commission-free, too. In terms of its wider stock library, eToro lists over 800 stocks from 17 different markets. On top of the UK, this includes the US, Canada, France, Germany, and Saudi Arabia.
eToro is also a notable option if you want to buy pharmaceutical stocks instantly. This is because it takes just minutes to open an account, and you can deposit funds with a debit/credit card or e-wallet. Then, you simply need to select which pharmaceutical company you want to invest in and confirm the order. eToro supports fractional ownership too, so you can invest from just $50 per stock.
One of the best things about eToro is its social and copy trading tools. As a social trading broker, eToro allows you to engage with other users, of which there are more than 12 million! Its copy trading tools even allow you to copy the entire portfolios of top investors, so you can buy Pharmaceutical stocks in a passive manner.
Minimum deposits at eToro stand at $50 (about £160). Each deposit will come with a currency conversion fee of 0.5%, as your GBP deposit will be converted to USD. Other than a small $5 withdrawal fee, there are no other transaction-related fees to consider. eToro is also well-regarded in the safety department, as the platform is heavily regulated. Not only will you benefit from the protections of the FCA, but also the FSCS. This means that your funds are safeguarded up to the first £85,000.
Pros:
Social and copy trading tools
Buy stocks without paying any commission or share dealing charges
800+ stocks listed on UK and international markets
Accepts PayPal
Mobile investment app
Regulated by the FCA and other leading bodies
Cons:
Not suitable for advanced traders that like to perform technical analysis
67% of retail investor accounts lose money when trading CFDs with this provider.
2. FXCM – Reputable UK CFD Provider with MetaTrader 4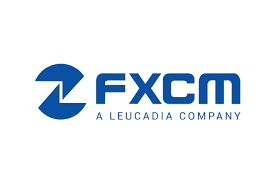 While many of you will be looking to buy pharmaceutical stocks in the traditional sense, meaning that you will hold on to the shares for many years, an alternative option is to consider short-term trading. Put simply, you will be speculating on the short-term price movement of pharmaceutical stocks via CFDs.
This means that you will have the option of going long (buy order) or short (sell order), as well as apply leverage. A leading provider of pharmaceutical stock CFDs is that of FXCM. The trading platform allows you to trade stock CFDs without paying any commissions, and spreads are very competitive.
You will also be able to apply leverage of up to 1:5 as a UK retail trader, and more if you are a professional client. Best of all, FXCM allows you to open an account and start trading with a minimum deposit of just £50. This is ideal if you want to learn the ins and outs of stock trading without risking too much money.
This CFD broker is also popular because it offers the industry-leading trading platform MT4. This is a third-party platform utilized by most seasoned traders, as it comes packed with technical indicators, charts, drawing tools, and the ability to deploy trading robots. When it comes to safety, not only was FXCM launched way back in 1999, but it is regulated by the FCA.
Pros:
Supports MetaTrader 4 and Ninja Trader
A long-established and reputable broker
FCA Licensed
Mobile trading app
No commission and tight spreads
Cons:
CFDs only
Less shares than other brokers
73.05% of retail investors lose money when trading CFDs at this site
3. IG – Trusted UK Stock Broker With Competitive-Fees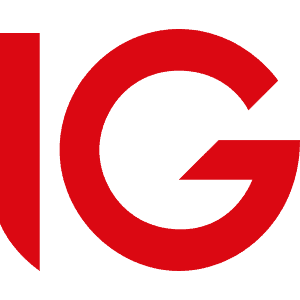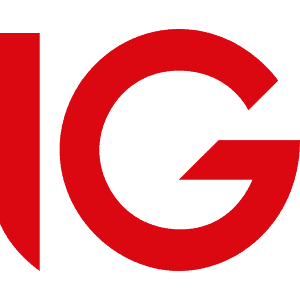 Another broker that offers some of the best pharmaceutical stocks in buy is IG. This UK-based broker was launched all the way back in the early 1970s, and it is licensed by the FCA, as well as ASIC. The platform is particularly popular because it permits access to a huge range of over 10,000 companies.
This means that you will be able to easily buy pharmaceutical stocks that are listed overseas. IG charges a flat commission of £8 per trade, which you pay when you both buy and sell pharmaceutical stocks.
IG offers users a choice of several different trading platforms. For a more user-friendly platform, you can opt for IG's own proprietary trading platform. Alternatively, this broker also supports MetaTrader 4 and ProRealTime, which provide access to a variety of advanced tools.
When it comes to deposits, IG supports a range of methods, including PayPal, and accounts take just minutes to set up. The only real drawback to IG is that it charges a 0.5% and 1% transaction fee when using a MasterCard or Visa.
Pros:
Trusted UK broker with a long-standing reputation
Good value share dealing services
Leverage and short-selling also available
Spread betting and CFD products
Access to UK and international markets
Cons:
Minimum deposit of £250
US stocks have a $15 minimum commission
There is no guarantee you will make money with this provider.
How to Buy Pharmaceutical Stocks on eToro
If you're a complete newbie and need some guidance on how to invest in stocks of pharmaceutical companies, we are now going to walk you through the process. As the FCA-regulated platform allows you to do this in minutes without paying any commissions, the steps outlined below are based on our recommended broker, eToro.
Step 1: Open an Account and Upload ID
Head over to the eToro website and open an account.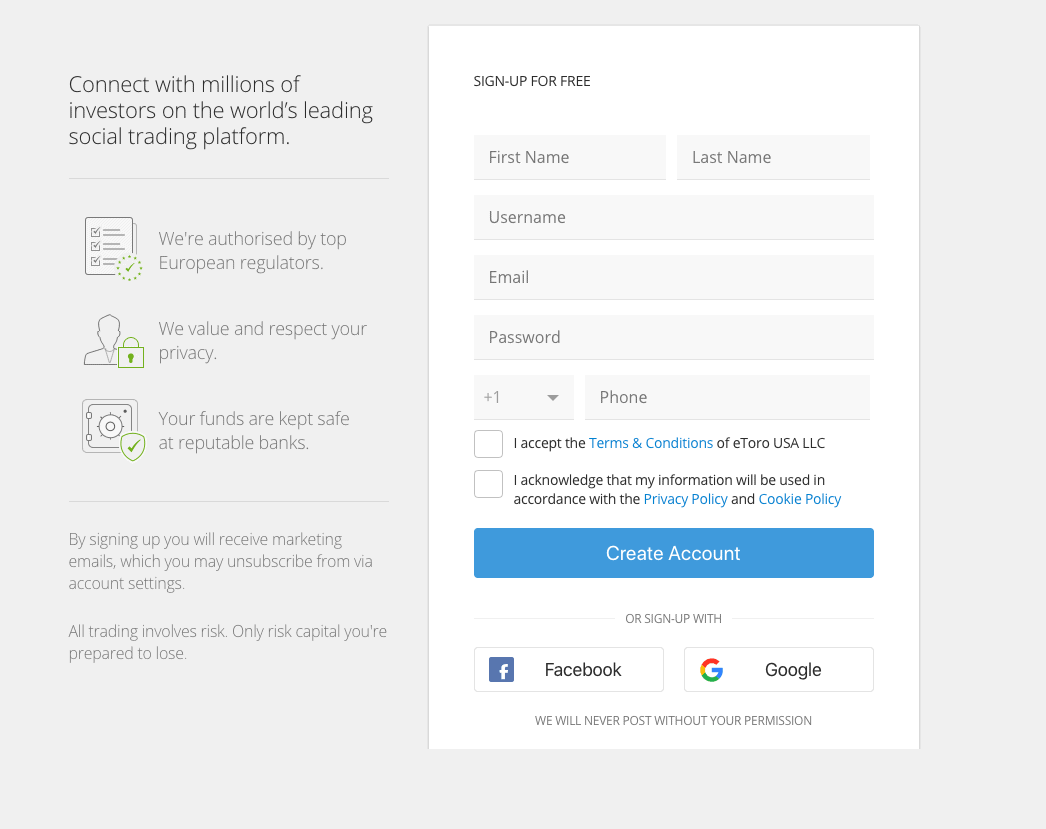 67% of retail investor accounts lose money when trading CFDs with this provider.
Some of the personal information that you will need to provide includes:
Full Name
Home Address
Date of Birth
National Insurance Number
Contact Details
As eToro is an FCA-regulated broker, it will be required to verify your identity. If you want to do this later, you can still proceed with a maximum deposit of €2,000 (about £1,800). But, we would suggest getting this out of the way now, as it will prevent delays when it comes to making a withdrawal request. As such, upload the following two documents::
Passport or driver's license
Proof of address – Utility bill or bank account statement
Step 2: Deposit Funds
You will now need to deposit some funds. Supported payment methods at eToro include:
Debit cards
Credit cards
Paypal
Skrill
Neteller
UK bank transfer
Step 3: Buy Pharmaceutical Stocks
You are now ready to buy some pharmaceutical stocks. First, click on the 'Trade Markets' button, followed by 'Stocks'. Then, click on the 'Industry' button and select 'Healthcare'. You will then see a full list of relevant stocks that you can buy at the platform.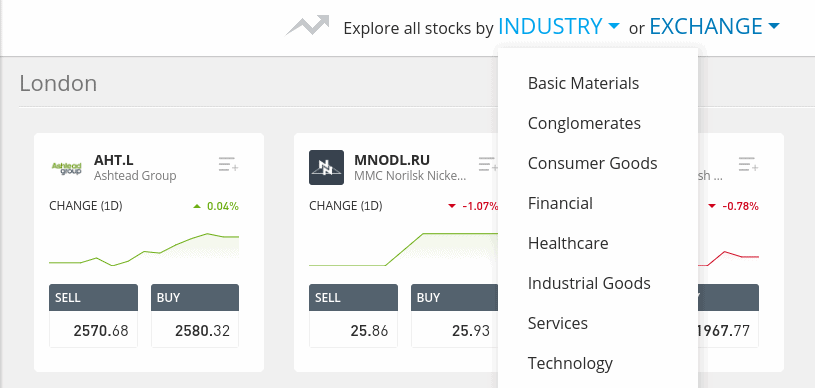 67% of retail investor accounts lose money when trading CFDs with this provider.
We are interested in AstraZeneca, so we click the company, followed by the blue 'Trade' button. Alternatively, simply search for any of the other companies featured on our list of pharmaceutical stocks.

Finally, enter the amount that you wish to invest (in US dollars) and confirm the order. In our example, we are buying $100 worth of AstraZeneca shares.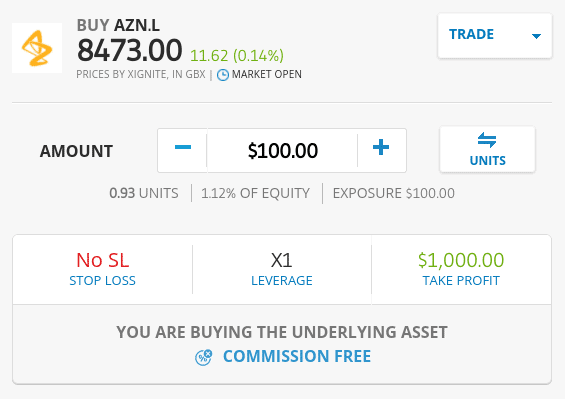 Conclusion
Pharmaceutical stocks are plentiful in the global investment scene. Although they are often referred to as 'strong and stable', there are actually pharmaceutical companies of all shapes and sizes. In other words, while some have multi-billion pound market caps, others are just starting out and thus – offer a much higher risk vs reward ratio. As such, it is important that you consider a diversification strategy when choosing the best pharmaceutical stocks.
If you do want to add some pharmaceutical stocks to your share portfolio today, it might be worth considering popular FCA-broker eToro. You can buy your chosen stocks in minutes with a debit/credit card or e-wallet, and best of all, you won't pay any share dealing fees or commissions. Simply click on the link below to get started!
eToro: Buy Pharmaceutical Stocks With No Commission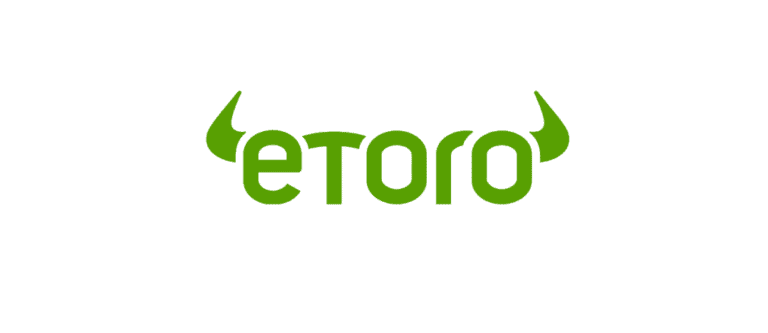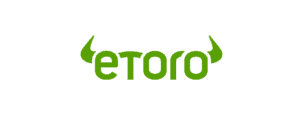 67% of retail investor accounts lose money when trading CFDs with this provider.
FAQs
What are the best pharmaceutical stocks?
What is the largest pharmaceutical stock in the UK?
How do I buy international pharmaceutical stocks from the UK?
What is the minimum amount of pharmaceutical stocks I can buy in the UK?
How much do pharmaceutical stocks pay in dividends in the UK?
Read next