Best Airline Stocks UK To Watch
Fact Checked
Everything you read on our site is provided by expert writers who have many years of experience in the financial markets and have written for other top financial publications. Every piece of information here is fact-checked.
Disclosure
Please note that we are not authorised to provide any investment advice. The information on this page should be construed for information purposes only. We may earn commissions from the products mentioned on this site.
The coronavirus pandemic hit several industries extremely hard last year. In turn, many stocks are still down by over 50% in comparison to pre-pandemic levels. At the forefront of this are airline stocks. After all, global travel restrictions remain in place in most regions around the world – meaning that airlines are burning through cash at the rate of knots.
In this guide, we review some popular airline stocks to invest in 2021.
Popular Airline Stocks 2021
Here's an overview of some of the popular airline stocks to in 2021. You can read an in-depth analysis of each stock by scrolling down.
Easyjet
Southwest Airlines
Delta
American Airlines
United Airlines
Popular Airline Stocks UK Reviewed
Investing in airline stocks can be one possible way to diversify assets and review new companies. In the sections below, we review some of the popular stocks in the airline sector.
1. Easyjet 
UK budget carrier, Easyjet shares were performing well before the pandemic hit. For example, back in August 2019, its shares were priced at 935p. Just 7 months later, Easyjet shares were worth 1,500p each.
That's an upward swing of 60% in a short period of time. But, like the rest of the industry, Easyjet stocks then nose-dived. In fact, the shares hit lows of 410p in March 2020.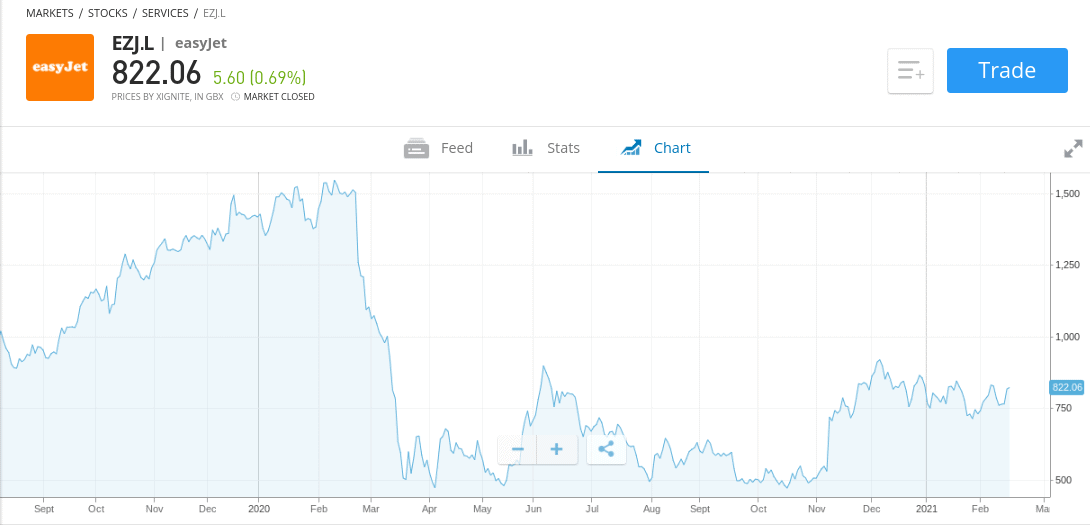 In terms of the financials, Easyjet recently reporting an 88% decline in quarterly income, with passenger numbers falling by around the same figure. In turn, management at Easyjet has since secured financing from several sources. Most recently, this includes a $1.9 billion (Approx. £1.3 billion) credit facility from a number of banks – including BNP Paribas and Citi. The loan is also partially guaranteed by UK Export Finance.
Your capital is at risk. Other fees apply. For more information, visit etoro.com/trading/fees. 
2. Southwest Airlines 
Southwest Airlines (NYSE: LUV) has faced a somewhat flat price action prior to the pandemic. However, Southwest has recovered since the shares crashed last year.
For example, Southwest Airlines was priced at $57 in February 2020 – and much like the rest of the airline space, its shares capitulated in the following month. Hitting lows of $22 per share, this translated into a decline of over 60% in just a few weeks of trading.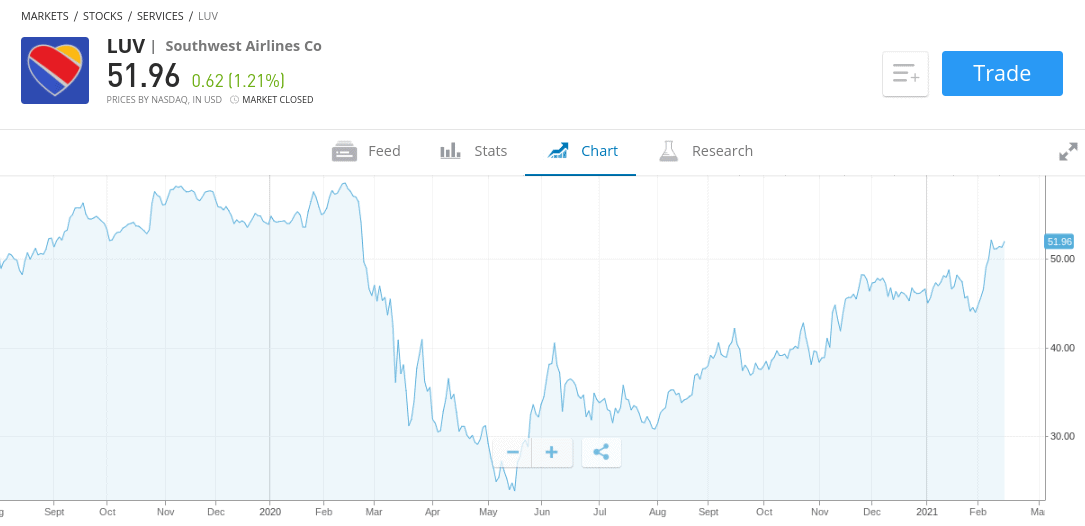 But, Southwest Airlines stocks have recovered since, with a February 2021 price of $52. The stocks have recovered by over 135% since the lows of March 2020. Furthermore, Southwest Airlines stocks are now worth just $5 less than pre-pandemic pricing levels – or 9%.
Your capital is at risk. Other fees apply. For more information, visit etoro.com/trading/fees. 
3. Delta Airlines 
Delta (NYSE:DAL) is another airlines stocks that are seeing a slow and steady recovery – even with global restrictions firmly in place. But, of course, much of Delta's fleet is US-based – so many flights still remain in operation. Albeit, passenger numbers are still minute in comparison to the norm.
Nevertheless, Delta recently published revenues of $3.97 billion in its Q4 earnings report, which was just above market expectations. Crucially, this is still 65% less than what it reported 12 months prior. Nevertheless, Delta has also improved the amount of cash that it is burning through – going from $24 million per day in Q3 to $12 million as of Q4.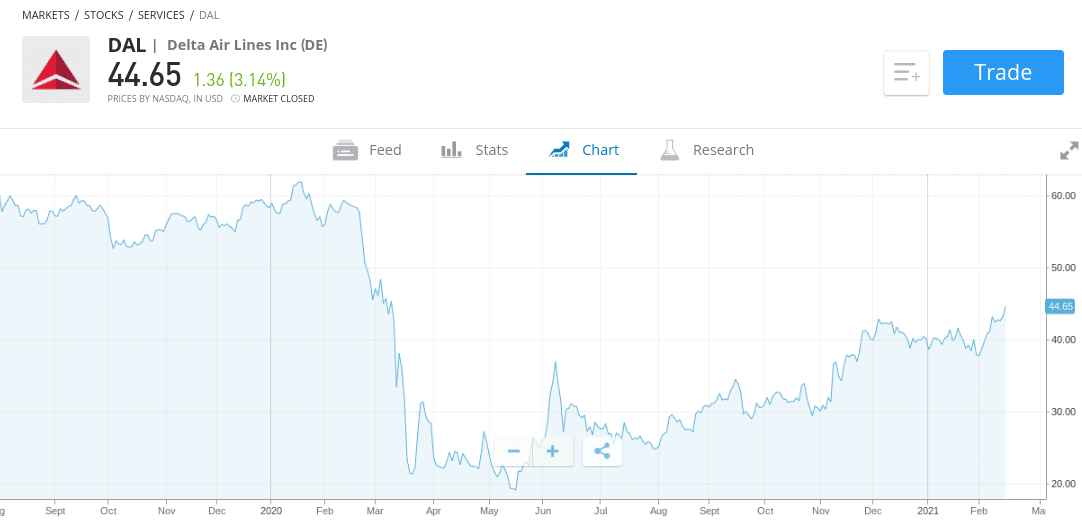 In terms of its stock price action, Delta was priced at $62 per share before the pandemic. The stocks then hit lows of $19 in March 2020 – representing a huge decline of almost 70%.
After the price correction, Delta price to over $44 at the time of writing. That's a recovery of over 120%. With that said, Delta stocks still need a further upside of 47% to get back to pre-pandemic levels.
Your capital is at risk. Other fees apply. For more information, visit etoro.com/trading/fees. 
4. American Airlines
American Airlines (NASDAQ: AAL) in comparison to the other airline stocks we have discussed thus far has been somewhat labored. The stocks went from the $30 region down to just $8 between February and March 2020 – resulting in a share price decline of 73%.
12 months on, the stocks are holding just above $17 each. On the one hand, this does translate into a recovery of 112% since the 52-week lows of $8. However, the shares have a long way to go before getting anywhere near pre-pandemic levels of $30. In fact, this would require a further increase of 76%.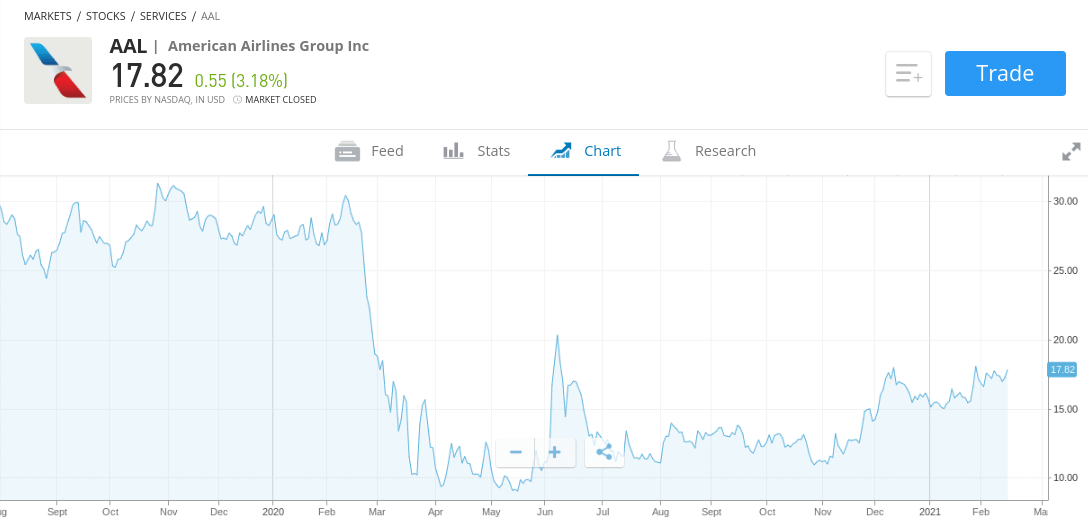 Users may conduct their own research and analysis to decide whether American Airlines shares is a worthwhile investment or not.
Your capital is at risk. Other fees apply. For more information, visit etoro.com/trading/fees. 
5. United Airlines 
The United Airlines Holdings (NASDAQ: UAL) stocks were actually performing well before the pandemic. For example, United Airlines was trading at just over $40 per share in mid-2016. Fast forward to pre-pandemic levels and the stocks were worth over $80 each.
That's a notable upswing of over 100% in less than 5 years of trading. However, the speed at which United Airlines stocks dropped in March 2020 was uncanny.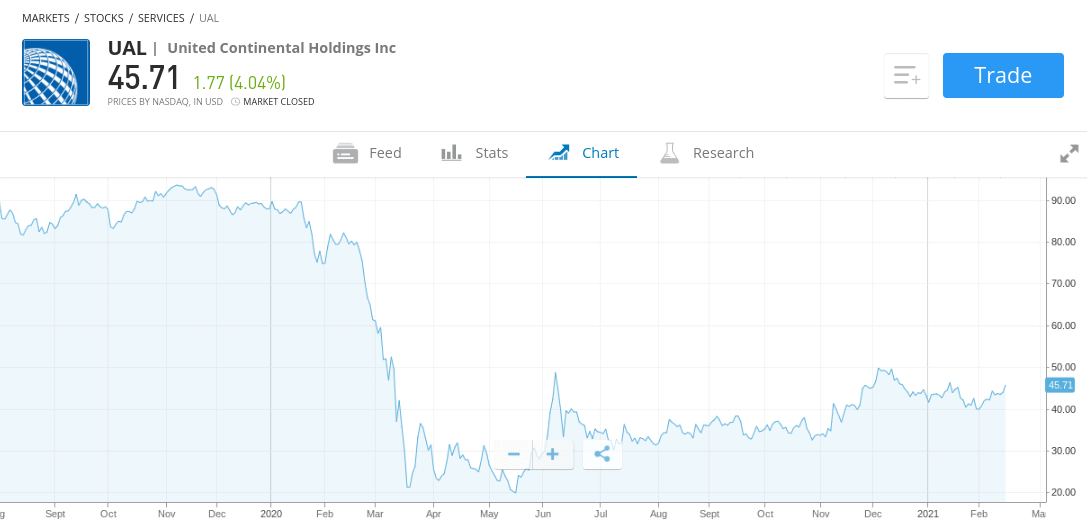 Going from $81 to $17 in a matter of weeks, this translates into a stock market capitulation of almost 80%. At the time of writing in February 2021, United Airlines stocks are worth $45.
That's an upward swing of over 164%. However, this airline stock requires a further upside of over 80% just to get back to pre-March 2020 levels. However, United Airlines posted a $1.9 billion loss in the recent Q4 earnings report.
Your capital is at risk. Other fees apply. For more information, visit etoro.com/trading/fees. 
Airline Stock ETF
As we cover in more detail shortly, the most risk-averse way of approaching airline stocks can be by diversifying your portfolio. This means that you may want to look at buying a collection of different airline stocks as opposed to investing in one or two.
One way of doing this is by investing in an ETF. At the time of writing, there is just one ETF that focuses exclusively on airline stocks – and that's the U.S. Global JETS ETF.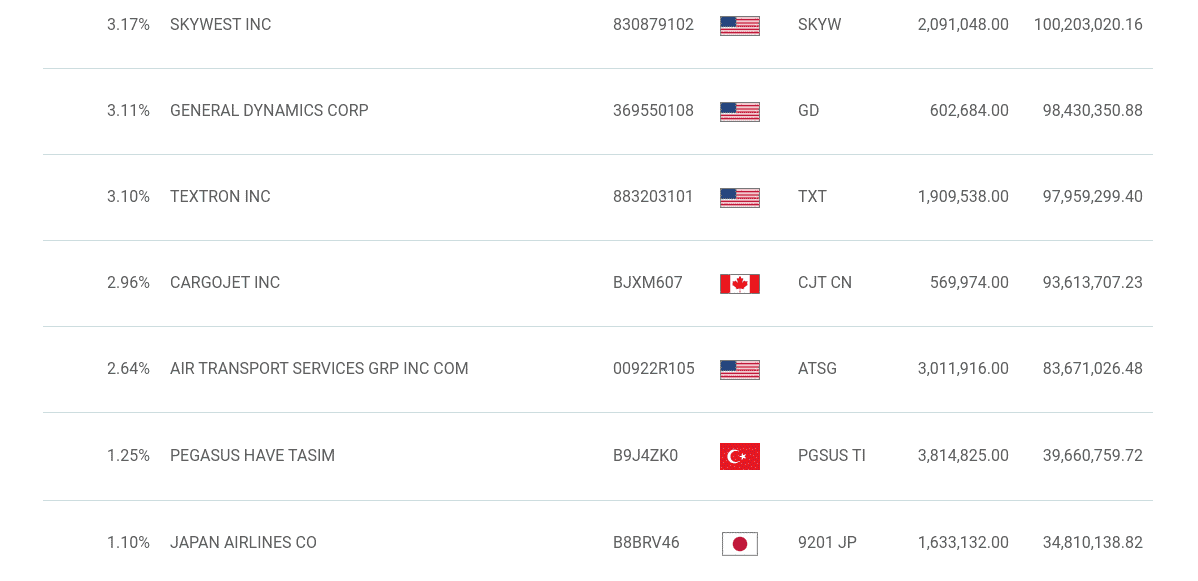 Put simply, by making a single investment in this ETF, you will be purchasing 40 airline stocks under one bundle. The ETF is diversified across various domestic and international airlines – from all over the world. This includes everything from Southwest, American Airlines, Spirit, and United Airlines to Pegasus, Japan Airlines, Wizz Air, and Singapore Airlines.
Are Airline Stocks a Valuable Investment?
The airline industry has been hit extremely hard since the pandemic and wider travel restrictions came to fruition. This is fully evident in the complete stock price capitulation across the industry.
This is why investors may want to carefully analyse and research the various popular airline stocks prior to investment. While the prices may be below their initial levels before the pandemic, users may want to look at key fundamentals and market data prior to making any investment.
Popular Airline Stock Brokers in the UK
So now that we have reviewed some popular airline stocks in the UK, users will be interested in knowing about the available stock brokerage options that offer stocks from this industry.
In the sections below, we discuss some of the popular trading platforms that allow users to invest in Airline stocks in the UK.
1. eToro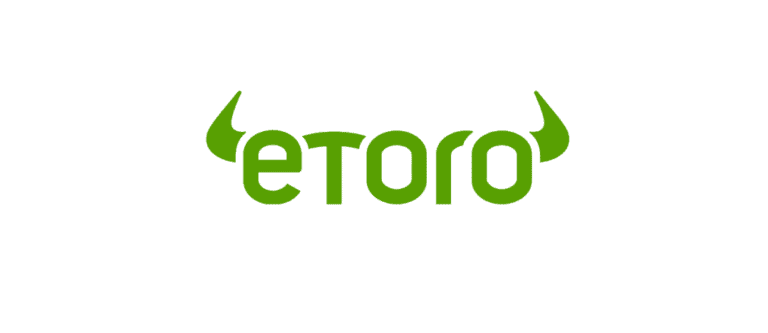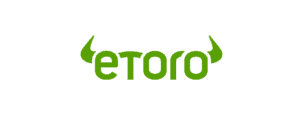 eToro is one of the largest online brokers in the UK trading scene – with more than 26 million global clients and heaps of liquidity.
This online broker gives you access to over 2,500 stocks from 17 international markets. In fact, the platform gives users access to various airline stock options as well.
Notably, eToro charges low commissions, so users may purchase your chosen airline stock in a low-cost manner. Additionally, if the airline stock that you wish to purchase is listed on the London Stock Exchange, you would ordinarily need to pay a stamp duty tax of 0.5%.
However, eToro waivers this fee for all users. Perhaps even more important is that eToro supports fractional shares. For those unaware, this means that users can purchase a fraction of one share as opposed to buying a full stock.
This is valuable when searching for airline stocks to purchase – as you'll want to keep your stakes to a minimum. At eToro, you also have the option to purchase your chosen airline stock from just $10 upward  – which is approximately £8.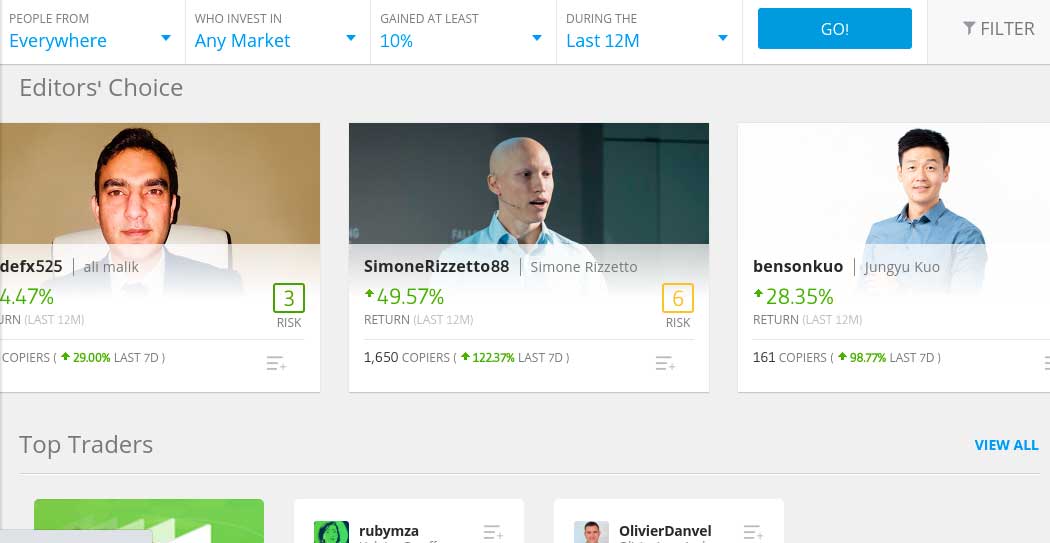 If you want to diversify even further, eToro supports ETFs – many of which contain airline stocks. You might also find the Copy Trading feature useful if you wish to invest in a passive manner. This allows you to copy the portfolio of a seasoned eToro trade like-for-like, as well as all ongoing positions.
In terms of getting started, you may open an account at eToro in minutes online or via the mobile investment app. The minimum deposit is just $50. Users can instantly deposit funds with a debit card, credit card, bank account transfer, or e-wallets like Paypal and Skrill.  Finally, eToro is FCA-regulated and your funds are covered by the FSCS scheme.
| | | | | | |
| --- | --- | --- | --- | --- | --- |
| Stock Broker | Minimum Deposit | Fractional Shares? | Pricing System | Cost of Buying Stocks | Fees & Charges |
| eToro | $10 | Yes – $10 minimum | 1% commission on ALL real stocks, spreads for CFDs | Market spread is not included when buying real stocks | No Deposit fees, $5 withdrawal fee, $10 inactivity fee, no account management fees. |
Your capital is at risk. Other fees apply. For more information, visit etoro.com/trading/fees. 
2. Libertex 

Libertex allows you to trade the future price of your chosen airline stocks via CFD instruments.
This means that you can access the market without needing to take ownership. Stock CFDs are an interesting way to speculate on airline shares, not least because Libertex allows you to choose from a buy or sell position.
 Libertex also allows you to trade airline stock CFDs with leverage. As a UK client, your limits will be capped to 1:5. This does, however, mean that you can trade with five times to amount you have in your Libertex account.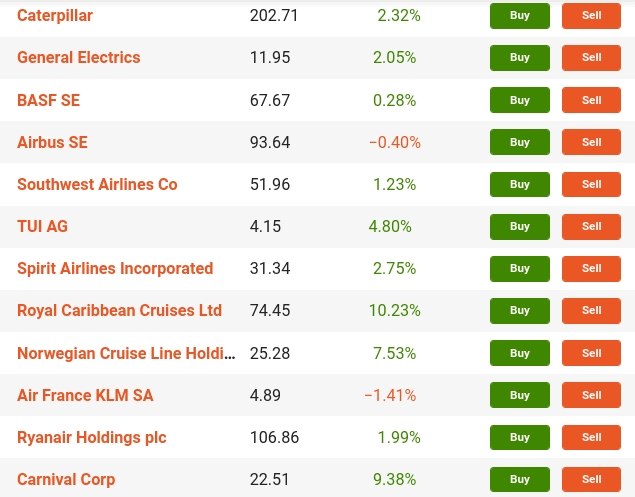 When it comes to fees and commissions, Libertex is a competitively-priced CFD brokers in the UK. This is because the platform charges tight spreads. For example, Southwest Airlines carries a bid and ask price of $51.96 – so you're getting wholesale sales.
Although there is a small commission to pay on most financial instruments, this isn't the case with all markets. For example, a number of airline stock CFDs at Libertex come with a 0% commission. In other cases, you'll pay just a small fraction of sub-0.1% per slide. 
The minimum deposit at Libertex is just £100. The platform – which has been operational for over two decades, allows you to instantly deposit funds with a debit card, credit card, or e-wallet. Although Libertex isn't regulated by the FCA, it is licensed by CySEC and authorized to accept UK traders.     
Sponsored Ad. 75.3% of retail investor accounts lose money when trading CFDs with this provider.
How to Purchase Airline Stocks in the UK
So now that we have discussed some possible brokers that let users invest in airline stocks, let's take a look at how to invest in these stocks.
After choosing a suitable broker that will meet your investing needs, you can begin investing in stocks by following the guide below:
Step 1: Open Your Trading Account
Head over to the homepage of your trusted broker and begin the account set-up process. You will be required to fill in your personal details – including your full name, email address and mobile number. Create a username and password for the platform to continue.
Step 2: Account Verification
Most brokers may ask users to verify their accounts before investing in any stocks. To do this, simply upload proof of ID (a copy of your driver's license or passport) and proof of address (a copy of a bank statement or utility bill). Once these documents have been uploaded, your broker should verify them in a couple of minutes.
Step 3: Deposit funds into your Trading Account
The next step is to deposit funds into your trading account. Most brokers may support 1 or more of the following payment methods:
Credit card
Debit card
Bank transfer
e-wallet
Choose your preferred payment option and deposit the funds into your account.
Step 4: Invest in Airline Stocks
Once your account has been funded, proceed to search for any Airline stock or any other stock you wish to purchase on your platform's search bar. Fill in the amount you want to credit into the trade, and confirm your transaction.
Conclusion
In summary, by investing in airline stocks, both the risks and potential rewards are high. Thus, you should look to conduct your own research before investing an money in airline stocks.
If you are confident about your trading strategy and wish to invest in any stocks, you should pick a suitable broker that caters to your investing needs.
FAQs
What is a popular airline stock in the UK?
Which other airline stocks are there?
Is there an airline stock ETF?
Can you short airline stocks?