Dash Wallet Review UK 2023 – Fees & Safety Revealed
Fact Checked
Everything you read on our site is provided by expert writers who have many years of experience in the financial markets and have written for other top financial publications. Every piece of information here is fact-checked.
Disclosure
Please note that we are not authorised to provide any investment advice. The information on this page should be construed for information purposes only. We may earn commissions from the products mentioned on this site.
The cryptocurrency market has taken the world by storm in the past decade. These digital assets facilitate faster and more secure online payments using blockchain to encrypt transactions. Much of the interest surrounding cryptos is the massive potential for profit. Prices are often volatile and therefore big money can be made trading coins. One such digital asset is Dash.
Read on for our comprehensive Dash Wallet Review UK. We cover every aspect that you need to know from fees, user experience and safety.
What is Dash Wallet?
As explained above, when cryptocurrency trading you need to store your currencies in an online wallet. This is because the majority of cryptos are stored on a blockchain. Dash Wallet is a form of online wallet that lets you store your Dash cryptocurrency. The wallet comes as a mobile app accessible on both iOS and Android devices. The wallet is decentralized from peer to peer meaning no web service cloud or registration is needed. Even when your mobile device isn't connected to the internet, you can send and receive payments via Bluetooth, which will pop up as notifications on your device.

Dash as a coin itself is explicitly payment-oriented. This means that in addition to the wallet as a crypto storage platform, you can also send and receive funds. You can easily transfer funds across devices, using your unique wallet QR codes. You can also validate payments easily, tracking both their origin and destination. Purchasing Dash is easy and is done via a third-party crypto broker which you are connected to in the mobile app. Funds can then be added which will be ready to use as payment.
Dash is similar to Bitcoin in the sense that it is a digital currency that can be used to send and receive payments. It is also built on blockchain technology. However, Dash offers significantly higher transaction speeds of only 1 second! This is significantly faster than Bitcoin which can take around 20 minutes to transfer.
How Does Dash Wallet Work?
The Dash crypto wallet is a digital wallet that allows users to securely store, send, and receive Dash cryptocurrency. In simple terms, it works like a virtual wallet for your digital money. When you create a Dash wallet, you are provided with a unique address, similar to a bank account number, which you can share with others to receive Dash. To send Dash to someone else, you need their wallet address. Using the wallet's user-friendly interface, you can enter the recipient's address and the amount of Dash you want to send, and then confirm the transaction. The wallet securely stores your private keys, which are essentially secret codes that give you access to your funds. It also keeps a record of your transaction history.
It's important to note that the Dash wallet should be kept safe and protected, as anyone with access to your private keys could potentially access your funds. Some Dash wallets also offer additional features like the ability to convert Dash to other cryptocurrencies or even make purchases at supporting merchants.
Supported Coins
Next up in our Dash Wallet Review UK we will look at supported coins. Dash Wallet supports Dash coin only. This is because Dash is intended to be used as a form of payment. The app is used as a PayPal-like wallet, with features to transfer coins around easily, rather than holding coins speculatively for long-term growth. When looking at the Dash coin itself, its price history is interesting. 1 Dash currently equals £236, marking a 34% price increase in the past 30 days!
Dash peaked in value at £1228 per coin in December 2017, largely in line with Bitcoin's run. However, a year later, Dash crashed all the way down to just £69. Since then Dash has been steadily rising, as have its daily transactions (35,000+). This can be attributed to the recent hype surrounding Bitcoin, Ethereum and other coins, whose value has skyrocketed in the past year. People seem to be realising the real-world use of cryptos like Dash and are buying more and more coins daily as a consequence.
Dash Wallet Fees
Our Dash Wallet Review UK will now take a closer look at fees. Dash wallet offers very low fees for transactions. This is one of Dash coins' major differences to Bitcoin, along with its transfer speed. Bitcoin's transaction fees are heavily dependant on factors such as block size and time of day. This is because if an abundance of transactions is waiting to be processed, miners will prioritise the transactions that pay the higher fees. This tends to make fees sit around a few dollars per transaction.
Comparing this to Dash coin is where we see the difference. Dash offers much lower fees that sit in the pennies rather than dollar range. As seen by the graph below, Dash's fees are currently sat around $0.00523 per transaction. As Dash has been growing as a payment method, its fees have fallen. We can see this by the downtrend since the 2018 spike. What's more encouraging is the fact that Dash is also seeing its highest-ever amount of daily transactions (35,000+), recently surpassing Litecoin.
The main reason for low fees is the fact that Dash Wallet is intended to be used as a payment option. If fees were higher as they are with Bitcoin, people would not want to readily transfer funds and the idea of Dash being a payment method would crumble.

Dash Wallet Safety & Security
For the next section of our Dash Wallet Review UK, we will cover Dash wallet's safety and security. A major attraction of crypto is the encrypted technology it boasts for sending and receiving payments. When using crypto, any sensitive information linked to your wallet account is hidden. This is different from traditional credit card payments, which can be notorious targets for fraudulent activity. This is because most cryptocurrency transactions are recorded on the blockchain, which is a decentralised programmed system. Therefore, there is no need for the trust of compliance by any other parties (such as a payment service that accesses your credit card information), apart from each wallet involved.
Dash Wallet is no different as Dash uses the Blockchain to process payment information. However, Dash takes this one step further, as it offers a service called PrivateSend. This technology works by adding privacy and security to payments, meaning that they cant be directly traced to all parties involved. This is arguably more secure than coins like Bitcoin, whose transactions are openly available and traceable on the Blockchain (although the amount and identity of the payee is still encoded).
One thing to be aware of with Dash is the fact that it is not truly decentralized. When looking at Bitcoin, the power is divided equally amongst shareholders meaning no one can manipulate or change the blockchain independently – not even the government! However, Dash is structured slightly differently. Investors who have invested 1000 Dash or more (roughly equal to £234,000 at current prices) make up the decentralised autonomous organisation (DOA). These investors are called Masternodes and run the coin's second-tier functions such as InstantSend and PrivateSend. Masternodes also vote to fund proposals with Dash's treasury. There are currently ~4800 Masternodes. If investors want to submit a proposal they must pay an antispam fee of 5 Dash (£1170 at current prices) making it harder for investors to have a say in the future of the coin.
This means that Masternodes have significantly more say in the function of the blockchain, which is something investors/users of Dash should be aware of.
Dash Wallet User Experience
For the next part of our Dash Wallet review UK we are going to have a closer look at the user experience of the investment app. When opening the app itself, you will be greeted by the loading page below. Once the page has loaded by syncing to the Blockchain, you can begin to navigate around the app. First and foremost, you will see your transaction history and available balance. This lets you know how much available Dash you have and a list of all recent transactions you have made.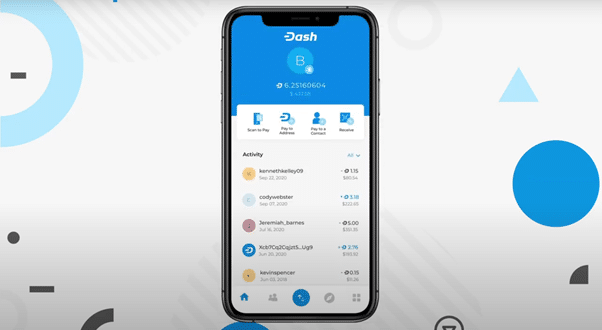 On the bottom tab, you are given options to view your contacts, buy or sell Dash, along with security and settings functions. These are all very easily laid out making it a user-friendly experience. To fund your account, Dash will connect you with the online broker Uphold. There you can purchase Dash and link it to your wallet account.
The security function allows you to view your passphrase, change your pin, and reset your wallet. These functions are important if you decide to deactivate your wallet and want to transfer your funds across to a different wallet, like the Coinbase Wallet. There is also an advanced settings function which allows users to set a security level for their wallet. This is done by having an automated logout time, as well as optional spending limits.
In the settings tab, you can change your local currency to whatever you want, making it easy to pay for things in different currencies and eliminating exchange rate hassle. You can also change your network and re-scan the Blockchain if desired. There is also a section that explains a little more about the Dash app, along with the coin itself.
In addition to this, there is a tools tab that allows users to import private keys, extend public keys, and show masternode keys. Each of these keys uses cryptography to perform unique functions. By scanning a private key you can move all coins from any wallet onto your Dash wallet.
Transferring Funds
Our Dash Wallet Review UK will now show you how to transfer funds. Transferring funds is very easy to do via the Dash app. Upon opening the app you will see your available balance, which can be hidden if necessary. We will first go through the procedure of using Dash to pay for something, as well as sending the currency to an address. After this, we will cover how you can receive Dash quickly and easily in the app.
By clicking the 'Scan to Pay' button your phone camera will open with a QR code sensor on it. You must then find a valid QR code (which will usually be another person's phone with their own individual QR code on it) and scan it. This will open up a pop-up on your screen which you can then use to select the amount of Dash you wish to transfer to that wallet. Upon completion, your funds will be sent and received almost instantly and your transaction recorded on the blockchain. This is similar to the way a physical card payment to a vendor would work.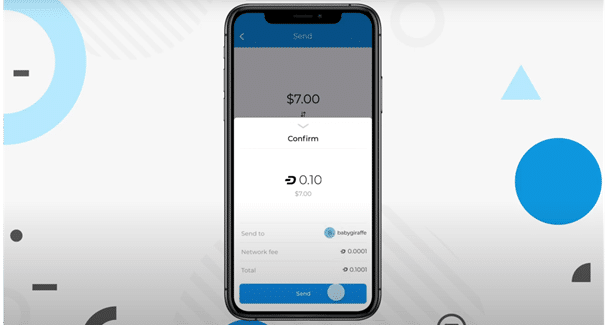 A second way you can pay using Dash is by syncing your contacts. This will link you with your contacts who also use Dash Wallet and you can then send funds to these addresses. These contacts can be filtered by name or engagement. When clicking on a contact you will get a brief overview of your activity with them, showing your past transactions both to and from their wallet (if applicable). You then enter the amount you want to transfer in either Dash or GBP (or any other currency of your choice) and click the 'Send' button. Your funds will be sent via Dash Wallets InstantSend function, meaning they will be received instantly! This is similar to the way a bank transfer payment would work.
In terms of receiving funds, this is done via the opposite of the 'Scan to Pay' function. You must first click on the 'Receive' button on the home screen, which will generate a unique QR code for your wallet. This should then be scanned by another Dash Wallet user who can transfer you the arranged amount. You can also specify the amount you wish to be paid using the 'Specify Amount' button. This QR code can also be shared using a variety of methods including SMS, Mail, Instagram, Whatsapp, and many more.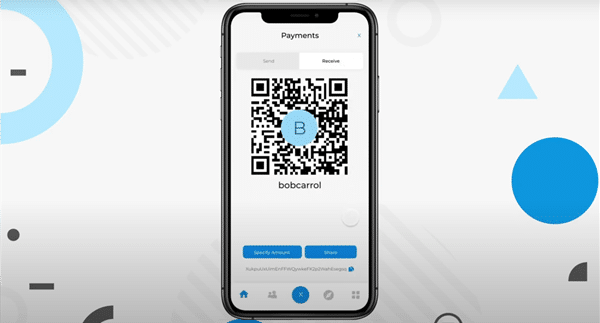 How Do I Cash Out My Dash Wallet?
It is possible to cash out your Dash wallet by sending your cryptos to a platforms that allows you to convert crypto to fiat currency. The best way to do this is to send your funds from Dash Wallet to the another wallet. To do this, simply select 'withdraw' in your Dash wallet, enter your wallet address when prompted, and verify the transaction.
Dash Wallet Features
Our Dash Wallet UK review will now look at some of the Dash wallet's features. There are some unique functions that make Dash Wallet an appealing crypto wallet to use:
InstantSend – Dash's second layer network of masternodes validates and locks payments instantly, meaning users get the fastest transfer speeds possible. This is unlike any other traditional decentralized cryptocurrency which must wait for a certain number of blocks to pass to make sure the transaction is irreversible. This can take up to 20 minutes, but InstantSend bypasses this problem!
PrivateSend – Dash implements the use of a decentralized, noncustodial CoinJoin. This works by shuffling your Dash coins with other users' coins. This leaves users with consumer-grade financial privacy, so you never have to worry about payment security.
ChainLocks – A feature provided by the Dash Network which creates an environment to avoid 'Blockchain Reorganisation Events' which means payments can be accepted instantly. This is especially effective when it is used in conjunction with InstantSend. Blockchain Reorganisation usually occurs when addresses require multiple sources of confirmation. However, as explained, ChainLocks are the solution to this problem.
Private Keys – Private Keys means you and you only have control over your crypto funds. However, you must be sure not to lose this key as it is essential for logging in and transferring funds from wallet to wallet.
Buying and Selling – You can buy and sell your Dash using a third-party broker. However, the design of the app encourages you to keep Dash and use it for payment rather than trading.
Dash Wallet Contact and Customer Service
Once the Dash Wallet application is open, you can open the 'Support' tab. This will open Dash's online service deck. This is a fully comprehensive site, covering a multitude of FAQs and common issues. The first part of the site is 'Using Dash'. This aims to give investors/users a better understanding of how to set up Dash Wallet and fund their accounts. Each of the sections outlined are covered in articles with clear guidance and pictures. These include how to install Dash on Windows, macOS, Linux, Android, and iOS. There is also a section outlining the buying and selling of Dash, which includes the various exchanges it can be purchased through, as well as over-the-counter and ATM purchases.

The next part is a 'common issues' page. This first provides insight into becoming a listed merchant. There is also a section that highlights the sponsorship and promotional partnership offers. A great point to consider here is the lost encryption password which navigates users towards a comprehensive wallet recovery guide provided by Dash. However, due to the highest level of cryptography employed by Blockchain technology, the chances of recovering a wallet without a passcode are pretty slim.
If these articles do not satisfy your query, you can reach out via email. An email link can be found under the 'Contact Us' section of the website. Dash highlights it has a fully manned service support desk to answer any emails. The platform also has a multitude of social media/web page links it can be reached on. For your convenience, we have listed these below:
Twitter
Facebook
Reddit
Discord
Instagram
Github
LinkedIn
Telegram
Youtube
By visiting the website and visiting the 'Contact Us' page you can find all outbound links for these platforms. There is also a Dash forum where users can ask questions and Dash posts news updates and new information, covering topics such as the Masternodes and DOA.
Dash Wallet Download Process
Our Dash Wallet Review UK will now show you how to download the Dash wallet to your phone or desktop. Dash is quick and easy to download. It can be downloaded as a mobile app and a web app. Supported mobile devices include iOS and Android, whilst supported computer operating systems include macOS, Windows, and Linux. For this part of the Dash Wallet review UK we will show you how to install the Dash Wallet on each of these devices/systems.
For mobile devices, we will first cover iOS. To download Dash Wallet on iOS, you must visit the App Store on your device and search for Dash Wallet. You must then download the app onto your Apple device. Once the app is downloaded, all you have to do is open the app and set up an account. This can be done quickly and easily using the onscreen instructions. To set up Dash Wallet on an Android device, follow the same process using the Google play store.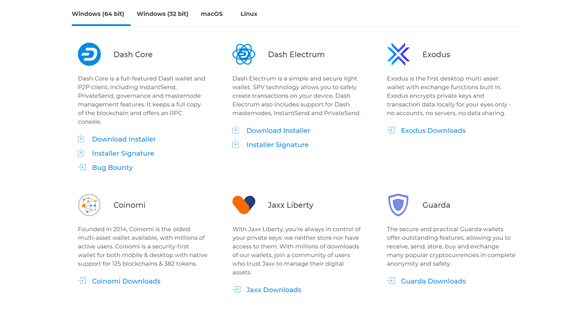 To download Dash Wallet on your desktop, simply scroll down past the mobile device set up. You will see multiple wallet options but you must select the 'Dash Core' wallet for both Windows and macOS. You must first download the installer, which will allow you to download the wallet itself. Simply follow the onscreen prompts. Once you have downloaded the wallet, follow the onscreen steps to set up your account. You can link your account so that it is accessible on both your desktop and your mobile by using your passkey and unique access code.
Once you are all set up on your mobile or desktop you can begin using Dash Wallet. InstantSend and PrivateSend are enabled on both devices so you never have to worry about slow and unsecured payments.
Dash Wallet – Top Crypto Wallet App in the UK
Our Dash Wallet review UK has given an in-depth insight into Dash Wallet and its uses, as well as Dash Coin itself. Dash Wallet is great for users who are looking to benefit from the secure use of crypto payments.
What makes Dash Wallet so appealing is the ease of use and lightning-fast speeds of InstantSend. It's very popular within the wider crypto community for its enhanced privacy features.
FAQs
What are other popular cryptocurrencies?
Should I buy stocks or cryptos?
How do you connect your desktop and mobile Dash Wallets?
Will the crypto market keep growing?