Plus500 Review – Fees, Features Revealed
Fact Checked
Everything you read on our site is provided by expert writers who have many years of experience in the financial markets and have written for other top financial publications. Every piece of information here is fact-checked.
Disclosure
Please note that we are not authorised to provide any investment advice. The information on this page should be construed for information purposes only. We may earn commissions from the products mentioned on this site.
Plus500 is an extremely popular UK stock broker. This platform offers contracts for differences (CFDs) for more than 2,000 financial instruments in total, including hundreds of shares from around the world.
Even better, Plus500 is 100% commission free and keeps its spread fees relatively low, making it a choice for traders looking for a low-cost brokerage option. In addition, the broker is considered very trustworthy since it's regulated by the UK's Financial Conduct Authority and trades publicly on the London Stock Exchange.
Our Plus500 review will cover everything you need to know about this regulated broker.
What is Plus500?
Plus500 was founded in Israel in 2008 to offer a low-cost, online share dealing account alternative for traders. At the time, Plus500 was one of only a small number of brokers that enabled commission-free share trading. In addition, Plus500 was the first major broker in the world to introduce Bitcoin CFD trading in 2013.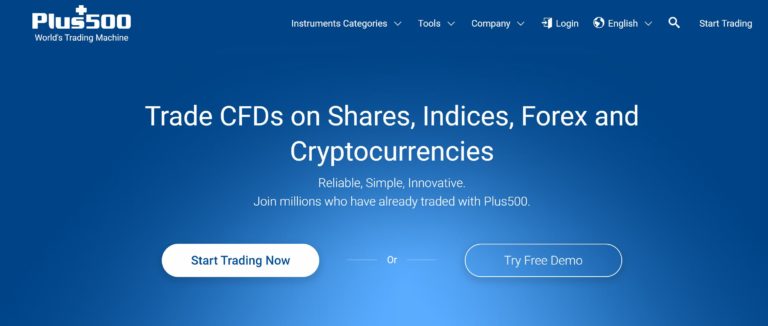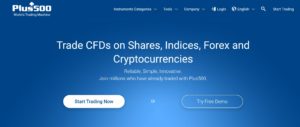 Today, Plus500 offers trading on more than 2,000 financial instruments through CFDs. It offers not just share trading, but also forex, commodity, cryptocurrency, and index trading. All CFDs can be traded with leverage, meaning you can borrow money from Plus500 to increase the effective size of your positions.
Plus500 Ltd is listed on the Main Market of the London Stock Exchange and currently has a market capitalization of £1.73 billion. The platform operates in more than 50 countries around the world. Importantly, Plus500 discloses its finances and has held up to scrutiny from regulators and financial analysts. So, it is considered one of the most trustworthy online brokers in the UK.
What Shares Can You Buy/Sell on Plus500?
The list of financial instruments you can trade through Plus500 is quite long. In fact, the broker offers trading on more than 1,800 shares from exchanges in the UK, US, and around the world, which is one of the most impressive collections we've seen among CFD brokers.
It's important to note that all trading on Plus500 is conducted through CFDs. You do not own the underlying shares when trading stock CFDs; instead, you're simply speculating on the price. However, there is little practical difference for most investors, as you're still eligible to collect dividend payouts if you own the CFD the day before the ex-dividend date.
In fact, CFDs provide more flexibility in important ways. You are able to short any shares by selling contracts, meaning you can speculate on prices going down. You can also apply leverage to your trades to increase the effective size of your positions. Unlike other CFD brokers, Plus500 offers negative balance protection when trading with leverage. That means that you can never lose more money on a bad trade than you have put into your trading account.
Shares
Plus500 offers CFD trading on 1,800 global shares. You can trade nearly all companies in the FTSE 350 as well as the majority of companies on the New York and Nasdaq Stock Exchanges in the US. That means many of the most popular shares like Amazon, Netflix, Royal Mail, and Tesco can be traded through Plus500.
During our Plus500 UK review, we found that the broker also enables you to buy shares CFDs on 21 additional exchanges in Europe, Asia, and Africa:
Ireland
Australia
Germany
France
Italy
Hong Kong
Japan
Singapore
South Africa
Netherlands
Finland
Belgium
Denmark
Sweden
Switzerland
Austria
Spain
Norway
Greece
Poland
Portugal
Notably, Plus500 offers trading on several cannabis stocks for US and Canadian companies that are not available at many brokers. If you're looking to get exposure to this popular industry, Plus500 may be a suitable choice.
For all share CFD trades, Plus500 gives you the option of applying leverage at a 5:1 margin.
Stock Indices
Plus500 also offers CFD trading for 33 stock indices. The majority of these covers individual countries – for example, you can trade the FTSE 100 index to get exposure to UK stocks or the Japan 225 to get exposure to Japanese stocks. In addition, there are five sector-specific indices you can trade that cover cannabis, cryptocurrency, tech, battery development, and real estate.
Plus500 enables you to apply leverage up to 20:1 for stock index CFDs.
ETFs
You can trade any of 92 exchange-traded funds (ETFs) through Plus500. This is a slightly small selection compared to other brokers, but Plus500 does a nice job curating its offering. You can get exposure to a number of individual countries through the ETFs that Plus500 offers, as well as broader baskets that cover emerging economies or industries.
You might be confused about why somebody would want to access an ETF via a CFD instrument. After all, ETFs are a passive investment that allows you to purchase hundreds of shares, bonds, or other assets via a single trade.
But, by trading ETFs via CFDs at Plus500, you have the option of applying leverage up to 1:5. As such, if you're really confident about your ETF price prediction, leverage at Plus500 allows you to amplify the size of your position.  Additionally, let's suppose that you think that an ETF is overvalued. By using Plus500, you can short-sell the ETF in question via a CFD.
Cryptocurrencies
Cryptocurrencies now operate in a multi-billion pound trading scene. As such, it makes sense that Plus500 supports several cryptocurrency trading markets. Once again, all of the cryptocurrency markets offered at Plus500 come in the form of CFD instruments.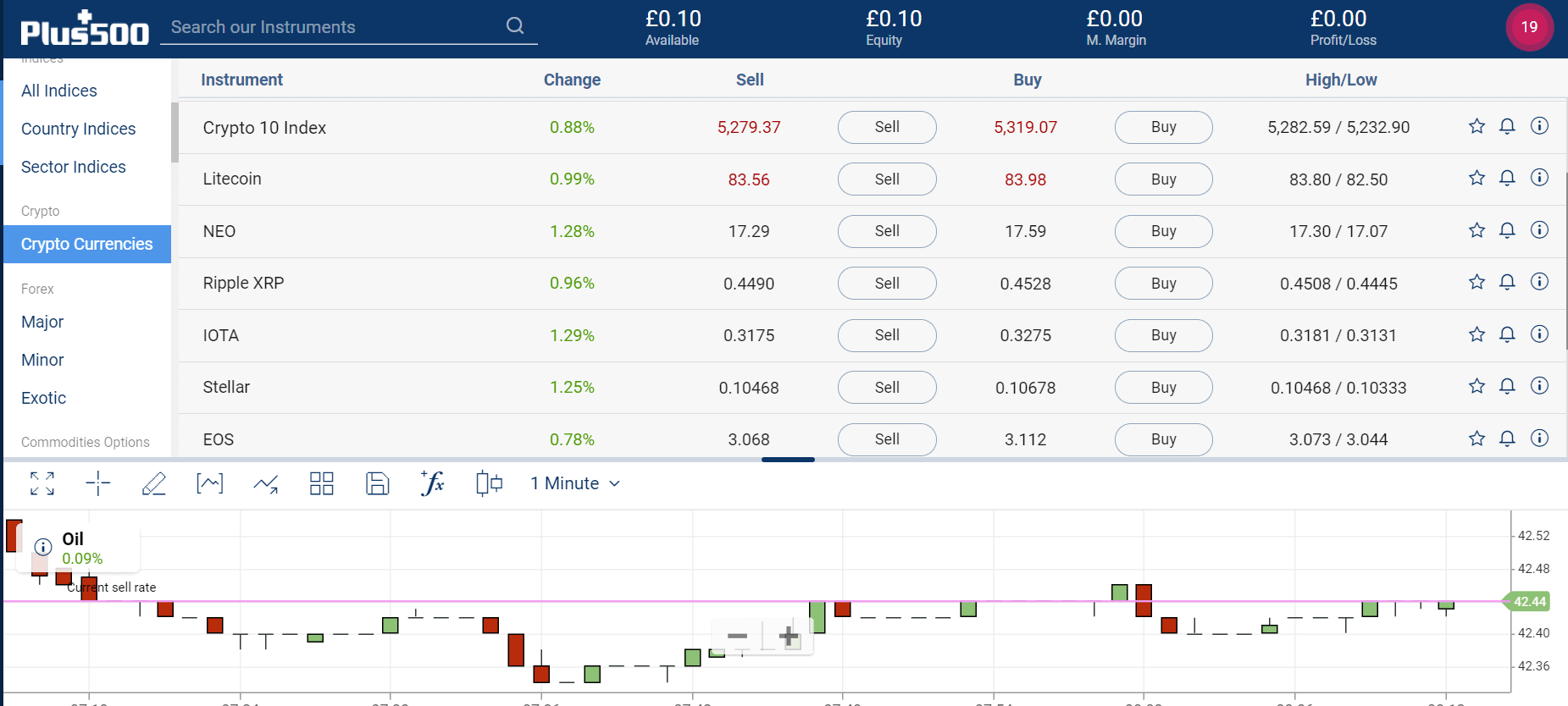 This means that you have more flexibility in how you approach your position – such as being able to short-sell. You can also apply leverage of up to 1:2 when trading cryptocurrencies at Plus500. This means that a £100 stake would translate into a position worth £200.
Some of the cryptocurrencies that you can trade at Plus500 are listed below.
Bitcoin
Ethereum
Ripple
Bitcoin Cash
Litecoin
NEO
IOTA
EOS
Stellar
Cardano
Tron
Monero
The best thing about trading cryptocurrency CFDs at Plus500 is that you never need to worry about storage. Ordinarily, you would need to withdraw your digital coins out to a private wallet.
Then, when it comes around to cashing your cryptocurrencies out, you'd need to transfer the coins from your wallet back into a third-party exchange.
At Plus500, however, the cryptocurrencies do not exist as you are trading CFDs. As such, you enter and exit your trade at the click of a button – 24 hours per day and 7 days per week.
Crypto 10 Index
Our Plus500 review also found that the CFD platform also offers an innovative 'Crypto 10 Index'. In a nutshell, this is an index that tracks the value of 10 different cryptocurrencies.
These are the 10 largest cryptocurrencies in terms of market capitalization – and the index is weighted accordingly. As such, this allows you to gain exposure to the wider cryptocurrency markets as opposed to trading individual coins.
Commodities
If you're interested in commodity trading, Plus500 has you covered. The CFD trading platform offers heaps of markets in this particular segment of the financial scene.
This includes lots of energy markets such as oil, brent oil, heating oil, low sulphur gasoil, natural gas, and gasoline.
Then you have lots in the way of hard metals – including but not limited to gold, silver, copper, and palladium.
Our Plus500 review also found that the platform is strong in the agricultural trading department. For example, you can trade the future value of corn, sugar, wheat, cotton, soybeans, feeder cattle, and cocoa.
In terms of leverage, this will depend on the specific commodity that you choose to trade. For example, gold CFDs at Plus500 can be traded with leverage of up to 1:20.
Put simply, this means that you can trade with 20 times the amount that you have available in your Plus500 account. All other commodity trading markets at Plus500 offer leverage of up to 1:10 – which is still high.
Forex
Plus500 is also worth considering if you are planning to engage in forex trading. This means that you will be speculating on the future value of a currency pair like EUR/USD or GBP/USD.
The platform comes jam-packed with dozens of forex trading markets  – covering all majors and minors. Our Plus500 review found that the platform is really strong when it comes to exotic pairs. For example, there are markets that allow you to trade the Hungarian forint, South African rand, and Turkish lira.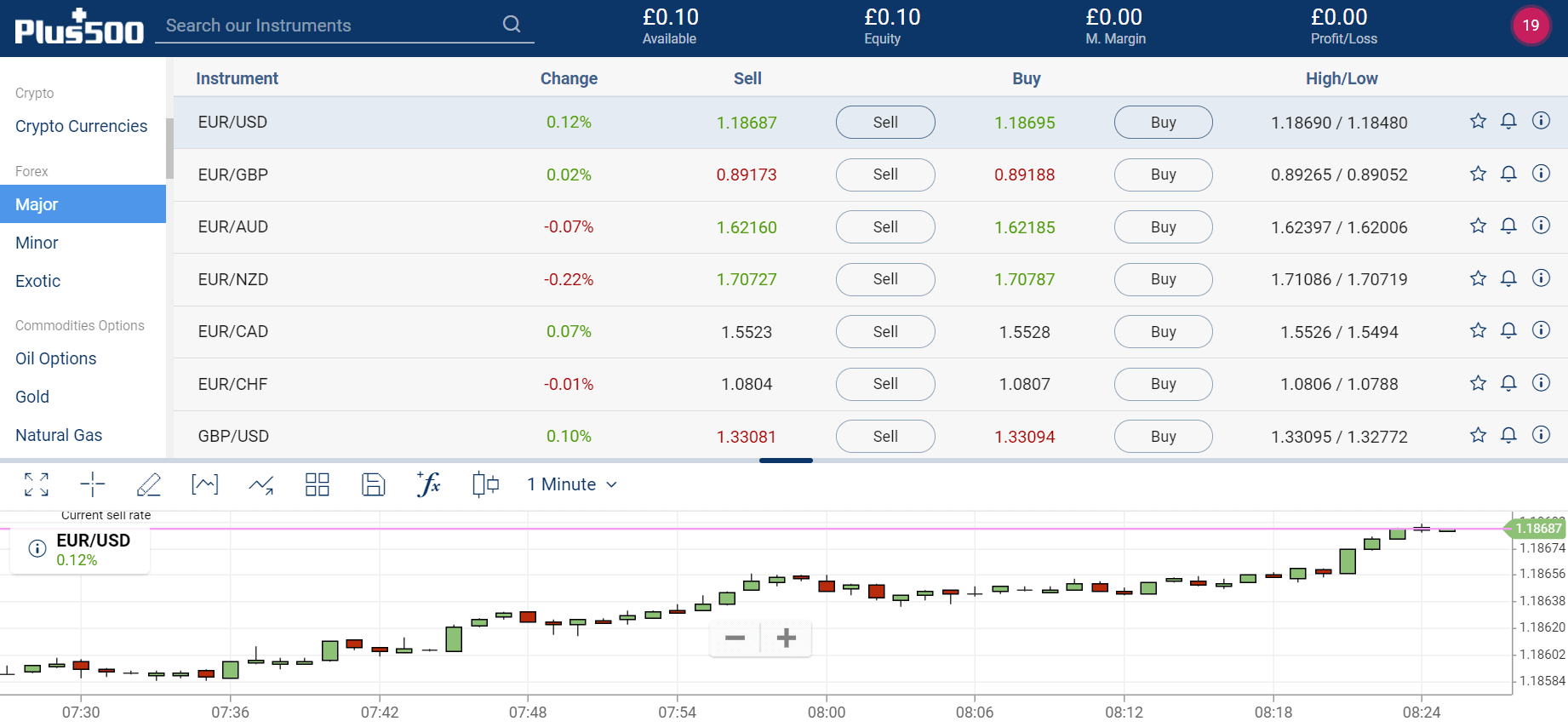 In terms of accessing leverage, this once again falls in-line with ESMA regulations. This means that you can trade major pairs with leverage of up to 1:30 – or 30 times your stake. Currency pairs that fall within the minor and exotic categories can be traded with leverage of up to 1:20.
Options
Plus500 also allows you to trade options, albeit, this is in the form of CFDs. As such, you will be trading the value of the option contract itself. For example, the CFD trading platform is currently offering an oil options contract that expires in January 2021.
You can purchase 'calls 'on this market with a strike price of $40 at a contract value of $3.35. In Layman's terms, as it appears more and more certain that the price of oil will surpass $40 in January 2021 – the value of the CFD contract will increase.
On the other hand, it appears likely that oil will close at less than $40 when the contracts expire in January 2021, the value of the CFD will go down. You can trade various oil, gold, and natural gas options markets at Plus500 – each of which comes with various strike prices and contract durations.
Plus500 Fees & Commissions
Plus500 is 100% commission-free, which makes it suitable to any traders looking for a low-cost alternative to traditional brokers. Most Plus500 fees are baked into the trading spread, which is the difference between the bid and ask price of a CFD contract.
So, you might expect that spreads at Plus500 are high, to make up for the absence of commissions. But in fact, this broker's spreads are lower than the industry average almost across the board. Spreads for share and stock index CFDs at Plus500 are generally less than 0.1% to 0.2% of your total trade cost. That makes this one of the most inexpensive share brokers on the market today.


Plus500 does offer guaranteed stop losses for some instruments. If you use this order, Plus500 generally increases the spread significantly since the broker is taking on much more risk of a loss.
It's also worth looking closely at the interest fees that Plus500 charges, given that many traders turn to this platform to trade CFDs with leverage. The overnight funding rate is -0.0288% for most UK and US shares, major indices, and ETFs. For a £2,000 trade leveraged at 5:1, the total amount in fees – including the spread – after a week is typically just a few pounds.
Charge per Trade
Monthly Fee
Inactivity Fee
Deposit/Withdrawal Fee
Plus500
£0
£0
£10 after 3 months
£0
eToro
£0
$10 after 12 months
£5
IG
£3 for UK shares

£0 for US shares

£0
£10 after 24 months
£0
Notably, Plus500 does charge some account fees, although most of them are easy to avoid. You get up to five free withdrawals each month, but if you need more they are £10 each. You will also be charged £10 per withdrawal if you transfer less than the £100 minimum. There's also an inactivity fee of £10 per month after three months of inactivity. But you only need to log into your Plus500 account to avoid this charge – you don't actually need to place a trade. Most traders, then, should never be hit with any of these account fees.
Plus500 Platform and Trading Tools
Plus500 offers its own proprietary web trading platform that's easy to love. The platform's layout is simple and streamlined, with a left-hand menu to toggle between asset classes and charts that can be kept in view at the bottom of the screen. The only downside we found to the trading platform is that the layout isn't fully customizable – although this is hardly a problem unique to Plus500's web-based platform.
In addition, there are a handful of small but very useful tools baked into the Plus500 trading platform. To start, you can set up price alerts. These can be created for specific price thresholds or based on percent change. Alerts can be sent by email or SMS, or they can be pushed to your smartphone if you have the Plus500 mobile app installed.
The platform also has a handy Traders' Sentiments tool built-in. This shows you the percentage of investors on Plus500 buying an asset versus selling it, giving you a gauge of whether other traders think the asset will rise or fall in price. If you find this metric helpful, you can even use it as the basis for setting alerts.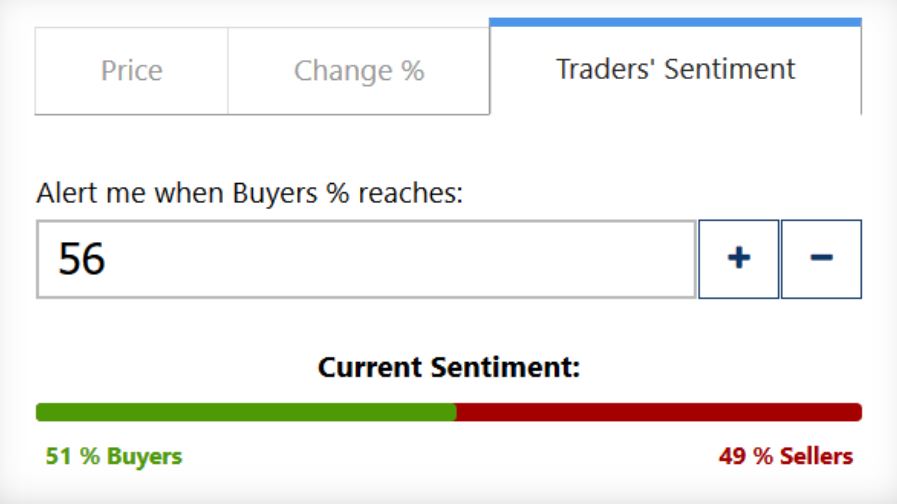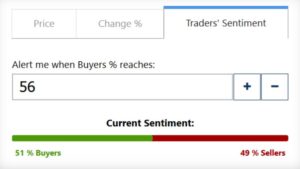 When it comes to placing an order, Plus500 covers all the essential order types. You can create a market, limit, stop loss, and trailing stop orders. While there are no complex order arrangements – like one cancels the other orders – the addition of guaranteed stop loss orders is a huge benefit for risk-averse traders.
After your portfolio is set up, you can clearly monitor your current holdings within the platform. Plus500 also does a nice job of displaying the results of every trade, including clearly laying out how much you paid in fees and what those fees were for.
Plus500 Demo Account
Plus500 offers a demo account that you can use to explore the platform and learn how to invest in stocks without any financial risk.
The demo account is very generous, as there's no time limit and the balance is automatically replenished whenever it drops below 200 EUR. It also offers the full functionality of the real money Plus500 option, so it's a apt choice if you're trading for the first time.
In fact, there are several reasons why you might consider using the Plus500 demo account. For example, if you already have a basic idea of how CFD trading works but you want to evaluate whether or not Plus500 is the right platform for you, the demo account gives you sufficient time to make an assessment.
Additionally, you might have a new trading strategy that you wish to deploy, but you first want to test it out in a 100% risk-free environment.
Once again, the Plus500 demo account is apt for this purpose. And of course – if you simply have no experience of trading CFDs online, the Plus500 demo account is a stepping stone before you start risking your own capital.
Plus500 Leverage
As we have mentioned several times in this Plus500 review, the CFD trading platform offers leverage on all of its markets. The specific amount that you are able to get as a UK resident will depend on the asset class that you wish to trade, alongside your account status.
For example, if you are a retail client – meaning that you do not come from a professional trading background, then you will be capped by the limits imposed by the European Securities and Markets Authority (ESMA). This means that you can trade forex up to 1:30, shares at 1:5, and cryptocurrency at 1:2. Commodities and indices and will vary between 1:10 and 1:20. Availability subject to regulation.
With that said, if you meet the criteria to qualify as a professional trader, then you will get significantly higher limits. Interestingly, the UK does not necessarily need to meet the aforementioned ESMA leverage limits once it eventually leaves the EU. As such, higher limits might eventually be on the table for retail clients.
Research and Analysis at Plus500
Trade analysis at Plus500 is centered around technical charting. The platform doesn't offer any fundamental data on shares nor a full news feed.
Charting
The charting interface is integrated with the rest of the trading platform, and it is impressively capable for a brokerage-based software.
Plus500's charts come with 107 different technical indicators and there is no limit to how many you can overlay on a single chart at one time. Our Plus500 review revealed that there are also several useful drawing tools for picking out trendlines and annotating your charts. Any chart can be saved to return to in the future, which is a nice bonus.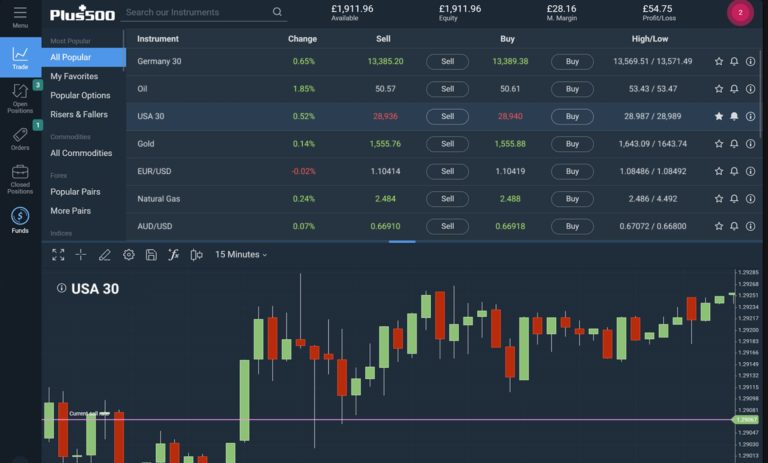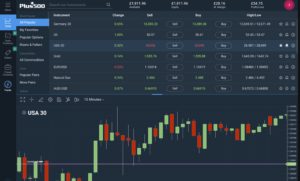 That said, Plus500's interface doesn't offer the level of customization that you would expect from a dedicated charting software. You cannot build your own indicators and there is no way to backtest a strategy with the technical studies included. So, the charting is suitable for everyday use, but not necessarily enough for advanced technical traders.
Economic Calendar
Plus500 doesn't offer a full news feed, but it does offer an economic calendar. This is a useful tool for staying on top of important releases like earnings reports and government economic forecasts. You can actually filter between corporate and government releases, and Plus500 offers a simple rating system to give you an idea of the expected market impact of an upcoming report.
Plus500 App
Plus500 offers a mobile app for iOS and Android that offers much of the same functionality as the web-based platform. You can access the charting interface and the economic calendar, and Plus500 did a nice job of laying out the app so that it never feels overly crowded.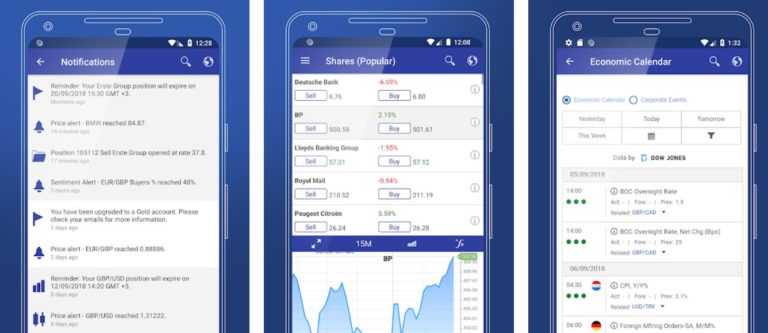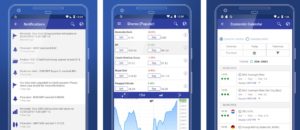 Even technical analysis is possible on the Plus500 app since you can zoom in and out of charts to look more closely at overlaid indicators. Overall, it's one of the most popular stock trading apps we've seen.
Plus500 Account Types
Unlike a lot of other CFD trading platforms in the online space, Plus500 keeps things simple when it comes to account types. This is because there is just one account type for all users. The only exception to this rule is if you are able to open an account as a professional trader. However, this will require several documents to ensure you meet the criteria.
Payments at Plus500
Plus500 UK makes it extremely easy to fund your account. You can make a bank transfer, use an e-wallet like Skrill or PayPal, or pay by credit or debit card. Card and e-wallet payments are instant, enabling you to start trading right away. Just note that the Plus500 minimum deposit is £100 when you first open an account.
Withdrawals can be made using any of these same payment methods, and withdrawals are free up to five per month. The minimum amount you can withdraw is £100 for all payment methods except PayPal, for which the minimum is £50. Making a withdrawal is straightforward and the transaction typically clears within two business days.
Customer Service at Plus500
Our Plus500 review found that it's easy to get answers to your questions if anything goes wrong with your Plus500 account. The customer service team is available by live chat and email 24/7.
The lack of a phone number was concerning at first, but we consistently got a human support agent in the chat box within a few minutes of submitting a question. Email responses were speedy, too – we typically got answers within an hour. That's much faster than most other brokers and further boosts our confidence in this platform.
Is Plus500 Secure?
Plus500UK Ltd is authorized & regulated by the FCA (#509909). It is also by regulatory authorities in Australia, South Africa, Cypress, Switzerland, Israel, and elsewhere. There are a lot of eyes on Plus500, and none of them have raised any concerns about the company's practices.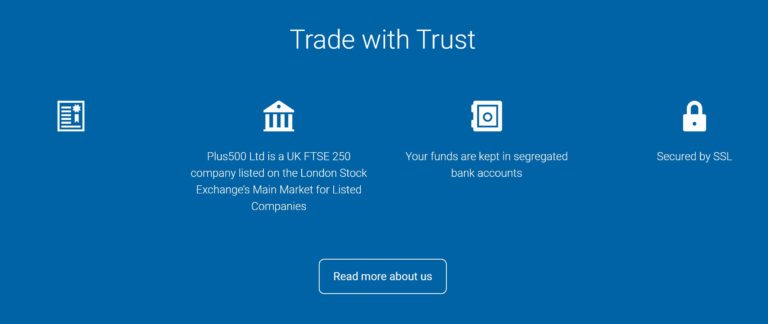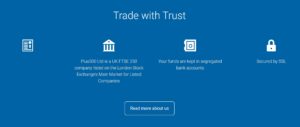 On top of that, Plus500 is publicly traded on the London Stock Exchange. That means that it is required to publicly disclose its finances, which are closely scrutinized by financial analysts.
In the unlikely event that something does go wrong at Plus500, UK trading accounts are protected by the Financial Services Compensation Scheme. That covers up to £85,000 in losses if the company goes bankrupt.
On an individual level, Plus500 also does its part to keep your account secure. The web and mobile platforms both support two-factor authentication and integrate with Google authenticator. That's a much greater degree of account security than most other brokers currently provide.
The Verdict
Plus500 stands out as one of the main CFD trading platforms in the UK. It offers a comprehensive service with trading on more than 1,800 shares from around the world, as well as index, ETF, commodity, and cryptocurrency trading. Best of all, trading with this platform is commission-free and spreads are far below the industry average. Based on cost and share selection alone, Plus500 is certainly worth a closer look.
FAQs
Does Plus500 offer educational tools for new traders?
What is the spread and how does it work at Plus500?
What is negative balance protection?
How do guaranteed stop losses work at Plus500?
Can you collect dividends when trading CFDs with Plus500?
Is Plus500 suitable for beginners?
How do I withdraw money from Plus500?
How long does it take to withdraw money from Plus500?