Jaxx Wallet Review UK 2023 – Fees and Pros & Cons Revealed
Fact Checked
Everything you read on our site is provided by expert writers who have many years of experience in the financial markets and have written for other top financial publications. Every piece of information here is fact-checked.
Disclosure
Please note that we are not authorised to provide any investment advice. The information on this page should be construed for information purposes only. We may earn commissions from the products mentioned on this site.
Jaxx is a multi-digital asset wallet that gives crypto investors a user-friendly wallet application and a fairly high level of security to store their crypto funds. It is known as one of the best hot digital asset wallets in the industry with more than 90 supported cryptocurrencies and a built-in marketplace to exchange crypto assets on the Jaxx app.
If you are interested in knowing more about this cryptocurrency wallet, our Jaxx Wallet review UK will help you find all the answers you need. We cover each crucial aspect including the safety of funds, security, fees, features, supported coins, customer support, and find an alternative wallet to Jaxx.
What is Jaxx Wallet?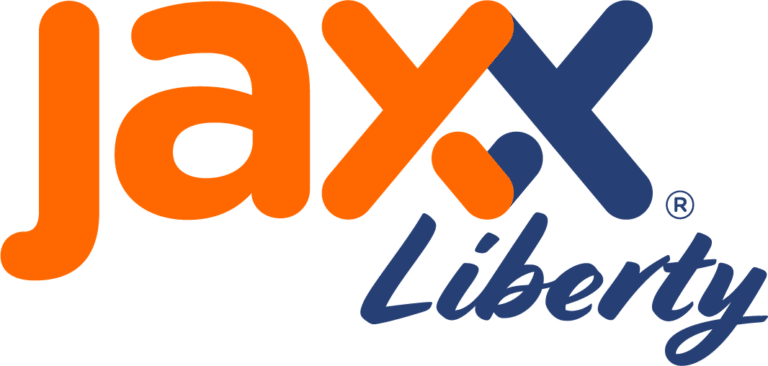 The Jaxx blockchain wallet is a feature-rich multi-currency desktop and mobile application that enables users to store their crypto funds, and exchange cryptocurrencies. It was founded in February 2016 by Anthony Di Iorio, which is also the co-founder of the Ethereum network.
The company behind Jaxx and the new wallet version Jaxx Liberty is called Decentral, a Canadian-based firm that specializes in blockchain technology and operates in the crypto industry since 2014. The company was founded by Anthony Di Iorio and is responsible for Canada's first two-way Bitcoin ATM and additional blockchain-related projects.
In 2019, Decentral has released a new software wallet called Jaxx Liberty, which is the new version of the original Jaxx wallet and comes with many improvements. According to Decentral, Jaxx has more than 400,000 users around the world.
Jaxx Wallet Pros & Cons
Pros
Supports over 90 cryptocurrencies
Available on all version – desktop, mobile, and tablets (Android, iOS, Mac OS X, Windows, Linux, or Google Chrome)
Excellent user interface – Easy to use and user-friendly wallet app
Offers a built-in crypto exchange
Supports buying cryptocurrencies with credit and debit card and bank transfer
Great customer support service
Offers anonymous transactions
Feature the Block Explorer that allows users to view transactions data
Cons
High fees when buying cryptocurrencies with credit and debit cards/bank transfer
It's not a cold wallet
Dynamic fee structure
No two-factor authentication
Jaxx is not fully open source
Supported Coins
Overall, Jaxx Liberty offers a wide selection of 92 cryptocurrencies on its wallet. This includes some of the most popular coins in the market like Bitcoin, Ethereum, Litecoin LTC, Dogecoin, Bitcoin Cash BCH, Ethereum Classic, Dash, Zcash ZEC, EOS, and many more. Further, Jaxx also supports some of the less well-known altcoins in the crypto market like Wax, Sense, Mobile Go, Huobi Token, Loom, etc.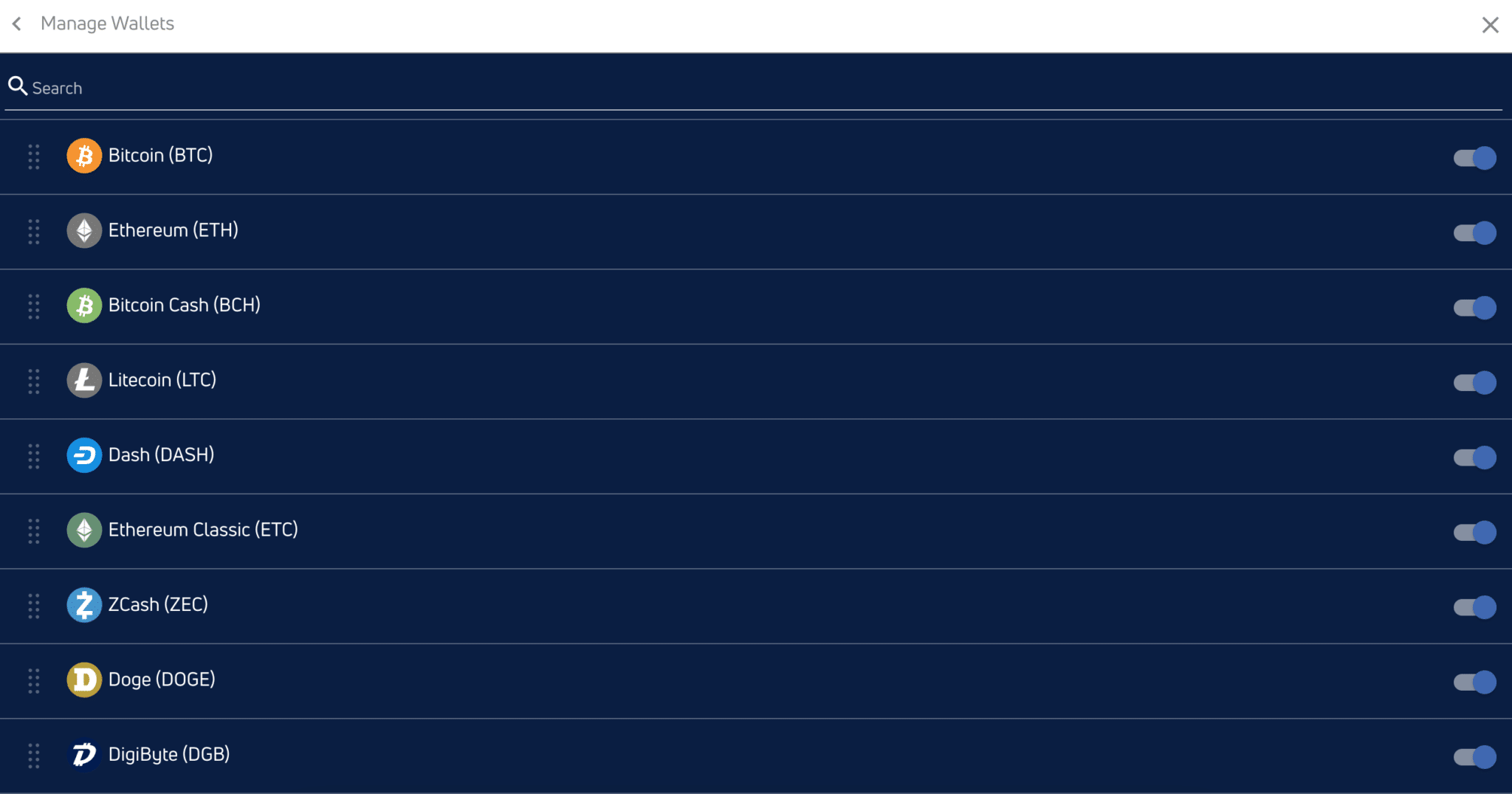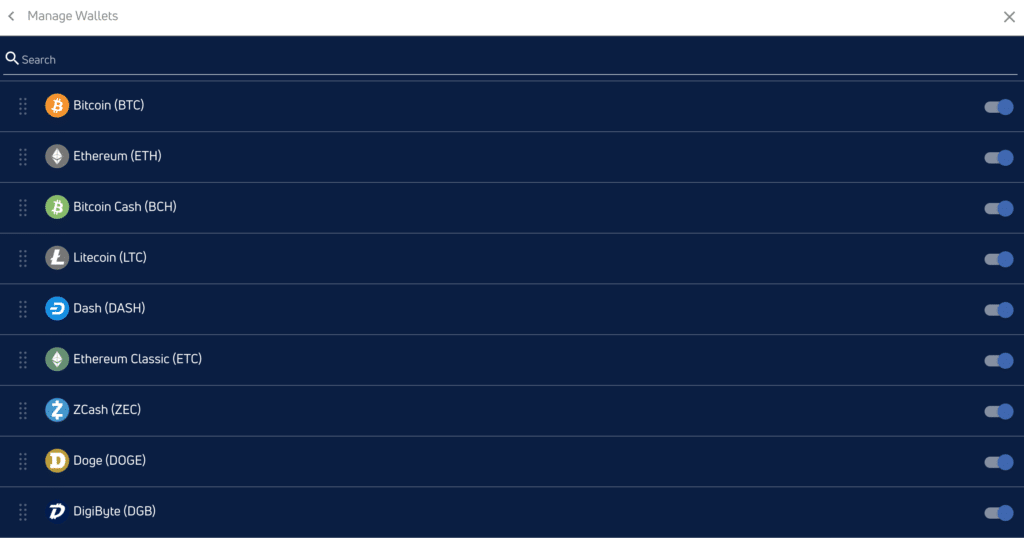 Jaxx Wallet Review – Fees
This is where things are getting a little trickier with the Jaxx Liberty wallet. Downloading the app is free and the only fees you need to pay when you use Jaxx are blockchain transaction fees, also known as mining fees. This is basically the fee that goes to the miners of the coin. According to Jaxx Liberty, these fees are not charged by Jaxx (Decentral) but are simply fees you need to pay to miners.
The good thing with Jaxx is that it allows you to customize the fees on its wallet. As such, you can choose lower, typical, and higher fees. Obviously, there's a correlation between the cost and the speed of the transaction.


In any case, you need to take into consideration the fact that Jaxx's fees are determined dynamically, and thus, you might get super expensive charges when there is high traffic on the blockchain network congestion with a large number of transactions waiting to be processed (typically happens on ETH and BTC networks).
When it comes to making a purchase of digital coins directly on the Jaxx wallet, you'll have to pay a fee of 3.5% or a minimum of $10 (much like Binance).
Jaxx Wallet Review – Safety & Security
Jaxx Liberty is a non-custodial wallet, which is a type of digital wallet that allows its users to hold and own their private keys and also having full control of their crypto funds. This means that you are the only one who will have access to your private keys and Jaxx, in fact, has no access to your keys, funds, or any data on your account. As such, it is an ideal wallet for those who want to have full control of their funds and looking for full privacy when using a digital wallet.
Crucially, Jaxx is an HD (or "hierarchical deterministic") wallet, meaning it generates a new address every time cryptocurrencies are sent to your current address. This is a great security feature and enables users to restore their private keys with a recovery phrase.
Also, Jaxx security safety and security features include password, PIN protection, and a 12-word backup seed. But, Jaxx does not offer you two-factor authentication (2FA), which, for some people, is a big minus. You'll also have to take into consideration the device you are using and the software version of your device. For instance, it is not recommended to use the Jaxx Chrome extension unless you are tech-savvy that knows how to secure your internet network.
On the other hand, there are some security issues people should be concern about while using Jaxx Liberty. In general, Jaxx keeps users' private keys either on a mobile phone or in a desktop wallet. This means you have to secure your device in any possible way and you should never use it on a jailbroken phone.
Furthermore, during this review, we found claims of crypto users and developers saying that there are some security vulnerabilities in the Jaxx wallet (it was hacked in late 2017, and in January 2019) and it is not the safest option to store your coins, particularly if you are looking to HODL digital assets. In that matter, if you want to hold your digital coins offline, it would be advisable to search for a popular hardware wallet like Ledger Nano or Trezor.
Jaxx Wallet Review – User Experience
When it comes to user experience, the Jaxx wallet focuses on simplicity. First, the process of downloading the application is very straightforward and you will be guided through your first experience on the wallet. Then, when you make your first-time entrance to the Jaxx wallet, everything is clear and simple.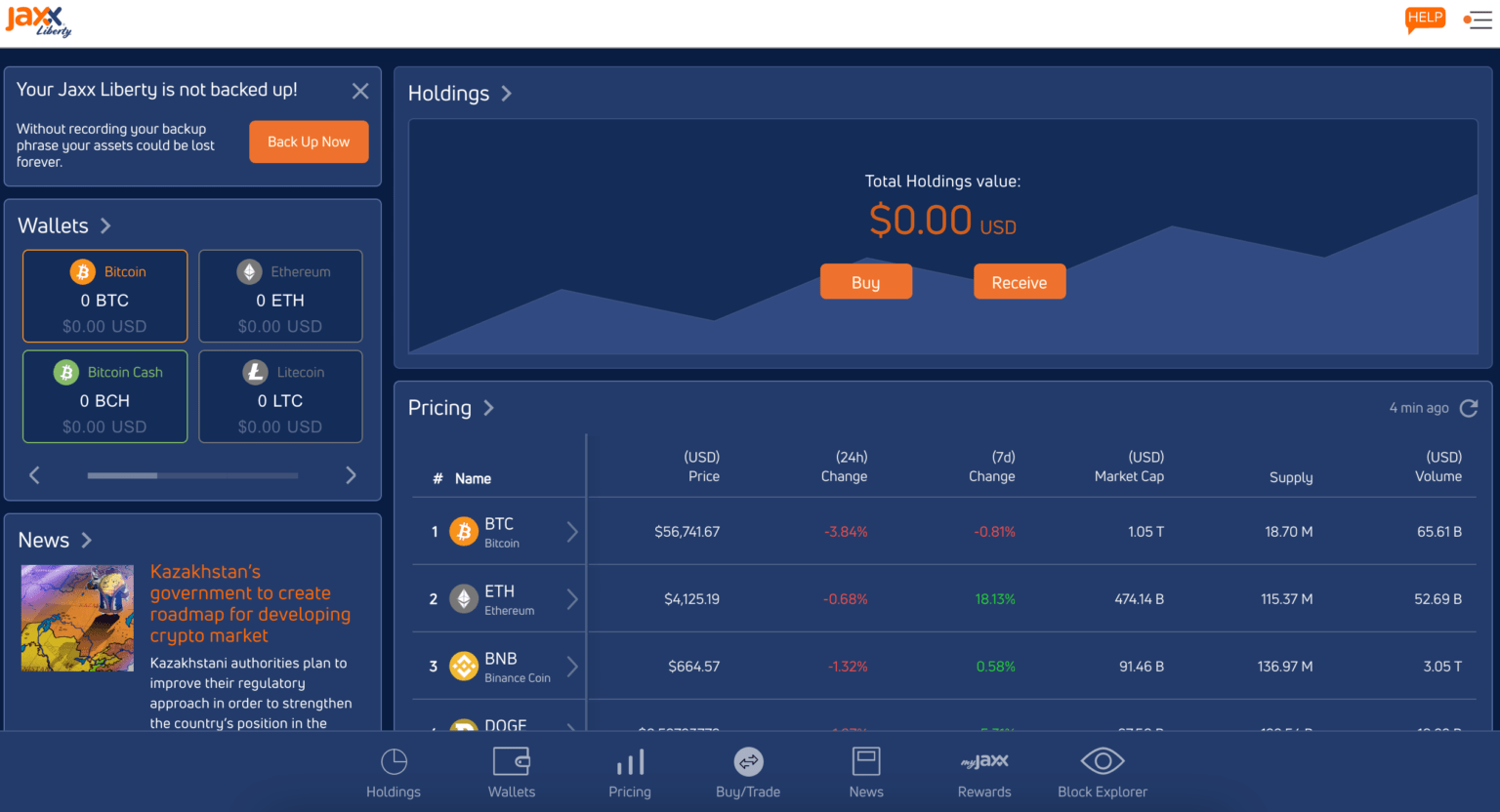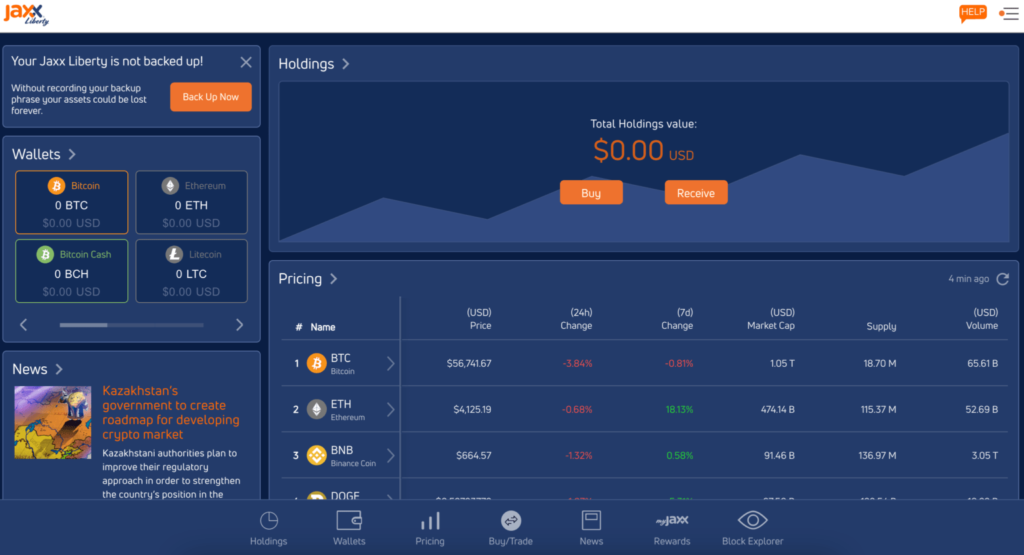 In the bottom menu, you can easily navigate to all of Jaxx's wallet services. This includes a full view of your portfolio (holdings), wallets, pricing, buy/trade (Jaxx exchange), news, Jaxx rewards (coming soon), and Blockchain explorer. Then, if you want to customize your account you need to navigate to the top menu on the top of the app. From there, you can customize your account and get access to important tools like security features, your private keys, and support.


The Jaxx mobile app is also a success, though it seems to work better on iOS than Android. The mobile app UI is very similar to the desktop version and there's no difference in the functionality and the tools you have access to. On Apple Store, the Jaxx Liberty app has a rating of 4.5 from nearly 1300 reviews, and on Google Store, the app has a rating of 3.8 from around 5000 reviews.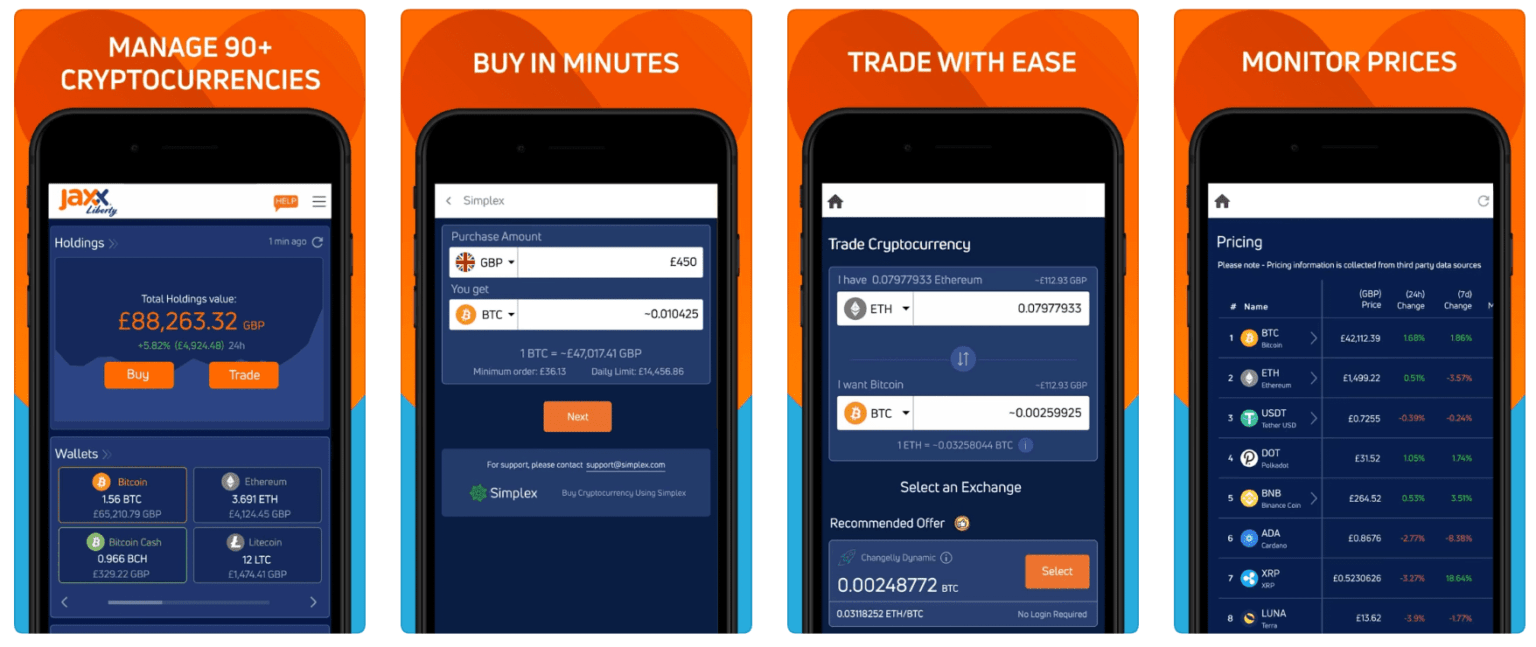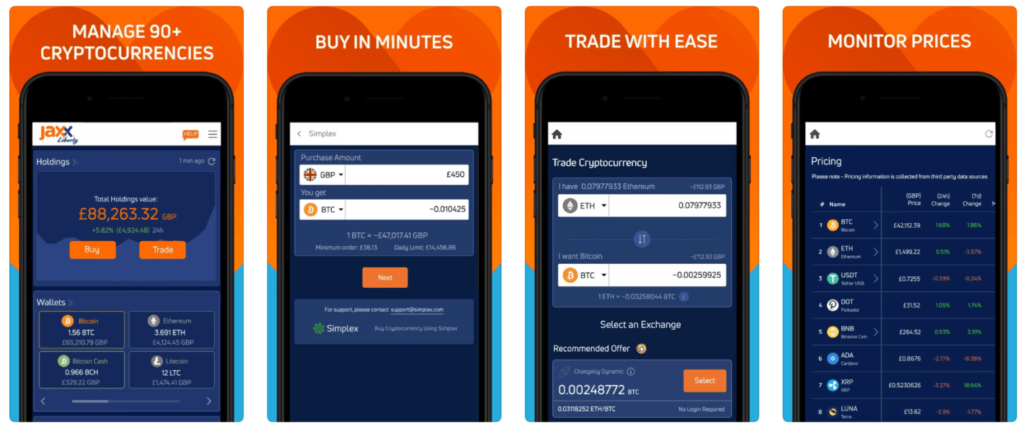 Transferring Funds
Like any crypto and Bitcoin wallet that is available in the market, Jaxx enables you to send and receive crypto funds.
In order to receive funds, you'll have to navigate to Holding, choose the coin you need to receive, and then click on the Receive button. For example, if you want to transfer Dogecoins to your Jaxx wallet, you'll see this page below. When you click on the Receive button, Jaxx will generate a unique Dogecoin address (or any other crypto coin you choose), which you'll have to send to the sender or use it on your own in order to transfer your crypto funds from another exchange.


The process of sending cryptocurrencies is very similar, however, you need to own crypto coins in your account first and to get the wallet address from your 'receiver' in order to transfer the crypto funds. This means you need to first buy cryptocurrency on another crypto exchange or directly on Jaxx Liberty wallet.
Jaxx Wallet Review – Features
During our Jaxx wallet review UK, we found several useful features that are available on Jaxx wallet Android, Jaxx wallet iPhone, and Jaxx wallet desktop:
Jaxx's ShapeShift – Trade Cryptocurrencies
One of the key points of Jaxx is that it allows you to buy and trade different cryptocurrencies directly on its wallet app. This means you can use the app not only to store digital assets but also to exchange one crypto in another. Jaxx does that by partnering with trusted third-party apps like Changelly and Simplex.


News
This is a feature usually found on trading platforms but not on many crypto wallets. On your Jaxx Bitcoin wallet, you get access to a news section, which makes the Jaxx wallet app a bit more interesting and effective. Notably, Jaxx has several news sources although the main news provider on the app is CoinTelegraph.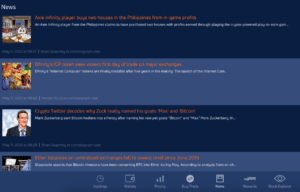 Jaxx Liberty's Block Explorer
Another unique feature that is available on the Jaxx wallet app is the block explorer that enables users to search for transaction data across multiple blockchains directly within the wallet. As such, if you want to look for a certain transaction, you can search for the blockchain network, and enter the address, transaction ID/the block number in the search box – and you'll be able to view the record of your transaction.
Jаxx Liberty Wаllеt Anonymity
Another crucial factor about the Jaxx wallet is that users can keep their anonymity, though crypto anonymity is a major concern for regulators around the world. Nonetheless, many crypto investors are still looking for anonymous crypto wallets in order to store their fund without providing personal details. As a matter of fact, when you download the Jaxx Liberty app and start using it, you do not need to provide any personal details, including your email address and phone number.
Jaxx Wallet Contact and Customer Service
If you want to contact the Jaxx support team, then the most effective way to do that is by using their live chat support that is available on the Jaxx website as well as on the Jaxx wallet application. Notably, The live chat on Jaxx is very functional and easy to use and the Jaxx support team takes a new-age approach to communicate with customers.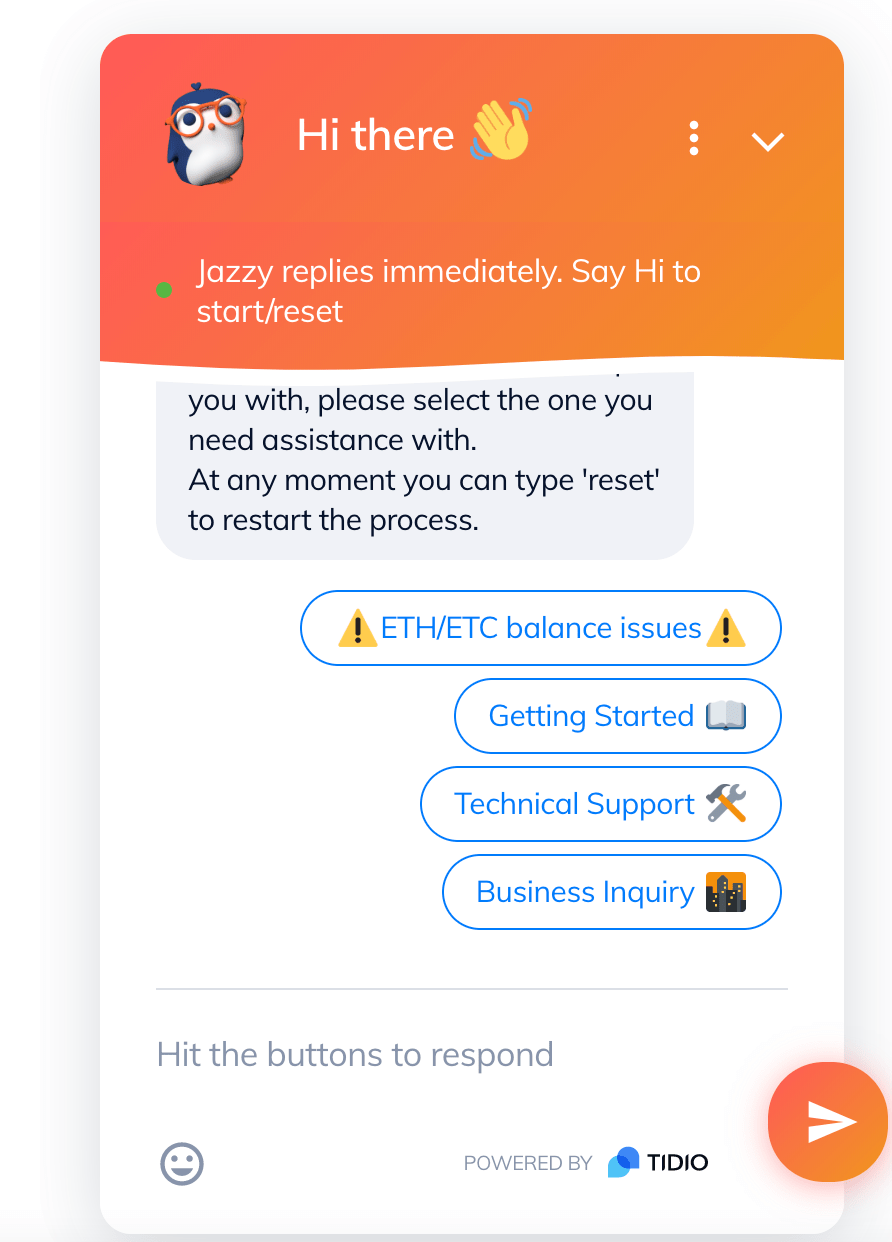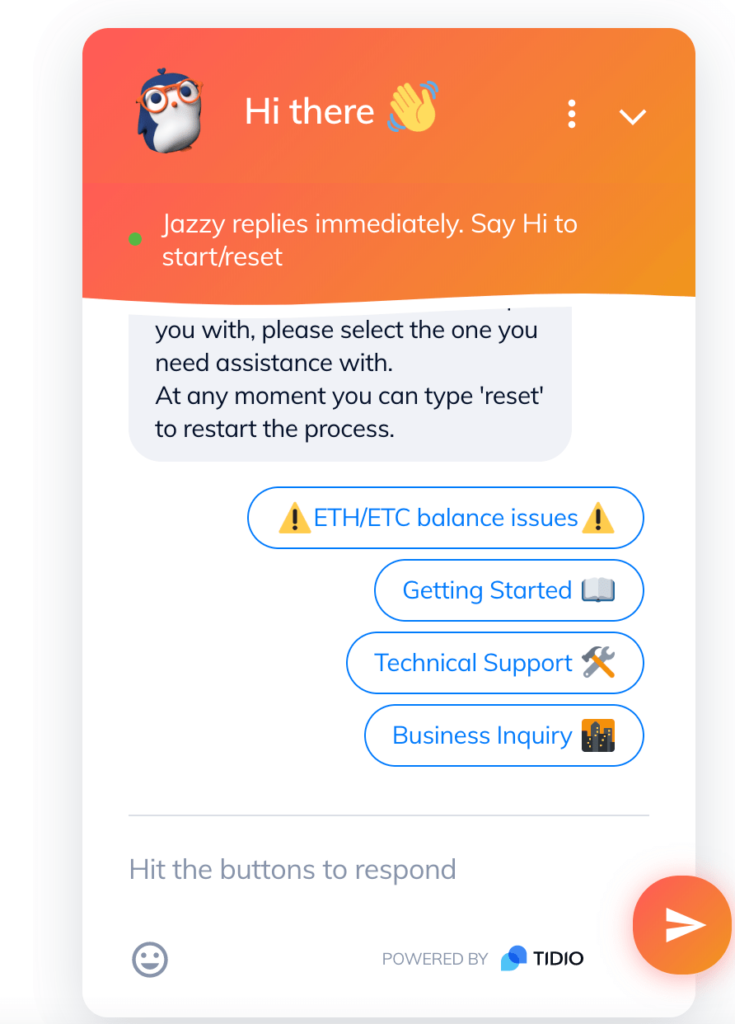 You can also get answers to your question on the Jaxx FAQ section and connect to Jaxx via their social media channels that include Facebook, Twitter, Twitter Support, and Reddit accounts. The Jaxx Liberty team, however, does not offer phone support nor email support.
Jaxx Wallet Download Process
If following our Jaxx Wallet review UK, you want to store your digital assets on the Jaxx wallet app then simply follow the three steps below:
Step 1: Visit Jaxx and Download the App
There are several options to download the Jaxx app including the Google Store, App Store, and Chrome Web Store. That said, it is best to visit Jaxx Liberty official website and download the application directly from their links so you won't download a fake version of the Jaxx Liberty app. To do that, navigate to the 'Download' page on the top menu bar on Jaxx's homepage and choose the application you need (iOS, Android, Mac OS X, Windows, Linux, or Google Chrome).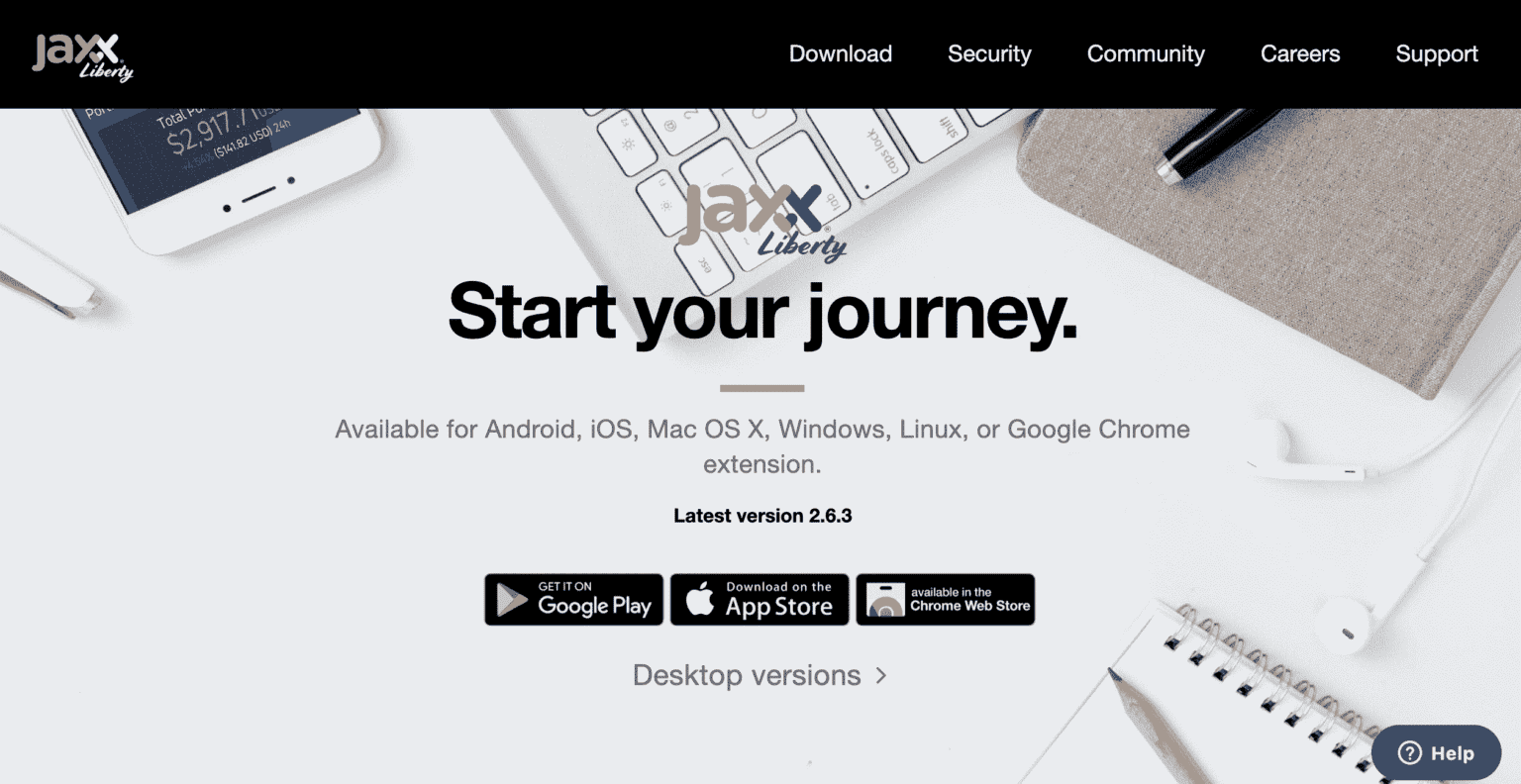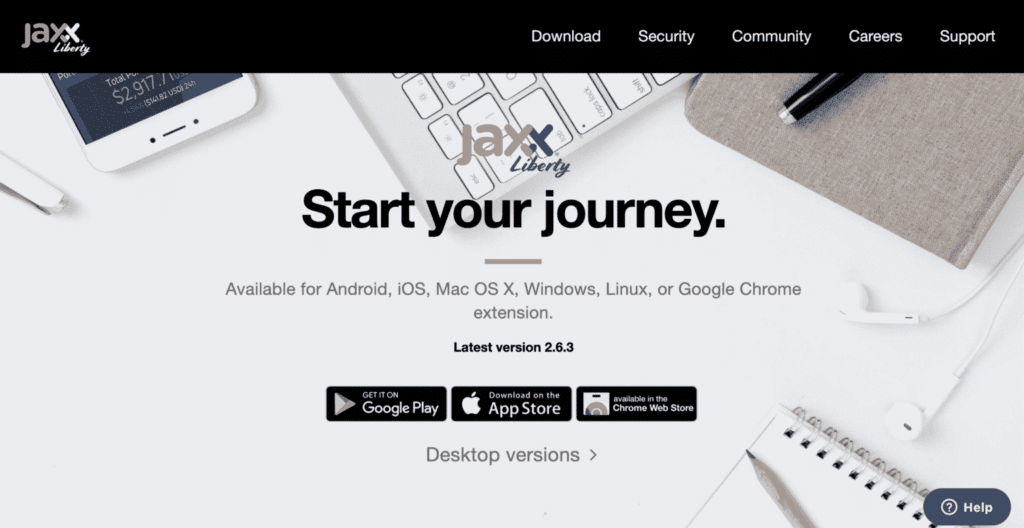 Step 2: Set Up Your Jaxx Wallet
After you have downloaded the application to your mobile device or to your desktop, you now need to set up your account. This step requires you to confirm the terms and conditions, choose the supported language, and most importantly – backup your wallet.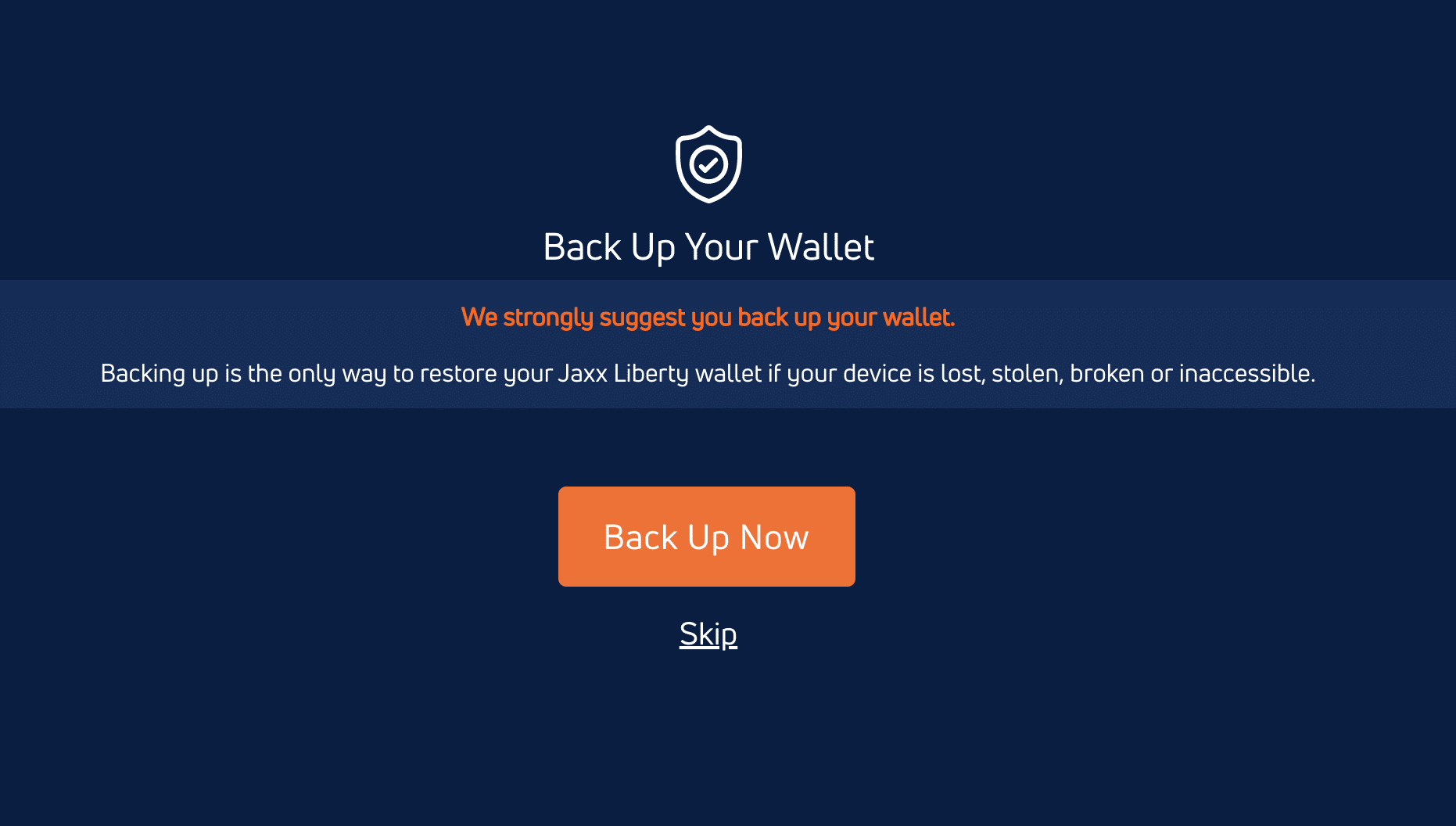 At this point, you need to generate the 12-word backup phrase. This code will be useful in case you lose the device you are using and you want to restore your Jaxx wallet.
Step 3: Transfer Crypto Funds Your Jaxx Wallet/Buy Cryptocurrency
Now, you can transfer crypto funds to your Jaxx wallet. The process is fairly simple – you need to click on the Receive button on the Holdings box at the application home screen.


On the next page, you are asked to choose the crypto coin you wish to store on your Jaxx wallet. Take note that Jaxx shows you a partial list of the supported coins, so if you want to view the full list, click on the Edit button at the top right corner of the app to view the full coin list.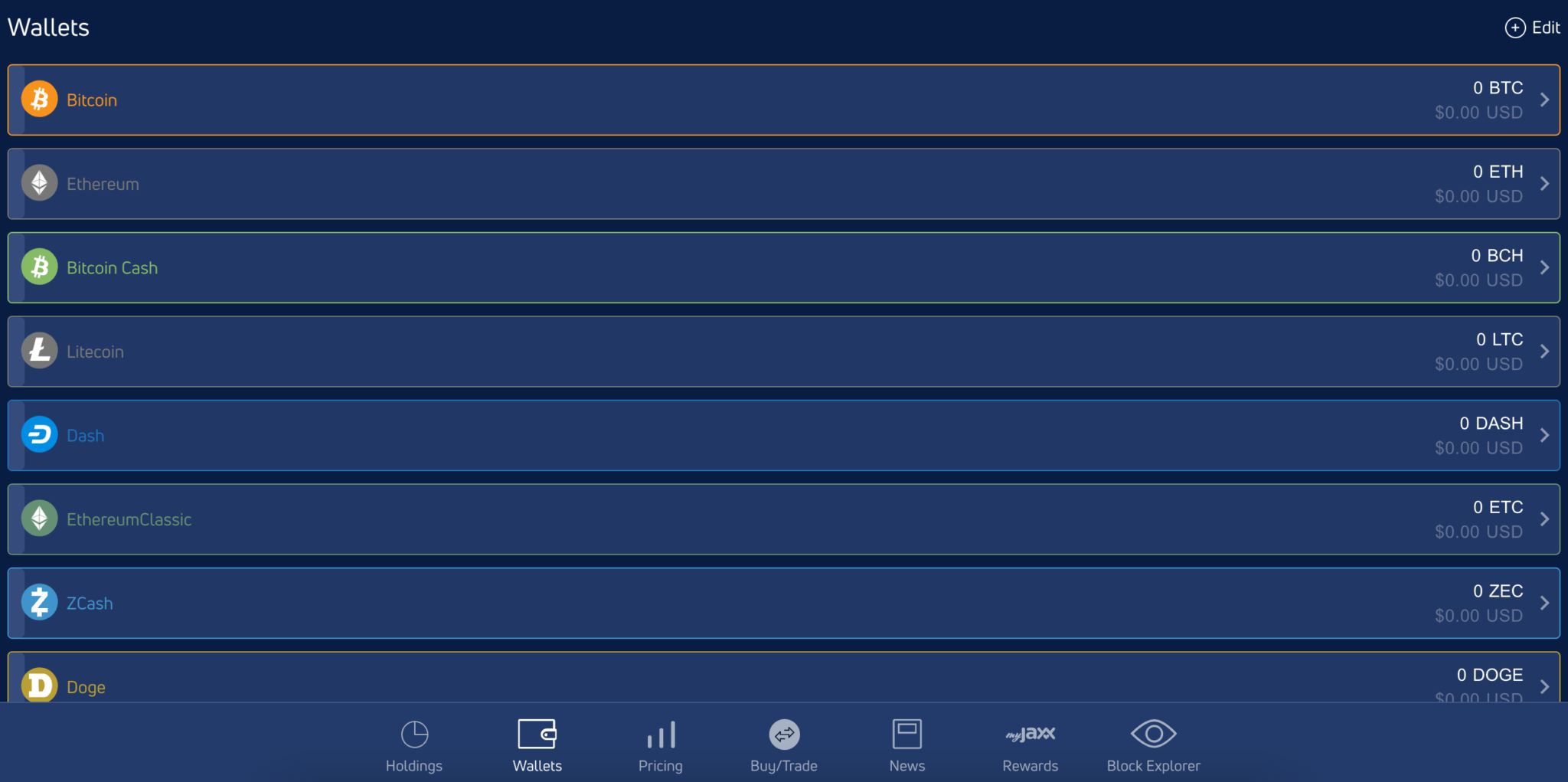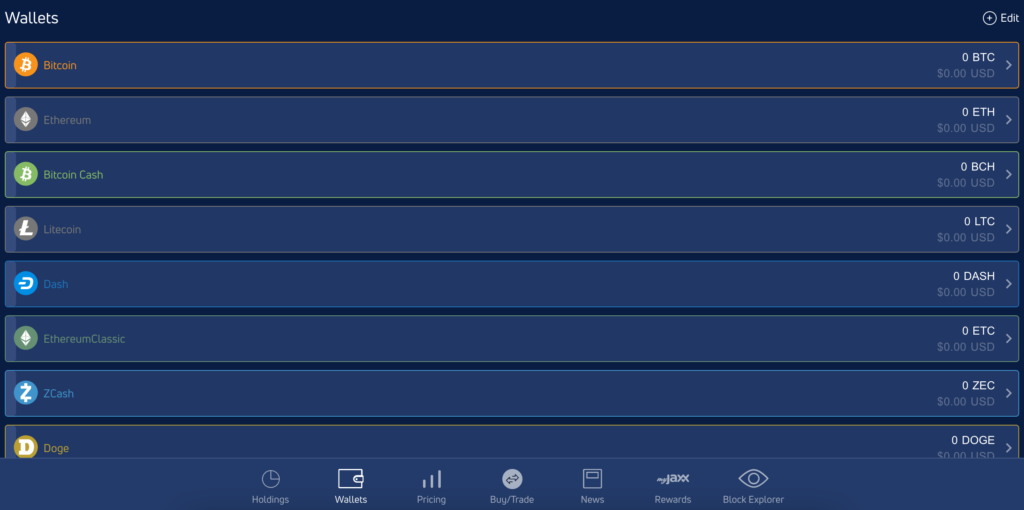 Then, a new address will be generated and you can send it to the sender (or use it by yourself in order to transfer crypto funds from another crypto exchange).
The second option to add crypto funds to your Jaxx Liberty wallet is to simply buy a cryptocurrency directly from the Jaxx wallet app. To do that, you simply need to click on the Buy button on the Holdings box. As you can see, Jaxx enables you to buy cryptocurrencies with credit and debit cards or via bank wire transfer. The minimum amount you need to purchase is $50 and you'll have to pay a fee of 3.5% or a minimum of $10.


In terms of the selection of assets, Jaxx offers you to buy the following crypto coins directly from its wallet application – Bitcoin, Ethereum, USDT, Litecoin, Dash, Doge, Pax, and DAI.
The Verdict 
The bottom line, Jaxx Liberty wallet app is a good option for those who are looking for a user-friendly app and full privacy. All in all, Jaxx is one of the best online crypto wallets along with Exodus, Coinbase wallet, Mycelium, and Binance Trust wallet.  It is also one of the few digital wallets out there that enables users to use the app anonymously and get full control of private keys and crypto funds.
FAQs
How do I withdraw money from Jaxx Liberty?
How much does the Jaxx wallet cost?
How do I download Jaxx Liberty wallet as a Google Chrome extension?
How can I add funds to Jaxx's wallet?