Aave has become a popular decentralized finance (DeFi) protocol that is tearing up the markets. In this guide, we'll explain what Aave really is and how to buy Aave coin.
How to Buy Aave Coin – Quick Guide
1. Open an Account with eToro – Go to the eToro website and click 'Join Now,' then sign up using your email address.
2. Upload ID – Upload a copy of your driver's license or passport and proof of identity.
3. Deposit – Deposit a minimum of £10 using a debit card, bank transfer, PayPal, Neteller, or any payment option of choice.
4. Buy AAVE Coin – Search for 'aave' and click 'Trade.' Enter the amount of Aave coin you want to buy and click 'Open Trade.'
How to Buy Aave Coin Tutorial
Want to buy Aave crypto right away? We'll guide you through how it's done in quick steps:
Step 1: Open an Account with eToro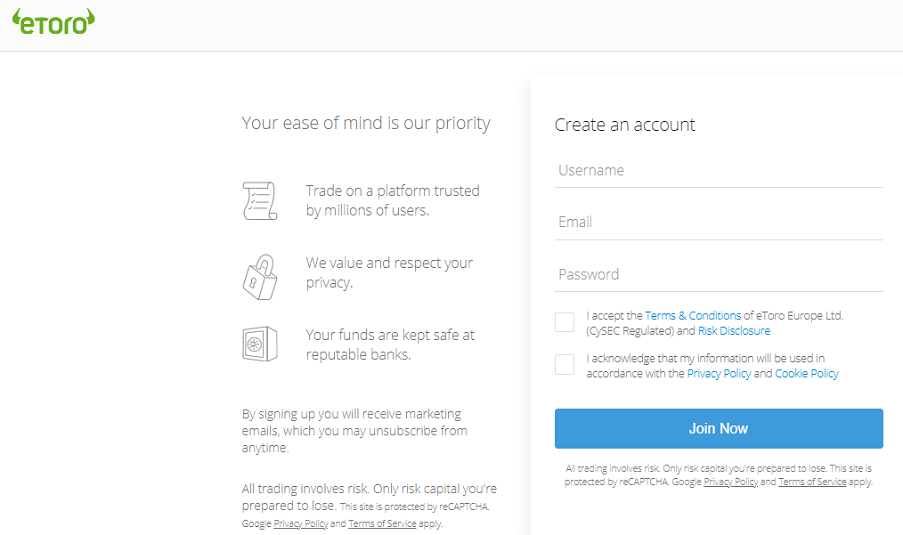 This is the first step. Head over to eToro's website to register an account. You'll need to enter your email and create a password. You can also sign up for an account using your social media profiles on Google or Facebook.
Step 2: Upload ID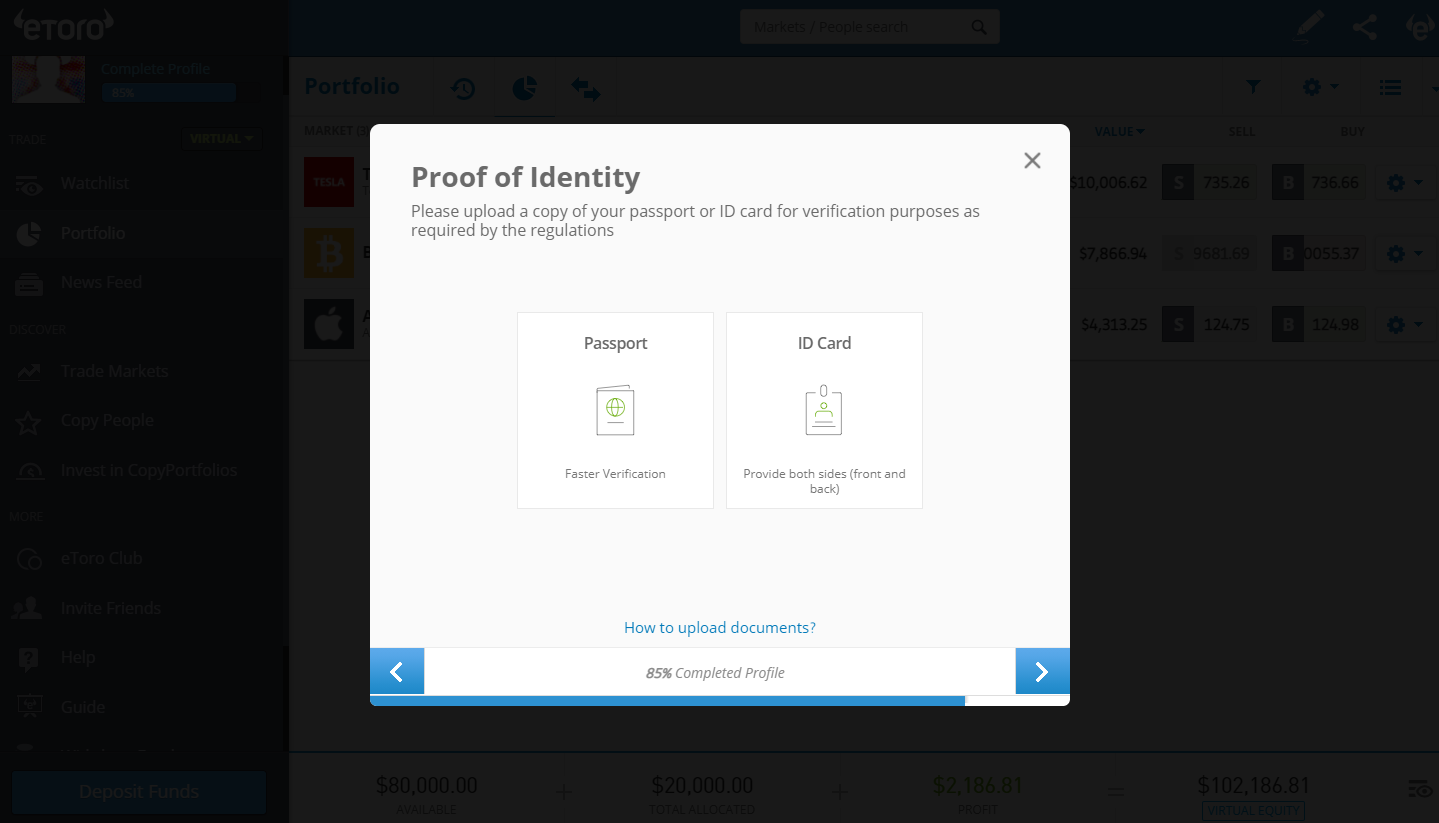 Cryptoassets are highly volatile and unregulated in the UK. No consumer protection. Tax on profits may apply.
The next step is to show some identification. eToro is regulated by the UK's Financial Conduct Authority (FCA), which mandates online trading apps to verify the identity of their customers before providing access to their platforms. You'll be required to upload a copy of any government-issued ID. This could be a driver's license or an international passport. In addition, you'll also be required to verify your location using a recent utility bill or bank statement.
Step 3: Deposit
Once ID verification is completed and checks out, the next step is to deposit funds. eToro requires a minimum deposit of £200 before you can start trading. Depositing funds on eToro can be done using your debit card, PayPal, and others.
Step 4: Buy Aave Coin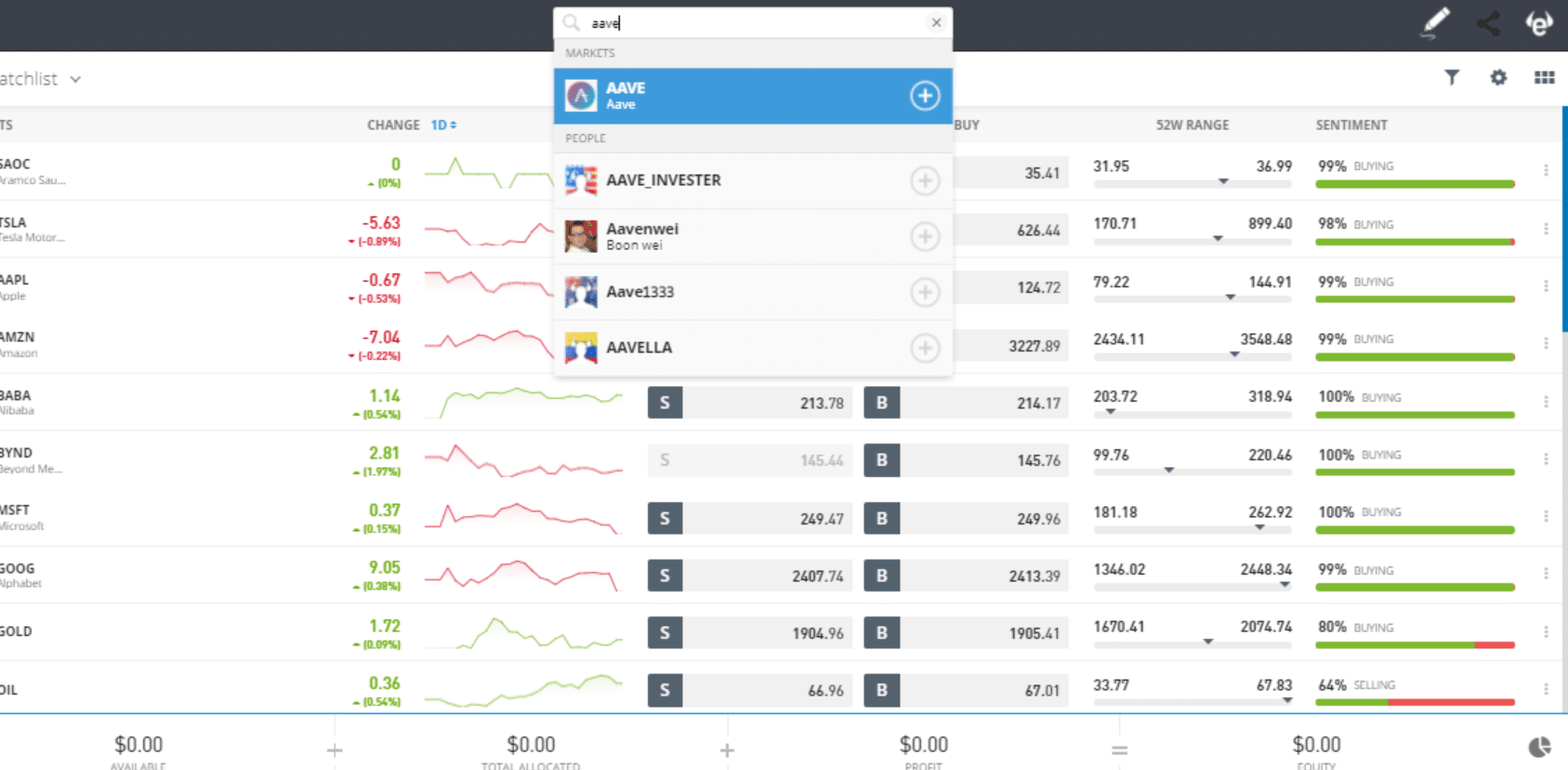 Now you're ready to buy Aave crypto. Search for 'Aave' in the eToro dashboard and click 'Trade' to open a new order form. Then enter the amount you want to invest in Aave, and click 'Open Trade' to buy the coin.
Where to Buy Aave Coin
Now that we have covered what Aave crypto is all about, we will show you the best platforms to buy Aave from without hassles. Even though there are so many of them, only a few are worth working with due to the bonus of them being regulated.
1. eToro – Overall Best Platform To Buy Aave Crypto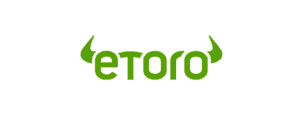 If you are looking for a safe and stable trading platform to buy Aave crypto and trade the asset, look no further than eToro is one of the best in the industry. eToro is our #1-rated cryptocurrency exchange and broker in the UK to buy AAVE tokens. You can also buy Bitcoin, Litecoin, and Binance Coin on eToro.
Given its decade-long trading expertise, eToro offers one of the best trading experiences for crypto newbies and established traders. With its socially-focused trading platform, you can trade with the best minds in the business even without ticking all the right trading boxes. eToro is also the home of over 20 million users who use its CopyPortfolio investment basket to diversify their crypto holdings and overall trading funds properly.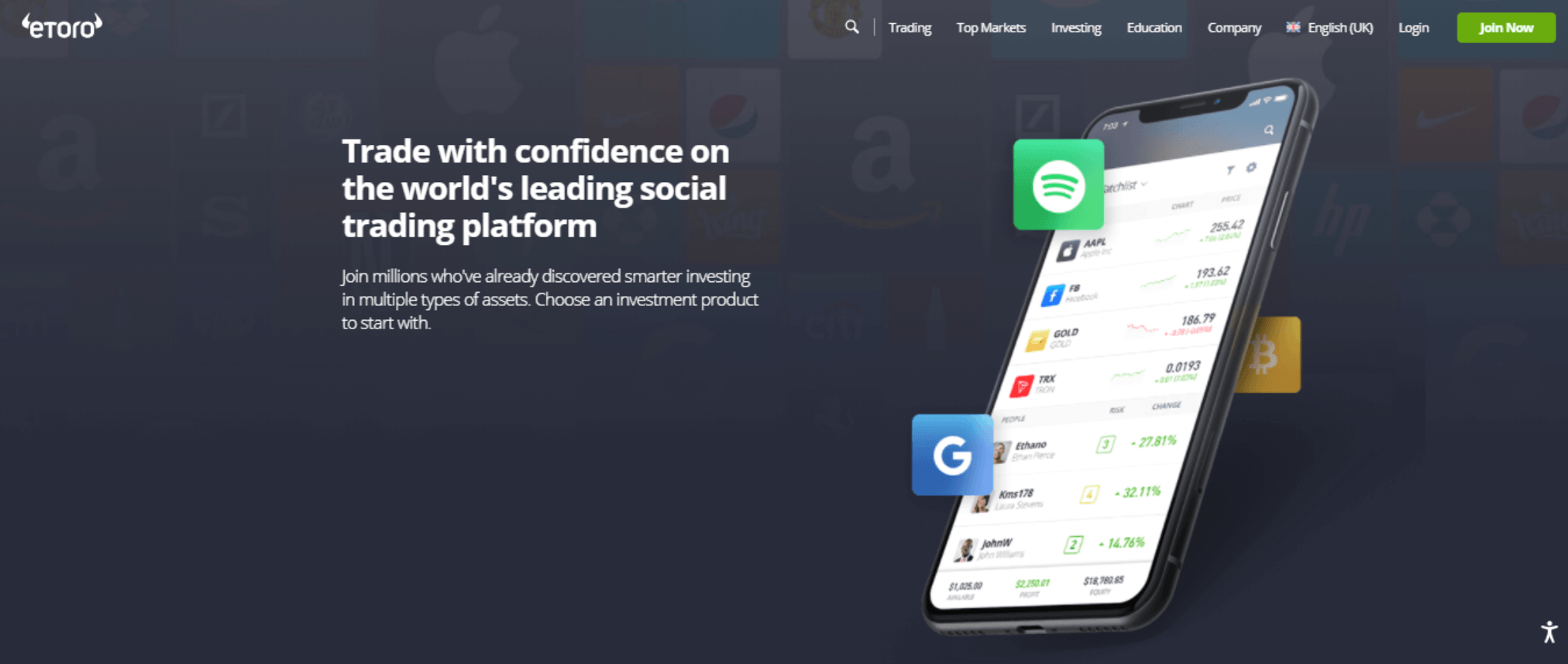 Alongside this, eToro is a regulated trading entity. It has licenses from the Financial Conduct Authority (FCA) in the UK, the Cyprus Securities and Exchange Commission (CySEC), the Australian Securities Investment Commission (ASIC), and the Financial Enforcement Network (FinCEN).
So you can be rest assured your Aave crypto funds are properly managed. To start trading on the eToro platform takes about two minutes. All you need to begin is to open a free account, fill in the required details, fund your account, and you are ready to buy Aave in minutes. Funding your account is also made easy with eToro.
The online broker offers many payment options. You can deposit through your debit cards, and bank wire transfer. Crypto traders can also buy AAVE along with other coins like Bitcoin with PayPal and e-Wallet channels like PayPal. eToro has a minimum deposit of $50 for you to trade Aave.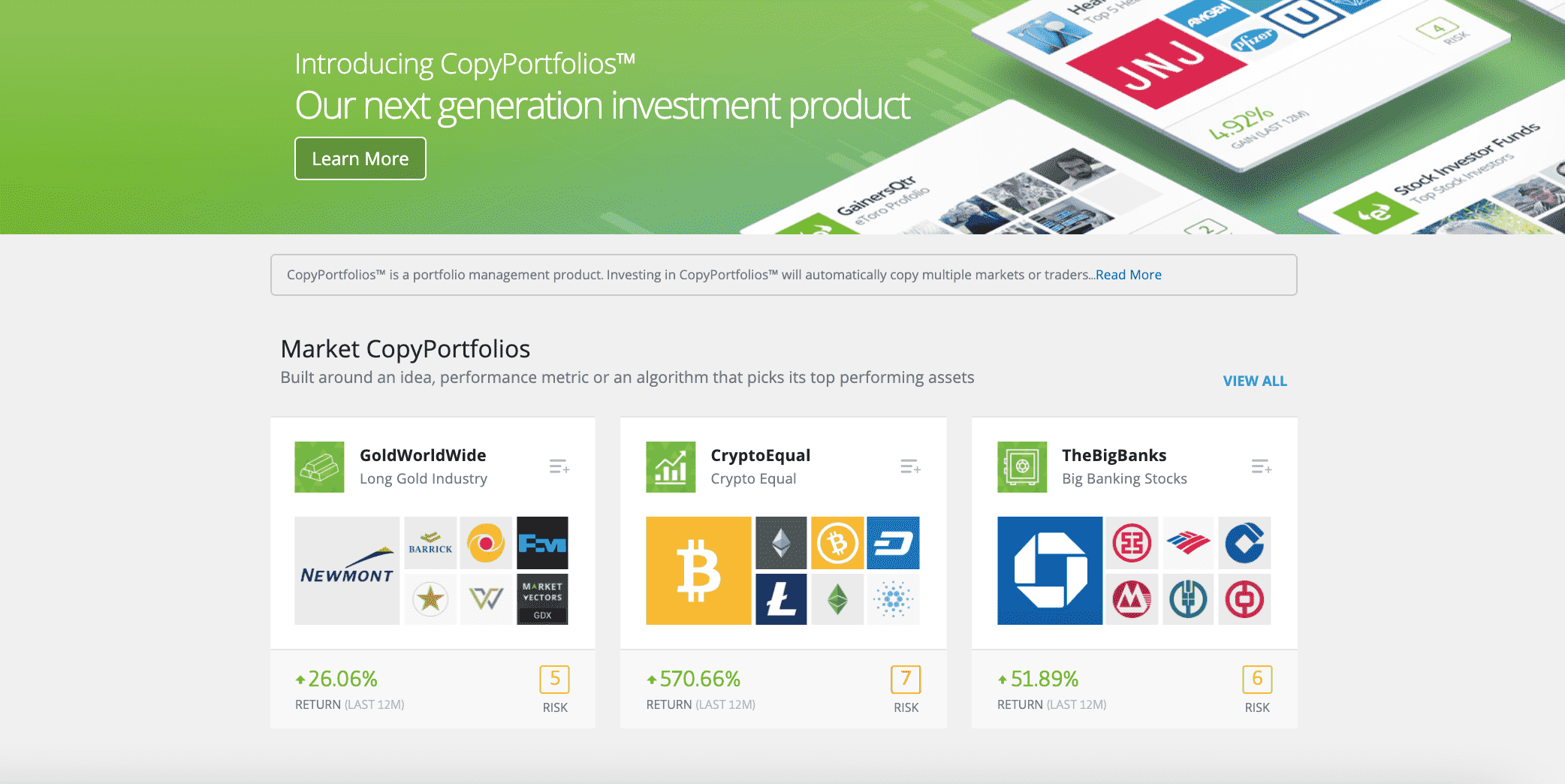 Past performance is not an indication of future results
Cryptoassets are highly volatile and unregulated in the UK. No consumer protection. Tax on profits may apply.
This is great as you can own a share of the Aave crypto with just a little capital invested. Also, eToro operates a zero-commission trading platform giving you much more financial leverage in making your trades. In terms of deposit fees, you will be charged a flat 0.5% deposit fee through all the payment channels making it one of the best places to trade Aave coin. Once you are done with your Aave crypto purchase, you have the choice of keeping them in your eToro portfolio, transferring them to the eToro mobile wallet, or withdrawing them to any digital wallet of your liking. Aside from Aave crypto, eToro also lets you invest in Aave-like crypto assets like Bitcoin, Ethereum, Ripple, and 13 other cryptocurrencies. Also, if you are keen on investing in trading investment vehicles like stocks, bonds, exchange-traded funds (ETFs), and commodities, eToro lets you do this. You can trade over 3,000 stocks picked from 17 different stock exchanges.
Pros
Invest in Aave crypto with zero commission
You can trade numerous crypto assets
Beginner-friendly as you can learn from experienced Aave investors through Copy Trading
Heavily regulated by FCA, ASIC, CySEC, and FinCEN
Has a dynamic trading environment
Low entry bar of just $50
Grants access to over 3,000 stocks, indices, and ETFs
Uses an in-house managed investment basket for investment diversification
Accepts major payment channels
Cons
Charges $5 for withdrawals
Trading value is denominated in US dollars
Cryptoassets are highly volatile and unregulated in the UK. No consumer protection. Tax on profits may apply.
2. Binance – World's Largest Crypto Exchange
Binance holds the record as the world's largest crypto exchange due to the daily trading volume. The exchange also offers a large cryptocurrency offering in the market.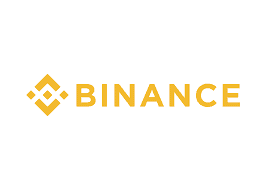 The Bitcoin exchange is also hugely popular due to its low trading fees of just 0.1%, making it one of the best platforms for you to monitor Aave price and invest in the asset. It is also user-friendly, making it easy for you to place your order within seconds. Binance offers a comprehensive view of the crypto asset you want to trade as you can view trading charts of the asset using its in-house tools or with the TradingView integration.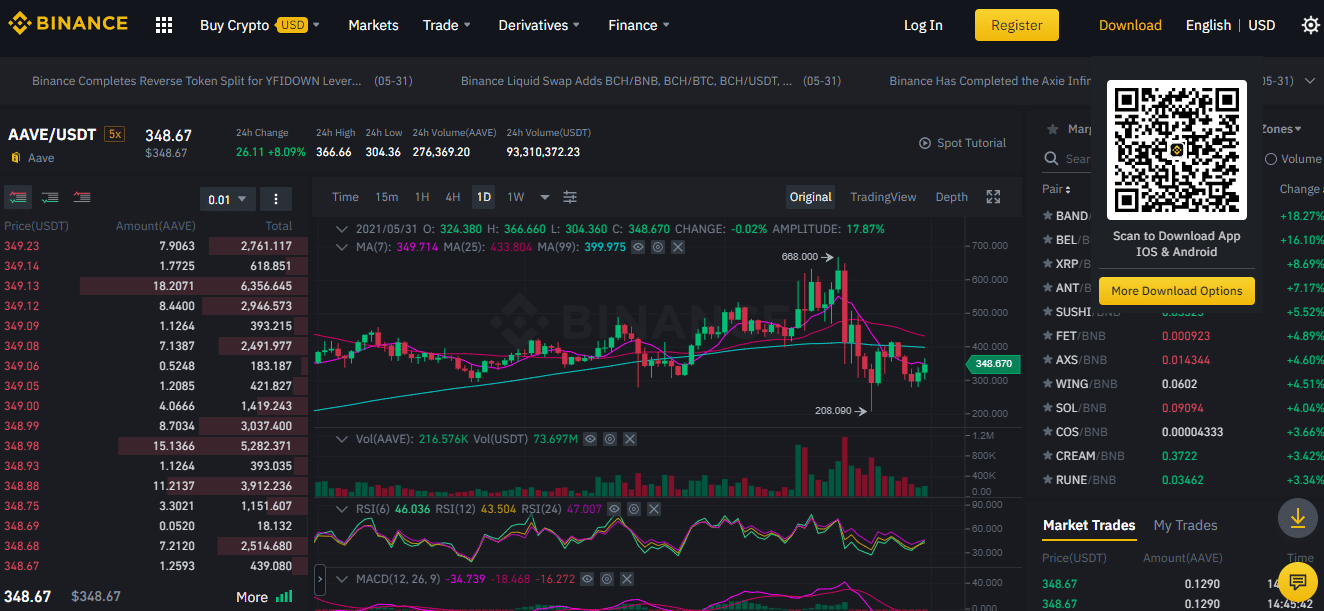 Binance also offers crypto swaps, lending, and derivatives trading. You can also take advantage of synthesized share tokens of publicly traded stocks like Tesla and bitcoin exchange Coinbase. If you are wondering how to trade on the Binance platform, it is very easy to do. All you need to do is create an account and verify your account with a recognized ID. You will also need to take a face recognition test, and this can be frustrating sometimes. Binance lets you deposit through bank wire transfer, peer-to-peer (P2P), debit cards, and through e-Wallet providers like PayPal. Once you have made your deposit, you can buy and monitor Aave prices easily.
Pros
Hundreds of crypto assets are supported
Trading fees of just 0.1%
Largest crypto exchange by trading volume
Offers earnings scheme for crypto savings
Supports most payment methods
Offers synthesized stocks for crypto trades.
Cons
Bank deposits are slow
Not regulated
Not ideal for crypto newbies
Face recognition can be frustrating
Your capital is at risk.
3. Capital.com — Best Broker for Aave Crypto Trading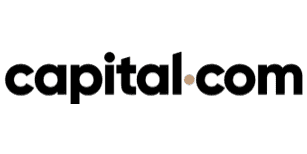 Capital.com is a top contract for difference (CFD) and foreign exchange (forex) broker that lets users access the financial markets. It is a regulated entity and has licenses from reputable agencies like the FCA, CySEC, and the National Bank of Belarus (NBRB).
Capital.com is home to over 2 million active traders who can invest in different investment vehicles like stocks, bonds, indices, ETFs, commodities, forex, and cryptocurrencies. This CFD broker offers a stand-alone educational platform for new investors called Investmate, where newbies can learn about the financial markets and how they can trade on the Capital.com platform.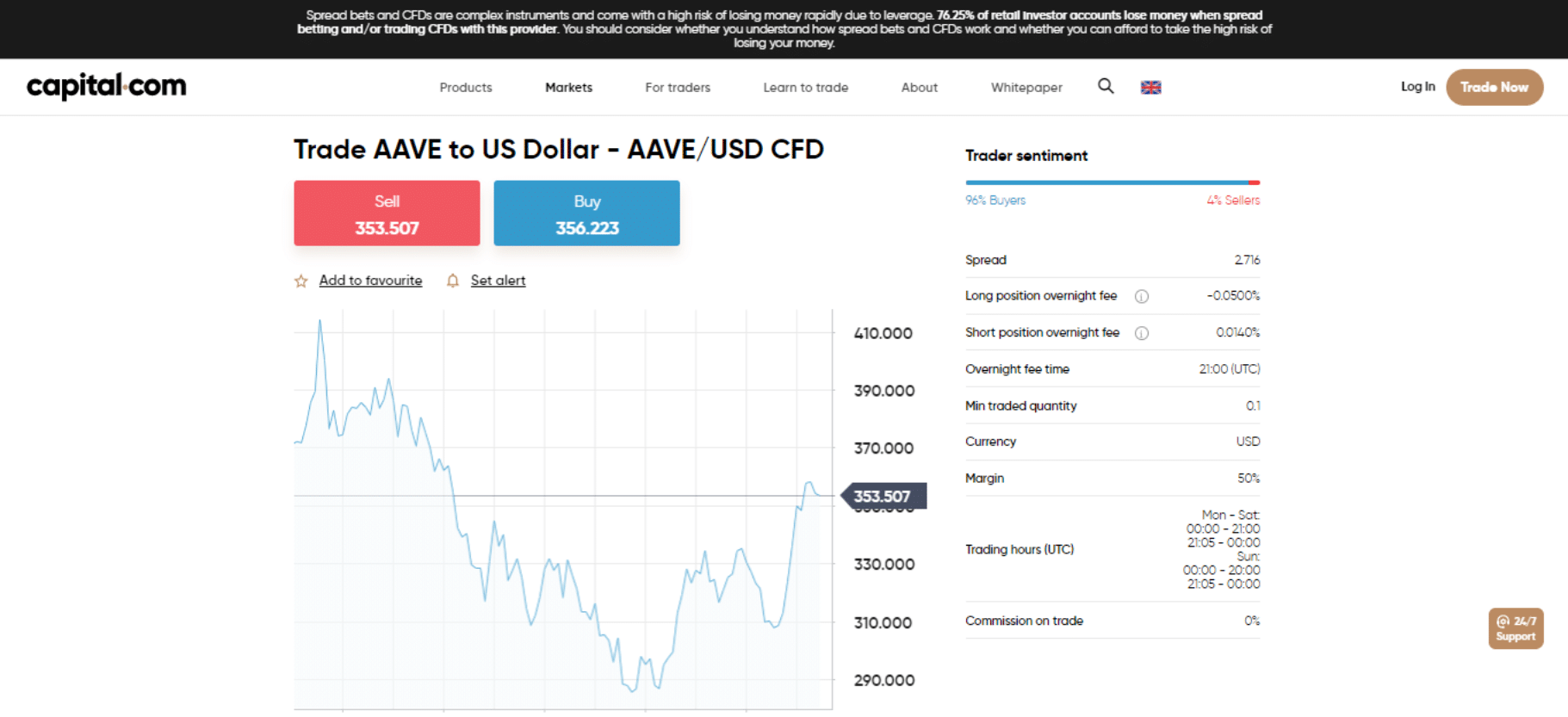 It also has an institutional division through its Prime Capital arm, where large-cap investors can trade across five different sectors. Capital.com offers leveraged trading of up to 2:1 for trading AAVE. The CFD broker is 100% commission-free, just like eToro. The platform uses a spread model, which starts from about 0.35% for Bitcoin trading. However, CFD trading is banned for retail traders. You'll need a professional account to use this or trade crypto derivatives. You can start trading your preferred financial investments with just a $20 deposit.
Pros
Trader-friendly
Heavily regulated by the FCA, CySEC
Large repository of financial offerings
Invest in Aave with zero commission
Minimum deposit of $20
Zero deposit fees
Cons
Requires professional accounts to trade CFDs
79.17% of retail investor accounts lose money when trading CFDs with this provider.
What is Aave?
Aave is a decentralized money market running on the Ethereum blockchain that lets users borrow and lend various digital assets on its platform. Lenders earn interest by depositing crypto assets into special liquidity pools. Borrowers can then use their crypto assets as collateral to take out flash loans using the available liquidity.
The DeFi protocol was originally named ETHLend when it was launched in November 2017, before it was later rebranded to Aave in September 2018. Aave was founded in Switzerland by Stani Kulechov, who started Aave as a student studying law in Helsinki, Finland. Aave raised $16.2 million from an initial coin offering (ICO) sale conducted in 2017, where it sold about 1 billion units of its digital currency AAVE. The platform was still known as ETHLend then.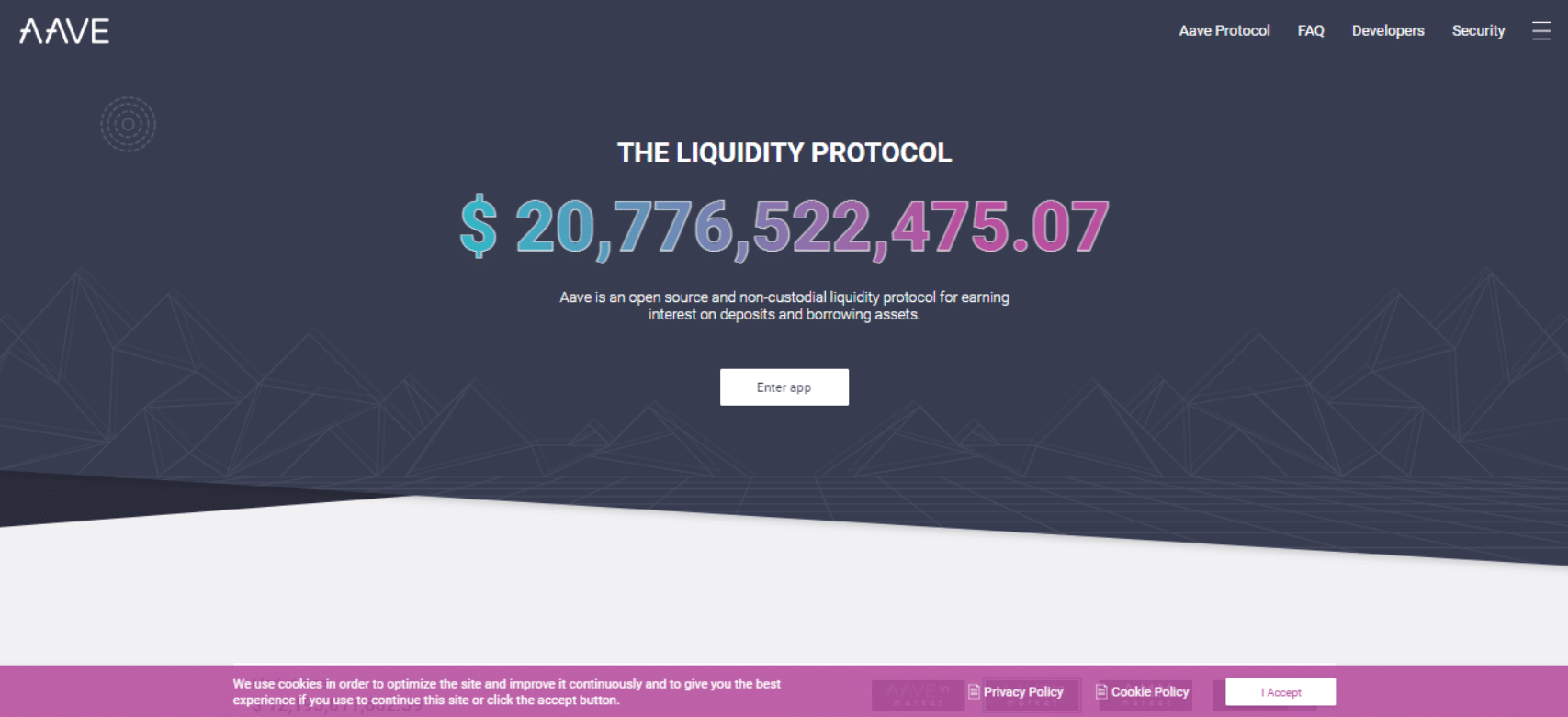 Aave has an ERC-20 native token with the same designation (AAVE), and holders can vote on proposals serving as the protocol's governance token. The Aave token also provides holders with discounted fees on the platform. Even though the Aave project is just four years in the making, it has grown exponentially becoming one of the top crypto lending platforms in decentralized finance (DeFi). The Aave crypto is one of the best DeFi coins today. The cryptocurrency is the 27th most valuable digital asset by market cap.
One of Aave's selling points is its flagship "flash loans," called the first truly uncollateralized loans in the DeFi space. Cryptocurrency investors speculate on the price movement of the Aave token as they do trading Bitcoin. Given the historical movement of the Aave price, it can be a great investment opportunity if positions are taken early. Most importantly, the Aave crypto coin has seen unusual price movement climbing over 400% since the beginning of the year. Starting the year at just $81, Aave trades north of $300.
AAVE Analysis – Is AAVE A Good Buy?
Aave has come a long way in its crypto journey. It commenced its trading pair with stablecoin `USDT in October 2020, trading at a paltry $60. Following the increased interest in the crypto industry, Aave quickly surged to $581 in Feb. 2021 before slumping to $297 two months later, per data from Coinmarketcap.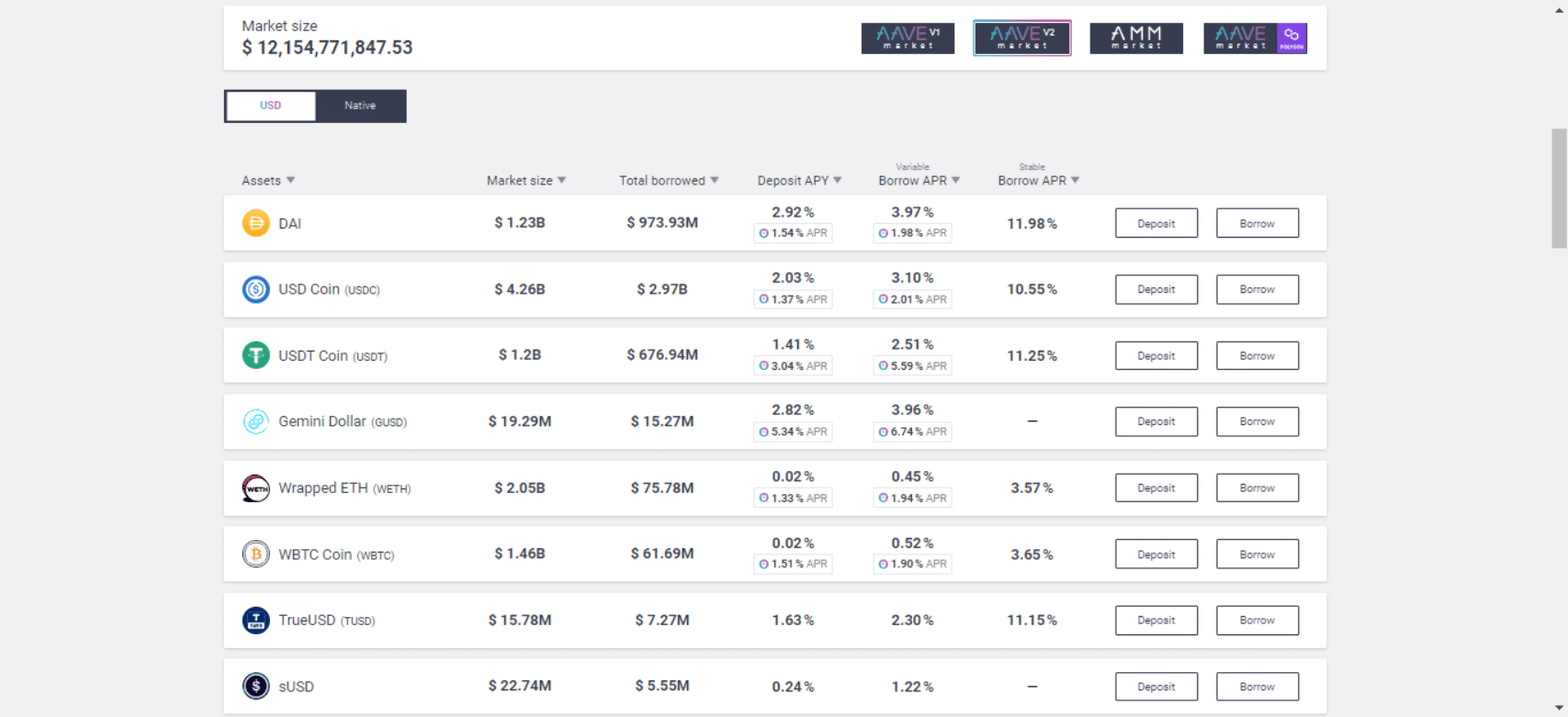 With the Bitcoin price running up to $65,000, Aave surged to a personal best of $671.36 before major market correction brought it down to the $300 range. But given the continued attention the DeFi space is receiving, protocols operating in this burgeoning sub-sector will possibly continue to see positive price movement in the future. And with the massive returns investors are gaining from using these next-generation finance tools, Aave is not likely to lose its appeal anytime soon.
One AAVE token currently exchanges for $359, and the price movement is bullish, which means more investors are buying. However, the prices can fall at any time and this could be confusing especially when you're just starting. A rule of thumb is not to base your decision on the current price action. Remember AAVE's coin is not the only digital asset that loses its value when the market sentiment is against it. Even the world's oldest crypto-asset Bitcoin is currently experiencing market resistance after slumping from its all-time high (ATH) of $65,000 in mid-April to $30,000 on May 20 before moving to the $40K mark.
The crypto market has been sorely tested after pro-crypto supporter and investor Elon Musk said the mining protocol of Bitcoin was damaging the earth's ecosystem. Coupled with news of China taking more aggressive steps against crypto payments in its jurisdiction, Bitcoin lost 50% of its value in a week. The crypto market itself saw over $700 billion worth of crypto investments drain out of the market.
But crypto supporters like Cathie Wood of ARK Investment believe the current market climate remains bullish despite the negative price action. According to the CEO of the digital investment firm, a major price correction is always a sequel to a rally and significant surge in the value of Bitcoin. Aave has not been spared and has been affected just as much as other large-cap crypto assets. Even as it meets a support level of $300 and resistance of $400, the DeFi token is still expected to surpass its previous ATH of $671 in the coming weeks.
Ways of Buying Aave
There are numerous ways to fund your account for trading Aave crypto. Several cryptocurrency exchanges have different funding options. We'll discuss a couple below.
Buy Aave with PayPal


There are fewer platforms that allow you to buy Aave coin with PayPal when it comes to payment options. Most of the options that enable PayPal funding methods are mostly peer-to-peer exchanges, which are quite risky to trade on. With these platforms, you need to transfer the funds to the sender through PayPal before receiving your cryptocurrencies. Alternatively, you can use our top-rated cryptocurrency exchange eToro to purchase Aave coin.
eToro is a regulated digital assets trading platform where you can buy Aave coins using PayPal. The platform also supports other e-wallets like Skrill. Using PayPal to buy Aave coin on eToro is fast and painless. When you do trade and make some profits, you can easily send the funds back into your PayPal account at a flat fee of $5.
Buy Aave with Debit Card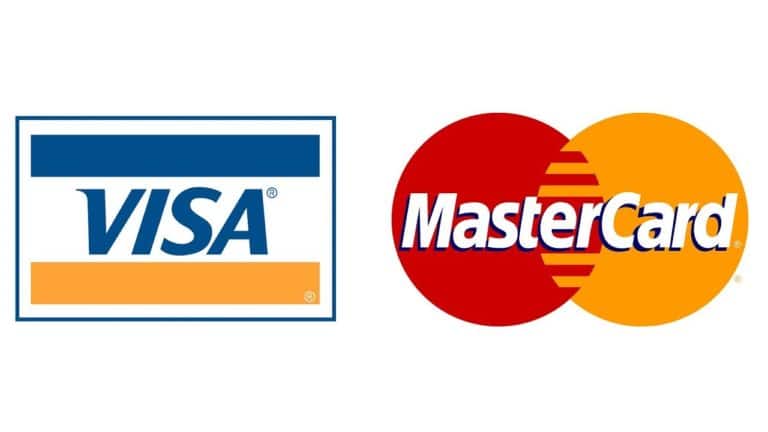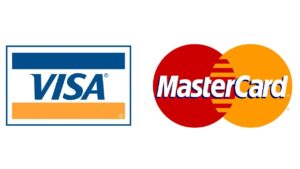 Another option open to UK crypto traders is funding your account using a traditional debit card.
This payment option is quite popular, but the debit card fees differ across the board. Popular cryptocurrency exchanges like Coinbase charges customers 3.99% every time you use your Visa/MasterCard on their platform. Other platforms like Coinmama and Binance charge 5% and 3.5%, respectively. Once again, eToro is our market leader here. eToro charges just $0.5% when you deposit funds using debit card options. However, you have to meet the minimum deposit amount of $10 to start trading.
Best Aave wallets
Digital wallets or cryptocurrency wallets are a necessity if you want to trade Aave. A digital wallet is where you store your Aave coin. When selecting a crypto wallet to keep your funds, you need to choose a wallet that is easily accessible, convenient to use, and secure. Numerous wallets can serve as the best Aave wallets. One of them is MyEtherWallet (MEW). Originally created to support only Ethererum, MEW has now become the go-to digital wallet for all ERC-20 tokens like Aave crypto. MEW wallet features a simple setup and mobile app, allowing you to create an account and transfer your tokens within just a few minutes.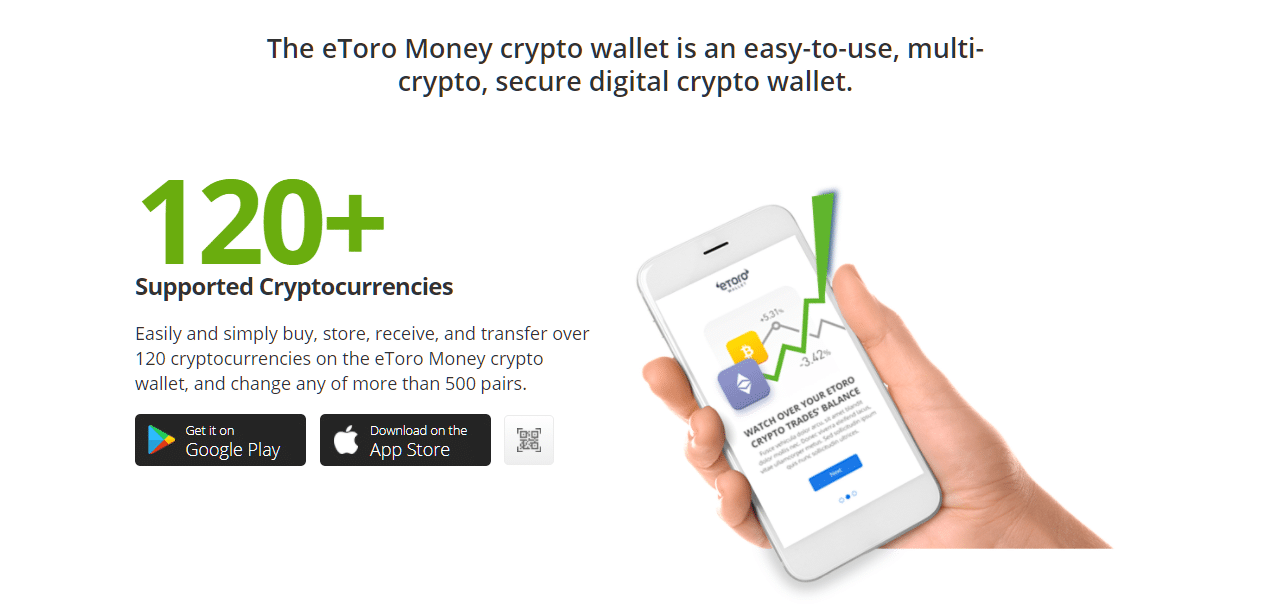 You can also make trades with your MyEtherWallet, which is one of the added benefits of using digital wallets. While this option is trusted, our favorite Aave wallet is the eToro wallet. We recommend the eToro crypto wallet for its security, convenience, and integration with the main platform. The eToro Money crypto wallet can store Aave coin along with 120 more. You can also easily convert your crypto to another without moving or transferring it to another wallet address. Perhaps its most important feature is the unlosable on-chain private key service that allows for a swift recovery in the event of a loss. eToro's crypto wallet can be downloaded and used as a mobile app. It's available on both iOS and Android.
Aave Reddit – A Great Source of Further Information
Aave also has a Reddit account to keep up to date and monitor events around the decentralized protocol. Found easily on the subreddit channel r/Aave_Official, you can join the community and connect with over 10K active members. You can also learn more about how you can leverage the Aave crypto protocol on your trading journey through its Reddit community space.
Conclusion
Discovering the best option to buy Aave coin could be overwhelming for a lot of people. There are just too many options out there, but you need to be careful so you choose a trading platform that meets your specific needs. That means a platform with a lot of focus on top-tier performance, trusted and regulated, offers multiple funding options, and more. This is why we believe eToro is the best platform to buy Aave coins. The online brokerage service provides everything you need to buy, store and invest in Aave. You can get started at eToro today by clicking the link below.
eToro – Overall Best Place to Buy Aave Coin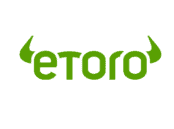 Cryptoassets are highly volatile and unregulated in the UK. No consumer protection. Tax on profits may apply.
FAQs
Where Can I Buy Aave Coin?
Is Aave A Good Investment?
How much is Aave Coin Worth?