How to Buy Ethereum Classic – Cheapest Exchanges Revealed
Fact Checked
Everything you read on our site is provided by expert writers who have many years of experience in the financial markets and have written for other top financial publications. Every piece of information here is fact-checked.
Disclosure
Please note that we are not authorised to provide any investment advice. The information on this page should be construed for information purposes only. We may earn commissions from the products mentioned on this site.
Want to know how to buy Ethereum Classic? We recommend the cheapest and most user-friendly crypto exchanges and explain what the digital asset has to offer, plus an in-depth analysis and price forecast.
What is Ethereum Classic?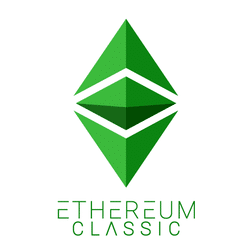 Before you buy Ethereum Classic (ETC) it is of course important to understand what you are buying, as opposed to indulging in blind speculation.
Ethereum Classic is a blockchain network that operates as a decentralised world computer. Because of this it is able to do a lot more than the Bitcoin network, which is confined to the value transfer function of a currency. By way of contrast, Ethereum Classic can run applications that execute on the Ethereum Virtual Machine, which is the computing foundation of the network.
Because of this computing functionality, Ethereum Classic is able to host and run smart contracts.
What are smart contracts?
Smart contracts are programs that embody business logic and are immensely powerful automation tools. For example, they are the basis of decentralised applications (Dapps) and what is commonly known as decentralised finance (DeFi).
Smart contracts have become popular for creating decentralised exchanges, borrowing and lending products, and in many more use cases, from decentralised social networks to decentralised freelancer platforms.
Non-fungible tokens (NFTs), used for registering ownership of unique items on the blockchain, have exploded in popularity this year and are another example of the broad range of innovative products that smart contract technology enables to be created.
Ethereum Classic is a proof-of-work protocol – what does that mean?
Ethereum Classic is a proof-of-work (PoW) protocol, which means that transaction validation is carried out by miners.
Miners are the bookkeepers of the network and are incentivised by receiving newly minted ETC tokens in return for the computing power they bring to the systems to solve the mathematical puzzles required to verify transactions. This computing power is devoted to the competitive brute force task of finding the correct answer to the puzzle by repeatedly trying different solutions – a process known as hashing.
Every time a smart contract executes code there is a fee to be paid. The fee is paid in units of Gwei and is known as Gas.
As with other PoW networks, the system is relatively secure, but transaction volume throughput is low. This can mean it is expensive to run applications on the platform or performing transactions.
Ethereum Classic is the original Ethereum chain that existed prior to a hard fork in the blockchain in 2016.
Difference Between Ethereum and Ethereum Classic
In 2016 a first-of-its-kind project called DAO was launched on the Ethereum blockchain. It was an early example of a decentralised autonomous organisation. Think of it like a company that exists in purely digital form without a centralised management structure and where decisions are taken in a decentralised way by network participants voting on proposals.
In May 2016 when the initial coin offering had finished and DAO tokens became tradable on cryptocurrency exchanges, the network was valued at $150 million.
How the DAO bug birthed Ethereum Classic
Unfortunately there was a bug in the code that allowed Ether tokens (the native token of the Ethereum network) committed to the system to be siphoned out of the system. Around a third of the Ether locked on the system were stolen. A total of 11.6 Ether had been committed to the network by investors.
Through the exploitation of a number of vulnerabilities, some of which had been highlighted by security experts prior to the hack, 3.6 million Ether (worth $70 million was siphoned off.
The only way to get the money back was to hard fork the blockchain in July 2016. A hard fork is like a software upgrade that is not backwardly compatible. Those network nodes that don't upgrade their software are not able to follow the fork in the chain.
Ethereum Classic is the network of the nodes that did not upgrade their software and have continued to add blocks to the chain using the old software.
Ethereum Classic tokenomics
The handling of DAO aside, Ethereum Classic has the same technical attributes as Ethereum. However there are been some changes to the tokenomics.
In December 2017 a supply cap was introduced for Ethereum Classic. Ethereum has no supply cap.
The maximum supply is now 210,700,000 ETC.
As at 5 May 2021 ETC circulating supply is 116,313,299.
Like Bitcoin and Ethereum the block reward to miners falls over time.
The next cut in block reward will take place at block 15,000,000 sometime in April 2022, when the amount will drop from 3.2 ETC per verified block to 2.56 ETC.
Ethereum Classic is ranked at No. 20 by market cap, according to coinmarketcap.
Why Buy Ethereum Classic?
Ethereum Classic's original appeal rested upon the fact that it was fully backwardly compatible with the original chain because it didn't include the reorganisation contained in the hard fork to circumvent the DAO hack.
However, since the 2016 hard fork, Ethereum has gone from strength to strength, taking most of the hash rate with it.
ETC v ETH hash rate per second metrics compared (t = trillion):
ETC:14.7081t
ETH: 534.6972t
Ethereum Classic has a hash rate that equates to 2.75% of the hash rate of Ethereum

The smaller network size of ETC versus ETH in terms of computing resources is also reflected in the number of DApps running on the network.
The official website (ethereumclassic.org) of ETC lists just 20 DApps, covering sectors such as DeFi, interoperability, gaming and identity management.
The upside for developers deploying apps and those using them is that the transaction fees for ETC are much lower than those on Ethereum.
ETC v ETH transaction fees (USD) compared:
ETC: $0.0106
ETH: $13.944

Aside from an almost nostalgic and ideological attachment to the original chain and the notion of an immutable blockchain, which the DAO hard fork is seen as having undermined, why buy Ethereum Classic?
There are two main reasons – one fundamental and the other centred on brand power and price momentum.
Buy Ethereum Classic – the fundamental case
The fact that Ethereum Classic is committed to PoW could make it a hedge against something going wrong during or after Ethereum completes its move to ETH 2.0, which is the name given to the migration process roadmap from PoW in favour of a proof of stake (PoS) protocol.
Proof of stake will allow the Ethereum network to achieve much higher transactions per second and reduce the cost of deploying and running DApps.
In terms of activity in its ecosystem, the role of Grayscale is important. The crypto fund management firm now has $711 million worth of ETC assets under management. Grayscale founder Barry Silbert has been a fan of Ethereum Classic since the hard fork controversy days.
Buy Ethereum Classic – the brand and price momentum case
It's all in the name. Just as forked coins Bitcoin Cash and to a lesser extent Bitcoin SV might be said to derive some of their value from name association with Bitcoin, a similar dynamic is in play as far as Ethereum Classic is concerned.
In the recent spike in the price of Ethereum Classic, it is no accident that it has come on the back of Ethereum reaching all-time highs as it broke through the $3,000 level.
And as Ethereum rises in price, the differential between it and Ethereum Classic grows wider, this perversely can make ETC appear even more attractive to potential buyers.
Such is the level of speculation in the crypto space, that those who may now baulk at buying Ethereum above $3,000 will be drawn to the much lower price of Ethereum Classic, which at the time of writing (5 May) is priced at $88.23.
The strength of this thesis is evident in the positive correlation of ETH and ETC which is 92%, according to crypto exchange Coinbase.
Buy Ethereum Classic – Risks
Fundamentals – the network suffered three 51% attacks last year. If a network has a relatively small number of nodes then it it makes it easier (and relatively inexpensive) for a bad actor to secure majority control of network transaction validation. Control of 51% or greater of the network allows the controller to censor the network for financial gain.
Price momentum – Because of the speculative nature of the buying associated with ETC, even by crypto standards, means any reversal in near-term sentiment could exhibit particularly violent downward volatility.
RSI of 14 is a sell signal
MACD of 8.1 is a buy signal
MA 20 v 50  13.5 is a buy signal
EMA 10 v 20  7.1 is a buy signal
Crypto research and analytics firm CoinFi currently rates ETC a sell (see screenshot below) based on a composite of eight technicals, including the four cited above, which shows it trading at overbought levels. However, we believe any downward move is likely to be short-lived, depending on the direction of the bitcoin price and the altcoin complex more generally.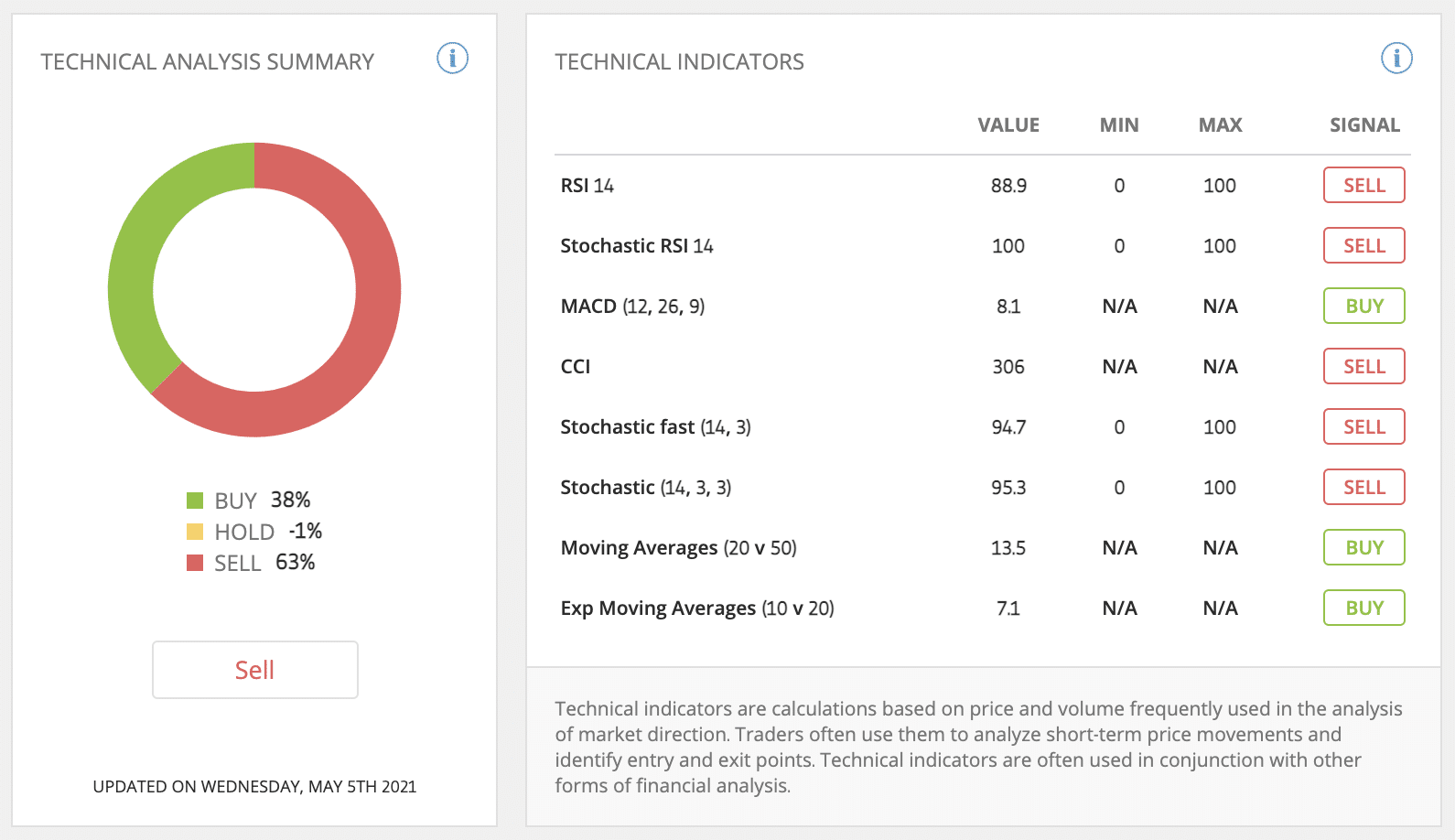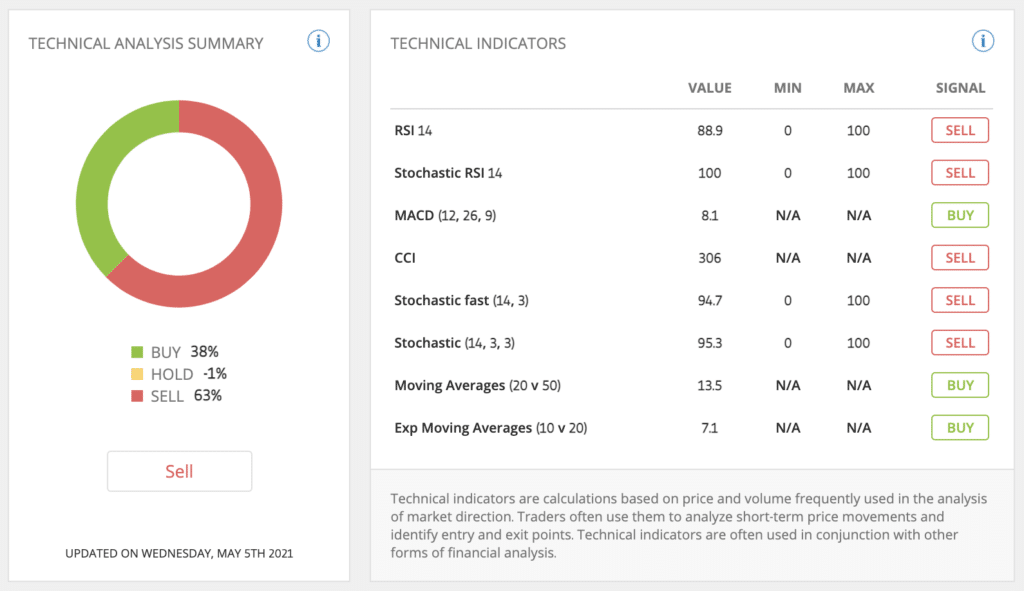 Altcoins (all coins other than bitcoin) can often catch a bid when bitcoin consolidates. here are weakness in the consolidation because it follows a sharp fall from an all-time high at $64,000, but last week printed a near-term low of $47,000 which could be the bottom. However, if bitcoin reverses to retest that bottom, it could bring the current buying pressure around the best-performing altcoins into doubt.
Ethereum Classic Price
Ethereum Classic as at 5 May 2021 is priced at $124.50, according to Coinmarketcap.
In the past 30 days ETC has risen 356%
In the past three months it has risen 856%
In the past 12 months the price has risen 976%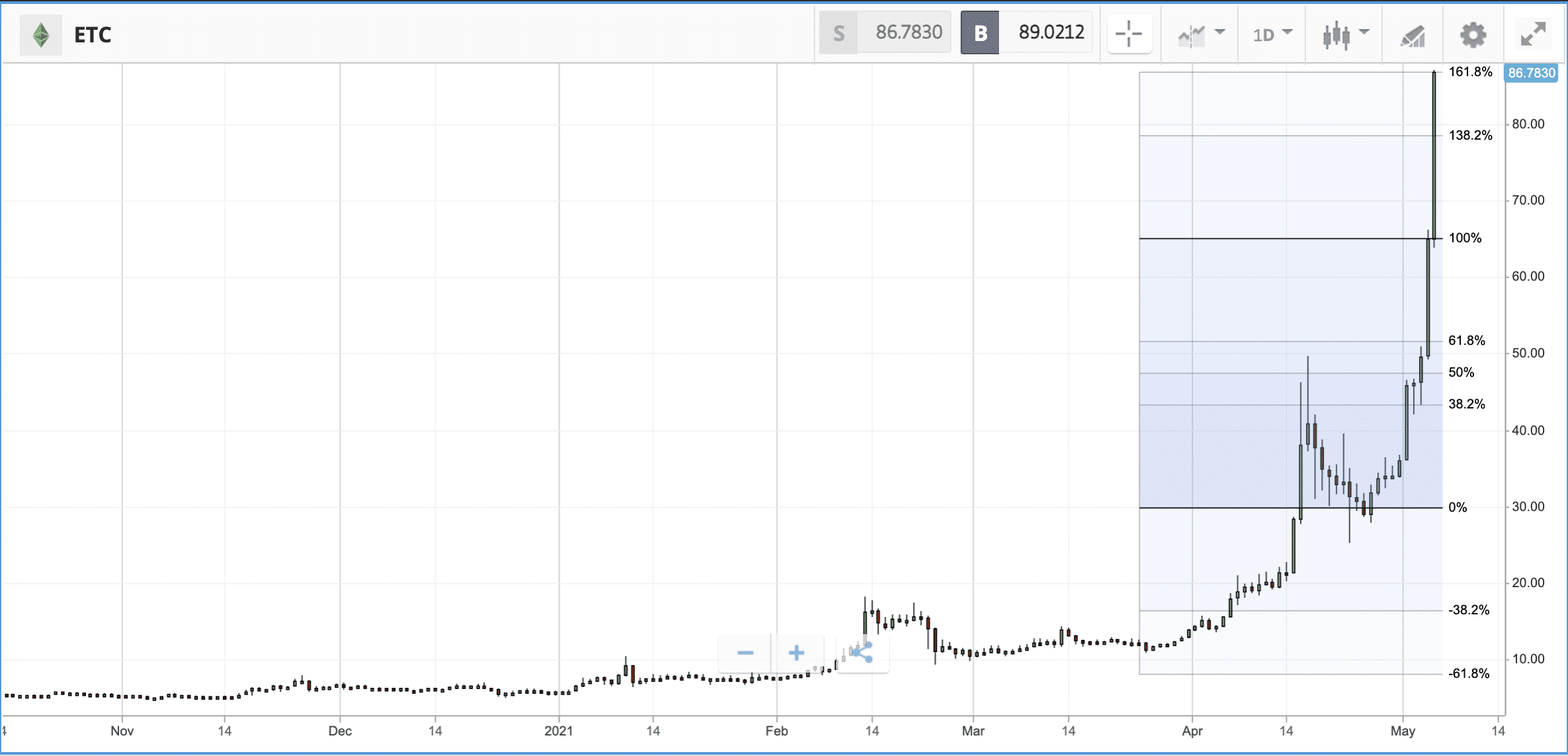 Ethereum Classic Price Prediction
Technical analysis of the price action for Ethereum Classic shows strong momentum. Whether this will stick depends on the trading volume that has underscored recent moves. From that perspective, those choosing to buy Ethereum Classic at this point could draw some comfort. However, when a price runs up as strongly as ETC has done over the past few days and weeks, then it makes it increasingly likely that a pull back on profit taking will kick-in at some point.
With the price currently on a parabolic trajectory, chances of a near-term easing are ever-present, but that is likely to be a pause in the upward march rather than any substantial reversal.
Low upside resistance
As the price enters virgin territory, there is little upside resistance because there has been no previous activity at these levels, such as previous buyers sitting on loses looking to sell on new highs.
With the magic $100 price level already breached, the next important psychological target for short-term traders and more long-term investors alike is $200, given the parabolic momentum of the coin currently.
The price briefly printed an intra-day high of $149 on Coinbase on 5 May 2021.
Near-term price target $200.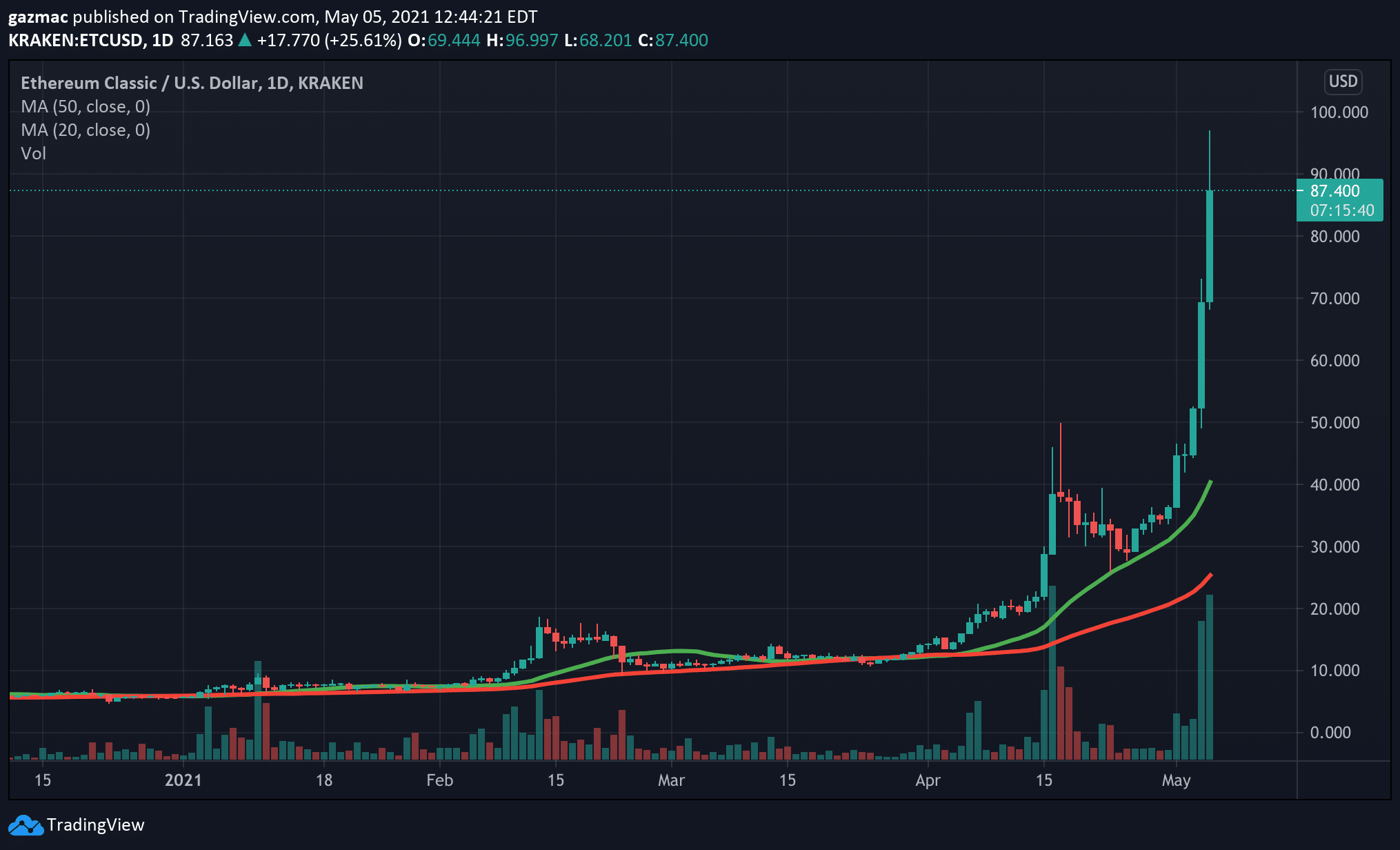 Where to Buy Ethereum Classic
We review the two top choices for those looking to buy Ethereum Classic, looking at factors such as trading platform costs, ease of use and research tools
1. Coinbase – Safe Cryptocurrency exchange to trade Ethereum Classic
When it comes to trading crypto, Coinbase can be a good option, especially if you can use its Advanced Trade tier rather than its opaque and pricey core service. Despite its complex, multilayered fee structure, Coinbase continues to obscure the pricing for its entry-level service.
Despite this, the exchange continues to add more tradable coins to its service, now well over 200, and it's also improving its educational content and market commentary to assist newcomers. Among crypto exchanges, Coinbase also offers clients the option to hold their cryptocurrency and earn stake rewards. After several years of waiting, a long-promised phone support has finally been added to Coinbase.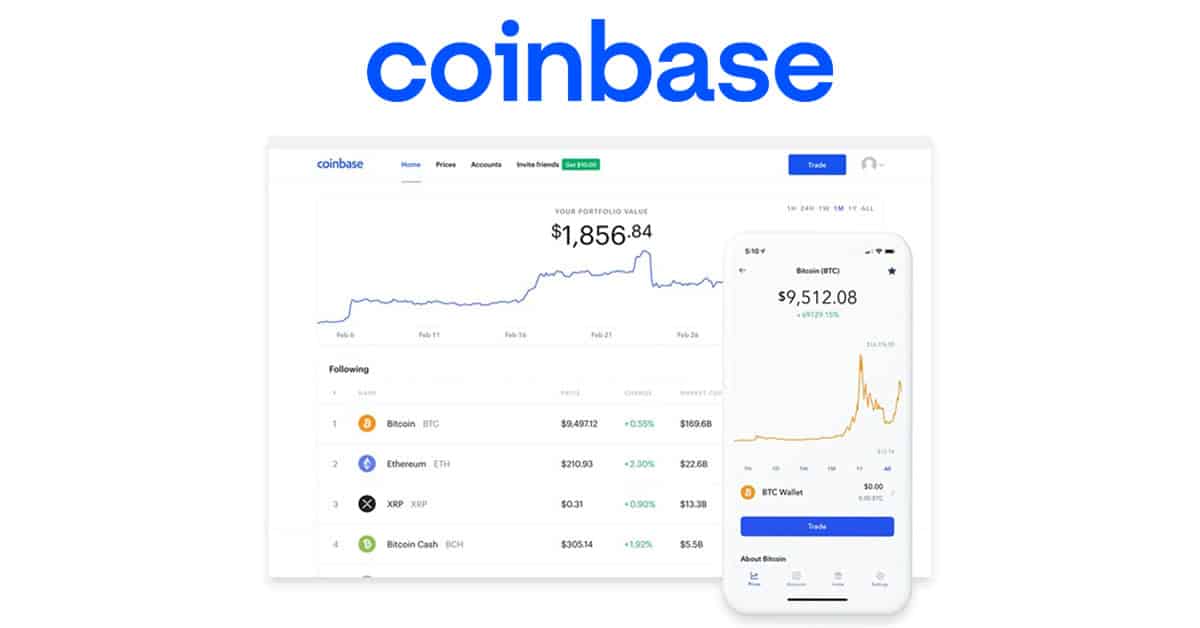 Pros
Various cryptocurrencies, including Ethereum and Bitcoin, are available to customers.
To store customers' assets securely, the company developed security technology.
Two-factor authentication is also supported, adding another layer of security.
By using the company's tools, traders can track the performance of their investments.
In addition to PayPal and Apple Pay, other platforms can be used for payments and transfers.
Cons
Trading or transferring funds can be costly, depending on the amount involved.
Services are not available in all countries or regions due to regulations.
Investors looking for quick returns should stay away from the platform.
Your capital is at risk.
2. Binance – Top Cryptocurrency exchange for trading crpyto


Binance is the world's largest cryptocurrency exchange, which was originally founded in China but now has offices around the world.
Binance, in common with many other crypto exchanges, allows you to trade a number of pairs for each asset. This means instead of just ETC/USD there are pairs for ETC/BTC, ETC/ETH, ETC/USDT and many more. USDT is the Tether stablecoin that is backed 1:1 by the US dollar.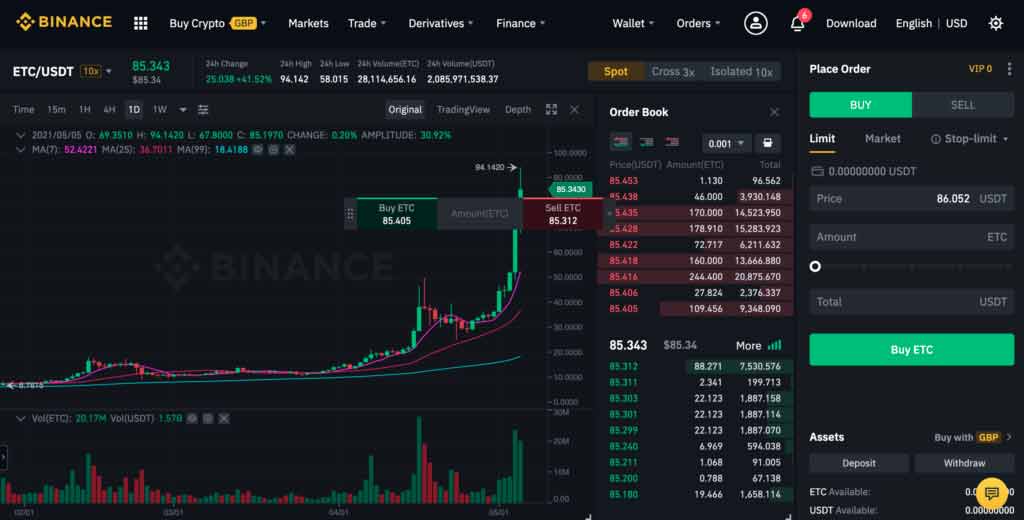 Also when it comes to funding your account, you are not limited to traditional fiat currency such as the pound or the US dollar. You can send crypto direct from a crypto wallet to the exchanges.
You can still fund your account with fiat currency however, using a credit or debit card. Bear in mind though that there is a fee of 1.8% charged for using this funding method. You can use your cash account to buy Ethereum Classic directly (see screenshot below)
When it comes to  transaction fee, Binance charges a mere 0.1% making it one of the cheapest in the space and part of the reason for its global success. If you invested £1,000 in ETC, you would only pay £1 in fees. You can reduce these fees even further if you wish by using Binance's digital currency, Binance Coin (BNB). Binance Coin is currently valued at $649 and is one of the best performing altcoin, currently ranked as the third most valuable by coinmarketcap.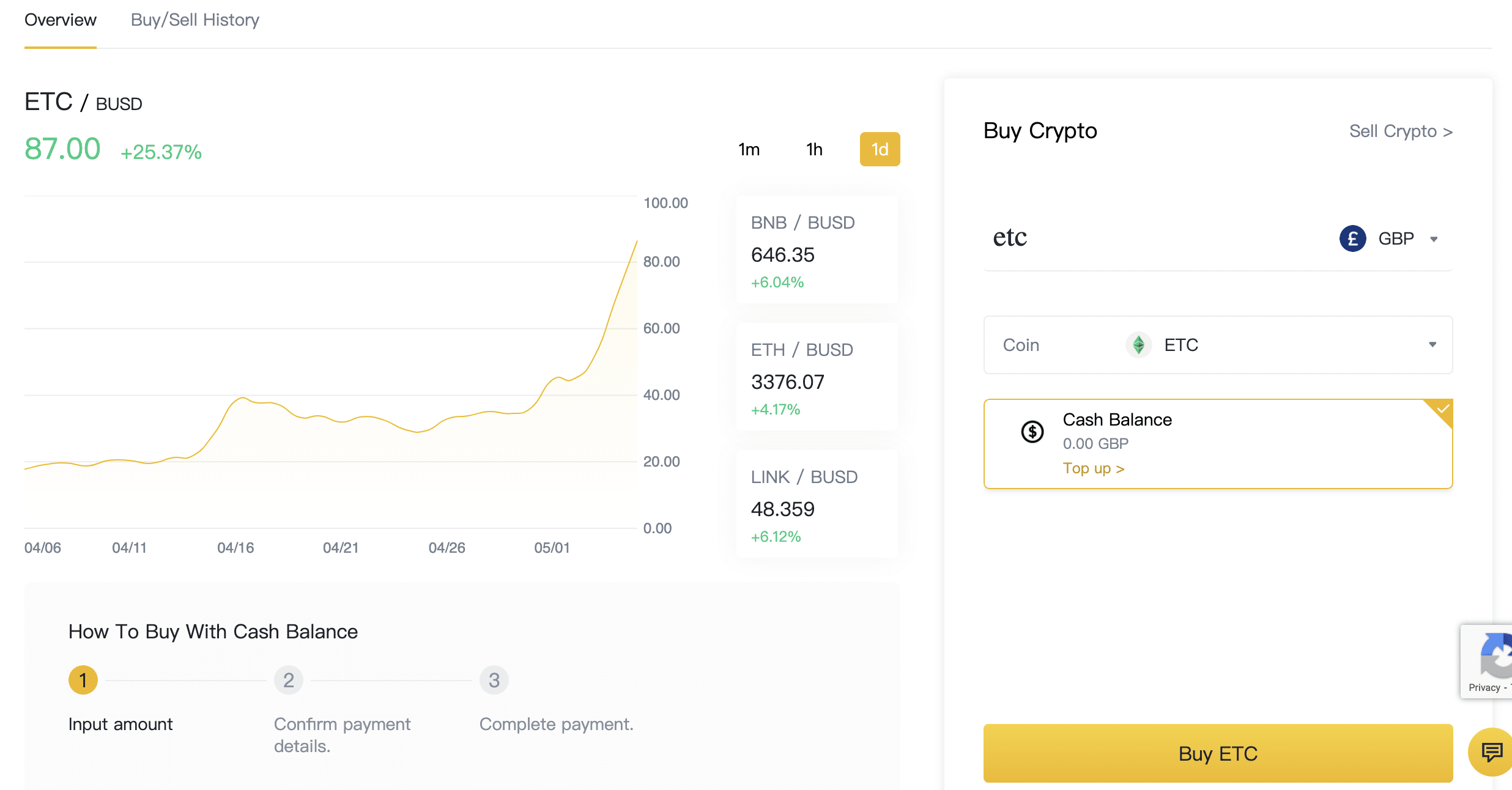 Finally, Binance's educational output via its Binance Academy provides excellent guides and tutorials, which all helps to smooth the way for beginner traders. And if you still can't find the answer to what you are struggling with or want further clarification on something, then you can use the Ask Academy service.
Since June 2020 Binance has been regulated by the FCA for the buying and selling of crypto assets.
Pros
Advanced, customisable trading platform
Extensive selection of educational materials through Binance Academy
Transaction fees of only 0.1% when crypto trading
Hundreds of trading pairs
Fiat-to-Crypto trading offered
Credit and debit card and bank transfer
Choice of advanced or basic trading screens
Regulated in the UK by the FCA
Cons
Does not provide daily market analysis
Might be a confusing user interface for first-time traders
Your capital is at risk.
How to Buy Ethereum Classic Tutorial
Now that you have all the information you need regarding Ethereum Classic, it's time to show you how to buy Ethereum Classic and the Coinbase process for purchasing the crypto asset.
Step 1: Sign Up for an Coinbase Account
To create your Coinbase account, head over to the website and click the 'Get Started button in the top right of the screen. On the following page, simply enter your email address and choose a username and password. You can also sign-up via the Coinbase mobile investment app, available for iOS and Android devices.
Step 2: Verify your ID and Address
The platform requires all new users to be verified to access all of its services. The sign-up process can be completed entirely online. Simply upload proof of ID (a copy of your driver's licence or passport) and proof of address (a copy of a bank statement or utility bill). Coinbase will then verify the documents, which typically takes just a few minutes.
Step 3: Fund your Coinbase Account
You can fund your Coinbase account using a credit or debit card, bank transfer. If you want to invest as quickly as possible though, we recommend using a debit card because the funds will arrive in your account instantly.
Step 4: Search for ETC
Type 'ETC' in the search bar at the top of the screen and click on the first option in the drop-down box. On the next page, click the blue 'Trade' button in the top right corner.
Step 5: Buy Ethereum Classic
All that's left to do now is enter your desired investment amount , double-check everything is correct, and click 'Open Trade.'
Conclusion
Throughout this guide, we have touched on the key aspects you need to be aware of when buying Ethereum Classic (ETC) in the UK. As more and more retail investors enter the market the price of ETC may have much further to rise. But depending on what happens with Ethereum, ETC could become more important as a more secure version of the original Ethereum blockchain given its commitment to proof of work.
Don't invest in crypto assets unless you're prepared to lose all the money you invest.
FAQs
Where can I buy Ethereum Classic?
Is Ethereum Classic a good investment in 2021?
What are the risks of buying Ethereum Classic?
Is Ethereum Classic better than Ethereum?
Is it safe to buy Ethereum Classic?