High risk investments in the UK won't be for everyone.
On the one hand, the risk of you losing money is going to be much higher than a traditional asset like blue-chip stocks or government bonds. On the flip side, the potential gains will, of course, be much higher than what the aforementioned assets typically yield.
In this guide, we explore high risk investments in the UK. We also discuss UK brokers to buy high risk investments and how you can get started with an account today.
High Risk Investments 2021
Here's our list of five high risk investments of. 2021. Scroll down for more information on each investment.
Bitcoin
EasyJet
Rolls Royce
Vanguard Emerging Markets Stock ETF
Cineworld
High Risk Investments in the UK
If you're looking to allocate some of your portfolio capital to high risk investments, below you will find a selection of assets that might be of interest to you. Each asset class comes with a different level of risk and potential yield, so spend some time thinking about what your financial goals are before taking the plunge.
1. Bitcoin
Bitcoin is the world's first cryptocurrency and still leads the way in terms is mass awareness, valuation, and real-world usage. To give you some perspective of how rapidly this digital currency has grown, Bitcoin was worth less than a fraction of $0.01 when it was first launched in 2009. Just 9 years later in 2017 – the very same Bitcoin would have cost you $20,000.
The cryptocurrency has since tailed-off in terms of pricing – even hitting lows of $3,000 along the way. With that said, as of November 2020 Bitcoin is valued at around $13,500. Comparing this to its price back in 2009, this represents an unprecedented increase of almost 135 million percent. In other words, had you invested just £100 back in 2009 you would be a billionaire today.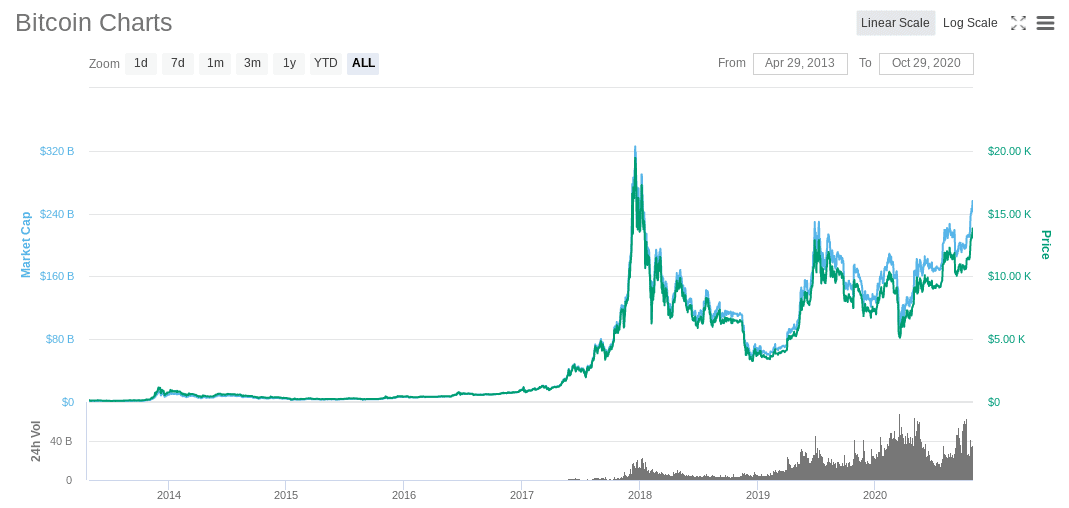 In terms of the long term prospect of Bitcoin, the potentialities are virtually limitless. In the short-term, a Bitcoin ETF has been in the making for a number of years. If and when it finally gets regulatory approval, this will open up the doors to institutional money. Either way, many believe that in years to come Bitcoin will be worth significantly more than it currently is.
But, like any high risk investment in the UK, such large returns do result in increased risk. In fact, there isn't an asset class nearly as speculative as Bitcoin. For example, had you bought Bitcoin during the crypto-craze of late 2017 – you would have paid $20,000. Fast forward 12 months later and the cryptocurrency was worth just $3,300.
Put simply, this means that your investment would have dropped by 83% in just 1 year. Since then, the digital currency has gone through many peaks and troughs – albeit, it is yet to get back to its previous all-time highs of $20,000.
If you are a complete novice in the world of cryptocurrency trading, we would suggest opting for a low-risk dollar cost-average investment strategy. This means that you will be making regular investments – say on a monthly basis, but on a small scale. For example, if using a regulated platform like eToro, you can invest a minimum of $25 into Bitcoin without paying any commission.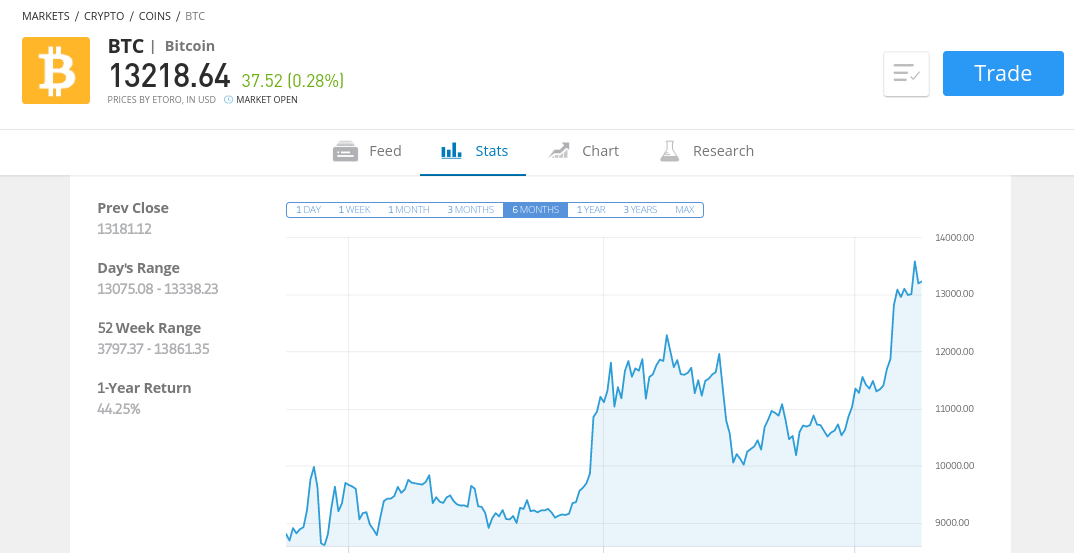 As such, by committing to the same amount each and every month, the price that you pay for Bitcoin will be averaged out. This means that you are less concerned with short-term volatility and thus – you can sleep at night without worrying about waking and seeing Bitcoin crash by double digits.
It is also important for us to note that a lot of UK investors avoid Bitcoin because they are worried about the safety of their investment. Once again, this is why you should use a Financial Conduct Authority (FCA) regulated broker like eToro. Not only will you benefit from a strong regulatory framework, but you are not required to withdraw your Bitcoin to a private wallet. Instead, the funds are kept at eToro until you decide to cash the coins out.
Sponsored ad. Your capital is at risk.
2. EasyJet
While there are several industries that have been hit particularly hard by the pandemic – none have been quite as disastrous as the airline arena. First, passenger numbers were dropping off anyway as the fears of the virus began to grow in early 2020. Then, as more and more governments around the world implemented entry restrictions, airlines were forced to ground their planes for months on end.
Naturally, this resulted in a major capitulation of airline stock prices. This could present an opportunity to buy stocks like EasyJet at a huge discount, but you do need to tread with caution. First, you need to ask yourself whether or not you believe that air travel will eventually return to pre-pandemic levels. Many would agree that this will eventually be the case, but when remains to be seen.
Secondly, you need to assess whether or not your chosen airline has the financial means to see itself through the current economic climate. After all, although planes are once again back in the air, passenger numbers are still at record lows. While this at the very least ensures that the airline has an inflow of cash, many are still operating at a huge loss.
This is why airline stocks sit well within the scope of a high risk investment. In terms of choosing which airline stock to invest in, there are many options are on the table. With that said, we are inclined to stock with budget airline EasyJet. Before we get to the specifics, let's have a look at the firm's stock price action. At the start of the year, EasyJet shares were priced at 1,430p.
Fast forward to November 2020 and the same shares are worth just 487p. This represents a 10-month decline of 65%. But, before the pandemic came to fruition, EasyJet shares were actually on a run. For example, back in August 2019, the stocks were priced at 887p. For the following 6 months, the shares were on a steady upward trajectory.
So, if we were to agree that EasyJet's share crash is of no fault of its own, it is fair to assume that the stocks should have no problem returning to pre-pandemic levels once the virus is just a distant memory. Unfortunately, it's not that simple. Crucially, EasyJet will not have the financial means to continue as it currently is indefinitely, which is why we need to look at the balance sheet.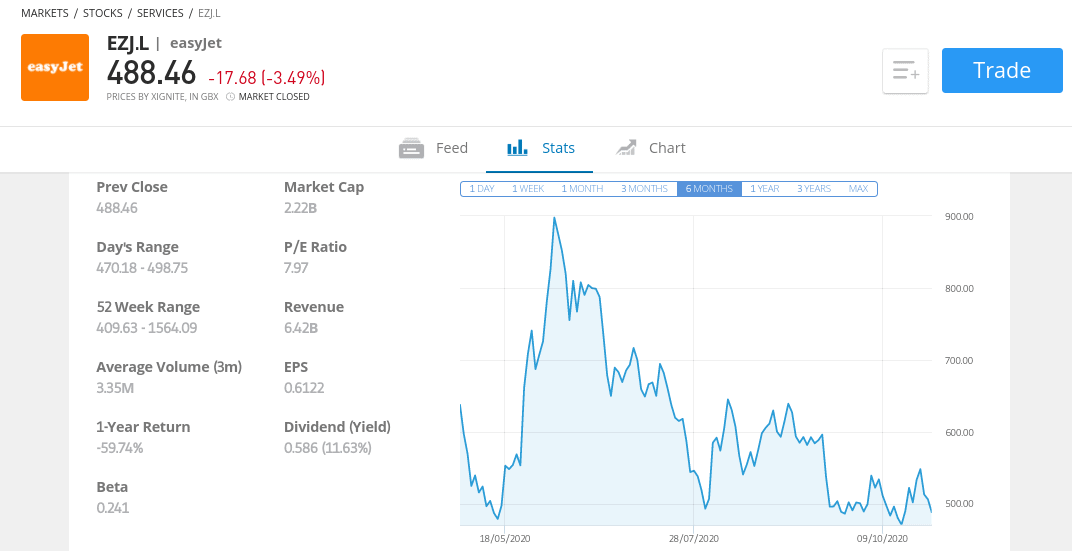 So, in recent days, EasyJet managed to raise £300 million by selling some of its fleet – subsequently opting to lease the planes back. This was a smart move from management as it frees up some much-needed capital. Before this, EasyJet was able to raise in the region of £2.7 billion in financing. This was a blend of government funding, share placements, and additional sale/leasebacks.
With this in mind, it appears that EasyJet is in an 'ok' position at present to ensure it gets through to the other side. You should, however, limit your stakes on this one. You could also consider adding other airline stocks to your portfolio alongside EasyJet to help mitigate the risks. Once again, you can buy EasyJet shares at eToro commission-free and at a minimum of just $50.
Sponsored ad. Your capital is at risk.
3. Rolls Royce
In the 24 hours prior to writing this article, Rolls Royce shares increased by almost 220%. In the 24 hours prior to that, the shares crashed by over 60%. Crazy times, indeed. Regarding the 60% drop, this was large because management at Rolls Royce initiated a £6 billion share issue. As such, those currently in possession of stocks were heavily diluted.
However, we need to go back further in time to look at why Rolls Royce represents a high risk investment to consider adding to your portfolio. Crucially, just 12 months ago, Rolls Royce stocks were trading above 2,000p each. Since then, the shares have been moving in the wrong direction.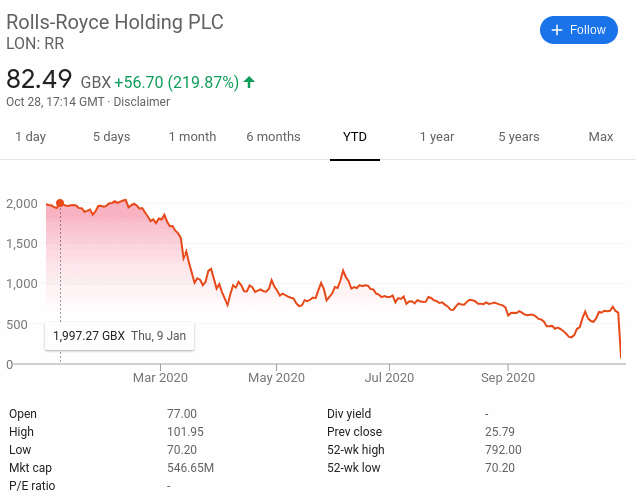 At the time of writing, the same shares will cost you just 82p. This translates into a 12-month decline of 95%. To put that into perspective, had you invested £10,00 into Rolls Royce shares 1-year ago, your investment would be worth just £500. With that said, optimists will look at this as an opportunity to buy the shares at rock-bottom prices.
Contrarians, on the other hand, will look at this and question whether Rolls Royce is still a growing concern. As such, we need to look at the fundamentals. We should note that much of Rolls Royce's business model centres on its high-grade engines. It supplies many of these engines to the airline industry.
This is once again a prime example of how the pandemic has resulted in a 'dominos' effect. In other words, as demand for air travel has plummeted, as have the engines that Rolls Royce is so famous for manufacturing. So, taking this lack of demand into account and the pressures it has had on free cash flows, this forced Rolls Royce to issue £2 billion worth of equity.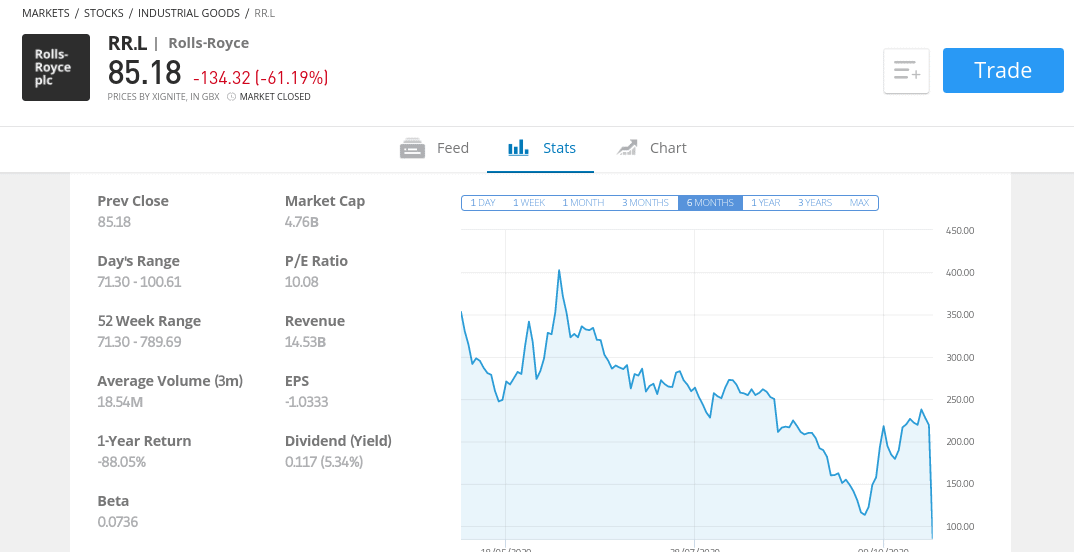 However, it is also important to note that Rolls Royce wasn't performing particularly well before the pandemic came to fruition. For example, its balance sheet was displaying liabilities of over £32 billion – which is huge when you compare this to the valuation of the firm itself.
With all that said and done, while it remains to be seen whether Rolls Royce will ever get back to 2,000p, at current prices this stock is simply too cheap to turn down. After all, at 82p, this presents a required upswing of over 2,300% to get back to pre-covid levels. As the upside potential is so large, you only need to dedicate small stakes with high risk investment.
Sponsored ad. Your capital is at risk.
4. Vanguard Emerging Markets Stock ETF
If you're based in the UK and looking to access high risk high-reward investments located on foreign stock exchanges, the Vanguard Emerging Markets Stock ETF is likely to be up your street. As you are investing in an ETF, this means that Vanguard will buy and sell shares on your behalf. As such, you will benefit from a high risk investment stream that is 100% passive.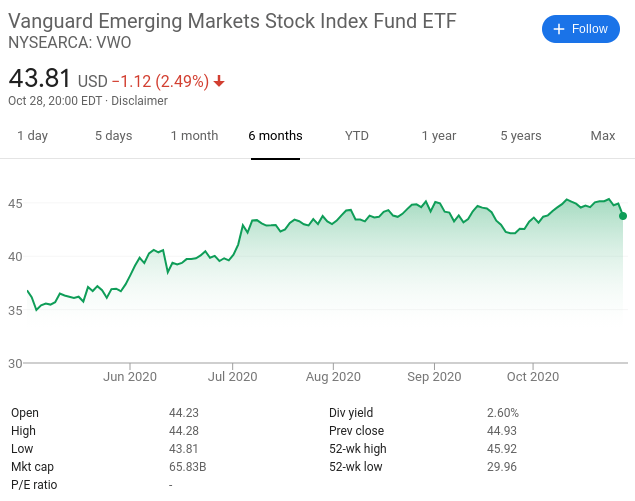 This ETF will give you instant access to over 5,000 stocks. 44% of your portfolio will be directed to Chinese stocks, 16% to Taiwan, and 10% to India. Other countries include Russia, Mexico, the Philippines, Malaysia, South Africa, Brazil, and Indonesia. As you can see, although you are investing in high risk markets, your portfolio is heavily diversified.
To give you an idea of some of the stocks that you will be investing in with the Vanguard Emerging Markets Stock ETF, check out the list below:
Alibaba Group Holding Ltd.
Tencent Holdings Ltd.
Taiwan Semiconductor Manufacturing Co. Ltd.
Meituan Dianping
Reliance Industries Ltd.
Naspers Ltd.
JD.com Inc.
Ping An Insurance Group Co. of China Ltd.
China Construction Bank Corp.
Infosys Ltd.
As you might have guessed, being able to access companies such as those listed above is not a simple process for UK retail clients. This is why you are advised to go the ETF route – if the emerging markets are something you want to target. In terms of performance, this high risk investment has yielded almost 10% over the past 12 months.
What we also like about this ETF is that it is publicly listed on the New York Stock Exchange. Put simply, this means that you can dip in and out of the ETF at the click of a button – as long as this is during standard market hours. In terms of where to buy the Vanguard Emerging Markets Stock Index Fund, you can do this through eToro without paying a single penny in commission.
Sponsored ad. Your capital is at risk.
5. Cineworld
In a similar nature to pubs, hotels, restaurants, and gyms – cinemas in the UK were put under severe financial pressures during the lockdown. At the forefront of this is Cineworld – the UK's largest cinema chain with over 120 sites. All in all, Cineworld stockholders have had a torrid time in 2020 – more so than many shares listed on the London Stock Exchange.
For example, the stocks started the year at 220p each. In November, the same shares are worth just 24p – giving Cineworld a market capitalization of just £333 million. As such, the shares have lost 89% in valuation in just over 10 months of trading. The main concern here is not whether UK cinemas will one day return to pre-covid levels.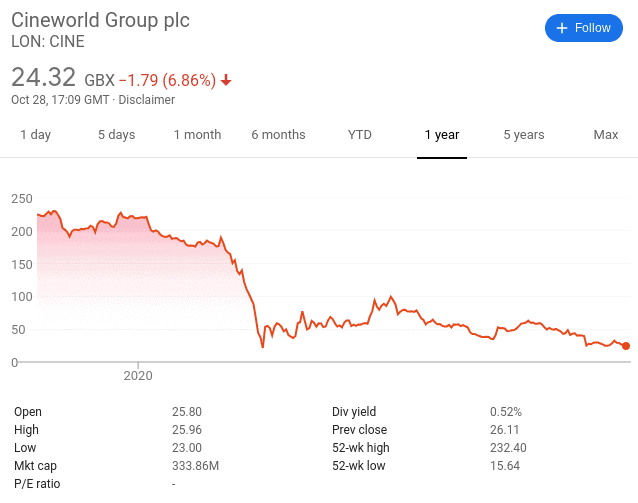 This may be more of a probability than a possibility. The key problem is when. Like all sectors trying to battle their way through the wider impact of the virus, Cineworld can't survive forever. After all, it still has liabilities that it needs to service. With incoming cash flows at record lows, this is becoming more and more challenging.
This is especially the case when you consider that the firm has net debt of over $8 billion. In its recently published half-year results, Cineworld noted that it had enough cash to see it through the next year. In addition to this, its creditors have agreed to work alongside the cinema group, albeit, it remains to be seen for how long.
Taking all of this into account, Cineworld is no doubt a high risk investment. But, and much like Rolls Royce and EasyJet, current prices are simply too juicy to turn down. Once again, you don't need to allocate large stakes with this one.
After all, the upside potential is enormous – so this truly sits within the remit of high risk high-return investments. The important thing is that the group is able to meet its financing commitments. If it is, then it is hoped that Cineworld will weather the coronavirus storm and one day return to normality.
Sponsored ad. Your capital is at risk.
Platforms to Invest in High Risk Investments
Not only do you need to spend ample time researching high risk investments for your personal financial goals, but you also need to find a suitable brokerage site. After all, this is the only way that you will be able to buy and sell assets from the comfort of your home.
There are hundreds of such brokers to choose from. This is why you need to look at key metrics like fees, commissions, tradable assets, customer support, and regulation before signing up.
Check the below list of UK stock brokers to buy high risk investments.
1. eToro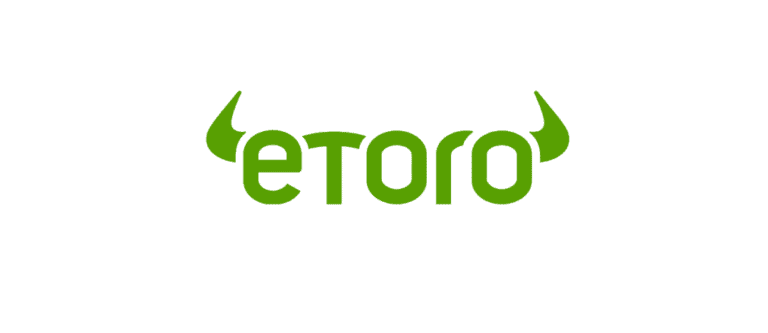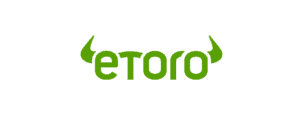 eToro is an option on the table if you're based in the UK and looking to buy high risk, high-yield investments online. Crucially, the platform is the cheapest broker in the UK investment space – allowing you to buy and sell assets without needing to pay any commission. Additionally, the broker does not charge stamp duty fees, nor will need to pay a monthly dealing fee. Instead, eToro makes its money from the 0.5% deposit fee it charges.
After that, you will have unfettered access to heaps of assets – many of which are classed as high risk investments. In fact, all five high risk investments that we have discussed today are available on the eToro platform. For example, you can buy and sell over 16 cryptocurrencies – including Bitcoin, invest in Ripple, and Ethereum. Or, you can invest in high yield ETFs that track emerging market stocks and corporate bonds, and even real estate. Other asset classes at eToro include indices, forex, and commodities.
If you are a newbie investor or you simply want to benefit from a passive stream of income, you might be interested in automated portfolios offered by eToro. The Copy Trading feature, for example, allows you to choose an expert trader that you like the look of. Then, you can elect to copy all of their ongoing trades. Or, you can try the CopyPortfolio feature, which allows you to diversify across heaps of different eToro traders and even specific sectors like tech and retail.
In terms of minimums, eToro allows you to invest from just $50 when buying stocks and ETFs. If it's cryptocurrencies you're keen on, this goes down to just $25. You will, however, need to deposit at least $50 to get started. You can do this by using your everyday debit or credit card, and even an e-wallet such as Paypal and Skrill. In terms of safety, eToro is regulated by the FCA and your funds are protected by the FSCS (up to £85,000).
Sponsored ad. Your capital is at risk.
2. IG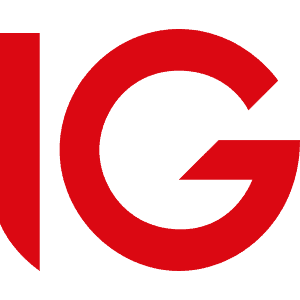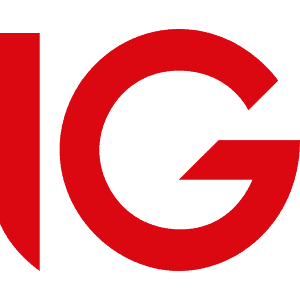 IG offers one of the largest investment suites in the UK market. The broker – which was launched in 1974, is a public company listed on the London Stock Exchange. With a full host of regulatory licenses under its belt – including that of the FCA and a partnership with the FSCS, you can invest at IG without needing to worry about the security of your funds. Nevertheless, you will have access to over 12,000 assets here.
This includes a huge selection of the UK and international stocks, ETFs, mutual funds, and even investment trusts. With so many assets available, it goes without saying that you have heaps of high risk investments to choose from. For example, you can buy AIM shares, foreign-listed equities, and even trade CFDs. You can also access the cryptocurrency markets, apply leverage, and engage in short-selling.
If opting for the traditional share dealing side of IG, you will be charged a fee of £8 per trade. While this is much more expensive than eToro, you will have access to a much wider range of financial instruments. If you trade regularly at IG, the £8 fee is reduced to just £3. Additionally, you also have the option of placing your high risk investments into a Stocks and Shares ISA.
This will allow you to invest with tax relief as you don't pay any income tax on the first £20,000 in your ISA. Much like eToro and Plus500, IG offers a mobile app. With that said, this is more suited for Android users, as the iOS app doesn't support deposits/withdrawals or pricing alerts. While we are on the subject of funding, IG supports debit/credit cards and bank transfers. The former is instantly processed, albeit, credit cards specifically come with a fee of 0.5%-1%. Finally, the minimum deposit is £250.
Sponsored ad. Your capital is at risk.
What are High Risk Investments?
Puts simply, a high risk investment is one that carries an above-average chance of loss. In other words, the 'risk vs reward' spectrum is much higher than traditional assets and low risk investments. This means that while you stand the chance of making higher returns, you also face a chance of losing money.
This is just the nature of the investment space, as the higher the potential upside, the more risk you need to take. For example, a conservative investor in the UK that has virtually no appetite for risk will likely seek safe havens like savings accounts. These are fully protected by the FSCS, meaning that even if the bank or building society went bust, your funds would be covered by up to £85,000.
But, in turn, the yield on savings accounts rarely surpass the 2%-mark. If you are looking to invest in the financial markets at a higher rate of return, then this won't suffice. As such, this is why many UK traders will turn to high risk investments.
To give you an idea of some popular high risk investments available in the UK, check out the list below.
Emerging market stocks
Emerging market bonds
Low-grade corporate bonds
Cryptocurrencies
Peer-to-peer lending
Mortgage-backed securities
Derivatives and leveraged assets
Commodities
Penny stocks
IPOs
Stocks with weak balance sheets
Exotic forex pairs
Venture capital funds
And many more
Taking this increased risk of loss into account, seasoned investors will rarely allocate more than 5-10% of their portfolio to high risk investments. This way, even if the investment doesn't pan out, the consequences are not overbearing. On the flip side, if the high risk investments do perform well, the upside potential can be huge – even if with a small allocation of capital.
How to Choose High Risk Investments for You
With so many high risk types of investments available to UK traders, knowing which assets to add to your portfolio can be challenging. After all, you're not investing in blue-chip stocks like Apple, Amazon, or IBM that have a longstanding track record.
On the contrary, you are investing in an asset that has a much higher chance of losing your money. This is why the research process is absolutely crucial when it comes to making investment decisions.
Here's what you need to know before taking the plunge with your chosen UK high risk investments.
What is the Upside Potential?
Your first port of call should be to assess the upside potential. This simply means the amount of profit that you could make at some point in the future. It goes without saying that there is no crystal ball in this respect. After all, there is no way to predict the future with any certainty – no matter how well you do at reading charts and deploying technical indicators.
But, what you can do is look at historical returns to gauge some sort of idea as to what gains are potentially on the table. For example, in the case of Bitcoin, we noted that the digital currency went from less than $0.01 in 2009 to a whopping $20,000 in 2017. This means percentage gains that run into hundreds of millions.
To What Extent is Your Capital at Risk of Loss? 
Once you are able to identify the potential rewards from your investment, you then need to carefully consider the risks. On the one hand, all investments – whether that's stocks, bonds, ETFs, investment funds, or mutual funds, comes with an element of risk.
With that said, you can say with some degree of certainty that the chances of stocks like GlaxoSmithKline, Facebook, Apple, and Disney going to zero are virtually zero (albeit not impossible). This is also the case with index funds like the FTSE 100 and the Dow Jones, as well as precious metals like gold and silver.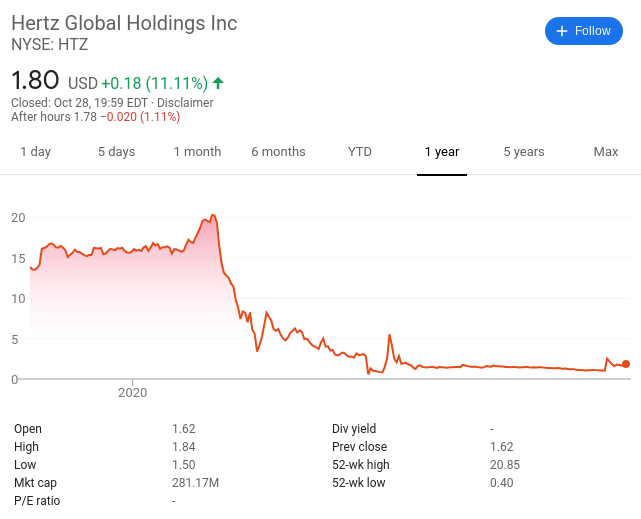 However, when you start looking at the fundamentals of high risk investments, the risk of losing everything is a possibility. For example, there is no denying that the likes of EasyJet are facing a significant uphill battle. The firm does have access to a high level of credit and it has also shown that it knows how to raise finance – but this won't last forever.
Take Hertz for example. This former giant was once one of the largest car hire firms in the world. But, the company filed for Chapter 11 bankruptcy earlier in the year – subsequently showing that no investment is free of the risk of total collapse. Ultimately, you just need to ensure that you understand how much risk you are taking with your chosen high risk investment.
You should always closely analyse an asset's past performance and share price history before you consider making a high risk investment.
Capital Allocation
If you are planning to invest a large amount of your available capital into a high risk investment class – you should seriously reconsider. Instead – and as we noted earlier, seasoned investors in the UK will rarely risk more than 5-10% of their capital on high risk investments.
This ensures that if things go wrong, the consequences are not nearly as severe had you invested a larger chunk. This leads us nicely on to the next section – diversification.
Diversification
Not only should you limit the amount of capital that inject into high risk investments, but you should also consider creating a diversified portfolio. This will allow you to limit your risks by some distance.
For example, let's suppose that you have £10,000 to invest in the financial markets. Of this figure, you want to allocate 5% to high risk investments – which amounts to £500 of your available capital. An inexperienced investor might decide to use the entire £500 into one high risk asset class like Bitcoin or EasyJet shares.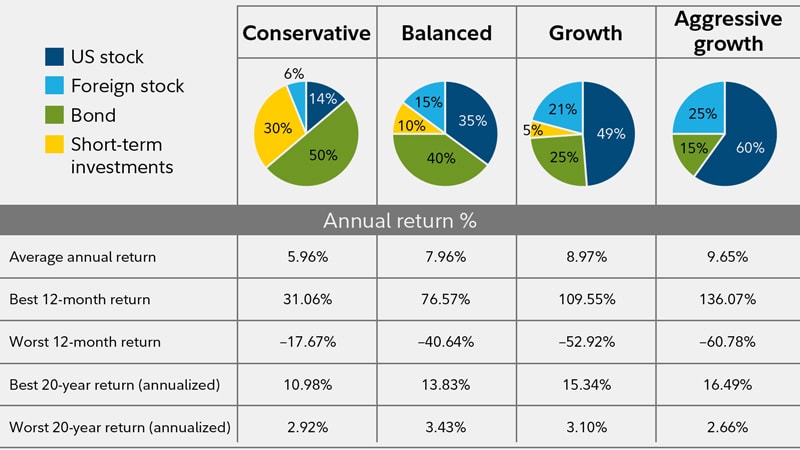 On the other hand, a seasoned investor with a firm understanding of diversification will look to split that £500 across as many high risk investments as possible.  To illustrate this point, let's take eToro as a prime example. The popular FCA broker allows you to invest from just $50 (about £40) into stocks and ETFs, and $25 (about £20) into cryptocurrencies.
As such, look at how much diversification you can achieve from a deposit of just $500.
$25: Bitcoin
$25: Ethereum
$50: EasyJet shares
$50: Rolls Royce shares
$50: Vanguard Emerging Markets ETF
$50: Natural Gas
$50: EasyJet shares
$50: Cineworld shares
$50: Hong Kong Exchanges and Clearing shares
$50: Delta Airlines shares
$50: Harley Davison shares
As you can see from the above, a mere deposit of $500 at eToro allows you to purchase 11 different high risk investments at the click of a button. This ensures that if 1 or 2 of your selections don't quite work out, the risk of losing a large of your $500 is minimized. This is especially the case if one of your other investments performs well – as this will counter some or even all of the loss.
COV-19 Consequences
As have discussed throughout this guide on UK high risk investments, the coronavirus pandemic has had a major impact on the value of many assets. A result of this decline does present an excellent opportunity to build a portfolio of heavily undervalued stocks.
You need to evaluate is whether or not the company in question has the financial means to get through the pandemic until some sort of normality resumes. This doesn't necessarily need to be in the form of its cash reserves per se – as some companies have been able to raise sufficient levels of credit.
This acts as a safety net in the event that the firm needs access to fast cash. If – as per your own in-depth research, you believe that the company does have the resources to see it through the next 12-18 months, then it could represent an undervalued investment
How Liquid is the Investment?
If a high risk investment is 'liquid', this means that you can sell it for cash. For example, the likes of stocks and ETFs have high liquidity levels, as you can exit your position at any given time during normal market hours. This is also the case of cryptocurrencies.
On the other hand, the likes of bonds are not so liquid, are you typically need to wait until they mature to receive your original investment back. All of the high risk investments discussed on this page are liquid. This means that should you need fast access to money – or you simply want to cash out your profits, you can do this at the click of a button.
Conclusion
In summary, while high risk investments do give you the chance to chase returns, you do need to ensure that you have a firm understanding of the additional risk that this represents. This is especially the case in the current economic climate – whereby we are sure to see more companies follow Hertz in the bankruptcy department.
As such, you are advised to keep your stakes to a minimum and instead focus the vast bulk of your investment portfolio on high-grade assets.
Nevertheless, if you are ready to start buying high risk investments, eToro is a hugely popular broker to consider. By joining 13 million other investors, you will be able to buy your chosen asset without paying any commission. As you can invest from just $25 upwards, you mitigate your risks by creating a diverse portfolio.
FAQs
What is a high risk investment?
What are examples of high risk investments?
What is the riskiest type of investment?
How much should I invest in high risk investments?
Are stocks high risk investments?
Are real estate investment trusts high risk investments?