With the FTSE and AIM struggling to generate attractive returns over the past few years, UK investors are now looking at international stock markets. Whether that's the US, Australia, Brazil, Germany, or Japan – most stock brokers provide access to a wide range of exchanges.
In this guide, we explore some popular international stocks that have made headlines in 2022. We also discuss some UK share dealing sites that offer international stocks and how traders can get started with a globalized portfolio today.
List of 10 Popular International Stocks
Here's a breakdown of 10 International stocks based on trading volumes:
Tesla
LVMH
Nintendo
Johnson & Johnson
Airbus
Meituan
Amazon
American Airlines
Hong Kong Exchanges and Clearing
Vanguard Total Stock Market ETF
International Stocks UK Reviewed
As you can likely imagine, there are tens of thousands of international stocks to choose from across dozens of exchanges. This includes companies listed in North America, Mainland Europe, Asia, and Australia.
We couldn't possibly discuss each and every share that you will have at your disposal, so we've decided to list some popular international stocks.
1. Tesla 
Launched as recently as 2003, Tesla is now the world's largest car company in terms of market valuation. This is particularly interesting when you consider that the US-based manufacturer specializes in electric vehicles. Additionally, Tesla is also working on several technologies that center on green energy. This includes a mega battery and solar panels for households.
The most impressive thing about this international stock is the sheer speed with which it has rewarded investors. For example, when Tesla first went public in the US back in 2010, you would have paid $17 per share. However, we need to adjust this to take into account its recent 5-for-1 stock split. As such, the effective IPO listing price is $3.40.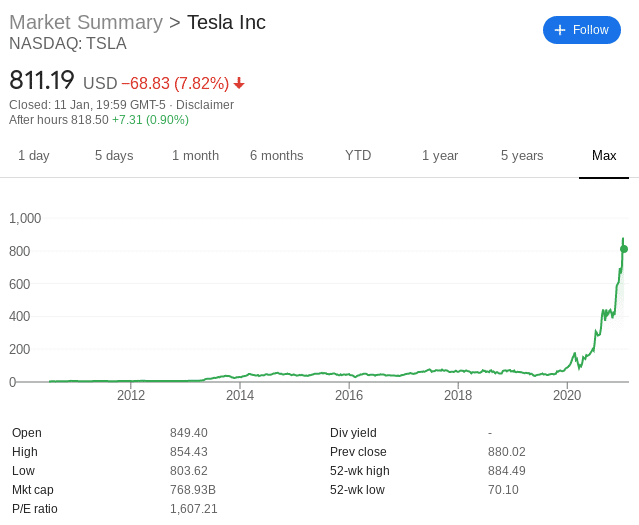 Now, in January 2021, Tesla stocks hit an all-time high of $884. This means that in just 11 years, this international stock has grown by almost 26,000%. This has resulted in Tesla attracting a market capitalization on the NASDAQ of over $750 billion.
In comparison, Ford Motors – which was first founded in 1903, has a valuation of just $36 billion. In fact, many investors on Wall Street are eagerly awaiting the electric car company hitting that all-important $1 trillion dollar valuation.
2. LVMH – International Stock Behind Several Luxury Brands (Paris)
LVMH is a huge luxury brand company listed on the Paris Stock Exchange. this includes everything from fashion and perfume to shelf spirits and wine. For example, you might recognize LVMH brands such as Luis Vuitton, Marc Jacobs, Christian Dior, Hennessy, TAG Heuer, and FRED.
Now, you might be under the impression that expensive, non-essential luxury goods are in low demand at present. After all, the coronavirus pandemic has caused severe financial strain on many industries and sectors. However, in the case of LVMH stocks, this couldn't be further from the truth.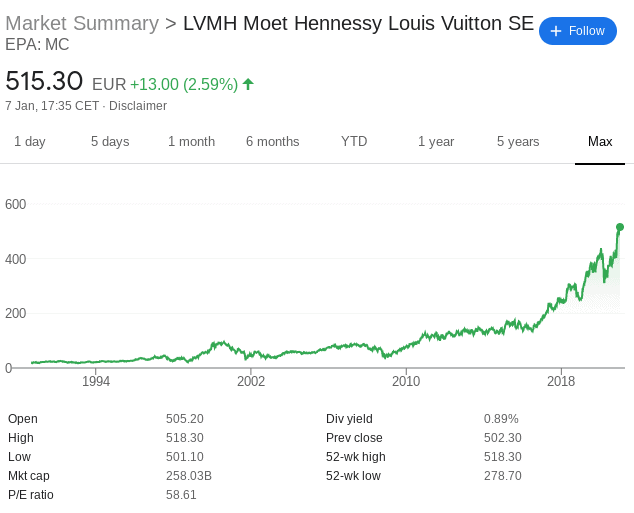 On the contrary, this international stock is booming at the moment. For example, you would have paid just 287 euros per share back in March 2020. Fast forward to early 2021 and the same international stocks are priced at 522 euro each. This means that in just three quarters, LVMH stocks have grown by over 80%.
With that being said, LVMH is far from a growth stock that has defied the wider impact of COVID-19. On the contrary, not only has the French entity been publicly listed since 1990, but it now posses a market capitalization of over 261 billion euros. In fact, bearing in mind that you would have paid just 19 euros for an LVMH stock in 1990, the shares have since grown by over 2,600%.
3. Nintendo
Nintendo is one of the most recognized video gaming producers globally. Some of its most famous brands include the Super Mario series, Gameboy, and its SNES video consol. However, while the aforementioned products dominated the global gaming scene in the 80s and 90s, Nintendo fell off a cliff in the 00s.
This is because both Sony and Microsoft Xbox slashed away at Nintendo's market share. In turn, the value of Nintendo stocks took a major hit. For example, priced at highs of 67,000 yen in 2007, the same shares were worth just 10,000 yen in 2012. That's a decline of over 84%.
With that said, management at Nintendo has since turned things around. As of early 2021, the shares are worth just over 65,000 yen – meaning that the prior all-time high of 2007 has finally been recovered. In more recent times, Nintendo stocks performed very well in the midst of the pandemic.
For example, you would have paid just 32,000 yen in March 2020. This means that the stocks have more than doubled in less than 10 months. In particular, the Nintendo switch is smashing through sales targets at present. When its latest model launched in November 2020, sales were up over 135% in comparison to the prior year.
4. Johnson & Johnson
If you're an income-seeking investor, you're probably looking for US stocks for dividend payouts. If so, look no further than Johnson & Johnson. The firm – which was first founded in 1886, is behind a huge basket of consumer packaged products and pharmaceutical treatments.
Additionally, this international stock is also working on a coronavirus vaccine that is in its late stage of clinical tests. Crucially, we like Johnson & Johnson for two key reasons. Firstly, the US stock is a fully-fledged member of the 'Dividend Aristrocat' club. For those unaware, this means that the firm has not only paid a dividend for 25 years but increased it in each quarter.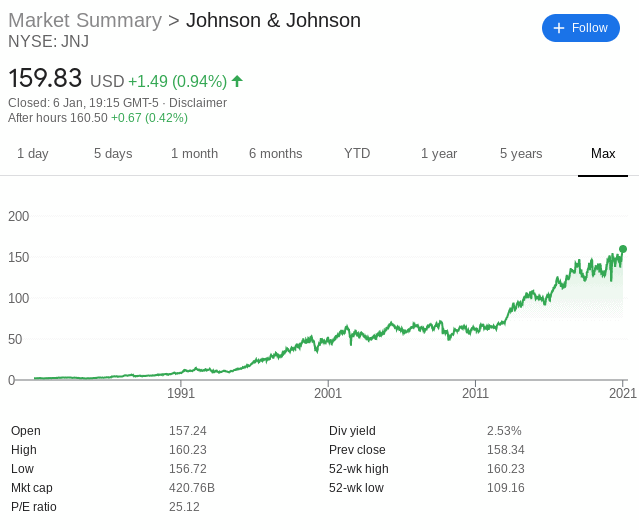 In the case of Johnson & Johnson, the firm has been distributing dividends without fail now for almost 60 years. This means no cuts or suspensions even during major recessions. Based on current prices, the stock is paying a running dividend yield of 2.5%. We should also note that Johnson & Johnson is a popular international stock because of its 'defensive' qualities.
Defensive stocks are those that are involved in products that will always sell no matter how the economy is performing. As Johnson & Johnson is behind leading pharmaceutical and consumer packaged products, it is most definitely a defensive stock.
5. Airbus – Undervalued International Stock  (France)
Airbus is one of the world's largest suppliers of commercial and military planes. Based in France for serving countries across the globe, the firm has been hit heavily by COVID-related restrictions. Crucially, with air passengers now at record lows, demand for Airbus plans is a major concern.
However, this is, of course, out of the hands of Airbus and thus – it is believed by some speculators that demand will eventually return to pre-pandemic levels. On the one hand, the current state of play means that Airbus shares have plummeted over the past 12 months.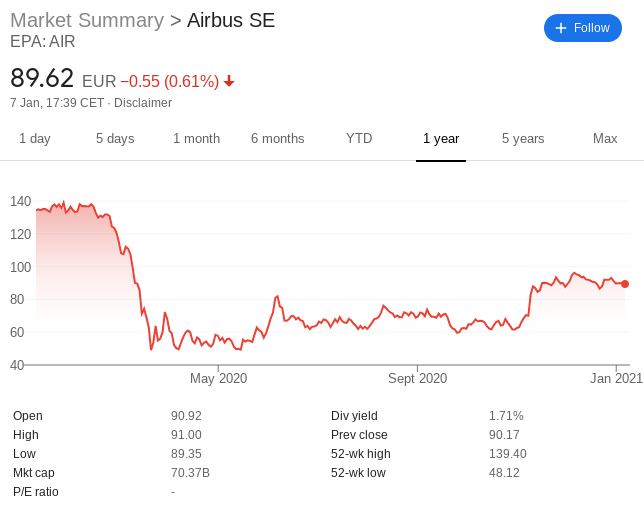 That's a huge capitulation of over 60%. The shares have since recovered to 89 euros as of January 2021, which is promising – especially for those that bought the dip. However, there is a further 52% for Airbus shares to increase to get back to February 2020 levels.
The most important thing is that Airbus has a relatively strong balance sheet and thus – there are no immediate concerns regarding its ability to weather the COVID storm.
6. Meituan 
Although you might not have heard of Meituan, it is a popular Asian stock to consider this year. In some ways, Meituan could be described as the Chinese version of Groupon. This is because the firm offers Chinese consumers a plethora of deals that center on everything from products and hotels to restaurants and gyms.
Much like Groupon, Meituan makes its money from the deal providers that it partners with. That is to say, every time a consumer makes a purchase through the Meituan app, the firm will make a commission. Now, when you consider the sheer size of the Chinese marketplace, Meituan could one day be a major player in this particular space.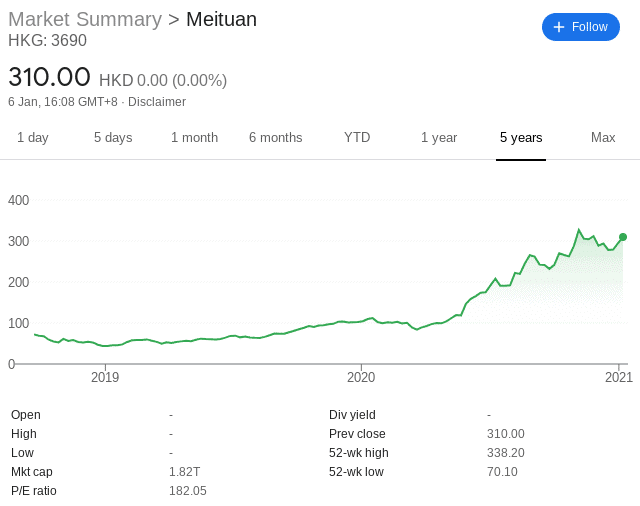 At present, the firm could be described as a growth stock. After all, it initiated its Hong Kong Stock Exchange listing as recently as September 2018. Back then, the shares were priced at 72 HKD. As of early 2021, this international stock is worth over $300 KHD. This means that in just over two years, Meituan stocks have grown by over 300%.
7. Amazon
Amazon is behind one of the most successful stock stories of all time. This is especially the case when you consider that it took over a decade for the firm to recover from the Dot Com bubble. But, as of early 2021, the firm is now worth over $1.5 trillion dollars – making it one of the largest companies globally.
On the one hand, you have certainly missed the growth stage of this international stock – as the e-commerce giant is up over 150,000% since it went public in 1997. However, Amazon stocks continue to outperform the wider markets by some distance. For example, in a year where most industries suffered – Amazon stocks made gains of over 75% in 2020.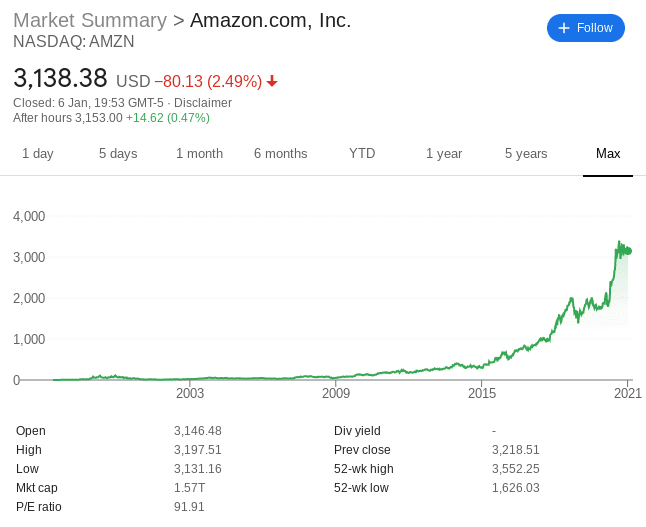 After all, Amazon's online retail division benefited greatly from the lockdown measure that in many regions – is still ongoing. With that said, it's not just the firm's retail division that is performing well. For example, its subscription-based services like Amazon Prime are enjoying huge demand at present.
This is also the case for its Prime TV streaming service. Additionally, Amazon is generating vast profits from its AWS (Amazon Web Services) cloud computing division. Although there are several other players in this industry that are chipping away at AWS's market share, it is still head and shoulders above its nearest competitor.
8. American Airlines 
The vast majority of airlines around the world have seen their stocks plummet since the pandemic began. After all, not only is the demand for air travel down by a significant amount, but most nations still have a blanket ban on international tourism. Things are so bad that more than 40 airlines went bust in 2020.
Although most of these are small carriers located in emerging markets, some market analysts think that there could also be several large-scale casualties.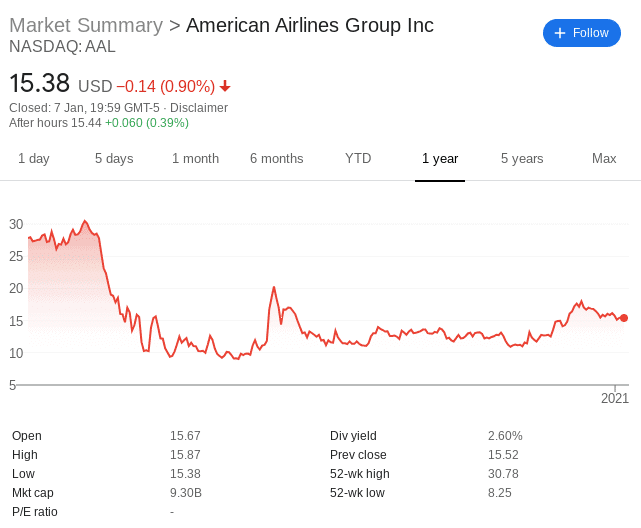 9. Hong Kong Exchanges and Clearing 
Since the pandemic came to fruition in early 2020, interest in the stock markets has been higher. From an institutional point of view, volatility levels continue to smash through prior records. With this in mind, it is well worth considering Hong Kong Exchanges and Clearing.
As the name suggests, this is the firm that facilitates investment on the Hong Kong Stock Exchange. Much like any other stock exchange middleman, the Hong Kong Exchanges and Clearing benefits greatly from increased trading activity.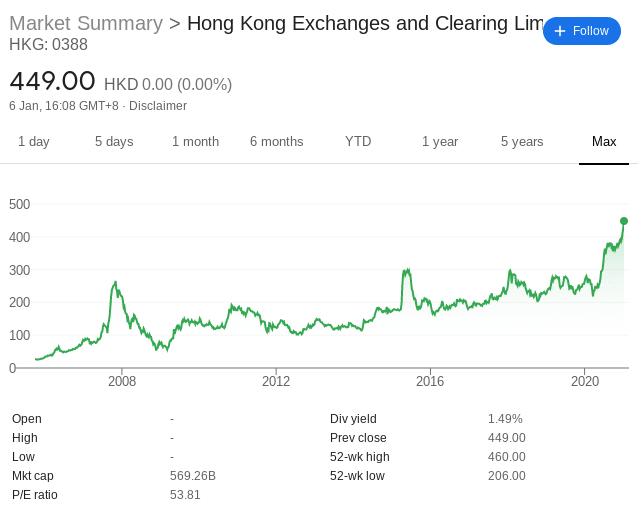 In other words, irrespective of whether the markets are up or down, the firm will continue to collect trading-related commissions and fees. In terms of its share price action, this international stock has performed very well since it went public just over 15 years ago. Back in 2005, the shares were priced at just over $26. As of early 2021, the same shares are priced at $450.
In more recent times, Hong Kong Exchanges and Clearing has had a great 2020. Starting the year at $280, the stocks closed at $425. That's gains of over 60% in a year where most companies saw huge losses.
10. Vanguard Total Stock Market ETF 
Attempting to find international stocks can be a challenging process. After all, there are tens of thousands of stocks across dozens of markets. With this in mind, it is well worth considering an ETF. This will give you access to heaps of international stocks through a single investment.
For example, the Vanguard Total Stock Market ETF consists of over 3,500 different international stocks. The ETF portfolio is really well diversified, as it covers every sector imaginable. For example, 16% of the stocks are held in consumer discretionaries, 13% in health care, and 26% in technology.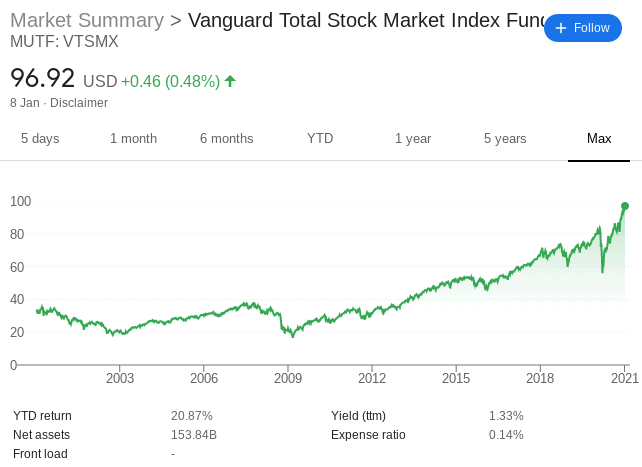 By taking the ETF option, you will also be entitled to dividends. Most providers distribute a payment every three months.
Important Features of International Stocks
In the sections above, we have discussed 10 popular international stocks. However, you should perform your own research so that you can find shares that are tailored to your investing goals.
Bearing in mind that the are thousands upon thousands of international stocks to choose from, below we have outlined some handy tips to help point you in the right direction.
Which International Stock Markets are you Interested in?
Many newbies are unable that most countries around the world have a domestic stock exchange of some sort. At one end of the scale, the largest exchanges are situated in the US, Germany, Canada, China, Hong Kong, and Singapore. However, it is also possible to buy international stocks from companies listed in Greece, Chile, Brazil, Malaysia, Indonesia, and Thailand.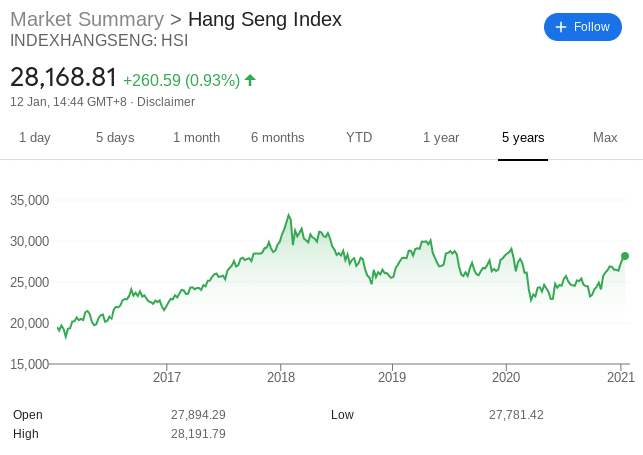 Now, it must be noted that larger exchanges such as those listed above carry a lot less risk than shares based in emerging markets. For example, buying US stocks that are listed on the NASDAQ or NYSE attract a lot more liquidity and thus – are less volatile.
However, international stocks based in less liquid marketplaces can go up and down in a more parabolic manner. This means that the risk/reward ratio is a lot higher. Ultimately, the specific markets that you can gain access to will depend on the broker that you decide to register with.
Focus on Specific Sectors
One of the most effective ways to find international stocks is to focus on specific sectors. For example, if you are interested in tech stocks, the likes of the US, Japan, and Hong Kong are well worth looking at. However, if you're keen on telecommunications or e-commerce, China is particularly strong.
Crucially, the sectors that you focus on should center on current market conditions. For example, the coronavirus pandemic showed us that certain sectors are resilient to wider corrections. This includes the likes of tech, e-commerce, online retail, and pharmaceuticals.
Growth or Dividends
Some investors in the UK look to focus on international stocks that pay dividends. This is especially the case at the moment when you consider how many FTSE shares have either cut or suspended dividends since the pandemic began.
With that said, it's also worth adding some growth stocks to your portfolio. Although these companies won't pay dividends, the upside potential in terms of their stock price is going to be much higher.
Access to Relevant News
When you invest in companies based in the UK and US, accessing relevant news about a stock is simple. In fact, it's just a case of signing up with a financial news subscription – which will then send you a notification if there is a development on one of your stocks.
However, when you start buying international stocks listed in regions such as Asia or South America, access to important news stories won't be as straightforward. This could be highly problematic if there is a negative news development which you are not made aware of.
International Stock Fees
All UK stock brokers and stock trading apps will charge a fee of some sort. In most cases, this is charged a flat commission every time you buy or sell a stock.
However, it is important to remember that most platforms will then charge a surcharge to access international stocks. This might be a currency conversion charge that you pay as well as the platform's standard share dealing commission.
For example, you might pay a standard share dealing fee of £10 to buy your chosen international stocks, plus 1%. With that said, FCA broker eToro allows you to buy international stocks from 16 non-UK markets on a commission-free basis.
Look for Bargains
With many shares all over the world losing double-digit percentages since the pandemic began, there are plenty of opportunities to buy international stocks at a huge discount.
For example, we spoke earlier about France-based Airbus, which is currently trading at a 52% discount in comparison to pre-pandemic prices. American Airlines is another cheap stock that is currently trading at a discount.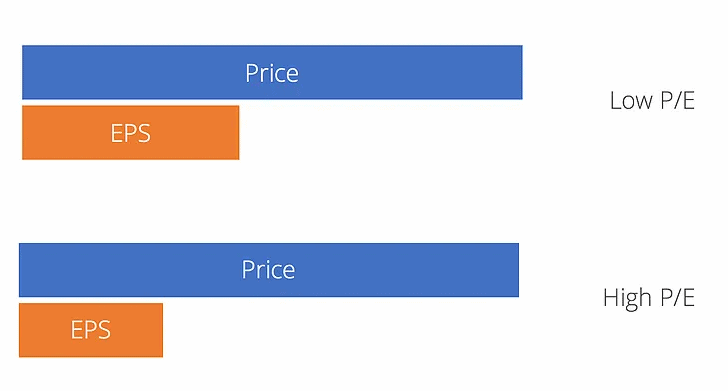 Another way to find undervalued international stocks is to look at the P/E (price-to-earnings) ratio of the company in question. This is calculated by dividing the current stock price into the stock's earnings-per-share. If you are left with a P/E ratio that is below the sector average on the respective exchange, this could mean that the international stock is undervalued.
Stock Brokers Offering Access to International Stocks
Once you have found created a shortlist of international stocks that you want to add to your portfolio, it's then time to find a suitable broker. The first port of call will be to ensure that the broker offers your chosen stocks. However, you also need to explore metrics surrounding fees, payments, regulation, and account minimums.
1. eToro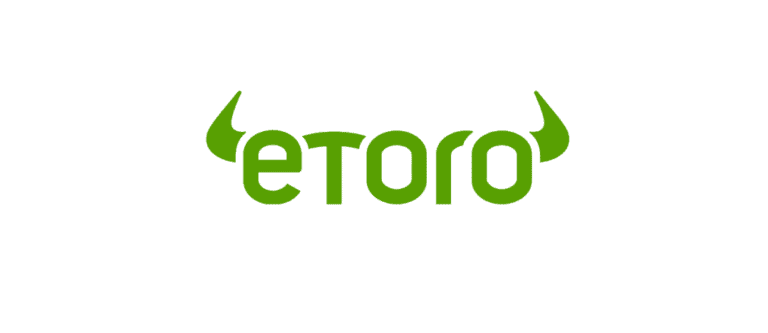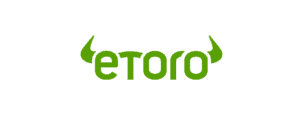 With more than 20 million clients around the world, eToro is now one of the most popular stock brokers in the online space. The platform offers a really simple way to buy, sell, and trade assets from the comfort of your home. In the case of its share library, this now covers over 2,000 international stocks.
This includes 17 foreign markets – such as those based in the US, Canada, Saudi Arabia, Hong Kong, Germany, and more, so there's a range of US stocks, European stocks, vegan stocks, and Asian stocks.
In fact, eToro is one of the only UK brokers that we have come across that allows you to buy international stocks commission-free. Not only does that mean no surcharge to access non-UK markets, but you won't need to pay a monthly or annual fee, either.
Closer to home, if you decide to buy shares listed on the London Stock Exchange, eToro waivers the 0.5% stamp duty tax. The online broker also allows you to invest in ETFs commission-free, many of which focus on international stocks. You might also be interested in the eToro Copy Trading feature. This allows you to choose a seasoned investing pro that you like the look of and then mirror their ongoing trades.
In terms of getting started, eToro requires a minimum deposit of $50. It supports a wide range of payment methods, including debit cards, credit cards, bank wire, and several e-wallets. You will pay a small FX fee of 0.5% when you deposit, albeit, this allows you to then access all 17 stock markets commission-free. When it comes to safety, eToro is authorized and regulated by the FCA. It is also covered by the FSCS protection scheme.
| | | | | |
| --- | --- | --- | --- | --- |
| Stock Broker | Minimum Deposit | Fractional Shares? | Pricing System | Fees & Charges |
| eToro | $10 | Yes – $10 minimum | 0% commission on ALL real stocks, spreads for CFDs | No Deposit fees, $5 withdrawal fee, $10 inactivity fee, no account management fees. |
Sponsored ad. 68% of retail investors lose money trading CFDs at this site
2. DEGIRO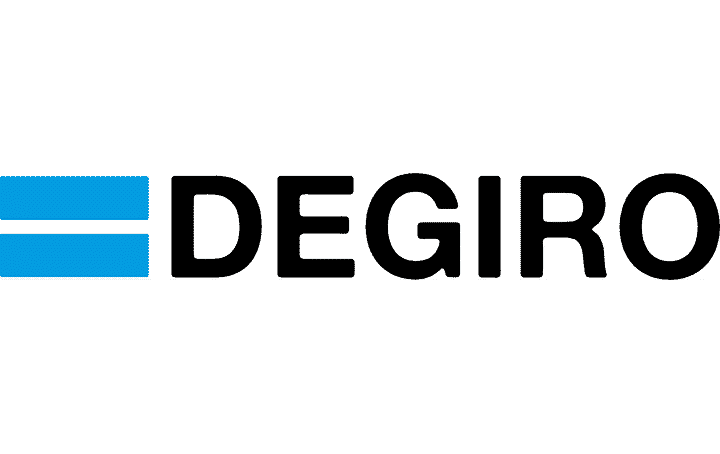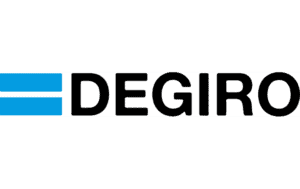 Degiro is an online broker that offers one of the most extensive and diverse asset libraries we have seen. As such, this makes it a possible option in your hunt for international stocks. For example, Degiro gives you access to a whopping 19 European stock exchanges. This includes everything from Sweden, Italy, and Norway, to Ireland, Germany, and Greece.
There are also exchanges offered in the US, Canada, Australia, Hong Kong, Japan, and Singapore. In terms of the fees that you will need to pay to buy international stocks, Degiro is a relatively low-cost broker. However, the specific commission payable will depend on the exchange that you wish to buy the stocks from.
For example, we found that with most European exchanges, you will pay a fee of €4.00 + 0.05% per trade (capped at €60). If you're interested in Australian shares, this will cost you €10.00 + 0.06% per trade. However, it is US stocks that really stand out, with a low commission of just €0.50 + USD 0.004 per share. When it comes to getting started at Degiro, the process does take a few days. This is because you first need to verify your identity by transferring funds from your UK bank account.
It is not possible to deposit funds with a debit/credit card or e-wallet, which does restrict last-minute investments. On the flip side, you can deposit as little as you like as there is no account minimum at Degiro. Although the broker is not regulated by the FCA, it is licensed in the strict financial arena of the Netherlands.
Sponsored ad. Investing at this trading platform involves risk of loss.
How to Invest in International Stocks from the UK
By this point in our guide, you should now know which international stocks you want to purchase after having conducted your own market research.
The steps below will show you how to open a trading account with a regulated broker of your choice.
Step 1: Open an Account and Upload ID
You will first need to open an account with your preferred trading platform. This is the same as any other online brokerage site – meaning you will need to provide some personal information and contact details.
You will also need to confirm your mobile number and choose a username and a strong password.
Step 2: Confirm Identity
FCA brokers will ask you to upload the following two documents as part of a KYC process:
Valid passport or driver's license
Utility bill or bank account statement
Once again, this is something that all FCA-regulated brokers must do.
Step 3: Deposit Funds
You will now be able to fund your account.
You can usually choose from the following deposit options:
Debit cards
Credit cards
E-wallets (Paypal, Skrill, or Neteller)
Bank transfer
Step 4: Browse through International Stocks
With more than 2,400 shares across 17 UK and international stock markets, you might want to spend some time browsing what companies the broker allows you to invest in.
To do this, simply click on the 'Trade Markets' button, followed by 'Stocks'. From the drop-down list, you can then select which international stocks interest you.
Or, you can search for the international stock you want to buy – should you have already made an investment decision.
Step 5: Buy International Stocks
Once you have decided which intentional stock you want to buy, click on the 'Trade' button next to the respective company. Then, you will see an order box like the one below.
All you need to do here is enter the amount that you wish to invest. In our example, we are looking to buy $120 worth of Tesla shares.
To confirm your order, click on the 'Open Trade' button.
Conclusion
In a time not so long ago, international stocks were reserved for large-scale investors. However, the growth of the online share dealing scene means that everyday UK investors can now buy international stocks with ease.
FAQs
How do you buy international stocks in the UK?
What are some popular international stocks to buy right now?
What is a popular ETF for international stocks?
Do you have to pay stamp duty on international stocks?
Do you need to pay tax on international stocks in the UK?