Bond funds are a potential way to invest your money in a lower-risk fashion than traditional equity investments. The combination of capital growth and current income makes bond funds an attractive prospect for investors worldwide.
In this guide, we will review some of the Popular bond funds UK and review the popular brokerages that offer these assets to investors in the UK.
Popular Bond Funds UK List
If you're looking for a quick rundown of some of the popular bond funds UK for 2021, look no further. In the section that follows, we will review each of these funds in-depth, allowing you to make an informed investment decision.
Vanguard Total Bond Market ETF (BND)
iShares TIPS Bond ETF (TIP)
20+ Year Try Bond iShares (TLT)
Iboxx $ High Yield Corporate Bd Ishares (HYG)
SPDR Bloomberg Barclays High Y (JNK)
iShares Emerging Markets Local Government Bond UCITS ETF (IEML.L)
Vanguard Short-Term Bond ETF (BSV)
Vanguard Long-Term Bond ETF (BLV)
BlackRock Charities UK Bond Fund
PIMCO Active Bond Exchange-Traded Fund (BOND)
Popular Bond Funds to Invest in Reviewed
Deciding on the popular bond fund for you can be a daunting prospect. With various elements to factor in, ranging from fund yields to expense ratios, it can be overwhelming to choose where to place your money.
Not to worry – in this section, we will review 10 popular bond funds for your to analyse in-depth separately.
1. Vanguard Total Bond Market ETF (BND)
To kick off our list, we will start with one of the most popular ETFs available. The Vanguard Total Bond Market ETF is popular among both retail and professional investors due to its exposure to investment-grade government bonds. These types of bonds are considered some of the safest you can invest in, as they are essentially backed by the power of the US government and have a very high credit rating. The only way they would default is if the US government suddenly decided to stop paying.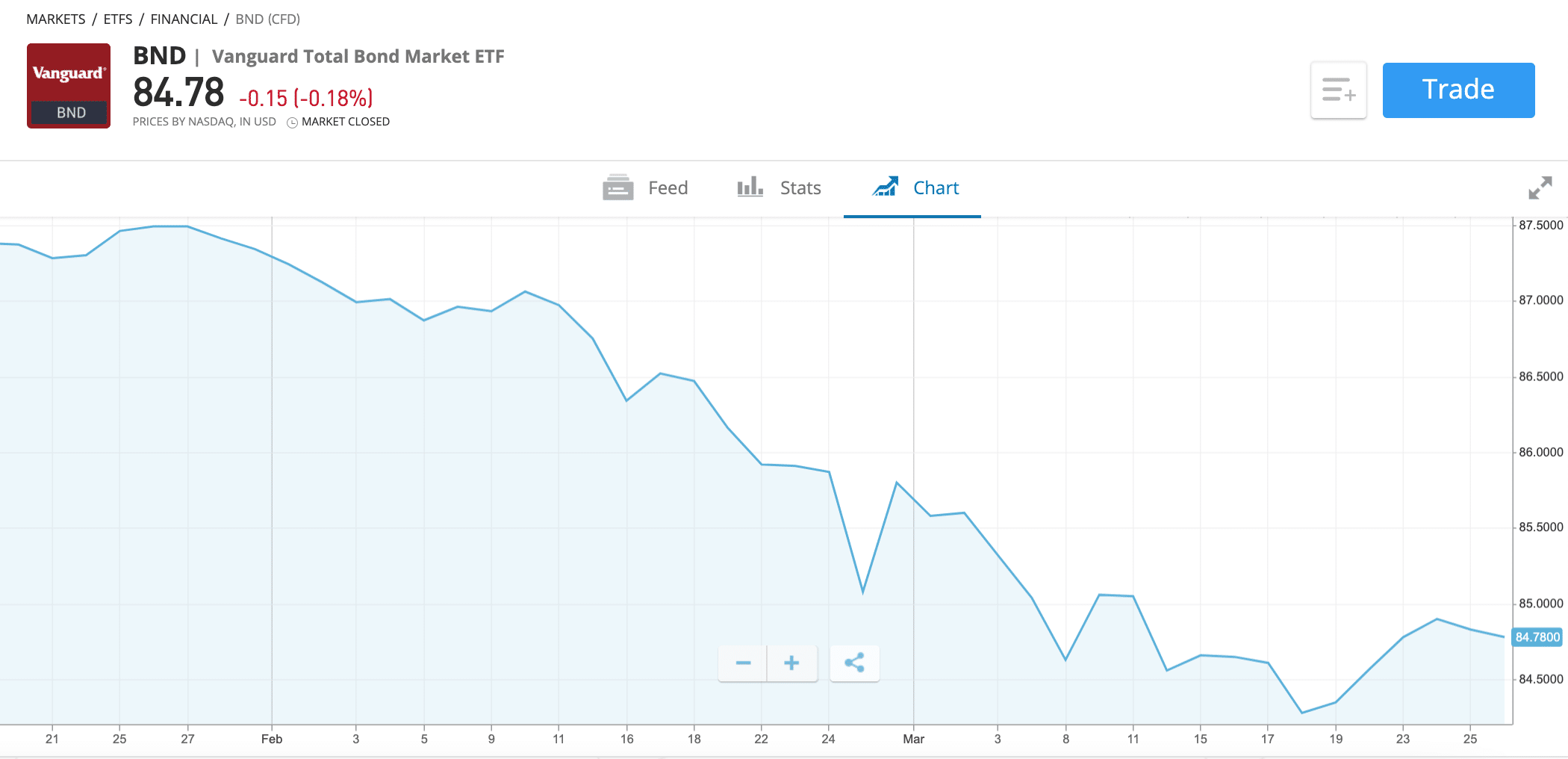 The fund itself is made up of over 10,000 bonds, mainly with intermediate-term durations. In terms of performance, the Vanguard Total Bond Market ETF has only experienced a negative return in two of the past 13 years, even returning a healthy total return of 7.71% in 2020. Furthermore, with an expense ratio of only 0.03%, the fees associated with this bond are minuscule.
Your capital is at risk
Common financial knowledge highlights that inflation and bond prices tend to be negatively correlated; as inflation rates rise, bond prices fall, due to inflation eroding the gains made through capital growth. If you are looking for a popular bond fund UK that helps hedge inflation risk, the iShares TIPS Bond ETF is a potential option.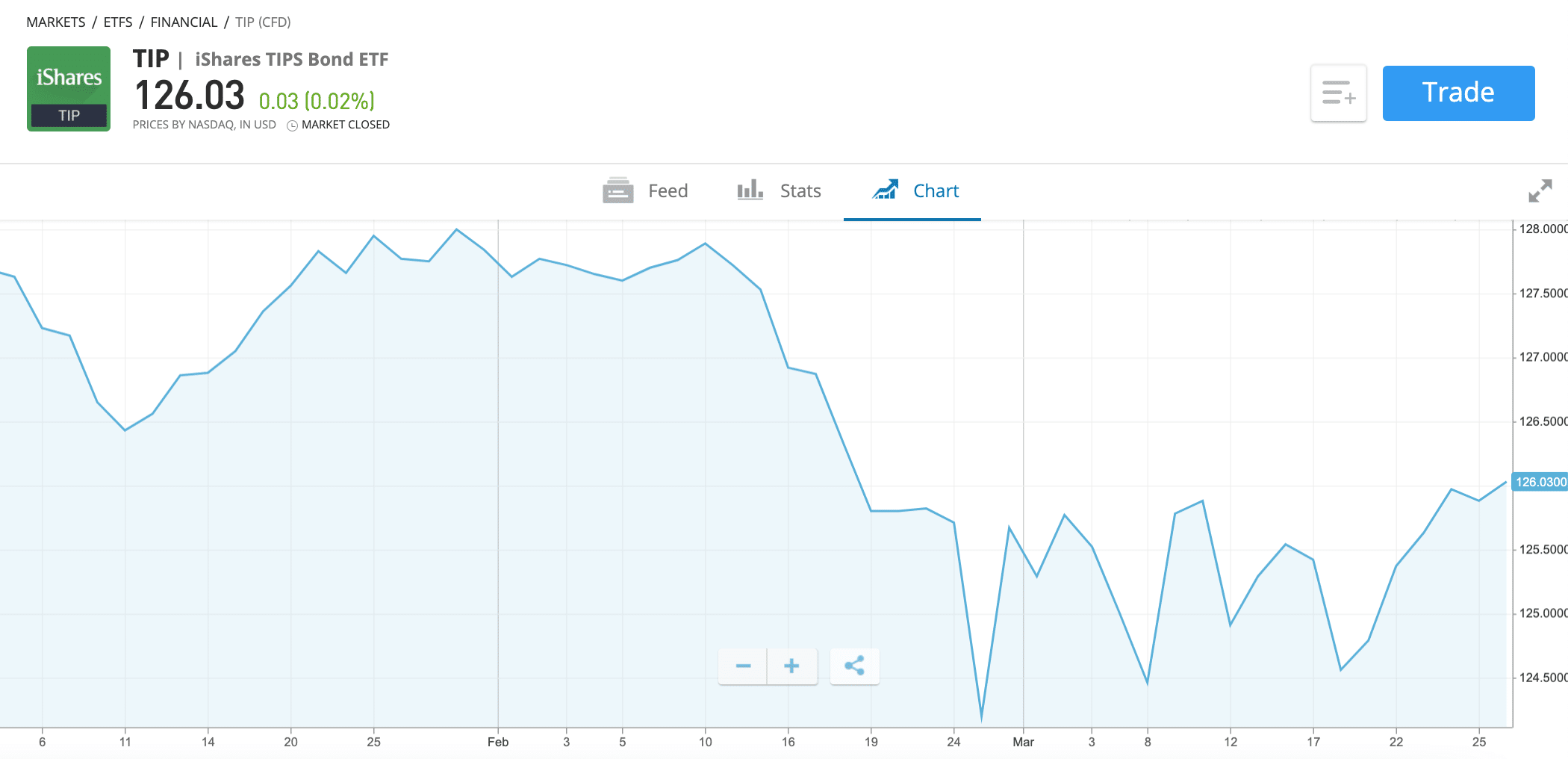 This fund invests in 53 of the most popular US TIPS, a specific type of bond that is protected against inflation. Through this investment, the iShares TIPS Bond ETF aims to protect investors' capital from inflation effects whilst providing a solid yield in the process. The fund returned 10.91% in 2020, which is impressive given the impact of the Coronavirus pandemic. Furthermore, it also provides a small monthly cash payment to investors, based on an annual yield of 1.08%.
One of the notbale things about long-term bond funds such as the 20+ Year Try Bond iShares is that the interest rate on the fund's assets is essentially 'fixed' and usually higher than short-term bonds. This is because, due to the more prolonged nature of the duration, there is a more significant chance of default from these bonds than, say, a 1-year bond.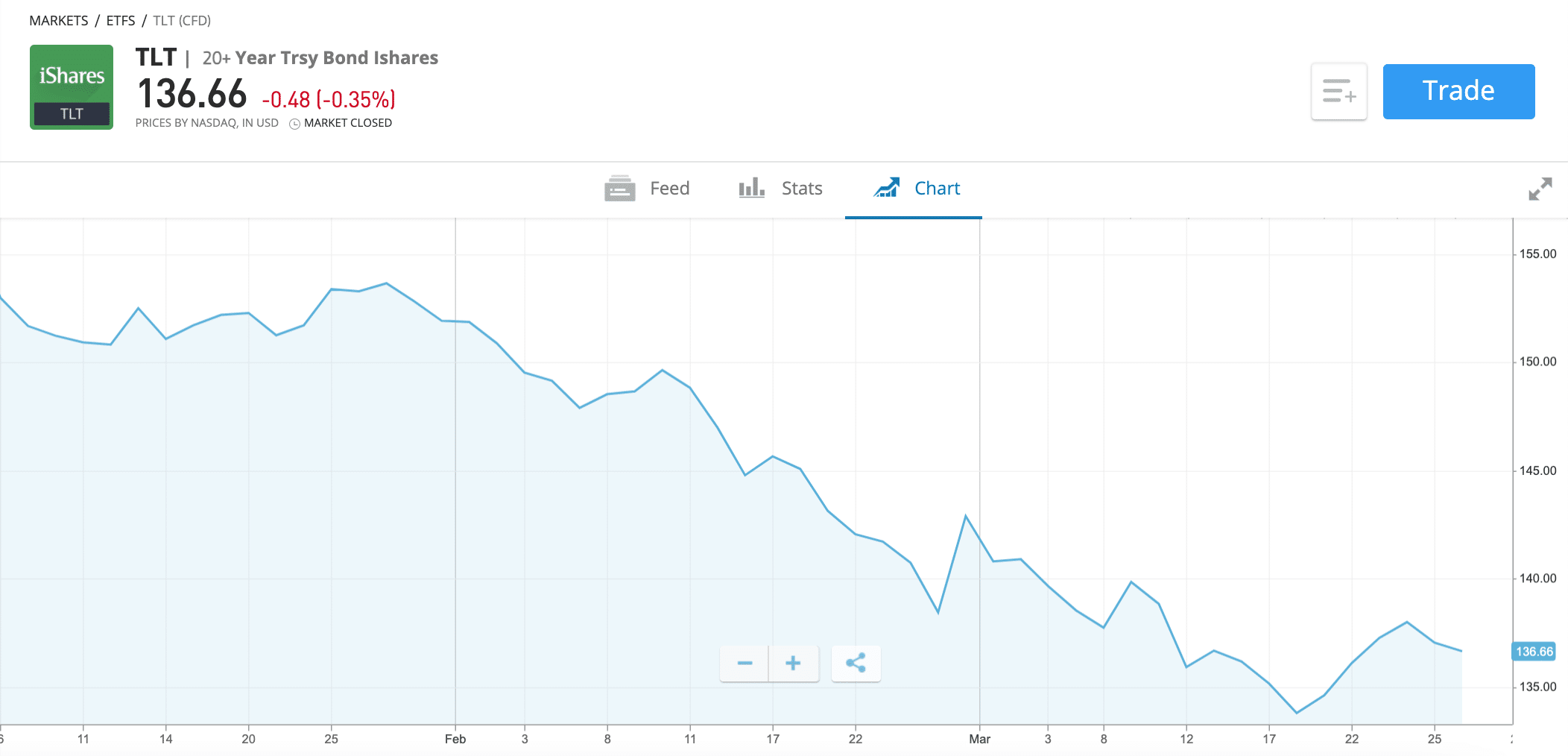 This can be showcased through the 20+ Year Try Bond iShares performance in 2020 – it returned an impressive 17.92%, outperforming both the FTSE 100 and the S&P 500. What's more, it also produced a healthy 14.93% in 2019, which makes this fund one of the more popular ones for higher returns.
If you are looking to gain exposure to the US bond market whilst earning a passive income stream, the Iboxx $ High Yield Corporate Bd Ishares is a popular fund in the UK to do so with. Holding 1,313 of the popular corporate bonds from various durations, this fund seeks to provide both a similar yield to high yield ETFs and also a solid annual return to investors. With a solid price yield of 4.86%, this fund ensures investors receive a healthy passive income stream; for example, if you invested £1000 in this fund, you could expect to make £48.60 in interest income (minus fees).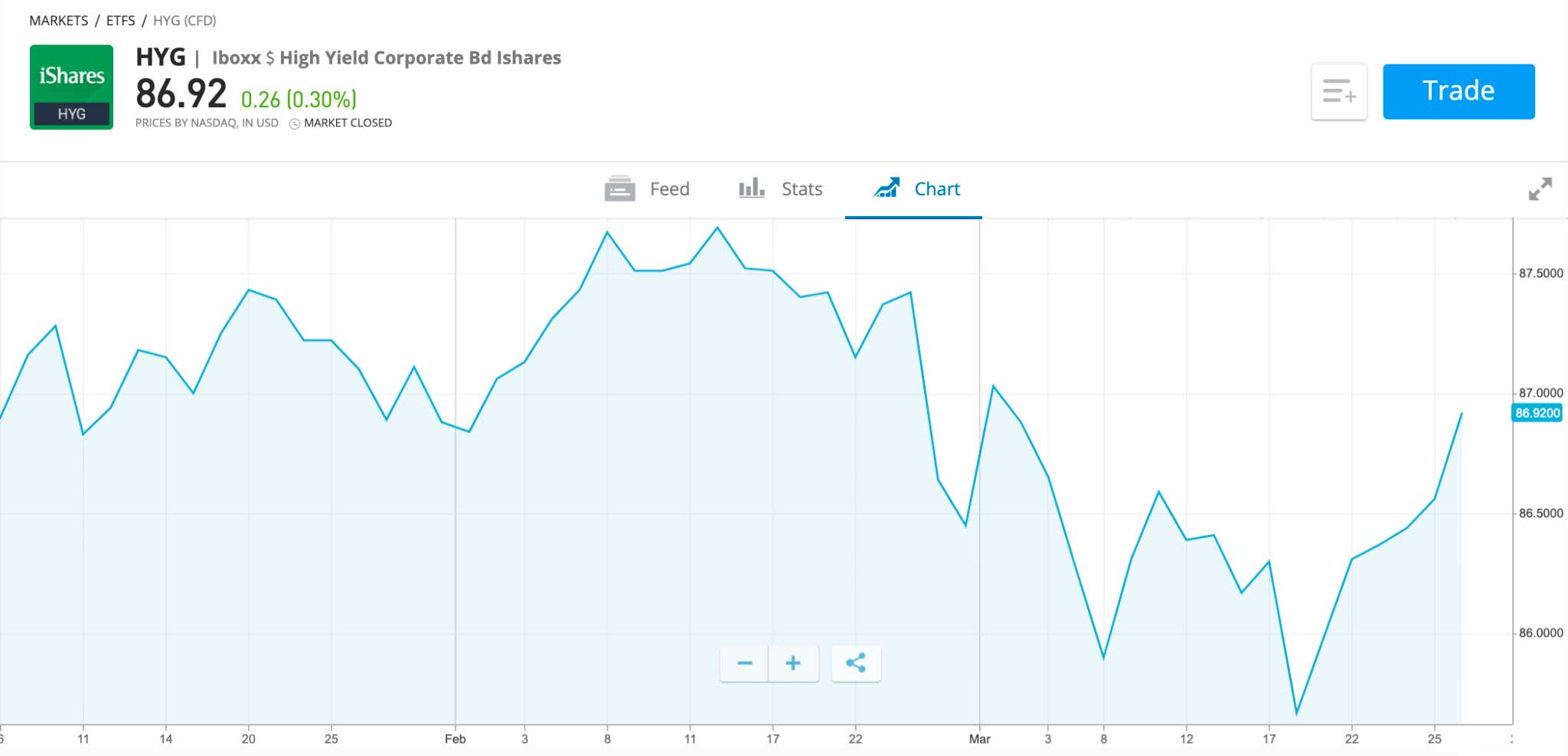 Looking at performance, the fund has returned an average of 7.11% to investors each year over the past five years. What's more, the fund has only produced a negative return in two of the past twelve years. So, if you are looking to add a passive income stream to your portfolio, the iShares iBoxx $ High Yield Corporate Bond ETF is a potential way to do so.
5. SPDR Bloomberg Barclays High Y (JNK)
If you are happy to take on more risk to receive a higher yield, this fund might be a suitable option for you. The SPDR Bloomberg Barclays High Y is composed of a variety of 'junk bonds'. These bonds are below investment grade and are considered much riskier – however, they often display much higher yields than their peers. Relating this to the SPDR Bloomberg Barclays High Y, this fund provides an impressive yield of 5.67% to investors.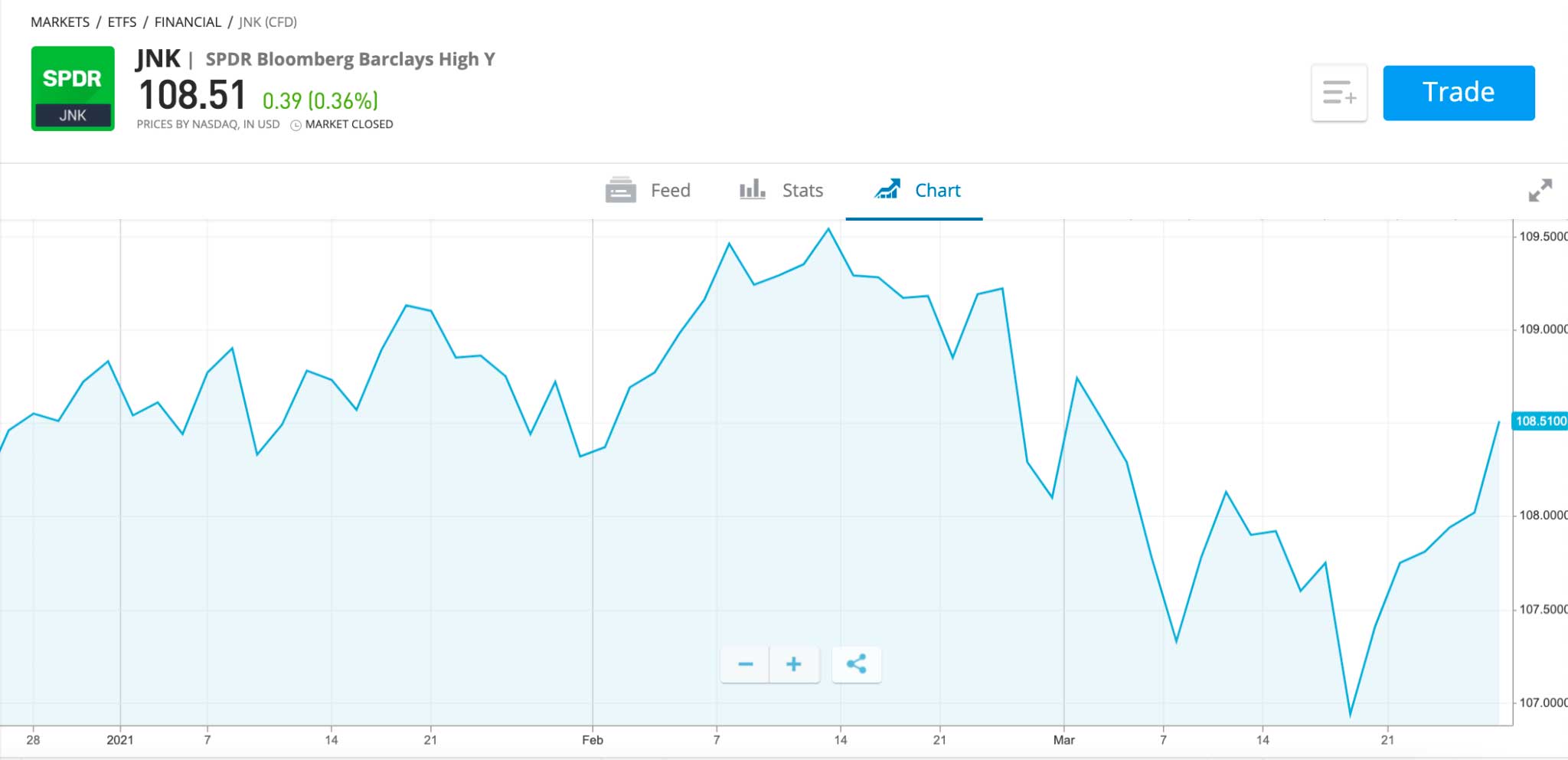 Investing in 1163 USD-denominated junk bonds, this fund also provides access to an actively managed investment. The fund manager in charge will rebalance the asset allocation at the end of each month, ensuring an optimum risk/return profile. In addition, this fund also has a modest expense ratio of 0.40%, meaning if you invested £1000, you would only have to pay £4 in fees for the whole year.
The exposure this fund provides to emerging markets such as China and Brazil is an attractive prospect for several reasons. By investing in a combination of high yield and investment-grade treasury bonds, from a selection of countries in emerging markets, the iShares Emerging Markets Local Government Bond UCITS ETF provides investors with both diversification benefits and potentially high returns.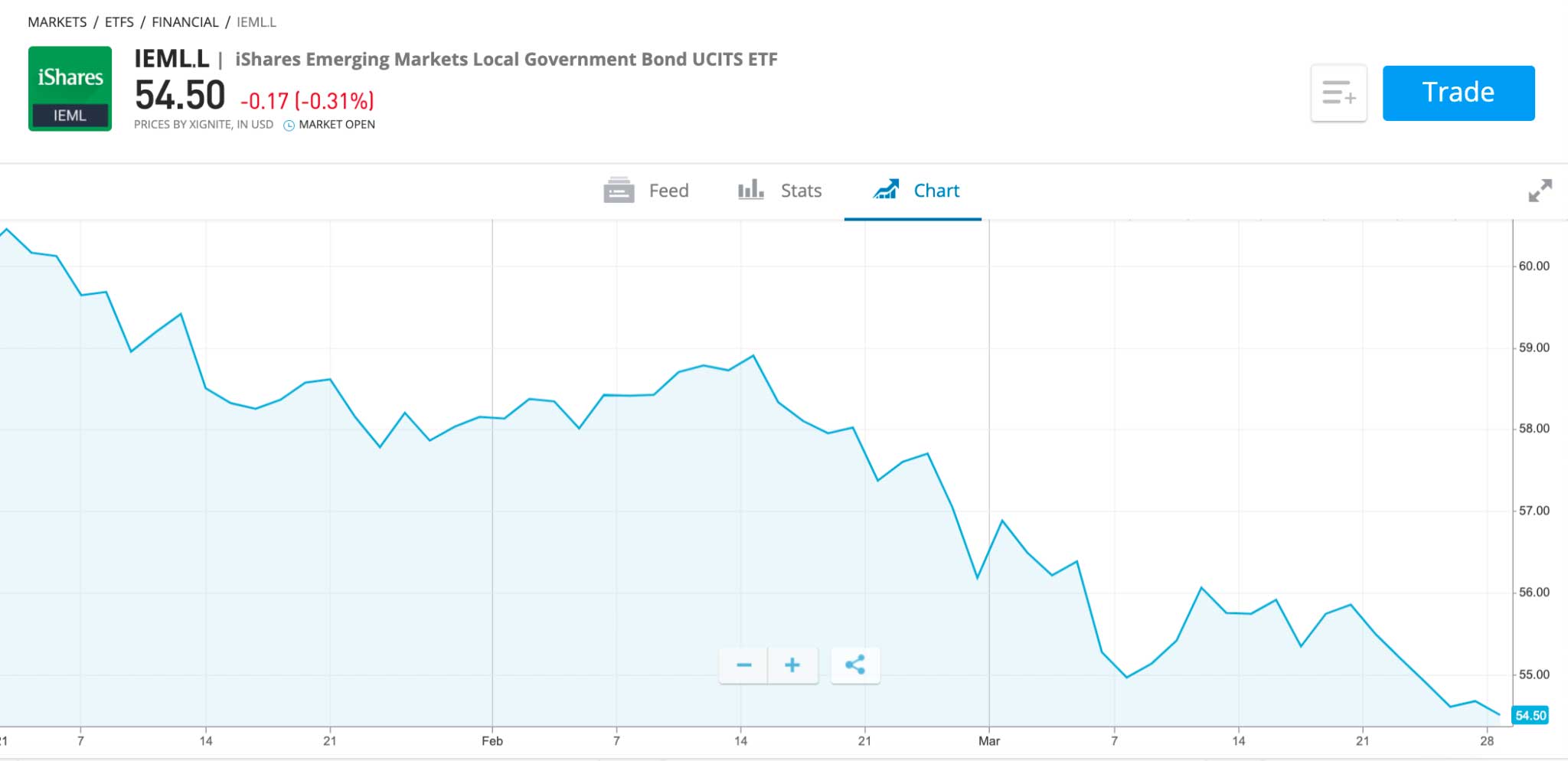 Investing in emerging markets tend not to be as 'consistent' when it comes to returns due to the markets' growing nature and the various geopolitical risks associated with them. This can be evidenced by the returns produced by this fund; negative returns of -7.15% were experienced in 2018, which then turned into a healthy positive return of 11.56% in 2019. This fund also provides a semi-annual distribution to investors, with a yield of 4.59%.
7. Vanguard Short-Term Bond ETF (BSV)
Short-term bonds are termed a safer investment than long term bonds; this is because there is less chance of short-term bonds suffering a default because of the reduced nature of their duration. Due to this, short term bonds are amongst the safest assets available and are even used as the 'risk-free' rate in financial models. However, because they are so low risk, they often have quite low annual returns.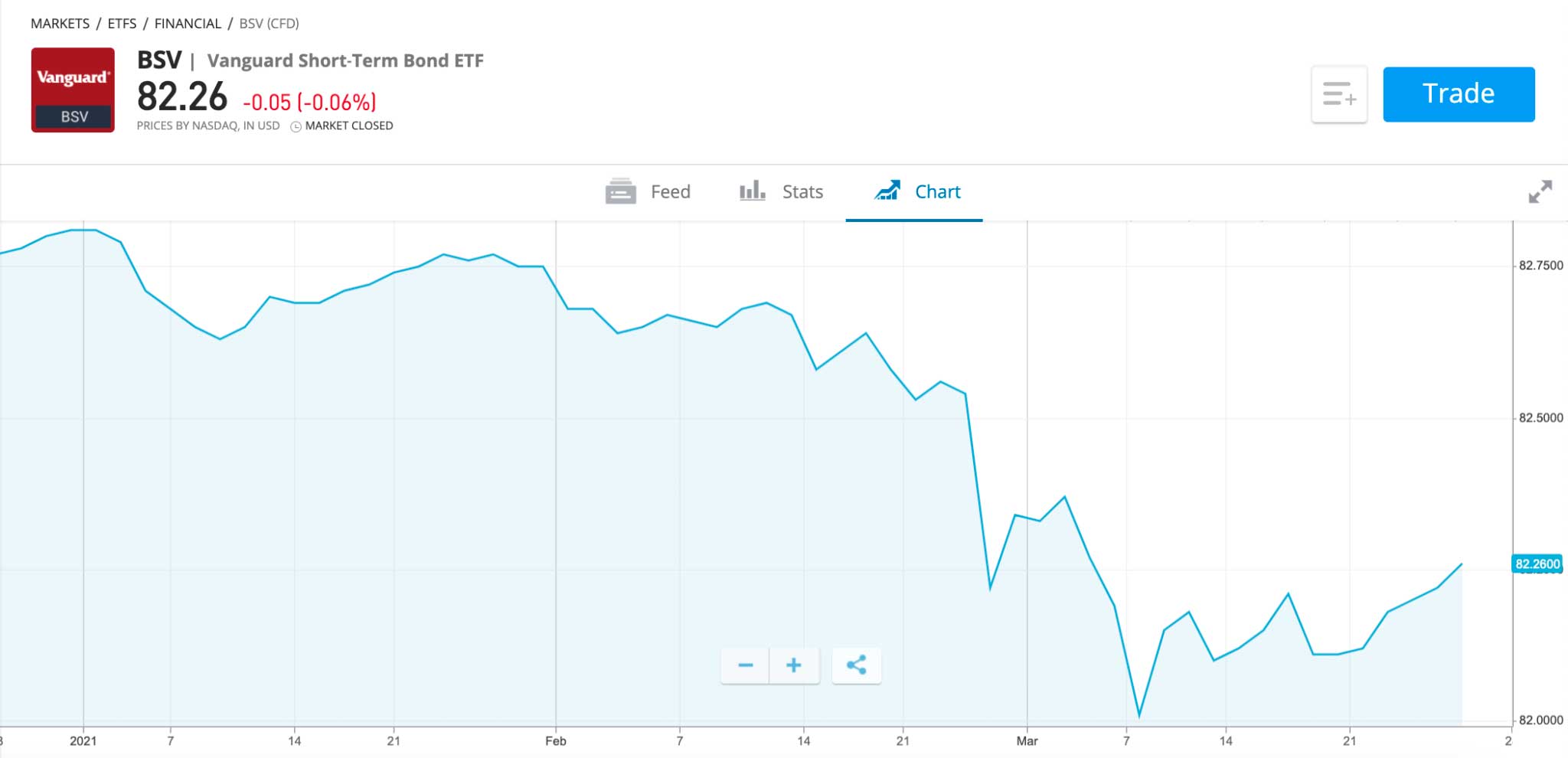 The Vanguard Short-Term Bond ETF provides investors exposure to the short-term bond market by investing in 2638 investment-grade bonds with a duration between 1-5 years. This fund has incredibly consistent past performance, making a positive return each year since 2008. However, in only one year have annual returns reached over 5%. Also, this fund has an incredibly low expense ratio of 0.05%, making it a cost-effective option.
8. Vanguard Long-Term Bond ETF (BLV)
In contrast to the previous fund, the Vanguard Long-Term Bond ETF focuses on the long-term bond market. These types of the bond have longer durations, so are therefore deemed riskier due to the more significant potential for default across their duration. However, this risk is compensated by a greater return. This fund invests in a range of USD-denominated investment-grade bonds with maturities of 10 years or more, providing investors exposure to this section of the bond market.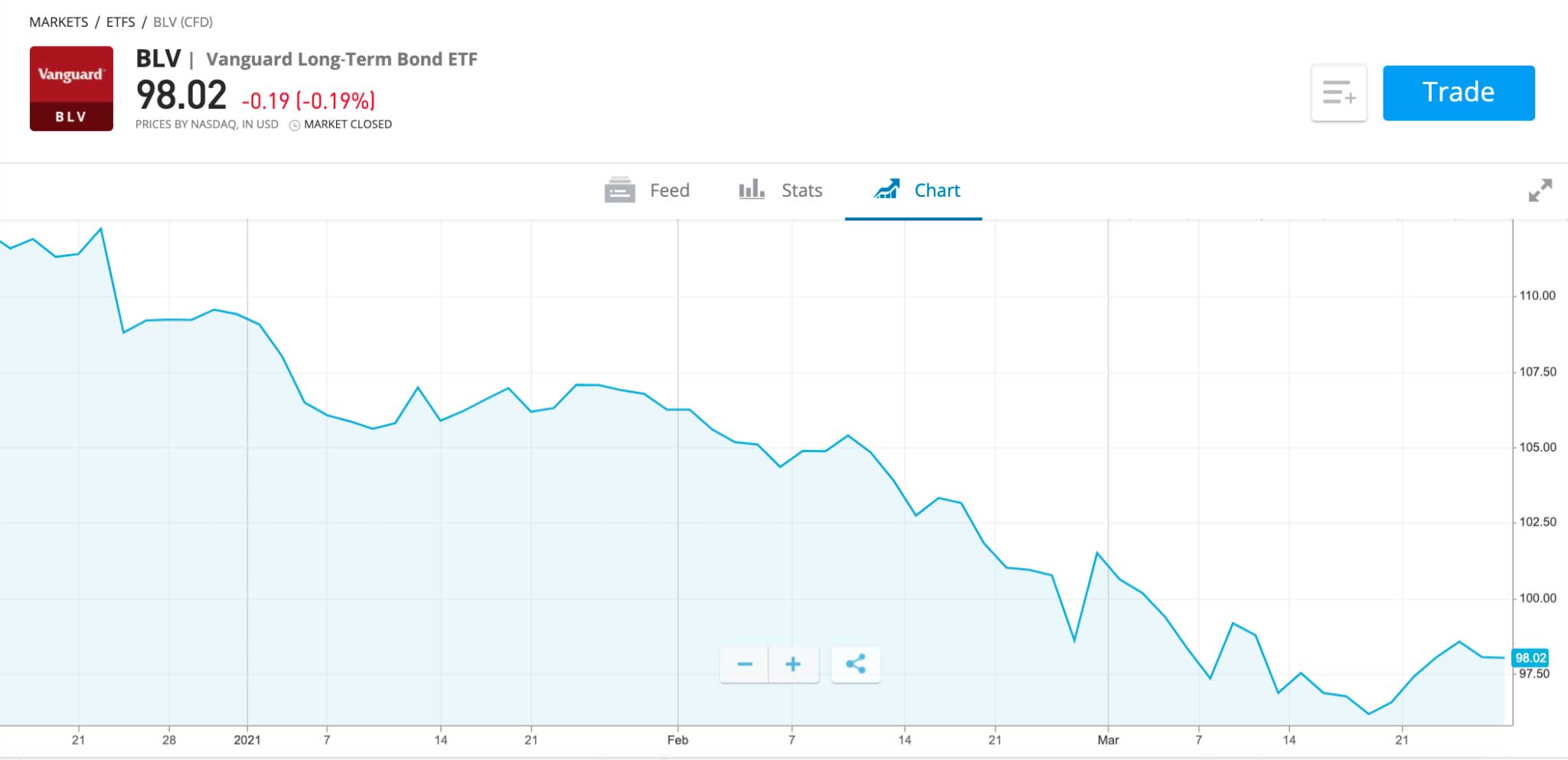 Looking at performance over the last few years, we can see that this fund does display larger volatility than the other funds in this list, having experienced negative returns in three of the previous ten years. However, in the years it has made a positive return, these have been quite large; the fund returned 19.09% and 16.24% in 2019 and 2020, respectively. Furthermore, this fund also has an annual yield of 3.07%, spread across monthly payments.
9. BlackRock Charities UK Bond Fund
If you are looking for exposure to the UK bond market specifically, this fund may allow users to do so. The BlackRock Charities UK Bond Fund invests in a selection of 135 UK GILTs, which is short for 'Gilt-Edged Security'. These GILTs are essentially the UK-equivalent of US treasury bonds and showcase a very low risk of default and a low rate of return.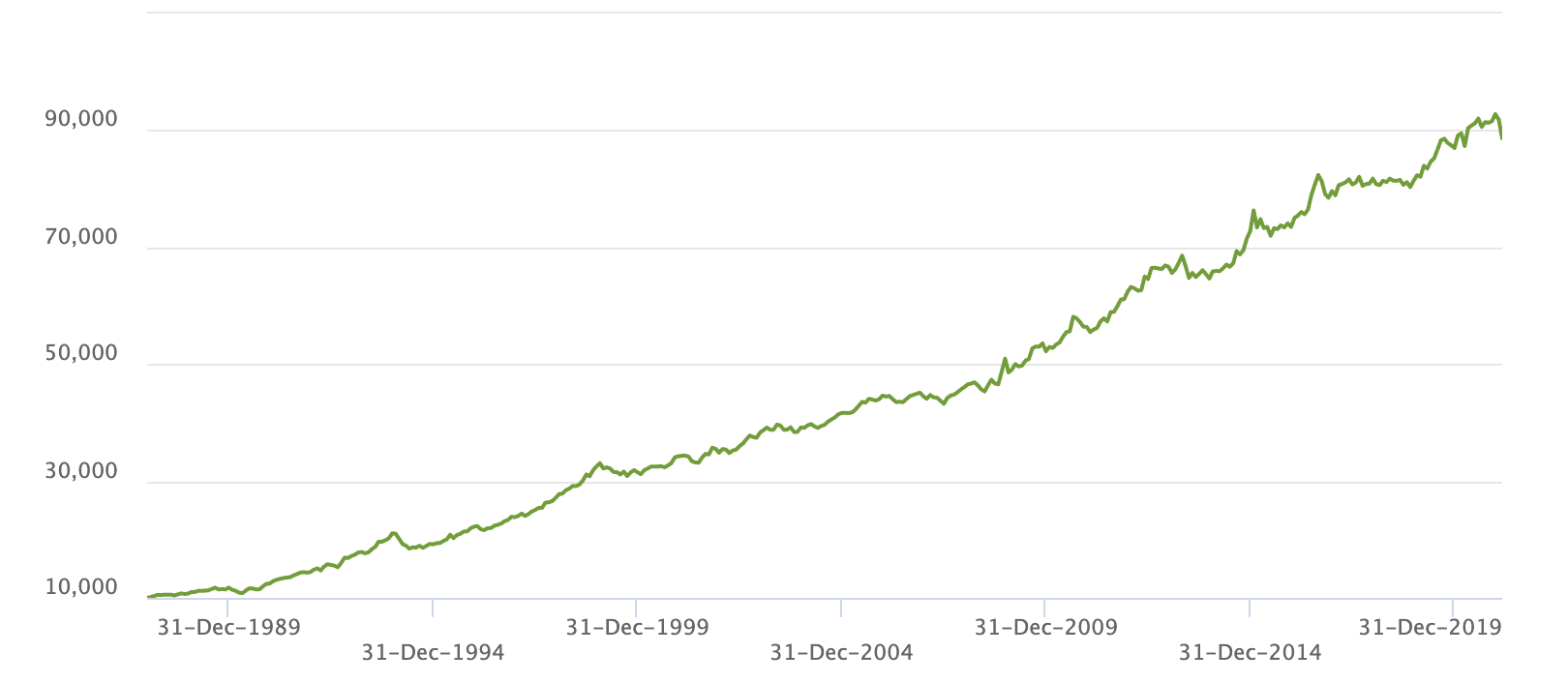 This fund has displayed solid consistency over the past five years, only making a small negative return of -0.43% in 2018, whilst the other years have seen the fund return more than 6% on three occasions. It also has a price yield of 3.73%, meaning investors can expect another stream of income through interest payments generated by the GILTs. With solid returns and a low-risk nature, this fund is a popular choice for investors interested in the UK government bonds market.
10. PIMCO Active Bond Exchange-Traded Fund (BOND)
The final fund we will discuss is the PIMCO Active Bond Exchange-Traded Fund. Through intelligent management, this fund aims to provide long-term capital growth for investors by investing in 1149 bonds, ranging from investment grade to mortgage-backed securities. Although slightly riskier than some other funds due to the diverse nature of the assets included, this fund is actively managed, which means that the fund manager will rebalance the investments periodically to optimise its risk/return portfolio.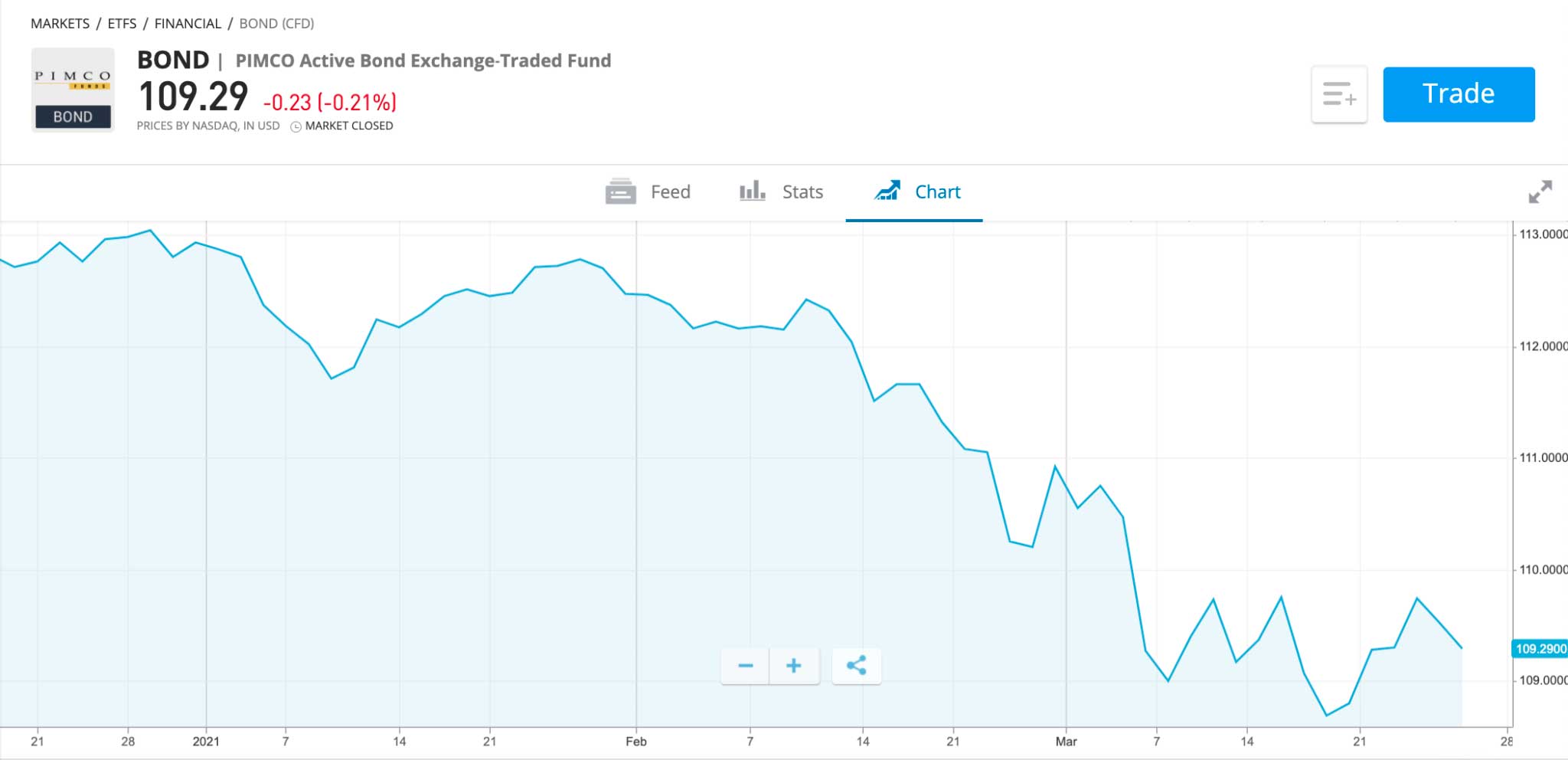 Looking at performance, this fund returned a solid 7.63% in 2020 and also returned 8.69% the year previous. Furthermore, it also provides investors with a decent yield of 2.65%, distributed each month. Finally, it does have a slightly higher expense ratio of 0.57%.
What are Bond Funds?
Put simply, bond funds are a specific type of mutual fund that invests exclusively in bonds. Much like other types of funds, bond funds pool money together from a range of investors, both retail and professional. They then invest this money on their behalf to produce capital growth and generate income for investors through periodic interest payments, expressed as the fund's yield.
As bond funds invest solely in bonds, they are termed a much safer option than investing in other, riskier funds such as equity funds. Due to them being safer, the returns produced by bond funds are typically lower than their peers.
An example of bond fund returns is highlighted in the image below. It showcases the returns produced by various UK-based bond funds in 2020 and pinpoints how they suffered a minor setback at the onset of the pandemic in March but then recovered and produced consistent returns for the remainder of the year.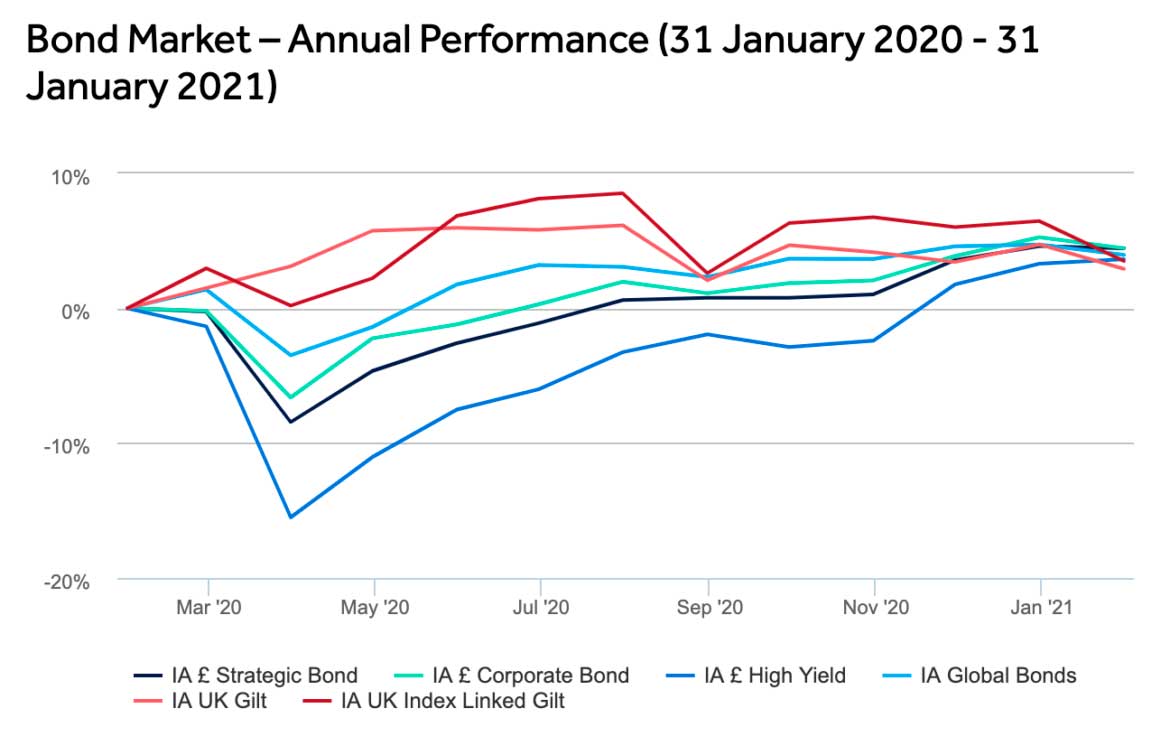 Bond fund types vary depending on the specific bonds they invest in. Some will focus primarily on Treasury bonds, which are debt securities issued by the US government and are deemed one of the most 'risk-free' assets you can invest in. Other bond funds may focus on corporate or municipal bonds. In addition, bond funds can also differentiate themselves through the length of the bonds they invest in; some may opt for safer, short-term bonds, whilst others may take on more risk and opt for longer-term bonds.
Why Invest in Bond Funds?
There are a variety of reasons why financial advisers say that bond funds are a potential way to invest money. This section will discuss three of the features that may affect your investment choice in this asset class.
Cost-Effective Way to Generate a Return
One of the popular features of bond funds is that they can provide a cost-effective way to gain exposure to the bond market. If you were to invest your money into various bonds manually, you would incur a commission for each trade you opened, depending on which broker you used.
However, with bond funds, you get access to professional investment management through the fund manager. The manager will use his/her expertise to pick the popular assets and optimise the risk/return profile of your investment. To highlight this, the image below shows returns generated by the BlackRock Charities UK Bond Fund – showcasing the performance benefits of investing in an actively managed fund.

What's more, these funds often charge a very low annual fee called an expense ratio, usually ranging from 0.1% to 0.8% of your investment (but can be more depending on the issuer).
Diversification
Another reason to invest in bond funds is the diversification benefits they offer. If you hold a portfolio that is biased towards equities, it is wise to factor in adding a bond fund investment into the mix too. This is because bonds tend to become more attractive if equity markets experience a downturn, as investors will flock to 'safer' assets such as bonds. In turn, this pushes the price of bond funds upward.
Diversification from bond funds can also come from geographical factors. If you are a UK investor, you can invest in a bond fund focused on US Treasury bonds, giving yourself exposure to a different market.
Hedge Against Equity Market Shocks
The third reason why bond funds could be a valuable investment is that they can hedge against market shocks, especially related to equity markets. As touched on previously, bond funds tend to do well in times of uncertainty as investors flock to these assets due to their low volatility. Thanks to this, price increases and more capital growth can occur.
Due to this, many investors use bond funds to safeguard their portfolios in anticipation of market shocks. Taking 2020 as an example, many equity funds suffered a negative annual return due to the uncertainty caused by the Coronavirus pandemic. However, as bond funds became more attractive thanks to this uncertainty, returns generated through these funds actually went on to outperform many index funds thanks to their low-volatility nature.
Popular Bond Funds Brokers
One of the most important aspects to consider when investing is which broker to use to facilitate your investment. In this section, we discuss two popular Uk trading platforms to invest in bond funds.
1. eToro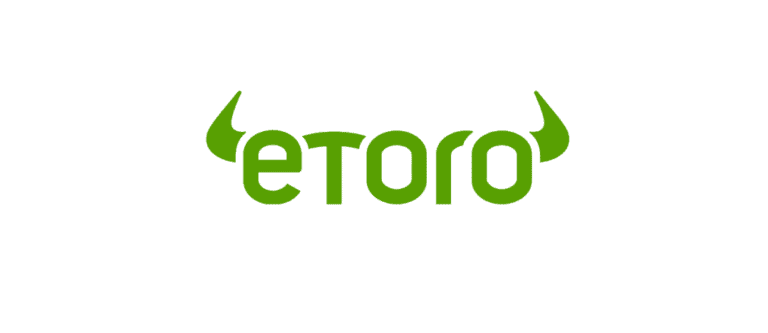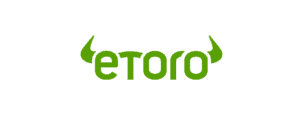 Having been in operation for over 13years, eToro has a popular reputation worldwide, boasting over 26 million users. Furthermore, eToro is regulated by the Financial Conduct Authority (FCA), providing a solid layer of protection to your money and personal details.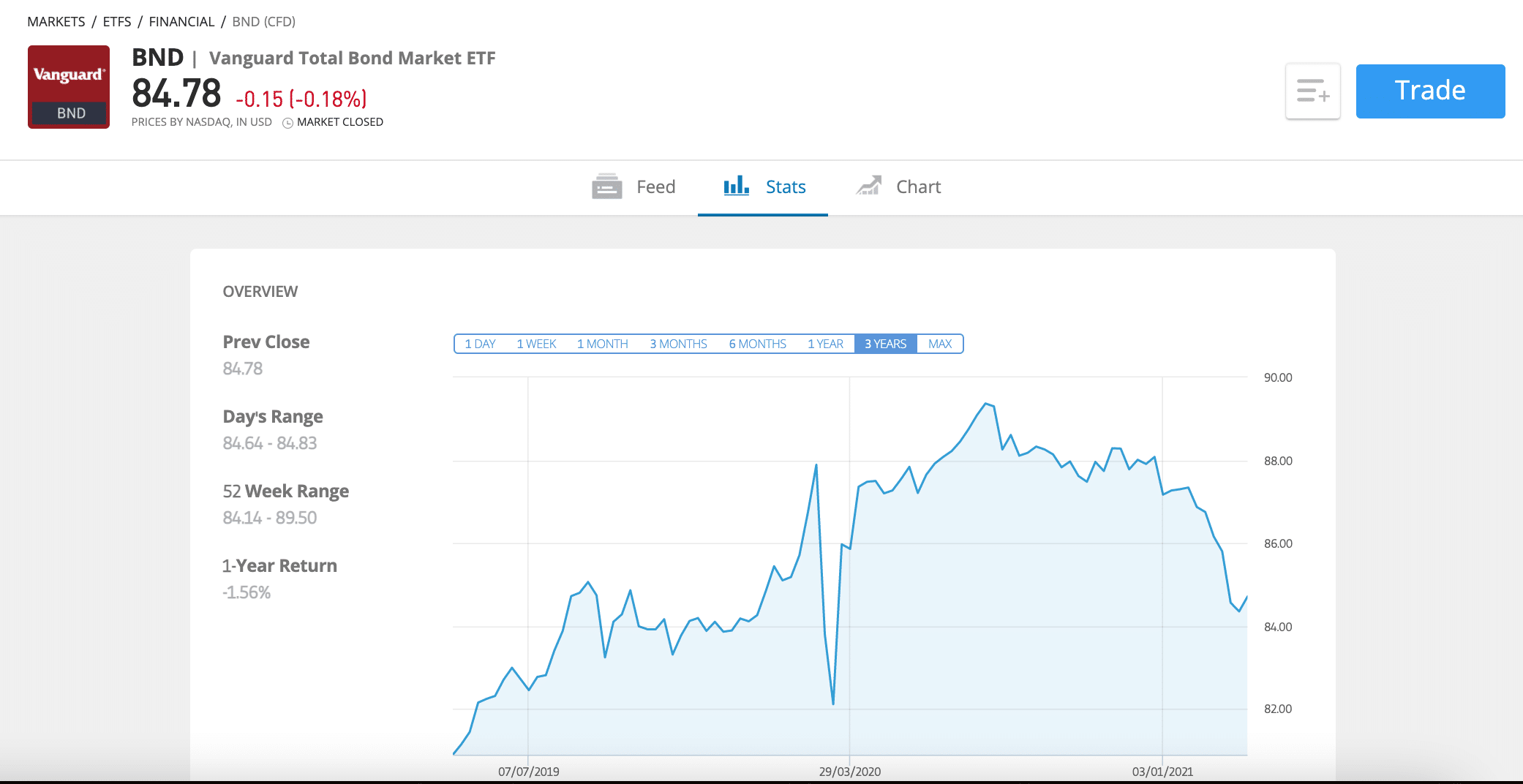 eToro also allows users to invest in bonds commission-free. When you invest in funds, you always have to pay a small expense ratio every year (charged by the fund provider). With eToro, this is the only fee you will pay as you'll avoid any hefty commissions.
Furthermore, you can invest in bond funds with eToro for as little as $10 (roughly £8). This means that these funds are accessible to a wide range of investor types and don't require large amounts of capital to get involved in. Also, you can even use eToro's demo-account feature to test the waters before you invest for real.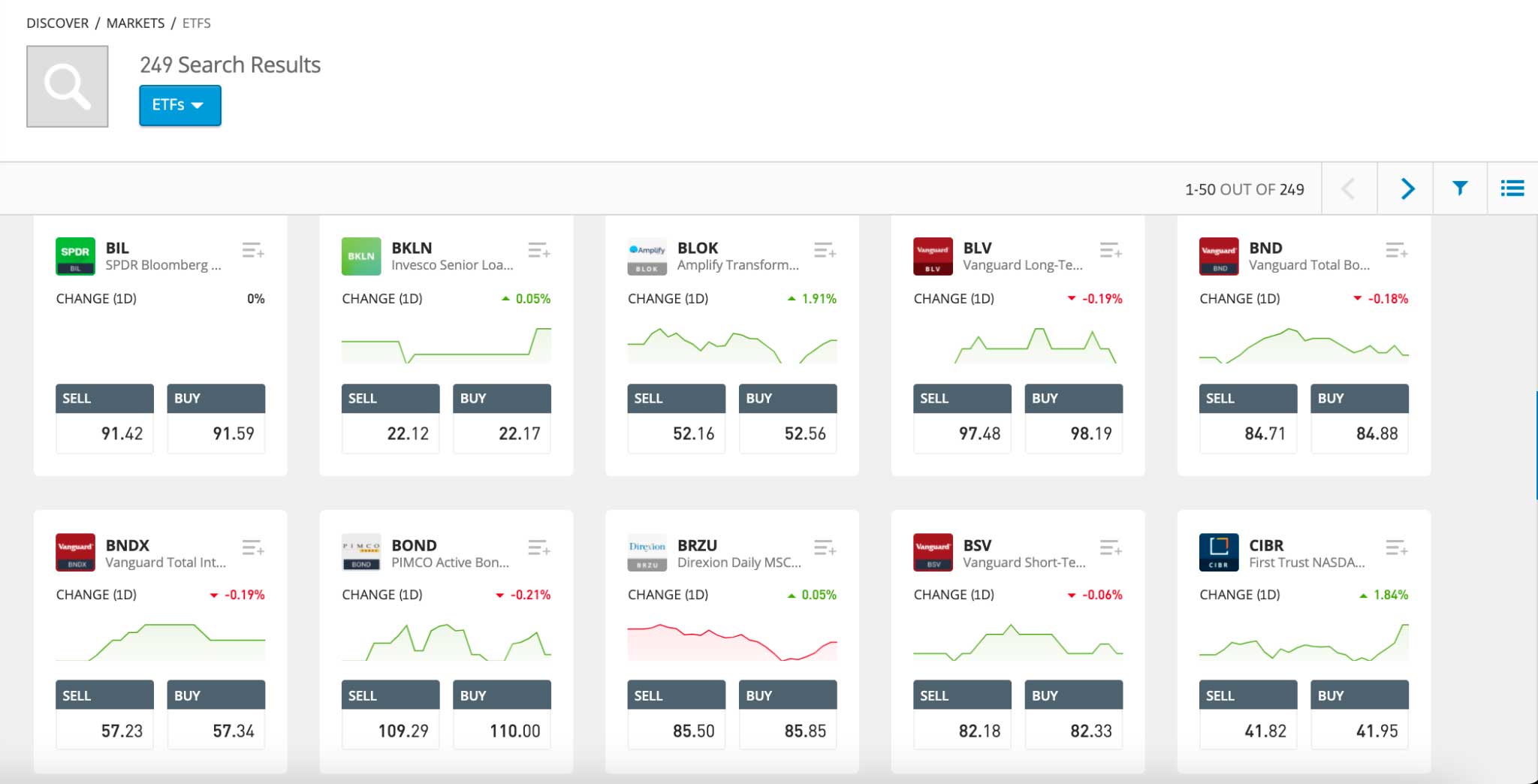 Finally, if you'd like to add other assets to your portfolio along with bond funds, eToro offers a vast range of investment options to choose from. With over 2000 stocks available, along with a large number of ETFs, commodities, and even cryptocurrency, eToro is sure to offer something for everyone.
| | | | | | |
| --- | --- | --- | --- | --- | --- |
| Stock Broker | Minimum Deposit | Fractional Shares? | Pricing System | Cost of Buying Stocks & ETFs | Fees & Charges |
| eToro | $10 | Yes – $10 minimum | 0% commission on ALL real stocks, spreads for CFDs | Market spread is not included when buying real stocks | No Deposit fees, $5 withdrawal fee, $10 inactivity fee, no account management fees. |
Sponsored ad. 68% of retail investors lose money trading CFDs at this site
2. Fineco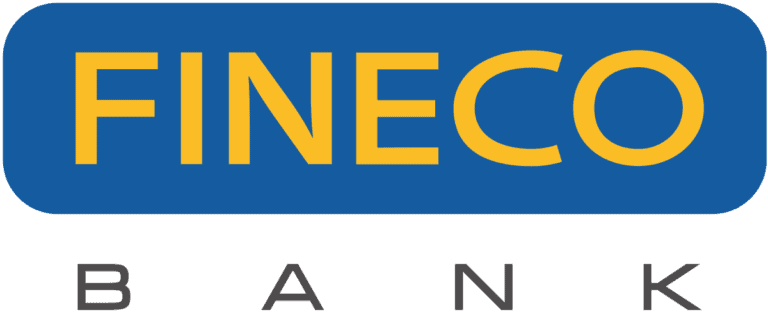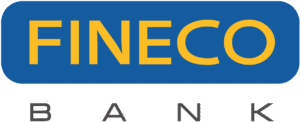 Fineco is a popular investment platform to use to facilitate your bond fund investing, as they are low-cost and one of the well-known FCA-regulated brokers. Furthermore, they have a solid reputation in both the UK and Italy and are even listed on the Italian stock exchange.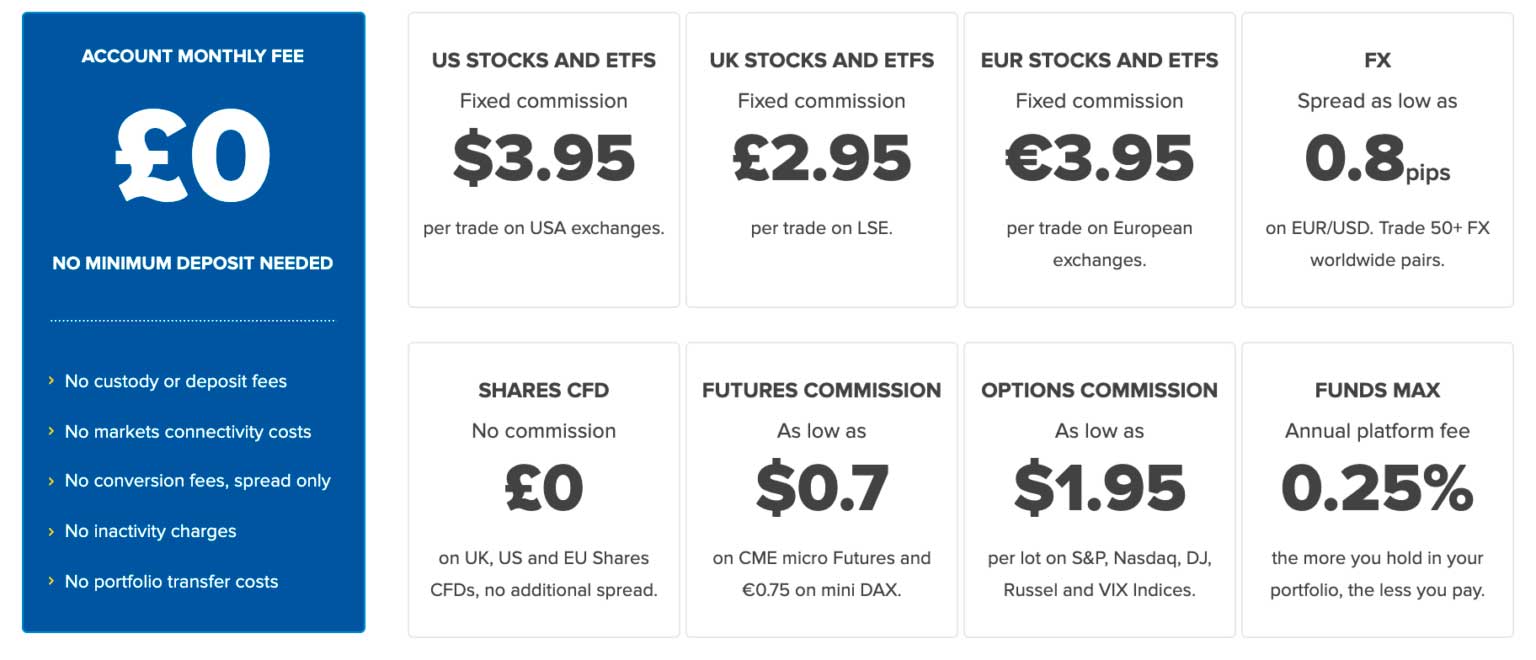 Fineco does not charge a fee to open a position in their fund selection; however, they charge a minimal fee for holding the fund, equating to 0.25% of your investment up to £250k. So, if you invested £1000 in a fund with Fineco, you'd have to pay £2.50 to the broker each year. In addition, you would also have to pay the expense ratio that the fund provider charges.
Besides their holding fee, Fineco does not charge anything else to use their brokerage services – no account fees, inactivity fees, withdrawal fees, or deposit fees. Account opening is also straightforward and can be completed digitally. Also, Fineco does not have a minimum deposit amount to open your account, which is affordable for beginner traders who wish to test the waters first.
Your capital is at risk.
How to Invest in Bond Funds
If you're interested in investing in a bond fund and wish to know precisely how to do so, then this section will provide the answers. We will show you exactly how to make your bond fund investment using a reputable stock broker of your choice.
Step 1: Open a Trading Account
Head over to the homepage of your chosen broker and begin the account set-up process. You will be required to fill in your personal details – including your full name, email address and mobile number. Create a username and password for the platform to continue.
Step 2: Complete the Verification Process
Most reputable brokers in the UK are regulated by the FCA – which is why users may be required to verify their accounts. To do this, simply upload proof of ID (a copy of your driver's license or passport) and proof of address (a copy of a bank statement or utility bill). Once these documents have been uploaded, your broker should verify them in a couple of minutes.
Step 3: Deposit funds
The next step is to deposit funds into your trading account. Most brokers may support 1 or more of the following payment methods:
Credit card
Debit card
Bank transfer
e-wallet
Choose your preferred payment option and deposit the funds into your account.
Step 4: Invest in Bond Funds
Once your account has been funded, proceed to search for any Bond Funds you wish to purchase on your platform's search bar. Fill in the amount you want to credit into the trade, and confirm your transaction.
Conclusion
In this guide, we have examined some of the popular bond funds UK, discussing the various elements you need to be aware of to make an informed investment decision. Whether you are looking to invest in corporate bonds, investment-grade bonds, or anything in between – bond funds provide an attractive and cost-effective method to do so.
However, you should properly analyse and examine each possible investment before opening a trade.
FAQs
What is a popular Bond Fund?
Why do bond funds go down?