Blockchain technology forms the backbone of cryptocurrencies like Bitcoin and Ethereum. With blockchain, financial transactions can be recorded to a public digital ledger, enabling trustless decentralized transactions to take place online.
While you can invest in the future of blockchain by buying cryptocurrencies, this technology also has major implications outside of finance. In this guide, we'll highlight 8 of the best blockchain stocks you can buy in the UK today and show you how to invest in blockchain stocks with no commissions.
Top Blockchain Stocks 2021
Blockchain technology has become so popular among investors that many companies claim an association with digital currencies, even if the link is pretty weak. We dug through dozens of hot stocks from the tech world and beyond to find the 8 best blockchain technology stocks you can invest in today:
NVIDIA – Selling Shovels for Mining Bitcoin – Buy Now
Riot Blockchain – Best Cryptocurrency Mining Stock – Buy Now
AMD – Computing Solutions to Make Blockchain Work – Buy Now
Visa – Traditional Finance Meets Blockchain Technology
IBM – Helping Businesses Make the Shift to Blockchain
Marathon Patent Group – Fast-growing Bitcoin Miner
Future Fintech Group – Bringing Blockchain to eCommerce
BLOK – Best Blockchain Technology Stock ETF
Best Blockchain Stocks UK Reviewed
1. NVIDIA – Selling Shovels for Mining Bitcoin
NVIDIA (NVDA) is a classic picks-and-shovels play around the Bitcoin mining boom. NVIDIA makes the GPUs (graphics processing units) and other highly parallel processors that Bitcoin mining companies use.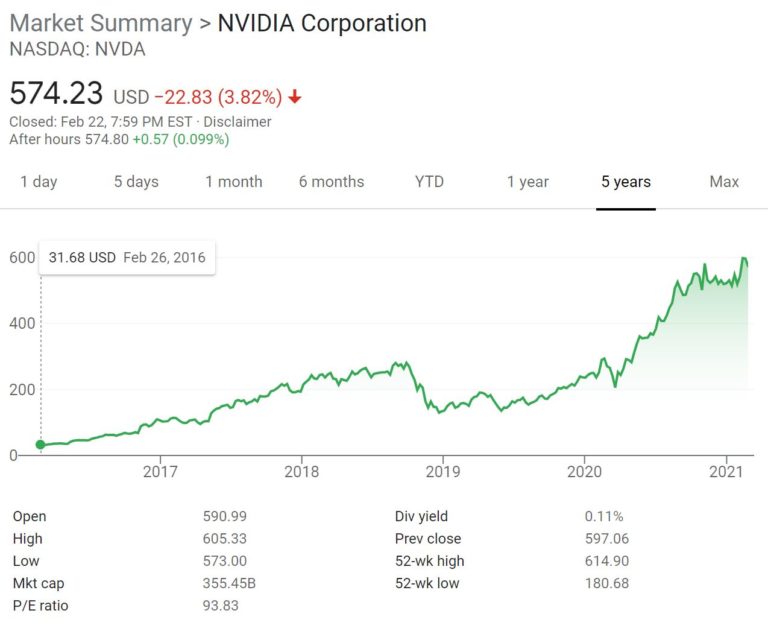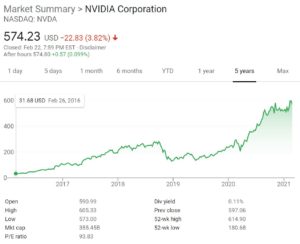 In fact, NVIDIA has been one of the biggest winners from the emergence and growing popularity of cryptocurrencies. Over the past 5 years, the stock has gained an incredible 1,700%! Even better, in contrast to Bitcoin mining companies, NVIDIA's share price doesn't depend on the price of Bitcoin.
NVIDIA has been at the center of other enormous innovations, too. The company's chips are widely used for Artificial Intelligence development as well as gaming. In addition, NVIDIA recently acquired ARM, a semiconductor manufacturer that licenses chip designs for a wide range of smartphone, auto, and other computing companies.
NVIDIA is by no means cheap, with a P/E ratio of 93.8. However, this company has made all the right moves to position itself for continued growth. In addition, any developments based on blockchain will also depend on NVIDIA chips, so there's plenty of room for the stock to climb.
Your capital is at risk.
2. Riot Blockchain – Best Cryptocurrency Mining Stock
Riot Blockchain is a US-based cryptocurrency mining company that's one of the biggest players in the industry.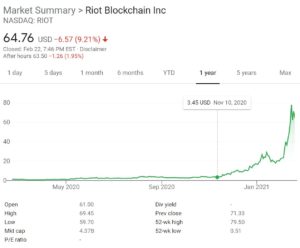 Riot Blockchain recently deployed enough computing power to mine Bitcoin at a rate of 1 exahash per second – something very few cryptocurrency mining companies can claim. Even more exciting, Riot Blockchain is in the process of getting more computers up and running. The company plans to more than triple its computing power by the end of the year.
The company's share price has exploded over the past 6 months, since Riot Blockchain's revenue is closely tied to the price of Bitcoin, making it a good route to invest in bitcoin stocks. When the price of Bitcoin rises, this mining firm makes more money – and investors pile into the stock.
Riot Blockchain shares are currently trading at over $64 a piece and the company has a market cap of $4.4 billion. That's a very high valuation for a company that wasn't profitable in 2020, but analysts expect Riot Blockchain to break even this year. Better yet, Riot Blockchain could benefit in years to come from the growth of proof-of-work digital assets like Litecoin and Ethereum Classic.
Your capital is at risk.
3. AMD – Computing Solutions to Make Blockchain Work
AMD is, much like NVIDIA, a semiconductor designer and manufacturer whose chips helped fuel the cryptocurrency boom. AMD's GPUs (graphic processing units) are used by Bitcoin mining companies around the world and are essential equipment for any company that wants to operate a blockchain at high speeds.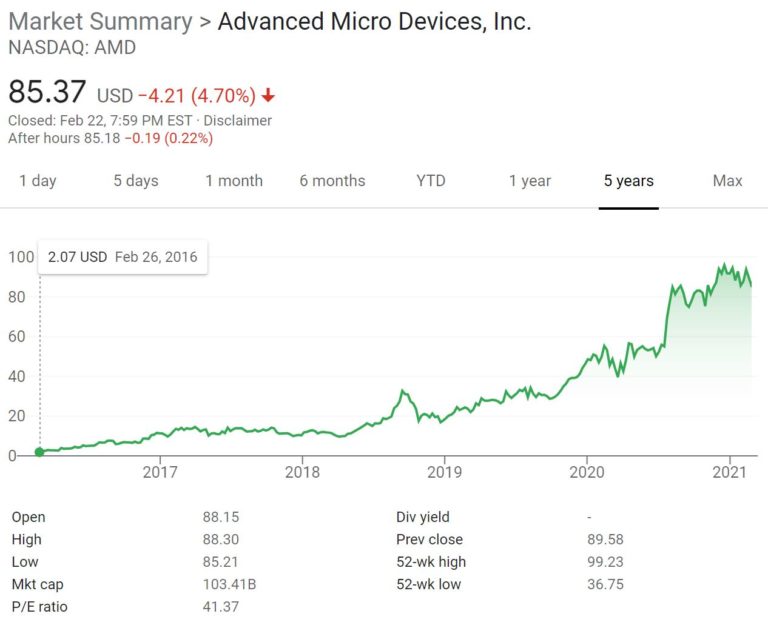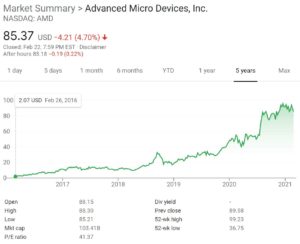 AMD's stock price reflects just how important the company has been to cryptocurrencies and blockchain technology. Since 2017, the stock is up over 4,000%. It now trades with a P/E ratio of 41 – much lower than rival NVIDIA's – and has a market cap of over $100 billion.
Although AMD's P/E ratio suggests a modest future for this company, it's still a strong growth stock. AMD is in the midst of developing a blockchain-based platform for gaming, which could transform the gaming industry overnight and lead to a variety of lucrative partnerships.
In addition, AMD is quickly gaining market share over Intel when it comes to cloud computing. That's a huge deal for AMD since it's typically been left in the cold when companies are deciding what chips to invest in for their server farms. If AMD can compete on this front, it could unlock a steady stream of revenue that can push the stock even higher.
Your capital is at risk.
4. Visa – Traditional Finance Meets Blockchain Technology
The applicability of blockchain technology to fintech was obvious from the moment Bitcoin was launched. Despite this, banks, credit cards, and other financial service providers have been extremely slow to adopt blockchain or offer access to digital currencies.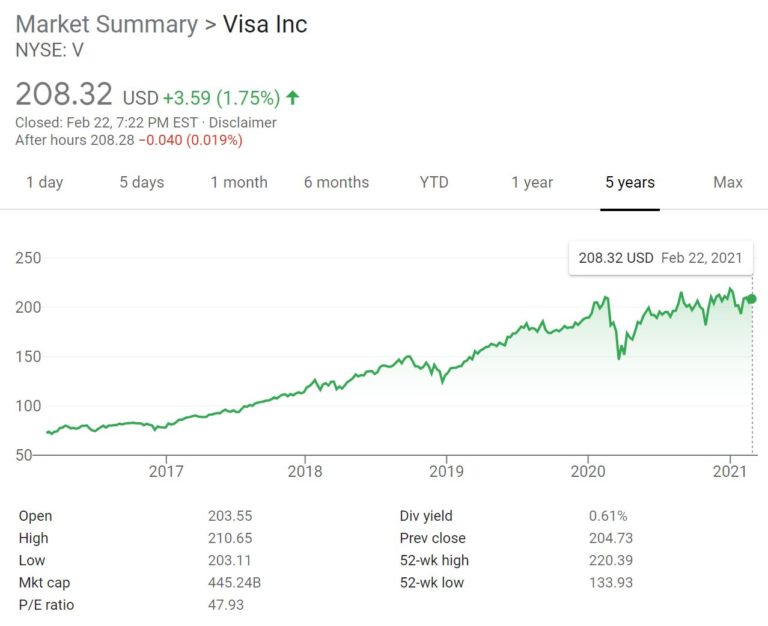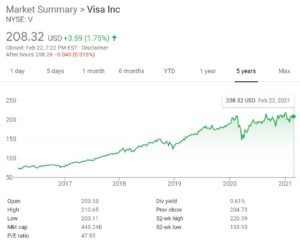 Not Visa. This credit card company partnered with blockchain infrastructure company Chain in 2016, and soon after released Visa B2B Connect to enable businesses to make payments to one another using blockchain.
Since then, Visa has been busy linking its many credit and debit cards to popular Bitcoin wallets. For example, anyone who uses the Coinbase wallet and a Visa credit card can seamlessly exchange between cash and cryptocurrency.
All this activity has given Visa a huge head start over competitors when it comes to meeting consumers' demand for access to cryptocurrencies. We expect that to not only boost Visa's traditional credit card business but also position the company to take advantage of new innovations in decentralized finance.
Your capital is at risk.
5. IBM – Helping Businesses Make the Shift to Blockchain
On first glance, IBM stock doesn't look that attractive compared to most of the other stocks on this list. It's down 9% over the past 5 years and hasn't had much involvement in the shift to blockchain technology or cryptocurrencies.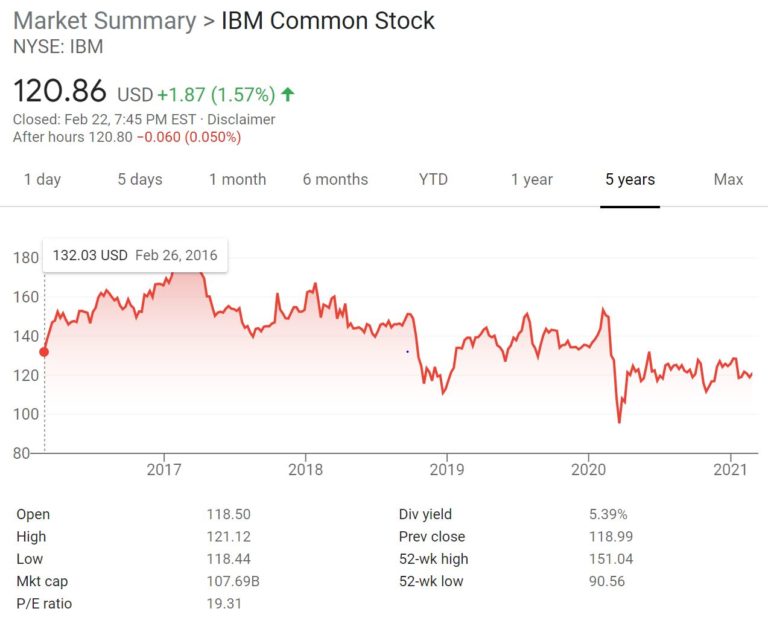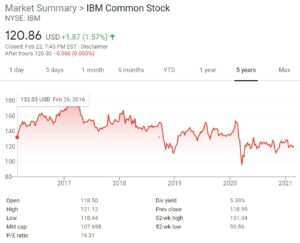 However, look closer, and you'll see that IBM is one of the best long term investments you can make in blockchain technology. This company launched a blockchain team back in 2017, and today it has more than 500 projects in development. They include tools for logistics, healthcare, digital payments, and more.
Given that IBM is a massive company with a huge client base, it won't have trouble finding potential suitors for these technologies once blockchain matures a little bit more. That's a big leg up over young startups, which might be exciting for investors but don't have the business network or global resources to bring their technologies to market.
Another thing to like about IBM is that this stock is surprisingly cheap. It sports a P/E ratio of just 19, which is a downright bargain for any company working on blockchain technology. In addition, IBM offers an attractive dividend yield of 5.4%.
Your capital is at risk.
6. Marathon Patent Group – Fast-growing Bitcoin Miner
As recently as November last year, Marathon Patent Group (MARA) was a blockchain penny stock. However, over the past three months, the stock has soared from just $2.50 per share to nearly $50 per share – a nearly 1,900% increase. The stock has pulled back from its high, but only slightly.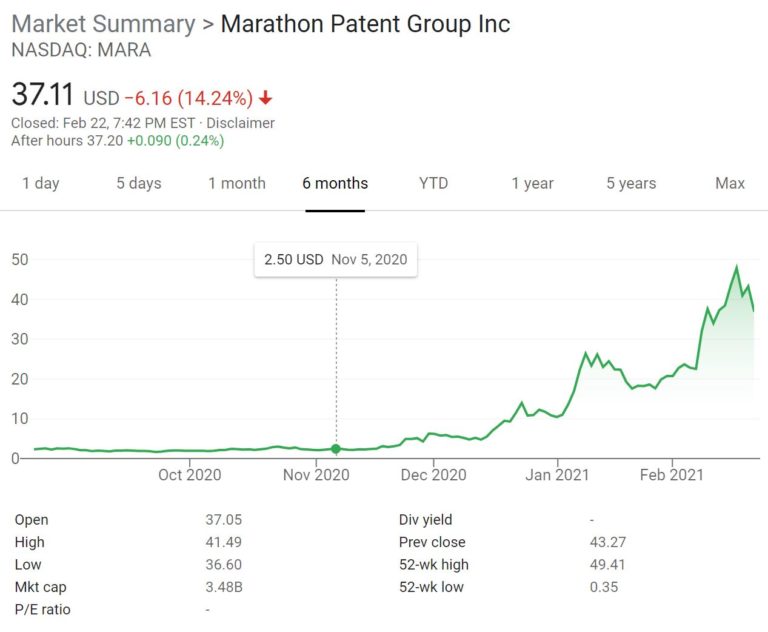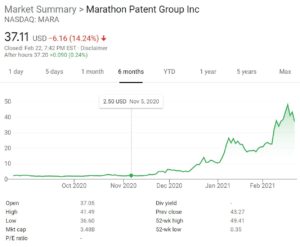 Much of this rise can be attributed not to anything Marathon itself did, but rather to the explosion in the price of Bitcoin. That's because Marathon is a cryptocurrency mining company – so the higher the price of Bitcoin rises, the more money that Marathon stands to make from its digital mining operation.
With a current valuation of nearly $3.5 billion, Marathon's stock price looks a little frothy relative to the amount of computational power it has actually deployed. The good news, though, is that the company is in the process of deploying enough machines to mine $1 billion worth of Bitcoin per year.
All of this assumes that Marathon's costs stay the same and that the price of Bitcoin stays where it is or rises even higher. But if those assumptions are correct, Marathon could be one of the most undervalued stocks in the blockchain sector right now.
Your capital is at risk.
7. Future Fintech Group – Bringing Blockchain to eCommerce
Future Fintech is one of the most promising blockchain startups. This company makes eCommerce platforms built on blockchain, which is an interesting application with a potentially huge audience. With Future Fintech's technology, anyone could sell anything on a marketplace and the transaction would be secured with blockchain.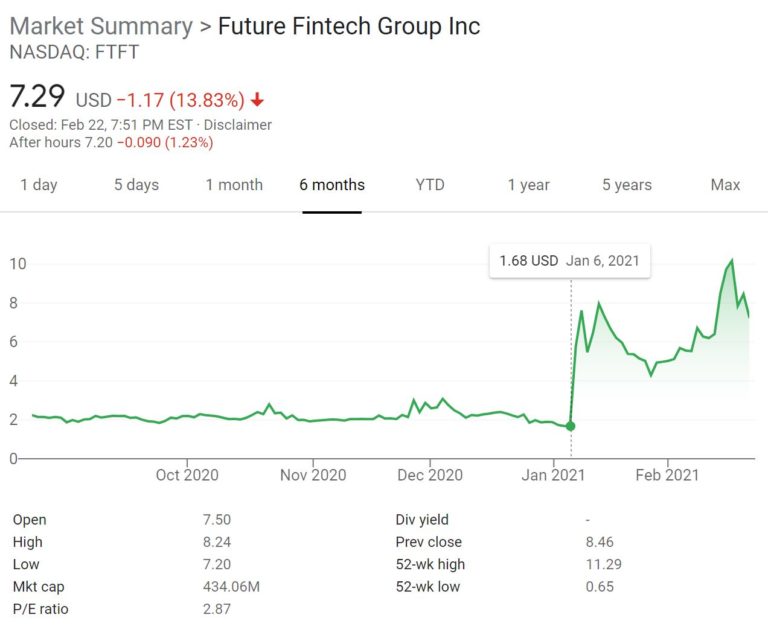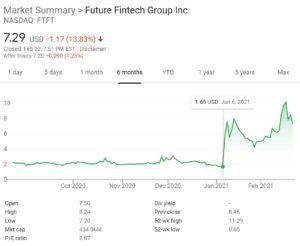 Future Fintech has also announced two pieces of good news recently that could propel the stock higher in 2021. First, the company's eCommerce blockchain patents were approved in China – the first step in enabling Future Fintech to move into this growing market of over 1 billion people. Second, the company finished building software that allows eCommerce sites to accept Bitcoin for payment – a piece of software that should be widely popular.
Future Fintech has been one of the most volatile stocks to buy, so you'll need a good stomach if you want to invest in this company. The shares traded at just $1.68 apiece at the beginning of the year before jumping to $7.62 in the span of 2 days. They jumped again, to $10.17, before falling back down to the current price of $7.29.
In addition, Future Fintech has been issuing shares to raise money. The company has come dangerously close to running out of free cash several times. So, consider this a high risk investment with potentially huge payoffs if the company succeeds.
Your capital is at risk.
8. BLOK – Best Blockchain Technology Stock ETF
Want to invest in blockchain technology without betting your entire portfolio on just a couple stocks? Then the BLOK ETF – also known as the Amplify Transformational Data Sharing ETF – may be the best investment for you.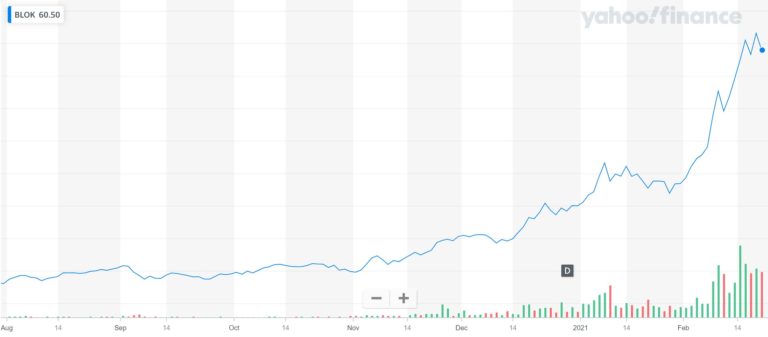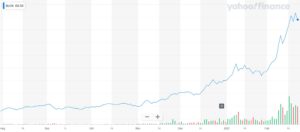 This ETF invests primarily in cryptocurrency mining stocks, including Riot Blockchain, Marathon Patent Group, Canaan Inc., and Microstrategy Inc. The fund also invests in semiconductor companies like NVIDIA and AMD, plus major tech companies like Microsoft and Oracle. In all, the fund contains 55 stocks.
In the 3 years since this ETF was formed, it's gained an impressive 101%. Of course, that's nowhere near the performance of Bitcoin itself, but it's quite good for a large fund. The ETF has an expense ratio of 0.70%, which is pricey but not exorbitant.
One thing that's especially nice about the BLOK fund is that it changes over time. So, new blockchain companies are automatically added and underperforming companies are removed from the fund, without any work on your part.
Your capital is at risk.
Are Blockchain Stocks a Good Investment?
Blockchain is best thought of as a digital ledger. When you make a transaction, it's combined with all the other transactions happening in the digital world and compiled into a 'block.' That block is then added to the existing blockchain, so your transaction – and all the others like it – are digitally recorded for all to see.
What makes blockchain so exciting is that no single person or entity controls the ledgerbook. Making transactions doesn't require trust between two parties, since the blockchain itself is beyond trustworthy and shows a perfect record of who has what assets. This is fundamentally different from how most modern transactions work, in which you need a middleman like a bank or a dealer to facilitate a transaction and provide the trust needed to make it happen.
Blockchain technology is one of the most transformational developments of the 21st century. The technology is still in its early days, but thousands of companies are already looking at ways that blockchain can alter the way they do business or even create new business models.
For example, blockchain could allow patient records to be transferred from one healthcare provider to another digitally, without any of the privacy or security issues that typically plague these transactions. This technology could also be used in logistics, to perfectly track when goods are sent and received.
How to Invest in Blockchain
In our opinion, blockchain will be a driving force of technological development in the coming decades. The question isn't so much whether you should be investing in blockchain, but rather how to invest in blockchain.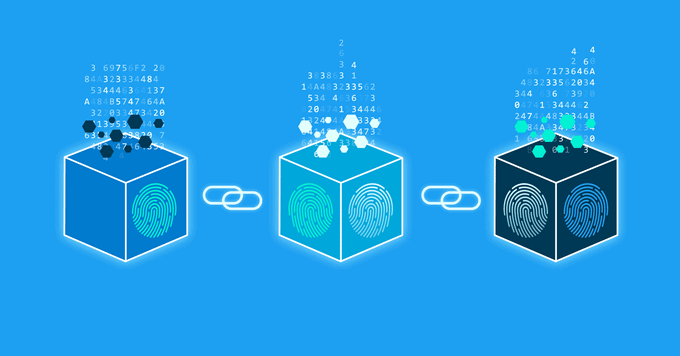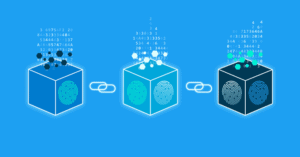 Up until recently, the main ways to invest in blockchain all revolved around cryptocurrencies. You could either buy digital currencies, all of which rely on blockchain technology or buy stock in companies that mine them or provide the chips and computers to mine them.
This is still a very strong strategy. In fact, many of the blockchain stocks that we highlighted are cryptocurrency miners or semiconductor stocks.
At the same time, an increasing number of companies with well-established business models are now working on blockchain applications. IBM, a technology giant, has over 500 blockchain projects in the works. Companies like Amazon, Salesforce, Microsoft, and Oracle are also working on blockchain technology, although they're not quite as far along just yet.
While not all of these potential blockchain projects will come to fruition, it's now possible to invest in blockchain by investing in blue chip stocks that have the resources to drive this technology forward.
Of course, don't take your eye off blockchain penny stocks. Many of these startups have unique ideas about how to use blockchain technology to solve real-world problems. These stocks are best for risk-tolerant investors, but they have the potential to skyrocket if and when their blockchain applications make it to market.
Best Blockchain Stock Brokers in the UK
In order to buy blockchain stocks in the UK, you'll need a stock broker. Ideally, your broker should offer a wide range of shares from the US and abroad – most blockchain stocks trade on the NYSE or NASDAQ stock exchanges, and they run the gamut from penny stocks to blue chip stocks.
To make your search easier, let's take a look at two of the top UK brokers you can use to buy blockchain shares today.
1. eToro – Best Blockchain Stocks with Zero Commission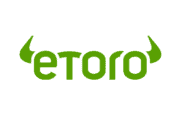 eToro is one of the best brokers in the UK to use for buying blockchain shares. This stock broker offers trading on more than 800 US shares and nearly 2,000 shares from stock markets around the globe. Plus, eToro carries hundreds of ETFs, many of which are focused on technology, and offers trading on 15 of the most popular cryptocurrencies.
Even better, eToro lets you choose between buying shares outright or trading stock CFDs. Both methods are 100% commission-free, so you get to decide whether you want a short-term or a long-term position in blockchain.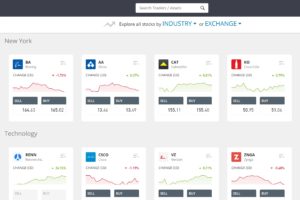 67% of retail investors lose money when trading CFDs with this provider.
eToro offers excellent research and analysis tools, including a technical charting interface with more than 100 built-in indicators. The trading platform also includes research from professional analysts, such as price projections and earnings forecasts. That makes it easier to know if a stock is really as good as the hype suggests.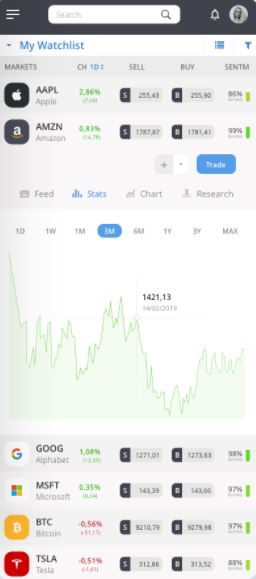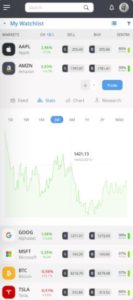 This trading platform also lets you chat with other investors through a social trading network. You can swap ideas about blockchain stocks and find out what companies are trending among traders at any time. eToro also allows you to copy premade portfolios with just a few clicks, so you can easily invest in a portfolio built around the tech sector or blockchain technology specifically.

eToro is regulated by the UK's Financial Conduct Authority and offers 24/5 customer support by phone and email. You'll need to make a £160 deposit to get started with eToro, but the platform allows a wide variety of payment methods including e-wallets.
Pros
Wide variety of US shares
100% commission-free trading
Technical charting with 100+ indicators
Built-in social trading network
24/5 customer support
Cons
Inactivity fee after one year
Withdrawal fee (£4 per transaction)
67% of retail investors lose money when trading CFDs with this provider.
2. Fineco Bank – Screen and Trade Thousands of Global Stocks
Fineco Bank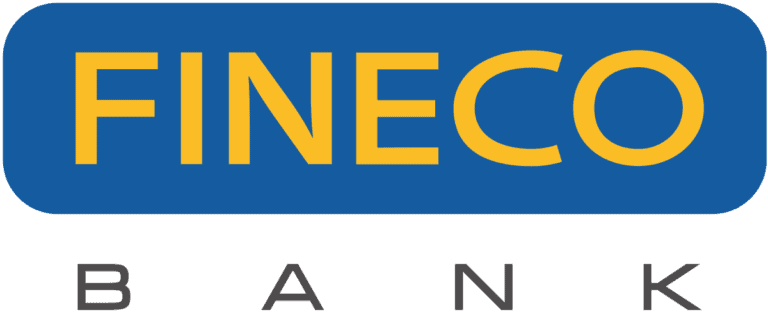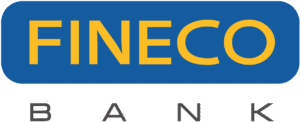 is an Italian broker that offers thousands of shares from the US, UK, and Europe. This broker's wide selection also includes hundreds of ETFs, so you can quickly build a portfolio around blockchain and other emerging technologies.
Fineco Bank offers two ways to trade. You can buy shares outright, which comes with a dealing commission of $3.95 for US shares. Alternatively, you can trade stock CFDs with no commission. So, this broker is a good choice for both short-term and long-term investing.
Fineco Bank offers a web-based trading platform as well as a mobile stock trading app. The web platform, called Powerdesk, is a highly versatile technical charting and analysis station. You can access dozens of technical studies, drawing tools, a built-in news feed, and more. Although it's an advanced platform, it's very user-friendly and beginners can get started with ease.
The mobile app is less focused on technical analysis and more focused on monitoring your watchlists and placing trades. It's streamlined design offers news and price alerts, but minimal charting and research tools.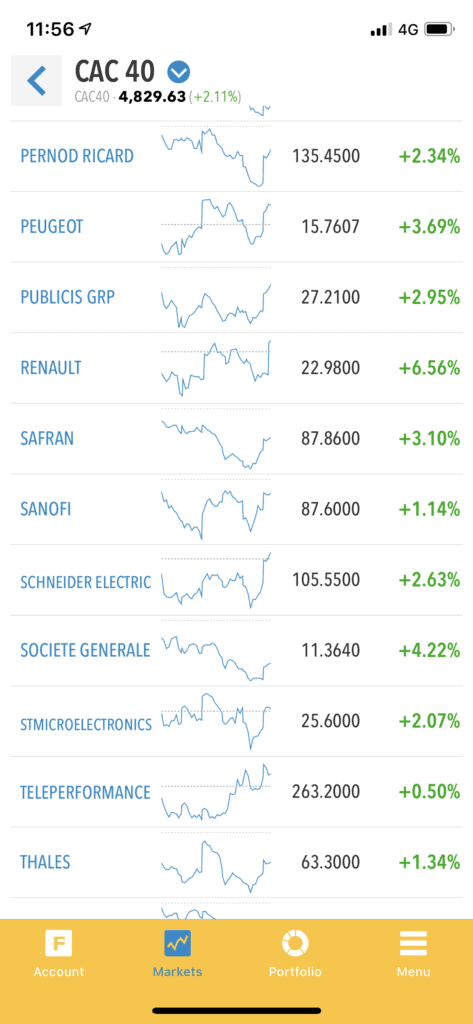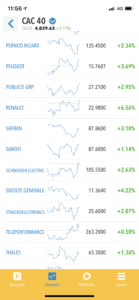 One of our favorite things about Fineco Bank is the built-in stock screener. You can filter shares based on country, market cap, recent performance, market sector, and more. This is a great way to find up-and-coming blockchain stocks that you might not otherwise hear about.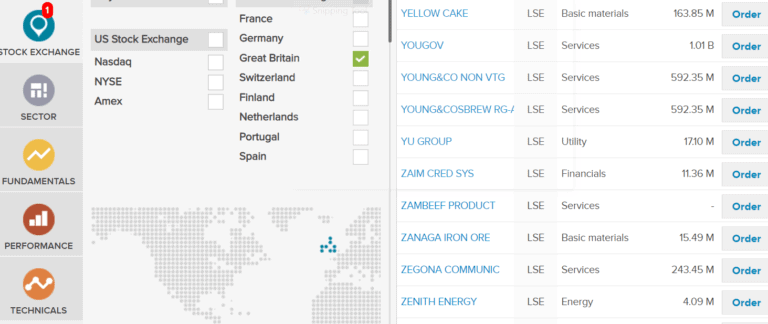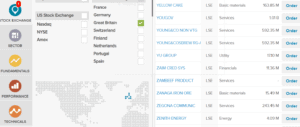 Fineco Bank is regulated by the Bank of Italy and the broker offers phone support 7 days a week.
Pros
Thousands of shares and ETFs
Share dealing and CFD trading
Advanced web trading platform
User-friendly mobile stock app
Built-in global stock screener
Cons
Commissions for share dealing
Mobile app doesn't include technical charts
Your capital is at risk.
How to Buy Blockchain Stocks in the UK
Ready to buy blockchain shares? We'll show you how to get started with eToro, which offers 100% commission-free trading and a huge selection of global shares.
Step 1: Create an Account
The first step to start trading with eToro is to create a new account. You can join using the eToro website or by downloading the eToro mobile app. Just click 'Join Now' to start the application process.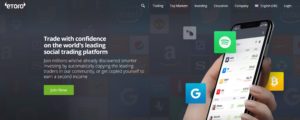 67% of retail investors lose money when trading CFDs with this provider.
You'll need to enter personal details like your name, email, and address. In order to comply with financial regulations, eToro also requires that you verify your identity. You can do this by uploading a copy of your driver's license or passport as well as a copy of a recent utility bill.
Step 2: Deposit Funds
Next, add funds to your new eToro account. You can pay by credit card, debit card, bank transfer, PayPal, Neteller, or Skrill. eToro requires a £160 minimum deposit for card payments and e-transfers, or a £500 minimum deposit for bank transfers.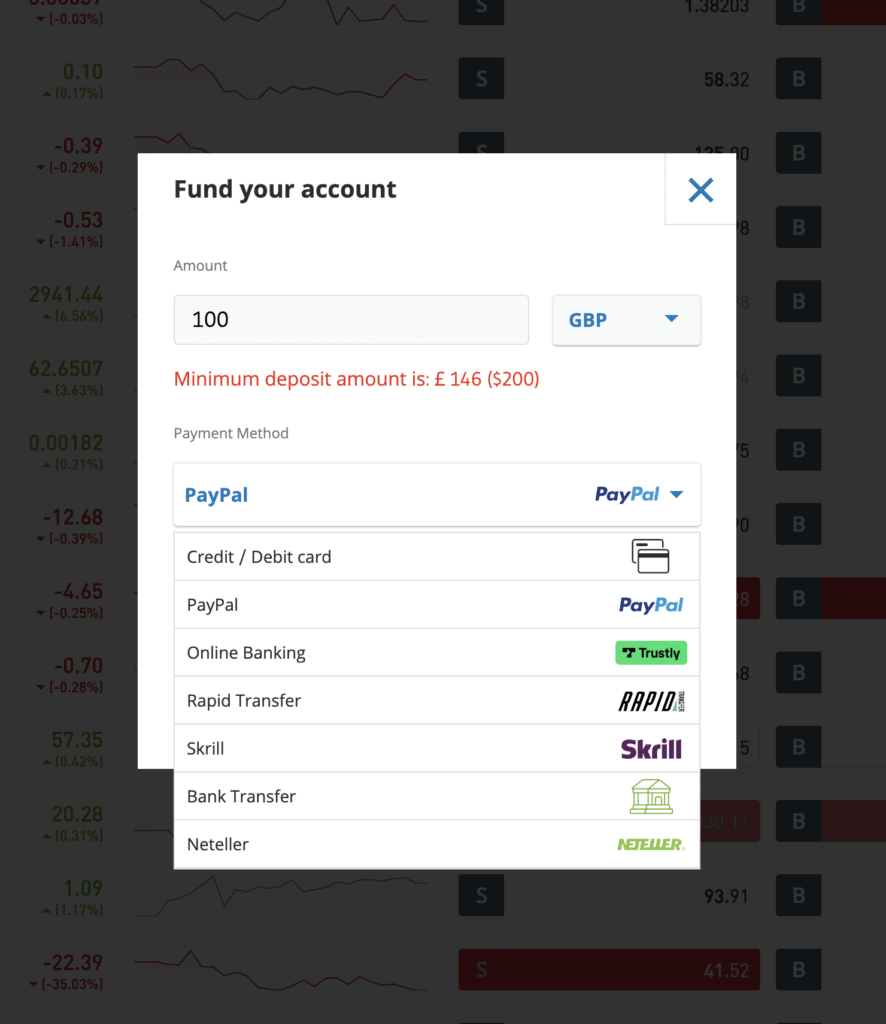 Step 3: Start Trading
Now you're ready to buy blockchain shares in the UK. Use the search bar at the top of the eToro dashboard to search for a specific company. When it appears, click on it, and then click 'Trade.'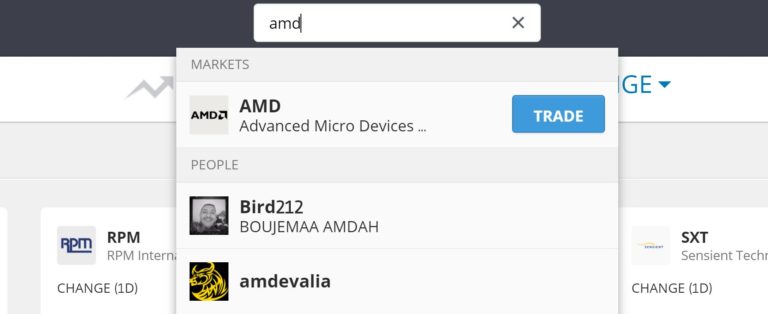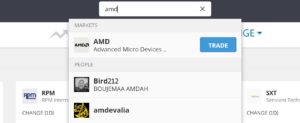 67% of retail investors lose money when trading CFDs with this provider.
In the order form, enter how much money you want to invest in that stock. eToro allows you to purchase fractional shares, so you can invest any amount over £50.
You can also select leverage up to 5:1 if you're trading stock CFDs. Keep in mind that leverage increases your trading risk.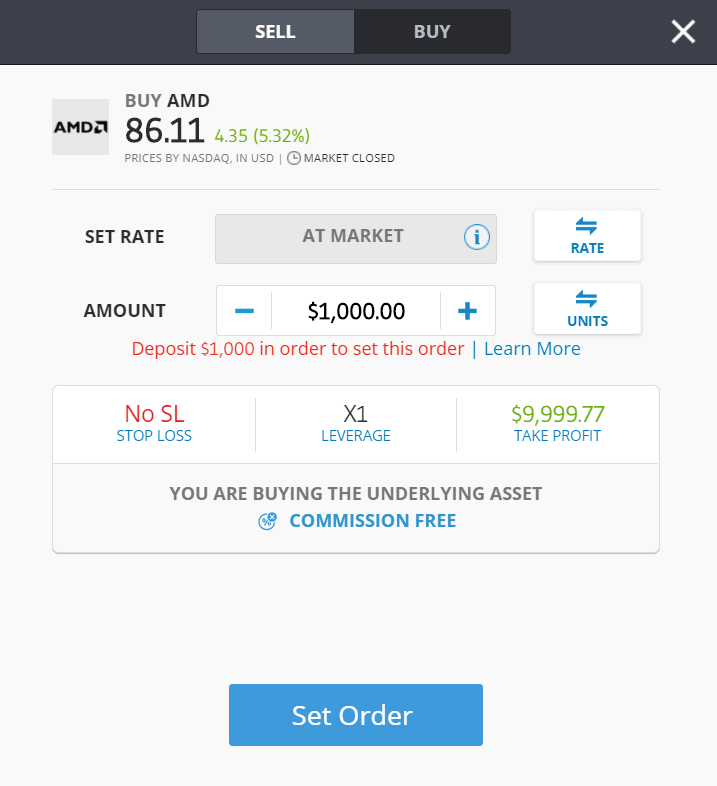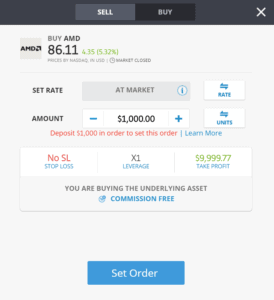 Finally, choose a stop loss level or take profit level if they make sense for your trade. These parameters tell eToro to automatically exit your trade if the stock rises or falls to the specified price.
When your trade is ready, click 'Open Trade' to purchase your first blockchain shares.
Conclusion
With so many blockchain shares to buy, it can be hard to know which companies are really using this technology to its full potential and which are just scratching the surface. To make it easier for you to create a custom portfolio of blockchain shares, we've picked out 8 of the best blockchain technology stocks that you can invest in today.
Ready to buy blockchain shares in the UK? Click the link below to get started!
eToro – Buy Blockchain Stocks with Zero Commission
67% of retail investors lose money when trading CFDs with this provider.
FAQs
Is every tech company a blockchain company?
Are there other blockchain ETFs?
Can I buy Bitcoin to invest in blockchain?
How much does the price of Bitcoin affect blockchain stocks?