In today's world, Russia is more familiar with its geopolitics rather than a thriving and vibrant economy. However, the country has vast resources at its disposal and a population of around 145 million people, so it's one of the biggest emerging markets for investors to explore.
In this article, we'll review some of the Popular Russia ETF UK for 2021.
Russia ETF UK 2021 List
Here are 5 popular Russia ETFs in the UK for 2021:
1. VanEck Vectors Russia ETF
2. iShares MSCI Russia ETF
3. Direxion Daily Russia Bull 2x Shares ETF
4. Lyxor MSCI Russia UCITS ETF
5. VanEck Vectors Russia Small-Cap ETF
 Russia ETFs UK Reviewed
We've reviewed some of the popular Russia ETFs in the UK by looking at important factors like how well the fund encompasses the Russian market, the reputation of the company issuing the fund, and the fund's annual fees. Scroll down to look at our analysis for 5 available Russian ETFs in the UK markets.
1. VanEck Vectors Russia ETF
This ETF is one a popular option for investors in the UK to enter into the Russian market. It currently has around $1.67 billion in assets.
Under the ticker symbol RSX, this fund seeks to replicate the price and performance of the MVIS® Russia Index. This includes not only publicly traded companies incorporated in Russia, but also foreign companies that generate at least 50% of their revenues in Russia. Since the fund holds companies incorporated outside of Russian borders, it offers a broader reach than other ETFs from this list.
There are 29 positions in the portfolio in total, and 60% of the fund's assets are in the largest 10 holdings. So, the fund is top heavy – especially compared to some of the popular S&P 500 ETFs. However, this is to be expected since the Russian market is far less developed and transparent than the US market.
Oil and gas names dominate the list, with companies like Gazprom, Lukoil, Novatek, Rosneft and Tatneft at close to 40% of the overall holdings. Mining companies make up an additional 26% of the fund's assets. Sberbank and TCS Group Holding PLC, both banks, also feature significantly in the portfolio weighting.
The VanEck Vectors Russia ETF carries an expense ratio of 0.67%. It has a one-year return of 55.93% and a 5-year average annual return of 13.24%.
67% of retail investors lose money when trading CFDs with this provider.
The second-largest Russia ETF, by assets under management, is the iShares MSCI Russia ETF. It has $470 million in assets.
Unlike the VanEck RSX fund, this ETF doesn't include companies listed outside Russian territory. As a result, there are only 27 holdings in the fund.
Close to 70% of assets are invested in the top 10 positions, including Sberbank, Gazprom, Lukoil, Tatneft, Novatek, Norilsk Nickel, and Rosneft. The iShares ETF has a large position in the Russian tech company Yandex but doesn't currently hold a position in the promising e-commerce company Ozon.
iShares charges a 0.59% expense ratio, which is cheaper than the VanEck ETF, but its performance has lagged as well. It produced a 45.11% return last year and a 5-year annual return of 13.07%.
The Direxion Daily Russia Bull 2X Shares ETF seeks to double (2X) daily movements in the underlying Market Vectors Russia Index (the same index that the RSX ETF tracks).

Like any leveraged ETF, this fund is meant to be used mostly as a short term investment vehicle. Holding RUSL for longer periods will expose you to compounding losses due to daily rebalancing. Until March 31st, 2020, Direxion offered a 3X leveraged version of this fund, but it is no longer available.
This fund has a relatively small pool of assets under management due to its risky nature (it holds close to $57 million in AUM). The expense ratio is a pricey 1.23%.
4. Lyxor MSCI Russia UCITS ETF
The Lyxor MSCI Russia UCITS ETF is denominated in EUR rather than USD and is listed in Luxembourg, with around 234 million EUR in assets under management.  The fund's aim is to track both the upward and the downward movement of the MSCI Russia IMI Select GDR Net Total Return index, which combines Russia's large-cap, mid-cap and small-cap stocks listed on the London Stock Exchange through depository receipts.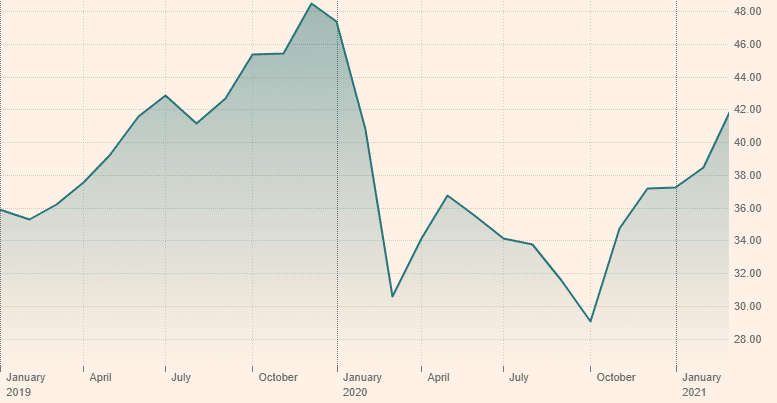 The result of this design is that the fund is much less volatile than other popular Russia ETFs. It has a one-year return of 33.96% and a 3-year annualized return of 8.40%. The fund charges 0.65% in annual management fees, which is relatively modest.
5. VanEck Vectors Russia Small-Cap ETF
As the name suggests, this $32 million VanEck ETF seeks to replicate the performance of small-cap stocks in Russia by tracking the MVIS® Russia Small-Cap Index. As for VanEck's more popular RSX fund, this ETF includes companies incorporated outside of Russian borders that generate at least 50% of their revenues from Russia.
The fund carries an expense ratio of 0.77% and holds positions in 29 companies. It has a broad industry allocation, with utilities, consumer cyclicals and telecommunications sectors each making up between 9% and 15% of portfolio. Industrials and financials lead the way. Notably, energy stocks make up less than 3% of the portfolio.
The fund has a one-year return of 57.61% and a 5-year annualized return of 14.79%.
Are Russia ETFs a Valuable Investment?
Russia is a member of the so-called 'BRIC' group of emerging market countries – which includes Brazil, Russia, India, and China. The country is a global commodity powerhouse and accounts for a  significant portion of the world's supply of oil, gas, and metals.
Despite Russia's size and large population, the country has always struggled economically. That represents an opportunity for investors, though, as Russian companies have the potential to take off as the global economy realigns in the wake of the COVID-19 pandemic. Russia is in the midst of rolling out its own vaccine and there are expectations for strong post-pandemic growth in 2021 and beyond.
Investors will want to take note that Russia's economy and stock market are heavily dependent on the energy and mining industries. Some of the biggest companies in the country are state-run enterprises like Gazprom and Lukoil. When oil prices drop, as they did in the first half of 2020, Russia's economy quickly drops as well. So, investors need to be aware that the Russian economy is subject to boom and bust cycles.
Another thing to factor in is the impact that frequent geopolitical clashes with the West have on the normal and stable functioning of the market. Sanctions by the US and Europe, in particular, have held Russia's economy back in recent years, and tensions could continue to build as Russia acts aggressively towards Ukraine.
On the other hand, investing in Russia doesn't have to be only about the energy sector. The VanEck Vectors Russia Small-Cap ETF focuses on utilities, telecom, and financial companies, while broader Russia index funds now include tech companies like Yandex. As Russia's nascent tech industry grows, there may be more opportunities for diversification. With uncertainty in the Russian markets, users should properly research and track the possible ETFs that they have on their radar, prior to investing in them.
Russia ETF UK Investment Platforms 2021
Now that you have learned more about some of the popular Russia ETFs, the next step is finding a UK share dealing account that allows you to invest in them. There are many things to think about when choosing the right platform, such as fees, regulatory protections, customer support, and available payment methods.
In the sections below, we have reviewed two stock brokers that allow users to invest in Russian ETFs in the UK.
1. eToro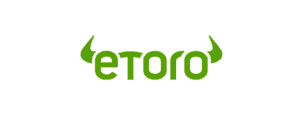 eToro is one of the popular UK platforms for buying stocks as well as for ETFs. The broker has a selection of almost 450 ETFs available and is adding more every month. 
eToro does not charge any commission when trading ETFs and you won't pay an annual fee for your account. The broker does charge a small spread for trades, as well as an inactivity fee if you go for more than a year without placing any trades.
eToro is also popular for its social trading network. Users connect with more than 26 million users worldwide to share ideas and track the market. Having a quality peer group is a valuable tool for all investors, beginners and advanced ones alike. In addition, eToro enables you to copy professional investors so you have the option to build a portfolio in seconds and automate your trading account.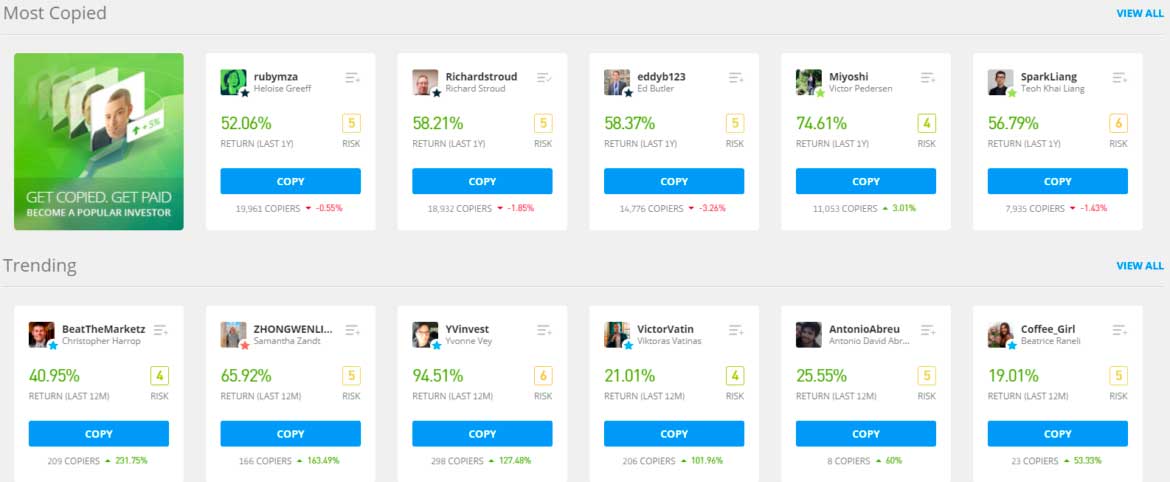 The broker allows you to purchase fractional shares of ETFs, so you only need to make a minimum investment of $20 (about £8) per trade. That makes it possible to get started investing in Russia ETFs with only a small amount of capital. You may fund your account with a credit card, debit card, PayPal, Neteller, or Skrill.
eToro is regulated by the UK Financial Conduct Authority (FCA) and offers 24/5 customer support.
| | | | | | |
| --- | --- | --- | --- | --- | --- |
| Stock Broker | Minimum Deposit | Fractional Shares? | Pricing System | Cost of Buying Stocks & ETFs | Fees & Charges |
| eToro | $10 | Yes – $10 minimum | 0% commission on ALL real stocks, spreads for CFDs | Market spread is not included when buying real stocks | No Deposit fees, $5 withdrawal fee, $10 inactivity fee, no account management fees. |
Sponsored ad. 68% of retail investors lose money trading CFDs at this site
2. Capital.com

Capital.com is a CFD broker that offers trading on all major asset classes. This includes stocks, ETFs, indices, forex, cryptocurrencies, and commodities. Notably, the platform offers CFDs individual Russian stocks such as Gazprom, Sberbank, and Ozon.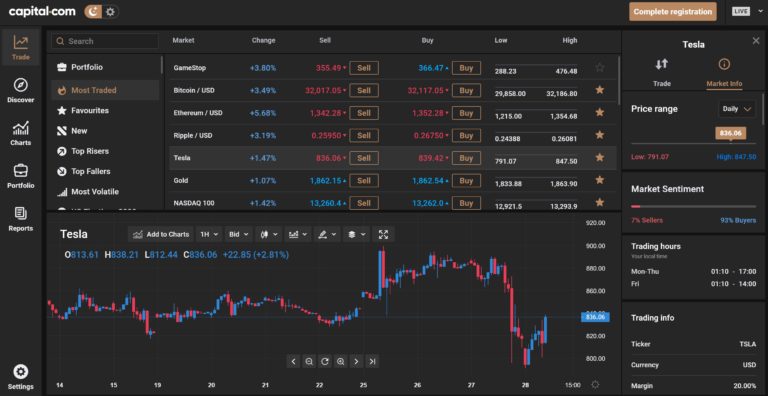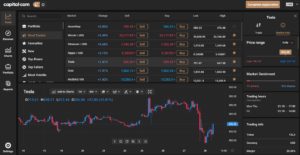 Capital.com does not charge trade commissions and is known for its competitive spreads. There are also no fees for deposits and withdrawals and no inactivity fee.
Capital.com has a proprietary browser-based web platform and apps for mobile devices that offers watch-lists, technical analysis, and more. You have the ability to also connect your trading account to the popular Metatrader4 platform for more advanced trading tools.
Capital.com offers an expansive library of tutorials for newer investors who are just getting started with the whole trading business. There are dozens of videos explaining the basics of CFD trading. In addition, Capital.com offers a mobile app called 'Investmate' that helps you learn about trading on the go.
Capital.com is regulated by the FCA in the UK and CySEC in Cyprus. The broker offers 24/7 customer support.
79.17% of retail investor accounts lose money when trading CFDs with this provider.
How to Invest in Russia ETF UK
If you choose to invest in any Russian ETFs, you have the option to do so with a popular stock broker that provides low fees, multiple assets to choose from and multiple features & tools to support your trades.
After picking your preferred broker, here is how you can begin trading in 4 steps.
Step 1: Open An Account
Head over to the homepage of your chosen broker and begin the account set-up process. You will be required to fill in your personal details – including your full name, email address and mobile number. Create a username and password for the platform to continue with the trading process.
Step 2: Verifiy Your Identity
Most reputable brokers in the UK are regulated by the FCA – which is why users may be required to verify their accounts. To do this, simply upload proof of ID (a copy of your driver's license or passport) and proof of address (a copy of a bank statement or utility bill). Once these documents have been uploaded, your broker should verify them in a couple of minutes.
Step 3: Deposit funds
The next step is to deposit funds into your trading account. Most brokers may support 1 or more of the following payment methods:
Credit card
Debit card
Bank transfer
e-wallet
Choose your preferred payment option and deposit the funds into your account.
Step 4: Invest in Russian ETFs
Once your account has been funded, proceed to search for any Russian ETFs available or any other asset classes on your platform's search bar. Fill in the amount you want to credit into the trade, and confirm your transaction.
Conclusion
Russian ETFs present users with a global diversification opportunity to add multiple asset classes to their portfolios. Like the country itself, many popular Russia ETFs are energy and materials heavy. However, there is a lot of uncertainty in the markets, which is why users should properly research all ETFs prior their investments.
FAQs
Should I hold ETF for long-term or short-term horizon?
Which Russian ETF is the most diverse?
Which Russian ETF is least impacted by volatility in energy and commodity markets?
Which Russian ETF is the most risky?