Whether you are a new investor or have been investing in the markets for many years, you need a regulated share dealing broker for buying and selling shares in the UK. And while the choices are many, Hargreaves Lansdown Share Dealing is one of the most popular ways to trade shares in the UK. Read our Hargreaves Lansdown review.
In this review, we analyze everything you need to know about Hargreaves Lansdown share dealing. This includes the variety of services and products, commission & fees, trading platforms, and more, so that you can decide whether to buy shares with Hargreaves Lansdown.
What is Hargreaves Lansdown?
Founded in 1981 by Peter Hargreaves and Stephen Lansdown, Hargreaves Lansdown is a UK-based financial services company with more than 1.3 million clients and over £96 billion assets under management as of 2020. The company is based in Bristol, England, and has a total market capitalization of £7.54B.
Hargreaves Lansdown is listed on the London Stock Exchange under the ticker symbol LON: HL and is a constituent of the prestigious FTSE 100 Index.

Hargreaves Lansdown is the largest investment platform in the UK for a reason. This broker essentially offers any type of trading products and trading accounts. The range of investment accounts includes a regular share dealing account, a spread betting and CFD trading account, and the Hargreaves Lansdown stocks and shares ISA. For private investors, Hargreaves Lansdown provides more shares and funds than most other UK broker so you won't have to find any tradable assets at another platform. This includes a Spread Betting, CFD, and overseas share dealing accounts.
What Equities Can You Buy on Hargreaves Lansdown?
Our Hargreaves Lansdown review found that the broker offers a huge range of equities that investors can trade on through a variety of trading accounts:
Shares
If you're looking to buy shares, you can choose from thousands of UK and overseas shares at Hargreaves Lansdown, including many of the most popular shares to buy. This means you can buy and sell all listed shares on the London Stock Exchange but also shares on its sub-exchange, the AIM market, which is London Stock Exchange's international market for small and mid-size companies. Hargreaves Lansdown also features a unique service of the most popular shares in the previous week by its clients based on the number of trades or value.
Apart from getting access to UK shares including Initial Public offerings (IPOs), investors at HargreavesLansdown can trade the markets from the following countries: United States (NASDAQ, NYSE, NYSE ARCA), Canada, Netherlands, Belgium, Denmark, Germany (Deutsche Boerse Exchange and Frankfurt Stock Exchange), Finland, Ireland, Italy, Portugal, Luxemburg, Spain, Norway, France, Sweden, Switzerland, and Austria.
Keep in mind that while you can open a share dealing account with just £1, the minimum amount required for a share trade is £100.
ETFs/ETCs
If you are looking to trade on Exchange Traded Funds (ETFs) and Exchange Traded Commodities (ETCs), Hargreaves Lansdown has a lot to offer. Access to more than 3000 ETFs/ETCs and Investment Trusts can be made through the Fund & Share dealing account or the Stocks & Shares ISA. To help you narrow down your search based on your investment preferences, Hargreaves Lansdown offers you the chance to use the fund shortlists that filters its huge selection of funds to Funds for Income, Seeking Retirement Income Funds, and Established Trackers.

Spread Betting and CFDs
Hargreaves Lansdown also offers advanced investing opportunities that include Spread Betting and CFDs for stock trading. For those not aware, Spread Betting and CFDs are a form of derivative markets that allow you to leverage your capital, which may increase your profits but also increases your risk.
Bear in mind that if you decide to trade Spread Bet and CFDs via Hargreaves Lansdown, you will be funneled to HL Markets, which operates in collaboration with IG Markets, one of the most well-known Spread Betting and CFD brokers in the UK and worldwide. On this platform, you will get access to thousands of financial instruments including Forex, indices, commodities, cryptocurrencies, ETFs, UK shares, international shares, and US shares. However, take note that if you wish to trade US shares in the form CFD or Spread Betting, you will need to complete and return a W-8BEN form.
Ready-Made Portfolios
Hargreaves Lansdown offers you the chance to invest in six Ready-Made ISA portfolios managed by the brokerage's analysts. These Hargreaves Lansdown portfolios can be adjusted to meet an investor's goal (growth/income) and risk level. The Ready-Made portfolios are available within an ISA or Hargreaves Lansdown SIPP account and are free from any income or capital gains tax.
Bonds
Hargreaves Lansdown also offers to trade on a wide variety of bonds, gilts, and PIBS. These fixed-income securities provide investors a yearly return with a relatively low level of risk. On Hargreaves' platform, investors get access to hundreds of corporate bonds but also to UK government bonds called Gilts and Permanent Interest Bearing Shares (PIBS) that work similarly to Gilts.
Hargreaves Lansdown Review UK Fees & Commissions
Due to the variety of services and accounts offered by this broker, Hargreaves Lansdown fees may be cost-effective in some accounts and very costly on others. On some of the investment accounts, the fees are charged as a percentage of your portfolio value, which can turn out to be very expensive, particularly when comparing to other stock brokers. Hargreaves Lansdownoffers two main investment accounts – the Fund and Share Account, and the Stocks and Shares ISA account.
Overall, Hargreaves Lansdown charges a flat commission of £5.95 per share trade (including ETFs/ETCs) if the investor has exceeded 20 or more deals in a particular calendar month. For 10 -19 deals, the broker charges a flat commission of £8.95 and for 0 – 9 deals, Hargreaves Lansdown charges £11.95.

For buying and selling Hargreaves Lansdown funds, however, there are no dealing charges. You should also take into consideration a charge of 1% for deals made over the phone and the additional FX charges for overseas transactions. The conversion fee ranges from a maximum charge of 1% for the first £5000 to a minimum of 0.25% for share overseas transactions of over £20,000.
Besides the fees above, it is important to note that there is an annual account management fee. The amount you pay depends on the size of your account.


On the plus side, there are no charges for deposits and withdrawals of funds, holding cash or account inactivity. Nevertheless, Hargreaves Lansdown fees for buying shares and funds with Hargreaves Lansdown can be quite expensive, in particular for large investors and high active traders.
Hargreaves Lansdown Platform and Trading Tools
Hargreaves Lansdown offers a web-based trading platform and a mobile application. Our Hargreaves Lansdown review found that the platform is intuitive and simple to use, but it lacks many features to make it equal to other brokers in the industry. However, while the functionality is limited, the platform is ideal for beginners and those who want to 'buy and forget' shares and funds. Hargreaves Lansdown also offers access to Spread Betting and CFDs through IG Markets' platforms, 2hidh are much more advanced and suitable for experienced traders.
Demo Investing Account
The majority of financial institutions on the scale of Hargreaves Lansdown do not typically offer a demonstration account. The demo account is relatively new and is available on the Hargreaves Lansdown app only. You can also register for alerts service that pops up as notifications on your mobile app.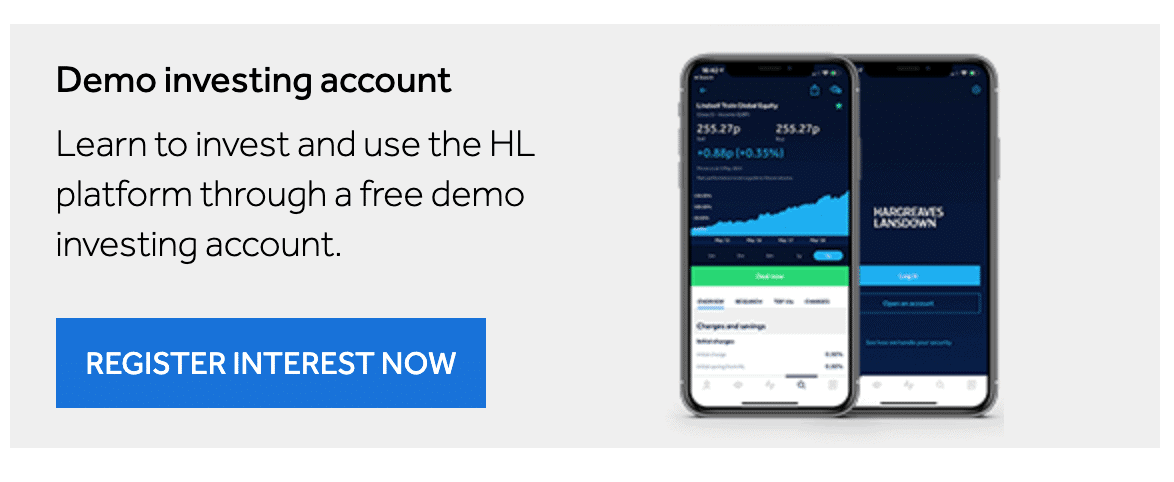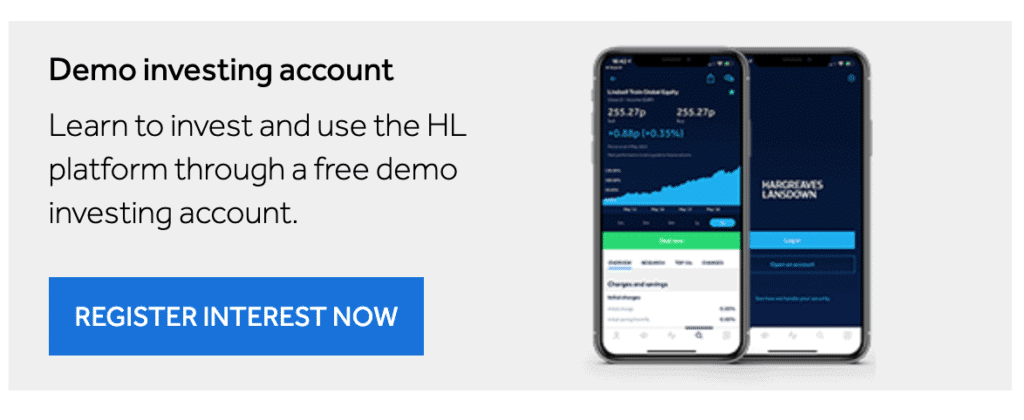 Shares Insight
On the fundamental side, Hargreaves Lansdown offers investors to register for free research and market updates direct to the client's inbox. You can filter the insights you wish to receive by shares insight from Hargreaves' research team, morning market update, lunchtime market update, evening market update, and Investment trust research.
Buy/Sell Ratios
With more than 1 million clients, this tool can provide investors with an indication of the current sentiment of a particular share. Furthermore, Hargreaves Lansdowncollects the most traded shares and ETFs from its client database and allows users to view the 20 most sold and bought Hargreaves Lansdown funds and shares in the previous week.
Research and Analysis at Hargreaves Lansdown
This is an area where Hargreaves Lansdown does well. It not only provides an education center but also provides daily news, market updates, and experts' views and opinion on shares and the market. Yet, Our Hargreaves Lansdown review found that it lacks advanced charting package and technical analysis tools in comparison to other notable stock brokers in the market.
Education
Hargreaves Lansdown offers plenty of educational tools that are well-structured and high-quality, so it's an option for beginners looking to learn how to invest in stocks. It allows users to get access to a large number of guides and generates an extensive amount of educational articles. Moreover, investors can sign up for a demonstration account and a free share alert service to get familiar with the services offered by the broker.

Charting/Technical Analysis Tools
Hargreaves is not the most popular option if you are looking for an in-depth technical analysis charting package. Overall, it supports interactive charts with basic indicators but the range of analyzing tools and indicators is very limited and the user interface makes it quite difficult to efficiently analyze securities. Hargreaves Lansdown charting, for example, does not allow you to draw support and resistance levels neither using Fibonacci retracements/fan. These can be crucial if you intend to engage in daily or swing trading.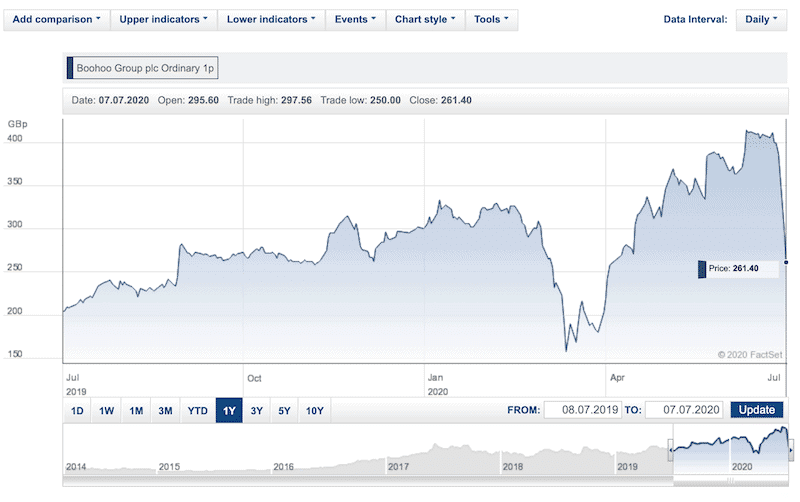 Research and Market News
While Hargreaves Lansdownfalls short in offering advanced charting tools, it supports a variety of research tools, market news, and updates for investors. One thing that bothered us, though, is the complexity of the platform and the navigation on Hargreaves' website. For example, the shares page is not informative in terms of global markets, and specific markets such as FX, commodities, etc are not available. As an investor, you will have to get a sense of the market's condition in one look.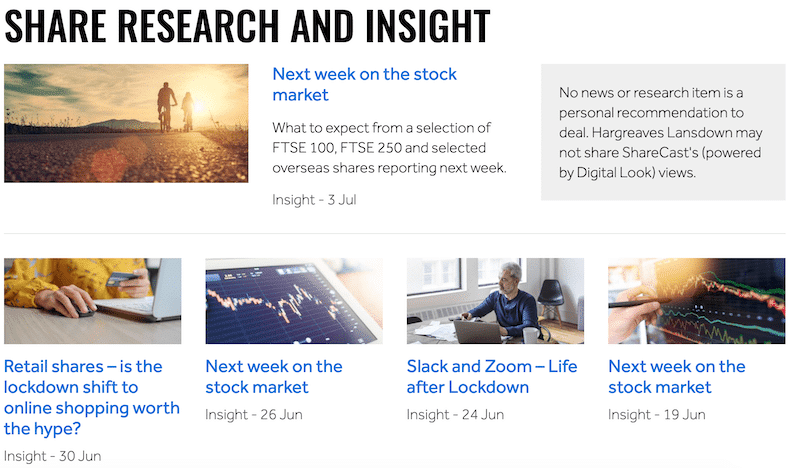 Nevertheless, if you manage to navigate on Hargreaves' platform successfully, you can find useful information. The broker provides stock market reports, company news, AIM, and Small-Cap news, and more. Another useful research tool that Interactive Hargreaves Lansdown offers is Share Research and Insight that includes share tips and in-depth analysis of UK and global companies.
Hargreaves Lansdown App
Overall, Hargreaves Lansdown's mobile investment app is well-designed. For the on-the-go trader, it offers a more convenient solution than entering the platform through the web platform. The Hargreaves Lansdown app, which is available on both Google Play and the App Store, allows investors the most basic and vital elements of trading. First, the login is secured with fingerprint, or Face ID on iPhone. Then, you can trade UK and overseas shares, bonds, and funds. Finally, you can view live share prices, set stop and limit orders, create a watchlist, and get access to tools and market analysis updates.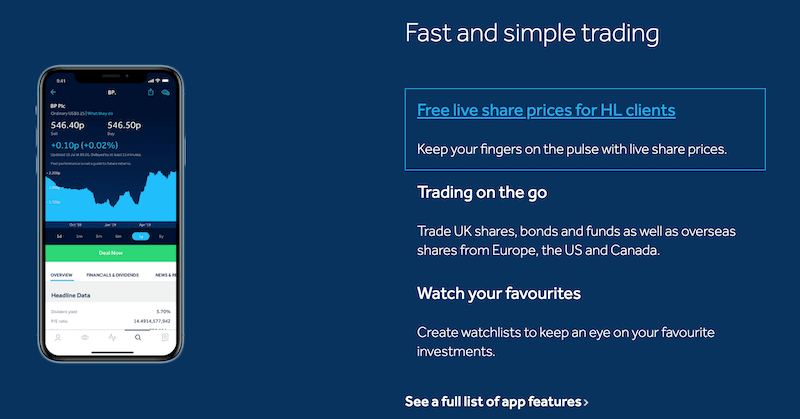 Payments at Hargreaves Lansdown
You can fund your share dealing account in one of the three ways: online (debit card), phone (debit card), or by post (cheque).
The minimum amount required to open a Fund and Share Account is just £1, however, effectively the minimum amount required to start buying and selling Hargreaves Lansdown funds and shares is £100.
Hargreaves Lansdown Contact and Customer Service
As expected from a firm of its size, Hargreaves Lansdown offers customer support. You can contact Hargreaves Lansdown via phone and email from Monday – Friday: 8 am – 5 pm. Its FAQ section is also wide-ranging and very informative. On the negative side, Our Hargreaves Lansdown review found that the share dealing support team is not available 24/7, and there's no live chat support.
Hargreaves Lansdown contact number: 0117 980 9800
Is Hargreaves Lansdown Safe?
Not only this firm operates since 1981, but Hargreaves Lansdown is also authorized and regulated by the Financial Conduct Authority (FCA Register number 166016, see FCA register for registration details) and registered in England and Wales No 2707155. Further, Hargreaves Lansdown is a member of the Financial Services Compensation Scheme (FSCS) which covers up to £85,000 to each investor in the case Hargreaves Lansdown becomes insolvent.
Also, Hargreaves Lansdown is a public company traded on the LSE, and is a constituent of the FTSE 100, the biggest listed companies index in the UK. This means you can always track the financial status of Hargreaves Lansdown.
The Verdict
Hargreaves Lansdown is one of the largest private investor investment platforms in the UK, which means you can't go wrong by choosing this stock broker. Ultimately, it offers all the basic tools an investor needs in order to buy and sell shares online but more importantly, it supports a range of investment and saving accounts for every type of investor. On its platform, you will be able to trade on shares from the UK, overseas shares, an incredible range of funds, investment trusts, and Spread Bet and CFDs contracts. Essentially, Hargreaves Lansdown covers all types of investment opportunities for residents in the UK.
While there are many advantages of Hargreaves Lansdown when compared to other financial brokers in the UK, it has not yet developed effective trading software for active traders. Hargreaves Lansdown fees are quite expensive for those who have a large portfolio or engage in active trading. For active investors, Hargreaves Lansdown charges around £5.95 per deal which is extremely costly if you compare it to free commission platforms.
Another notable factor that Hargreaves Lansdown falls short is its trading platform. Although Hargreaves Lansdown offers a decent trading platform that suits beginners and intermediate investors, it lacks advanced trading tools, charting interface, and features that are the standard in the industry and make a huge difference in an investor's probability of success.
FAQs
Does Hargreaves Lansdown pay dividends?
What is the minimum deposit at Hargreaves Lansdown?
Does Hargreaves Lansdown have any managed portfolios?
Does Hargreaves offer to trade on IPOs?
What are the types of investment accounts offered by Hargreaves Lansdown?