Trading 212 promises just that, with accounts for CFD trading and stock and ETF investing, plus an Individual Savings Account (ISA).
This broker has more than 2,500 CFDs to trade, and more than 10,000 stocks and funds for long term investors. Trading 212 is also 100% commission-free, although the broker's spreads make it one of the more expensive options for actively trading in the UK.
In our Trading 212 review, we'll cover everything you need to know about this platform's assets, features, fees, experience, and more.
What is Trading 212?


Trading 212 was launched in Bulgaria in 2004 as Avus Capital. The broker changed its name to Trading 212 and moved to London in 2013, and has been registered in the UK ever since. The platform is currently regulated by both the UK's Financial Conduct Authority and Bulgaria's Financial Supervision Commission.
Trading 212 claims that its mobile app has over 14 million downloads, making it one of the most popular trading apps in the world. However, as of 2017, Trading 212 only reported around 40,000 active users. It's not clear how many clients the service (which is privately owned) currently has or how much money it manages.
One thing that sets Trading 212 apart is that it caters to a wide range of traders and investors with different account types. The CFD account gives UK traders access to more than 2,500 CFDs for stocks, forex, commodities, and cryptocurrencies. Meanwhile, the Invest and ISA accounts offer share and ETF investing in more than 10,000 global stocks.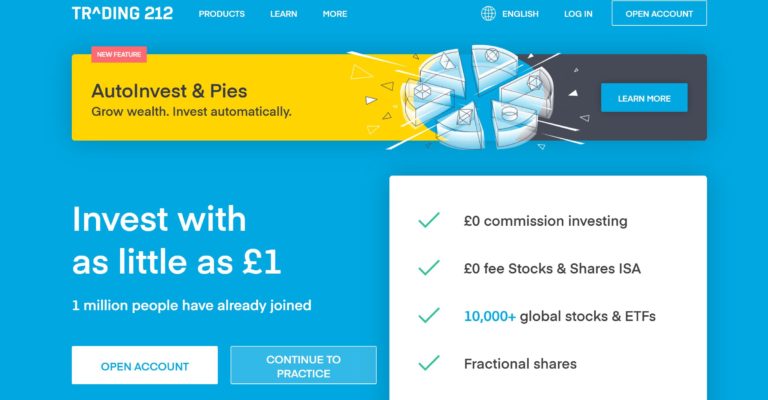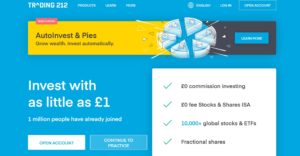 Trading 212 is completely commission-free, regardless of whether you trade CFDs or invest in stocks. However, this broker has somewhat expensive spreads that can be 2-5 times the market average.
What Shares Can You Buy on the Trading 212 App?
Trading 212 offers more than 2,500 CFDs and more than 10,000 shares and funds.
Stocks and ETFs
If you use Trading 212's CFD account, you get access to around 1,700 share CFDs and 28 ETF CFDs. While the ETF selection is somewhat disappointing, the stock offering is quite broad. You can trade nearly all companies in the FTSE 100 and the S&P 500, as well as hundreds of stocks from mainland Europe, Japan, and Hong Kong.
You can also trade CFDs for global stock indices. Trading 212 has 23 indices available, covering all of the globally watched markets.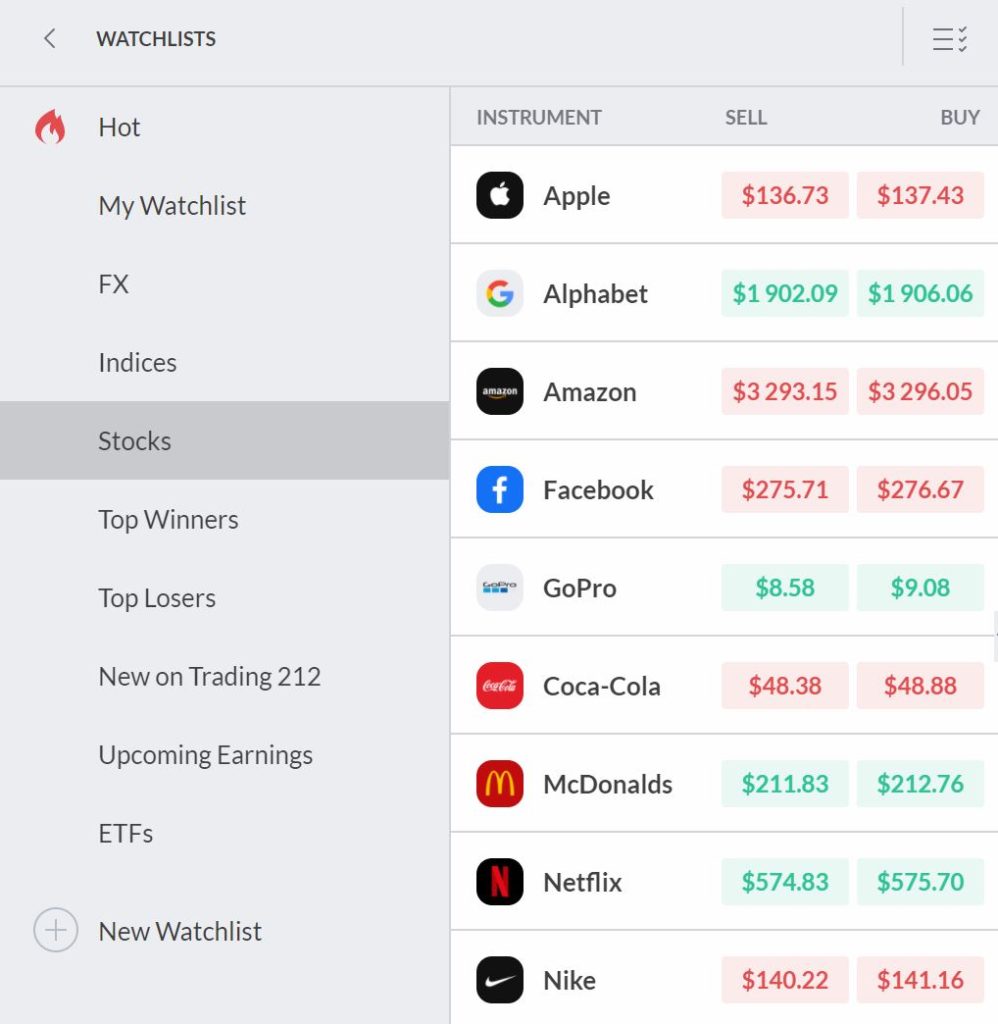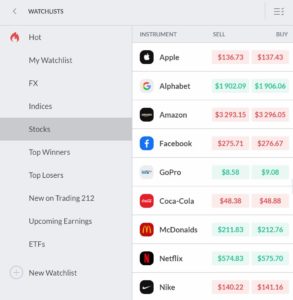 If you use the Invest or ISA account, you get access to a much wider selection of shares and ETFs – more than 10,000 in all. The geographic breadth is roughly the same as for CFD trading, but you have access to virtually all listed stocks in the UK and US.
Forex CFDs
One of the main features of the Trading 212 as a CFD broker is its impressive selection of forex CFDs. You can trade over 150 currency pairs, including dozens of exotic crosses that see very little trading action.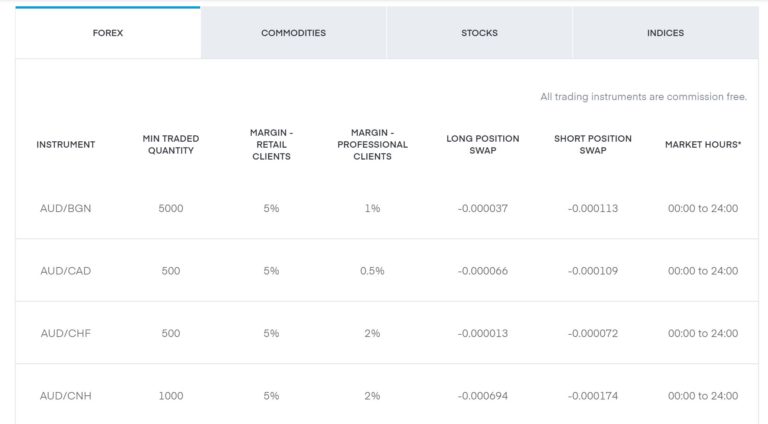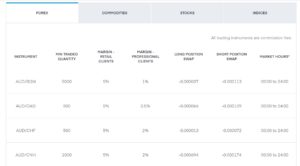 Commodity CFDs
Trading 212 offers 26 commodity CFDs, which is a comparable selection to other UK commodity brokers. Popular assets like crude oil, gold, and silver, are available for commodity trading.
Cryptocurrency CFDs
Trading 212 no longer allows the trade of cryptocurrencies CFDs since a ban by the FCA, however other platforms allow you to invest in real cryptocurrencies like Bitcoin.
Trading 212 Account Types
Trading 212 offers 3 account types: CFD, Invest, and ISA.


The CFD account is designed for CFD trading. You only get access to CFDs, including stocks and ETFs.
The Invest account is a general investing account that enables you to buy shares of over 10,000 companies and funds outright. You cannot trade stock, forex, commodity, or cryptocurrency CFDs or use leverage with this account.
The ISA is identical to the Invest account, except that it is a tax-privileged account. The amount you can deposit each year is limited by UK regulations (currently it is £20,000 per year).
Notably, the Invest and ISA accounts also enable you to buy fractional shares. You can invest with as little as £1.
Trading 212 Fees, Charges and Commissions
Trading 212 is a 100% commission-free broker. The platform mostly makes money on CFD trading accounts by charging a spread on trades.
Importantly, the spreads that Trading 212 charges can be many times higher than the average among UK CFD brokers. For example, Trading 212 charges a spread of 1.9 points for the S&P 500 index CFD and 1.4 pips for the EUR/USD forex CFD. The average spreads for these assets are around 1 point and 1 pip, respectively.
Most US and UK shares trade with a more reasonable spread of 0.20% to 0.50%. However, for share CFDs with low liquidity, Trading 212 sometimes charges spreads closer to 10%.
| | | | | | | |
| --- | --- | --- | --- | --- | --- | --- |
| Commission | S&P 500 Spread | EUR/USD Spread | Stock & ETF Spread | Account Fee | Deposit & Withdrawal Fees | Inactivity Fee |
| 0% | 1.9 points | 1.4 pips | None | None | None | None |
Invest and ISA accounts, on the other hand, aren't charged any spreads when you invest in shares. There are also no foreign exchange fees for buying US or international shares. So, for most investors, Trading 212's Invest and ISA accounts offer truly free trading.
Trading 212 also takes a light touch when it comes to account fees. The broker does not charge a monthly account fee for any of its account types, nor will you face deposit or withdrawal fees in most cases. There's also no inactivity fee, which is good news for long-term investors.
Overall, Trading 212 is very inexpensive – and largely free – for stock and ETF investing, but can be somewhat more expensive than average for active CFD trading.
Trading 212 Platform and Trading Tools
Trading 212 offers a fairly comprehensive web trading platform for CFD trading and stock investing. The platform is the same regardless of what type of account you sign up for, with the exception of the autoinvesting feature.
We found the platform to be convenient. It is somewhat overwhelming at first, since there are multiple menus and watchlists available. Spend some time customising the platform layout until it suits your trading style.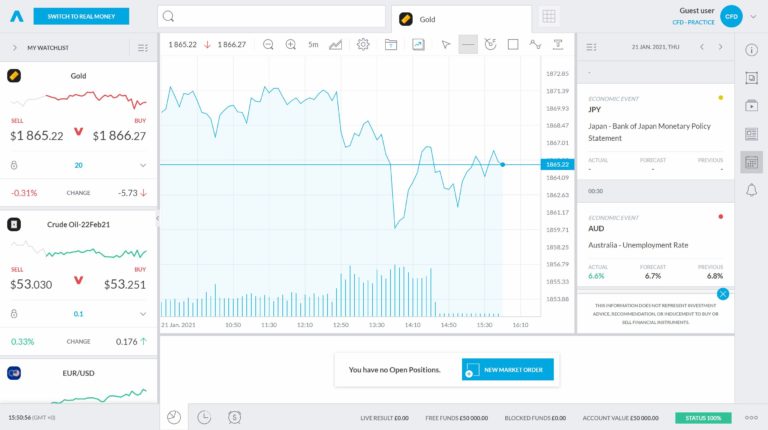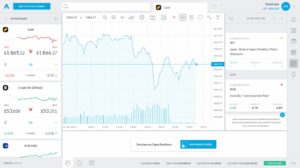 A nice element of the trading platform is that it supports tabbed charts and pop-up boxes. So, you can manage multiple charts in tabs on a single screen as well as display multiple charts on the same screen. You can also use the watchlist sidebar to check any chart or even place an order without opening a new tab.
Charting
Technical charting is at the heart of Trading 212's platform. You have access to a variety of chart styles, including line, candlestick, and Heikin-Ashi charts. Time intervals range from one minute to one month – you cannot view tick-by-tick or 30-second price data with this platform.
One thing we especially liked about charting with Trading 212 is that it has a pattern identification tool. When viewing candlestick charts, this will automatically highlight chart patterns like bullish and bearish engulfing.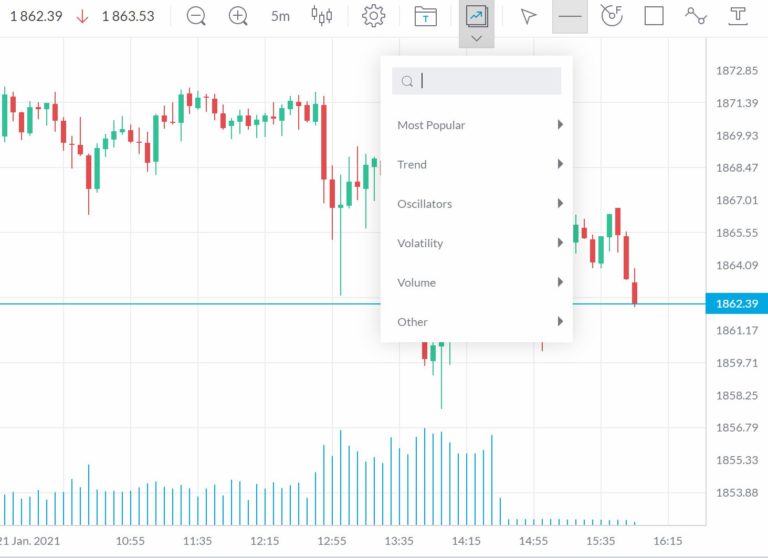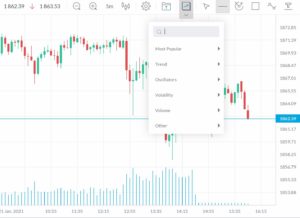 The suite of technical indicators available is also very nice. There are around 70 in all and, while this isn't the largest selection, they cover most popular analyses. Trading 212 also offers drawing tools, including tools specifically for Fibonacci retracements and Elliot wave analysis.  You can also save any chart with added indicators to a template for easy re-application in the future.
Order Types
Trading 212 offers standard market and limit orders, with stop-loss and take profit options included in each.
In addition, the platform allows you to place one and cancels the other orders. This order type gives you the option to set two orders – if one executes, the other is automatically cancelled. This is nice because you can set up two possible trades using the same available funds.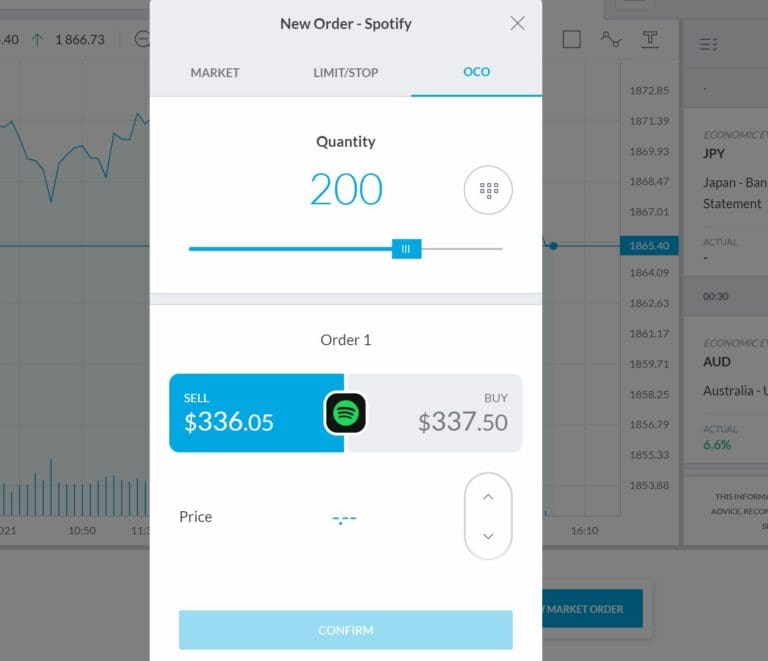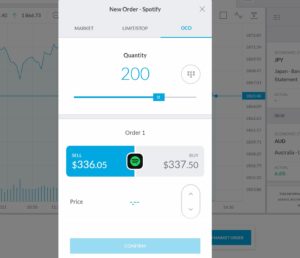 Price Alerts
We were somewhat disappointed with the alerts functionality in Trading 212. You can set price alerts, but that's about it. There is no option to set alerts based on percent change, market sentiment, news, or price momentum.
Autoinvesting
Invest and ISA accounts get access to autoinvesting, which is a unique feature that enables you to consistently reinvest in your portfolio. To begin, you can create a portfolio as you normally would by investing in stocks and ETFs. Then you can schedule recurring transfers to Trading 212, and the platform will automatically distribute the money to invest in fractional shares of all of the assets in your portfolio.
What's especially nice about this is that you can create multiple investing goals, each with its own portfolio and deposit schedule. Trading 212 also has built-in calculators to help you determine how much you'll need to deposit each week or each month to reach your financial goals.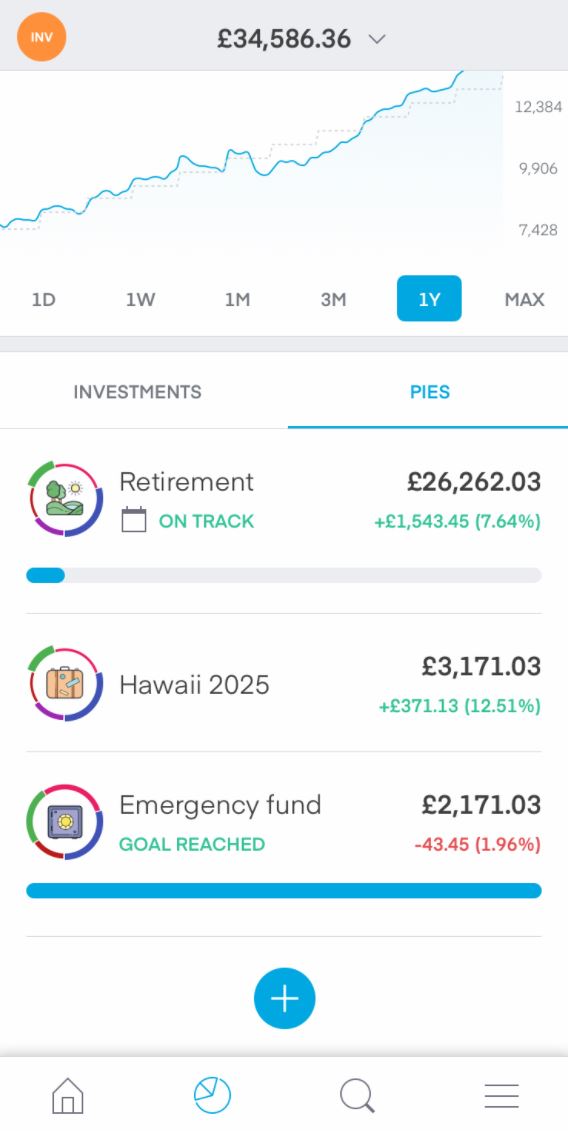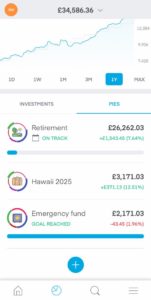 Demo Account
Trading 212 also has a demo account that's completely free to use with paper money, you can read more on our Freetrade vs Trading 212 comparison, but you can see how Trading 212 is a superior platform in terms of the demo account they offer. You don't even need to open an account with the broker to try out the platform. The demo account starts you out with £50,000 and can be reset at any time.
Mobile App
Trading 212 also offers a mobile trading app for iOS and Android devices. This includes virtually all of the features of the web-based trading platform, although we found that it can feel somewhat crowded at times.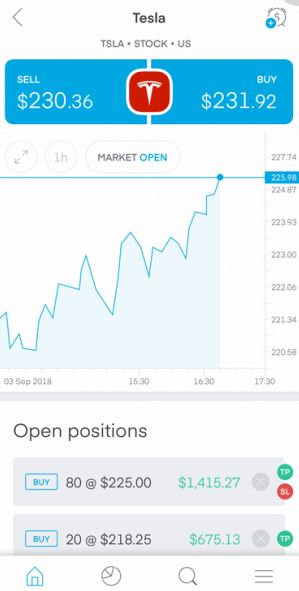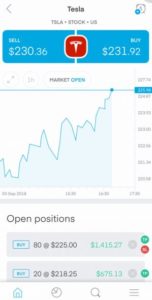 You have access to technical charting and mobile orders, plus Trading 212's research and analysis tools. The app also includes price alerts via push notifications, although not via text messages. Invest and ISA account holders can also monitor their savings goals and autoinvestment settings via the mobile app.
Research and Analysis at Trading 212
Trading 212's trading platform also includes a handful of tools to help you research your trades. We weren't overly impressed by these features, as they're pretty standard among online brokers and Trading 212 didn't go out of its way to improve on existing tools.
To start, you have access to a news feed alongside the charting interface. The news stories are simply headlines and one-sentence summaries of market news, so you'll have to surf the web if you want to find out more about the details behind a story.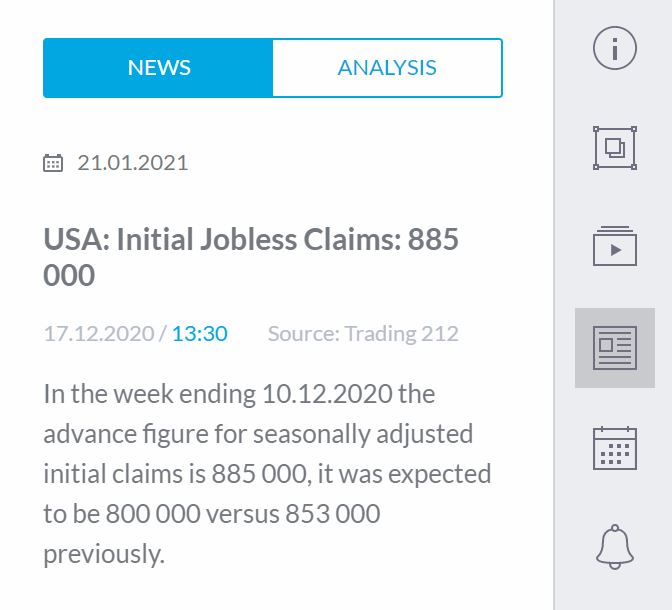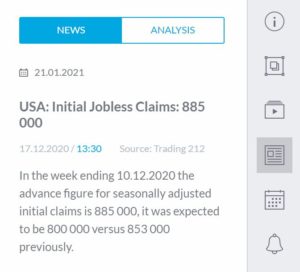 Alongside the news feed, you'll find an analysis feed. Analysts at Trading 212 post daily one-paragraph analysis summaries for major indices, forex pairs, and commodities. These are relatively minimal, and you won't find analysis of individual stocks or market sectors.
Trading 212 also has an economic calendar, which lists events that could impact the forex market. This calendar can be filtered by currency as well as by whether the event is expected to have a low, medium, or high impact on the market.
Perhaps the most useful research tool Trading 212 provides is a market sentiment gauge. This shows you, for every asset, what percentage of traders are buying an asset versus what percentage are selling it.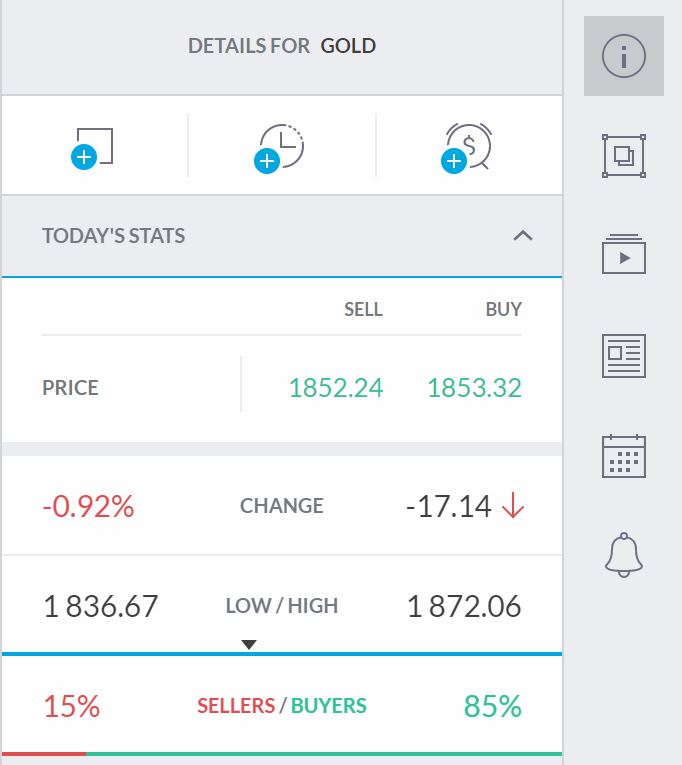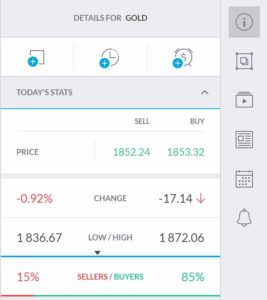 Payments on the Trading 212 App
Trading 212 requires a minimum deposit of just £1 and offers a variety of ways to fund your account. You can pay by credit or debit card, UK bank transfer, or any of several e-wallets including:
Neteller
Skrill
PayPal
Google Pay
Apple Pay
Dotpay
Giropay
Credit, debit, and e-wallet payments are processed instantly, whereas bank transfers take 2-3 days at both brokers.
One thing to note is that deposits and withdrawals are completely free except in one case. If you deposit more than £2,000 at a time using a credit or debit card, Trading 212 charges a 0.7% card processing fee.
Trading 212 Contact and Customer Service
Trading 212 offers 24/7 customer support by phone and email, and we found that it was easy to get in touch with the support team. In addition, the broker's website includes a detailed help centre where you'll find answers to commonly asked questions and support for the Trading 212 platform.
Phone: +44 203 769 98 97
Email: [email protected]
Is Trading 212 Safe?
Trading 212 is regulated by the UK Financial Conduct Authority, one of the world's foremost financial watchdogs.
As additional protection, Trading 212 includes negative balance protection with every account. This means that you can never lose more money than you have deposited with the broker. In addition, UK accounts are protected by the Financial Services Compensation Scheme for up to £85,000 in case Trading 212 ever runs into financial problems.
The Verdict
Based on our Trading 212 review, this stock and CFD broker has a lot to offer for UK traders. It carries more than 2,500 CFDs and 10,000 shares, plus offers tailored accounts for CFD trading and stock investing.
While Trading 212 is 100% commission-free, CFD trading with this broker can be surprisingly expensive thanks to above-average spreads. In addition, while the Trading 212 platform convenient, we felt that it's missing out on key features that its competitors.
FAQs
What is the minimum investment at Trading 212?
Does Trading 212 charge an inactivity fee?
How does autoinvesting work at Trading 212?
Can I open multiple accounts with Trading 212?
Does Trading 212 offer options trading?