Coca Cola Share Price UK
Fact Checked
Everything you read on our site is provided by expert writers who have many years of experience in the financial markets and have written for other top financial publications. Every piece of information here is fact-checked.
Disclosure
Please note that we are not authorised to provide any investment advice. The information on this page should be construed for information purposes only. We may earn commissions from the products mentioned on this site.
Coca Cola needs no introduction. The company was founded in 1886 and has grown to become a popular non-alcoholic beverage brand and the parent company of multiple successful subsidiaries.
That said, the world has gone through some changes lately and that justifies taking a close look at the current situation of the business and its prospects to draft a plausible short-term and long-term Coca Cola stock forecast.
In this article, we analyze the latest developments affecting the Coca Cola share price while we also share predictions from multiple third-party forecasting services.
Coca Cola Company Share Price UK
The KO share price has been on an uptrend since hitting bottom at around $36 per share back in March 2020 when the markets crashed amid the COVID-19 pandemic.
The chart shows that the price has been making multiple higher highs and higher lows since then while the KO stock price recently surged to an all-time high at $63 per share on the back of positive macroeconomic tailwinds.
In this regard, inflation in multiple corners of the world is being interpreted by market participants as possibly favourable news for the company as sales have the potential to surge on the back of higher per-unit prices. These higher prices are expected to offset any inflation-prompted decline in volumes.
This optimistic view has offset supply chain-related concerns regarding the company's ability to secure the required raw materials to keep producing its beverages along with rising labor costs in multiple latitudes.
A break above the stock's pre-pandemic all-time high is positive news for Coca Cola from a technical standpoint while the stock is currently trading 10.2% above its 200-day simple moving average.
The chart also shows that a double-bottom pattern took place back in October-December last year and shares surged right after.
That said, momentum indicators are starting to flash some warning signals as a bearish divergence has popped up in both the Relative Strength Index (RSI) and the MACD.
Coca Cola stock forecast – fundamental analysis
On 10 February, Coca Cola reported its financial results covering the fourth quarter and entire 2021 fiscal year. The company reported revenues of $9.46 billion during the period resulting in a 10% increase compared to the previous year while exceeding analysts' estimates for the quarter by nearly $500 million.
Moreover, the markets were surprised by the fact that Coca Cola's management guided for 7% to 8% top-line growth in 2022 along with comparable earnings per share (EPS) growth of around 5% to 6%.
Additionally, the Board of Directors approved a 5% increase in the company's quarterly dividend, which now stands at $0.44 per share, along with authorizing $500 million in share buybacks for the year. At the moment, Coca Cola's dividend yield stands at 2.8%.
Coca Cola Share Price Forecast for end 2022
As indicated in the section above, the price of Coca Cola has been on an uptrend for nearly 2 years now since hitting bottom after the February-March pandemic crash.
According to data compiled by MarketBeat, the average KO stock forecast is currently standing at $65.53 per share. The highest estimate for the stock stands at $71 per share and the lowest at $58 per share.
This consensus 12-month price target has been steadily increasing in the past 12 months moving from $53.9 in March 2021 to $65.5 right now.
Notably, multiple financial services firms including Citigroup, UBS Group, Wells Fargo, and Evercore raised their price targets for the stock in February this year following the release of the company's latest quarterly report.
However, price predictions should not be taken at face value. Users should conduct their own research and then make a decision on their future investments.
Coca Cola Stock Forecast 2022 – Third-Party Forecasting Services
The folks at Wallet Investor are predicting that the price of the stock of this carbonated beverage giant should end the first semester of the year relatively unchanged compared to the current price at around $62.8 and $63.5 per share.
Meanwhile, this same service is predicting that the stock price has the potential to trade between $67.1 and $68.3.
On the other hand, Gov.Capital, another algorithm-based forecasting service, has a Coca Cola share price prediction ranging $53.3 and $72.2 per share for the first semester of the year while this third-party service is predicting that the price could end the year somewhere between $61.2 and $82.8 per share.


Back in February, analysts from RBC Capital Markets stated that they expect to see a "solid top-line recovery" for Coca Cola this year as they anticipate "strong price increases and limited volume impact" despite some of the headwinds the company is experiencing.
However, the real trading situation may not reflect buyer sentiment. Since volatility is always a factor while investing, it makes sense for users to carefully study the stock and only then decide their investment decision.
Coca Cola Share Price Forecast for 2024
Wallet Investor is predicting that the price of Coca Cola may start 2024 at $74.62 per share and has the potential to end the year in a range between $79.95 and $81.07 per share.
According to this provider's estimates, March 2024 has the potential be the worst month for the stock with a forecasted loss of 3.2% while July is estimated to show a potential increase of 3.4%.
Meanwhile, Gov.Capital estimates that the price of Coca Cola stock can start the year at $114.8 per share and could rise to as much as $198.1 per share once the year ends implying a 72.6% annual return if those targets are hit.
Coca Cola Share Price Forecast for 2026
Wallet Investor is forecasting that the price of Coca Cola has the potential to start 2026 at $87.36 per share and may end the year in a range between $92.7 and $93.9 per share resulting in a maximum annual upside potential of 7.4%.
Meanwhile, Gov.Capital is anticipating that the price of Coca Cola stock may possibly begin 2026 at $247.4 per share and could rise to as much as $357.96 per share once the year ends implying a 44.7% annual return if those targets are hit.
Coca Cola Share Price History
Coca Cola's primary listing is in the New York Stock Exchange (NYSE) and it trades under the ticker symbol KO. At the moment, the company has not listed its shares on the London Stock Exchange, meaning that there is no official Coca Cola UK share price.
To determine the price of Coca Cola stock in pounds at any given point, investors must divide the price of the shares in US dollars by the current GBP/USD exchange rate.
At the moment this is written, the price of Coca Cola shares stands at $62.57 per share. Meanwhile, the GBP/USD exchange rate is standing at 1.32. This means that one share of Coca Cola is worth £47.40.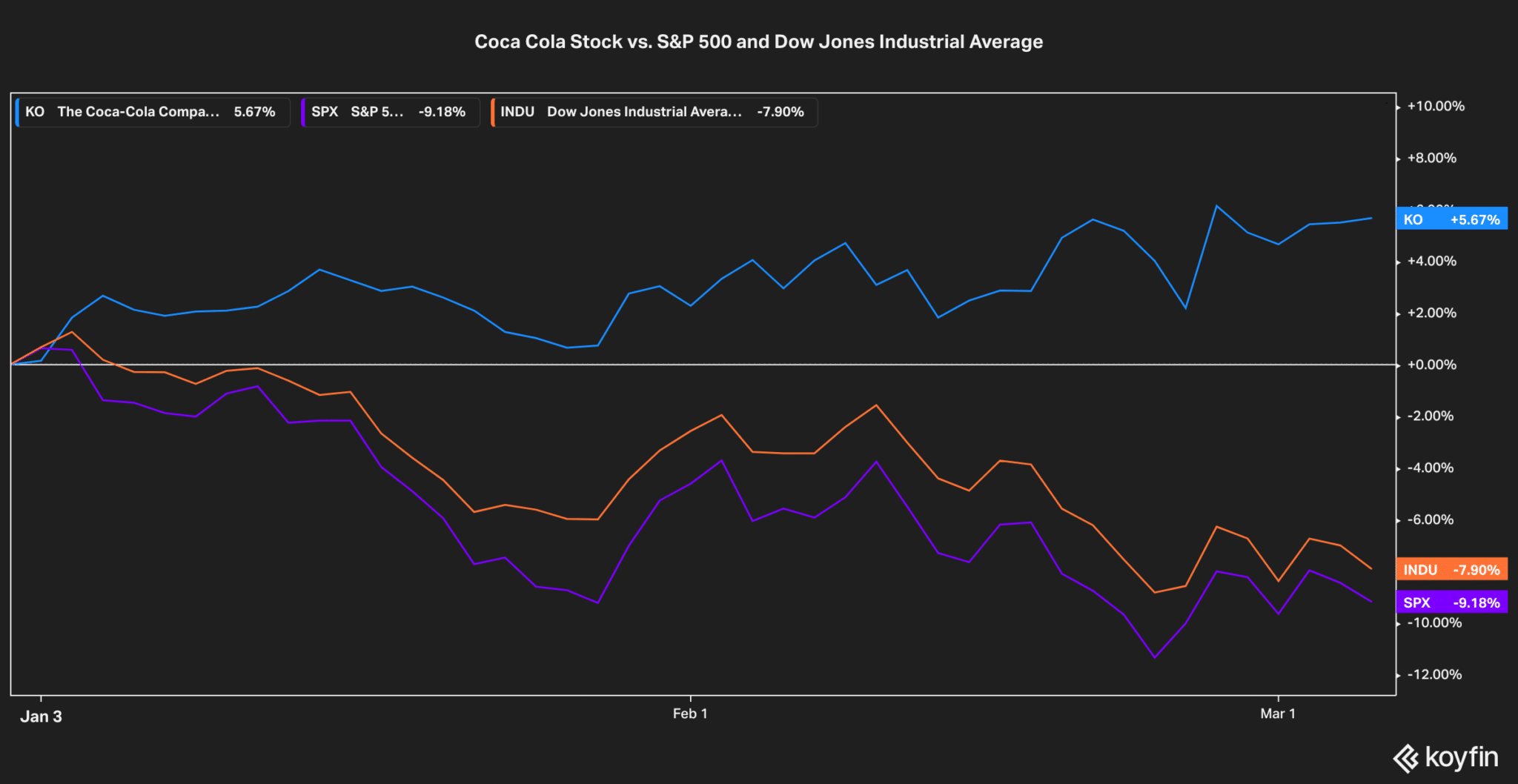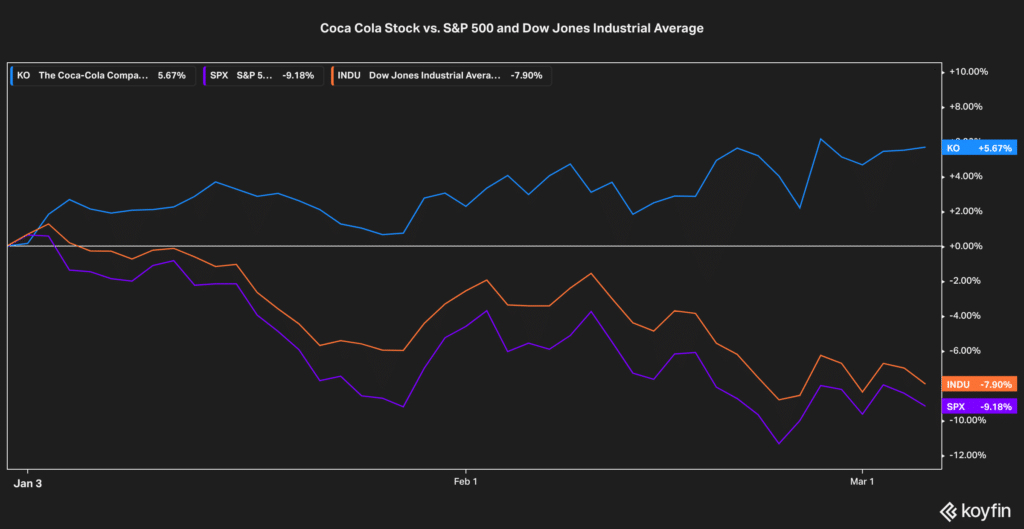 Last year, the Coca Cola share price rose 11.4% as the world progressively emerged from the pandemic on the back of en-masse vaccinations.
Most public events were resumed – some not at 100% capacity, but still – and restaurants started to open their doors to the public once again as well. All of this resulted in Coca Cola stock climbing back to its pre-pandemic levels.
Thus far in 2022, shares have delivered a 5.7% gain resulting in fresh all-time highs for the stock of this beloved brand.
Where to Purchase Coca Cola Shares UK?
Users should purchase Coca Cola Shares in the UK from a reputable brokerage that suits their investment requirements.
Below, we will review a UK-based brokerage that offers users the chance to invest in the Coca Cola and other stocks.
Conclusion
Coca Cola is one of the most popular and renowned beverage brands in the world. Statistics indicate that 1.9 billion servings are poured every day including Coke and other brands owned and distributed by the company. Coca Cola has also managed to emerge from the pandemic virtually unscathed.
However, users may want to conduct their own market research and invest in stocks depending on their future goals and risk appetites.
FAQs
What is the highest Coca Cola stock price?
What is the forecast for Coca Cola stock?
What will KO stock be in 5 years?