Over the last decade, the emergence of cryptocurrency and blockchain technology has enabled significant transformation in numerous industries. The lottery industry is yet another in a long line of sectors that has been improved by the rise of this technology – with the upcoming platform Lucky Block set to make waves in this regard.
With that in mind, this guide will discuss how to buy Lucky Block coin in detail, highlighting what the coin is, how it works, and the price potential it has in the future.
Key points on Lucky Block
Lucky Block is a crypto-lottery platform hosted on the Binance Smart Chain.
Due to the public nature of the blockchain, Lucky Block is able to make lottery draws fairer and more transparent – reducing the potential for fraud.
As prize draws will take place on the blockchain, pay-outs can be larger and quicker than traditional lottery draws.
Although Lucky Block isn't due to launch until Q2 2022, investors can buy Lucky Block coin right now through the pre-sale at a lower price than what the launch price will be.
How to Buy Lucky Block – Quick Steps
If you're looking for a quick rundown of how to buy Lucky Block, then look no further. By following the three short steps below, you'll be able to invest in Lucky Block through the platform's pre-sale – all in a matter of minutes.
Step 1 – Head to Lucky Block's pre-sale page: Head over to the Lucky Block website and click 'Buy Now'.
Step 2 – Connect your Crypto Wallet: Click 'Unlock Wallet' and link your crypto wallet to the platform.
Step 3 – Buy Lucky Block coin: Enter your investment amount (denominated in BNB) and confirm your investment.
Cryptoassets are highly volatile unregulated investment products.
How to Buy Lucky Block Crypto Tutorial
When you buy cryptocurrency, the investment process is slightly different from investing in traditional asset classes. With that in mind, let's take a more detailed look at the process of buying Lucky Block crypto through the platform's pre-sale.
Step 1 – Buy Binance Coin (BNB)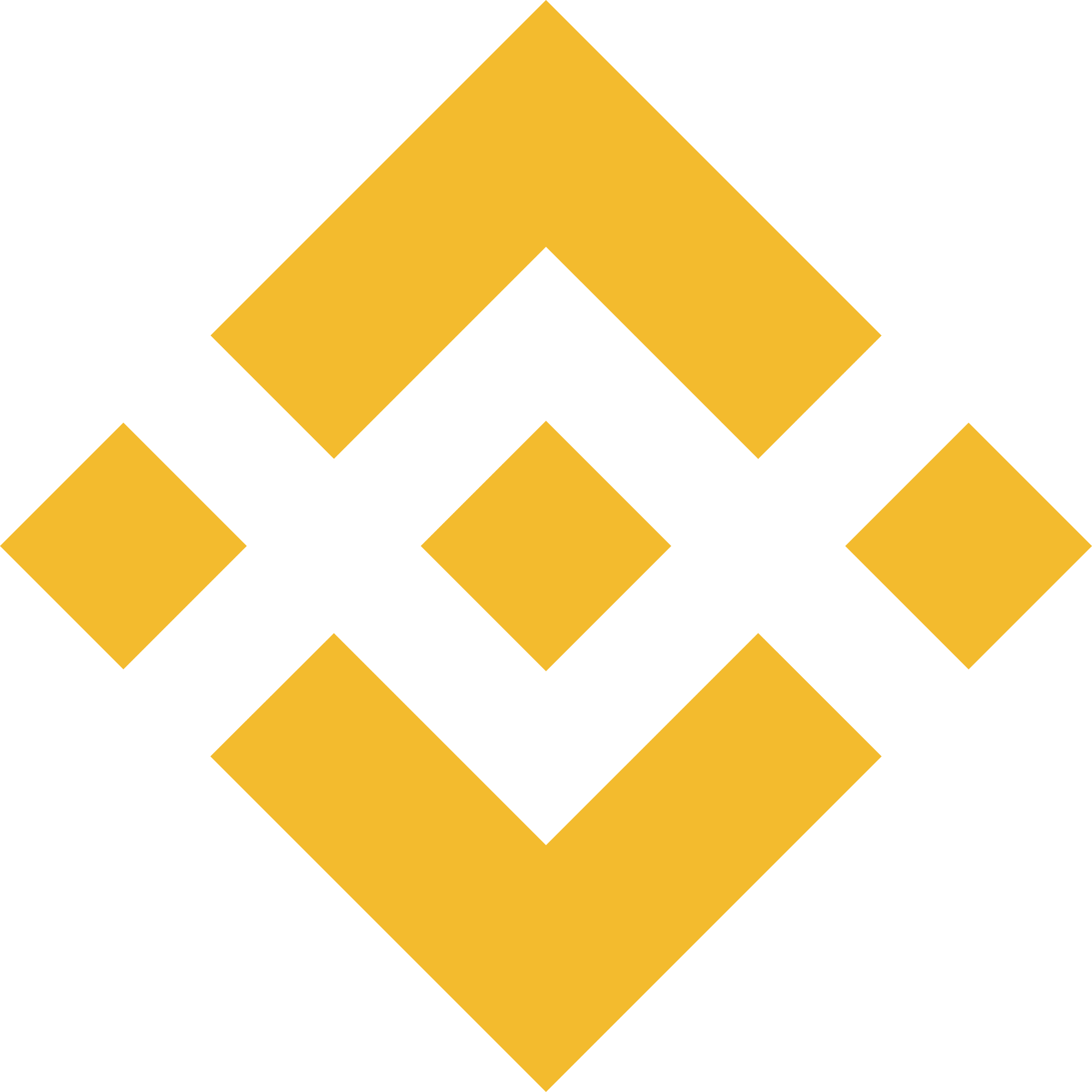 Lucky Block tokens are denominated in Binance Coin (BNB), so you'll first have to purchase some of these coins to make your investment. At present, BNB is the fourth-largest cryptocurrency as measured by market cap, meaning it is available through many of the best crypto exchanges. Once you've purchased BNB, transfer your holdings to your crypto wallet and proceed to the next step.
Step 2 – Head to the Lucky Block Pre-Sale Page
Navigate to Lucky Block's website and click the 'Buy Now' button to be taken to the pre-sale page.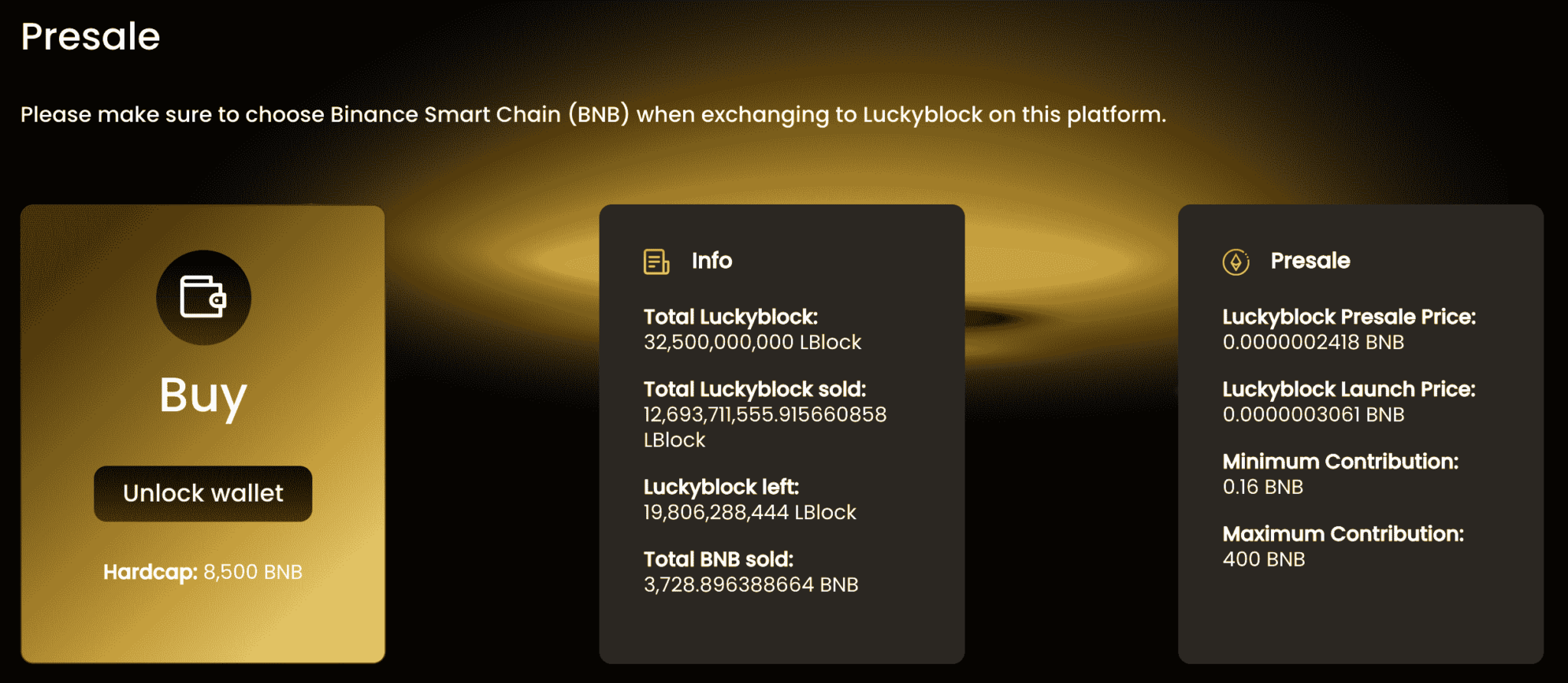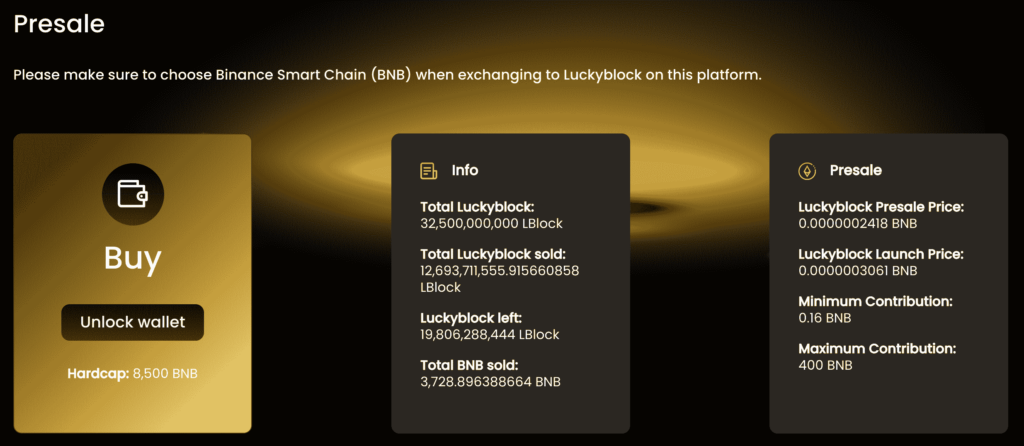 Step 3 – Connect your Crypto Wallet
Click 'Unlock Wallet' to start the process of connecting your crypto wallet. The Lucky Block crypto platform supports eight major wallets, including WalletConnect, Metamask, and the Binance Trust Wallet. Click on the appropriate option and follow the instructions to link your wallet to the pre-sale platform.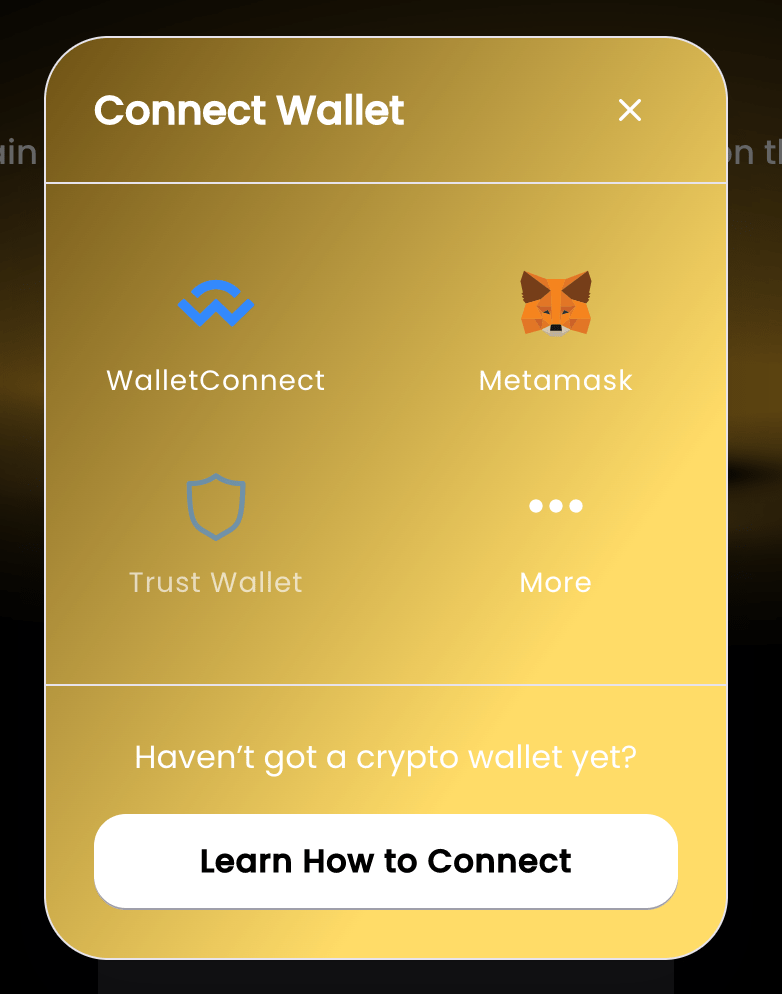 Step 4 – Buy Lucky Block Coin
Once connected, you can make your investment. Lucky Block investments are denominated in BNB, with a minimum contribution of 0.16 BNB and a maximum contribution of 400 BNB. Enter how much you'd like to invest in the Lucky Block pre-sale and then confirm your investment.
Cryptoassets are highly volatile unregulated investment products.
Step 5 – Wait for Tokens to be Distributed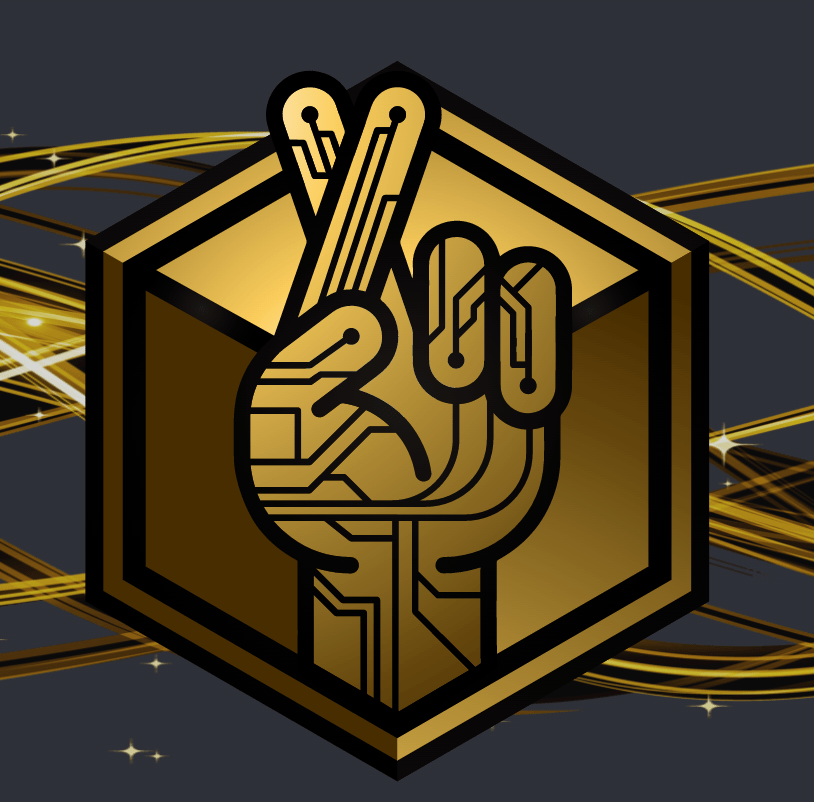 Once your position is confirmed, the amount of tokens that your BNB investment translates to will be sent to your wallet address shortly afterwards. These tokens will then become transactional once the Lucky Block platform launches in Q2 2022, depending on the size of the investment.
What is Lucky Block Crypto?
Before you dive in and start cryptocurrency trading UK, it's vital to gain a deep understanding of the asset you're looking to trade. This is no different with Lucky Block, as the platform has numerous features and use cases that make it stand out from the crowd. With that in mind, let's discuss what Lucky Block crypto is and how it works.
Lucky Block is an innovative new cryptocurrency platform that looks to shake up and improve how traditional lottery processes are run. As you can imagine, lotteries and their prize draws tend to be restricted by geographical boundaries. Since the Lucky Block platform is built and hosted on the Binance Smart Chain, these boundaries are eradicated, providing scope to host a 'global lottery'.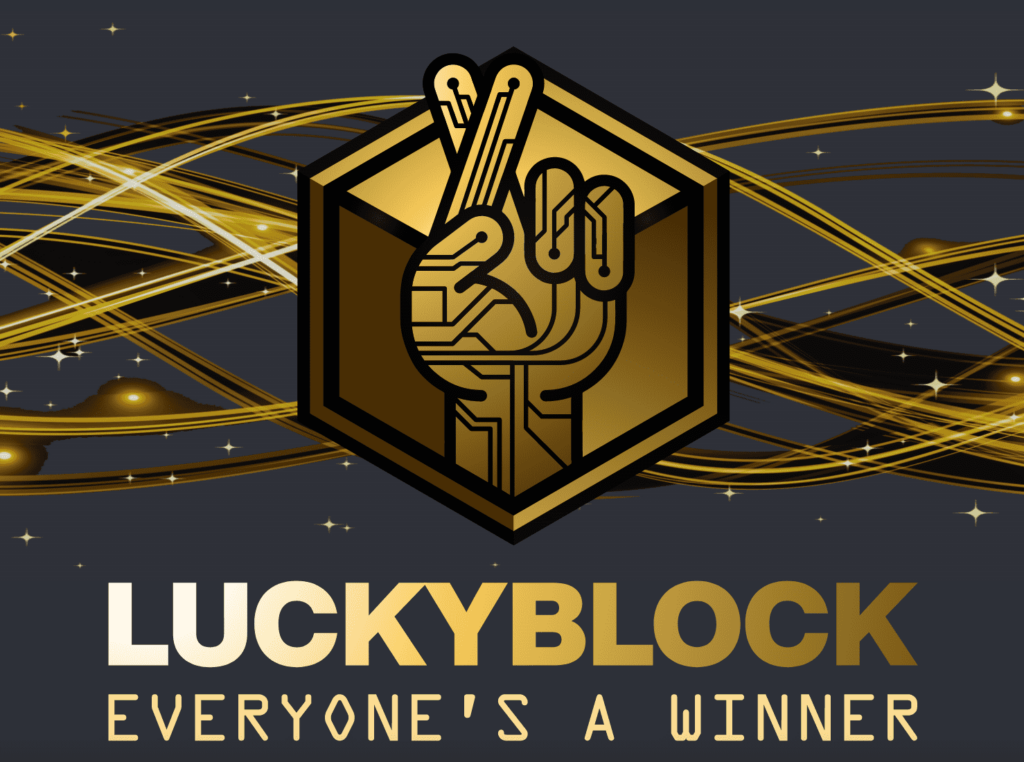 Ultimately, this comes with its own set of benefits, such as larger payouts, more frequent prize draws, and greater odds of winning. Furthermore, since Lucky Block leverages blockchain technology, all transactions are transparent and available to view on the public ledger – reducing the chance for fraud. In addition, as Lucky Block does not require many of the operating costs that traditional lotteries do, these cost savings can be plunged back into prize pools, making the system much more attractive to entrants.
In terms of Lucky Block's jackpot distribution method, this is clearly stated in the whitepaper and adds to the platform's transparency. Distributions are made in the following manner:
70% of the prize pool goes to the winner
10% of the prize pool is distributed amongst Lucky Block token holders
10% of the prize pool is given back to the Lucky Block developers to help improve the platform and boost marketing efforts
10% of the prize pool is donated to charity
If you buy Lucky Block coin, you'll be holding the native token of the Lucky Block platform. According to the Lucky Block whitepaper, this token has various use cases, such as paying for transaction fees and as a speculative asset. The latter use case is essential, as investors can gain direct exposure to Lucky Block's growth and success.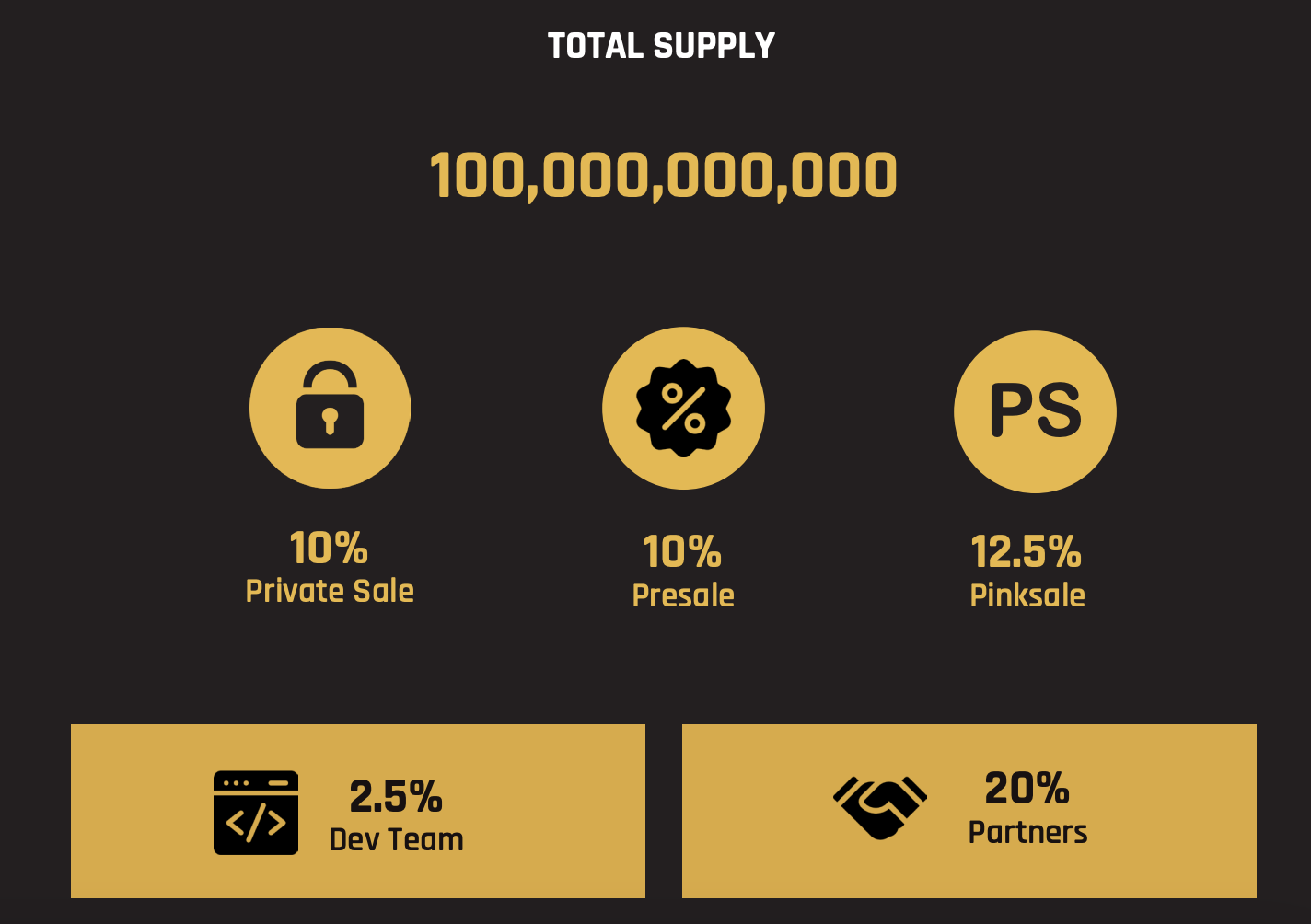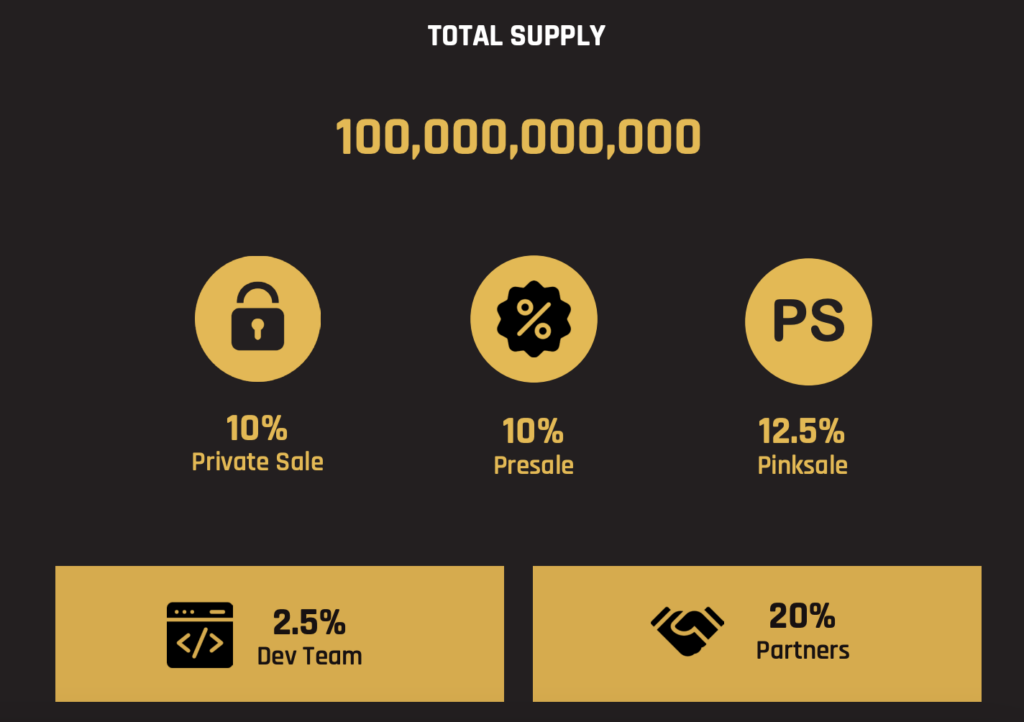 Lucky Block is now in Phase 2 of the platform's road map, with the token pre-sale currently ongoing. The upcoming Phase 3 will see Lucky Block officially launch the lotto and boost their marketing efforts to attract more users to the platform. Finally, Phase 4 will see exciting changes being made, such as the hosting of various fundraising events, the development of crypto education platforms, metaverse incorporation – and even the creation of Lucky Block NFTs!
Cryptoassets are highly volatile unregulated investment products.
Why Buy Lucky Block Coin?
If you're wondering how to invest £500 (or any amount) in Lucky Block, then it's wise to understand the reasons for doing so before proceeding with your investment. Found below are five compelling reasons to buy Lucky Block coin now, which will appeal to beginners and experienced investors alike.
Improves on Traditional Lottery Systems
As mentioned in the preceding section, Lucky Block's creators have noted the pain points associated with traditional lottery systems and developed a way to reduce (or remove) them through the use of blockchain technology. Ultimately, this technology improves fairness and transparency, which can be an issue in certain local lotteries around the world. Furthermore, as it's all hosted on the blockchain network, users from numerous countries can enter and create a sort of 'global lottery'.
Stellar Development Team
If you buy Bitcoin (or any other digital currency), you'll understand the importance of a platform's development team in the crypto space. Fortunately, the team behind Lucky Block crypto have extensive industry experience between them. The team is clearly presented on the website and in the whitepaper, ensuring that all investors know who has developed the platform. Scott Ryder, Lucky Block's CEO, has specific knowledge of the crypto space and currently serves as CEO of StakeMoon Coin, another exciting cryptocurrency that has made waves over the past year.
Deflationary Asset
When you buy Lucky Block coin, you'll receive a deflationary asset with great price potential. This is because Lucky Block's tokens have a built-in 'burn rate', which means that the token supply gradually reduces over time. Ultimately this means that tokens become more scarce over the long run – and as the law of supply and demand highlights, this tends to increase the price of an asset. 
Great Future Roadmap
As exciting as the Lucky Block platform sounds right now, the future looks even more exciting. A quick glance at the Lucky Block roadmap highlights the development team's plans for the platform, including integration with the metaverse, Lucky Block merchandise, the development of crypto education platforms, online gaming incorporation, and more. So, although Lucky Block is exciting in its current iteration, there are many things to look forward to as the platform grows in the months and years ahead.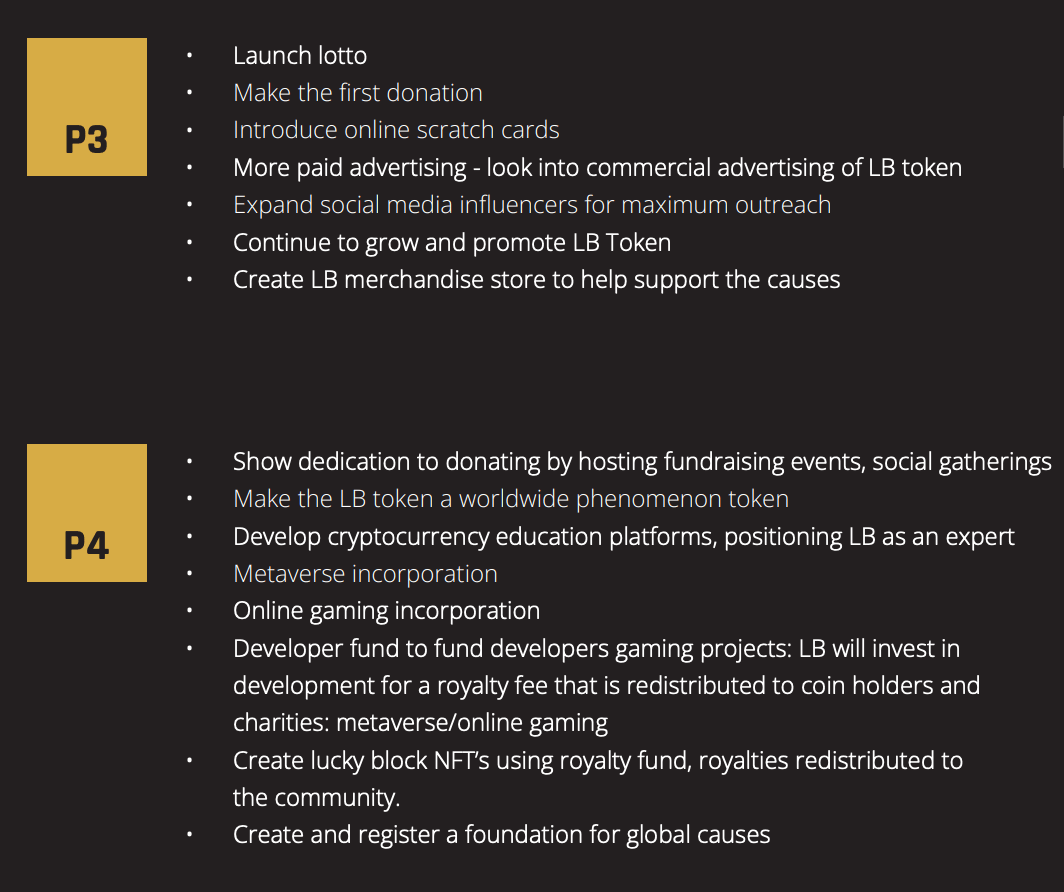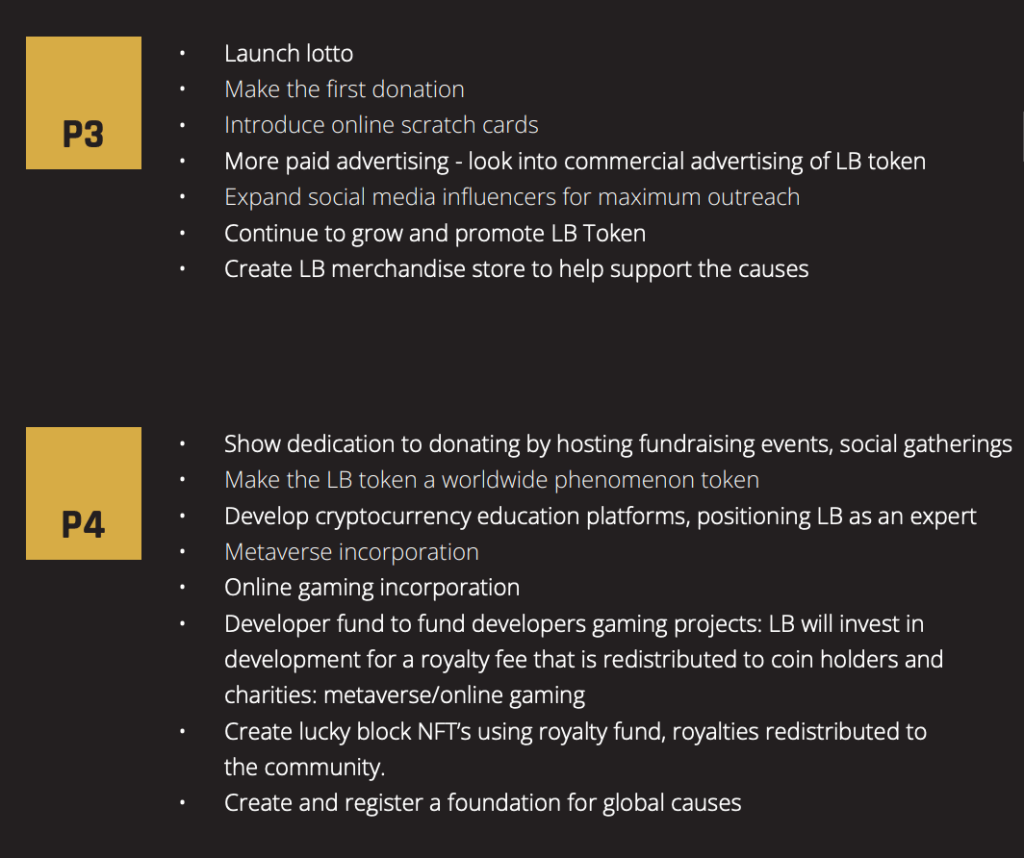 Can Purchase through the Pre-Sale at a Lower Price
Finally, now is a great time to buy Lucky Block coin as early investors can purchase tokens through the pre-sale at a more attractive rate. The Lucky Block price through the pre-sale is around 26% less than what the launch price is specified to be. This is an appealing aspect for investors, as it means that if tokens were to increase in value post-launch, early investors would be set to make significant returns!
Lucky Block Price
Much like when investing in the best shares to buy, an asset's current price can be a key differentiator between it and alternative investments. Relating this to Lucky Block, as the lottery platform has not yet officially launched, there is no Lucky Block price yet. Lucky Block is currently in the pre-sale phase, so tokens are not freely traded on exchanges at present.
However, according to the pre-sale page, users can purchase Lucky Block tokens for 0.0000002418 BNB each. Using today's conversion rate, this means that each token can be bought for a fraction of a penny – £0.0081 to be exact. Putting this into perspective, if you were to invest £100 into the Lucky Block pre-sale, you'd receive approximately 12,345 Lucky Block tokens.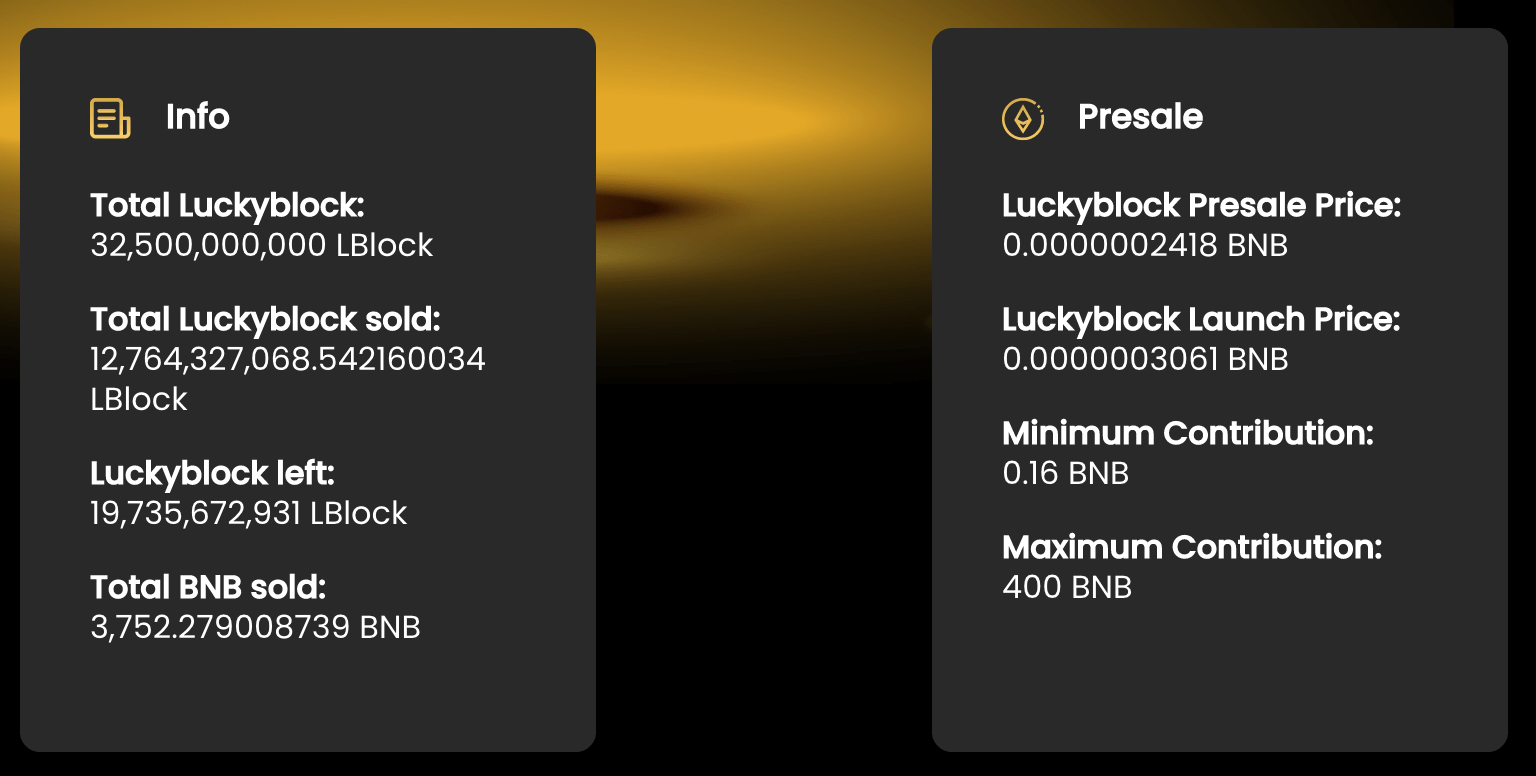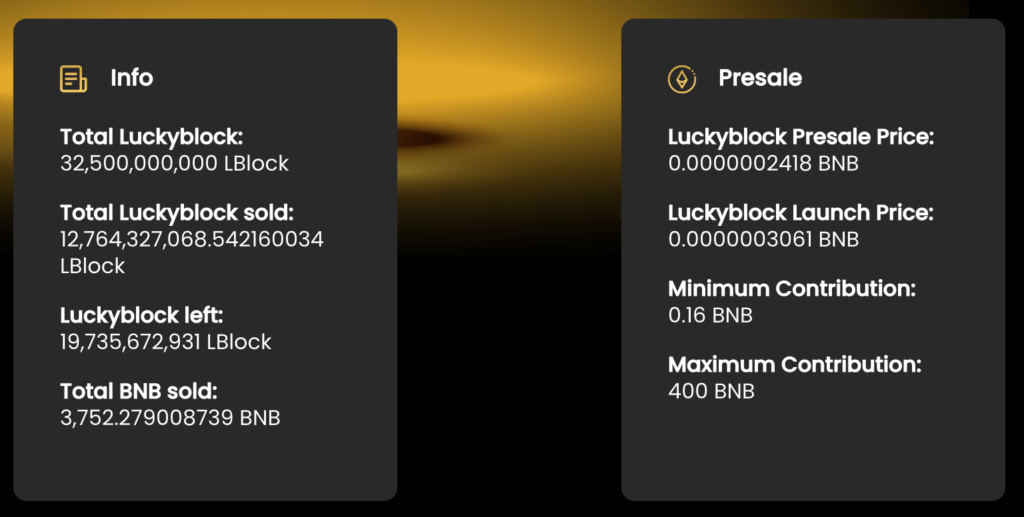 Cryptoassets are highly volatile unregulated investment products.
Notably, the Lucky Block price at launch is quoted at 0.0000003061 BNB per token. This is around 26% higher than the pre-sale price and highlights the attractiveness of investing early. Furthermore, once LuckyBlock goes live on PancakeSwap (the third-largest DEX according to CoinMarketCap), the increased liquidity could provide the impetus needed for further price appreciation – leading to significant gains if you purchased through the pre-sale.
Lucky Block Coin Price Prediction
Now let's turn our attention to our Lucky Block price prediction. As noted above, the Lucky Block price has not yet been defined by market forces, so it isn't easy to make any price forecasts based on technical analysis. However, much like what happens when equity trading UK, market participants will quickly deduce an asset's 'true' value through buying and selling – which will occur once Lucky Block launches on PancakeSwap in the near future.
However, if you decide to buy Lucky Block coin, there are numerous reasons to be hopeful that price could appreciate post-launch. Firstly, if you look at other cryptos that have launched on exchanges, price tends to shoot up as investors are eager to get involved. Due to the psychology of the market, once other investors see the price rising, they'll scramble to invest, too – pushing the price even higher.
Aside from this, Lucky Block's token burn will also help increase the price. A total of 1% of Lucky Block tokens used to pay transaction fees will be burned, meaning these tokens will be destroyed and removed forever. As you can imagine, this slowly decreases the total supply – and as Lucky Block tokens are capped at 100,000,000,000, this means that no more can be mined. Ultimately, these 'tokenomics' provide the basis for price to increase over time, which could lead to Lucky Block tokens rising exponentially over the first year of trading. 
Lucky Block App
People wondering where to buy Lucky Block may also be curious to know about the Lucky Block app. At present, there are only a few details regarding the app, although the website clearly shows the user interface and hints at the app's features. Users will likely be able to purchase tickets for upcoming prize draws through the app, monitor their balance, check winning ticket numbers, and even buy Lucky Block coin.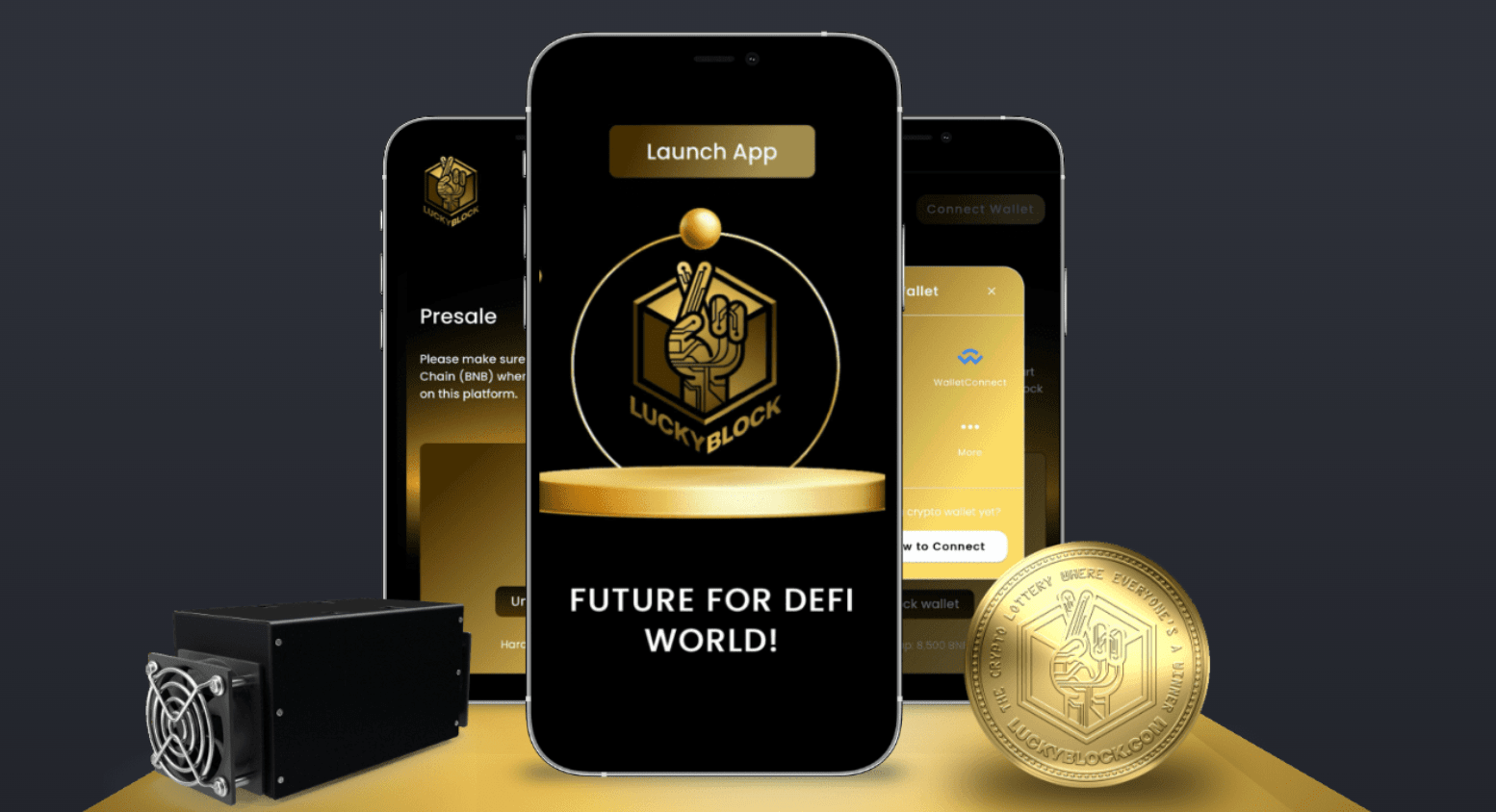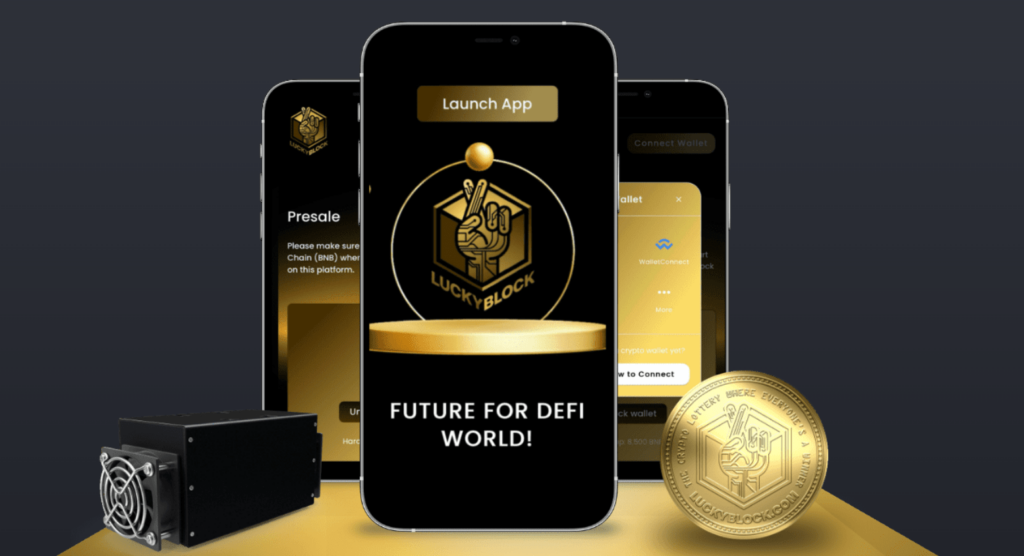 Cryptoassets are highly volatile unregulated investment products.
Notably, the Lucky Block platform has been thoroughly audited and approved for launch by Solidproof.io. This company specialises in auditing smart contracts and rigorously tests blockchain platforms to ensure their safety and validity.
If you are someone who places a great deal of emphasis on a platform's safety level, you can review the Security Assessment that Solidproof.io have formulated for Lucky Block. This document covers all aspects of the platform and the token, ensuring would-be investors have a clear idea of how the backend works and its level of security.
How to Buy Lucky Block in Video
How to Buy Lucky Block – Conclusion
To summarise, this guide has explored how to buy Lucky Block coin in detail, covering everything you need to know about the platform and its price potential. As you'll now be aware, LuckyBlock has the potential to shake up the lottery industry – meaning that investing in Lucky Block tokens could be a great way to gain exposure to the platform's growth and success. You can also join the LuckyBlock Telegram group for all the latest news and updates.
If you'd like to buy Lucky Block coin today, you can do so in minutes through the Lucky Block pre-sale page. What's more, by investing through the pre-sale, you can buy tokens at a much cheaper price point than what the launch price will be – putting you in line to make significant returns if the platform grows rapidly post-launch.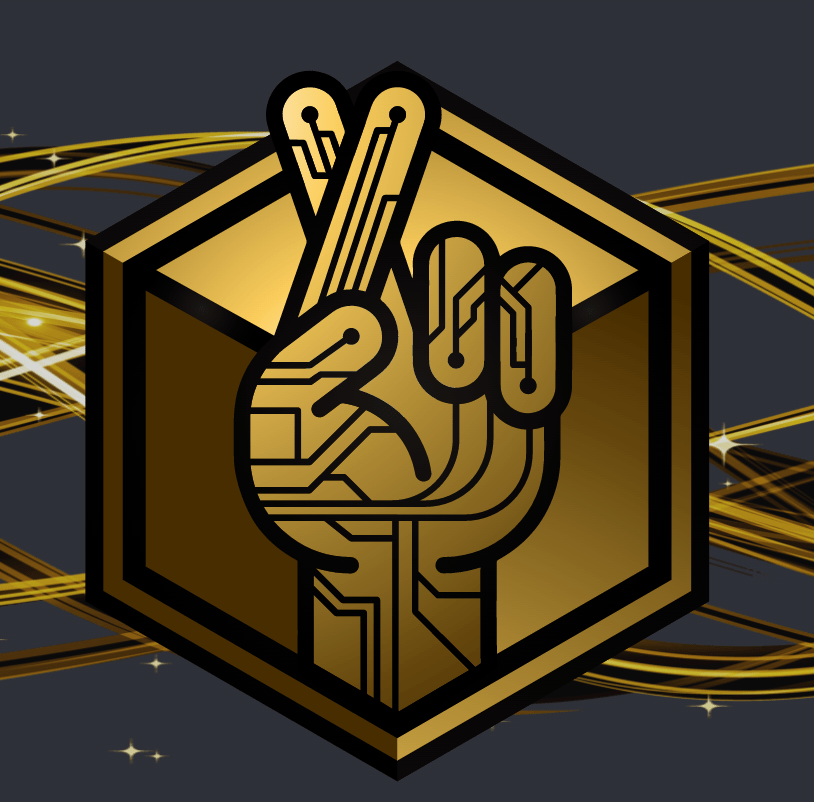 Cryptoassets are highly volatile unregulated investment products.
Frequently Asked Questions on Lucky Block Crypto
What is Lucky Block crypto?
How do I get Lucky Block coin?
Is Lucky Block a good investment?
Where can I buy Lucky Block?