Want to buy Chiliz coin? This crypto is a rare offering because it is based on a highly-successful business model in the real world. The Chiliz brand provides fan tokens for over 100 big sports clubs and associations, including the UFC, Nascar, and the Premier League. Fans buy Chiliz crypto and then use it to buy their own club's tokens — and then get involved in voting on key club issues as well as buying merchandise including NFTs. 
So how do you buy Chiliz crypto? Below we review three crypto vendors to help you find where to buy Chiliz. We'll examine the strengths and weaknesses of Chiliz as a crypto, and show you how to buy Chiliz coin in the safest way with FCA-regulated broker eToro.
Key points on Chiliz Coin
Buy Chiliz coin if you want exposure to the global sports business. Via website

www.socios.com

, Chiliz provides fan tokens to big sports clubs. Chiliz (CHZ) is the currency that fans must swap to buy their club's tokens.

Some of the biggest football clubs in the world use the company Chiliz to supply their fan tokens, including FC Barcelona, Man City and Paris St. Germain.

The crypto CHZ has a market capitalisation of $1.2bn with a circulating supply of just under 6bn CHZ. CHZ has a high 24 trading volume of roughly $200m.

Audited by Certik, CHZ is available as an ERC-20 token, BEP-2 and TRC-20 token. eToro offers CHZ tokens with a tight spread of just 3.9%. 
How to Buy Chiliz Coin UK – Quick Steps
Step 1: Open an account with eToro

– Go to

www.eToro.com and open an account

. Get started with a few personal details or sign up swiftly with your Facebook or Google account. Upload some ID to get verified.

Step 2: Deposit –

No deposit fees here! You can use convenient PayPal, bank transfer, debit card amongst other payment methods to get funds into your account instantly.

Step 3: Search for Chiliz on eToro –

Discover powerful crypto options using the 'Discover' option. Or simply enter the name of your chosen crypto in the top search bar. 

Step 4: Invest –

Like everything else on eToro, buying CHZ takes seconds. Press the blue 'Trade' button and specify how much Chiliz crypto you want. Tap on 'Open Trade' to confirm your choices. 



Cryptoassets are highly volatile and unregulated in the UK. No consumer protection. Tax on profits may apply.
Where to Buy Chiliz Coin in the UK?
Below we review one crypto broker and two crypto exchanges with leading reputations that offer the best cryptocurrencies to invest in right now.
1. eToro – Best Overall Broker to Buy Chiliz Coin UK
eToro stands out as one of the best places online to buy Chiliz coin for one reason: eToro is regulated by the UK's Financial Conduct Authority. Although this does not mean that you will get your money back if your trades go south but it does mean that you are dealing with a regulated company.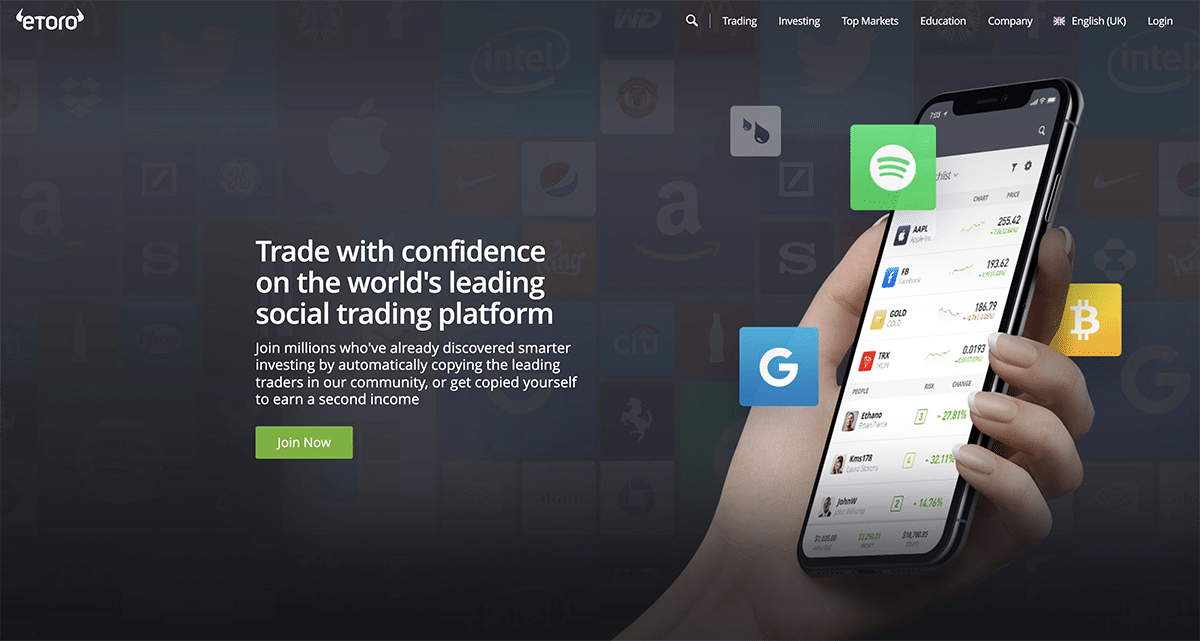 Since its launch in 2007, eToro has attracted 23m+ verified users of all levels of trading experience. Newbies to crypto are particularly welcome. Crypto does not need to be intimidating with eToro's two social trading features: CopyTrader and crypto Smart Portfolios. Both are free services. 
With CopyTrader, you can choose from over 600 other traders and copy their trades for free in real-time. You simply allocate as much of your funds as you are comfortable with and the software does the rest. With great arrays of performance stats on each trader, you can get a good feel for who you might trust. Then the software does the rest. You can stop copying at any time.

eToro's crypto Smart Portfolios take a different spin on the idea of putting some of your money in the hands of traders who know what they are doing. With any of the eight Smart Portfolios, you can buy into a set strategic position on crypto that eToro experts have devised. (Aussie exchange Coinjar has a similar feature with its Coinjar Bundles). The only downside with Smart Portfolios is that you have to buy in and out with one lump sum. Otherwise, it's a great way to diversify your crypto portfolio and minimise risk.   
With a free smartphone app that is the most downloaded trading app in the UK as well as a free crypto wallet (regulated by the Gibraltar Financial Services Commission), eToro gives you a whole ecosystem to manage your crypto. No commissions apply to trading, but spread fees apply. All fees, as well as how eToro works, is clearly laid out in help pages. And, if you get stuck, eToro's social trading newsfeed allows you to reach out to any of the millions of fellow eToro investors for help.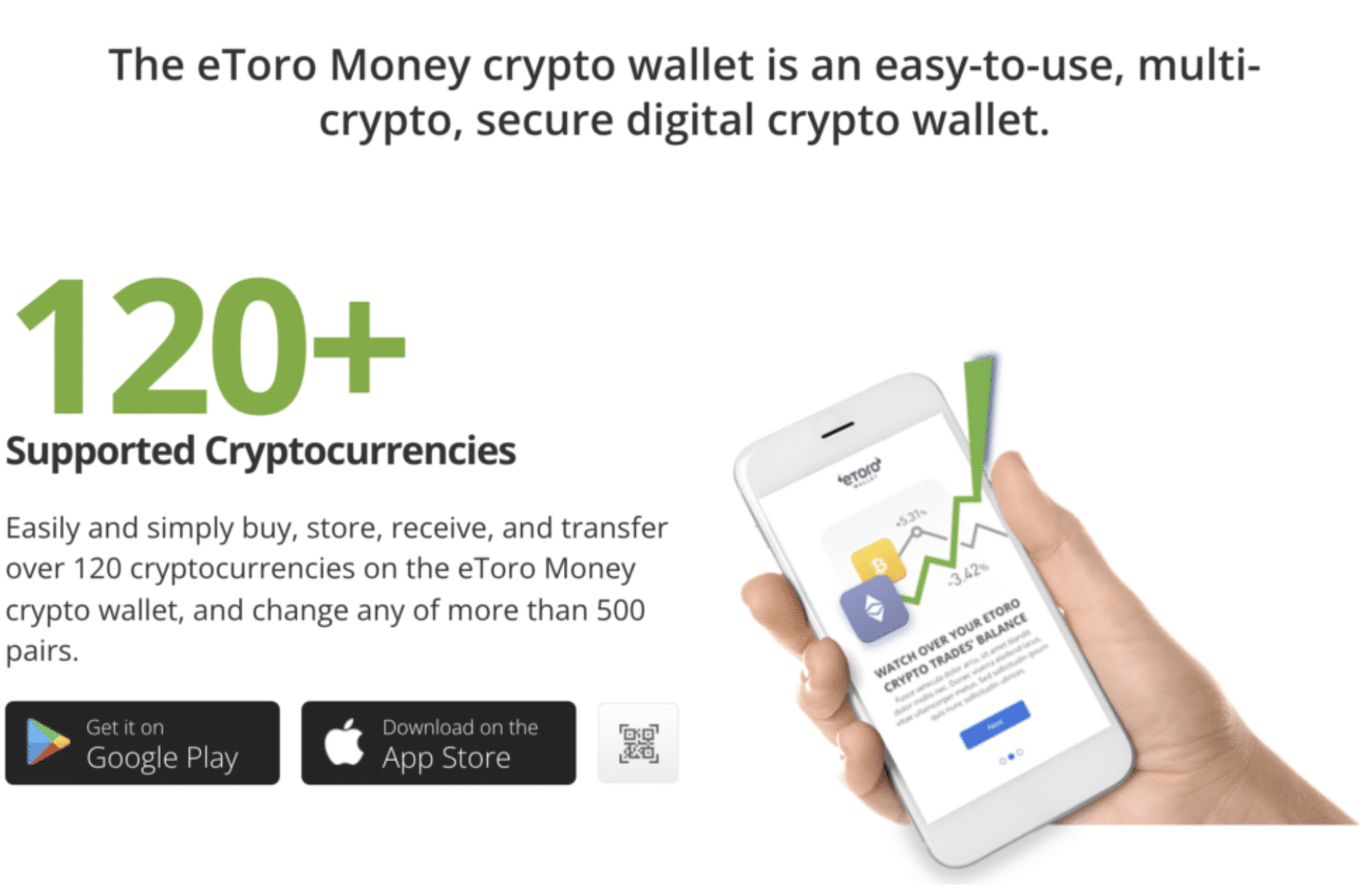 Pros
Buy Chilliz coin with zero commission
Free eToro Money crypto wallet and smartphone app
Regulated by the FCA, ASIC and CySEC
Good GBP deposit options including PayPal
45+ cryptoassets (including CHZ and all the main blockchains)
Crypto Smart Portfolios and CopyTrader
23m+ existing users
Cons
Flat withdrawal fee of $5
Email ticket service rather than telephone service
Cryptoassets are highly volatile and unregulated in the UK. No consumer protection. Tax on profits may apply.
2. ByBit – Best Exchange for Power Crypto Traders
With over 5m registered users, ByBit is a Singapore-based crypto exchange. Unlike eToro, ByBit does not boast regulation by the UK's FCA. Nor does it offer eToro's reassuring social trading tools. Where ByBit does better than eToro is in its selection of crypto, which takes in the major blockchains as well as Defi, GameFi, Metaverse and NFT coins.
ByBit offers many ways to trade crypto; perhaps too many for the beginner to the crypto world. To get hold of Chiliz coin (CHZ) specifically with ByBit you need to first buy some Tether coin (USDT), which is a stablecoin pegged to the value of the US dollar. You can do this with Visa, Mastercard or ApplePay using one of six third-party vendors including Simplex, MoonPay and Banxa. You can then exchange your Tether coin for Chiliz coin.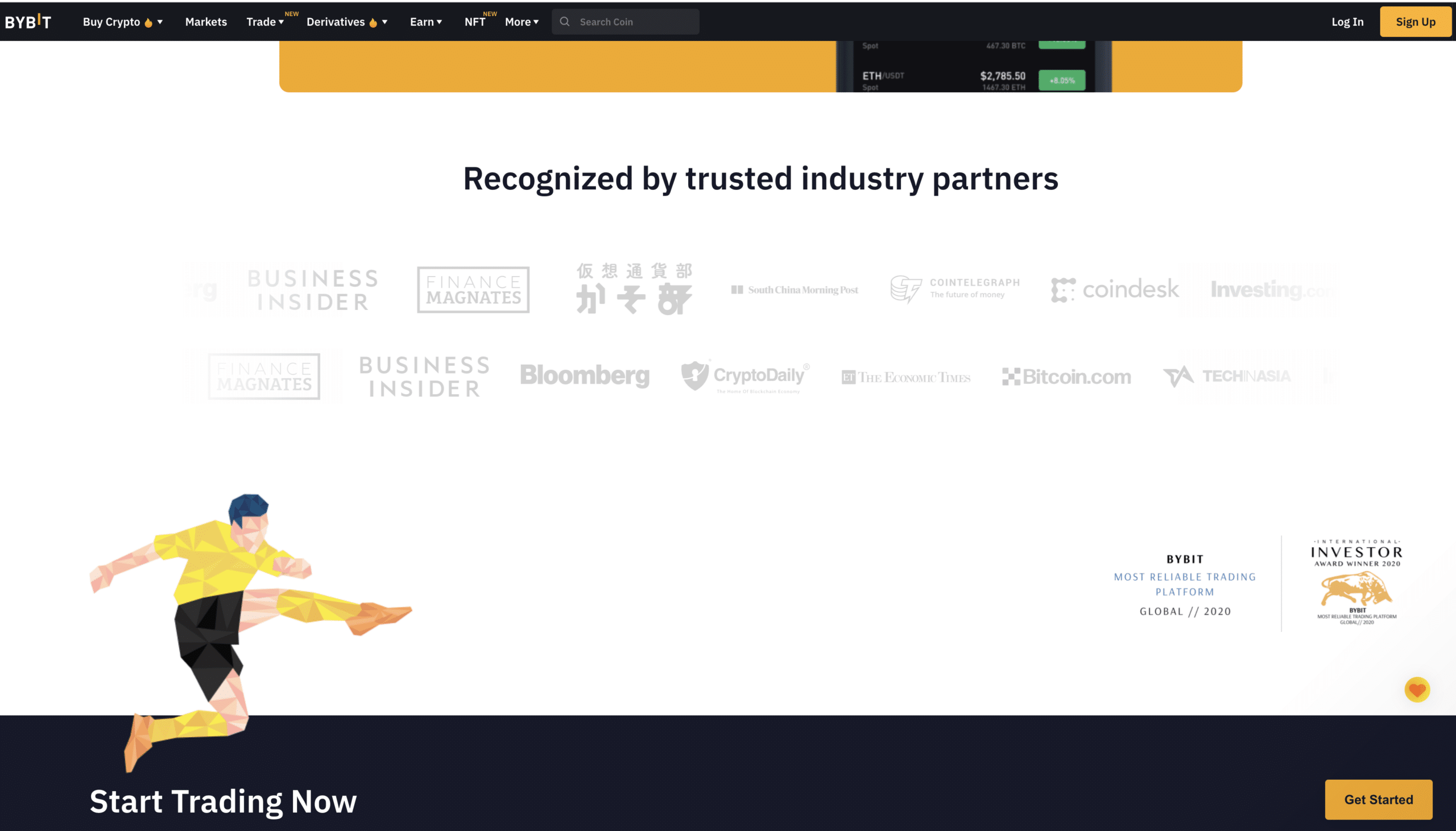 This is called 'trading pairs' and is a standard way of trading crypto (eToro offers this service for major crypto too). If you want to buy CHZ direct, perhaps stick with eToro.
With ByBit you can trade numerous pairs against Bitcoin, Ethereum, Tether and USD Coin. You can also trade direct with other investors using ByBit P2P (peer-to-peer) trading. And, if you are based in a country where it is legal, you can trade in crypto futures contracts. 
In the area of crypto staking, ByBit comes into its own. You can get some awesome returns on Dual Asset Mining, DeFi Mining or Flexible Staking. These are different ways of lending your crypto out for a fixed period (often 14 days) in return for an interest payment. Annualised percentage returns for DeFi mining offered are between 11% and 17%, for example.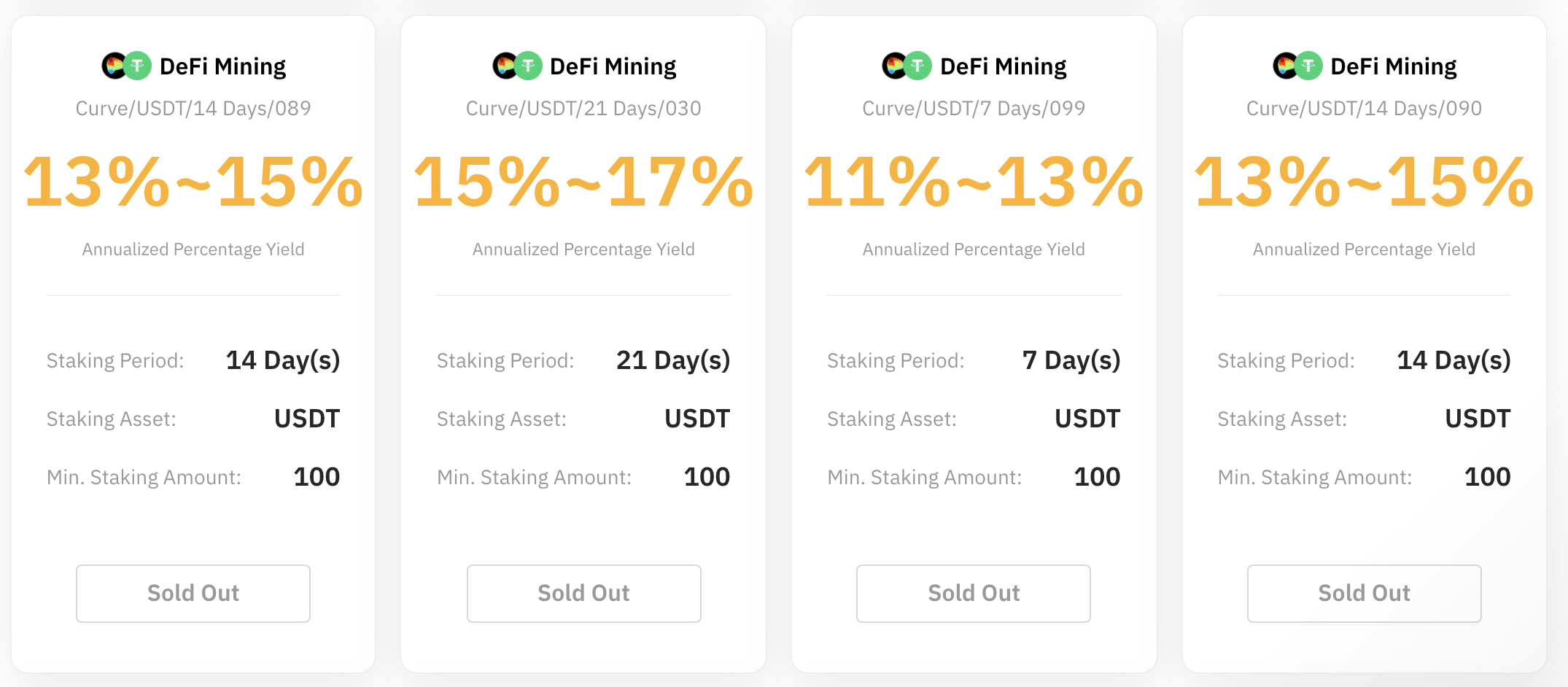 All in all, Bybit offers some intriguing options for the power crypto trader; beginners might want to stick with eToro until they find their crypto feet.
Pros
Buy Chiliz coin (CHZ) 
Client funds held in 'cold' storage 
Wide choice of crypto coins including GameFi, DeFi and major blockchains
Exemplary learning pages
24/7 phone support
Crypto derivatives trading available from some countries
Cons
More complex than eToro
Can't access derivative trading from the UK
Not regulated in UK
Cryptoassets are a highly volatile unregulated investment product. No UK or EU investor protection.
3. Coinbase – Best Exchange for Choice of Crypto

Coinbase is a giant crypto exchange based in San Francisco with 73m users. When it comes to crypto trading Coinbase has a high media profile. It was the first crypto exchange to be traded on the stock market, with a NASDAQ IPO in 2021. (With eToro you can trade Coinbase stock under the ticker COIN.) Coinbase is also famous for keeping 98% of client funds in 'cold' storage; i.e. away from the internet and the threat of cyber-theft.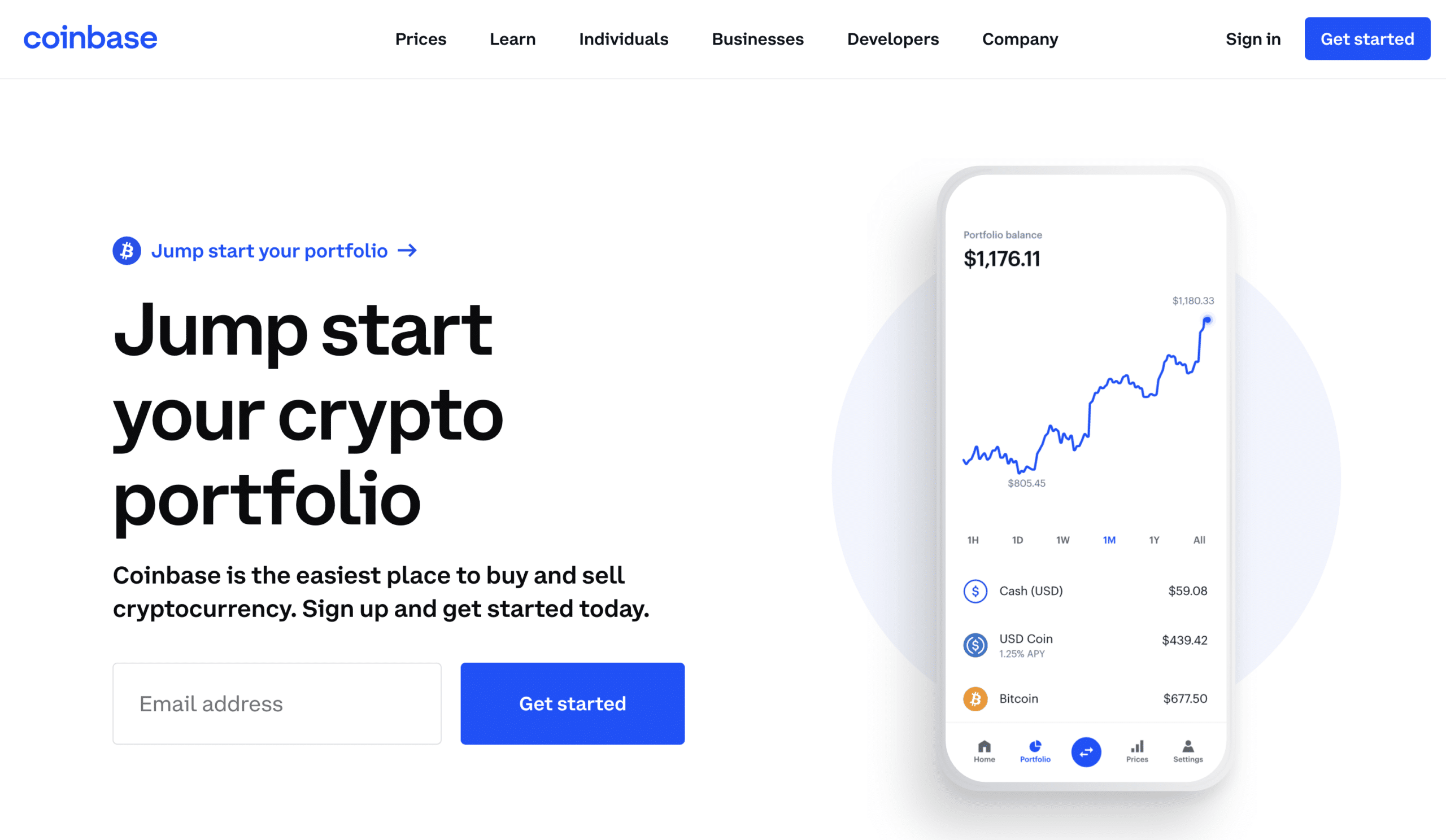 To buy Chiliz coin (CHZ) with Coinbase, the system is similar to eToro's — and less cumbersome than ByBit's. You sign up for an account, get verified, put funds into your account, buy your crypto and either let Coinbase store it for you or transfer it to your Coinbase wallet.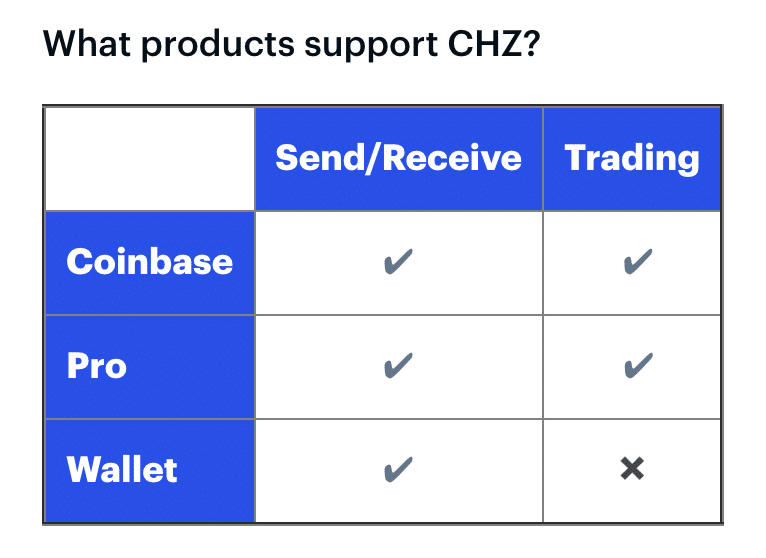 Coinbase offers a similar range of deposit options for GBP as eToro. But a downside is that you cannot use convenient PayPal. Another Coinbase downside is the complex and expensive fee system, which is a mix of flat fees and commission. Watch out for 3.99% commission on instant credit card purchases, for example. With eToro, you can deposit GBP into your account using a debit card with only a 0.5% currency conversion fee to pay.
A plus of Coinbase is its impressive choice of 151 crypto, as well as its encyclopaedic grasp of the whole crypto sector. If you need to find a crypto, Coinbase will know all about it (even if the exchange doesn't necessarily offer it). Another outstanding feature of Coinbase is its crypto learning programme, which will actually pay you a small amount of crypto to complete online learning modules. Like eToro, Coinbase offers a free crypto wallet.
In summary, consider Coinbase if you like the beginner-friendly style of eToro — but keep an eye on those fees. 
Pros
Buy Chiliz coin (CHZ)
Upgrade to Coinbase Pro for cheaper fees
Free Coinbase crypto wallet & smartphone app (rated 4.7/5 on Google Play)
Cold storage for most client funds
Range of 151+ crypto
Free crypto learning incentives
Cons
Complex fee structure
3.99% credit card commission fee
Not regulated in UK
Cryptoassets are a highly volatile unregulated investment product. No UK or EU investor protection.
How to Buy Chiliz Coin UK – Tutorial
With any broker or exchange, the process for getting hold of Chiliz coin (or any crypto) is roughly the same:
Choose a Broker or Exchange
Crypto broker or crypto exchange? Strictly speaking, a broker sells you crypto whereas an exchange provides the marketplace for crypto to be traded. In practice, crypto exchanges often operate as brokers too. The important thing to bear in mind is that brokers like eToro are regulated by tough bodies like the FCA whereas exchanges tend not to be.
Sign up with eToro
Go to www.eToro.com. You can either sign in with your existing Facebook or Google account. Or just fill out a few personal details. Then, as part of KYC (Know Your Customer) protocols, you will be asked a few questions about investing. This sounds like a pain, but it is reassuring: KYC means you are dealing with a vendor which is taking personal and asset security seriously.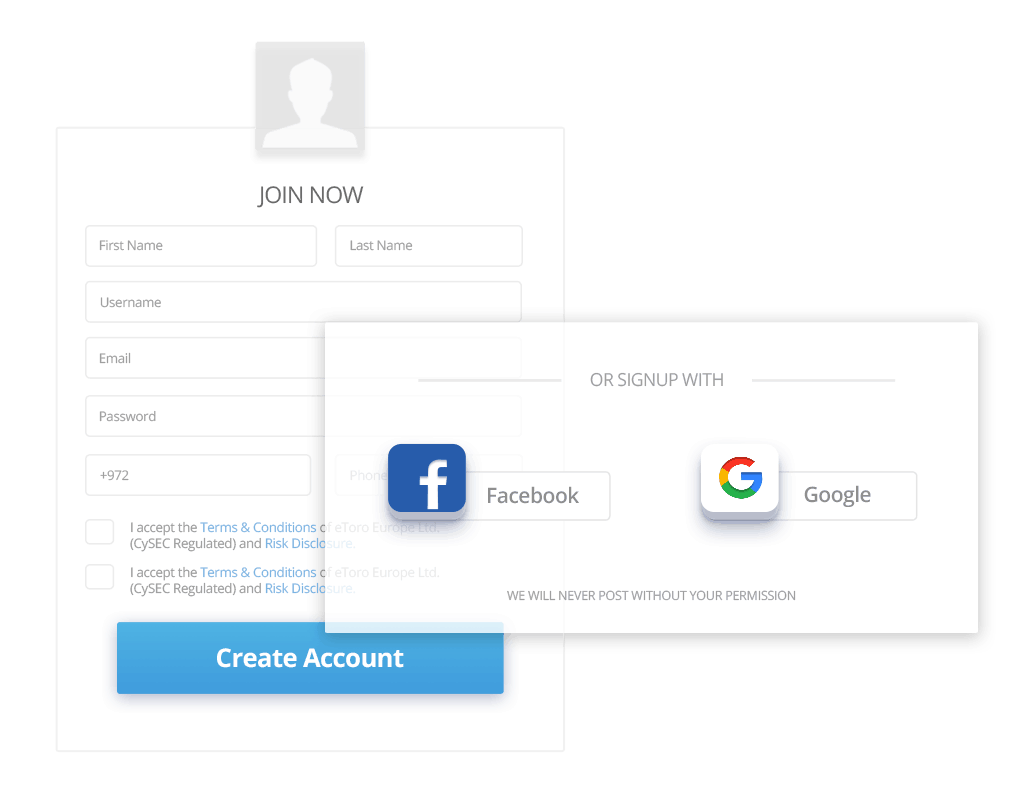 Verify your ID with eToro
You will need to prove i) who you are and ii) where you live. eToro accepts plenty of documentation, which you will need to scan first. Although the verification process does not take long, the swiftest way to get cracking is to supply a scan of your valid passport as proof of identity.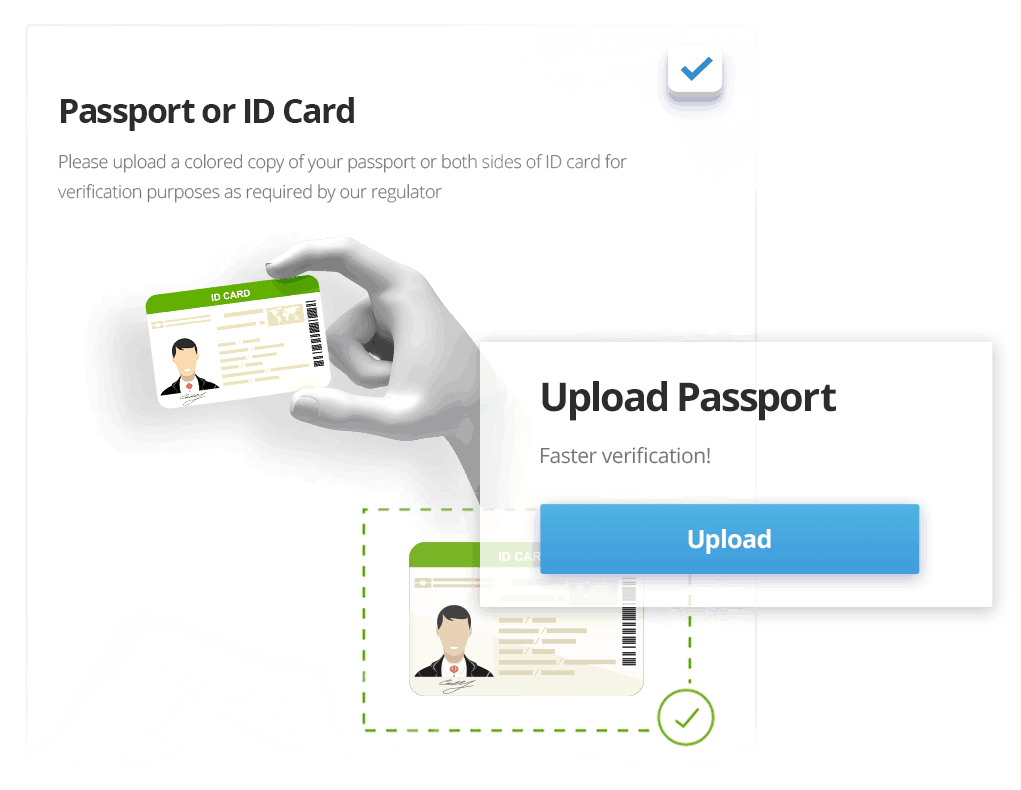 Deposit Funds with eToro
A total of 15 currencies is accepted by eToro. When it comes to GBP, there are plenty of ways to deposit. Use handy PayPal or bank transfer, debit card, or a range of payment providers like Neteller and Skrill. There is no deposit fee as such, but a currency conversion fee applies to change your GBP into the global trading standard currency of USD.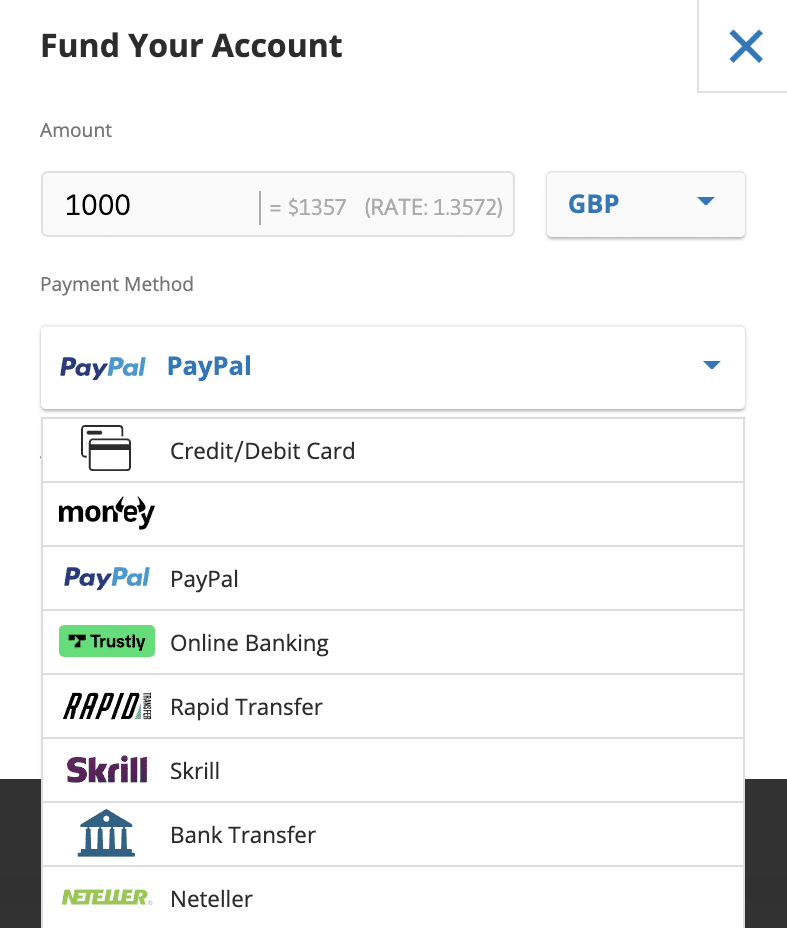 Buy Chiliz with eToro in Seconds
You can track down Chiliz by entering 'CHZ' or 'Chiliz' in eToro's top toolbar. 

Click on the highlighted crypto to check out its homepage where you can review stats, data and your newsfeed. Or simply click 'Trade' to move onto specifying your order.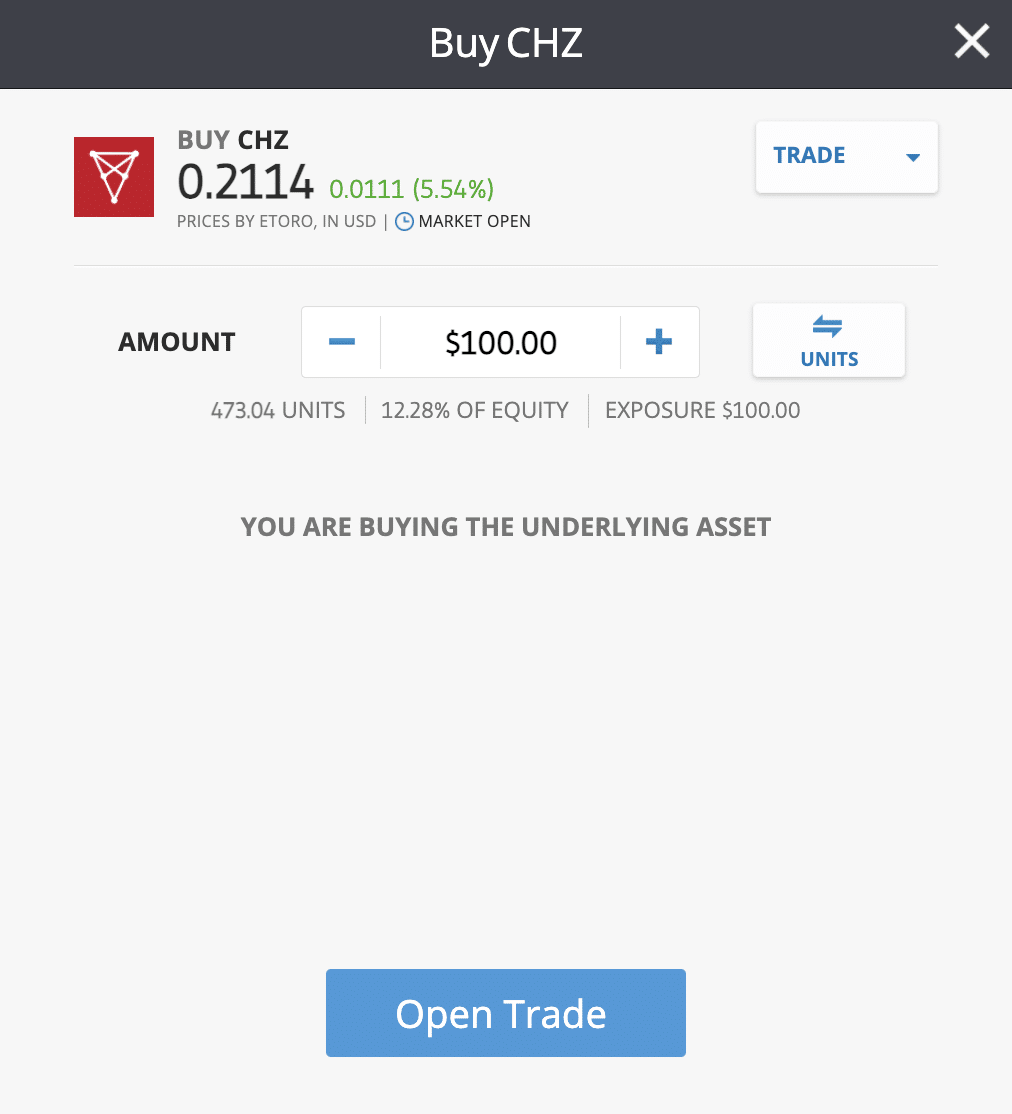 You are now just seconds away from getting your hands on the crypto you want. Simply enter how much funds you want to commit. Then press the blue 'Open Trade' button. 
You will receive onscreen notification once your order has been finalised. This usually takes a matter of seconds with eToro. You can then review your crypto in your portfolio. Depending on the type of crypto, you may be able to then move your purchase straight into your eToro crypto Money Wallet so you can use it to send elsewhere or stake for crypto rewards.
What is Chiliz Coin?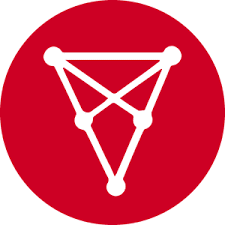 Chiliz (CHZ) is the native token for the Socios.com sports fan platform. Chiliz is not, like Bitcoin for example, designed to be a means of payment for the entire internet. It is a crypto that relates to a particular service provider that does something very specific.
The 200-strong company Chiliz provides sports corporations with the means to bring blockchain-based services to their fans. Chiliz is tied into real-world economics because fans must use Chiliz to buy their team's crypto tokens. Fans can then use their fan tokens to get more involved with their club or sport: to vote on big club issues, show their support, as well as purchase services and products. 
Chiliz is therefore a distinguished crypto because it is grounded in real-world, practical business. And the sports business is big business! Chiliz is official partners with sports giants like the UFC (the top provider of mixed martial arts) as well as a growing list of elite football clubs internationally including FC Barcelona, Paris-Saint Germain, Man City, Arsenal and Galatasary.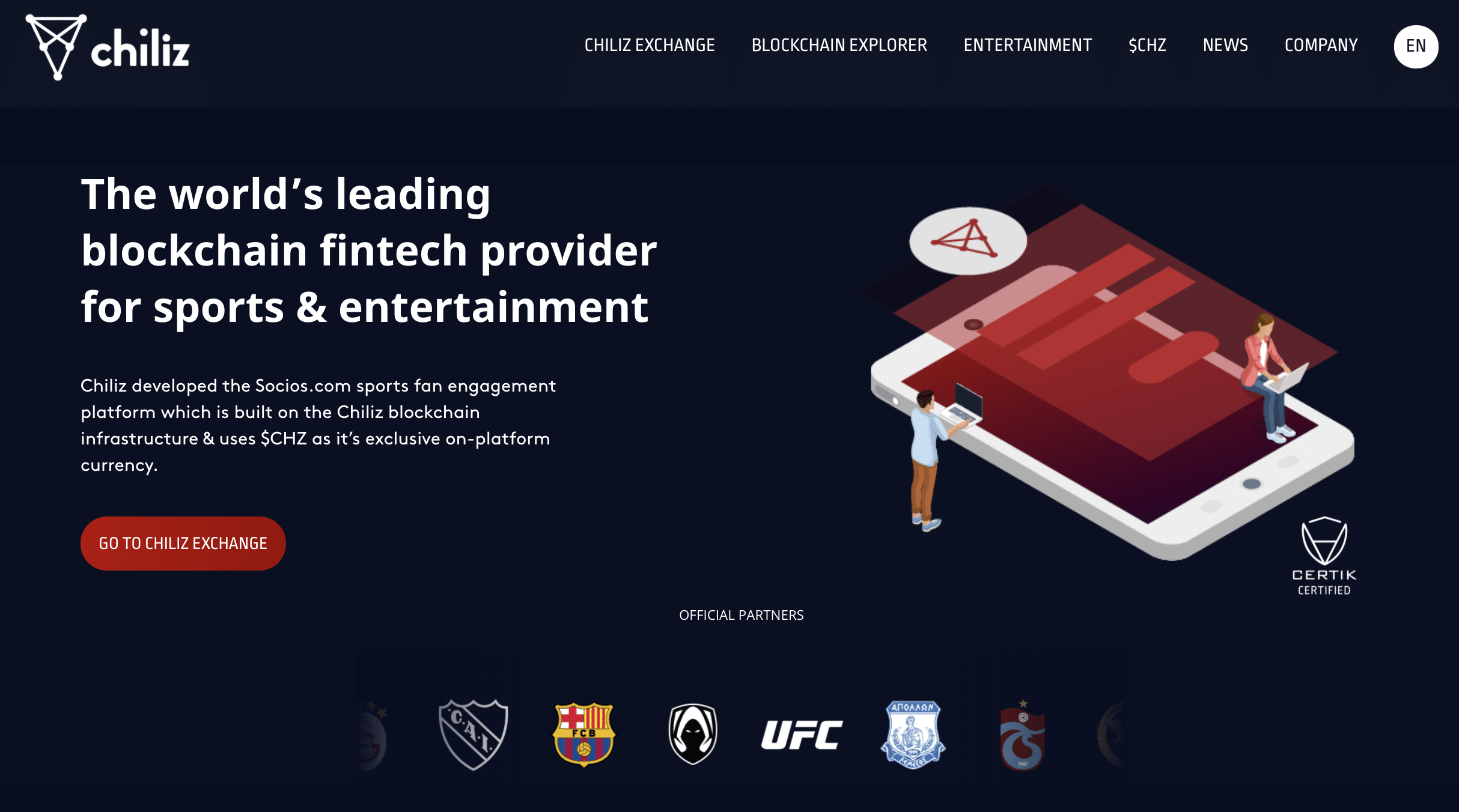 Should I buy Chiliz Coin?
Real-world Business Use
Through www.socios.com, Chiliz has signed up 1.2m users and minted 78m+ fan tokens. Remember that fans must first buy Chiliz to buy their own club's tokens, so the more popular a club's fan tokens, the more demand there will be for CHZ. This is a sound business model.
First-mover Advantage?
The sports world knows that it needs to get savvy with blockchain and that it can make money in doing so; Chiliz has positioned itself as the market-leading contractor to make that blockchain business work. 
The risk is that crypto tokenisation of sports is in its infancy. Chiliz is the pioneer. But it could go the way of social media platform MySpace, which was a first-mover eventually trashed by Facebook. With the price of CHZ over four times cheaper than its all-time-high, right now is a reasonable time to make a small high-risk/reward investment and hold.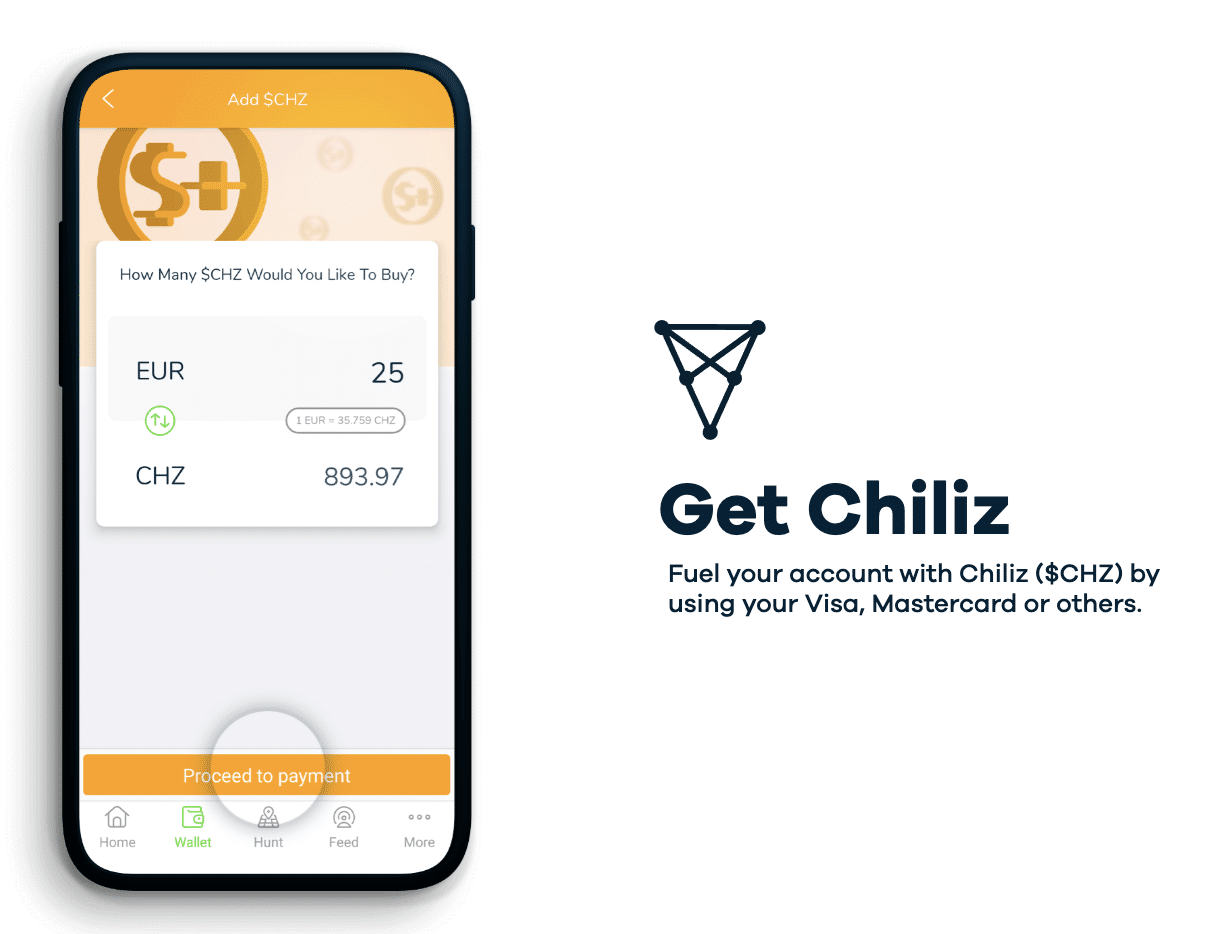 Concrete Chiliz business plans for 2022
Chiliz says that it is broadening their business model in 2022 with Chiliz Chain 2.0, which will allow other developers to mint fan tokens and NFTs using CHZ. The firm has also pledged to 'embrace Web 3.0 and the metaverse.'
Chiliz Price
The price of Chiliz (CHZ) today is $0.202. (That's just over 20c a coin).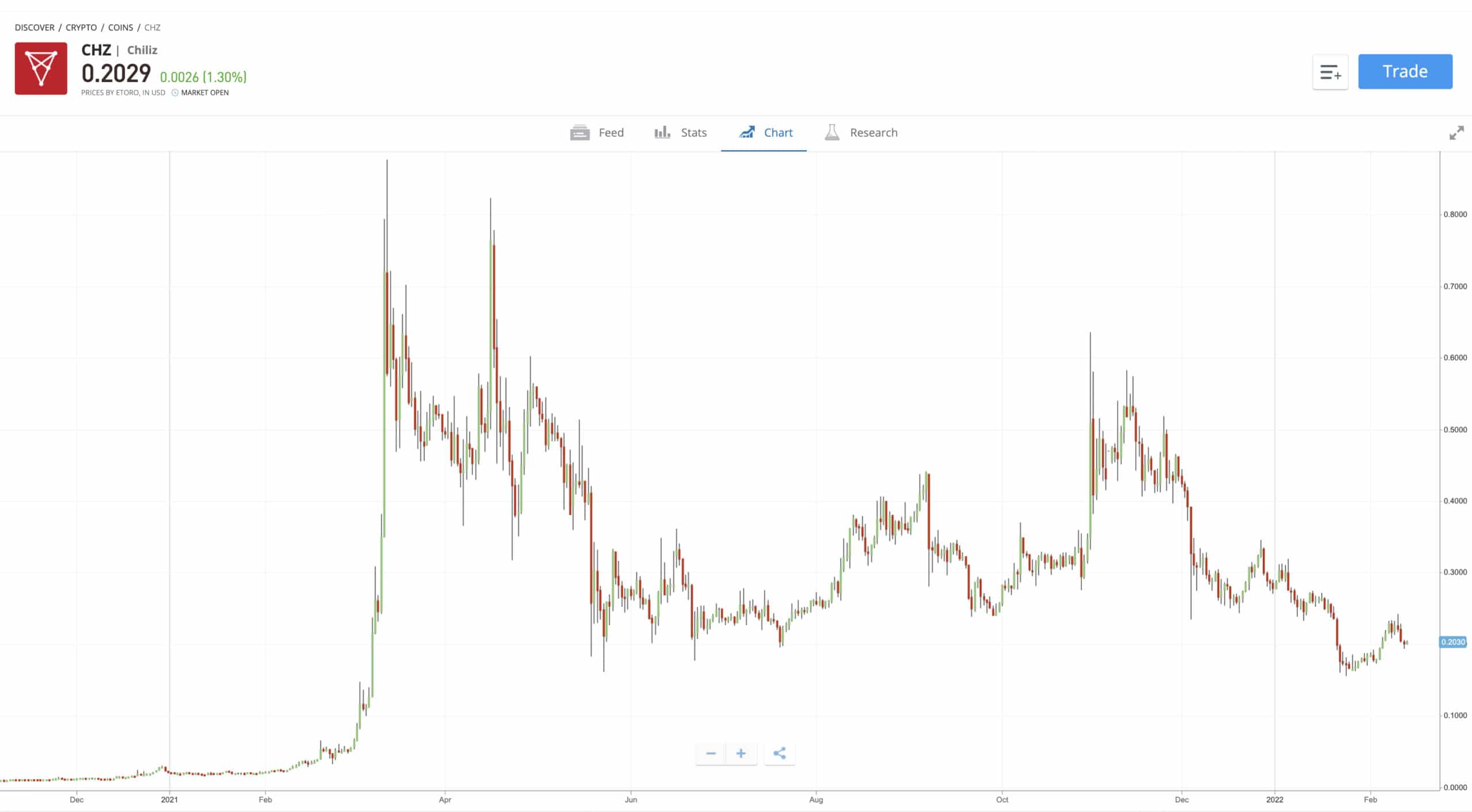 Past performance is not an indication of future results
As you can see from the graph above, Chiliz has followed the rest of the crypto sector in spiking in March last year. Chiliz hit an all-time-high of $0.89 on 13th March, 2021. 
The price of Chiliz picked up an upwards trajectory from June onwards and then spiked in October. Why? Because Chiliz announced on Twitter that it would be investing $60m in tokenisation projects.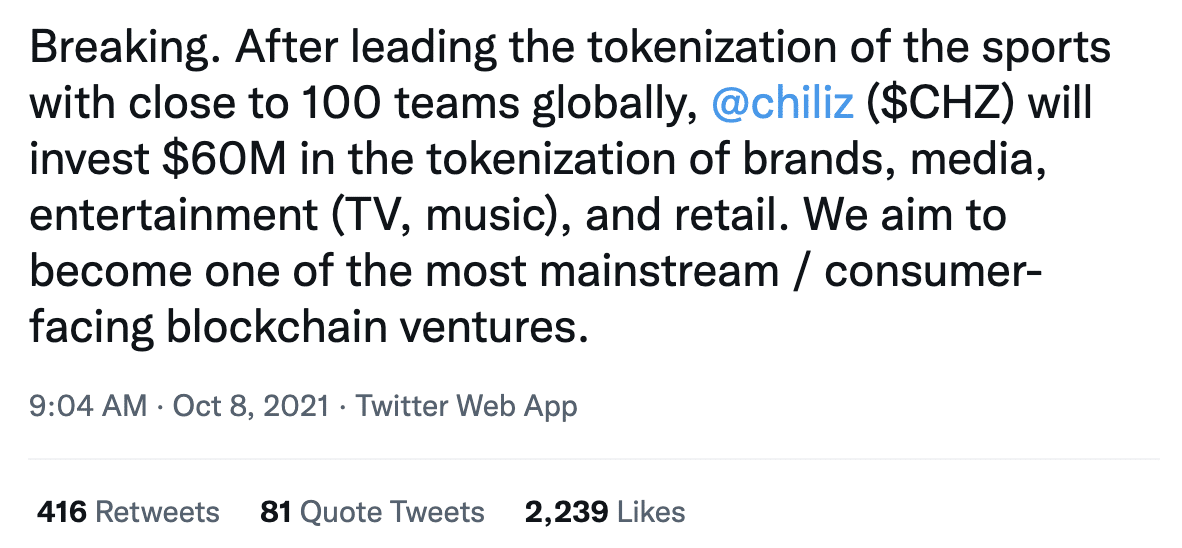 From November onwards, the price of CHZ followed the rest of the crypto sector downwards. But it has by no means collapsed. 
What is certainly true is that, at roughly $0.20 a coin at the time of writing, Chiliz has been over four times expensive in the past, and hasn't been this cheap since March 2021. 
Chiliz Price Prediction
We believe that the price prospects for Chiliz are good. That is because this crypto, unlike so many altcoins, is grounded in real business in the physical world. Chiliz has signed up over a hundred clients, and most of them are giant (and rich) sports clubs/associations in their own right. And the options for monetisation in sports is varied: football giant AC Milan announced in October 2021, for example, that it would be the first club to launch NFTs using Chiliz technology. 
One company using algorithms to forecast crypto prices (Wallet Investor) predicts that CHZ will be at $0.48 by 2023 and as much as $1.69 in five years time. Given that algorithms cannot predict accurately what price a crypto will be at tomorrow, let alone five years time, we prefer to stick to business fundamentals. And, unlike many altcoins, Chiliz is a real-world business with over 100 clients. Our recommendation: Buy. 
Best Chiliz Wallet
If you want to use your Chiliz to buy fan tokens for your favourite sports club, you will need a crypto wallet that allows you to store and send Chiliz coin.
With its regulation by the Gibraltar Financial Services Commission and crypto staking options, the eToro Money crypto wallet is one of the best wallets out there, but it currently only supports some major crypto: Bitcoin, Bitcoin Cash, Ethereum, Litecoin, Stellar and XRP. You can use a Coinbase wallet to store your CHZ or, better still for security, hold it in ByBit's in-house cold storage wallet.
Usually wallets do not charge for sending or receiving crypto. But, depending on the blockchain being used as a transaction route, what are called 'gas' fees will apply.
Conclusion
Above we have looked at where to buy Chiliz by reviewing three vendors. For more advanced traders, ByBit might be worth a look; but remember it is not regulated by the UK's FCA. Coinbase similarly is a crypto exchange with powerful options, but is not regulated in the UK.
What's more, eToro offers convenient deposit options for GBP, great beginner social trading tools and, best of all, tight spreads on crypto trades.
Cryptoassets are highly volatile and unregulated in the UK. No consumer protection. Tax on profits may apply.
Frequently Asked Questions on Chiliz Coin
How much will Chiliz be worth?
Is Chiliz a good investment?
How can I buy Chiliz in the UK?
What is the best site to buy Chiliz?