How to Invest in Shiba Inu Coin – Beginner's Guide
Fact Checked
Everything you read on our site is provided by expert writers who have many years of experience in the financial markets and have written for other top financial publications. Every piece of information here is fact-checked.
Disclosure
Please note that we are not authorised to provide any investment advice. The information on this page should be construed for information purposes only. We may earn commissions from the products mentioned on this site.
Want to Invest in Shiba Inu (SHIB)? The Shiba Inu crypto price has shown a staggering growth of 65,246,475% this year. It is an Ethereum-based ERC-20 token that allows users to stake and earn interest. Shiba Inu has managed to become one of the largest and most popular meme coins in just over a year after its first launch in August 2020.
In this guide, we show you everything you need to know about investing in Shiba Inu. We look at some of the reasons why you might want to consider investing in Shiba Inu as well as explain how staking on it works and how to make use of it. Additionally, we provide you with a tutorial showing how to invest in SHIB using trusted cryptocurrency exchanges.
Key Points on How to Invest in Shiba Inu
Memecoin– Shiba Inu is one of the largest and growing meme coins out there. It recorded an all-time high on 27th October, reaching a market cap of over $38 billion.
ShibaSwap— Shiba Inu has a decentralized exchange that is growing. It allows you to stake SHIB tokens as well as trade some other cryptocurrencies.
A large community of followers – Shiba Inu has one of the largest communities of followers amongst other cryptocurrencies. It has a staggering number of 2.2 million followers only on Twitter.
Traded on trusted Exchanges— Shiba Inu is available on eToro, an FCA regulated broker with low fees and excellent trading tools.
How to Invest in Shiba Inu – Quick Steps
We walk you through how to invest in Shiba Inu coin in more detail further down this guide, but if you're in a rush, here's a quick breakdown.
Step 1: Open an account with eToro – eToro is our recommended UK crypto broker due to its low fees and innovative copy trading tools. Simply provide your name, email and a password to get started.
Step 2: Deposit – Once you've signed up you can deposit funds – eToro accepts a range of methods include debit and credit cards, PayPal and Skrill.
Step 3: Search for Shiba Inu – You can easily find the Shiba Inu trading option by searching for the asset in the eToro search bar.
Step 4: Invest – Now all that's left to do is specify how many Shiba Inu coins you want to buy and complete your investment – simple!
What is Shiba Inu (SHIB)?
Shiba Inu is a new meme coin that has taken the crypto market by storm with its staggering growth. The best way to think of meme coins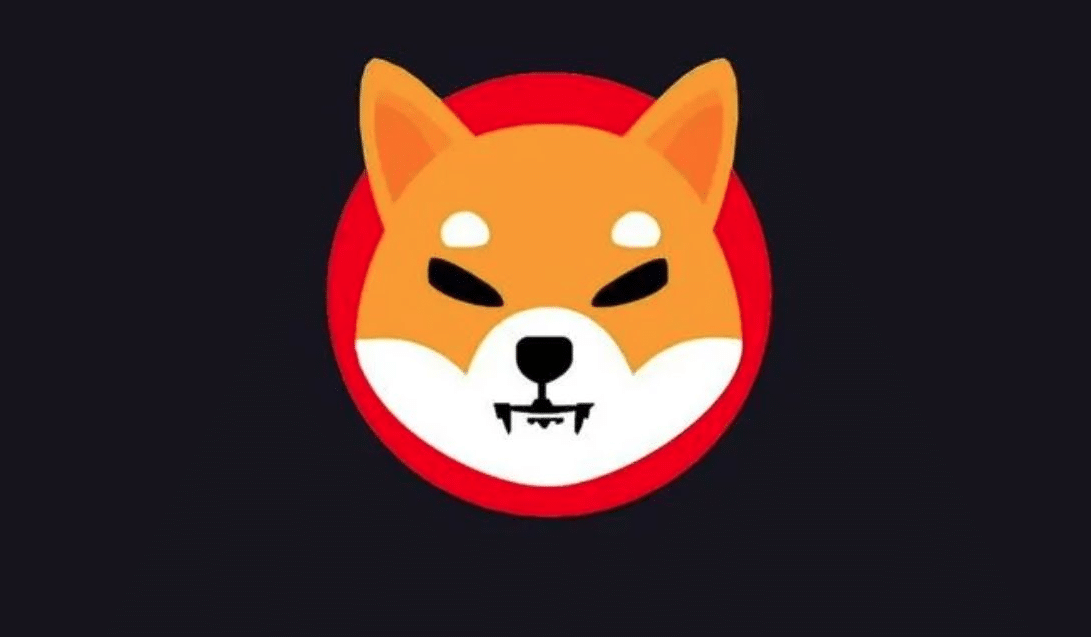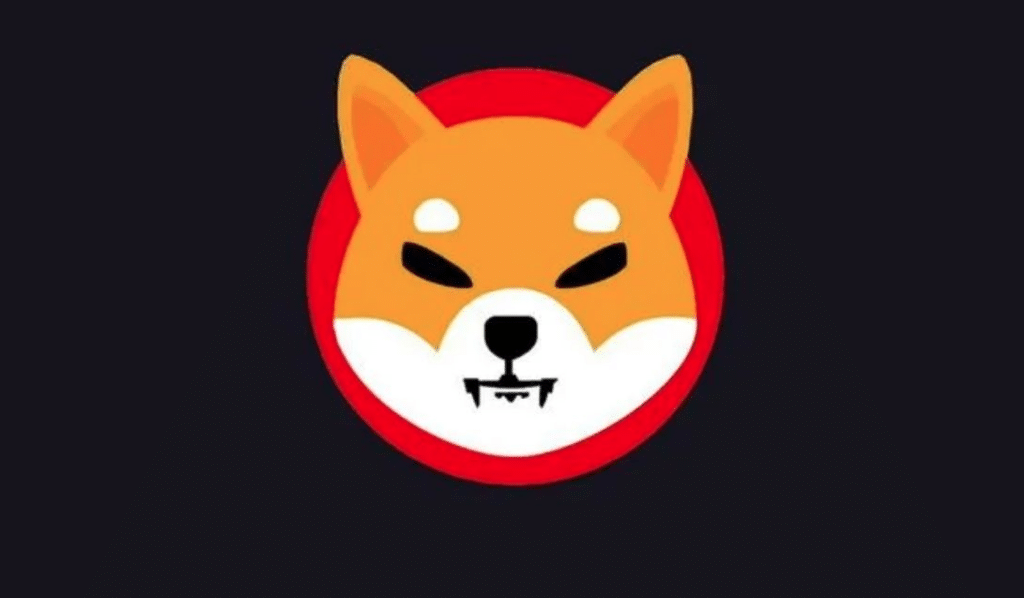 is as internet memes that are turned into cryptocurrencies. Those meme coins are often inspired by jokes or funny that are shared across social media platforms like Facebook, Twitter, Instagram, and others. Shiba Inu is built on the Ethereum blockchain rather than its own blockchain.
The cryptocurrency has a built-in protocol that allows for a transaction fee, which pays miners in SHIB for their work. The more transactions made on the blockchain, the more coins are distributed to miners. SHIB coins can be mined by anyone with an Ethereum wallet, though it's worth noting that there are not many mining pools available out there.
Shiba Inu's ecosystem is made up of a wallet that can be downloaded and synced with a desktop or mobile device. It is a decentralized open-source cryptocurrency. The team has recently developed a DEX called ShibaSwap which enables users to stake their Shiba tokens and earn interest.
The coin was created as a response to the confusion and annoyance felt by Shiba Inu enthusiasts who follow Dogecoin. Both of them are inspired by Shiba Inu which is a Japanese breed of hunting dog that has been an internet meme since 2010. Shiba Inu's creators are hoping that with its unique features it will differentiate itself from dog-themed coins.
Shiba Inu has managed for the first time to flip Dogecoin's market cap on October 27th during its insane rise. However, Dogecoin has reclaimed the spot as the most valuable meme coin.
Why Invest in Shiba Inu?
Investing in cryptocurrencies often involves risk due to the market's massive volatility and lack of regulation. Investing in the space of meme coins involves additional risks as their value is mainly driven by the market hype that is often generated through various social media channels and is highly correlated with the number of enthusiasts that hold the coin.
However, that is not the case with each and every meme coin and certainly not with Shiba Inu. In this guide, we provide you with 5 reasons why you should consider investing in Shiba Inu (SHIB).
ShibaSwap
Shiba Inu developers are taking the Shiba Inu ecosystem on another level by introducing the ShibaSwap. ShibaSwap serves as a decentralized exchange where you can store and exchange your funds. A decentralized exchange allows peer-to-peer exchanges and transactions without relying on an intermediary body.
The app also allows Shiba Inu holders to stake their tokens and generate yield— like an interest paid on a savings account you have at your bank. Shibaswap also enables its users to track their returns on what they call a "bonefolio" as well as trade over 10,000 unique dog-themed nonfungible tokens that are of different traits and rarities.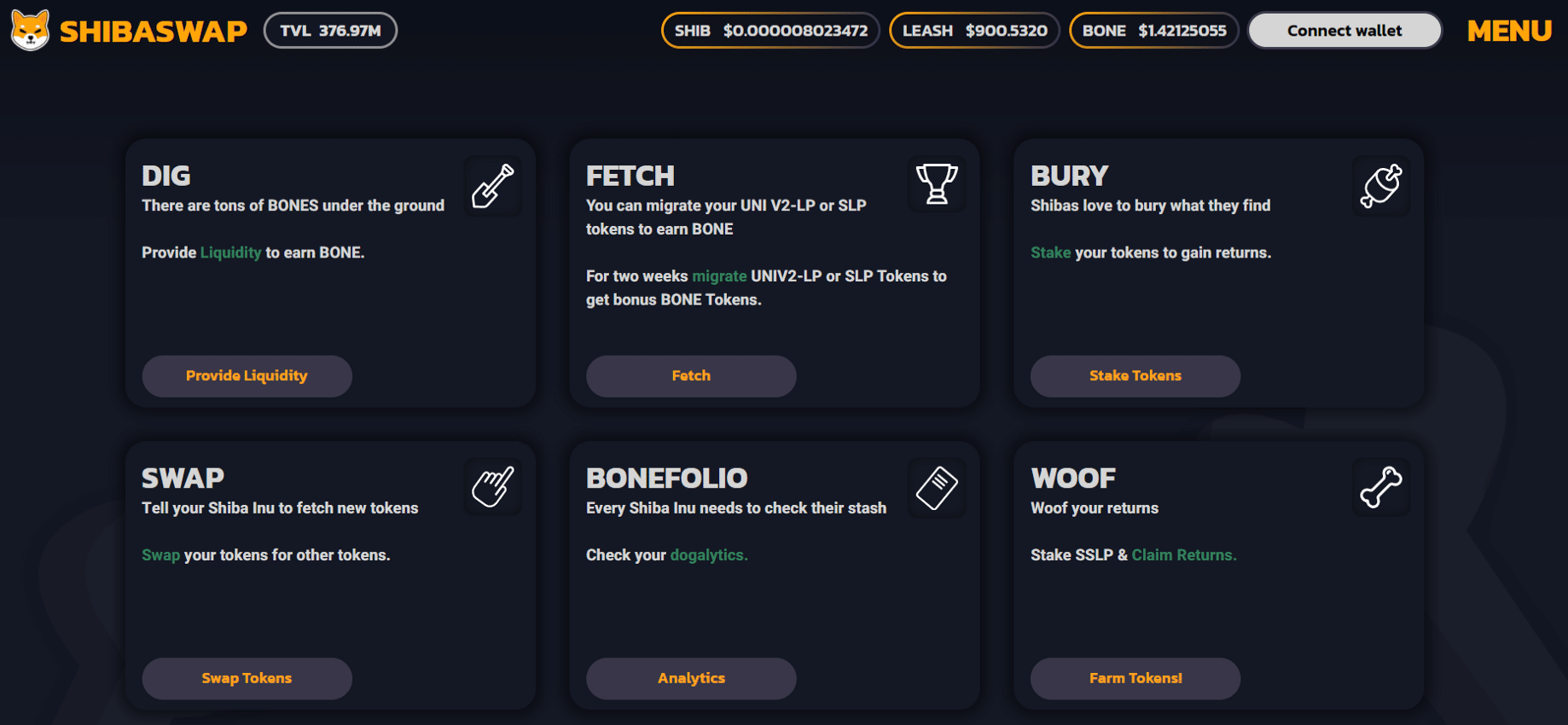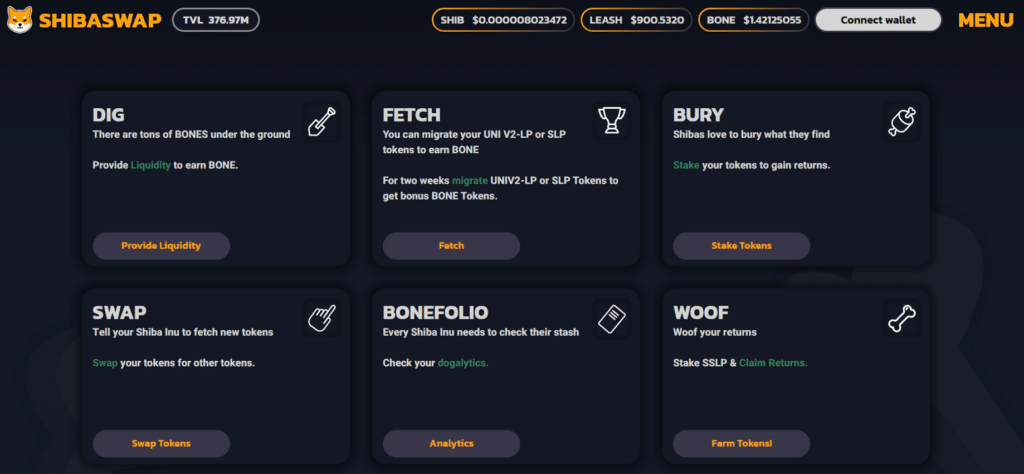 Many crypto enthusiasts and investors consider ShibaSwap to be a huge value added to the Shiba Inu ecosystem and will help grow its brand and community. This would significantly help appreciate the value of the cryptocurrency long-term wise. Additionally, the number of people performing transactions via ShibaSwap has been growing. If the number of people using this decentralized exchange stays on an upward trend, you can rest assured that Shiba Inu is going to keep increasing in value.
Valuable meme crypto brand
The meme coin market was valued at only a couple of million in January 2018, but it has seen billions and billions of dollars poured into it during the last year. One of the main reasons for that is their ability to go viral quickly and effortlessly. This means that investing in meme coins can provide you with a high ROI if choosing the right one.
There are over 13,000 cryptocurrencies in the world and many new ones are popping up every day. Very few of these offer valuable differentiated technologies from Bitcoin, Ethereum, or any other of the top cryptocurrencies. This provides an opportunity for meme coins to stand out in the crowd through branding and community building. Before putting your money in any of them you would want to check how valuable their brand is.
Fortunately, Shiba Inu's brand is one of the most valuable ones. Throughout its spectacular run, Shiba Inu has been trending across all social media with millions of supporters promoting it and has seen its brand spreading like wildfire. It has over 2,2 million followers on Twitter more than most of the meme coins combined. The strength of its brand it's something that you would want to capitalize on!!
Low price
One of the major advantages of investing in SHIB is that it is very cost-effective. You can invest as little as $5 or more than $100 with just a few clicks on the web with no additional charges. Many cryptocurrency exchanges have no commissions, so you don't have to worry about any hidden fees.
Besides, based on short-run Shiba Inu coin price prediction, an upward move is anticipated by many traders. Many of them argue that Shiba Inu has completed its Fibonacci retracement after having dropped 60% from its all-time high.
It is currently trading in a range between 0.000035-0.000040. Should the 0.000040 resistance level be broken, Shiba Inu will have another trip to the moon. This means that this is a good timing to invest in SHIB.
Potential Robinhood listing
Robinhood is a trading app that allows users to trade stocks, ETFs, options, and cryptocurrencies like Bitcoin and Ethereum without commission. The app's popularity exploded after the company announced its plan to offer free crypto trading in February 2018. As the app has many investors and it opens the opportunity for a huge volume of transactions for any asset, Shiba Inu's listing on this platform is considered to be a game-changer for the dog-themed coin.
Shiba Inu's passionate community of online supporters have been pressuring Robinhood to include Shiba Inu in its shortlist of tradeable cryptocurrencies. Its community has made a change.org petition to Robinhood and it has gained more than 400,000 signatures. This has pushed the chances of Shiba Inu being listed on Robinhood which is also one of the reasons why the coin has seen its price surge recently.
Robinhood hasn't still made an official announcement related to Shiba Inu, but it did report $30 million in revenue from Dogecoin trading in its first quarter of this year. As Shiba Inu's popularity grows, the financial incentive Robinhood has for listing the coin may prove to be too much to resist.
SHIB is built on Ethereum
Someone may ask why investors would want to choose Shiba Inu over another dog-themed token like Dogecoin— which in fact is what gave rise to this meme token in the first place. Although it may be true to a certain extent, these tokens are not identical. The SHIB token is an ERC-20 token, which means it is compatible with the Ethereum network.
This compatibility allows for transparent and open ledgers of transactions on the blockchain, while also allowing for scalability to handle more transactions per second than any other blockchain. This functionality provides those on the Shiba Inu ecosystem with a greater range of utility and real-world applications. Additionally, Ethereum has already had multiple big-name companies adapt their blockchain technology into their systems.
This includes giants like JPMorgan Chase, Microsoft, and Intel. There is a huge demand for new, scalable blockchains in the market right now due to Ethereum's popularity. This will continue to drive up SHIB's value as more people adopt it and as Shiba Inu provides more utility-based protocols.
Shiba Inu Crypto Price
Like very few other coins, Shiba Inu (SHIB) saw its price surge more than 300% in just the same month, marking a trading fury similar to that of Dogecoin in early 2021. This was also the reason why SHIB coin was ranked one of the biggest cryptocurrencies in the world in terms of its trading volume in October 2021, having had its trading volume almost as high as that of ETH
One of the reasons why the meme-based token grabbed mainstream attention in 2021 was due to its low barrier of entry, even after its price skyrocketed, Shiba Inu Crypto Price was one of the cheapest available in the market.
It reached its all-time high price at 0,00008845 according to CoinMarketCap and currently trades at 0,00003638— at the time of writing this article. It currently ranks as the 13th by market cap just slightly after DogeCoin.
After 15 months of its debut, Shiba Inu has gained more than 14,000,000%. Had you invested a hundred dollars at the time of its debut, it would be worth more than 14 million dollars to date.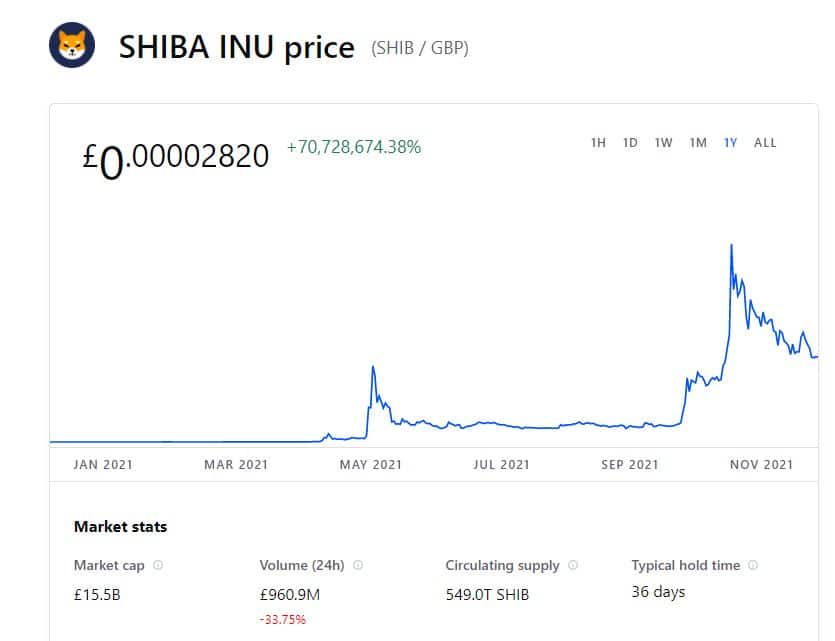 Shiba Inu Price Prediction
The question of whether Shiba Inu will keep its momentum and grow even more soon is a difficult one. On one hand, the coin has managed to establish a recognizable brand name with a growing user base. This is especially true in Japan, where Shiba Inu faces little competition from other coins.
Moreover, it has been successfully marketed as a "fun" investment which is always an attractive option for young investors who are still building up their investment portfolios.Shiba Inu coin has been growing at an explosive pace over the last few months and this could lead to a high risk of volatility in the future. Additionally, there is no clear indication that Memecoin Shiba Inu will be able to attract new market segments over time – as it relies on the same niche group of fans who have kept its trading volume so far high enough to be ranked as top 20 on Coinmarketcap's list of top cryptocurrencies.
Shiba Inu price prediction models predict that SHIB should be able to maintain its position in the top 25 cryptocurrencies by 2022. It is also predicted that SHIB will continue to rise in popularity, especially with regards to online content sharing platforms like Reddit and Discord. However, many investors are bearish short time-wise after it has reached an all-time high. After all, investors want to take home some profits.
Shiba Inu's long-term success cannot be predicted with certainty based on current data. Nevertheless, I have my bets on this meme-based coin becoming increasingly popular with younger generations – especially those who grew up with social media and digital media all around them. This market segment will significantly add value to Shiba Inu's community and therefore helps come up with a more optimistic Shiba Inu price prediction.
Staking Shiba Inu
Shiba Inu ecosystem is built on the Ethereum network which is upgrading to operate as a proof-of-stake model. This allows Shiba Inu investors to stake SHIB tokens via a staking pool on a crypto exchange or by simply staking them in a supported wallet. Those participating in staking then help in ensuring the security and governance of the Shiba Inu ecosystem.
As a result, they receive newly mined tokens as a reward for validating and verifying SHIB transactions. There are two ways to participate in staking with Shiba Inu: through an approved cryptocurrency exchange or within your Shiba Inu wallet with your computer operating as an individual node that validates transactions. The process for staking SHIB tokens is very simple and quite beneficial.
One way to take part in staking is via supported wallets, but there are limitations. As not all wallets are compatible with staking, you can only stake if you have certain types of wallets set up for your SHIB tokens.
To stake SHIB in exchange, investors can simply deposit them to a Shiba Inu-supporting exchange, where they will automatically start staking. They will then begin receiving newly mined tokens as a reward for validating and verifying transactions on the Shiba Inu ecosystem.
Staking cryptocurrencies, in general, is highly beneficial. eToro provides a highly secure way of staking your tokens as well as making sure that staking rewards are distributed on a monthly basis. Most importantly, eToro can be trusted in ensuring that the tokens remain the property of eToro traders. In this case you!
How to Invest in Shiba Inu – Tutorial
There are several ways you can make a Shiba Inu investment. We recommend that you use a trusted and regulated cryptocurrency exchange. In this section of our guide, we'll walk you through choosing a broker and opening an account so you can trade this popular cryptocurrency.
1. Choose a Crypto Broker
eToro – Best Crypto Broker to Invest in Shiba Inu with Low Fees
eToro is our number one platform for investing in SHIB in the UK. For starters, unlike many other cryptocurrency trading platforms, it's regulated by the FCA, meaning it's extremely secure and you're assets are all completely protected.
This broker is one of few that allows you to directly buy and sell cryptocurrencies without having to go through an exchange. As well as SHIB, eToro allows you to invest in a wide range of other cryptocurrencies, from Bitcoin and Ethereum investment to Dogecoin and Polkadot. It also has its own crypto wallet for safely storing you assets.

One of the main reasons eToro is so famous is due to its innovative copy trading tool, that automatically lets you copy the portfolios of top traders! This means you can easily copy the top performing investors of Shiba Inu coin and a variety of other cryptocurrencies. There's even a $100,000 paper trading demo account, so you can try out the copy trading tools completely free
Another area where eToro excels is in terms of fees. Its charges for investing in Shiba Inu and other cryptocurrencies are very low, and you only have to pay a small $5 withdrawal charge when you want to withdraw your money.
Pros
Low fees for buying cryptocurrencies

Offers a wide range of crypto coins

Fully regulated by the FCA

Innovative social and copy trading tools

Great mobile trading app

User-friendly interface
Cons
There is a small $5 withdrawal fee
Don't invest in crypto assets unless you're prepared to lose all the money you invest.
2. Sign Up
The first thing you should do when you land on eToro's website is signed up for an account so that you can begin investing in Shiba Inu. The process is fairly simple – To begin, click on the 'Join Now' button on eToro's homepage and submit your personal information.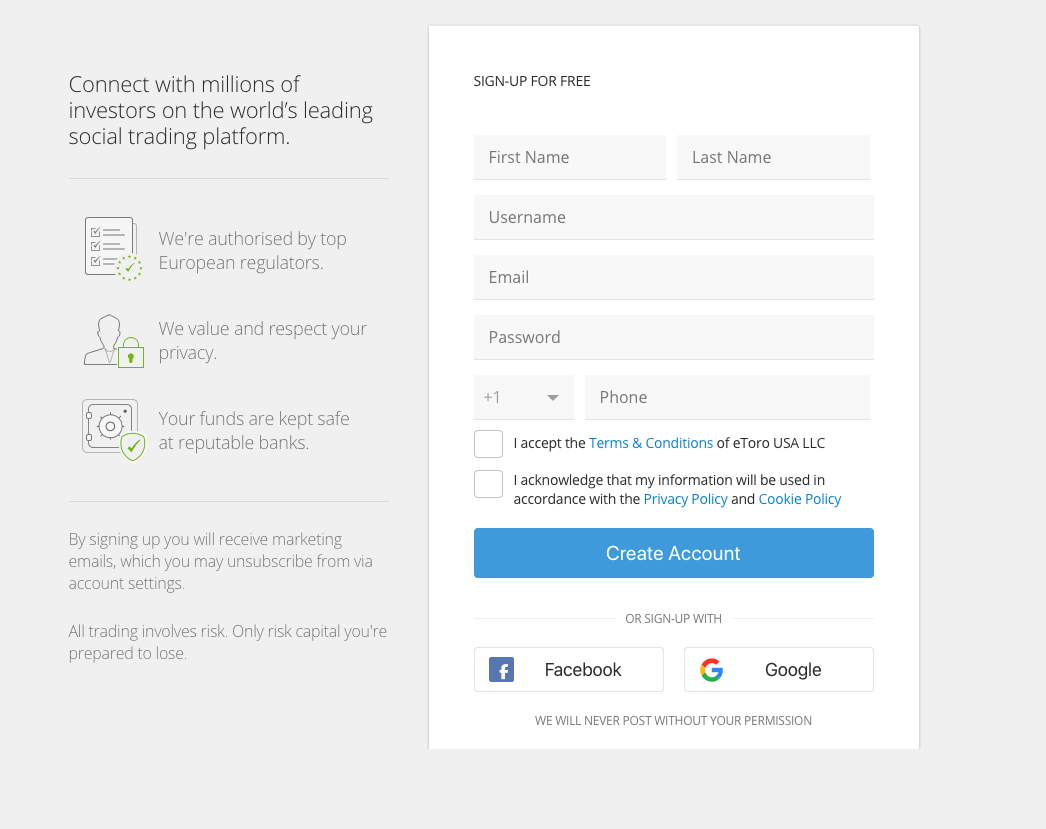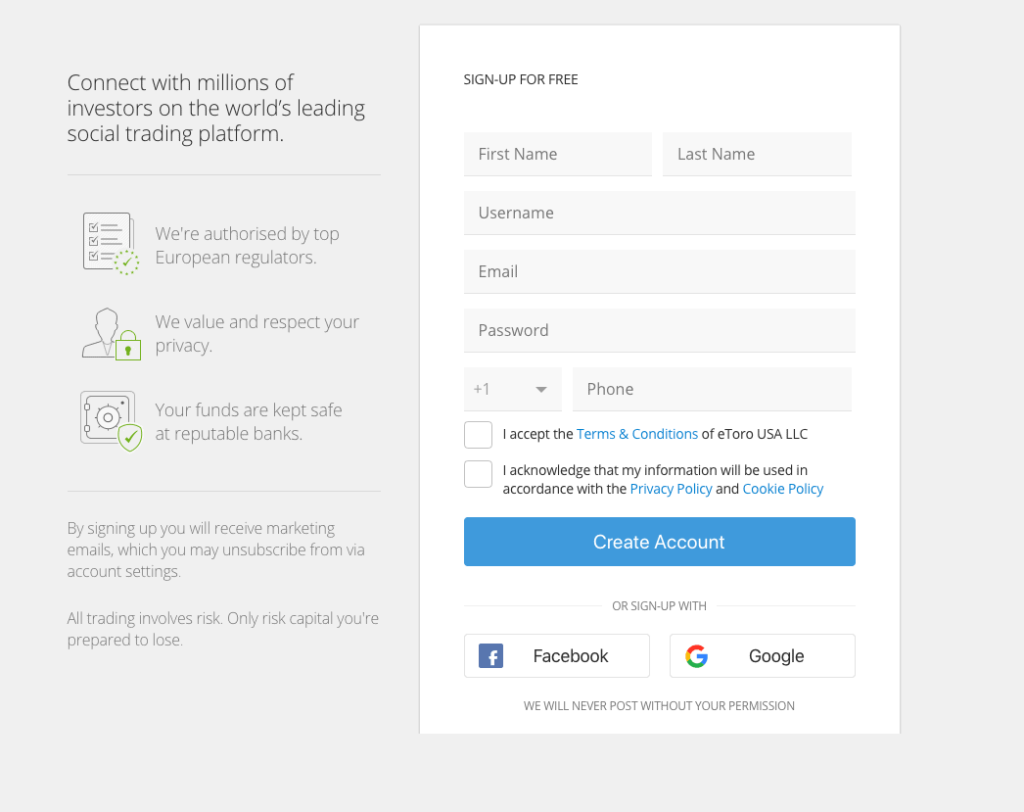 3. Deposit
You can begin depositing your funds into the eToro crypto trading platform as soon as your profile gets verified and approved. You can deposit your fund by using a credit or debit card, PayPal, bank wire transfer, Neteller, and Skrill.
4. Search for Shiba Inu
After getting your funds into your account you can search for Shiba Inu in the search bar at the top of the dashboard and click on the 'Trade' button. As Shiba Inu is offered as a crypto asset you can find it labelled as Shiba (in millions).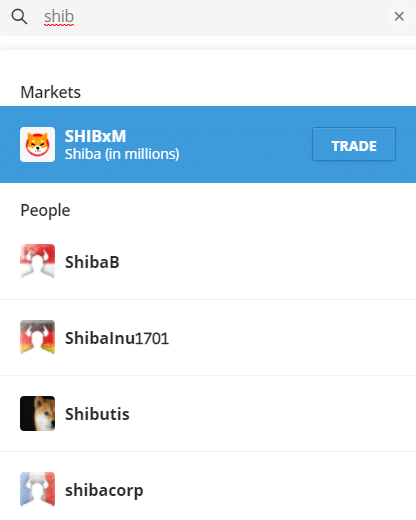 5. Invest
At this point, you'll see an order box. This is where you need to enter the amount of your trade and the order type. You'll be able to choose a market order that gives an instant execution or choose a limit order that enables you to set the price at which you want to get the execution.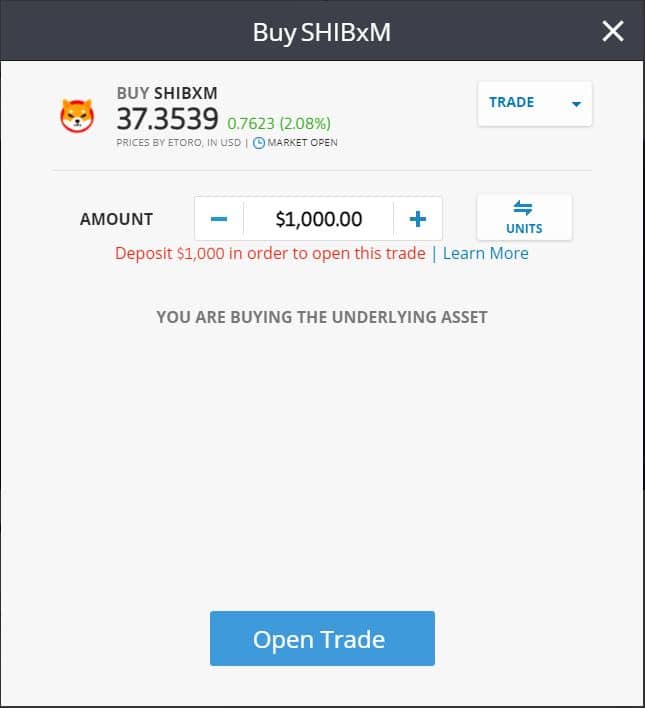 Conclusion
Shiba Inu is one of the most discussed altcoins in the market. Shiba Inu's price has skyrocketed this year making it one of the top 20 largest cryptocurrencies by market cap. There are some risks involved with it being a meme-based cryptocurrency, but recent development such as ShibaSwap have added a lot of value to the coin.
In our view, the best way to buy Shiba Inu is by using eToro. eToro provides all the necessary tools someone new to investing needs. You also can make use of its CopyTrader feature to make money copying other successful traders while paying little to no fees. As one of the best FCA brokers out there, eToro is an ideal choice for beginners looking for a secure and user-friendly trading platform to gain exposure to the crypto markets.
Don't invest in crypto assets unless you're prepared to lose all the money you invest.
Frequently Asked Questions on Investing in Shiba Inu
Should I Invest in Shiba Inu?
Where can I buy Shiba Inu coin?
Will Shiba Inu coin reach $1 in 2021?
How do I get a Shiba Inu coin?
Where can I buy SHIB/USD?