Augur is a prediction market protocol built on the blockchain. The market creates universal and transparent access to its markets. In this guide, we'll explain what augur really is and how to buy augur coin.
How to Buy Augur Coin – Quick Guide to Buying Augur 2021
Want to buy Augur Coin right away? Our top recommended cryptocurrency exchange is eToro, here's how to get started quickly:
1. Open an Account with eToro – Head to the eToro website and click 'Join Now,' then sign up using your email address.
2. Upload ID – Upload a copy of your driver's license or passport and proof of identity.
3. Deposit – Deposit a minimum of £200 using a credit card, debit card, bank transfer, PayPal, Neteller, or any payment option of choice.
4. Buy Augur Coin – Search for 'augur' and click 'Trade.' Enter the amount of augur coin you want to buy and click 'Open Trade.'
How to Buy Augur Coin – eToro Tutorial
Want to buy Augur coin but don't know where to begin? We'll guide you through how it's done in this simple step by step below:
Step 1: Open an Account with eToro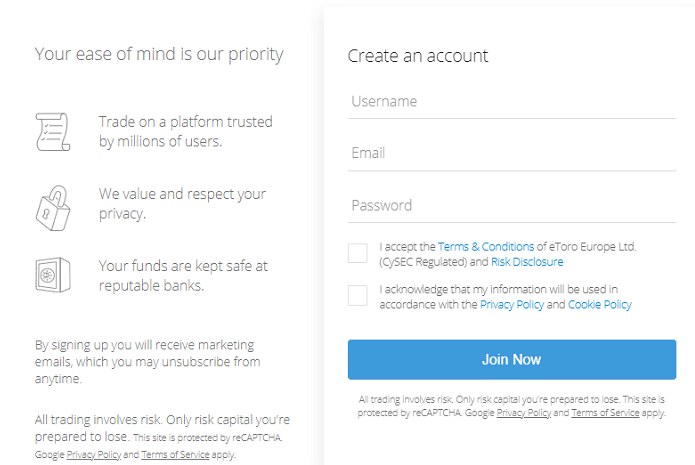 This is the first step in buying augur crypto. Head over to eToro's website to register an account. It should only take ten seconds. You'll need to enter your email and create a password. You can also sign up for a new account using your Google or Facebook profiles.
Step 2: Verify your ID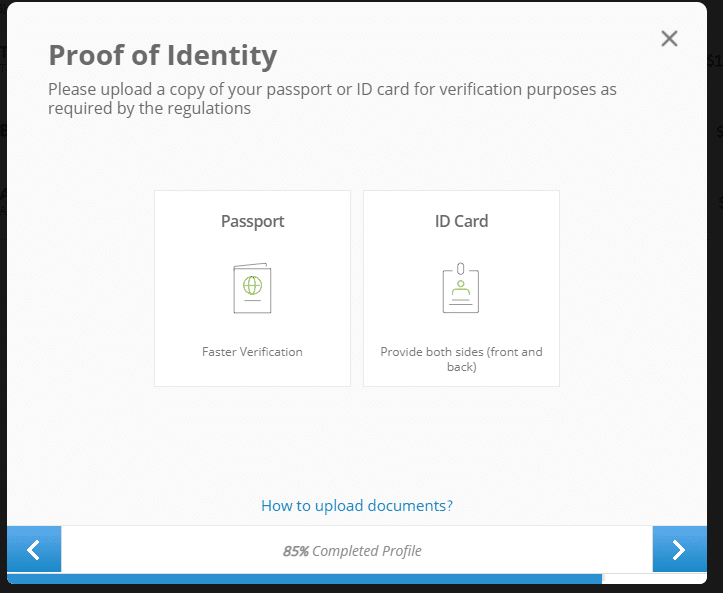 The next thing is to verify your account. This is because the eToro platform is regulated and licensed by government agencies like the Financial Conduct Authority (FCA) UK. As part of its know-your-customer (KYC) protocol, you will be asked to upload a copy of your official passport or your driver's license.
Another document that could come in handy is a copy of the proof of your residential address. This can easily be picked from a recent copy of your financial statement or utility bill. Once you upload the required documents, eToro will verify your account within minutes so you can trade Augur coin.
Step 3: Deposit Funds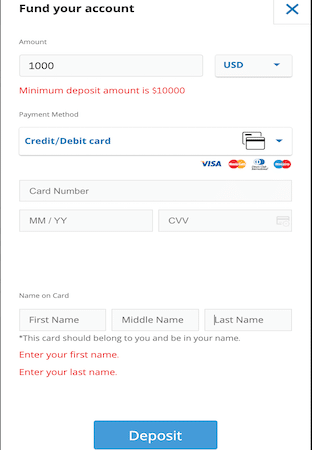 Once ID verification is completed and checks out, the next step is to deposit funds. eToro requires a minimum deposit of £200 before you can start trading. Depositing funds on eToro can be done using the following payment channels:
Bank wire transfer
PayPal
Skrill
Visa
MasterCard
Maestro
Neteller
Step 4: Buy Augur Coin
Once your account is funded, you're ready to start trading augur crypto. To do this, search for 'Augur' in the eToro dashboard and click 'Trade' to open a new order form. Then enter the amount you want to invest in Augur, and click 'Open Trade' to buy the coin.
Where to Buy Augur Coin
So we've covered the steps on how to buy augur crypto, now; let's explore some of the best cryptocurrency platforms where you can buy augur online.
1. eToro – Best Overall Platform To Buy Augur Crypto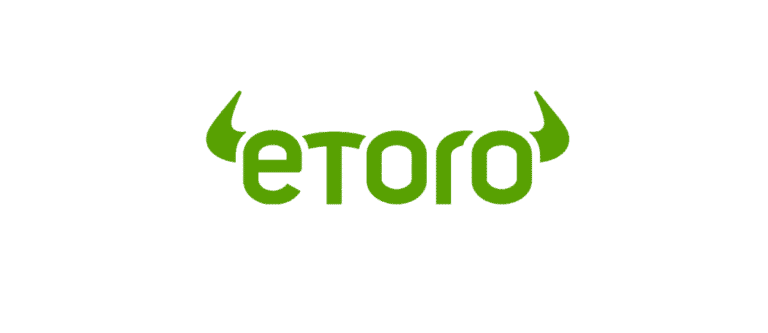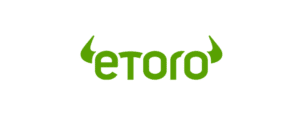 If you're looking for a trusted crypto broker to trade augur crypto and buy Bitcoin and other cryptocurrencies, eToro should be your first choice.
eToro is our number pick, given the relative ease of using the platform. The online brokerage firm is also regulated by several reputable authorities like the UK's Financial Conduct Authority (FCA), the Cyprus Securities and Exchange Commission (CySEC), the Australian Securities and Investments Commission (ASIC), and U.S Financial Crimes Enforcement Network (FinCEN).

When it comes to trading cryptocurrencies like augur crypto, eToro is quite affordable. The platform offers zero-commission trades for traditional investments like stocks, bonds, indices, forex, commodities, exchange-traded funds (ETFs), and, best of all, cryptocurrencies. It is home to over 20 million active traders who use its CopyTrade capabilities to mirror the trading movements of more experienced investors.
This functionality is why the broker is called the social network for traders. It allows online traders to share ideas and connect as they would on a social network like Twitter or Facebook. Traders on eToro can also trade over 3000 stocks from 17 international markets. Also, it runs an in-house managed basket of investment through its CopyPortfolio functionality. This allows investors to invest across a sector and region, enabling them to diversify their portfolios properly.
To start trading on the eToro platform takes about two minutes, and you can do this by creating a free account and follow the on-screen instructions. To deposit is even easier as eToro makes it possible to deposit across a variety of payment channels. Topping the list is bank wire transfer, credit/debit card, e-Wallet providers like PayPal, Skrill, and Neteller. Visa and MasterCard are also supported on the eToro platform.
Pros
Invest in Augur crypto with zero commission
You can trade upwards of 17 crypto assets
Beginner-friendly as you can learn from experienced Augur investors through Copy Trading
Heavily regulated by FCA, ASIC, CySEC, and FinCEN
Has a dynamic trading environment
Grants access to over 3,000 stocks, indices, and ETFs
Uses an in-house managed investment basket for investment diversification
Accepts major payment channels
Cons
Charges $5 for withdrawals
The platform is only denominated in US dollars
Cryptoassets are highly volatile and unregulated in the UK. No consumer protection. Tax on profits may apply.
2. Binance – World's Largest Crypto Exchange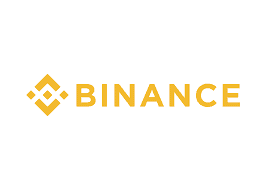 Binance holds the record as the world's largest crypto exchange due to the large trading volume it boasts of. This is due to the number of crypto assets traders can stake on in the Binance platform. The Bitcoin exchange is also hugely popular due to its low trading fees of just 0.1%, making it one of the best platforms for you to monitor Augur's price action. It is also user-friendly, making it easy for you to place your order within seconds.
Binance offers a comprehensive view of the crypto asset you want to trade as you can view trading charts of Binance, Trading View, and look at the trade depth to understand better how it may play out. It also offers crypto swaps, allows you to earn from your crypto holdings, and offers synthesized versions of publicly traded stocks like $TSLA and $COIN.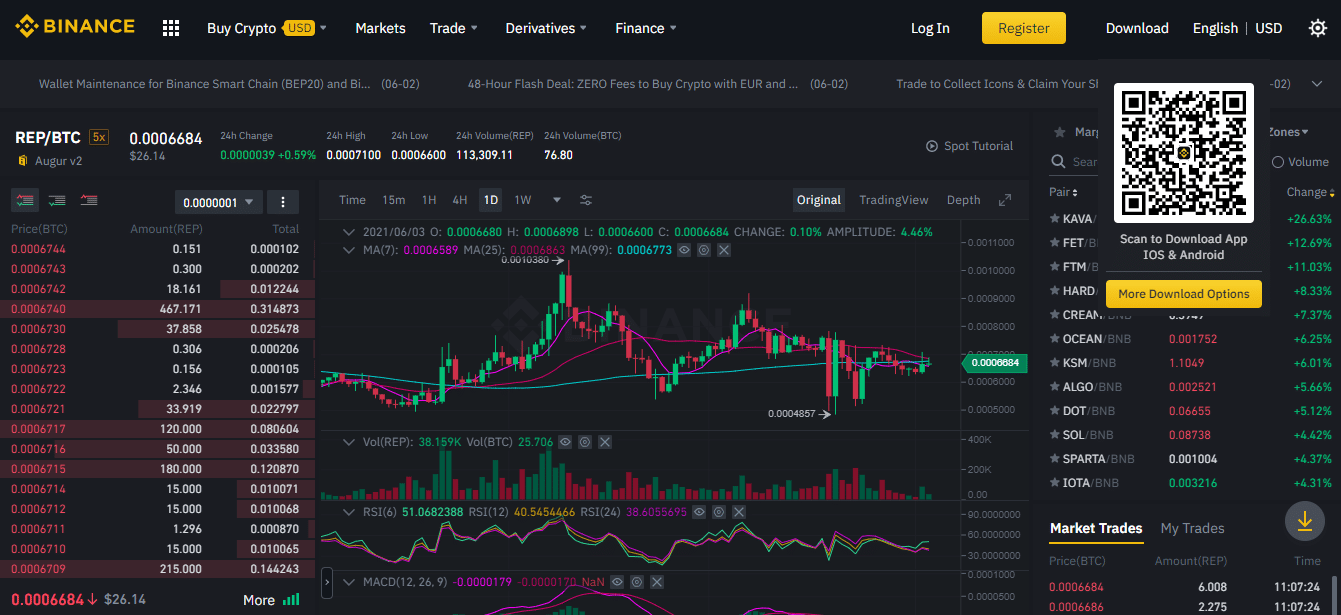 If you are wondering how to trade on the Binance platform, it is very easy to do. All you need to do is create an account and verify your account with a recognized ID. You will also need to take a face recognition test, and this can be frustrating sometimes. Binance lets you deposit through bank wire transfer, peer-to-peer (P2P), debit/credit cards, and through e-Wallet providers like PayPal. Once you have made your deposit, you can buy and trade Augur crypto easily.
Pros
Hundreds of crypto assets are supported
Trading fees of just 0.1%
Largest crypto exchange by trading volume
Offers earnings scheme for crypto savings
Supports most payment methods
Offers synthesized stocks for crypto trades.
Cons
Bank deposits are slow
Not regulated
Not ideal for crypto newbies
Face recognition can be frustrating
Your capital is at risk.
3. Capital.com — Broker for Augur Crypto Trading with Low Spreads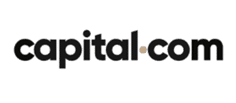 Capital.com is a global contract for difference (CFD) and foreign exchange (forex) broker that lets users access the financial markets. It is a regulated entity and has licenses from reputable agencies like the FCA, CySEC, and the National Bank of Belarus (NBRB).
Capital.com is home to over 2 million active traders who can invest in different investment vehicles like stocks, bonds, indices, ETFs, commodities, forex, and cryptocurrencies.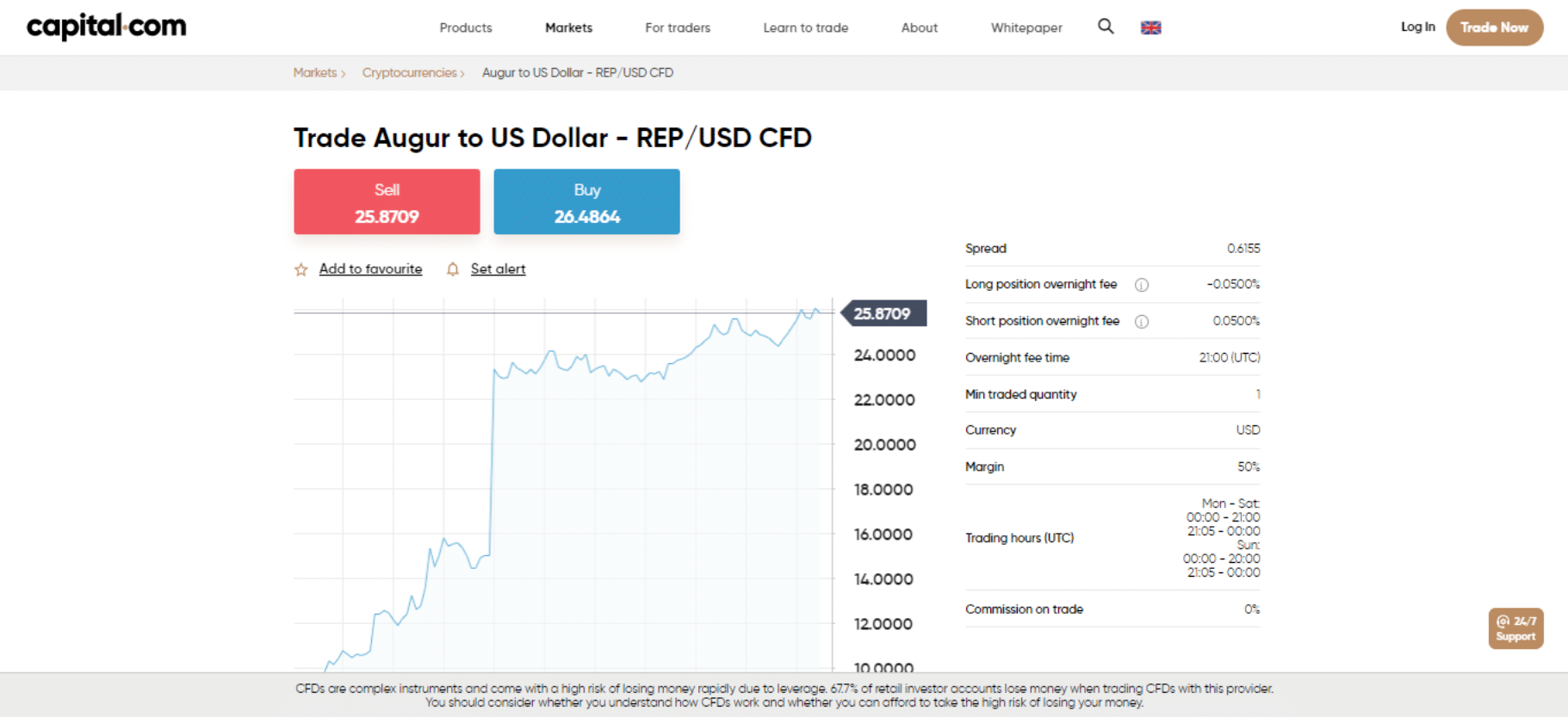 It offers a stand-alone educational platform for new investors called Investmate, where newbies can learn about the financial markets and how they can trade on the Capital.com platform. It also has an institutional division through its Prime Capital arm, where large-cap investors can trade across five different sectors. The CFD broker operates a zero-commission platform and only charges traders for the spreads of their investment. Even though it uses a zero deposit fee structure, Capital.com charges for overnight trades based on the leverage provided; it allows you to gain exposure to any of your preferred financial investments with just a $20 deposit.
Pros
Trader-friendly
Heavily regulated by the FCA, CySEC
Large repository of financial offerings
Invest in Augur with zero commission
Minimum deposit of $20
Zero deposit fees
Cons
Traders are charged overnight fees
Trade Augur as a CFD only
Has small crypto offerings
75.26% of retail investor accounts lose money when spread betting and/or trading CFDs with this provider.
What is Augur?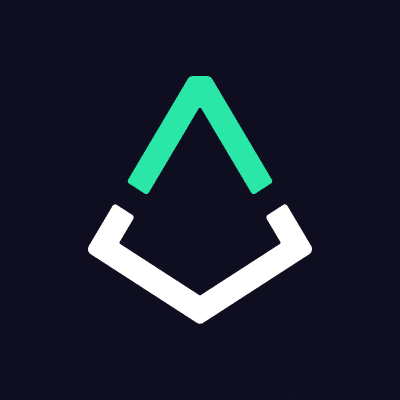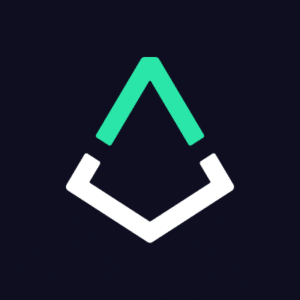 Augur is a crypto protocol built on the popular decentralized finance (DeFi) platform Ethereum. Augur crypto helps DeFi users predict the outcome of events. Its ERC-20 token, called Reputation Token (REP), uses what it calls the "Wisdom of the Crowd" to make forecasts on future events.
Essentially, it is a decentralized marketplace for predictions as it utilizes swarm intelligence to estimate the outcome of events in the future.
With this, the crowd predicts a variety of events. Augur also lets these decentralized sample participants create a prediction market themselves and actively add other prediction pools. Users can bet on politics, world economics, sports, crypto, and geographical events worldwide.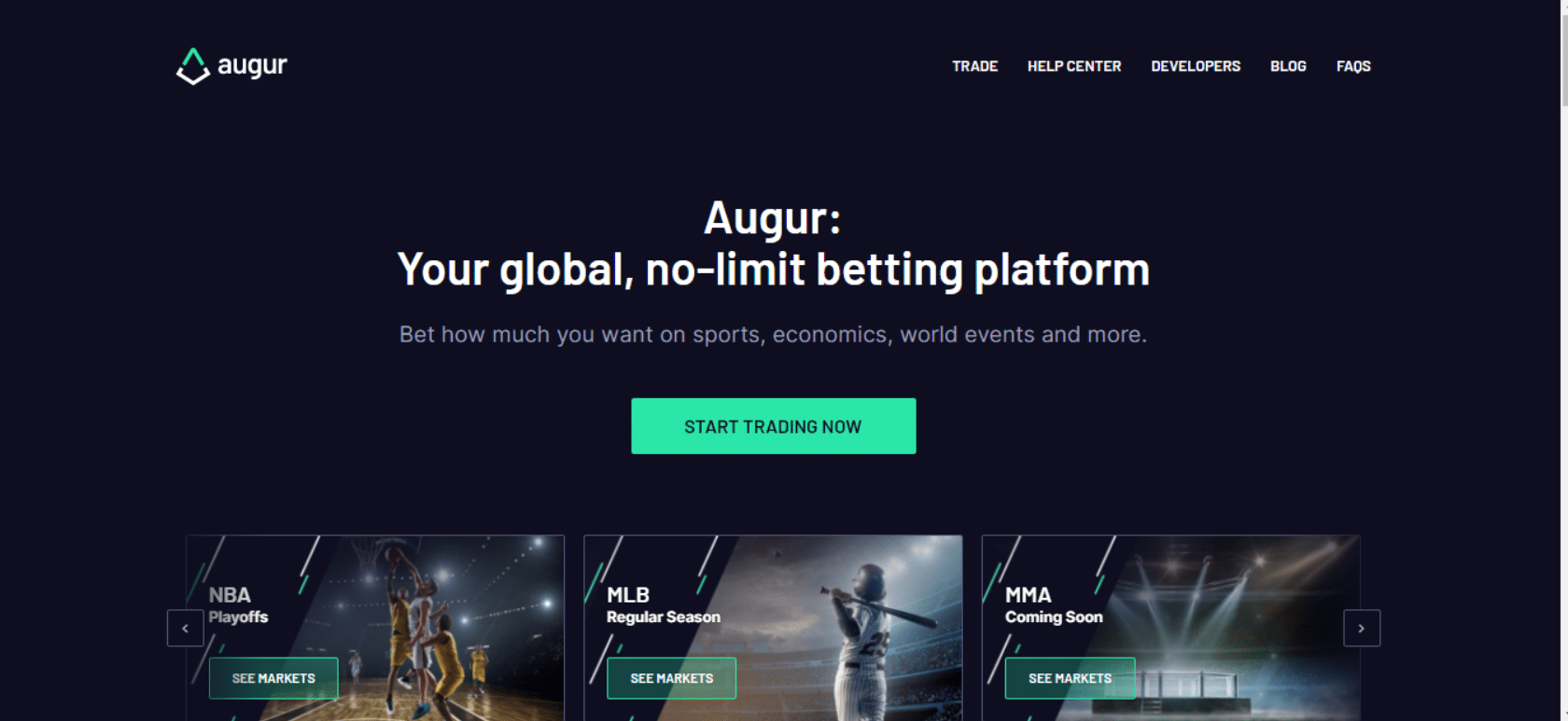 Augur aims to take away the traditional betting market and move it to the DeFi space, thereby allowing anyone from anywhere to bet on the topics they feel familiar with. By this, it aims to become the largest betting market in the world or even the largest cryptocurrency by market capitalization. Augur enables users to buy shares based on the outcome of an event on its platform. The price depends on the probability that the selected event will happen. Based on the sample feedback received from the data, forecasts are then made on a wide range of possibilities.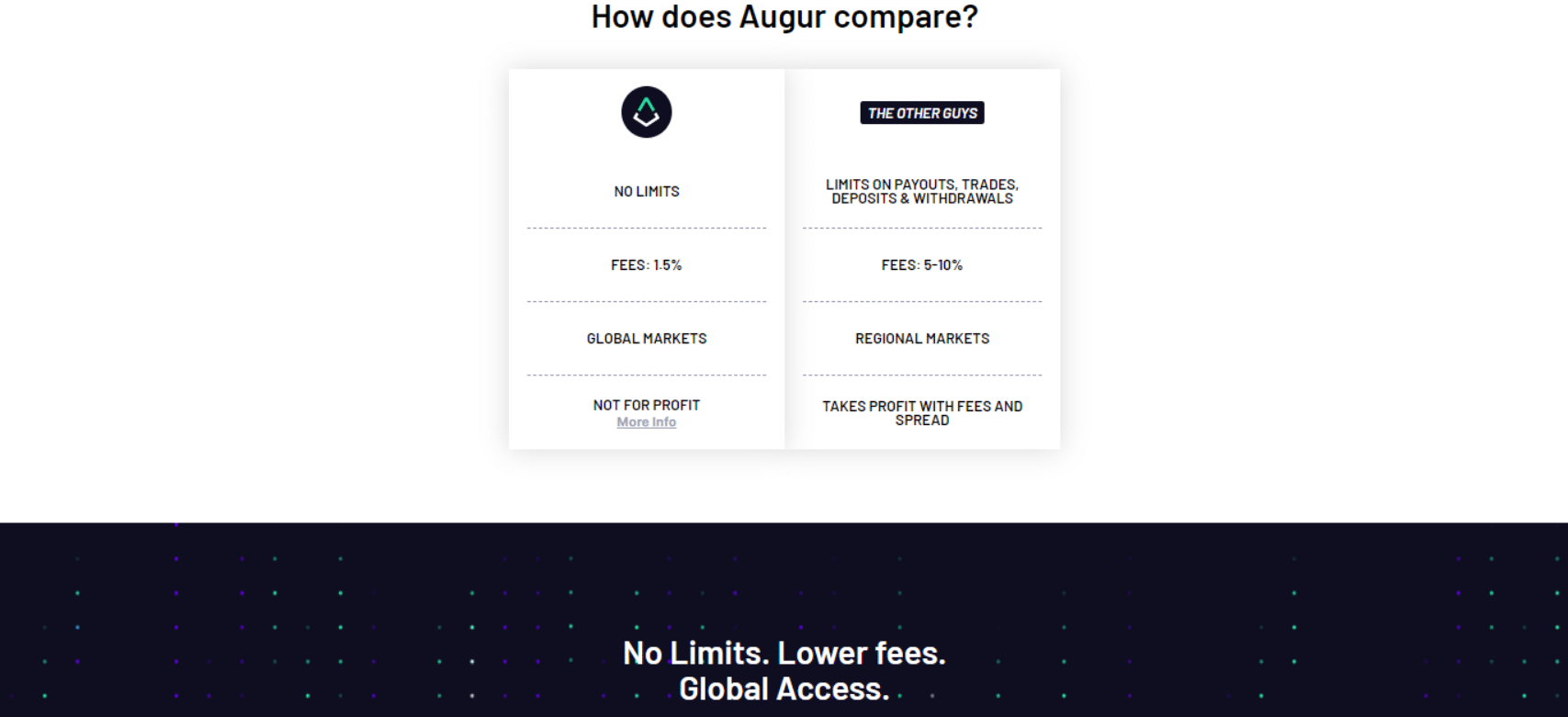 Augur was launched in 2018 by two former Ethereum developers, Jack Peterson and Joey Krug, who felt that the present betting market was rigged to favor the betting platforms. The REP tokens created to incentivize users are limited to just 11,000,000 REPs, and the total supply has been reached. It is currently listed in over 30 exchanges and is gaining wider acceptance by the day.
Augur Analysis – Is Augur A Good Buy?
In 2018, the gambling or betting industry was worth a whopping $449.3 billion. In 2019, the valuation shot close to $490 billion, and industry experts are saying this flourishing industry may attract close to $525 billion by 2023. These are huge figures and show the potential the Augur betting market has. Augur boasts of over $253 million fully diluted market cap, and this is just from its sports betting alone. If it adds more functionality and creates more betting markets for users, we could see it rival the likes of Flutter Stars Group, GVC Holdings, and the other big players in the industry.
Augur Coin Price and Prediction
Augur was officially launched on July 9th, 2018, and has seen significant price movement in the past two and half years. 1 REP token changed hands for a whopping $102 before the market correction.
Presently, it goes for just under $25, with the price fluctuating given the fragile state of the crypto market.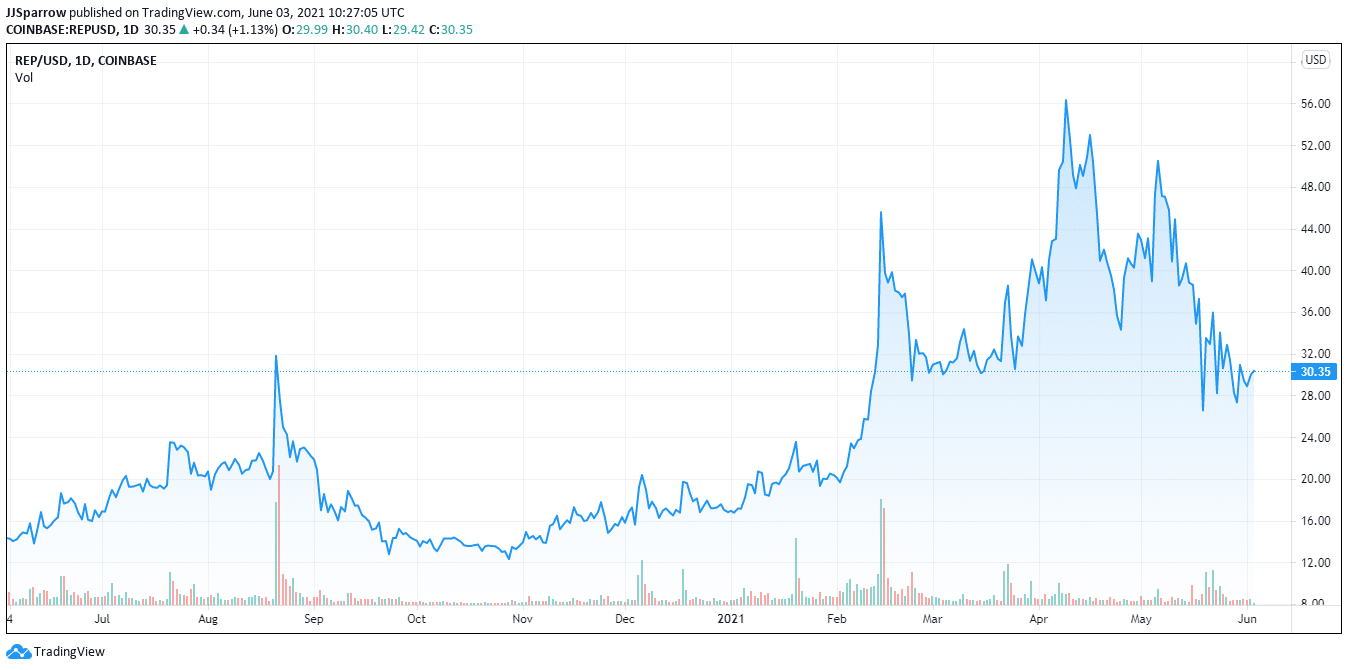 But despite this, industry experts are bullish on the crypto project and have made a forecast of Augur's crypto surging north of $50 with an expected profit of 125.4% in the next few months. According to them, this is due to the growing social awareness surrounding the decentralized betting platform. With top crypto exchanges like Binance, Gate.io, and others listing it, Augur's REP token may be a catch you can't afford to miss.
Ways of Buying Augur
There are numerous ways to fund your account for trading Augur crypto. Several cryptocurrency exchanges have different funding options. We'll discuss a couple below.
Buy Augur with PayPal


There are fewer platforms that allow you to buy Augur coin with PayPal when it comes to payment options. We found out that most of the funding options that enable PayPal methods are mostly peer-to-peer exchanges, which are quite risky, to be honest.
There are so many things that could go wrong on these platforms. With these platforms, you need to transfer the funds to the sender through PayPal before receiving your cryptocurrencies. Alternatively, you can use our top-rated cryptocurrency exchange, eToro, to purchase Augur coin. eToro is a regulated digital assets trading platform where you can buy Augur coins using PayPal.
You can also buy Bitcoin with PayPal on eToro. The platform also supports other e-wallets like Skrill. Using PayPal to buy Augur coin on eToro is fast and painless. When you do trade and make some profits, you can easily send the funds back into your PayPal account at a flat fee of $5.
Buy Augur with Credit / Debit Card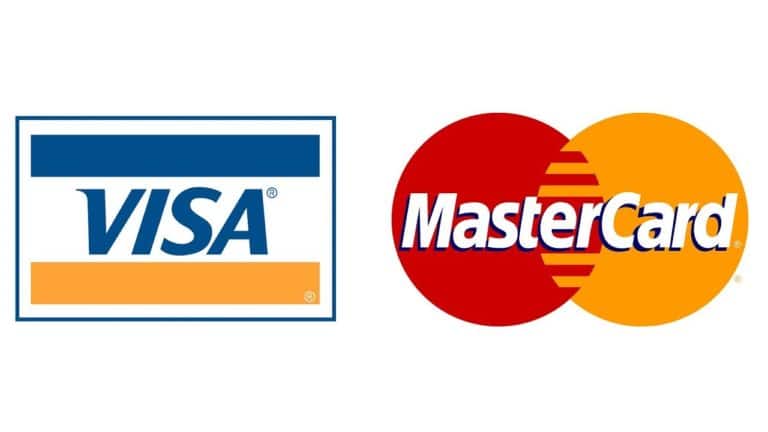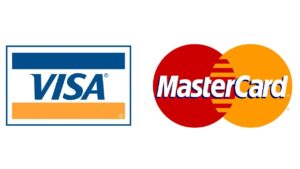 If you do not own a PayPal account, eToro also lets you fund your crypto account using traditional credit or debit cards.
eToro is one of the few online brokers that allow customers do this without killing them with fees. Popular crypto exchanges like Coinbase do not let users deposit with their credit cards, citing "investor protection" as a reason. Added to this, the US Bitcoin exchange charges a whopping 3.99% for deposits, while popular crypto exchange Coinmama takes as much as 5% of your deposit sum.
In contrast, eToro charges 0.5% on all its payment channels which will greatly boost your purchasing power. However, your deposit will be converted to US dollars as this is the currency accepted on the eToro platform. But before using this option, confirm with your card issuer if you need to make a cash advance for depositing on an online broker.
Best Augur Wallets
Digital wallets like Bitcoin wallets are necessary if you are keen to trade cryptocurrencies. Just like what your physical wallet does, it stores your crypto funds and protects them from bad actors. So, we will briefly touch on a few digital wallets you should look at to store your Augur crypto. One popular option is MyEtherWallet.  Although created originally to support only Ethereum's Ether token, MyEtherWallet has become the go-to digital wallet for all ERC-20 tokens. Augur is an ERC-20 token which makes it eligible to be stored on MyEtherWallet.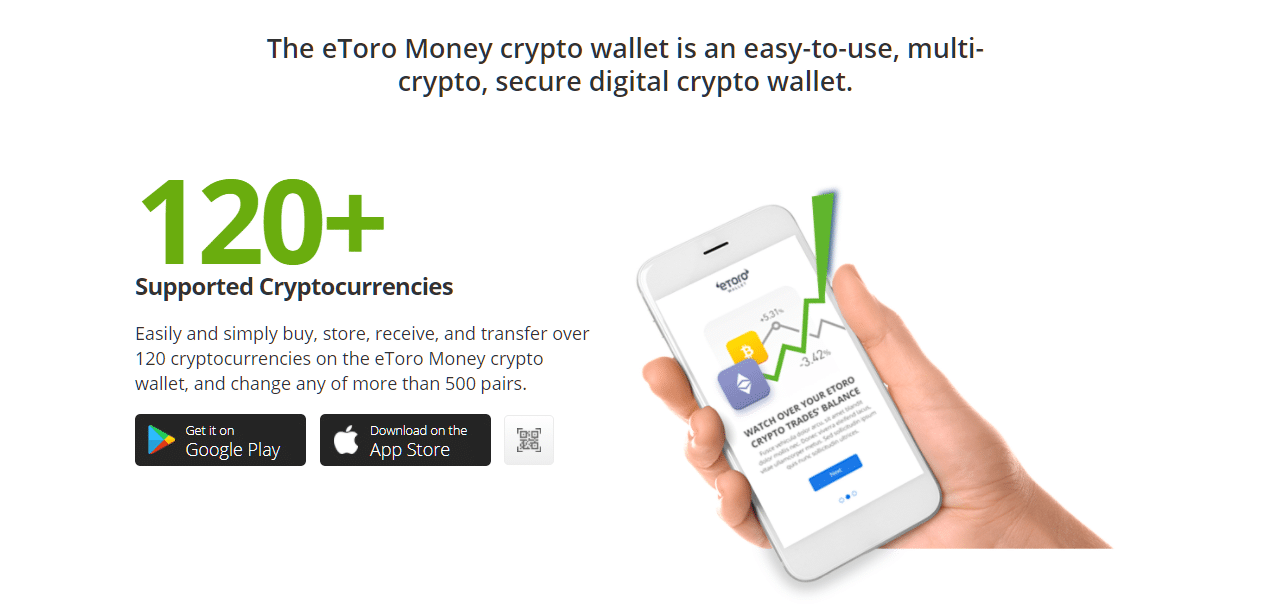 It features a simple setup and mobile app, allowing you to create an account and transfer your tokens within just a few minutes. You can also make trades with your MyEtherWallet, which is one of the added benefits of using digital wallets. Exodus Wallet is another option available for traders on both Android and iOS devices. The best augur wallet option for long-term investors is to use the eToro Money crypto wallet.
The eToro wallet is an easy-to-use, multi-crypto, secure digital wallet that lets you store your crypto funds easily. It is also regulated by the GFSC, allowing you to keep over 120 crypto assets on your wallet. You can easily buy, store, receive, and transfer crypto assets, all from the convenience of your phone.
Augur Reddit
Augur coin has a presence in popular social media destinations for crypto investors on the Reddit platform. You can join the fledging community through its official Reddit account r/Augur. Here, you will learn about the ongoing development of the betting platform and connect with other crypto investors on the forum.
eToro – Overall Best Place to Buy Augur Coin
Discovering the best place to buy Augur coin shouldn't be overwhelming. Forget the noise out there and what so-called social media gurus want you to believe. While there are numerous options out there, we advise you to be careful to choose a trading platform that meets your specific needs. That means a platform with a lot of focus on top-tier performance, security, trusted and regulated, offers multiple funding options, and more.
This is why we believe eToro is the best platform to buy Augur coins. The online brokerage service provides multiple funding options, a secure cryptocurrency wallet, easy and quick buy and sell options, and so much more. You can even copy the trades of professional traders through their CopyTrading feature. We found eToro to be the total package compared with its competitors.
You can get started at eToro today by clicking the link below.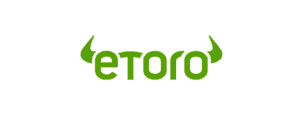 Cryptoassets are highly volatile and unregulated in the UK. No consumer protection. Tax on profits may apply.
FAQs
Where Can I Buy Augur Coin?
Is Augur A Good Investment?
How Much Is Augur Coin Worth?