Neo Wallet Review UK 2023 – Fees & Safety Revealed
Fact Checked
Everything you read on our site is provided by expert writers who have many years of experience in the financial markets and have written for other top financial publications. Every piece of information here is fact-checked.
Disclosure
Please note that we are not authorised to provide any investment advice. The information on this page should be construed for information purposes only. We may earn commissions from the products mentioned on this site.
Neo Wallet is one of the most impressive wallet services for storing NEO tokens. In this Neo Wallet review UK, we explore how this wallet works, user experience, features, and how it stacks up against other wallet platforms.
What is Neo Wallet?
Neo Wallet is a cryptocurrency wallet application that allows users to store and exchange NEO tokens. Not only does this Neo wallet allow you to store your Neo coins safely, but you can also send and receive funds from the wallet. You can easily send funds to friends by entering the wallet address of the beneficiary. To receive NEO coins into your wallet, you need to provide the sender with your unique wallet address.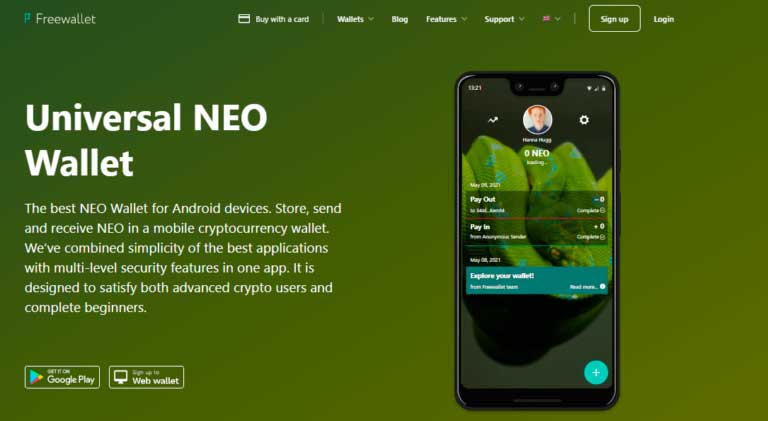 The NEO wallet is available on desktops as a web wallet and mobile devices. Unfortunately, you can't use this cryptocurrency wallet on iOS devices, which is a drawback.
The wallet was developed by Freewallet, a crypto wallet manufacturer that built wallet applications for different cryptocurrencies. Freewallet has been operational since 2016 when the company built a popular wallet called FantomCoin.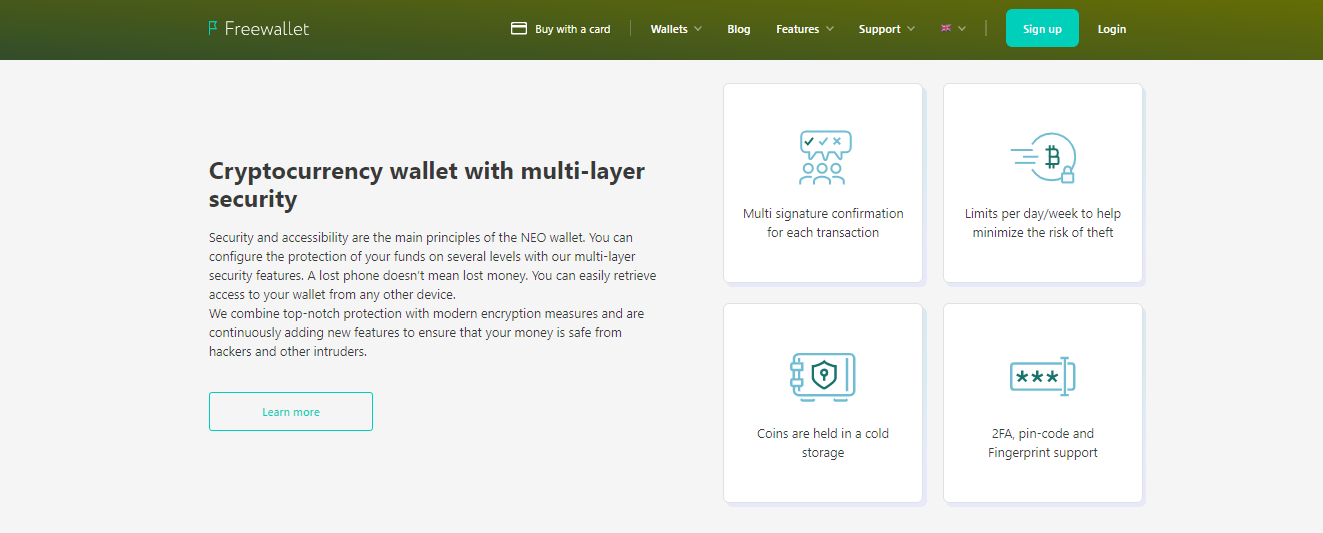 The firm is based in Tallinn, Estonia, and it supports several cryptocurrencies with varying capabilities and features. Beyond the individual wallets, Freewallet also offers Freewallet Lite and Crypto Wallet, both of which have proven to be among the best Bitcoin wallet options available.
With Neo Wallet, you can enjoy the following services:
High-Quality Asset Storage
The primary function of Neo Wallet is to serve as a storage medium. With the tool, you can keep your assets safe and protect them. Freewallet has touted the security infrastructure available in the wallet, but we'll share a little more on that below.
Price and Balance Tracking
Neo Wallet provides the opportunity for you to keep track of asset prices. You can follow the latest prices and exchange rates right in the wallet, so you don't need tools like trackers and aggregators anymore.
Make Purchases and Transactions
Neo Wallet also allows you to buy cryptocurrency within the wallet ecosystem. You can top your account up with Bitcoin, Ether, and other digital assets that the wallet supports. You can also send NEO tokens to others, whether within or outside the Freewallet ecosystem. There's also an in-built converter that allows you to send NEO to almost any other altcoin. This will be especially useful if your crypto exposure is primarily based on altcoins.
Neo Wallet Pros & Cons
When it comes to cryptocurrency wallets, there's no one-size-fits-all. Every crypto wallet has its pros and cons. Here are a few areas where the Neo wallet shines along with some of its quirks.
Neo Wallet Pros
Easy and seamless user interface
Access to the web-based version from any operating system
Ability to track balances in fiat currencies, including the Pound Sterling
Multi-layer security improves asset protection and helps you keep tokens safe
Prompt, multilingual customer support
Neo Wallet Cons
Only available on Android OS
Daily limits reduce transactional flexibility
Supported Coins
As explained earlier, this wallet primarily supports NEO tokens. However, you can make transactions and conversions to every asset in the Freewallet ecosystem. Besides NEO, the following coins are converted on the platform:
BTC
ETH
BCH
LTC
XMR
NEM
BTG
XRP
DASH
DOGE and others.
Neo Wallet Fees
One of the primary benefits of Neo Wallet is that it doesn't charge any fees for transactions between Freewallet users. This feature is called Smart Pay Out.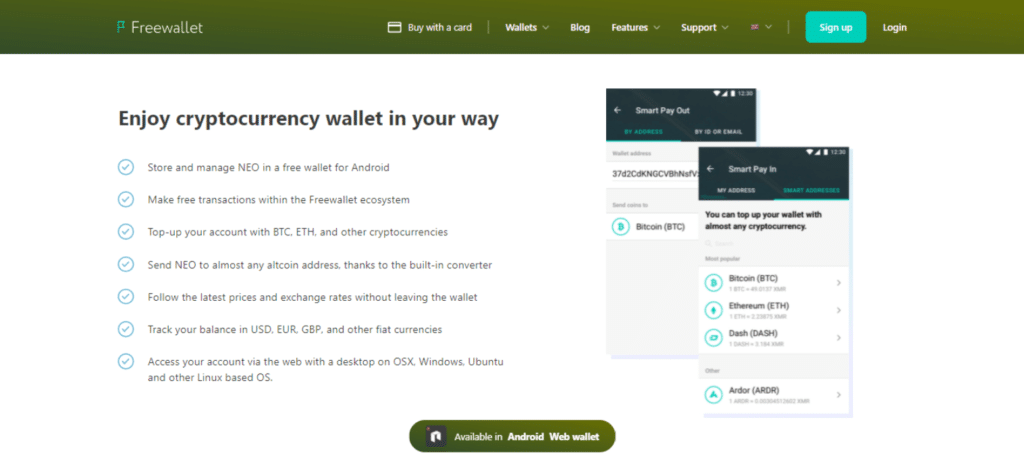 To do this, you'll need the recipient's user ID or email address. To send to other wallet addresses outside of the Freewallet ecosystem, you will need the receiver's unique wallet address. Sending crypto to outside addresses would incur network fees, but you don't have to worry about the network rates. The wallet handles that for you automatically.
Neo Wallet Safety & Security
Not sure if Neo wallet is safe? If so, despite some little quirks here and there, our Neo wallet review UK found that security is a key feature of the wallet. We can break down the security features below:
PIN and Biometric Login
Neo Wallet allows you to secure your coins with a fingerprint login and a PIN code. The combination of both provides a relatively safe way to keep your assets. Biometrics are especially important since they are now ubiquitous. Most middle to high-end Android phones can detect your fingerprint, so you get a nice combination of convenience and efficiency.
Cold Storage
The wallet uses cold storage to keep custody of your assets. While the wallet address displayed on the wallet is a hot wallet, it is only useful for receiving your funds. As soon as your funds get into the wallet, it transfers them into cold storage. At the same time, the funds are transferred from cold storage whenever you need to access them. With the funds in cold storage, hackers can't get their hands on your funds. However, the demerit to this is that transactions might take a while to get completed. Cold storage is offline, and retrieving funds from the source takes a little more time than hot wallets.
Two-Factor Authentication (2FA)
You will also enjoy the ability to protect your funds with two-factor authentication on the Neo web wallet. You can turn on 2FA for logging into your account as an extra security measure for conducting outgoing transactions and other export actions. This means that whenever you want to conduct any of these three actions, the wallet will send a unique code to your phone number or email address. Enter the code, and you're free to conduct your action.
Multi-sig Action
The New web wallet also allows you to adjust its settings to require multiple signatories before a transaction from your account can be authorized. There is a maximum of five co-owners, all of whom will need to sign off on transactions before being conducted. The multi-sig action is especially handy if you have multiple people pooling funds into one wallet or running a company that accepts cryptocurrencies and wants to safeguard your assets.
Transaction Limits
They might be unpopular among those who want to sell or buy Bitcoin and other assets in bulk, but transaction limits have a unique security proposition. With the New coin wallet, you can set weekly and monthly limits on transactions. While the other security features prevent any unauthorized party from getting access to your assets in the first place, this feature prevents them from draining your funds in one full sweep if they actually access your account.
The transaction limits might affect your flexibility to make transactions, but you'll find that it is a healthy trade-off when you consider the security benefit.
Active Sessions Control
The Neo web Wallet allows you to view all active sessions on the wallet, as well as details on the devices and IP addresses that have been used to access your wallet. Thus, you can terminate all sessions as soon as you notice any suspicious activity. It might not be as effective as other measures, but it's at least a step in the right direction. Along with the transaction limits, the feature can help mitigate your losses if you suffer a hack or security breach. With its security features, the Neo web wallet definitely stacks up to some of the industry experts like the Coinbase wallet and more.
Neo Wallet User Experience
For a wallet application, this product is really simple. Just about everything you need is on one page, so you don't have to scroll through different menus to find options and action links. Since it's a wallet platform, all you really need to do is verify your Email and identity and begin making transactions. However, Neo Wallet also provides additional features like an asset tracker, which lets you see real-time.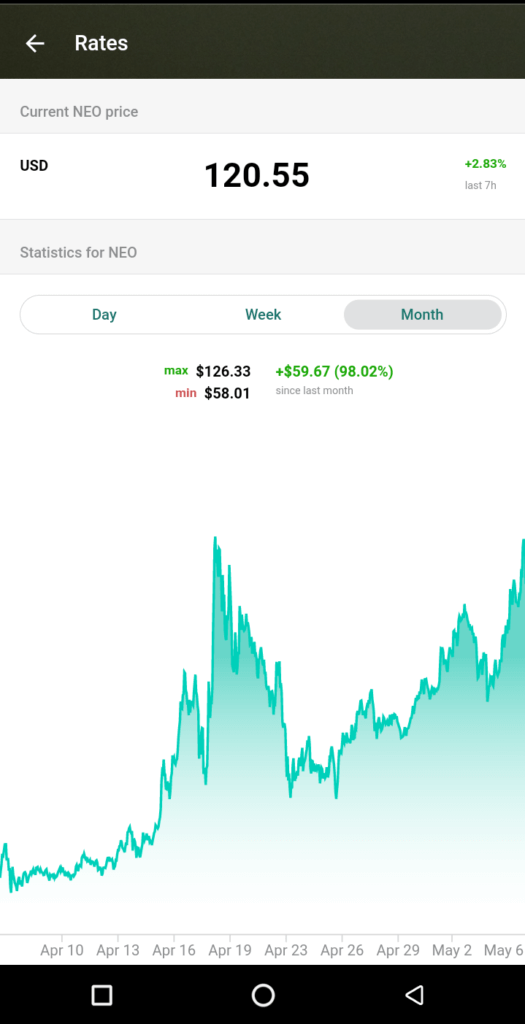 The app is also quite impressive in terms of performance. We tested it on a mid-range Android phone, and it performed quite well. There were no lags or performance issues, and the app gave an altogether smooth experience. The only issues seemed to be with its overly simplistic user interface.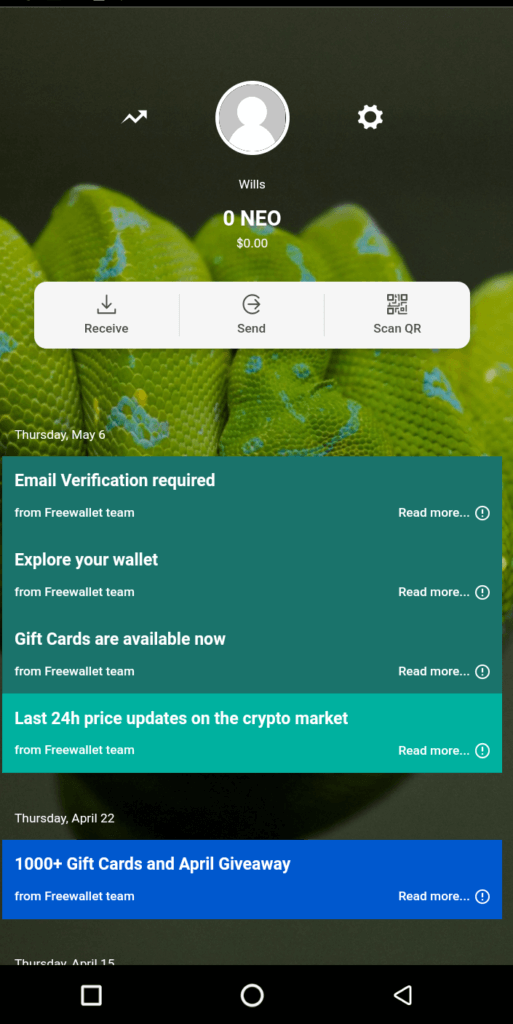 You also have to deal with the app's constant requirement for you to re-enter your PIN from time to time. The latter can be particularly challenging, especially for new users. However, with a little time, you should be able to get the hang of it.
Now that we know how the Neo web Wallet keeps you secure, it's worth seeing the product from a customer's perspective.
Transferring Funds
As earlier explained, the process of transferring and receiving funds on the Neo wallet is quite straightforward.
To send funds:
Log in to your Neo wallet app.
Click on the 'Send' button. Enter the amount that you wish to transfer
You'll be asked to provide the recipient's wallet address, the User ID, or email address
You can transfer funds on the NEO wallet either in crypto (e.g., 1 NEO) or in monetary terms ($124)
Once you fill in the amount, the network fee will be automatically calculated
Transactions between Freewallet users are instant and fee-free
Once you confirm the transfer, it will be posted to the blockchain and sent to the recipient
To receive funds:
Click on the 'Receive' button
Next, click on 'Share Address'
You can send then the wallet address to the sender
Or, they can scan your unique QR code
And if the sender is a Freewallet user, you can share your User ID
When it comes to receiving funds in your wallet, ensure you provide accurate details to the sender.
Neo Wallet Features
Our review found that the following core features are available to mobile and desktop users.
Quick and fee-free exchanges, allowing you to make transactions free of charge
Updates on the crypto market, allowing you to stay in the loop as much as possible
Balance alert, which notifies you every time your balance changes.
Basic price chart to follow the market movement of NEO coin.
Notice board for sharing news updates and useful articles with users
Smart Pay In feature for receiving NEO via a link, User ID, and QR code.
Auto wallet backup
Effective and responsive customer support
A blog section to satiate your thirst for crypto knowledge
Neo Wallet Contact & Customer Service
If you want to get in touch with the customer service, you will actually have to work with Freewallet. You also get a well-crafted extensive Frequently Asked Questions (FAQs) page that addresses basic questions that might be confusing for new users.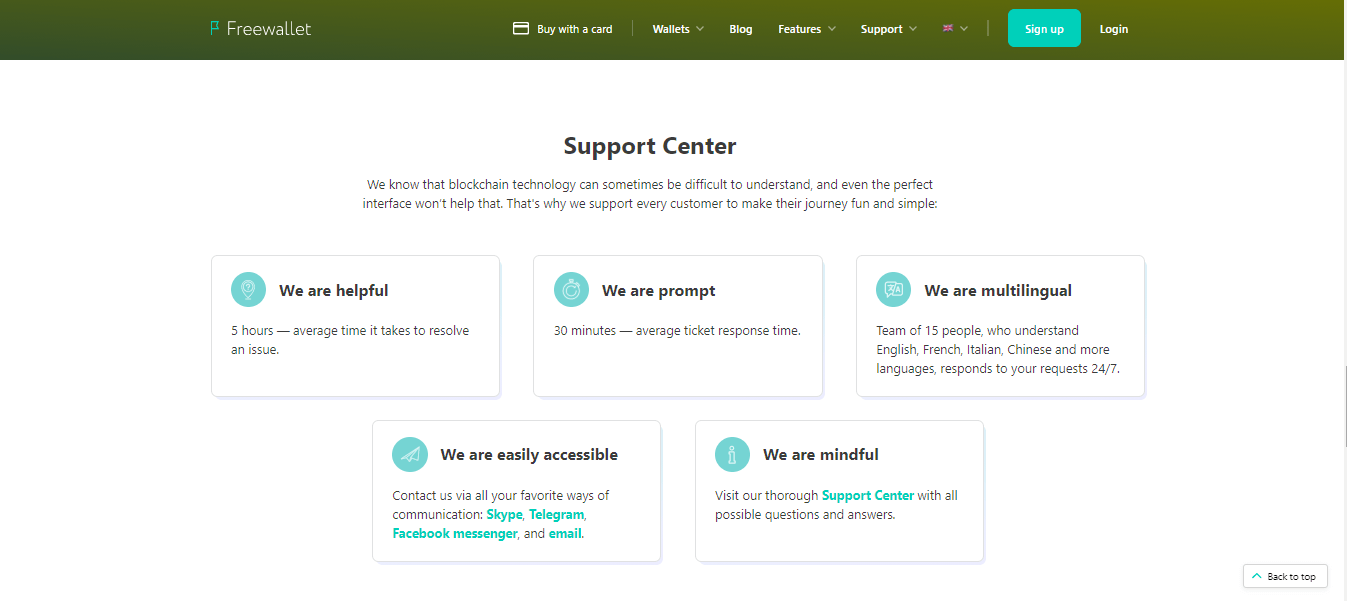 However, if you encounter problems using the app, you can contact the developers via tickets. Go to the developer's "Support" page and submit your complaint, and they will have someone get back to you. You can also reach them via Skype, Facebook Messenger, Telegram, and Email. Freewallet claims that they respond to messages quickly.
Neo Wallet Download Process
As stated earlier, Neo Coin Wallet is only available to users running the Android operating system. To use the wallet download to store your digital currencies on mobile – the setup process is as follows:
Step 1: Visit NEO Wallet Website
Go to the New Wallet website or check on the product in the Google Play Store. Due to the number of fake crypto wallet scams on the Google store, we firmly recommend going through the official website to download the app.
Once you're on the NEO website, click on the Android OS logo, which should direct you to the company's mobile app on the Play store.
Step 2: Download App
Download the wallet and log in using your Google or Facebook account or your mobile phone number.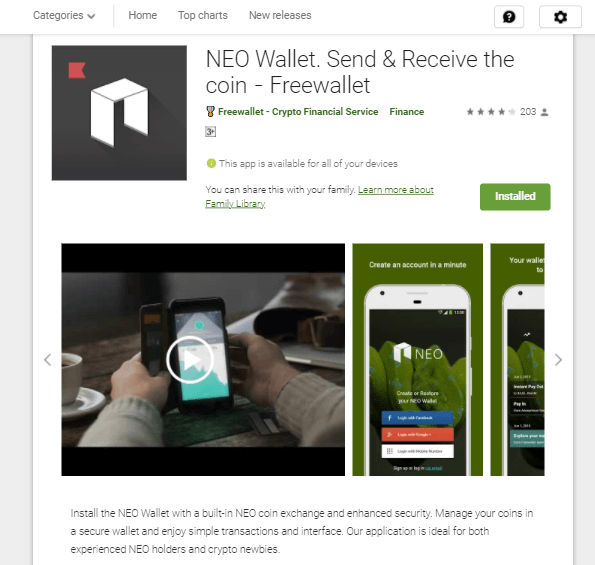 Step 3: Setup Wallet
Once the download is complete, set a unique PIN for your account. You don't need to provide documentation to retrieve your wallet address. But, you'll need to complete a basic KYC much later.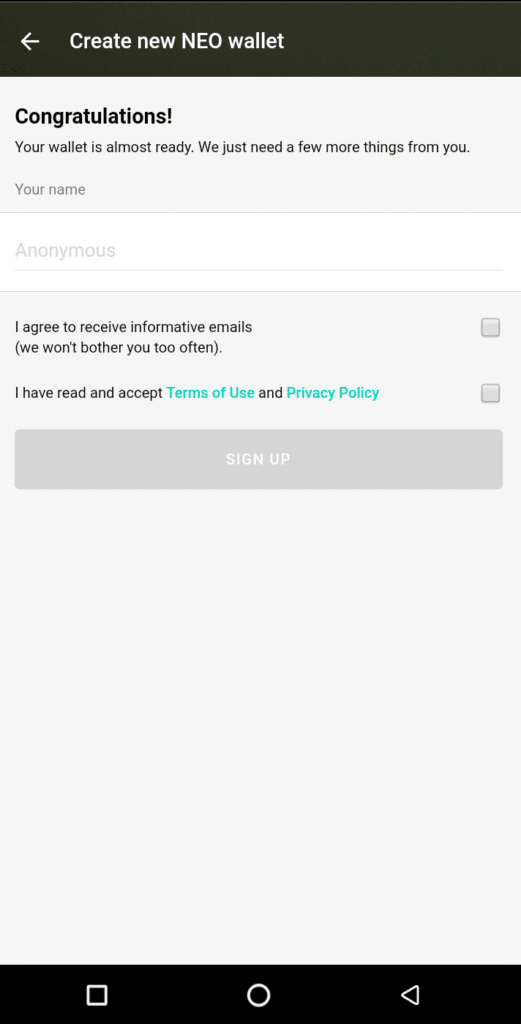 Choose a name for the wallet. This name will act as your username, but you can't change it later
Agree to the terms and conditions, and click on "Sign Up"
You will be directed to the home page
You won't be presented with a private key, so there's nothing to write down here
Step 4: Transfer Funds
Now that your NEO coin wallet has been set up, it's ready to transfer and receive funds. To receive funds in your wallet, click on the 'Receive' option to display your wallet address, copy it out, or scan the QR code. Head over to the wallet where your NEO coins are stored to complete the transfer.
Note that you will need to verify your Email address. As shown below, you won't be able to send transactions. To verify your account, follow these steps:
Go to the "Settings" page
Click on "Account"
Select "Email."
Check your Email address and click the verification link
You will also need to verify your identity to effect transactions. To do this, follow these steps:
Click on "Settings"
Click on "Account"
Click on "Identity"
Add the relevant details and move on with your verification
The Verdict
Our review found the wallet to be a decent choice for storing Neo. Offering several security measures, Neo ensures protection of assets. Furthermore, investors can also access features such as auto wallet backup, and get price alerts. Neo also offers 24/7 customer service, and allows users to start investing in minutes.
FAQs
How do I install Neo Wallet?
How do I find my Neo wallet address?
How do I update Neo Wallet?
What are Neo wallet fees?
Is Neo Wallet available for iOS?