Bitstamp Review UK 2022 – Features, Fees, Pros & Cons Revealed
Fact Checked
Everything you read on our site is provided by expert writers who have many years of experience in the financial markets and have written for other top financial publications. Every piece of information here is fact-checked.
Disclosure
Please note that we are not authorised to provide any investment advice. The information on this page should be construed for information purposes only. We may earn commissions from the products mentioned on this site.
If you are in the hunt for a UK cryptocurrency exchange that offers you to buy and sell bitcoin and a variety of altcoins, then you might want to consider Bitstamp. Founded in 2011, this exchange is the largest marketplace for cryptocurrencies in the EU and one of the best digital asset platforms in the world. To help you find out if this is the right cryptocurrency platform, in this Bitstamp review UK we are going to cover the ins and outs of Bitstamp.
What is Bitstamp?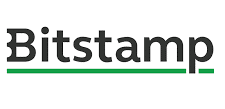 Bitstamp is a Luxembourg-based cryptocurrency exchange that was founded in 2011 by Nejc Kodrič, and Damijan Merlak. This veteran crypto exchange is offering a low-fee cryptocurrency marketplace primarily for professional investors and large financial institutions. As a matter of fact, Bitstamp is one of the first-ever bitcoin exchanges in the crypto market and was founded just two after the foundation of bitcoin.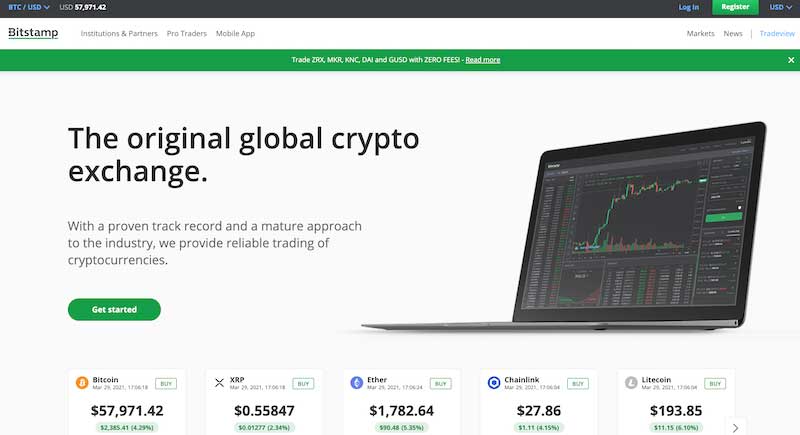 Bitsamp is best suited for experienced investors who are looking for a top-notch cryptocurrency trading platform. That said, it is also a great platform for users that want to make a one-time purchase of digital assets and store their coins on Bitsamp's web cold storage wallet.
Supported Coins
In terms of the number of coins available on Bitstamp exchange, you will have access to 15 digital assets and 56 cryptocurrency pairs. This includes Bitcoin, Ethereum, Ripple, you can buy Chainlink, Litecoin, OMG Network, Bitcoin Cash, Stellar Lumens, Kyber Network, Ox, Maker, USD Coin, DAI, Paxos Standard, and Gemini Dollar.
As mentioned, Bitstamp gives investors access to a range of 56 cryptocurrency pairs, which means you can use fiat currencies like USD, EUR, GBP as well as crypto-to-crypto pairs. Crucially, unlike the vast majority of cryptocurrency exchanges in the market, Bitstamp also allows users to trade fiat to fiat pairs like GBP/USD, GBP/EUR, and EUR/USD.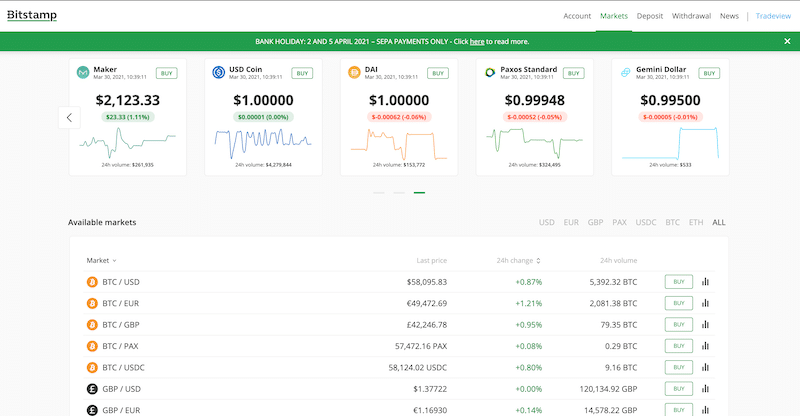 Bitstamp Fees
Obviously, trading fees are the most important aspect when considering a cryptocurrency exchange. At Bitstamp – the fees and charges can vary depending on several factors such as the payment method, the crypto coin you decide to trade, and the amount of the position.
With that in mind, let's take a closer look at all of the fees you need to pay at Bitstamp.
Payment fees
Generally, payment fees with Bitstamp are fairly cheap compared to most digital asset exchanges.
When it comes to deposits – you have two options in the UK. The first is to use an international wire transfer, which requires you to pay a fee of just 0.05% (very low compared to other crypto platforms). The second is to use the Faster Payments option, which is free of charge.
The fee for withdrawing funds is also below the average in the industry – 0.1% when using international wire transfer or 2 GBP if using the Faster Payment option.
The only disappointment with Bitstamp is the high fee they charge on cryptocurrency purchases with a credit card – 5%on any amount.
Trading fees
Overall, Bitstamp is considered a low-fee exchange, particularly for highly active investors. The highest trading fee you can pay is 0.5% for a 30 daily volume under $10,000, (above the average in the industry that is around o.25%). However, the fees decrease drastically when the investor increases the total volume of transactions. As such, fees can fall to as low as 0% if you make a volume turnover above $20,000,000,000. That said, realistically, the lowest fee an individual investor can pay at Bitstamp is around 0.1%.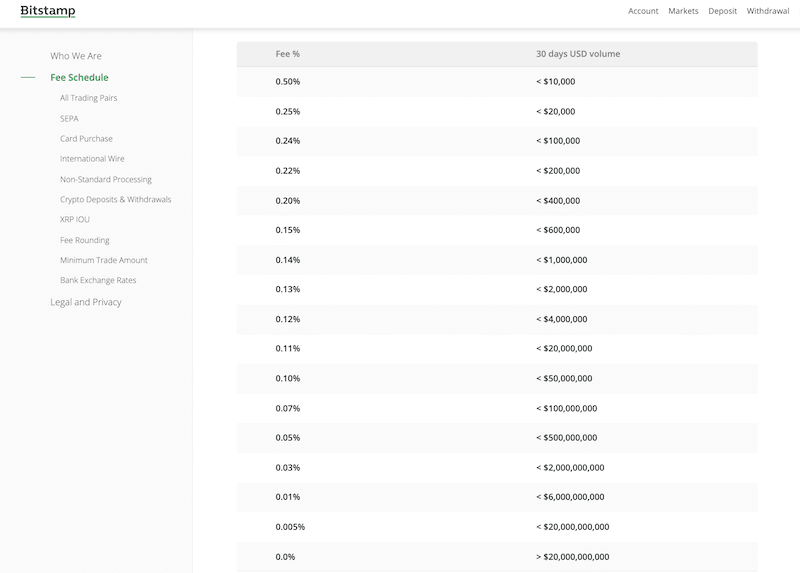 Bitstamp Buying Limits
Like most digital asset exchanges in the market, Bitstamp has buying limits that you need to take into consideration before opening an account. Generally, Bitstsamp allows investors to make a minimum purchase with just 50 USD/EUR/GBP.
The limit to buy cryptocurrency in one day with a credit or debit card is 2,500USD/EUR/GBP. The monthly limit for the same type of purchase is 20,000 USD/EUR/GBP.
In terms of withdrawal limits, Bitstamp doe not have any maximum withdrawal limits for verified users.
Bitstamp Wallet
A large number of cryptocurrency exchanges like Coinbase and Binance allow users to store their crypto coins on their built-in digital assets wallet. In that regard, Bitstamp is not a wallet provider but rather a cryptocurrency exchange that enables you to store your cryptocurrencies on its offline cold wallets.
You can leave your coins in the Bitstamp web wallet, which means your coins are kept safe offline on the exchange's wallet (At Bitstamp, you do not actually store your coins in your personal digital wallet). Otherwise, you can transfer your coins from the Bitstamp web wallet to another hot wallet or – to get the highest security, transfer the funds to a cold hardware wallet.
Bitstamp Mobile App
As expected from a giant cryptocurrency exchange like Bitstamp, it offers an excellent mobile application that is available on Google Play (Android) and Apple Store (iOS). The app allows users to basically get all the trading tools available on the desktop version, including the charting package, and the order book. Moreover, you'll be able to securely send and receive cryptocurrencies using the Bitstamp mobile app.

The Bitstamp app has a great rating of 4.3 on Google Play (9407 votes), and 4.8 on Apple Store (4429 reviews). In the case you are using the Bitstamp mobile application, you should ensure that you set up the Two-Factor Authentication (2FA) tool to secure your account.
Bitstamp Minimum Deposit
Unlike the vast majority of online trading platforms in the market, Bitstamp does not maintain a minimum deposit requirement in order to open an account. However, it has a minimum order amount of 50 USD/EUR/GBP much like Bittrex, whereas some other exchanges may have a far high minimum order amount.
Bitstamp User Experience
One of the main strengths of Bitstamp is that it offers a great user experience for all levels of traders. In that matter, Bitstamp has a clean and intuitive interface created to meet the needs of the on-the-go traders and the most active cryptocurrency trades. On this platform, users can trade via the 'Markets' section that is extremely simple to use and could be a great solution for those who lack trading experience and technical skills and wish to buy bitcoin or any other cryptocurrency for the first time.
From this page, you can view all the digital assets in real-time and choose the crypto coin you want to purchase by clicking on the Buy button.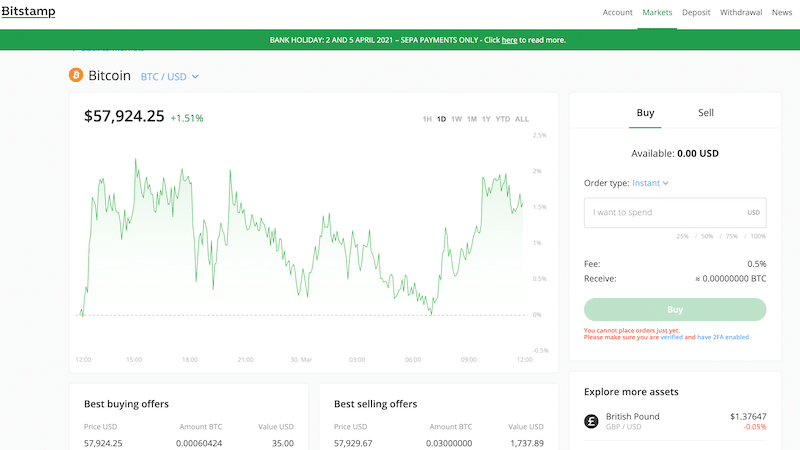 At the same time, Bitstamp is even a better option if you are looking for an advanced trading platform. When you navigate to the Tradeview section, you get access to a real cryptocurrency marketplace where you can analyze the coin on an interactive chart, view the level 2 order book, and have the ability to place complicated orders.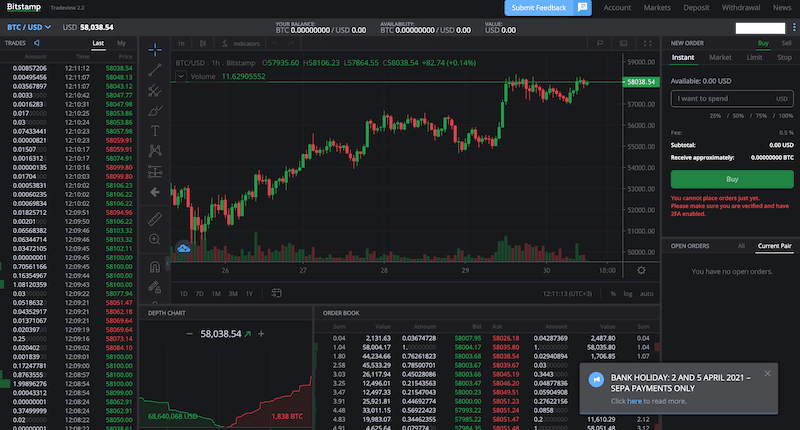 Further, the process of managing your account, depositing and withdrawing funds, and getting access to crypto-related market news – is all done from the Bitstamp trading dashboard.
Bitstamp Tools and Features
Bitstamp's platform comes with a number of features to help investors at any level make informed trading decisions. It's worth mentioning that Bitstamp's advanced trading version (Tradeview) is more suited for expert investors but it also offers some basic security and trading tools for beginners.
Nonetheless, below we list some of the features that make Bitstamp different from other competitors in the market.
Depth Chart and Level 2 Order Book
This is a very useful feature, particularly for active day traders that are involved in finding small price fluctuations. For those unaware, an order book lists the number of bid and ask orders as well as the price it is being offered at. The order book is a great indicator of future price movements and liquidity since you can sense the market activity of the asset.

Bitstamp also offers the Depth Chart, which is a visual representation of all orders for a particular asset at varied prices – a feature we haven't seen on any other cryptocurrency exchange.
Bitstamp Lightning Network
The lightning network is an extra layer of blockchain technology applied to bitcoin that can significantly improve the speed of execution, reduce fees, and provides instant payments within the network. Bitstamp runs its own Lightning Network node, and thus, enables users to enjoy the benefits of this technology.

Two-Factor Authentication
Though the Two-factor authentication (2FA) tool is a standard security feature these days, the Bitstamp exchange offers investors to use this extra layer of security when trading on the desktop or mobile app.
Bitstamp Payments
When it comes to supported payment options, Bitstamp primarily supports the following payment methods  – a bank wire transfer, cryptocurrencies, Faster Payment UK, and SEPA (for those who have a European bank account). In addition, you can buy cryptocurrencies with a credit or debit card, though you won't be able to directly deposit funds using this payment option.
Here's a breakdown of the deposit and withdrawals fees at Bitstamp:
| | | |
| --- | --- | --- |
| | Deposit | Withdrawal |
| SEPA | Free of charge | 3.00 EUR |
| Faster Payments (UK) | Free of charge | 2.00 GBP |
| Card Purchase | 5% | – |
| International Wire | 0.05%(min fee = 7.5 USD/EUR, 5 GBP, max fee = 300 USD/EUR, 250 GBP) | 0.1%(min fee = 25 USD/EUR/GBP. Your bank may charge additional fees.) |
| Cryptocurrencies | Free of charge | Varies depending on the coin |
On the other hand, Bitstamp falls short compared to other exchanges in the market as it does not support PayPal or any other e-Wallet payment solution. This means you'll have to find another platform if you wish to buy bitcoin with PayPal.
Bitstamp Regulation & Licensing
If trading with a regulated cryptocurrency exchange is important to you, then Bitstamp is the exchange of choice. This is, in fact, one of the few regulated and licensed cryptocurrency exchange platforms in the world after it has received a full regulation license by the government of Luxembourg. In 2016, Bitstamp Europe S.A. has received a license to operate as a payment institution under the number B196856, VAT number LU 27823117, with its registered address at 21-25, Allée Scheffer, L-2520, Luxembourg ("Bitstamp").
As a result, Bitstamp is authorized to operate in all European Union countries.
In the UK, Bitstamp has been temporarily registered under the Money Laundering, Terrorist Financing, and Transfer of Funds (Information on the Payer) Regulations as a crypto asset business until 9 July 2021. At present, the exchange is waiting for approval for its regulatory application by the Financial Conduct Authority (FCA).
Bitstamp Contact and Customer Service
When it comes to customer support, Bitstamp offers several communication channels that users can use. This includes submitting a support ticket form, phone number, and email address. In addition, there is also an informative FAQ section that answers many questions on a variety of topics.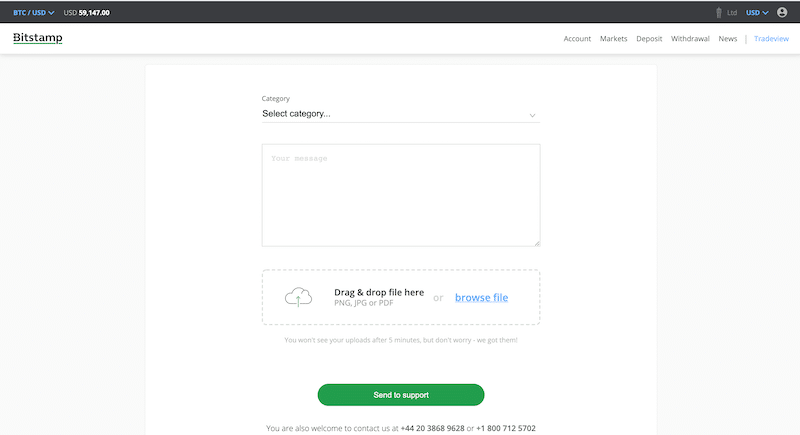 Bitstamp, however, does not offer a live chat service and it takes around 1-3 business days until you get a response from the Bitstamp support team.
How to Use Bitstamp
By now, you should have enough information about Bitsatmp to decide whether it is the right cryptocurrency exchange for your investment needs. If you want to get started Bitstamp, we are now going to show the full process of how to open an account, downloading the software, and placing an order on the Bitstamp trading platform.
Step 1: Open a Bitstamp Account
The first thing you need to do is to visit the Bitstamp website and register for an account. Once you click on the Register button on Bitstamp's homepage, you'll then be transferred to a page where you need to inform Bitstamp if you are an individual investor or a company.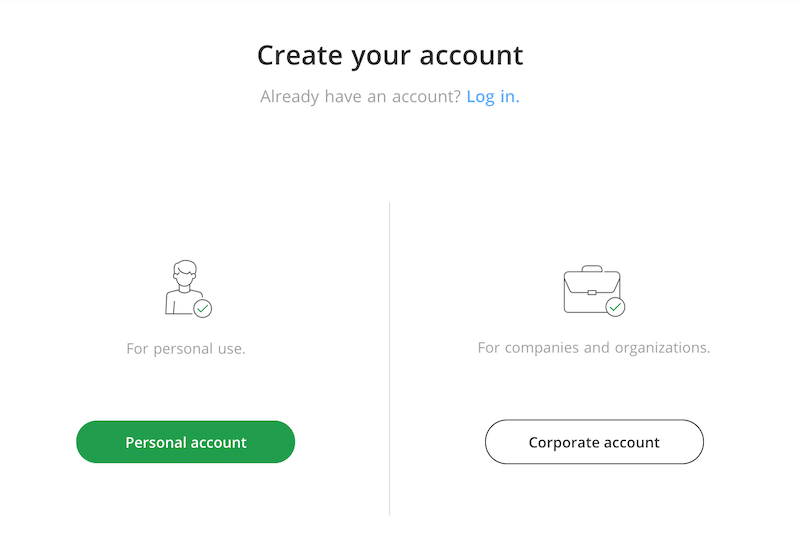 Click on the Personal Account and then submit your first and last name and your email address.
Then, you'll get an email from Bitstamp to complete your registration. On the next page, you'll get a user ID from Bitstamp and the exchange immediately notifies you that before you can start using Bitstamp, you need to verify your identity.
Step 2: Verify Your Identity
At this point, it's worth mentioning that Bitstamp has a very strict account verification process. As such, you'll have to complete a short questionnaire about your background and personal details. You also need to verify your phone number by entering a 4 digit code sent to your phone.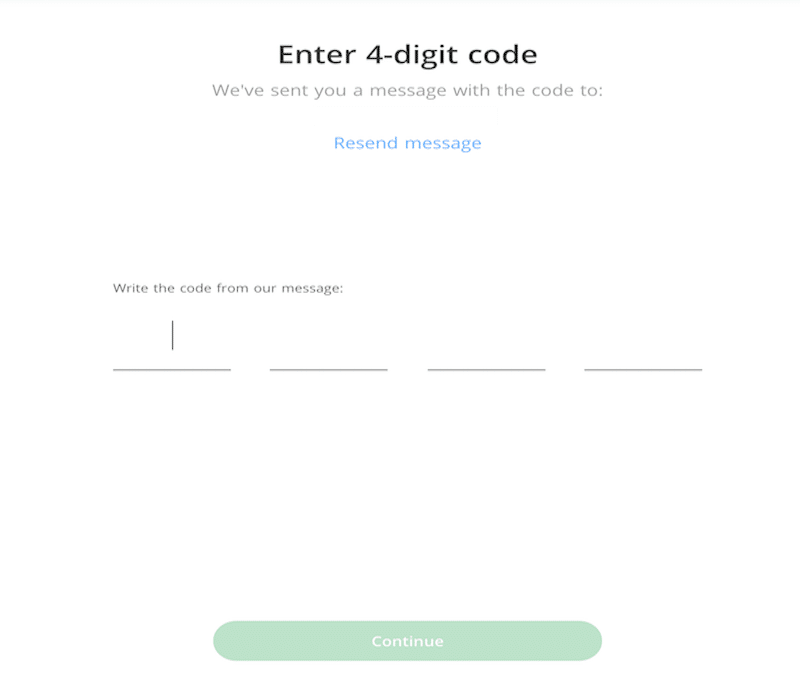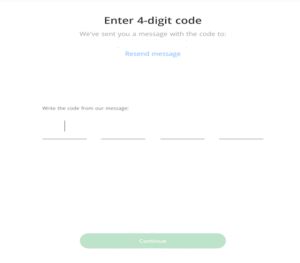 Next, you'll have to upload your passport or driver's license in order to verify your identity.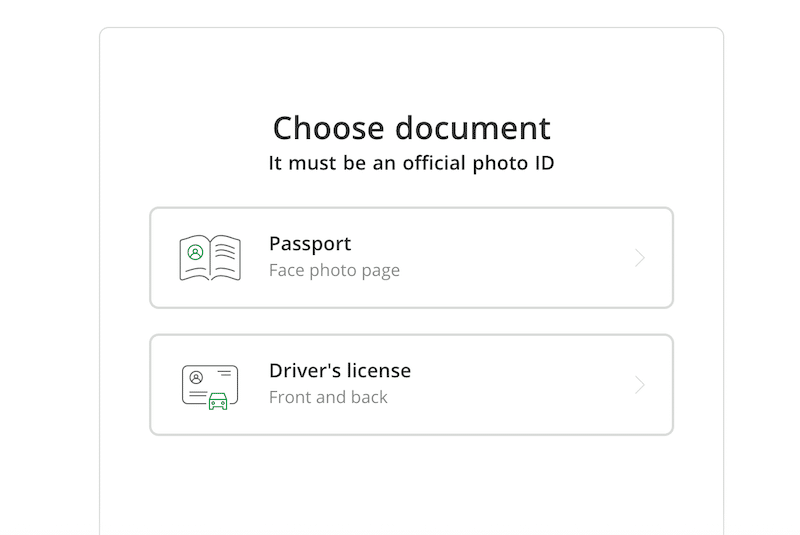 Finally, you'll have to upload proof of residence, provide documents such as deposits and trading history at other exchanges (if you have any), provide documents such as salary payslips, tax statements, investment portfolio, etc, and answer additional questions about your financial information, trading information, and activity information.
Step 3: Deposit Funds   
Once your Bitstamp account is approved and open, you can then add funds to your account. As mentioned above, Bitstamp does not require you to deposit funds in order to use your account, however, once you are ready to make a transaction you have to deposit at least 50 USD/EUR/GBP. To make a deposit, you simply need to click on the Deposit button on the Bitstamp dashboard and choose one of the payment options available – bank wire transfer, Faster Payments, SEPA, credit and debit card,  or cryptocurrency.
Step 4: Start Trading
As soon as the funds are available in your account, you can start buying and selling cryptocurrencies. As previously mentioned, there are two options to trade on Bitstamp's platform – via the Markets section or the Tradeview. For this demonstration, we show how to trade cryptocurrencies on Bitstamp via the 'markets' section, which offers investors an easy way to buy digital assets.
From the markets dashboard, choose the coin you want to buy and click on the Buy button. Then, simply click the amount you want to invest in the box and enter the Buy button.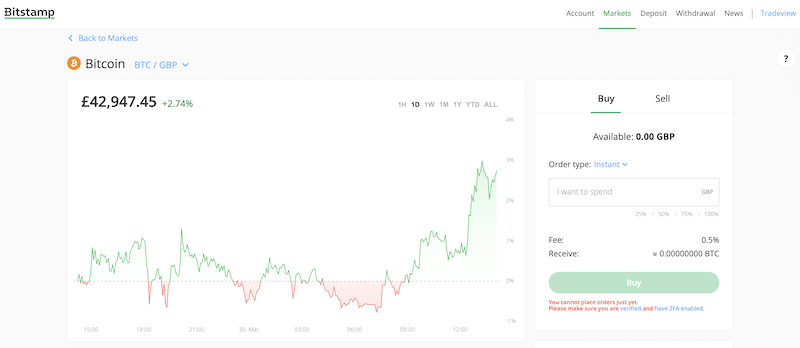 Step 5: Transfer Your Coins to a Digital Wallet
The final step you need to take is to transfer the coins you have purchased into your digital wallet. As previously mentioned, Bitstamp is a cryptocurrency exchange that allows users to store their coins on a web wallet. As such, it is highly recommended to transfer your coins to a hardware wallet like Ledger, Trezor, or Exodus. Otherwise, you can use one of the best bitcoin wallets in the UK.
Bitstamp Review UK – The Verdict
Overall, our Bitstamp exchange review reveals that this platform is a perfect solution if you want to trade cryptocurrencies in the UK with a licensed and regulated exchange. This platform ticks all the boxes in terms of security, safety, and the tools available for any cryptocurrency trader. The main attractions of Bitstamp are the fast market execution, low fees for institutional investors and large volume investors, and the good reputation it has gained in the industry since its foundation. As such, if you are an active investor that focuses on one crypto asset, you may benefit from trading with Bitstamp.
On the downside, Bitstamp does not offer a wide range of altcoins to trade on, it charges an extremely high fee for cryptocurrency purchase with a credit and debit card, and it charges a fixed trading fee of 0.5% for monthly trading volume under $10,000.
FAQs
Where is Bitstamp located?
Is Bitstamp regulated in the UK?
What cryptocurrencies can buy with a credit card at Bitstamp?
Does Bitstamp support PayPal?
What cryptocurrencies can I trade at Bitstamp?