How to Invest in Silver UK
Fact Checked
Everything you read on our site is provided by expert writers who have many years of experience in the financial markets and have written for other top financial publications. Every piece of information here is fact-checked.
Disclosure
Please note that we are not authorised to provide any investment advice. The information on this page should be construed for information purposes only. We may earn commissions from the products mentioned on this site.
Investors have historically used bullion and other precious metals to hedge against rising inflation and falling stock markets.
However, silver is a key component in electric vehicles and solar panels.
Silver Investment Platforms
When considering how to invest in silver, the choice of investment platform is essential. After all, it is your gateway to the world of silver investing so it needs to be safe and secure.
In the section below, we discuss some of the most popular silver investment platforms for you to choose from. Whether you're looking to invest 1000 pounds or invest £10K, the below brokers are popular choices.
1. eToro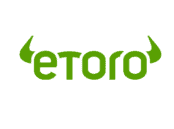 eToro is a brokerage that has an investment platform that is used by more than 17 million investors all around the world. Furthermore, they offer peace of mind and security as they are authorised and regulated by the UK FCA, CySEC, and ASIC.
From the eToro platform, you can access more than 2,400+ global markets including silver, gold, precious metals, and other silver-related products such as silver ETFs, silver mining companies, silver investment funds, silver currency pairs, and even silver derivatives to profit from rising and falling silver prices. Another popular feature is the fact you can trade these asset classes 100% commission-free.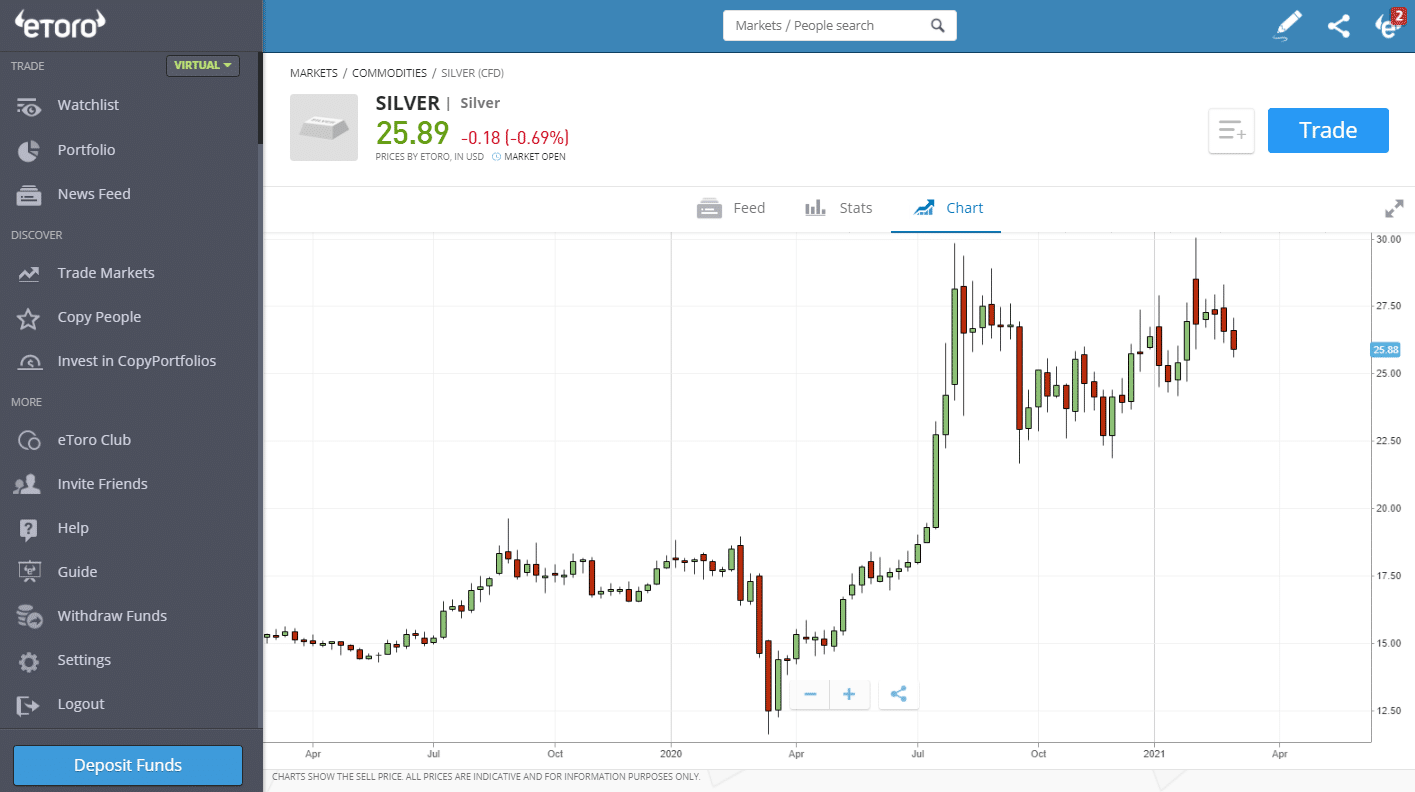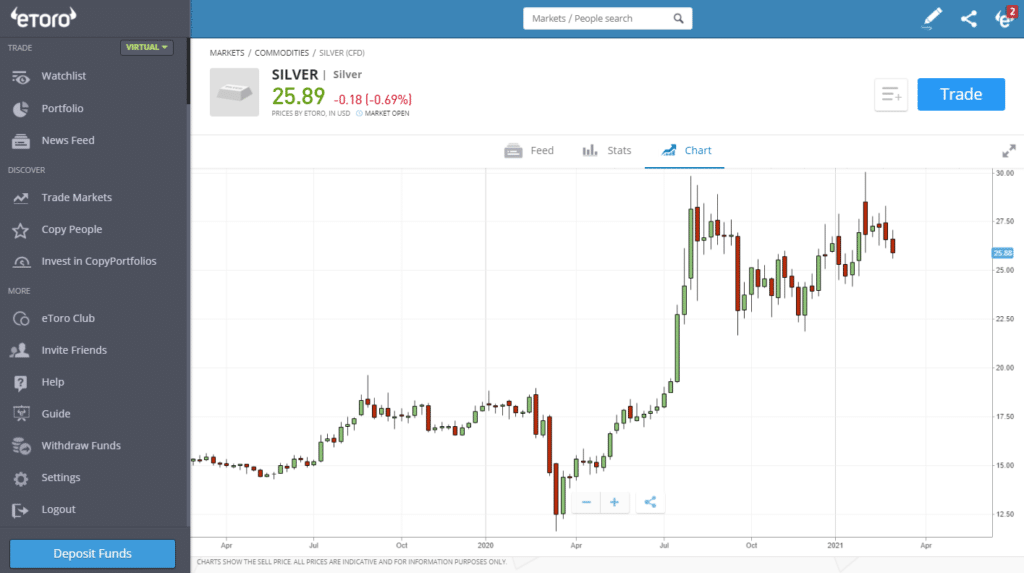 Even though trading the price of silver is 100% commission-free, there are other fees to know about. For example, the spread is a fee all brokerages will charge and is simply the difference between the buy price and sell price. If you trade silver derivatives via CFD trading, then there is also a small overnight financing fee that CFDs brokers will charge.
If you invest in real silver mining stocks or silver ETFs then there are no overnight fees and they are still 100% commission-free. Fortunately, with eToro, the spread and any overnight fees are low and very competitive. Fees are important as you want to keep most of your capital gains in your back pocket.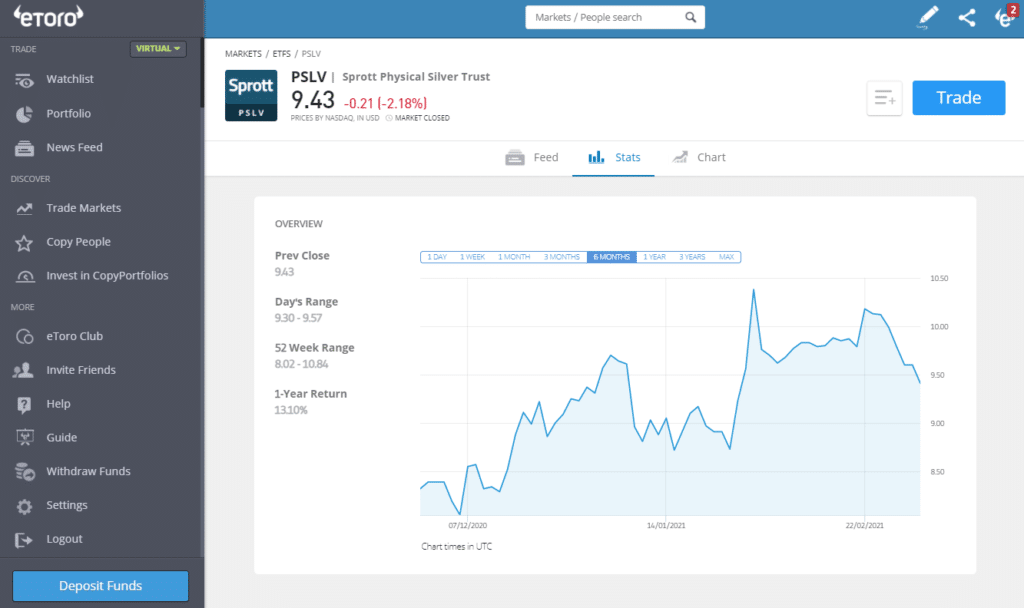 One of the reasons the eToro platform is so popular among investors around the world is that it allows you to copy other profitable traders and investors at the click of a button. The CopyPeople feature allows you to view the historical performance of other traders and if you like their results you can get the same trades copied into your own account.
For longer-term investors, eToro also provides an in-house managed investment portfolio called CopyPortfolio. These are ready-made investment funds for you to invest in and cover a wide range of themes such as Precious Metals and Energy, Cloud Tech Stocks, Drone Technology, Medical Marijuana, and many others.
Sponsored ad. Your capital is at risk.
Research Silver Investment
After you have chosen the right silver investment platform, the next step is to research a popular way to invest in silver and when to invest. Let's have a look at these in more detail.
Ways to Invest in Silver
There are a variety of different ways to invest in silver with each method providing its own unique benefits.
Investing in Physical Silver
As a newbie to the silver investing scene, you may think the traditional method of buying silver coins is the best way.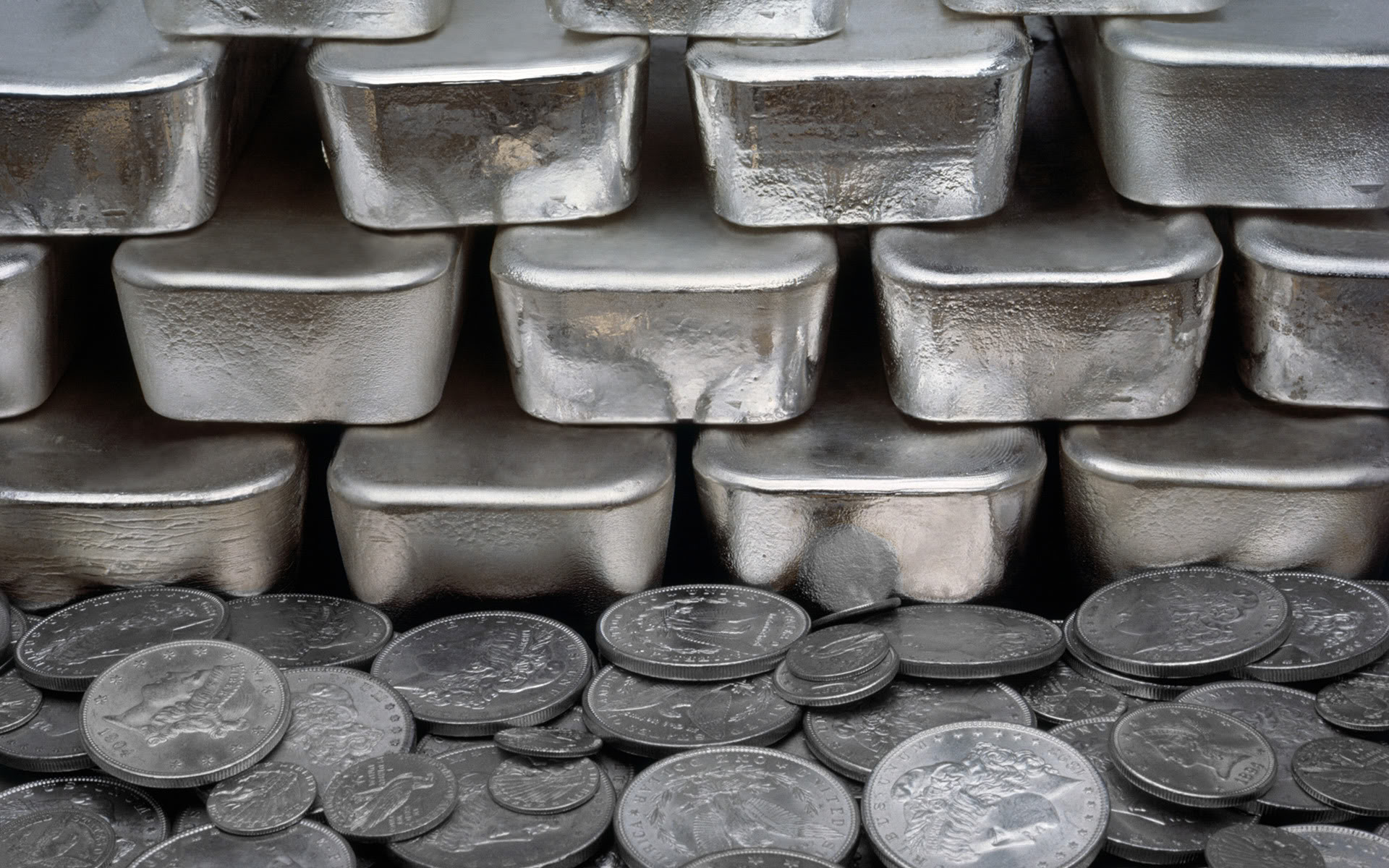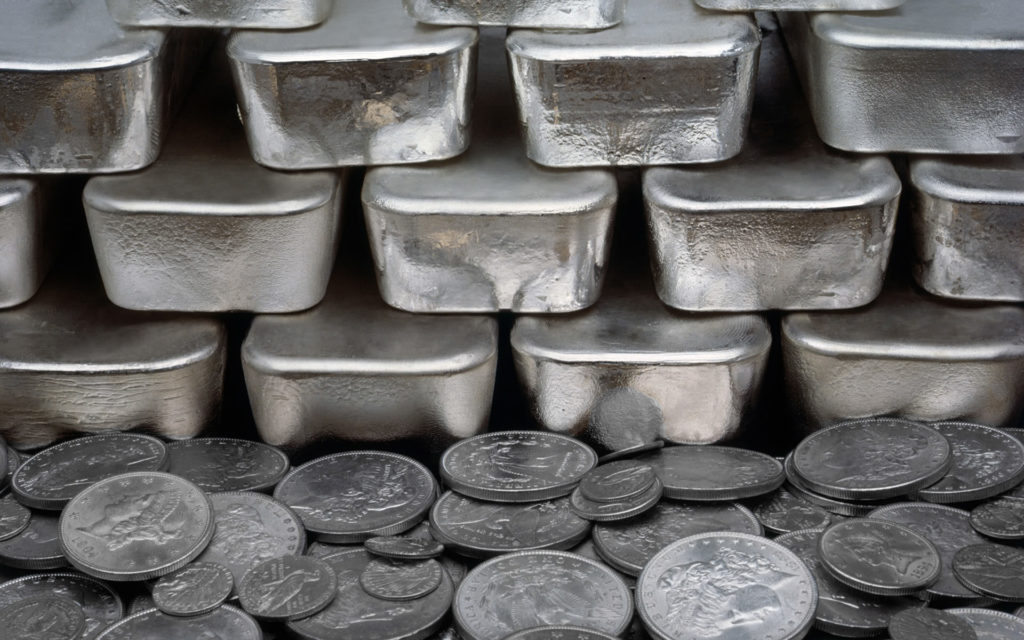 While it may sound appealing to store your coins or silver bars in specialist vaults located in London, New York or Zurich, there are minimum amounts. This means it could be an option for those planning a really large silver investment.
Investing in Silver ETFs
ETFs (exchange traded funds) are investment products that are managed by large financial institutions, mutual funds and asset managers like BlackRock and Morgan Stanley. An ETF is essentially a basket of different securities that tracks a certain index, commodity or sector.
For example, the iShares Silver Trust ETF (SLV) is a fund managed by the trillion-dollar asset management company BlackRock. The ETF holds more than 600 million ounces of physical silver and provides investors exposure to the changes in the price of this ownership.
ETFs are one of the ways to invest in silver bullion for a variety of different reasons, such as:
Silver ETFs are created and managed by large financial institutions providing 100% safety and transparency of your silver investment.
ETFs are listed on the stock market via exchanges such as the New York Stock Exchange and London Stock Exchange. This means you trade it like a stock and buy and sell during market hours.
The fees charged by the ETF manager are generally quite low and usually around 0.5% annually.
Silver ETFs and ETCs (exchange-traded commodities) are very popular with large hedge fund managers and institutions who want a silver investment without worrying about storage and security. This is why they also provide liquidity and are popular for UK investors.
Investing in Silver Stocks
Many investors choose to gain exposure to silver through silver mining stocks that trade on the stock market.
This provides unique opportunities for investors who could capitalise on rising prices in precious metals, as well as rising prices in the stock market. This can have a combined effect of a stock moving much more than the price of physical silver.
For example, Pan American Silver Corp runs one of the larger silver mining operations in the world and you can invest in its share price through your stockbroker.
When silver prices rose more than 150% from the lows of March 2020 to the beginning of 2021, the share price of Pan American Silver Corp moved more than 280% higher.
With regulated brokers, you can buy shares in silver stocks, invest in silver ETFs and start stock trading UK silver mining companies 100% commission-free and start investing from just $50.
Investing in Silver CFDs, Futures and Options
CFDs are known as derivatives as you are merely speculating on the price direction of a market, rather than owning the underlying asset.
If you believe the price of silver will rise you can buy at the market price, also known as the spot price. If you believe the price of silver will fall you sell. If the price of silver moves in your chosen direction you are making money, if not then you are losing money. Another option is via futures contracts which work in a similar way.
Is Silver a Popular Investment?
So, is silver one of the most popular investments? Since the 150% surge higher in silver prices during the volatility of the coronavirus pandemic, the future of silver prices has been talked about heavily in financial media.
Many analysts, hedge fund managers, and economists predicted a bull market for silver in the future for a variety of reasons listed below.
1. Demand for silver from investors is at a record high. At the beginning of 2021, the total holdings of silver bullion from global ETFs were at a record high of 1 billion ounces. Investors fled to the industrial metal as a safe haven from the pandemic and as a hedge against central bank interest rates. Demand also increased from retail investors after the Reddit WallStreetBets movement tried to squeeze silver prices higher.
2. Demand for silver from commercial companies is at a record high. Industrial demand now accounts for more than 50% of silver demand. The precious metal is a key component in solar panels, electric vehicles, and nuclear energy. All of these are hot sectors that are predicted to grow exponentially in the future driving the demand for silver even higher.
3. Silver supply is falling rapidly. The production of silver from the top ten mines around the world has been rapidly falling over the past several years. In fact, the silver supply peaked in 2015. If there is less silver going around, prices will rise even more.
Sponsored ad. Your capital is at risk.
Silver Investment Strategies
There are a variety of different silver investment strategies used by investors which broadly fall under two categories:
1. Fundamental Analysis. This is the study of the macro-economic factors and supply and demand pressures on the silver to find what the price of silver would be in several months or years. It's a style mainly used for long term investments.
2. Technical Analysis. This is the study of historical price action and technical indicators to find repeated patterns that show which direction the price of silver could move to next. This style is mainly used for day trading the market.
A much newer style of investing is through eToro's CopyPortfolio feature. These are ready-made portfolios that are managed by eToro's in-house investment committee and a way to learn how to invest in silver for beginners.
They are easy to access and provide diversification in your portfolio. For example, you can invest in the Golden Energy CopyPortfolio at the click of a button which will give you exposure to energy and metals, including silver.
Conclusion
In this article we have gone through some of the ways with which some investors choose to invest in silver using bullion, CFDs, ETFs, and stocks.
Whether you are investing in physical silver or silver mining companies, market analysts have suggested that the supply and demand dynamics have an impact on silver prices.
Sponsored ad. Your capital is at risk.