Ride-hailing company Lyft has seen the value of its shares drop steadily since it went public in 2019. The company is now trading nearly 50% below its IPO price.
While there are certainly risks around Lyft stocks, many analysts see the company's troubles as investors' potential gain. Lyft is trading at a significant discount even relative to where it was before the coronavirus pandemic, let alone its IPO price. That means that UK investors have a chance to buy Lyft shares at a bargain.
If you're thinking about investing in Lyft, this guide is for you. We'll show you how to buy Lyft shares online in the UK and take a closer look at this ridesharing giant's prospects for the future.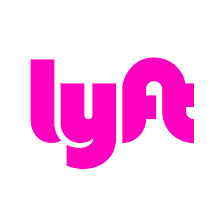 Lyft shares trade on the NASDAQ stock exchange in the US. So in order to buy shares of this company in the UK, you'll need an account with a licensed stock broker.
There are a couple key things to consider when choosing an online broker for buying Lyft shares in the UK. First, you need to make sure that your broker offers Lyft stock either directly or through CFD trading. The good news is that since Lyft is a globally recognized growth stock, most UK brokers offer trading on its shares.
Second, it's important to look at how much your broker will charge you to trade. Many CFD brokers in the UK now offer 100% commission-free trading, which means you only pay a spread in order to buy and sell share CFDs. If you opt for a share dealing account, make sure that the commissions are low relative to what other UK brokers are charging for the same trades. Also watch out for account fees, which can add up over time regardless of whether you trade frequently or only once in a while.
Another thing to consider is what trading platforms your broker offers. Some brokers give you access to in-depth market research or a social trading network where you can exchange ideas with other traders. Others offer advanced charting and analysis platforms so you can vet shares on your own. Make sure that the tools included with your brokerage will suit your needs and empower you to make good trading decisions.
With all that in mind, let's take a closer look at two of our most highly recommended brokers in the UK for buying Lyft shares: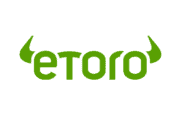 eToro is one of the most widely used online brokers in the UK, and for good reason. This trading platform offers 100% commission-free trading and gives you the option to invest in shares directly or to buy and sell CFDs. If you choose to buy Lyft shares through CFDs, you can leverage your trade up to 5x to maximize your position.
eToro has a huge selection of stocks available from the UK, US, and around the world. You can trade more than 800 shares, plus an additional 450 ETFs. If you want to expand your trading beyond just stocks, eToro has CFDs for dozens of currencies, commodities, and cryptocurrencies. This broker also offers commission-free bond trading, which you won't find at almost any other broker.
A big part of what sets eToro apart from other online brokers in the UK is the quality of its trading tools. With this broker, you get access to a vibrant social trading network with tens of thousands of other traders from around the world. You can see whether other investors are buying or selling Lyft shares as well as ask for feedback on your trading or investing strategy. eToro also supports copy portfolios, so you can set a portion of your portfolio to mimic the positions of a professional trader.
eToro also gives you access to a proprietary real-time charting platform that's very robust. It comes with over 100 technical indicators and drawing tools, yet is surprisingly user-friendly. Another plus is that the charting software is available through eToro's mobile trading app. The only things we didn't love about eToro's platform is that you can't create your own indicators and there is limited access to professional stock analysis.
eToro is regulated by the UK's Financial Conduct Authority and is widely considered to be trustworthy. The broker doesn't offer customer service over the phone, but you can get in touch at any time through live chat if you have questions about your account.
Pros
100% commission-free trading
Invest in shares or trade CFDs
Offers forex, commodities, crypto, and bonds
Active social trading network
Includes user-friendly charting software with mobile app
Cons
Limited professional stock research
Customer service by live chat or email only
67% of retail investor accounts lose money when trading CFDs with this provider.
2. Libertex – Trade Stock CFDs and More with No Spreads

Libertex was founded as a forex broker, but this platform has come into its own as one of the best equity trading brokers in the UK. The platform offers a selection of more than 50 share CFDs and dozens of ETF CFDs, including contracts for a variety of popular companies in the UK and US.
One major difference between Libertex and other CFD brokers in the UK is that this trading platform charges fixed commissions rather than floating spreads. For trading shares like Lyft, expect to pay around 0.15% per trade as commission. This charge doesn't trade over time based on liquidity, making it easier to know what you're paying to buy and sell Lyft shares. Libertex also doesn't charge any deposit fees and you can avoid withdrawal fees by using an e-wallet like Skrill.
The broker offers its own custom trading platform, which comes complete with charting software and a mobile trading app. You can access over 90 built-in technical studies and drawing tools to analyze technical trends, as well as monitor market news to stay one step ahead of price changes. Libertex also offers a free paper trading account, which is great if you want to improve your trading skills before committing real money to the market.
One thing we especially like about Libertex is that this broker makes it easier to move funds in and out of your account than a lot of other UK brokers. To start, there are no account deposit or withdrawal fees. Another plus is that you can any of a dozen different payment methods, including debit or credit card.
Libertex has a very helpful customer service team, which you can get in touch with by phone or email. The platform is also widely considered to be safe to trust with your money. It has been around for more than 23 years and is fully regulated by the Cyprus Securities and Exchange Commission (CySEC). UK trading accounts are also insured by the Financial Services Compensation Scheme (FSCS) for up to £85,000.
The biggest downside to Libertex is that if you want to expand beyond stock and forex trading, it doesn't offer a lot of markets. The platform offers CFDs to support just a small range of commodity trading and cryptocurrency trading. In all, Libertex has just over 200 markets.
Pros
Pay fixed commissions instead of floating spreads
Advanced charting software with 90+ indicators
No additional account fees
UK accounts are insured by FSCS
Supports forex, commodity, and crypto trading
Cons
Limited selection of markets
No stock analysis from experts
Your money is at risk.
Whether you're considering investing in Lyft or similar tech stocks like Uber Technologies Inc., you should always do your research before putting your money on the line.
Wall Street analysts are torn on whether Lyft shares are a good investment. Some believe the shares are currently trading at a major discount relative to Lyft's potential future valuation. Others believe that Lyft will continue to bleed money for years to come.
With those conflicting views of the stock, it's essential that you do your research into Lyft shares before investing. We'll explain everything you need to know about this rideshare company, including the share fundamentals, its volatility, and potential growth.
Lyft, Inc. operates the Lyft app which offers vehicles for hire, motorized scooters, food delivery, and a bicycle-sharing system. was founded in San Francisco, California in 2012 by Logan Green and John Zimmer. The company grew as an extension of the founders' car sharing service Zimride, which they sold off in 2013 to Enterprise Holdings to focus on growing Lyft.
By 2014, Lyft was operating in 60 cities across the US. The company expanded to 300 US cities by 2017 and launched in Canada that year. Today, Lyft operates in 644 cities in the US and 12 in Canada and claims a 30% stake of the ridesharing market in the US.
Lyft held its IPO on the NASDAQ stock exchange in March 2019, beating out its rival Uber to listing on the stock market. The IPO raised $2.34 billion at a $24.3 billion valuation, offering shares at $72 USD each.
Initial excitement over Lyft's IPO faded quickly, however. By the end of the year, the company's stock price had fallen to just $45 per share. When the COVID-19 pandemic hit, Lyft's business ground to a trickle and shares fell to a low of just $14.56. The share price had only recovered slightly by the end of October, to around $23 per share.
However, Lyft stock got a significant boost after voters in California passed Prop 22, which allowed Lyft to sidestep a state law that would have forced the company to classify its drivers as employees – with all the health and other benefits that classification entails – rather than independent contractors. Lyft had said it would pull out of California, it's largest market, had Prop 22 failed.
Since the vote, shares of Lyft have nearly doubled in value to $40.11.


At the current share price, Lyft has a market cap of $12.74 billion – just over half of its market cap on the day of its IPO. The company has never turned a profit, and in fact has been notorious for burning through capital. Lyft reported a third-quarter EPS (earnings per share) of -$1.44 this year on revenue of $499.7 million, down 47% from the same quarter in 2019. The company is on track for a full-year EPS of -$4.54 per share.
Analysts also don't expect much EPS growth from Lyft in the near future. The consensus estimate for full-year earnings in 2021 is -$2.72 per share, and full-year earnings in 2022 are anticipated at -$1.32.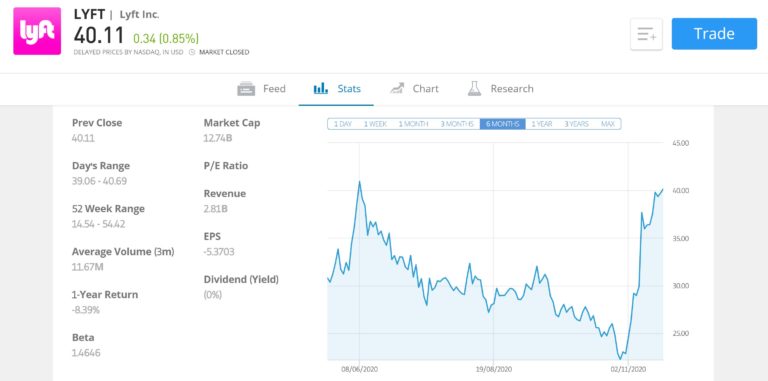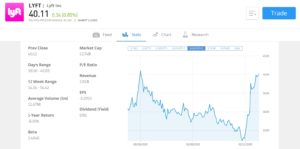 Lyft is not profitable and so does not pay a dividend. Considering that the company doesn't have a timeline for profitability, it could be many years before Lyft makes any payments to investors.
Should I Buy Lyft?
If Lyft shares have been on your watchlist, now could be an opportunity to buy. Despite the recent upswing in share price, the company's stock is still in the midst of a deep pullback. Some analysts believe that Lyft is severely undervalued relative to its potential as a result of early investors' impatience with the ridesharing company's failure to turn a profit and the impacts of COVID-19.
So, is now the right time to buy Lyft shares in the UK? We think so. Let's take a look at why:
Prop 22 Provides Regulatory Relief
The passage of Prop 22 in California was the most important thing to happen to Lyft stock since the company went public. For years, controversy over Lyft's (and Uber's) classification of drivers as contractors rather than employees has cast a shadow over the company. There was always the threat that Lyft would face damaging regulatory action, and for a while it appeared that the state of California would come down hard on the company. Since Lyft's IPO, regulatory concerns have kept investors from flocking to the stock in large numbers.
Thanks to Prop 22's passage, Lyft can continue to operate in California much as it has throughout its existence. Better yet, the passage of the legislation means that Lyft is free from the storm clouds of regulation for years to come.
That takes a huge weight off the company, and not just in California. It's highly likely that other state governments across the United States will think twice about trying to regulate the way that Lyft, Uber, and other ride hailing companies can classify their drivers.
Given all that, it's not surprising that Lyft shares have risen nearly 90% since Prop 22 passed. In fact, investors should expect to see Lyft stock continue to rise in response to this landmark news.
The Pandemic Will Be Short-lived
Another thing that's gone in Lyft's favour recently is that Pfizer and Moderna each announced COVID-19 vaccines that are more than 90% effective. Even better, Pfizer expects to deliver enough doses to vaccinate 12.5 million Americans before the end of this year.
That means that the coronavirus pandemic and lockdown will be over in the US and Canada much more quickly than anyone anticipated even a few months ago. Lyft can expect ridership numbers to spring back to pre-pandemic numbers possibly by the end of 2021 as opposed to in 2022 or even 2023, as analysts had feared.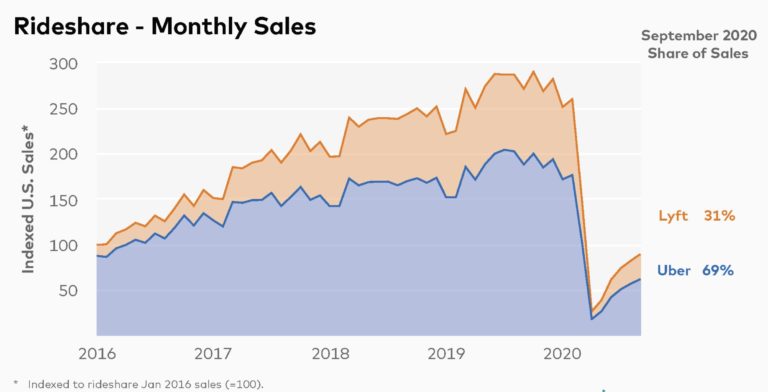 That's enormous for Lyft, since it means the company can get back to making money. Revenue was down by nearly half in the third quarter of this year compared to last year, but it could snap back to 2019 levels by next year. Lyft still won't be profitable, but it won't be bleeding money for another year, either.
Lyft has Proven Resilient
One more important thing that Lyft has proven this year is that the company is resilient. Even as ridership, particularly in large cities like New York and San Francisco, virtually disappeared, the company was able to maintain its network. It continued operations in almost every market Lyft is present in throughout the pandemic, which is a huge feat.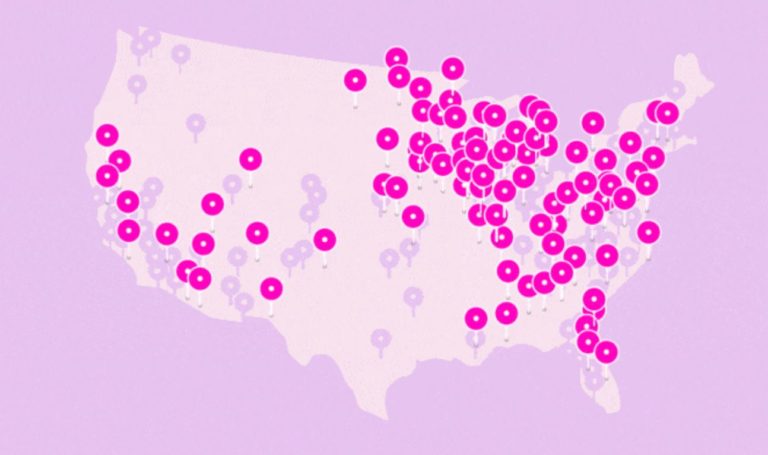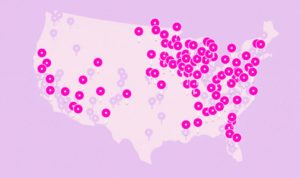 The critical thing here is that Lyft's management team, which has come under fire for lacking direction in the past two years, proved that it can navigate a crisis. Expect to see the executive suite come out of this pandemic with a renewed focus on leveraging its driver network and moving towards profitability.
Of course, any recommendation to buy Lyft shares comes with a major caveat: the company isn't profitable and won't be anytime soon. In fact, Lyft is unprofitable enough that few analysts are even willing to suggest a year in the future by which they expect profitability.
There are also concerns that Lyft may be adversely affected by the election of Joe Biden as US President, following his victory over Donald Trump due to the new president's stance on the gig economy.
That's still okay for now, especially if Lyft can start improving its margins and grow its EPS over time. However, if the company takes too long to demonstrate it can turn a profit, investors could lose their patience. If that happens, the share price could drop precipitously as investors – and especially institutional investors – sell off their stakes in Lyft.
Step 3: Open an Account and Deposit Funds
Ready to buy Lyft shares? We'll show you how to open an account and place your first trade with eToro. eToro offers 100% commission-free share dealing and CFD trading, plus gives you access to a robust social trading network and advanced charting platform.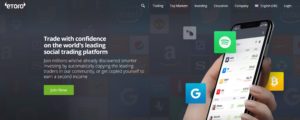 To get started with eToro, head to the broker's website and click 'Join Now.' Create a username and password for your new brokerage account, then enter personal information like your name, email, and phone number.
eToro requires that you verify your identity in order to comply with UK government regulations. You can complete this step online by uploading a copy of your driver's license or passport along with a copy of a recent financial statement or utility bill.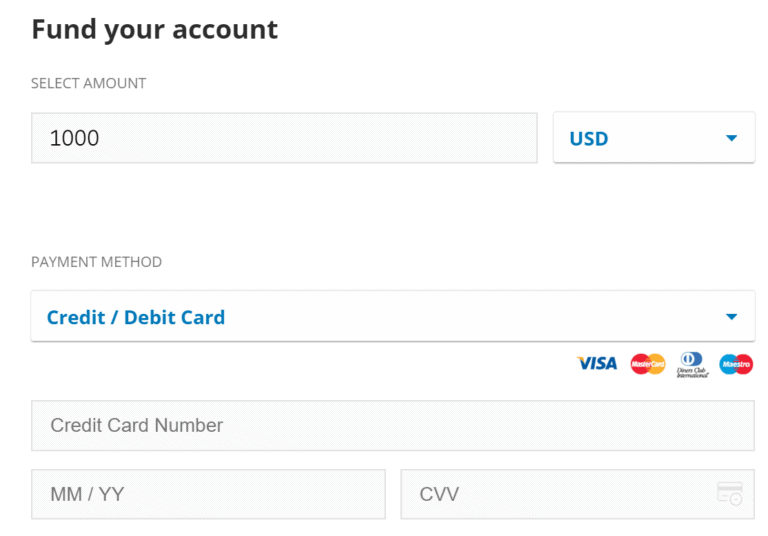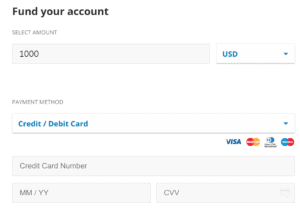 The next step is to deposit funds into your eToro account. The broker makes this easy by accepting a wide variety of payment methods, including debit or credit card, UK bank transfer, and e-wallets like Neteller and Skrill. Just keep in mind that you must make a minimum deposit of £140 when you first open an account.
Now you're ready to buy Lyft shares through eToro. Go to the dashboard and search 'Lyft,' then click on 'Trade' when the company appears in the drop-down menu.


In the order form, enter how much you want to invest in Lyft in USD. You can enter any amount over $50 since eToro enables you to buy fractional shares of Lyft. If you're trading CFDs, you can also select leverage up to 5:1. Finally, choose a stop loss or take profit level for your trade if you want your trade to automatically exit at a specific price.
When you're ready, click 'Open Position' to buy Lyft shares.
Lyft is a high-risk investment, but there are some bright signs ahead for the company. The passage of Prop 22 in California means that the regulatory shadow that has loomed over the company for years may finally disappear. At the same time, vaccine announcements suggest that the COVID-19 pandemic could be over within just a few months' time in the US. That would bring life back to normal and riders back to Lyft's network.
To be sure, Lyft faces a bumpy road ahead. The company still doesn't have a clear path to profitability, and it can only lose money for so long before investors start to abandon the stock.
However, we think Lyft shares are undervalued enough right now to justify investing in this ridesharing giant. If Lyft is able to expand its network and improve its margins over the next few years, today's investors will be richly rewarded.
The Verdict
Lyft shares have been losing value virtually since the day of the company's IPO. But the company appears to have finally found a durable bottom, and some favourable developments means that Lyft may never be this cheap again. With the headwinds Lyft has faced for the past year dissipating, we think right now is a good chance to buy Lyft shares in the UK.
Ready to buy Lyft stock? Sign up for an eToro account today to place your first trade!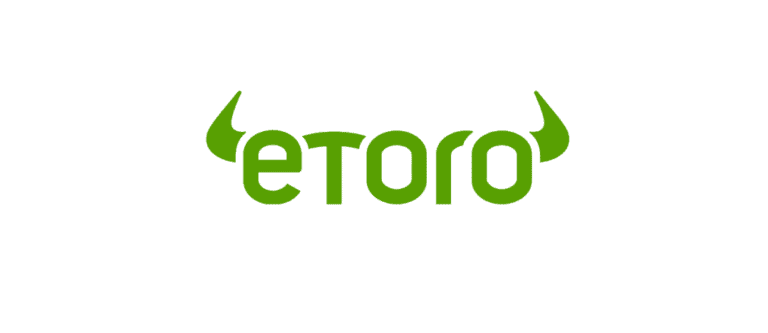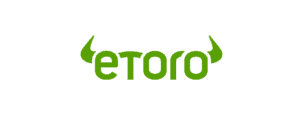 67% of retail investor accounts lose money when trading CFDs with this provider.
Looking to invest in other tech shares? Check out the companies below.
FAQs
[sc_fs_multi_faq headline-0="h4″ question-0="What is Lyft's stock ticker symbol?" answer-0="Lyft shares trade on the NASDAQ stock exchange under the ticker symbol 'LYFT.'" image-0="" headline-1="h4″ question-1="Who is Lyft's current chief executive officer?" answer-1="Lyft's current CEO is Logan Green, one of the company's two founders. The other founder, John Zimmer, serves as President." image-1="" headline-2="h4″ question-2="Can I invest in Lyft through an ISA or SIPP?" answer-2="Yes, you can invest in Lyft through an ISA or SIPP. However, you must find a broker that both offers these account types and deals US shares such as Lyft. Keep in mind that there are restrictions on how much money you can deposit in an ISA or SIPP each year. " image-2="" headline-3="h4″ question-3="How much of the US rideshare market does Lyft control?" answer-3="Lyft controls 31% of the US rideshare market, compared to 69% for its rival Uber." image-3="" headline-4="h4″ question-4="Does Lyft have a food delivery business?" answer-4="Lyft does not currently have a food delivery business, but the company recently announced that it is aiming to expand into food delivery. It is not yet clear when a food delivery service would launch." image-4="" headline-5="h4″ question-5="Does Lyft operate in the UK or Europe?" answer-5="Lyft only operates in the US and Canada at this time." image-5="" count="6″ html="true" css_class=""]