Rolls-Royce Holdings PLC is a UK-based engineering company that designs, manufactures, and sells power systems for aviation and several other industries. It is the world's second-largest manufacturer of aircraft engines and is one of the three major manufacturers dominating the power systems industry. Further, Rolls Royce is an FTSE 100 composite with a market capitalization of £8.73B as of May 2021.
In this guide, we show you how to buy Rolls-Royce shares online in the UK. We also highlight top brokers you can use to buy shares online and analyze Rolls-Royce Holdings PLC's share price history and forecast for the future.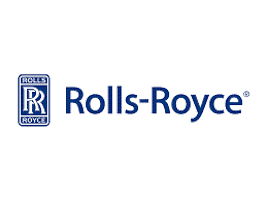 The first step you'll need to take is to find a trusted UK share dealing broker that offers share trading on the London Stock Exchange (LSE). There are plenty of online stock brokers in the UK, but you do need to ensure that your chosen broker offers competitive fees, a range of platforms and tools, and is regulated by the FCA. 
To make things easier for you, let's take a closer look at two of our recommended UK brokers that allows you to trade shares of Rolls Royce Holding plc.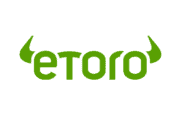 If you are a UK investor that wants to buy Rolls Royce shares in the easiest and most cost-effective way, eToro is the broker of choice. This online share dealing platform hosts over 800 shares from various leading exchanges across the globe including the London Stock Exchange, so you can invest in many of the best shares to buy. It is also very competitive when it comes to pricing, as you can buy shares and other financial products without paying any share dealing charges or fees.
One of the most notable aspects of eToro is that it allows you to buy and sell shares outright or via CFDs. On this platform, you can 'physically' buy the underlying asset and become a legal shareholder of the company, or you can speculate on Rolls Royce's share price without owning the asset. As eToro must comply with the FCA, it also allows users to trade shares CFDs with a leverage ratio of up to 5:1.
Above all, eToro is well known for its social trading environment and copy trading tools. In fact, it is the largest social trading platform in the world with more than 12m registered users on its platform. As a social broker, eToro allows you to engage with other users, while you can also use its CopyTrader tool to copy trades of top-performing traders.
eToro is heavily regulated by the FCA in the UK, ASIC in Australia, and CySEC in Cyprus. On top of that, the broker is also a member of the Financial Services Compensation Scheme (FSCS), meaning every investor will be compensated with up to £85,000 in case the company goes bankrupt.
In the UK,  you will need to meet a minimum deposit of $200 (around £160). To deposit funds, you can use a credit/debit card, bank transfer, or e-wallet payments such as PayPal, Skrill, Neteller, etc.
Pros:
Largest social trading platform worldwide with more than 12 million users
Low fees and commissions for share trading
Offers investors to buy shares outright or trade CFDs
Allows investors to copy top-performing traders using the CopyTrader feature
Accepts a diversity of payment methods, including PayPal
Top-Mobile trading app
Highly regulated and safe
Cons:
Limited research and trading tools for advanced traders
67% of retail investor accounts lose money when trading CFDs with this provider.
2. Plus500 – Low-Cost CFD Provider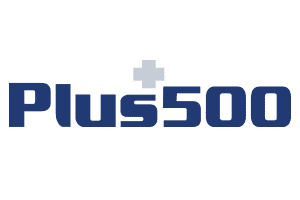 While eToro is our top pick for investors that wish to hold on to Rolls Royce shares for long-term positions, some of you might prefer to engage in shorter-term trading. For that purpose, you might be more suited for a CFD platform like Plus500. The online trading platform not only gives you access to thousands of financial instruments but also allows you to leverage your capital with a 5:1 ratio on shares.
The reason why Plus500 has become one of the top CFD brokerage firms in the United Kingdom and worldwide is its user-friendly platform, and low-cost pricing structure. The broker gives you the option of managing your account via its web-based platform or mobile trading app. It is also worth mentioning that you will get access to built-in price alerts, and a range of risk management tools.
If you wish to get started with Plus500, you will need to meet a £100 minimum deposit. You can add funds via debit/credit cards, bank account transfers, and Paypal. Finally, Plus500 is a safe platform as it is authorized by the FCA in the UK and its parent company is publicly listed on the London Stock Exchange under the ticker symbol PLUS.
Pros:
Regulated by the FCA
Over 2000 shares including shares of Rolls Royce
Easy to use trading platform and mobile trading app
Retail clients can trade CFDs with leverage of up to 5:1
Low minimum deposit requirement
Cons:
CFDs only
Limited charting package
72% of retail investors lose money trading CFDs at this site.
Whether you're investing in Rolls Royce or other companies like easyJet or AstraZeneca, it's always important to do your research.
It is impossible to ignore the fact that the coronavirus crisis has severely impacted the Rolls-Royce share price. Hence, you need to perform some homework to determine whether it's worth investing in Rolls Royce right now. Before you invest in stocks of this company, you should make a background research about Rolls Royce's share price performance before and during the Covid-19 pandemic and its outlook for the future.
Rolls Royce was founded 116 years ago in Manchester, Lancashire, England as a result of a partnership between Henry Royce and Charles Rolls. This partnership has created a new company: Rolls-Royce. While the company focused on manufacturing car engines in the first years of operation, it had an early foray into airplane engine production. Eventually, Rolls-Royce Holdings plc was incorporated in February 2011, and nowadays, it is the world's second-largest maker of aircraft engines and the world's 16th largest defense contractor. 
The share price has been on an upward trend ever since the company went public. However, the last two years have not been good ones for the Rolls Royce share price. Since 2018, the share price lost around 80% due to problems with the Trent 1,000 engine, Airbus A380 cancellation, Brexit, and the current Covid-19 pandemic.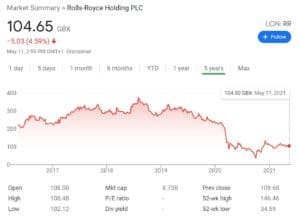 Rolls Royce reached its all-time high of £1271 back in January 2014 but at the time of writing the share price is trading at £104.7, near its lowest level for more than a decade. On top of that, since so much of Rolls Royce's business relies on the airline industry, it comes as no surprise that the share dropped almost 500p since the beginning of 2020.
Yet, as Rolls-Royce is currently reviewing options to strengthen its balance sheet and financial stability, the shares might be trading at a discount. Given the company's strong cash flow business model, its functioning defense arm division, and strong competitive edge against its rivals – it seems that Rolls Royce Holdings plc has the potential to produce high returns for shareholders in the years ahead.
Rolls Royce typically pays two dividends per year (excluding specials), and the dividend cover is approximately 1.9. Overall, this company has a payment history of over ten years with an average annual yield of 3.2%. This is, obviously, make it an attractive share for investors. It is also worth mentioning that in spite of the negative impact of the COV-19 pandemic on Rolls Royce, the company continues paying dividends to its shareholders.
Rolls Royce share price has been hit hard since it has adopted a new strategy in 2018. Additionally, the company was hit particularly hard due to problems with the Trent 1,000 engine, Brexit, and the global economic recession caused by the coronavirus pandemic. This adds further weight to the share, especially when you consider the shutoff of the airline industry.
Nevertheless, it's not all dark for one of the largest companies traded on the London Stock Exchange. As such, below we list some of the reasons why investing in Rolls Royce engine maker could be worthwhile.
Diversification of Products and Services
Rolls Royce Holdings plc makes most of its revenues from civil airline carriers paying it for engine flying hours. But while the civil aerospace division is in a very uncertain condition, the defense business, which manufactures engines for military aircraft, helicopters, and nuclear submarines, has remained resilient.
According to some analysts, the value of Rolls Royce's defense business should cover the company's current market valuation. It is also worth mentioning that the company is under several military contracts that enable Rolls Royce's defense division to perform well.
Then you have Rolls Royce nuclear division which is an integral part of the company's future prospects. Rolls Royce has recently submitted a proposal to the British government to accelerate the building of a new fleet of mini nuclear reactors in the North of England.
A Key Player in the Aviation Industry with a Profitable Business Model
Rolls Royce has a significant market share in the aviation sector. As of 2020, it is the world's second-largest maker of commercial aircraft engines after General Electric.
However, the company's domination in the aviation sector is not the only reason why investors find Rolls Royce an appealing investment. The company operates a business model that guarantees constant cash flow. Basically, it develops engines, sells them to airlines, and signs up on long-term contracts to maintain, repair, and overhaul (MRO). Hence, when the economy is in growth mode, Rolls Royce is a highly profitable company.
Upside Potential is Available
While the majority of companies in the world saw valuations declines of between 30-50% since March 2020, Rolls Royce lost 66% in the year to date. The Covid-19 pandemic caused a huge problem for Rolls-Royce, and especially its civil aerospace division. As such, analysts have a mixed view on Rolls Royce. Clearly, Rolls-Royce's share price will continue to face some uncertainty in the near future and it may take time until the share will recover to its pre-COV-19 levels.
Yet, its defense division makes Rolls Royce a functioning business and as soon as the airline industry gets back, Rolls Royce is a well worth buying share for long term investors.
It is also worth mentioning that Rolls Royce plans a £1.5B share issue to bolster finances and strengthen its balance sheet amid the crisis in the aviation industry.
Step 3: Open an Account and Deposit Funds
In order to start the process of buying shares of Rolls Royce Holdings plc, you'll have to open an online stock trading account with one of the top brokerage firms operating in the UK. The process is straightforward and should take a few minutes to be completed at most online trading platforms. However, we'll walk you through the process with our recommended broker eToro.
To get started, navigate to eToro's homepage and then click on the 'Join Now' button. You will then be prompted to a registration form where you need to provide your personal details such as username, email address, and then create a password. Alternatively, eToro allows you to complete the registration by using your Google or Facebook accounts.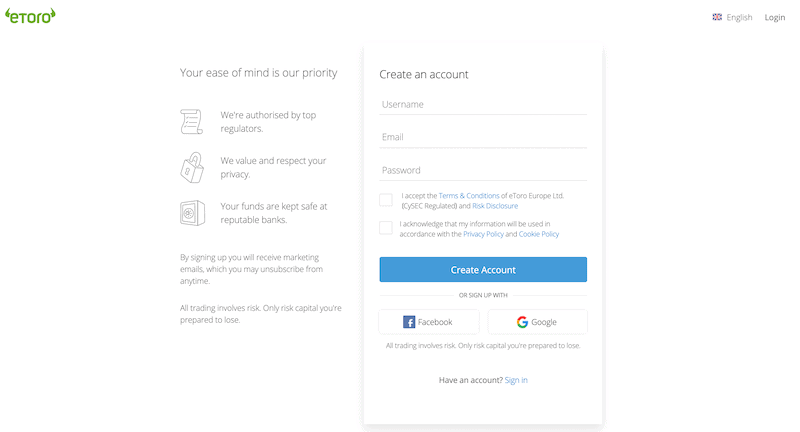 67% of retail investor accounts lose money when trading CFDs with this provider.
Since eToro is regulated in the United Kingdom by the FCA, it requires you to verify your identity before you can start trading. This means you'll have to provide the following documentation:
Passport or Driver's License
Recent Utility Bill or Bank Account Statement
As soon as eToro confirms your account, it's time to deposit funds into your trading account. eToro requires that you to deposit a minimum of £160 which you can do through one of the provided payment methods:
Debit Cards
Credit Cards
Paypal
Skrill
Neteller
UK Bank Transfer
Now you are ready to buy Rolls Royce shares. On eToro's trading dashboard, enter Rolls Royce or RR.L in the search bar at the top of the screen in order to locate the share page.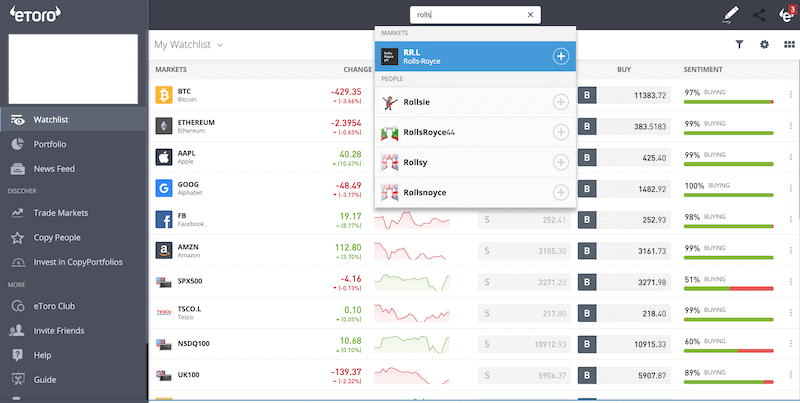 Next, you will be channeled to the Rolls Royce share page. Click on the 'Trade' button to open a new order form.

67% of retail investor accounts lose money when trading CFDs with this provider.
This will bring you to an order box. Enter the amount of money that you wish to invest in Rolls Royce. The position size must be at a minimum of around £40 (50 USD) but remember, you don't need to buy a full share. On eToro, you have the ability to buy fractional shares of a company. Once you ready to place an order in the market, click on the 'Open Trade' button, and your Rolls Royce share purchase will be completed.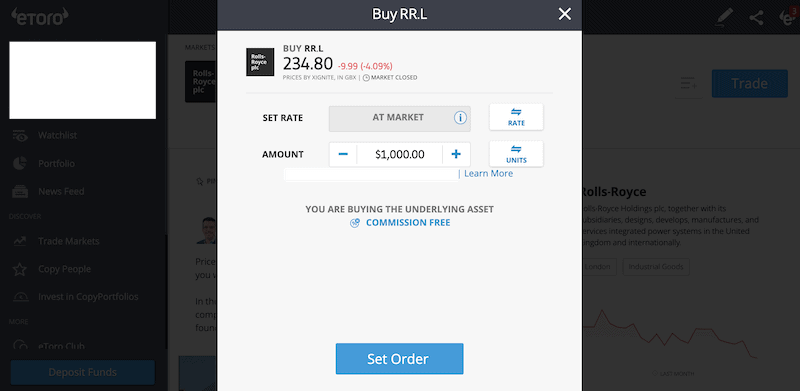 Note: If you are buying Rolls Royce Holding plc shares outside of standard market hours (9.30 am to 5 pm, Eastern Standard Time), you will need to click on 'Set Order'. Your Rolls Royce shares purchase will then be completed when the markets open.
Rolls Royce was hit extremely hard by the COVID-19 pandemic. When the airline industry shut down, orders for the company's planes, parts, and designs were cancelled en masse.
However, the pandemic did little to disrupt Rolls Royce's core business model. The company still has a highly profitable defense division and demand for its aircraft parts should bounce back once global travel resumes. Thanks to the rollout of vaccines from Pfizer and Moderna, it looks like a recovery within the airline industry will happen sooner than many experts initially predicted.
Moreover, Rolls Royce has done a nice job of looking to the future to ensure its business is healthy for decades to come. The move into nuclear power positions the company to ride the wave of demand for renewable energy, for example.
All of this points to a better future for Rolls Royce, which makes the current share price look like a bargain. Rolls Royce shares remain 60% below the level at which they were trading prior to the pandemic. Given that, we think that Rolls Royce shares are a strong buy.
The Verdict
Although many analysts were bearish about Rolls Royce over the past year, the COVID-19 pandemic has come to a close more quickly than many predicted. At the same time, Rolls Royce managed to get through the pandemic with relatively few disruptions to its core business model. Over the coming year, we expect Rolls Royce shares to bounce back strongly.
In fact, the shares are still down around 60% from their pre-pandemic price. According to Citigroup, Rolls Royce shares could have an upside potential of 100%. Goldman Sachs analysts have set a very high price target of £573.
If you are feeling bullish on Rolls Royce shares, we would suggest using our top recommended broker eToro. Simply click the link below to get started!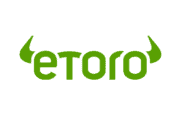 67% of retail investor accounts lose money when trading CFDs with this provider.
FAQs
What stock exchange is Rolls Royce listed on?
How much does it cost to buy Rolls Royce shares in the UK?
Does Rolls Royce pay dividends?
What is the minimum number of Rolls Royce shares that I can buy?
Are Rolls Royce shares a good buy?
How much are Rolls Royce shares?
Read next
How to Buy BT Shares Online in the UK
Rolls-Royce Holdings PLC is a UK-based engineering company that designs, manufactures, and sells power systems for aviation and several other industries. It is the world's...