Cineworld Share Price UK
Fact Checked
Everything you read on our site is provided by expert writers who have many years of experience in the financial markets and have written for other top financial publications. Every piece of information here is fact-checked.
Disclosure
Please note that we are not authorised to provide any investment advice. The information on this page should be construed for information purposes only. We may earn commissions from the products mentioned on this site.
Cineword is one of the largest cinema companies globally, and may be an investment opportunity for users looking to diversify their assets in the entertainment sector. 
In this article, we will give a comprehensive insight into the Cineworld stock, and review popular brokerages that allow users to purchase the stock. 
Cineworld Company Share Price UK
Cineworld is the second-largest cinema company globally, next to AMC Entertainment. The firm operates in 10 countries, with the United States and Europe as its strongest customer base. It owns more than 9,000 theaters across nearly 800 geographical locations.
Its core business offering is in the cinema sector, but it also runs financing, retailing, and leasing subsectors. This shows that the firm has developed income diversification which could ensure a steady cash flow in the long term.
It is included on the FTSE-250, which qualifies only the 101st to 350th largest companies listed in the LSE. The index is currently trading at 20,750.00 points and is forecasted to climb to a 2022 high near 24,000.00 points. This is due to sharp recovery across the United Kingdom.
A Fall from All-time High  
CINE experienced a sharp fall from grace from its all-time high of GBX 335.00 recorded in mid-2017 due to a high debt responsibility. This is made worse by collapsing business revenue from trickling foot traffic.
The pandemic wreaked cinema firms' balance sheets, with the like of AMC Entertainment which became one of Reddit's favorite meme stocks.
Based on its current average price of GBX 30.00, the firm's market cap has retraced back to GBP 475.06 million, far from its enterprise value of more than GBP 6.00 billion.
Cineworld Performance Recap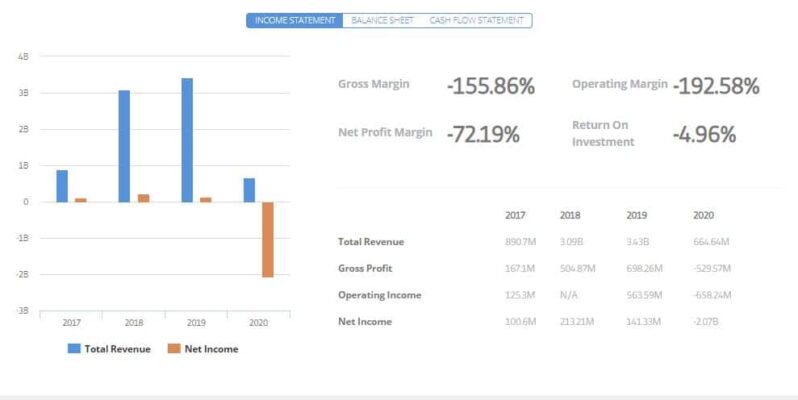 Before we jump into details of this year's Cineworld share price prediction, it is important to look back on how the stock fared in 2021. This includes its almost-bankruptcy filing and a handful of lawsuit drama. Traders could use this valuable performance data as a point of reference to predict whether the stock is set for a bullish or a bearish run next.
Despite its near-to-zero foot traffic, especially during the height of Covid restrictions, Cineworld still spent $45 million to pay its monthly dues of rent and bills payment. This put it to greater financial loss, with an EBITDA of -700.00 million pounds.
Due to high operational costs to keep its business alive, the company filed for bankruptcy in November 2020 to cut losses. During such time, it battled a legal suit filed by one of its landlords, AEW. The dispute is worth GBP 308,000, causing further damage. On top of this is a GBP 1.4 million lawsuit for unpaid rental dues from Trocadero center.
Nevertheless, in H2 2021, CINE logged a positive cash flow brought by several blockbuster hits, led by Spiderman. 
Cineworld Share Price Forecast for end 2022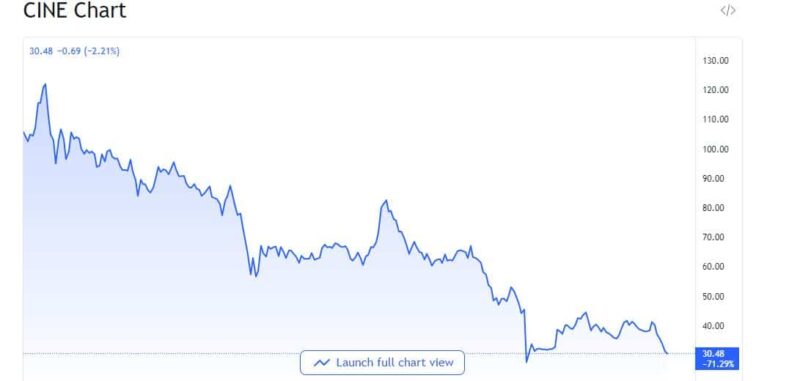 Box office revenue climbed up by 88% in December 2021 compared to the same period in 2019. But the price-to-earnings ratio remains low at only 6.07, lower compared to its Canadian competitor Cineplex, which has 40.73
Moreover, the Bank of England is forecasted to raise rates this year, increasing pressure on the cinema giant's debt load worth GBP 8.3 billion. This will demean traders' sentiment surrounding the Cineworld stock price prediction for the time being.
Despite this, upcoming movies such as The Batman, Jurassic World Dominion, and Top Gun 2 in the first half of 2022 may provide support.  Foot traffic remains the company's bread and butter, and high ticket sales is how the company makes ends meet.
The reality in Purchasing a Penny Stock
Penny stocks are high-risk investments that gained a reputation for burning investors' capital. Therefore, there are a couple of factors to look into before purchasing such assets. 
 Investors lose their money more often than they gain in purchasing penny stocks. On the other hand, there is potential to make a lot of revenue from the right penny stocks as well. It is important to be careful while investing, and to conduct proper research before investing any money into a stock. 
Like AMC and GME, these stocks are often targets of the pump-and-dump scheme. They became the centre of attention during the "short-squeeze" trend that started in late 2020 until 2021. Reddit traders pumped shares that are in the middle of financial chaos and are considering bankruptcy.
As a result, prices of these meme stocks skyrocketed before plummeting back to base, burning billions of dollars during the correction.
When you want to own a penny asset just for the FOMO or the Fear of Missing Out, think twice. Never mess with stocks of this kind.
Cineworld Share Price Forecast for 2024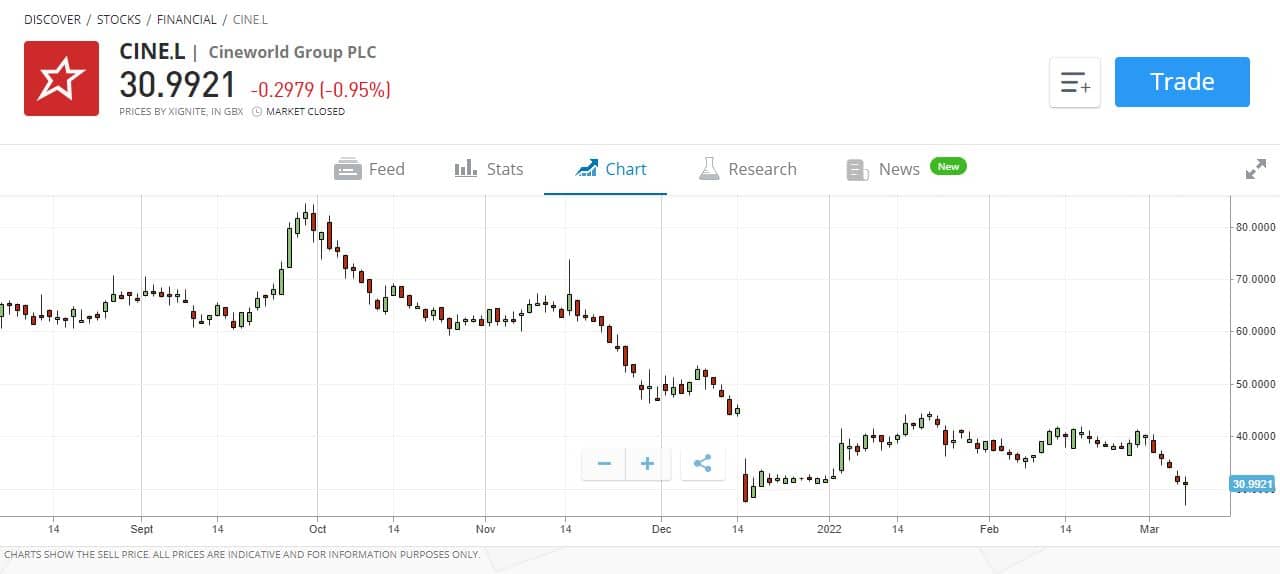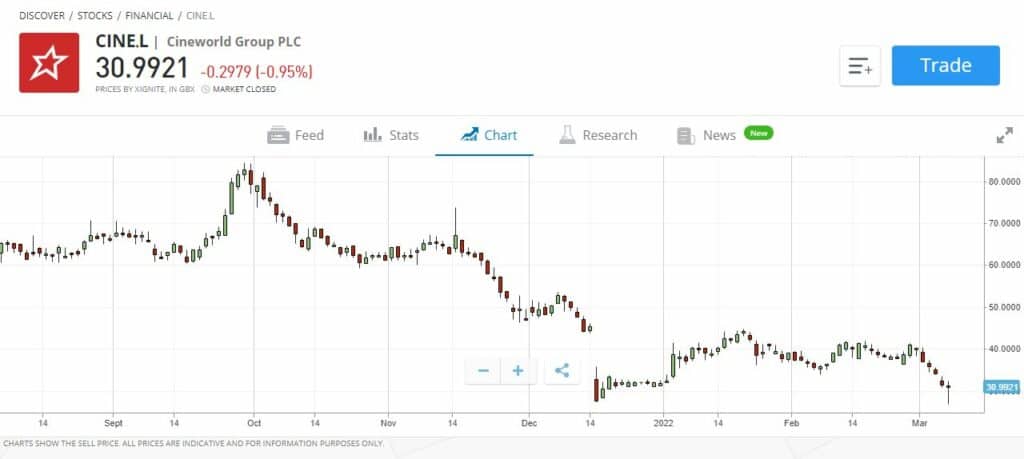 Recently, Cineworld secured an agreement with its creditors for the Regal Cinema sale. The decision favoured a delayed repayment term to settle its remaining debt. The British firm is legally mandated to pay $255.00 million to Regal Litigation Parties by the end of March 2022. Failure to settle dues will affect its performance negatively over the following years.
Battle with Subscription Streaming Sites
Even after it purchased Regal Cinemas in 2017, Cineworld has already lost its dominant presence in its main target markets. During such time, Netflix shows started gaining popularity, introducing the idea of watching movies in the comfort of users' homes instead of queueing in cinemas.
Despite this weakening market position, it went ahead with Regal's acquisition worth $3.6 billion. Such a decision put it in an unstable financial position and much to shareholders' dismay.
Today, among its biggest problems are a growing number of streaming platforms like Disney+. They offer users the choice to watch new movie releases through their devices instead of coming to theaters.
Cineworld Share Price History 
Almost declared bankruptcy in November 2021 if not saved by $750.00 million emergency funding from institutional investors.
Cineworld share price chart shows a year-to-date gain of 20.0% and a 52-week high of GBX 124.8. This has been driven by a positive revenue from Q4 2021, while it incurred a YTD low of GBX 26.6. 
Year-over-year, the stock price is down by 60.0% while showing an 86.0% decline over the last five years. It entered financial distress since its acquisition of Regal Cinemas in 2017. The move led to the increase of its debt load to nearly GBP 4.00 billion. 
Popular Brokerages that offer Cineworld Stocks
If you want to invest in Cineworld stocks, you can invest with a popular broker that can offer users low trading fees and additional features that help in the investment process.
Below is a review of a popular broker that allows users to trade Cineworld stocks.
eToro
eToro is a popular social investment site legally regulated to operate in the UK by the Financial Conduct Authority (FCA). It operates under license number 7973792, used by millions of traders for stock, crypto, and ETF trading, among other things.
The Tel Aviv-based brokerage company boasts a simple user interface and provides transparency in trades. It offers zero percent commission with no cap and trading limit. Trades are strictly charged based on the market spread. The minimum trade balance is also low, starting only at $10.00.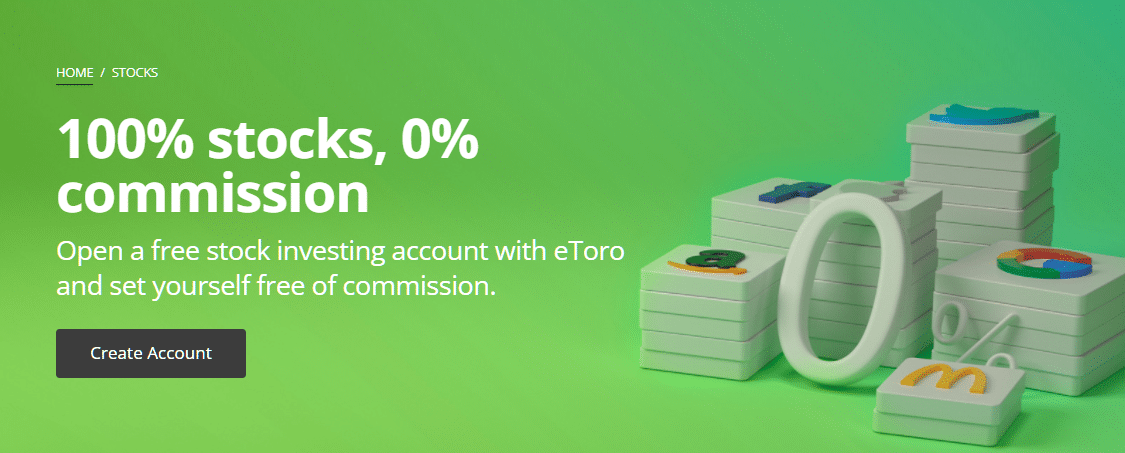 Some stocks cost more than others, so eToro introduced the concept of owning fractional shares to make high-profile stocks reachable to retail investors. Through the platform, users have the option to own a portion of a stock using the amount you would like to invest in.
eToro offers a social trading network powered by tools that brings its 26 million users closer together. Users, especially new market entrants, could learn about fresh price movements and news through its social platform, like a real-time Cineworld share price UK update.
Its copy trading feature also allows eToro traders to copy popular investors' daily trading moves. This allows beginners to gain knowledge from more experienced investors while simultaneously investing in their own stocks. 
| | | | | | |
| --- | --- | --- | --- | --- | --- |
| Stock Broker | Minimum Deposit | Fractional Shares? | Pricing System | Cost of Buying Stocks | Fees & Charges |
| eToro | $10 | Yes – $10 minimum | 0% commission on ALL real stocks, spreads for CFDs | Market spread is not included when buying real stocks | No Deposit fees, $5 withdrawal fee, $10 inactivity fee, no account management fees. |
Sponsored ad. 78% of retail investors lose money trading CFDs at this site. Your capital is at risk. Other fees apply. For more information, visit etoro.com/trading/fees.

How to Purchase Cineworld Stock 
If investors are keen on purchasing Cineworld stocks, there are multiple brokerages that allow them to do so. After selecting a suitable broker that meets your trading needs and requirements, users can begin trading following these 4 simple steps.
Step 1: Open an account
Go to your chosen platform's website and begin the sign-up process. Enter personal information and create your username and password to access the account.
Step 2: Account Verification
Verify your new account by presenting proof of identification (Passport copy, Driver's license) and a proof of address (Bank statement, utility bill).
Step 3: Fund the Account
Once verified, fund your account by choosing the supported payment methods your broker provides. In most cases, users will be able to do so with a credit/debit card, online bank transfer or an e-wallet.
Insert the amount of fiat currency you wish to deposit, and confirm your transaction.
Step 4: Purchase Cineworld Stock
The final step of the process is to invest in the Cineworld stock or any other asset you wish to trade in. Search for the stock on the search bar and enter the amount you wish to invest in the stock.
Conclusion
Cineworld's stock has had quite of a ride in the past two years due to the pandemic's impact on entertainment service providers.
Cineworld has a  high debt load of more than $8.00 billion, and has the potential to sour investor sentiment in the following years if it goes resolved. However, readers should make sure to research the stock properly, prior to making any investments.
FAQs
What is the highest Cineworld stock price?
Does Cineworld pay a dividend?