Decentraland is an ever-growing virtual world that allows users to play and interact with games and other users, as well as purchase digital land. The project is backed by the Ethereum blockchain and thus – it's now possible to invest in Decentraland by buying its native coin.
In this guide, we show you How to Buy Decentraland Coin in the UK with a regulated online broker.
How to Buy Decentraland Coin – Quick Guide
If you want to buy Decentraland Coin from the comfort of your home – you'll need to use a trusted broker that offers competitive fees. You'll also need to consider the minimum investment stated by the broker and whether or not it offers a secure in-house wallet.
This is why we like eToro – as not only does the FCA-regulated broker allow you to buy Decentraland Coin from the comfort of your own home but the provider offers a safe wallet to store your digital tokens. Here's how to buy Decentraland Coin in less than 10 minutes with eToro:
Open an account with eToro: Visit the eToro website, click on the 'Join Now' button and open an account. You'll need to enter some personal information and contact details.
Deposit:  Deposit funds into your eToro investment account. You can do this with a UK debit card, e-wallet, or bank account transfer.
Buy Decentraland: Enter 'Decentraland' into the search box and click on the 'Trade' button. Enter the amount of Decentraland you want to buy and click on the 'Open Trade' button.
Your Decentraland Coins will now be added to your eToro web wallet for safekeeping. If you wish, you can also transfer the coins to the eToro mobile wallet – which is compatible with Android and iOS devices.
How to Buy Decentraland Coin – eToro Tutorial
Is this your first time buying a digital currency online and looking for a more comprehensive walkthrough? If so, the tutorial will walk you through the process of how to buy Decentraland step-by-step.
Step 1: Open a Brokerage Account With eToro
First and foremost, eToro is an FCA-regulated brokerage firm, so you will be required to open an account and verify your identity. This part of the process should not take you more than 5 minutes.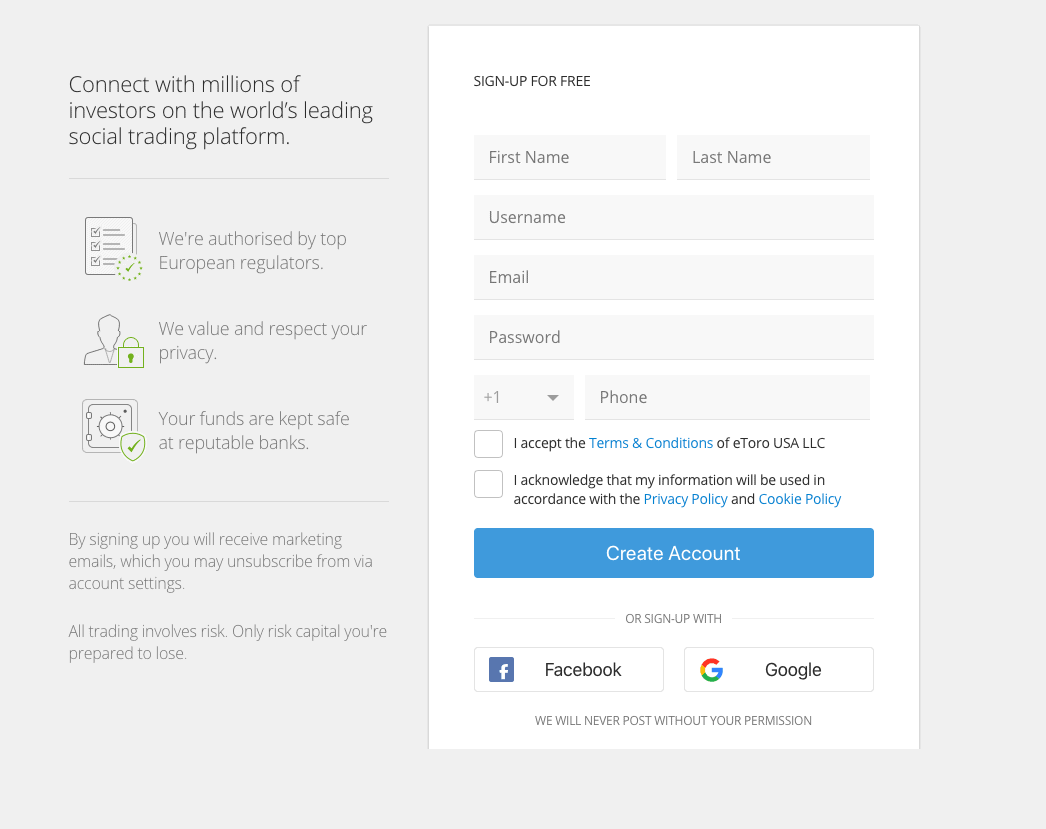 So, visit the eToro website and elect to open an account. You'll need to follow the on-screen instructions by providing your:
Name
Nationality
Residential Address
Date of Birth
Mobile Number
Email Address
National Insurance Number
You'll also need to confirm your email address and mobile number, as well as choose a username and passport.
Next, eToro will ask you to upload a copy of your:
Passport or Driver's License
Bank Account Statement of Utility Bill
Note: If you are not planning to buy Decentraland at a stake of more than $2,250 – you can skip this step and upload the above documents at a later date. With that said, you'll need to do this before you will have access to withdrawal facilities – so we would suggest completing the KYC process now.
Step 2: Fund Your eToro Investment Account
One of the many benefits of using an FCA-regulated broker to buy Decentraland crypto tokens – as opposed to using an unlicensed exchange, is that you can easily deposit funds with an everyday payment method.
In fact, eToro supports the following deposit types:
Paypal
Skrill
Neteller
Visa
Maestro
MasterCard
Bank Transfer
If you want to buy Decentraland Coin in the fastest way possible, it's best to avoid a bank transfer. This is because all other payment types are processed instantly.
Step 3: Find Decentraland Coin
Now that you have money in your eToro investment account you can proceed to search for Decentraland Coin. Simply enter 'Decentraland' into the search box and click on the result that pops up.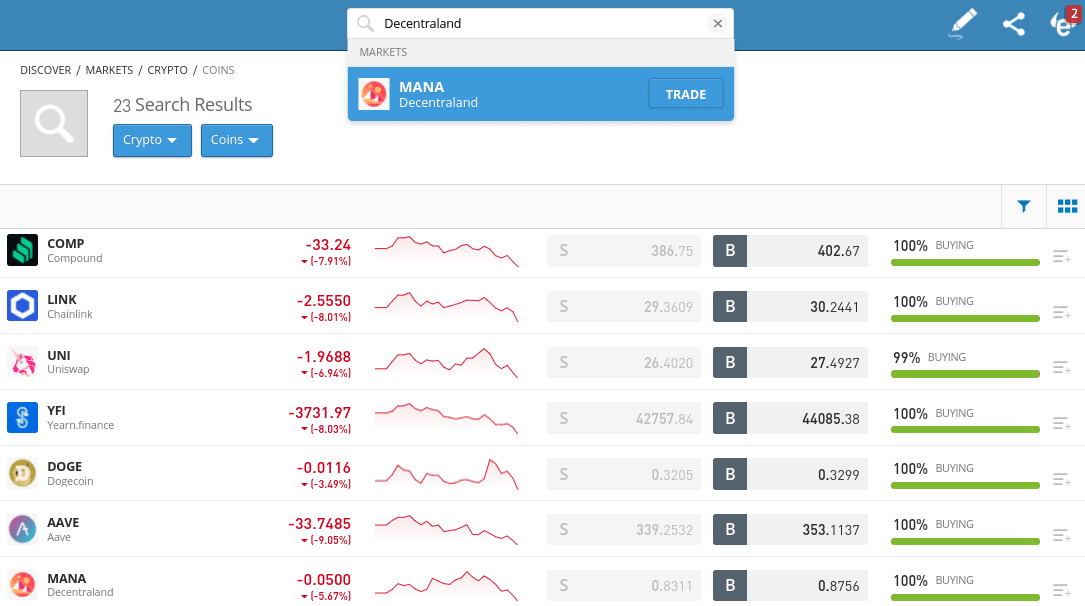 On the next page, you'll need to click on the 'Trade' button to bring up an order box.
Step 4: How to Buy Decentraland Coin
You should now see a Decentraland Coin order box – much like in the screenshot below. In the 'Amount' box, enter the size of your investment.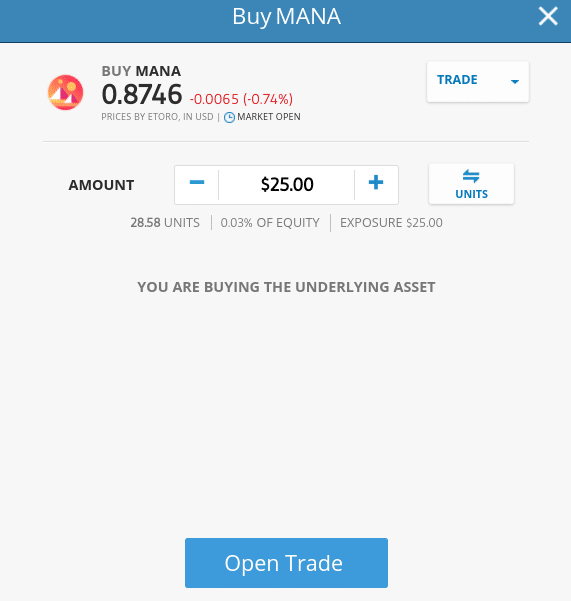 To complete your Decentraland Coin investment – click on the 'Open Trade' button.
Step 5: How to Sell Decentraland Coin
Once you have completed your investment, the coins will be added to your eToro portfolio. You can view the current market value of your Decentraland crypto tokens at any given time and behind the scenes – the digital assets are being stored safely in the eToro custodial wallet.
When you decided to sell your Decentraland Coins, click on the 'Portfolio' button. Then, click on the 'Sell' button next to Decentraland Coin and confirm the order. In doing so, the proceeds from the sale will be reflected in your eToro cash balance.
Where to Buy Decentraland Coin eToro
So far in this guide on how to buy Decentraland crypto tokens, we have outlined the steps required with FCA-regulated broker eToro. You do, however, need to ensure that your chosen cryptocurrency trading platform is right for your needs.
To help you along the way, below we discuss two of the best brokerage sites to buy Decentraland Coin in the UK.
1. eToro – Overall Best Crypto Platform (FCA Regulated)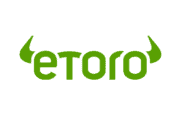 eToro is the overall best crypto platform to buy Decentraland Coin for many reasons. Firstly, and as noted several times, eToro is regulated by the Financial Conduct Authority (FCA). This means that you are using a solid brokerage firm that takes regulation and client safety seriously. Alongside Decentraland Coin, eToro offers a great selection of alternative digital currencies.
For example, you can buy Bitcoin, Ethereum, Cardano, Bitcoin Cash, EOS, Dash, NEO, and more. You can also invest in other DeFi coins – such as Uniswap, Chainlink, and Aave. All supported crypto assets – including that of Decentraland Coin, can be purchased via the eToro crypto app.

We also like the fact that eToro is one of the most competitively-priced FCA brokers in the space. In the case of cryptocurrencies, you can invest on a spread-only basis. This means that you are paying the difference between the 'buy' and 'sell' price of Decentraland Coin, as opposed to paying a direct commission. If you decide to diversify into other assets – such as to buy shares or ETFs, eToro allows you to do this without paying any dealing fees.
Back to Decentraland Coin, eToro offers two options when it comes to storage. Most investors will leave the coins in the eToro web wallet. This convenient option allows you to sell your coins at any given time through your eToro portfolio. Alternatively, you might decide to transfer the Decentraland Coins to the eToro mobile wallet – should you wish to have more control over your digital funds.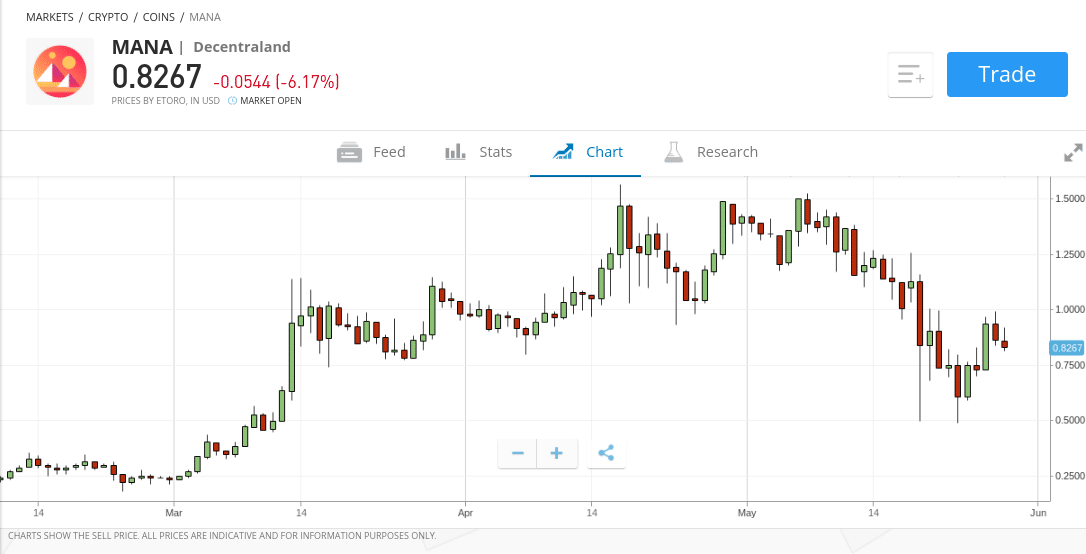 An additional feature of eToro is its CopyPortfolio and Copy Trading tools. The latter allows you to invest in a professionally managed portfolio of assets. One such option – the CryptoPortfolio, gives you access to a diversified basket of digital coins. The Copy Trading tool allows you to invest in a successful eToro investor and subsequently – copy their trades like-for-like. Getting started at eToro takes minutes and you can trade Decentraland Coin with a debit card, e-wallet, or bank transfer. Decentraland, along with other popular digital assets, has become the best cryptocurrency to invest in. It's taking the metaverse to new unprecedented levels.
Pros
Buy and sell cryptocurrencies commission-free
More than 20 million people using the platform
Accepts debit cards, e-wallets, and bank transfers
Supports copy trading to automate your crypto trades
Fully regulated in the UK by the FCA
Over 2,400 stocks and 250+ ETFs
Cons
A small withdrawal fee of $5
The platform operates in US dollars
Cryptoassets are highly volatile and unregulated in the UK. No consumer protection. Tax on profits may apply.
2. Binance – Largest Cryptocurrency Exchange for Trading Volume and Liquidity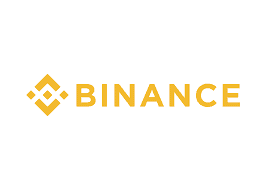 Some traders in the UK will look to use Binance for their cryptocurrency needs. The main draw with this platform is that it is highly conducive for active day traders that want access to an abundance of liquidity and markets. This is because Binance offers hundreds of crypto pairs and is typically home to the largest trading volumes in the digital asset arena.
When it comes to buying Decentraland Coin at Binance, the process isn't as seamless in comparison to eToro. This is because Binance does not offer a fiat-to-crypto marketplace on Decentraland Coin. Instead, you will need to trade it with another digital currency. Your options include BTC, ETH, USDT, or BUSD.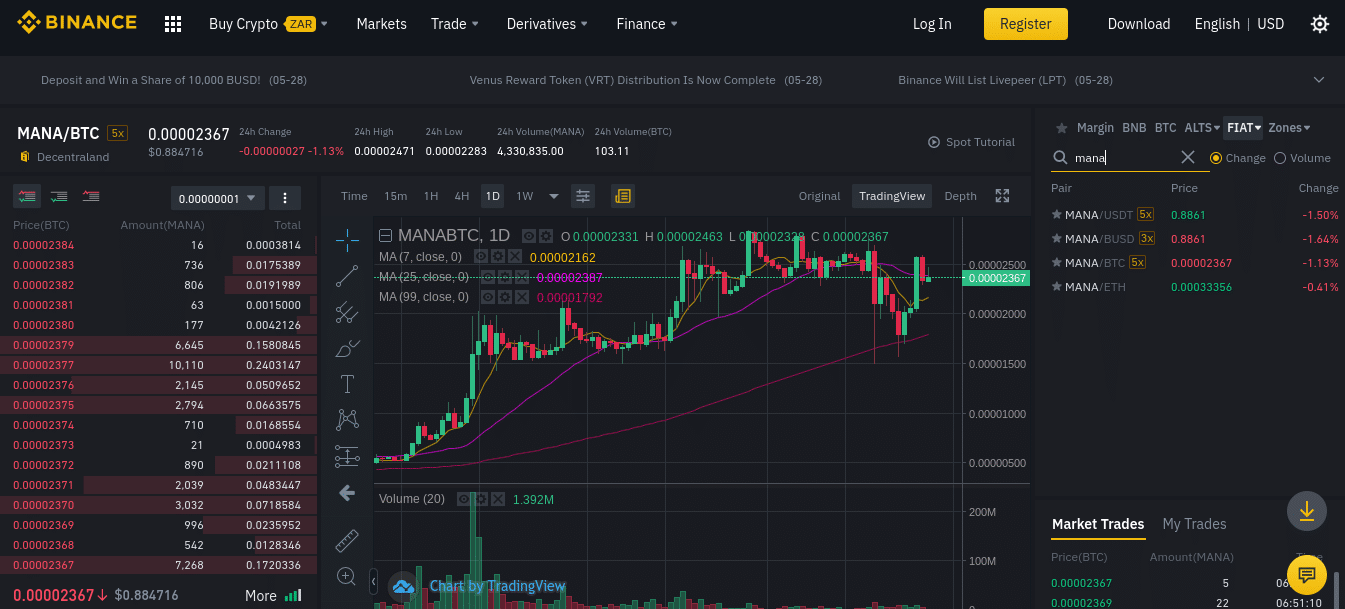 If you already have one of the aforementioned coins to hand, you can transfer them into your Binance web wallet and make the exchange. This will cost you just 0.1% in trading commission and you won't be required to provide any personal information – as you are funding your account with a digital asset. If, however, you want to use a debit/credit card or bank transfer to trade Decentraland crypto tokens at Binance, you will need to go through an extra couple of steps.
First, you'll need to open an account and upload a copy of your government-issued ID. Once confirmed, you can then deposit funds with your chosen fiat currency method and proceed to trade Decentraland Coins. We like the fact that bank transfers are fee-free, albeit, debit/credit card deposits will cost you 1.8%. This is much more expensive than eToro, which charges just 0.5% across all of its supported payment methods.
Pros
Largest cryptocurrency exchange UK in terms of trading volume
Hundreds of cryptocurrency pairs supported
Trading commission of just 0.1%
Supports UK debit/credit cards and bank transfers
Great reputation in the cryptocurrency scene
Ideal for advanced traders that seek sophisticated tools and features
Cons
Not great for newbie investors
A standard charge of 1.8% on debit/credit card deposits
Disclaimer: Your Capital is at risk.
What is Decentraland Coin?
Decentraland Coin – which trades with the ticker symbol 'MANA', is a cryptocurrency that has the potential to become the next Bitcoin. The primary function of the digital asset is to fuel the Decentraland virtual reality platform.
For those unaware, Decentraland is an online game that allows users to enter a virtual world (referred to as a 'Metaverse').
You can complete a range of tasks alongside your fellow Decentraland communities, such as purchase land, play games, and obtain digital items.
In this sense, the game is not too dissimilar to the Sims.
However, unlike the Sims, Decentraland operates on top of blockchain technology. This means that all in-game transactions are decentralized, meaning that no single person or authority has control over the platform. Additionally, the Decentraland crypto token is itself the in-house currency used by the game.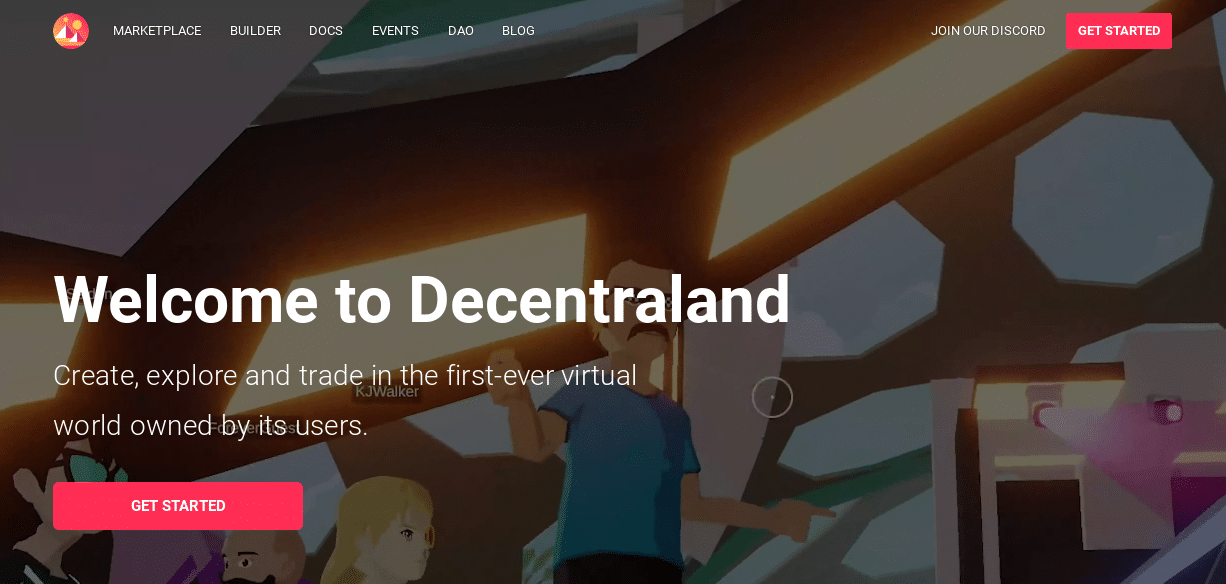 This allows you to make purchases – whether that's a plot of land or a new set of clothes for your virtual character. Although the primary purpose of Decentraland Coin is to fuel the platform, it is important to note that the digital currency is also a tradable asset with real-world value.
Much like any other crypto asset, the value of Decentraland Coin goes up and down throughout the day. This is driven by market forces – so when more and more people are investing, its value will rise. As such, many people that buy Decentraland Coin do so on a speculative basis with the hope of making financial gains.
Decentraland Coin Analysis – is Decentraland a Good Buy?
Wondering whether or not Decentraland Coin is right for your investment portfolio? If so, below we discuss some of the main reasons why Decentraland Coin is now one of the hottest digital assets in the crypto trading arena.
Growth in Excess of 6,000%
As noted earlier, Decentraland Coin – like the vast majority of digital currencies, is a highly speculative asset. As such, most people are looking to buy this cryptocurrency because of its huge upside potential. When Decentraland Coin was first launched onto a cryptocurrency exchange in September 2017, it traded at a mere $0.024 per token.
Fast forward to early May 2021 and the same cryptocurrency hit all-time highs of $1.54. This means that in less than four years of trading, Decentraland crypto tokens have grown by over 6,000%. In real terms, this means that a £1,000 investment would have been worth over £60,000. With that said, much of this growth was achieved in 2021 alone.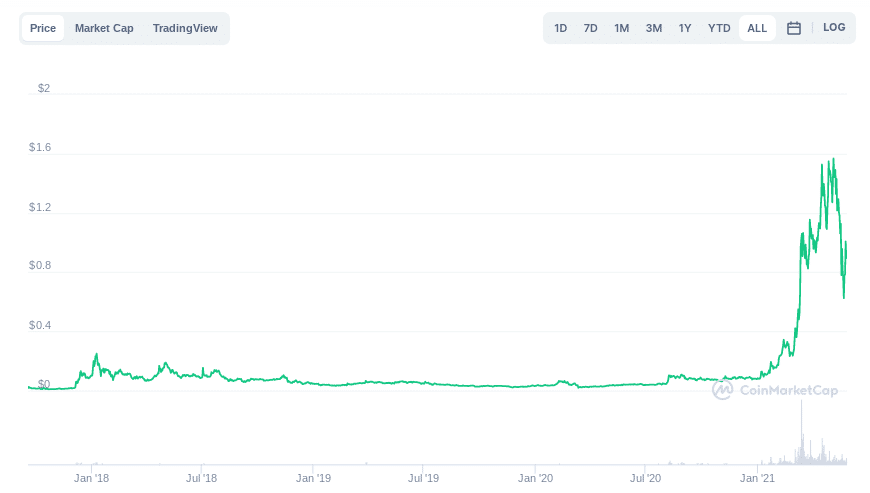 Past performance is not an indication of future results
For example, Decentraland Coin was trading at $0.081 per token on January 1st. Hitting highs of $1.54 on May 7th, this means that growth of over 1,800% took place in just five months of trading. At the time of writing on May 28th, Decentraland Coin has since dropped to $0.88. This presents an opportunity to invest at a more favourable price.
Non-Fungible Tokens
We mentioned earlier that the Decentraland virtual world allows you to purchase digital items. These items are represented by non-fungible tokens (NFTs), which is another high-growth segment of the blockchain industry. For those unaware, NFTs are different from conventional digital currencies, as each coin is unique.
For example: if you purchased a piece of real estate in the Decentraland ecosystem, this would be represented by an NFT.
This then allows the owner to sell their land to another user.
Some virtual items on the Decentraland platform are currently being sold for thousands of pounds each – which is why there is so much attention on the project.
As such, this is likely to motivate people to engage with the Decentraland virtual world by buying up real estate and other valuable in-game items.
And of course, in order to purchase these items, the Decentraland Coin is required. Therefore, this will have the desired effect of increasing demand for the coin and thus – will result in its market value rising.
Super Low-Cost Tokens
Another reason why Decentraland crypto tokens are becoming a popular addition to investment portfolios is that they are super cheap. For example, at the time of writing, you will pay just $0.88 for a single token.
In comparison, the likes of Bitcoin and Ethereum now trade for thousands of dollars each. As a result, by making a small investment, you would only get a fraction of one digital token.
Decentraland Price
You have likely noticed that this guide has discussed the Decentraland price in US dollars throughout. This is standard practice in the global cryptocurrency arena, as USD is the benchmark currency used to value digital assets.
This should be of no concern to you as a UK investor, as the best cryptocurrency brokers allow you to deposit funds in British pounds. For example, when completing the process with eToro, your GBP deposit will be instantly converted into US dollars. This then gets you unfettered access not only to Decentraland Coin, but many other cryptocurrencies.
Decentraland Price Prediction
Over the past few months, the Decentraland price has been overly volatile. For example, in the three weeks prior to writing this guide, the Decentraland price hit highs of $1.54. Since then, the digital currency has hit lows of $0.53 – which is a downward swing of 65%.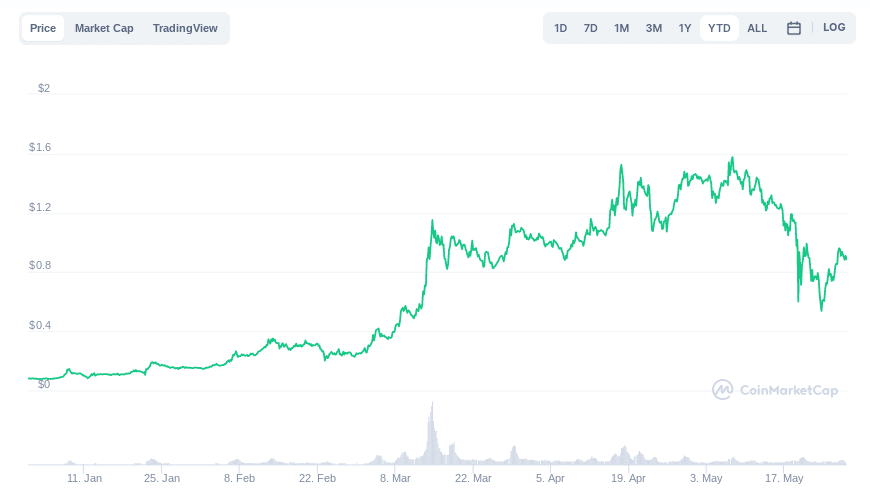 In terms of making a Decentraland Coin price prediction – this is no easy feat. After all, the success of Decentraland Coin as a virtual ecosystem will determine how its native digital token performs in the long run. That is to say, if its virtual world becomes a mainstream hit, then naturally, the Decentraland Coin price will benefit tremendously.
In terms of its long-term potential, Decentraland Coin is holding a market capitalization of just under $1.5 billion at the time of writing. This is still relatively small in the grand scheme of things when you consider that Decentraland is a global project. As such, there is plenty of upside potential on this digital asset moving forward.
Ways of Buying Decentraland
There are several different ways of buying Decentraland Coin in the UK. Below we discuss the most common ways of entering this marketplace from the comfort of your home.
Buy Decentraland with PayPal
If you want to buy Decentraland Coin with Paypal, you can complete the process safely with eToro. You'll need to open an account and then select Paypal from the list of supported payment methods.
In doing so, you'll be required to enter your Paypal logging credentials when the pop-up box appears. At eToro, you'll pay a small fee of 0.5% when using Paypal to buy Decentraland Coin. The deposit will be processed instantly.
Buy Decentraland with a Debit Card
Most people in the UK will elect to use a debit card when looking to buy Decentraland Coin. Much like Paypal, the deposit will be processed instantly at eToro and you will pay just 0.5% in transactions fees.
This is actually very competitive when you compare the debit card fees charged by other leading cryptocurrency brokers. For example, Binance charges 1.8% and at Coinbase – you'll pay a whopping 3.99%.
Decentraland Stock – Where to Buy Decentraland Stock?
If you're looking to buy Decentraland stock – this isn't possible. This is because the project is a cryptocurrency token as opposed to Decentraland stock.
The investment process still works the same, as your capital will increase or decrease based on the current market value of Decentralized Coin. Ultimately, if you come across a website that claims to sell Decentraland stock – this is all-but-certain to be a scam.
Best Decentraland Wallets
Once you have completed your MANA investment, you'll then need to think about storage. The best Decentraland wallets offer the perfect balance between security and convenience.
Here are our top-two picks.
eToro Decentraland Wallet
eToro offers both a web and mobile wallet to store your Decentraland Coins. The former is perfect for beginners, as there is no requirement to actually download or install a wallet to your device. Instead, you simply need to log into your eToro account and head over to your portfolio.
In doing so, you'll be able to view the current market value of your Decentraland Coin investment in real-time. Even more importantly, you can sell your Decentraland Coins back to cash by simply clicking on the 'Sell' button. If you want to store your Decentraland Coins in a mobile wallet – eToro offers this to both Android and iOS users.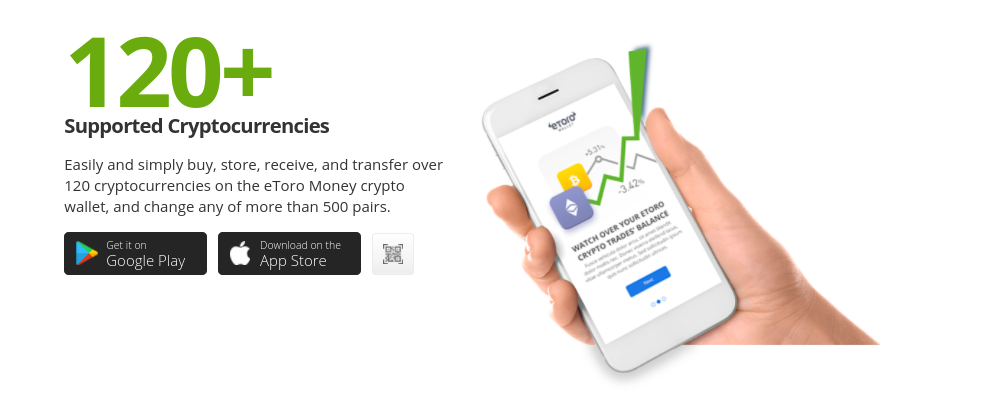 The eToro mobile wallet comes packed with features and tools. Not only can you store Decentraland Coin, but 120 other digital currencies. You can also exchange Decentraland Coin into another crypto asset without needing to leave the wallet app. Plus, you can also buy and sell digital currencies with ease.
Binance Decentraland Wallet
Binance is behind the Trust Wallet, which is available on Android and iOS devices via a mobile app. The wallet supports plenty of cryptocurrencies – including that of Decentraland Coin. This option will get you access to a non-custodial wallet, meaning that you are the only one with access to the private keys.
This gives you 100% control of your crypto assets, albeit, you need to have an understanding of wallet security controls. This is because Binance cannot help you regain access to your funds if you lose your private keys or the wallet is remotely hacked.
Decentraland Reddit – A Great Source of Further Information
Looking to meet like-minded people that are also interested in the Decentraland virtual world? If so, it might be worth keeping an eye on the Decentraland Reddit group – which now has over 32,500 members.
The group is useful for:
Keeping up to date with key developments in the Decentraland ecosystem
Communicating with other Decentraland investors
Discussing potential upgrades to the network
Getting help from a member of the Decentraland management team
Learning how Decentraland works
You can join the Decentraland Reddit group in a matter of minutes by registering and confirming your email address.
eToro – Best FCA Broker to Buy Decentraland Coin UK
Popular cryptocurrency brokers have since recognized that Decentraland Coin is becoming more and more popular with speculative investors in the UK. As such, never before has it been so easy to complete the purchase from the comfort of your home.
We found that eToro – an FCA-regulated broker used by more than 20 million people, is by far the best broker to buy Decentraland Coin. The minimum deposit is $10, you can instantly deposit funds with a debit card or e-wallet, and you'll only pay the spread when completing the investment.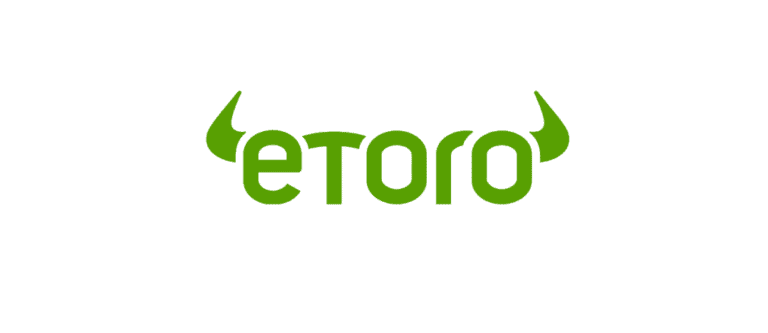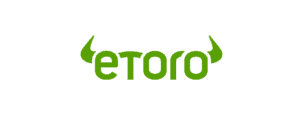 Cryptoassets are highly volatile and unregulated in the UK. No consumer protection. Tax on profits may apply.
FAQs
Should I buy Decentraland Coin?
Where can I buy Decentraland Coin?
Is Decentraland a Good Investment?
How much is Decentraland Coin worth?
Will Decentraland Coin go up?
What is the Decentraland Coin circulating supply?