As social, environmental, and diversity issues come to the forefront of our everyday discussions, ethical investing is now more popular than ever.
In this guide, we'll highlight 10 popular ethical investment funds in the UK.
10 Popular Ethical Investment Funds UK List
Here are 10 popular ethical investment funds in the UK based on trading volumes:
iShares MSCI KLD 400 Social ETF (DSI) 
SPDR SSGA Gender Diversity Index ETF (SHE) 
First Trust Water ETF (FIW) 
Invesco Solar ETF (TAN)
iShares ESG MSCI EAFE ETF (ESGD) 
SPDR S&P 500 Fossil Fuel Reserves Free ETF (SPYX) 
Organics ETF (ORG) 
Vanguard Health Care ETF (VGHCX)
SerenityShares Impact ETF (ICAN)
Invesco Powershares Cleantech Portfolio (PZD) 
Ethical Investment Funds UK Reviewed
The MSCI KLD 400 Social ETF from iShares is a fund that contains over 400 stocks, mainly from the US, and looks a lot like the S&P 500 index.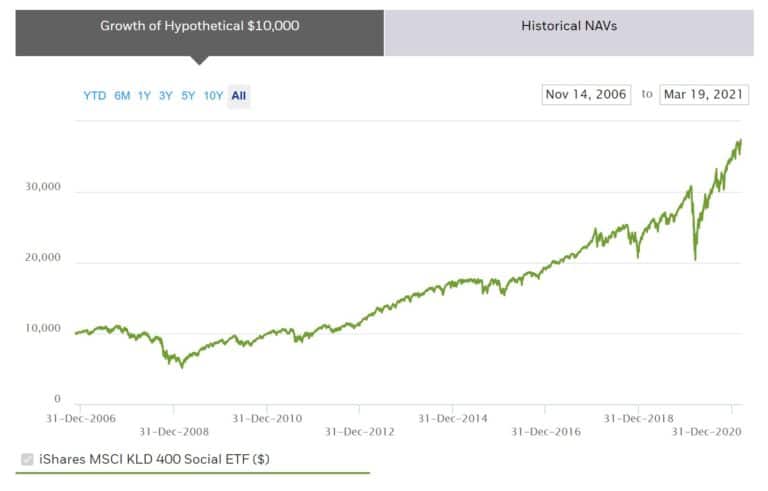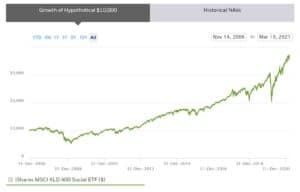 It's biggest holdings are in Microsoft, Google, and Tesla, and it's rounded out with stocks like Nvidia, Disney, and PayPal. Notably, this fund is heavy on tech and finance companies – so the fund's performance depends heavily on the fates of these market sectors.
SPDR SSGA Gender Diversity Index ETF (SHE)
The SHE ETF is designed to invest primarily in companies that have women in leadership roles – including in the C-suite and on the board of directors. The fund primarily holds large-cap US stocks and it has a selection of 165 different shares from a wide range of market sectors.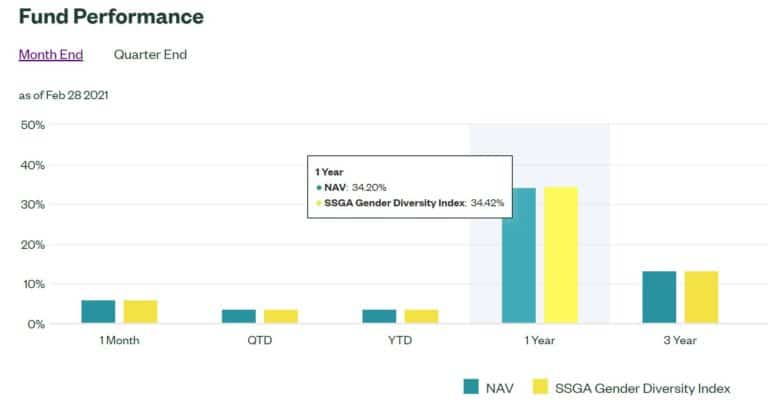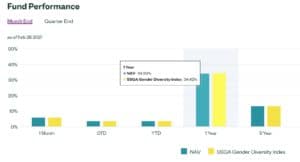 One thing to note about this fund is that female representation in US stocks is low across the board, especially compared to the UK. For example, the company in the SHE fund, PayPal, only has 4 women on its 11-person leadership team.
This fund has largely matched the performance of the S&P 500 since its 2016 inception and returned 34.2% last year alone. It carries a low management fee of just 0.20%.
First Trust Water ETF (FIW)
The First Trust Water ETF is a unique ETF that allows you to invest in water and a sustainable future. The fund holds 36 different companies, all of which focus on making drinking water more widely available or treating wastewater.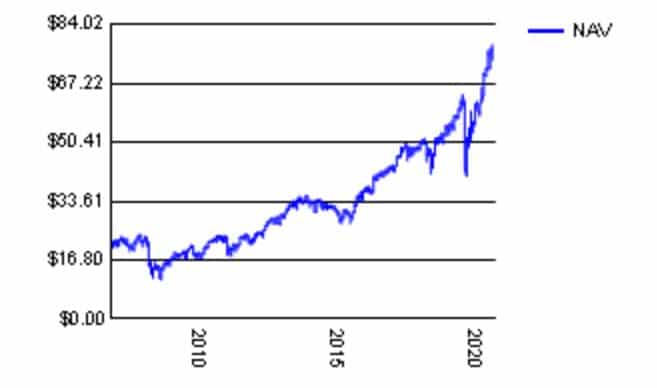 Since the companies inside the FIW fund tend to be small-cap growth stocks. It returned 37% over the past year, edging out most major stock indices like the S&P 500. In the past 5 years, it's returned 21% for investors.
Of course, small funds like this can have a high degree of volatility. It's also worth noting that the expense ratio of 0.55% is somewhat pricey, even for one of the ethical investment funds.
Invesco Solar ETF (TAN)
The Invesco Solar ETF returned a whopping 181% in 2021. The fund invests in companies that manufacture solar panels, install solar panels, and develop the materials and technologies needed to improve solar energy efficiency. Notably, the fund invests heavily in China as well as in the UK, US, and Europe.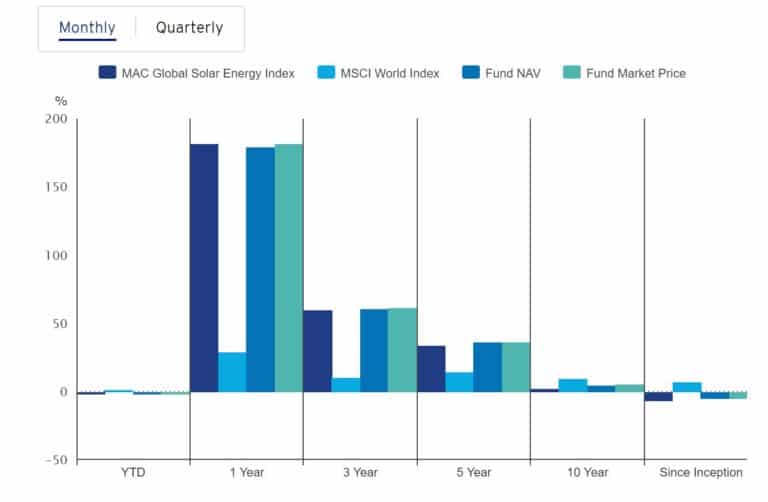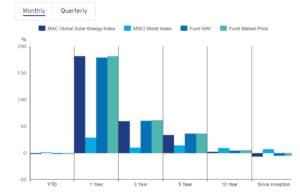 Investors should expect this ETF to be one of the more volatile investment options in the renewable energy space. It only has 55 holdings, and they tend to be small cap stocks with an average valuation of less than $10 billion. After last year's incredible performance, these shares may consolidate for a while before moving another leg higher.
The TAN ETF has a high 0.69% expense ratio. However, that is more than justified given that the fund beat the broader US stock market by nearly 6x last year.
The iShares ESG MSCI EAFE ETF is an international stock fund that primarily invests in clean energy technology and social responsibility projects in emerging markets. The fund was pummelled by the coronavirus pandemic last year, and many countries with emerging economies simply shut down for the year.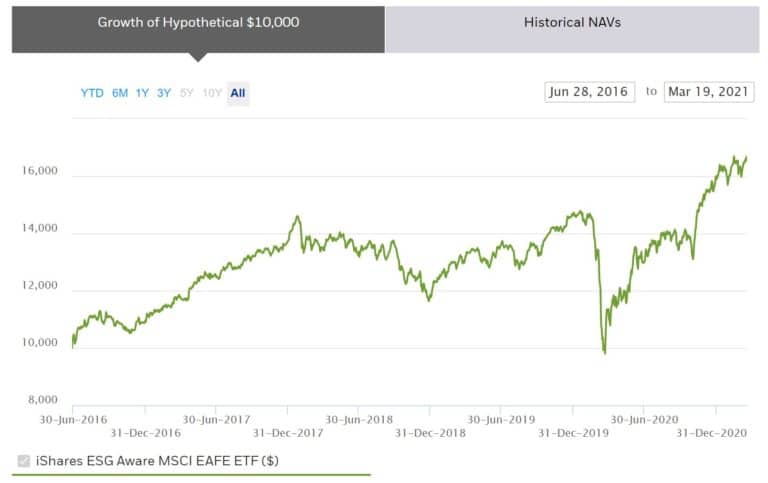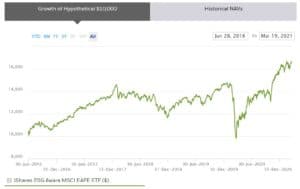 SPDR S&P 500 Fossil Fuel Reserves Free ETF (SPYX)
The Fossil Fuel Reserves Free ETF is an ethical investment fund in the UK that offers a mainstream investment with a sustainability twist. This fund mirrors the S&P 500, except that it eliminates any companies that produce oil and gas or other fossil fuels.


The result is a list of 460 of the biggest US stocks, many of which have their own renewable energy initiatives in place. The largest holdings, like Apple, Amazon, Microsoft, and Google, are the same as for the S&P 500 index.
This fund has matched or even outperformed the S&P 500 over the past three years. That's not all that surprising given that fossil fuels have been steadily falling out of favor in the marketplace. The 0.25% expense ratio is slightly higher than what you would pay for a standard S&P 500 index ETF.
Organics ETF (ORG)
The Organics ETF is a possible option for investors who care deeply about organic foods, eliminating animal testing for products, and environmental stewardship. The fund invests in companies that produce 100% organic foods or that help to bring organic beauty and other products to market.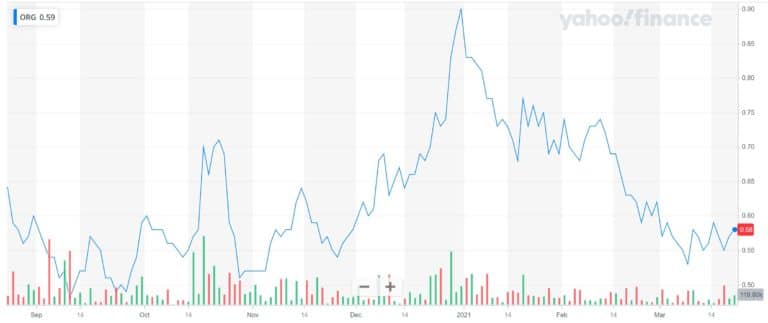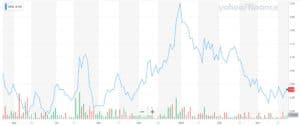 The fund isn't all that diversified, with just three companies making up nearly 45% of its holdings: Chr. Hansen Holdings, The Hain Celestial Group, and Sprouts Farmers Market. As a result, the fund was very exposed to the coronavirus pandemic last year and took a 22.4% loss in 2020.
Vanguard Health Care ETF (VGHCX)
The Vanguard Health Care ETF isn't specifically an ESG fund. Rather, it's a low cost healthcare stock fund that boasts returns and above-average marks for the sustainability of its holdings.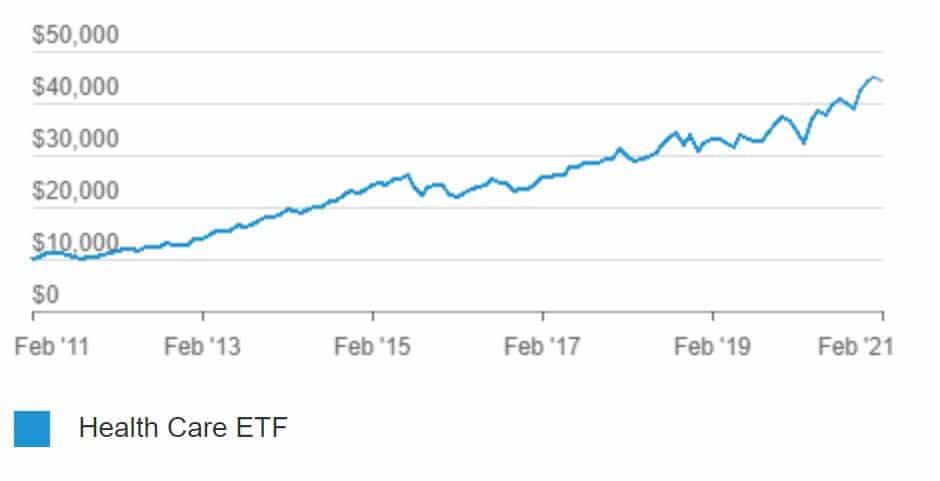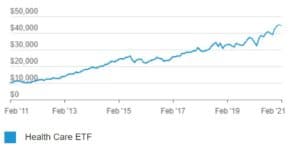 In fact, this Vanguard fund ranks in the 8% of similar ETFs for the ESG scores of the stocks it holds. The fund also returned 30.3% last year and beat the S&P 500 over the past 3 years.
The fund invests in a mix of health insurers, pharmaceutical stocks, biotech stocks, and medical equipment manufacturers, with a heavy focus on US stocks. The Vanguard ETF blends small-cap and large-cap stocks, so it offers a fully diversified investment in the key healthcare market sector.
The SerenityShares Impact ETF is a relatively small fund that can be somewhat difficult to buy into or sell out of.


This ETF invests in a hand-picked selection of around 106 US stocks. Most of them are small-cap growth stocks and they are chosen specifically because of their social responsibility and governance initiatives. So, you can be sure when investing in this fund that it takes ESG seriously.
The fund lagged the broader stock market in 2020, returning just over 20%. However, it beat the S&P 500 in 2019.
This renewable energy ETF from Invesco invests in a selection of 53 companies, primarily from the US, that derive more than half their revenues from clean energy technology. Holdings include wind turbine manufacturers like Siemens Gamesa and Vestas Wind Systems.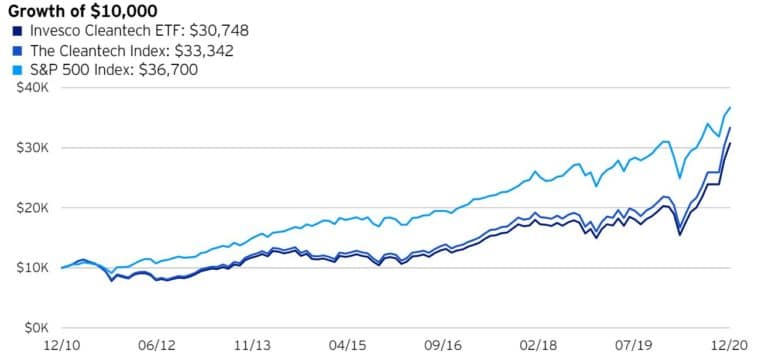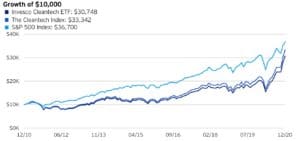 Only around half of the fund is centered in the US, with the remaining holdings spread throughout Europe. In addition, no single renewable energy stock makes up more than 3% of the overall fund.
What are Ethical Investment Funds?
Ethical investment funds are ETFs, mutual funds, and investment trust funds that invest in companies with strong environmental, social responsibility, and corporate governance initiatives. You can buy and sell any fund on our ethical investment fund list just like you would buy a standard ETF.
Many responsible investment funds have specific themes, so you can match the fund you want to invest in with your personal values. For example, some funds focus specifically on the environment, some on human rights, and others on social and governance projects.
Notably, there are no set ESG criteria to define what companies are 'ethical' or not. Some ethical investment fund managers take a strict approach to social responsibility and only invest in companies that commit a certain portion of profits to positive impact projects. Others take a broader view of ethical investments and buy shares of any company that has ongoing ESG initiatives.
The Fundamentals of Ethical Investment Funds
Ethical investment funds can be a potential investment, but it's important to do your research and know what you're getting into. These funds range widely from modified index funds to hand-picked selections of individual stocks.
First, many ethical funds offer returns that lag the S&P 500, NASDAQ Composite, or FTSE 100 indices. If you are okay with giving up on some potential returns in exchange for investing in values you care about, that's not a problem.
Another important thing to know about ethical investment funds in the UK is that they often carry higher expense ratios than non-ESG funds. This means that you are paying more in management fees. Typically, the difference isn't huge and most ethical investment funds have expense ratios of less than 0.75%.
In some cases, ethical investment funds – and particularly environmental sustainability funds – can outperform the broader market. This may be increasingly the case as climate change and emissions reduction efforts come into focus. If renewable energy technology does take off, sustainable funds could be among the biggest market winners.
Ethical Investment Funds UK Investment Platforms
In order to invest in ethical funds in the UK, you'll need a stock broker that offers trading on a wide range of ETFs. When choosing a broker, it's important to look at the breadth of ESG funds that are available and how much it costs to buy and sell ETFs as opposed to individual stocks.
With that in mind, let's take a closer look at 2 UK stock brokers you can use to invest in ethical funds in the UK.
1. eToro
eToro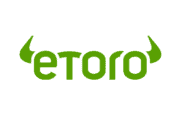 is a popular trading platform in the UK if you want to buy into ethical investment funds. This brokerage has more than 200 ETFs available to choose from, including a wide selection of ESG funds. All ETF investments are 100% commission-free, so you don't have to worry about high trading costs for investing in your values.
Another benefit to using eToro to make ethical investments is that this broker offers copy portfolios. You'll find dozens of themed portfolios created by professional traders, revolving around investment topics like renewable energy. You can invest in these portfolios in just a single trade, making them just as helpful for building your ethical investment portfolio as traditional ETFs.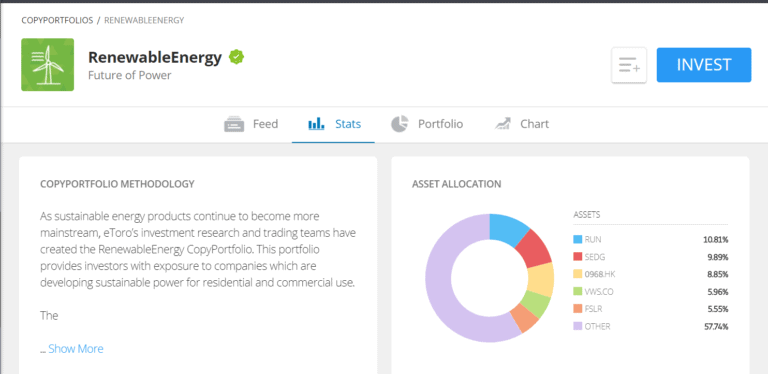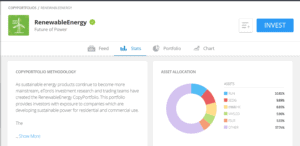 This broker also has a number of tools designed for long-term investors. For example, most individual stocks and funds are accompanied by professional analyst research. You can dig into a fund's holdings and find out how diversified it really is. In addition, eToro has a powerful charting platform that you can use to measure an ETF's performance against the broader market.
If you want to find other socially responsible investors, eToro has a built-in social trading network. You can share ideas about socially responsible investing (SRI) and which companies and funds are performing. This also offers a chance to get feedback on your investments from more experienced traders.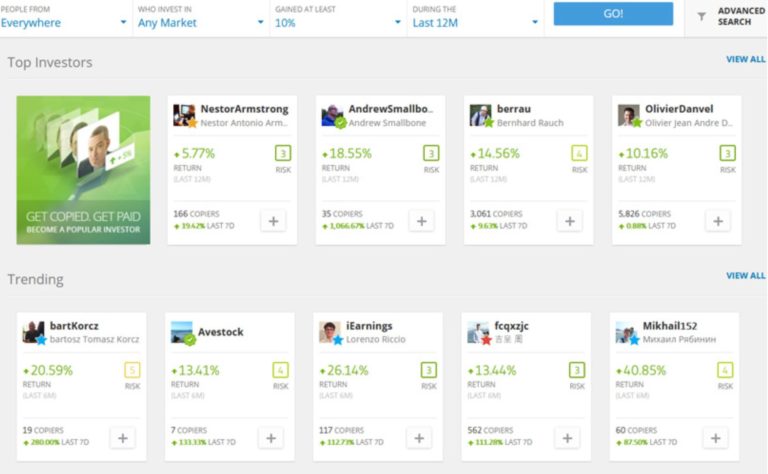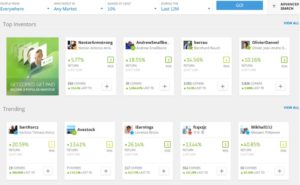 eToro is regulated by the UK Financial Conduct Authority (FCA) and UK accounts are insured for up to £85,000 by the Financial Services Compensation Scheme. The broker offers 24/5 customer support by phone and email.
Sponsored ad. 68% of retail investors lose money trading CFDs at this site
2. Capital.com
Capital.com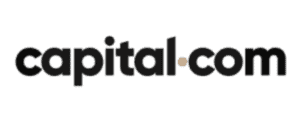 is a UK CFD broker with a wide selection of funds, including many ETFs built around renewable energy and sustainable investing. You can quickly screen funds by country, market sector, or investment topic.
The brokerage doesn't charge any commissions for buying and selling ETF CFDs, and it has some of the lowest spreads for ETF trading in the UK. Another plus for long-term investors is that Capital.com doesn't charge an inactivity fee.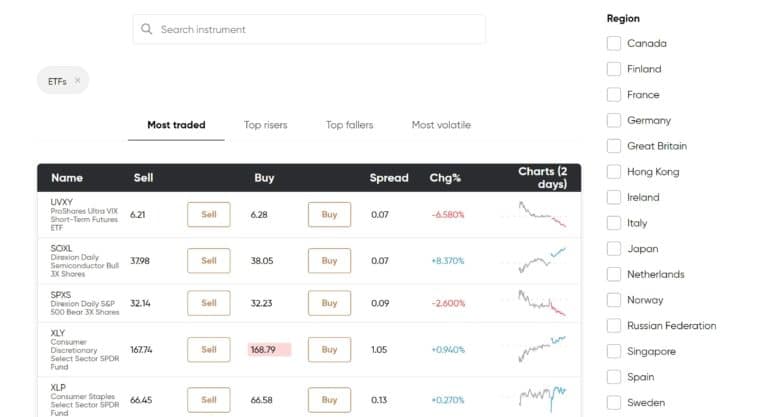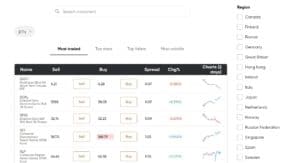 This brokerage is a particularly strong option for new investors since it offers so many educational resources. For example, Capital.com has a library of videos that walk you through the basics of CFD trading. The brokerage also offers detailed trading guides and a demo account where you can practise investing risk-free.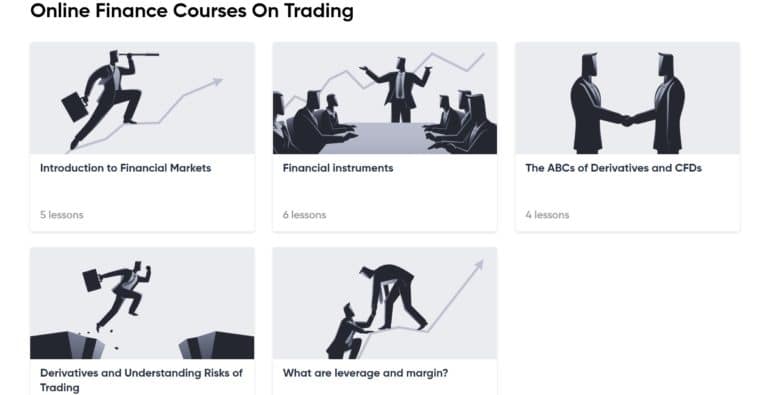 Capital.com's trading platform is focused more on technical analysis than on long term investment. You have dozens of technical indicators and a market news feed to analyse short term price action, but you won't find detailed research reports explaining the funds that this brokerage offers.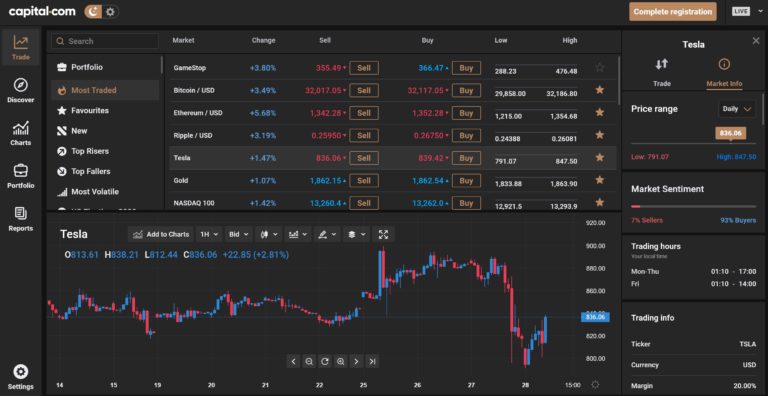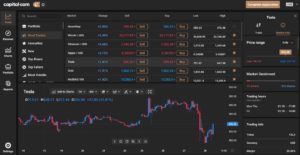 Still, Capital.com does provide tools for managing your fund orders and tracking the performance of your portfolio. The broker also has a mobile trading app so you can manage your investments on the go.
The brokerage has outstanding customer support, with representatives available 24/7 by phone, email, and live chat. Capital.com is regulated by the UK FCA.
Sponsored ad.

79.17% of retail investor accounts lose money when trading CFDs with this provider.
Conclusion
Ethical investment funds allow you to invest in the stock market while staying true to your values. These funds can perform just as well as traditional ETFs, and some clean energy funds even outperform the broader market.
FAQs
Can I invest in an ethical fund through an ISA or SIPP?
Is there a management fee for ethical investment funds?
Can I invest in the UK stock market through an ethical investment fund?