It's hard to find a social media company that's arguably undervalued. But Pinterest is the rare tech company whose best days may still be ahead of it, and for which investors haven't already driven up the share price.
Pinterest has a rapidly growing user base and is finding more ways to monetize its platform, including through a new partnership with Shopify. On top of that, it's still tiny in size compared to better-known competitors like Facebook and Twitter.
If you're thinking about buying Pinterest shares, this guide is for you. We'll show you how to buy Pinterest shares online in the UK, highlight top brokers, and explain the case for why Pinterest stock is a buy right now.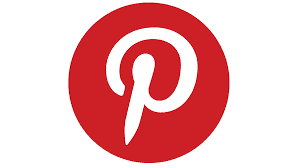 The easiest way to buy Pinterest shares in the UK is to use an online broker that offers trading on the United States' New York Stock Exchange (NYSE).
The good news is that there's no shortage of stock brokers in the UK offering trading on Pinterest shares. However, not all brokers are made equally. It's important to find a broker that offers zero or low trading fees, a wide range of stocks to trade, and user-friendly tools for charting and analysis.
To help make your search for the best broker easier, let's take a closer look at three of our favourites that offer Pinterest stock: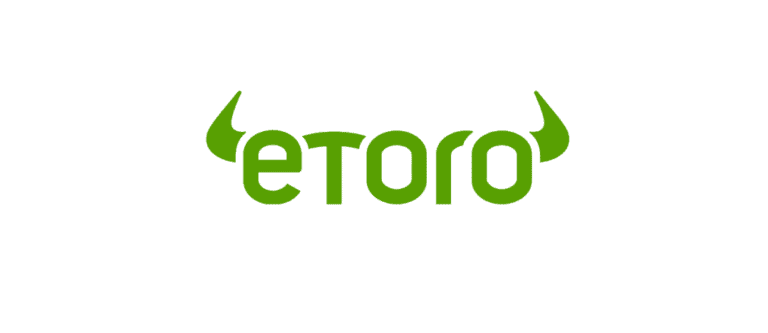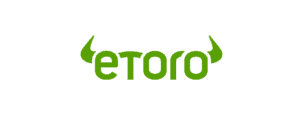 eToro is one of the top online brokers in the UK, with a selection of more than 800 stocks. What makes this broker unique is that it covers stock markets from around the world – you can trade shares of companies in not just the UK and US, but also in Japan, Hong Kong, South Africa, and elsewhere. You can trade most of the big tech companies, including Facebook, Snapchat, Amazon, and more.
One of the things we especially like about eToro is that you can choose between CFD trading and stock investing. If you plan to hold Pinterest for the long term, for example, you can buy shares outright. If you want to make a quick profit by trading Pinterest shares, you can trade CFDs with leverage up to 5:1. Few other UK brokers give you this flexibility.
eToro offers a wide variety of charting and analysis tools to help you time the stock market. You can analyze price movements using the intuitive charting interface, which comes pre-loaded with more than 100 technical indicators and drawing tools. The charting interface is available through eToro's mobile trading app, too, enabling you to buy and sell shares on the go. The only downside to eToro's charting software is that you cannot create your own custom technical studies.
On top of that, eToro offers an advanced social trading network. You can see in real-time what stocks other traders are buying and quickly gauge market sentiment around Pinterest stock. Or find out what the latest Trump tweet is doing to the market. eToro also offers copy portfolios, which enables you to set a portion of your portfolio to automatically mimic another trader's positions.
If you want to go beyond stocks, eToro has plenty to offer. This broker has more than 45 forex currencies, dozens of CFDs for commodity trading, and over 450 ETFs. eToro even lets you trade bonds, which is something you won't find at most other brokers.
Buying stocks and shares onn eToro is 100% commission-free and there are no monthly or yearly account fees. The only fee you have to worry about is a small withdrawal charge of $5 per transaction. As the platform works in USD, you also have to pay a small conversion fee when depositing to GBP.
Pros
800+ stocks from around the globe
100% commission-free stock and CFD trading
User-friendly charting tools with 100+ indicators
Mobile trading app with charting and social network
Supports copy portfolios and social trading
Cons
Small withdrawal fee
Cannot create your own indicators
Disclaimer: 67% of retail investor accounts lose money when trading CFDs with this provider.
2. Libertex – Spread-free CFD Trading with Advanced Charting

Libertex is a great choice for forex traders who also want to trade stock CFDs on occasion. The platform's selection of UK and US shares is small – there are only around 50 stock CFDs – but it shares of has most of the major US social media and tech companies available, along with a handful of ETFs.
One of the main reasons to trade stock CFDs with Libertex is that it's very inexpensive. This broker doesn't charge any spreads, which makes it rather unique among online brokers in the UK. Instead, you pay a fixed commission that's typically around 0.15% for shares and as low as 0.08% for popular forex pairs like the EUR/USD pair. While these commissions are comparable in price to spreads at other brokers, it can be very nice to know exactly what you'll pay to trade and not have that cost change with market conditions.
Libertex offers its own charting and analysis platform that's very advanced. It comes packed with dozens of technical studies and drawing tools. Plus, you get the ability to easily see whether other traders at Libertex are buying or selling the stock you're looking at. This can be helpful for short-term trading decisions when market sentiment can make a big difference in your success.
The only thing we don't love about Libertex is that it doesn't offer on-demand customer service. You can get in touch by email, but not by phone. Responses are typically available by the following business day.
Pros
Trade CFDs for top UK and US companies
Fixed commissions instead of spreads
Commissions for shares are around 0.15%
Advanced trading platform available on web and mobile
Check market sentiment before trading
Cons
Customer support available by email only
Limited selection of stock CFDs
Disclaimer: Your money is at risk.
This US stock comes highly recommended by Wall Street analysts right now. But before you dive into shares of this social media company, it's important to do your own pivotal research before you risk your money.
Let's take a closer look at the history of Pinterest, the market data, its recent performance, and where this company could be headed in the future.
What is Pinterest?
Pinterest is a social media platform and pinboard style photo sharing website. It's designed to help people find inspiration for their interests and hobbies. Each idea is represented by a "pin", an image that is search for and saved by users.
Pinterest, Inc. was founded in 2010 in San Francisco, California by Ben Silbermann. The company held an IPO in 2019 with Silbermann still at the helm as CEO. The company debuted at a stock price of $19 with a valuation of $10 billion, and the IPO alone raised over $1.9 billion. Pinterest stock is listed on the NASDAQ stock exchange.
The company got off to a strong start, but dipped below its IPO price by the end of 2019 as investors became concerned about Pinterest's ability to generate revenue. During the COVID-19 stock market crash in March, Pinterest shares dropped to just $12.21.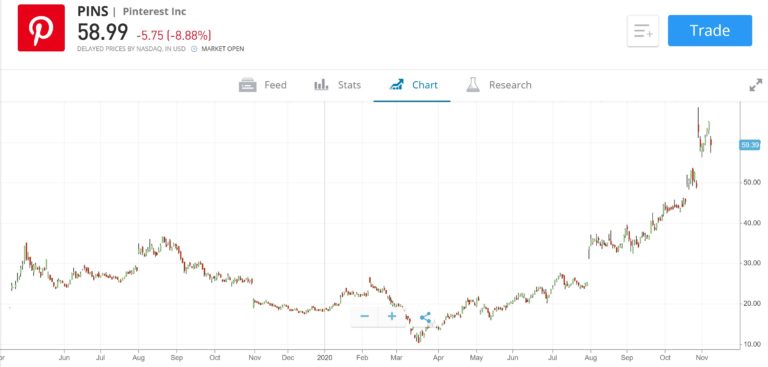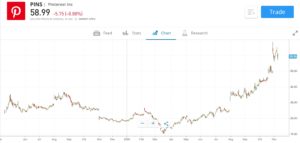 The company rebounded quickly, helped by a strong earnings report in July that pushed shares back up to over $34. Since then, shares hit a peak of over $64 in response to the election of Joe Biden last week.
Pinterest currently has a market cap of just over $40 billion. The company reported an earnings per share (EPS) of $-0.02 for the quarter ending September 30, and an annual EPS of $-0.64 for the prior 12 months. Analysts expect EPS growth up to $0.60 per share by 2023, with Pinterest turning a profit as soon as next year.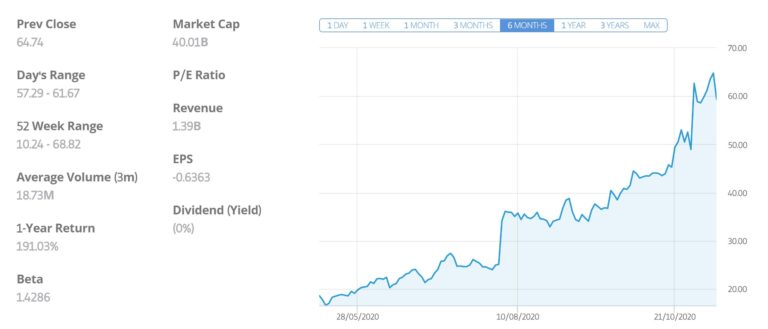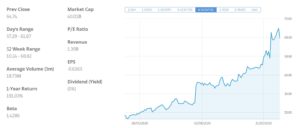 Pinterest is not currently profitable and the company doesn't pay a dividend. Investors in Pinterest should not expect to receive payouts for several years at the least.
Should I Buy Pinterest?
While Pinterest has been on the market for nearly two years, this California-based social media company hasn't seen the same interest from investors as competitors like Facebook (FB), Snapchat (SNAP), and Twitter (TWTR). Yet Pinterest has made significant strides towards profitability in the past two years.
So, what does the future look like for this social media company and should you buy Pinterest shares?
A Path Towards Profitability
The main reason that we think Pinterest shares are a good buy right now is that the company has laid out a path towards profitability. In many ways, Pinterest is more than just another social media platform. It's also an e-commerce platform. The company enables users to buy goods and share novel businesses in addition to bringing in revenue through advertising.
This move towards e-commerce was cemented in May, when Pinterest teamed up with Shopify. With a few clicks, Shopify merchants can create copies of their online stores on Pinterest and sell goods through the social media platform. That not only added millions of new users to Pinterest, but it demonstrated that the company is fully embracing the potential revenue to be had from merchandizing its users' wares.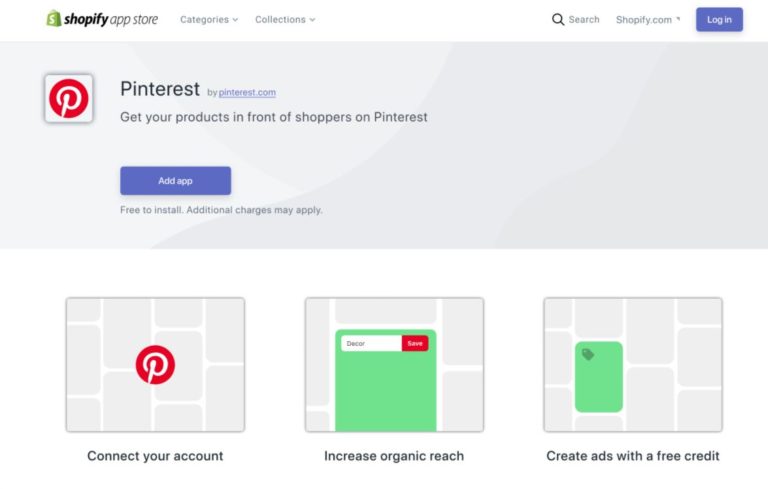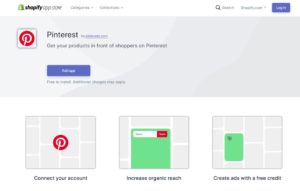 In fact, Pinterest has done so well at pivoting to e-commerce that it's been able to offset some of its advertising losses during the coronavirus pandemic and lockdowns. Expect to see Pinterest's revenue jump – and the share price along with it – as advertising revenue makes a comeback in 2021 and beyond.
Scaling User Growth
The other thing that's going Pinterest's way is user growth. The company recently surpassed 400 million monthly active users around the globe. Furthermore, growth has accelerated during the pandemic as people around the world have flocked to Pinterest to find creative ways to live life under COVID-19.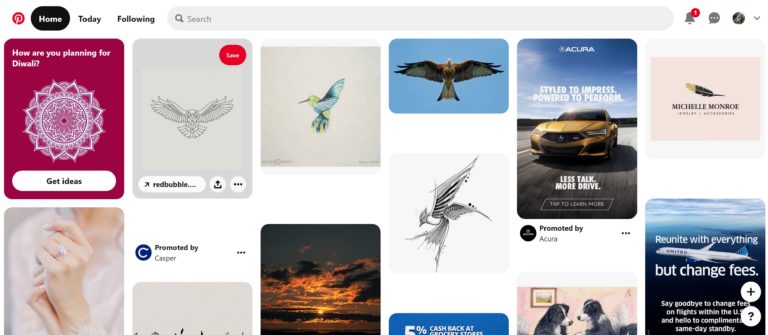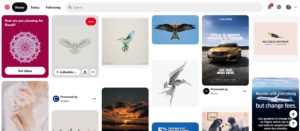 What's exciting about this user growth is that Pinterest may still have a lot of growth ahead of it. By comparison, Facebook has over 3 billion monthly users and TikTok has over 1 billion. If Pinterest is able to keep bringing users onto its platform, the potential for its e-commerce and advertising revenue growth streams will only continue to grow.
Step 3: Open an Account and Deposit Funds
Want to buy shares of Pinterest in the UK? We'll show you how to get started using eToro, which offers 100% commission-free trading and enables you to buy either shares or stock CFDs.
To get started, head to eToro's website and click 'Join Now.' You'll be prompted to create a new username and password for your brokerage account, then to add personal details like your name, email, and phone number.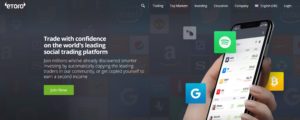 You will also need to verify your identity in order to comply with UK government regulations. To complete this step, upload a copy of your passport's photo page or your driver's license. You can verify your address by uploading a copy of a recent utility bill or financial statement.
Next, it's time to fund your account. eToro accepts a wide variety of payment methods, including debit or credit card, UK bank transfer, or e-wallets like Neteller and Skrill. Keep in mind that you must deposit a minimum of £140 when you first create an account.
Now you're ready to buy Pinterest shares with eToro. Search for 'Pinterest' or 'PINS' in the search bar at the top of the eToro dashboard. When Pinterest appears in the dropdown menu, click 'Trade' to open a new order form.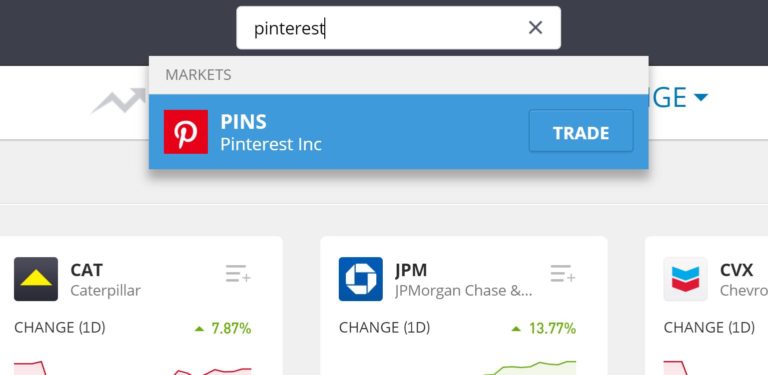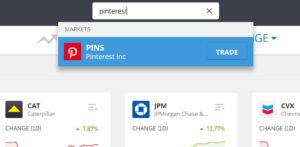 In the order form, enter how much money you want to invest in Pinterest stock. eToro offers fractional shares, so you can invest any amount over £40 regardless of the current share price. If you're trading Pinterest share CFDs, you can also choose how much leverage to apply, up to 5:1. Depending on your trading strategy, you may want to set a stop loss or a take profit level for your order as well.
Once your order is ready, click 'Open Position' to buy Pinterest shares.
If Pinterest shares have been on your watchlist, now could be the time to pull the trigger. After initially falling to all-time lows because of the coronavirus pandemic, Pinterest shares have recently notched a new all-time high.
The company has been buoyed by a shift towards e-commerce and a rapidly growing user base. Importantly, these shifts are just getting started, and Pinterest appears to have room to run. While it's impossible to say exactly what the future holds for this company, many analysts believe Pinterest could be profitable as early as next year and that the social media platform will see aggressive EPS growth for the next several years.
With all that in mind, we think Pinterest shares are a buy right now. While there are certainly short-term trading opportunities around this company, it's also a good long term investment.
The Verdict
Pinterest is the rare tech company that could also be a value investment. Investors have been slow to catch on to the company's pivot toward e-commerce and accelerating user growth in the midst of the pandemic. Even in light of Pinterest's recent share price rise, there are reasons to think that the social media company's upward run is just getting started. As a result, we think Pinterest is a strong buy for UK investors right now.
Ready to buy Pinterest shares in the UK? Invest today with eToro and pay no commission!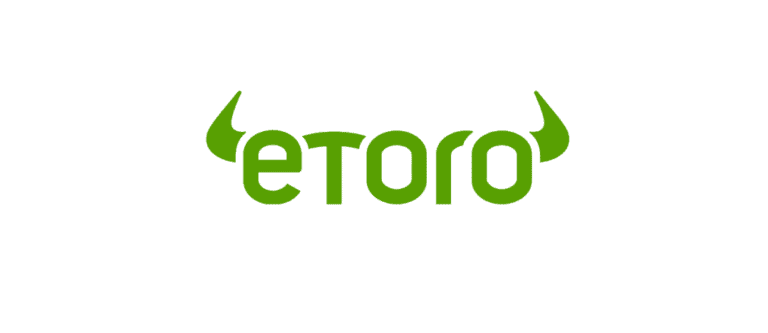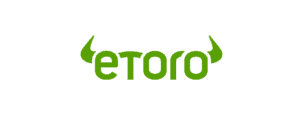 67% of retail investor accounts lose money when trading CFDs with this provider.
Looking to invest in other tech shares? Check out the companies below.
FAQs
[sc_fs_multi_faq headline-0="h4″ question-0="What is Pinterest's stock ticker symbol?" answer-0="Pinterest trades on the NYSE under the ticker symbol 'PINS.'" image-0="" headline-1="h4″ question-1="Who is the chief executive of Pinterest?" answer-1="The current CEO of Pinterest is Ben Silbermann, who founded the company in 2010. The company's chief financial officer is Todd Morgenfeld." image-1="" headline-2="h4″ question-2="Can I invest in Pinterest via an ISA or SIPP?" answer-2="Yes, you can invest in Pinterest shares using a UK ISA (Individual Savings Account) or SIPP (Self-invested Personal Pension). Keep in mind that there are limits to how much you can contribute to an ISA or SIPP in any given year." image-2="" headline-3="h4″ question-3="What is Pinterest's partnership with Shopify?" answer-3="Pinterest announced a new partnership with Shopify in May that allows merchants on Shopify to copy their existing storefronts onto Pinterest in a few clicks. The partnership is anticipated to attract more users and more businesses to Pinterest, as well as increase the value of e-commerce sales on the social media platform." image-3="" headline-4="h4″ question-4="How much revenue does Pinterest generate?" answer-4="Pinterest generated just over $1 billion in revenue in 2019 and is on track to surpass $1.5 billion for 2020. However, the company has still not produced an annual profit." image-4="" count="5″ html="true" css_class=""]