This Fineco Bank review will take a close look at every aspect of Fineco to help you decide if it's right for you, including the types of shares you can buy, fees and commissions, trading tools, payment methods, ease-of-use, regulation, and more.
While Fineco Bank is likely to be a relatively new name to UK-based investors, it's extremely well-established in continental Europe. In fact, this Milan-based financial services company claims to be Europe's most used trading platform, and it's easy to see why so many investors are drawn to Fineco – its fees are extremely competitive. So how does the platform measure up to the competition?
What is Fineco Bank?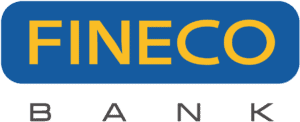 Founded in 1999, Fineco Bank began life as a subsidiary of Banca Popolare di Brescia (Bipop) and then Bipop Carire, Capitalia and UniCredit banking groups, before becoming a limited company in 2014. Fineco Bank – often billed as simply Fineco – specialises in brokerage and pitches itself to British clients as a platform with truly global reach. So, if you're keen to extend the scope of your investing in stocks beyond the UK market, this might just be the broker for you.
In addition to share dealing, Fineco's wide-ranging offering includes CFDs, futures, FX, options, funds and bonds – if you're keen to pursue a diverse array of investments, you'll struggle to find a broker that can match the sheer breadth of Fineco's product portfolio.
What Shares Can You Buy on Fineco?
As we've already established, one of Fineco's strengths is the diversity of its offering. Even if you're only interested in share dealing, it certainly isn't short of choice. The platform grants you access to thousands of stocks across 26 global markets – including many of the most popular shares to buy.
Bearing in mind the extensiveness of its share dealing library, let's break down some of its most popular markets.
UK Shares
As you can see from the screenshot below, Fineco bank offers 1,262 UK-based stocks. This is huge. Starting with the big-boys, you'll have access to all 100+ constituents from the FTSE 100. This includes the likes of HSBC, A.G. Barr, GlaxoSmithKline, Tesco, and Royal Mail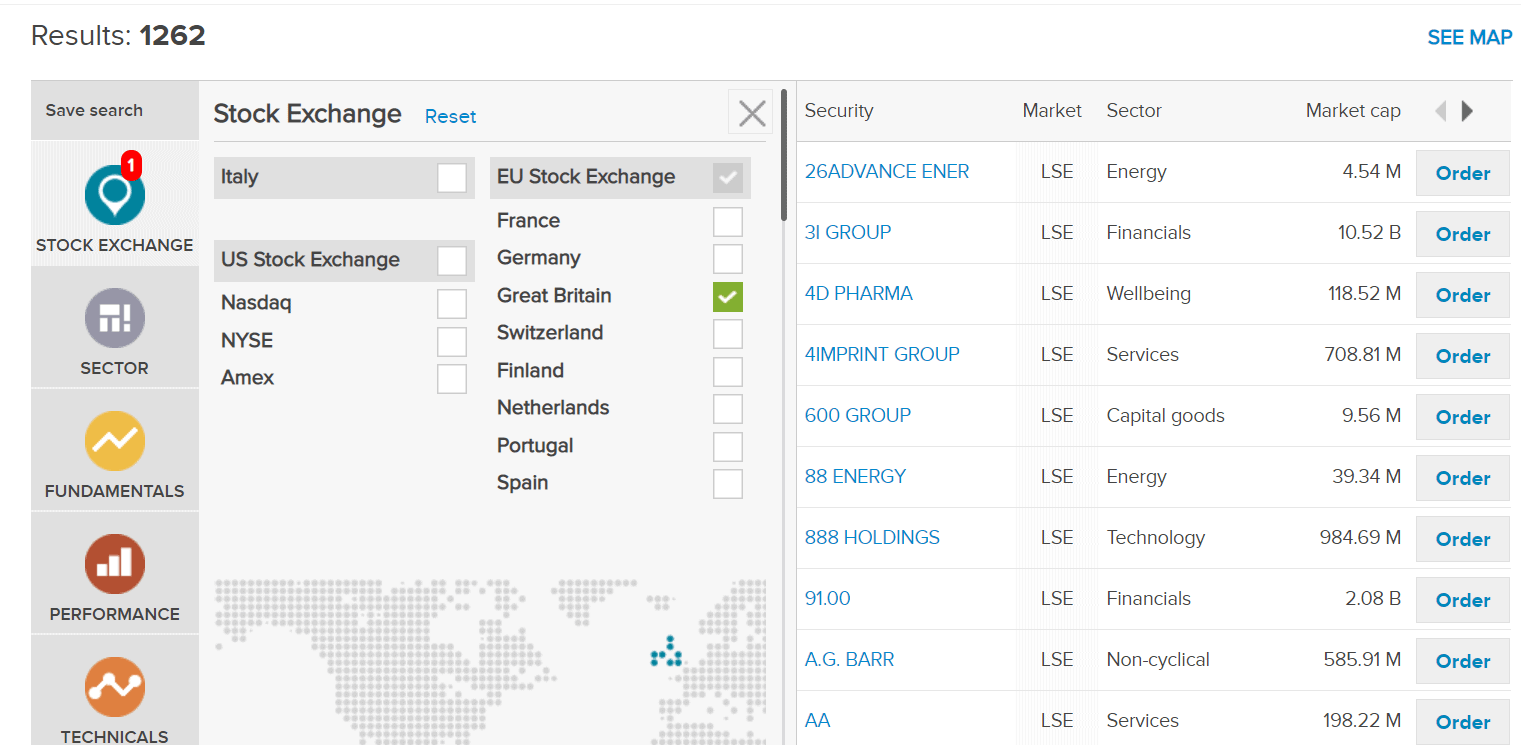 Moving further down the pecking order, the vast majority of stocks found on the FTSE 250 are also covered. As such, this will get you access to slightly smaller UK stocks – such as those listed below.
Genus plc
Centrica plc
Centamin plc
VinaCapital Vietnam Opportunity Fund Ltd
C & C Group plc
Pershing Square Holdings Ltd
Apax Global Alpha Limited
Frasers Group plc
Hochschild Mining Plc
Capital & Counties Properties plc
If that wasn't enough, you will also gain access to hundreds of other London Stock Exchange companies that don't quite make the FTSE 250.
In addition to the LSE, Fineco Bank also allows you to gain exposure to companies listed on the AIM (Alternative Investment Market). Ordinarily, most UK brokers only allow you to add AIM shares to your portfolio via an index fund. However, this isn't the case at Fineco Bank.
On the contrary, you can buy hundreds of individual AIM shares, such as those listed below:
Pan African Resources plc
Renalytix AI plc
Atalaya Mining plc
Naked Wines PLC
Kape Technologies Plc
Telit Communications Plc
Johnson Service Group plc
Eurasia Mining plc
All in all, if the company you are interested in is publicly-listed in the UK – chances are Fineco Bank offers its shares.
International Shares
Outside of its UK share dealing arena, Fineco Bank also offers several international markets. In Europe, this includes exchanges based in France, Germany, Switzerland, Finland, the Netherlands, Portugal, and Spain. With that being said, most UK investors will turn to the American exchanges.
This is because the NASDAQ and NYSE host some of the world's most recognizable stocks. Whether that's IBM, Facebook, Apple, Tesla, or Amazon – you'll find it listed at Fineco Bank. In fact, the stock broker offers over 5,000+ US stocks in total, which again, is huge.
Fineco gives you access to the AMEX (American Stock Exchange) Otherwise referred to as the NYSE American, this is the third-largest stock exchange in the US. It typically hosts smaller-cap companies that are not quite big enough for the NASDAQ or NYSE.
In addition to US and European stocks, Fineco Bank also gives you access to shares listed on the Toronto Stock Exchange. This is where most of the leading cannabis stocks are based – if this is something you are interested in.
Funds
If you're interested in funds for the diversification benefits that they offer, Fineco Bank once again stands out. This includes a full range of index funds ETFs, and trusts.
Some of the most recognized fund providers at Fineco include Fidelity, J.P. Morgan Asset Management, Aberdeen Standard, and Vanguard.
These funds are for investing in hundreds of different assets through a single trade. For example, if you invested in the AIM 100, this would allow you to buy all 100 constituents of the index.
Fineco Bank Dividends
If you are holding stocks in your Fineco Bank portfolio and they release a dividend, you will receive payment the following day. Fineco will simply add the funds to your account balance. You can then reinvest the money into other assets, which is for compound interest purposes.
Or, you can withdraw the cash out. This is also the case if you are invested in a dividend-paying ETF or fund. However – and as is industry standard, you will likely only receive a dividend on a quarterly basis.
Fineco Asset Management
Although Fineco offers heaps of funds that you choose on a DIY basis, you might also be interested in its Asset Management feature. Puts simply, this is a fully-managed portfolio service. Once you invest, there is nothing else for you to do, not least because your portfolio will be automated rebalanced.

The main concept here is that your portfolio will be built and managed depending on the level of risk you wish to take. In total, there are 78 different strategies that you might be assigned. Not only does this take risk into account, but your financial goals, too.
Some of the most popular strategies include:
Moderate
Cautious
Focus UK
Focus USA
Adventurous
Focus Emerging
Market
Bonds
Equities
For example, a low-risk managed portfolio at Fineco Bank would likely focus on government securities and high-grade bonds. A higher-risk portfolio would include a selection of emerging market stocks and bonds.
Fineco Bank Review – CFD Trading
Outside of its traditional share and fund investment platform, Fineco Bank also offers a fully-fledged CFD trading facility. This is going for those of you that are interested in placing more sophisticated trades – such as applying leverage or short-selling.
Before we get to that, let's break down the CFD asset classes that you can trade at Fineco Bank.
Forex Trading
Forex trading – which is the largest trading scene globally, can be accessed at Fineco Bank. The platform offers numerous pairs – many of which focus on the majors. In terms of spreads, these are reasonable – but not industry-leading. For example, you can trade EUR/USD at 0.8 pips, and both GBP/USD and EUR/GBP at 1 pip.
Commodity Trading
If you're looking to trade commodities, Fineco Bank offers a good selection of markets. The most popular commodity trading market at the platform is gold – which comes with a spread of 0..3 pips. Light crude oil also benefits from goods volume, which can be traded at 0.2 pips.
Indices Trading
Fineco Bank is also strong when it comes to CFD indices. Markets include the FTSE 100, S&P 500, Dow Jones, NASDAQ 100, and Germany 30. In terms of spreads, this starts at 0.4 pips on the S&P 500 and more on other indices.
DerivitiveTrading
If you're a seasoned trader and know how to handle financial derivatives, Fineco Bank offers a range of markets. This covers both options and futures.

Regarding the former, you can trade options that track popular indices. In the case of futures, this covers commodities, currencies, US Treasuries, and more.
Fineco Bank Review – Fees and Commissions
Fineco Bank likes to market itself as a low-cost broker. The problem here is that Fineco offers so many asset classes and markets that it can be challenging to know what you are paying.
Nevertheless, let's start with share dealing fees.
Share Dealing Fees
Our Fineco Bank review found that the broker's fixed price commission on share orders is both straightforward and extremely competitive. As the table below indicates, the commission per order is set at £2.95 for UK shares.
While some stock brokers have a tiered commission structure that varies according to your monthly stock trading activity,  Fineco share dealing fees are fixed, which makes life more convenient and removes the potential for nasty surprises.
| | |
| --- | --- |
| | Fee per order |
| UK shares | £2.95 |
| European shares | €3.95 |
| US shares | $3.95 |
| Canada TSX | CAD 10 |
Of course, fixed commission pricing is especially apt if the price is as low as Fineco's. £2.95 per order comfortably undercuts most of the established competition, beating Hargreaves Lansdown (£11.95), AJ Bell (£9.95) and IG (£8) by a significant margin.
On the other hand, a flat-rate fee structure can work out expensive if you are planning to trade small amounts.
For example, let's suppose that you decide to buy £50 worth of BP shares.
At £2.95, you are paying an effective commission rate of 5.9%.
Put simply, you need to make at least 5.9% on your BP share purchase just to break even.
You also need to factor in the 0.5% stamp duty fee that UK shares provide.
Furthermore, you also need to pay £2.95 when you sell your BP shares.
| | |
| --- | --- |
| | Fee per order on LSE stock |
| Fineco | £2.95 |
| Hargreaves Lansdown | £11.95 |
| AJ Bell | £9.95 |
| IG | £8 |
Fineco share dealing commission on European share orders come out at just €3.95, compared to Hargreaves Lansdown (£11.95), AJ Bell (£9.95) and IG (€10) by a significant margin.
Fee per order on Xetra Stock

 

Fineco
€3.95
Hargreaves Lansdown
£11.95
AJ Bell
£9.95
IG
€10
The same goes for the commission on US share orders. And the good news doesn't end there, Fineco traders are spared additional commission fees, so you don't have to worry about monthly fees, custody fees, market connectivity costs, or inactivity charges.
Fineco Bank Leverage and Short-Selling
If you find yourself in the CFD trading department, Fineco Bank offers leverage facilities. The most you can get is 1:30 on major forex pairs, followed by 1:20 on gold, major indices, and minor/exotic forex pairs. If it's stock CFDs that you are more interested in, Fineco will offer you leverage of up to 1:5.
In addition to leverage, the Fineco Bank CFD department also allows you to short-sell assets. For example, let's suppose that you think AstraZeneca shares are overpriced. All you would need to do at Fineco is place a sell order. If AstraZeneca shares subsequently dropped in value, you would make a profit.
Fineco Share Dealing Platform
Fineco Bank UK offers three platforms: PowerDesk, which is designed to cater to the needs of advanced traders, a web platform that gives web users accessible but detailed trading functionality in their browser, and a mobile app (see below).
If you're an experienced trader, PowerDesk offers a wealth of advanced tools and functionality. The platform is designed to enable detailed technical analysis (users have over 90 technical analysis indicators at their disposal) and allows you to optimise your performance by customising the trading space.
Built in-house, Fineco's trading platforms are undoubtedly powerful and thoroughly equipped with an abundance of tools and market information, but we found them rather more challenging to navigate than some competitors.
Fineco Share Dealing Research and Analysis
Our Fineco Bank review found that the broker is clearly keen to develop its research and analysis offering and create a knowledge building hub for traders. Clients can access regular webinars and explore a broad range of learning resources, including some quite niche market insights.
If you're struggling to identify promising stocks, there are tools and resources available to clients that should help narrow down the hunt for prospects. The aforementioned PowerDesk is undoubtedly something of a powerhouse, if you're able to make the most of it, and grants access to a formidable toolkit, including advanced charting and listing functionality and a vast array of technical analysis indicators.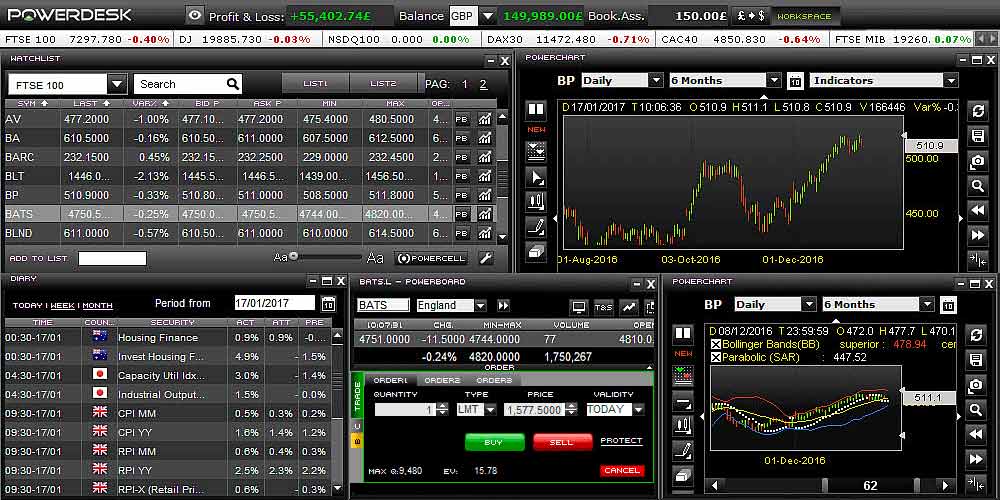 Fineco Trading App
Available for Android and iOS, the Fineco trading app does a solid job of transposing the desktop trading experience to mobile. Even so, we found that the mobile investment app was perhaps better for monitoring your investments than actually trading.
While the app does feature live notifications and customisable charts it lacks the detail and advanced functionality of the desktop platform. This isn't to say it isn't a useful addition to the Fineco trading experience.
Fineco Account Types
When you go through the registration process at Fineco, you are essentially offered three different accounts.
This includes:
Investing: This is the account that you need if you want to access the share and fund dealing facility. Managed portfolios also come with this account type.
Trading: This is the CFD trading account. You'll need this account type if you want to apply leverage, short-sell, or gain access to more complex instruments like options and futures.
Bank and Card: Fineco also offers retail bank accounts that can be accessed completely online or via your phone. This also comes with a debit card.
Take note, you can open all three accounts at the same time by clicking each of the respective boxes. We should also note that Fineco Bank does not offer traditional ISAs or SIPPs.
Fineco Demo Account
Unfortunately, Fineco does not offer a demo account feature. This is a shame, as demo accounts allow you to trade in a 100% risk-free environment.
Additionally, they also allow you to test out a platform before making a deposit. On the flip side, there is no minimum deposit amount at Fineco, so you can invest with inconsequential amounts.
Payments at Fineco Bank
Unusually for a broker, Fineco Bank UK doesn't have a minimum account balance, so you can deposit as little as you like. This should suit newcomers who prefer to dip their toes in before depositing large sums.
Deposits
Our Fineco review found the platform doesn't charge a deposit fee but does limit your deposit options to a bank transfer, so you can't deposit funds using a credit card or electronic wallet.
This is a huge pitfall. After all, if you want to take advantage of a trading opportunity straight away, you won't be able to. Instead, you will need to wait a few days for the bank transfer to arrive.
Withdrawals
Withdrawals are also free unless you want to expedite the process. Instant bank withdrawals will set you back 0.20%, with €0.85 min and €2.95 max.
Withdrawals should take about one working day if you choose to use a bank transfer. You can also withdraw funds to a Fineco debit card if you have one.
Fineco Bank Bonus
While Fineco doesn't offer a deposit bonus like some brokers do, it does still have a very enticing promotion for new users. Buy signing up for the platform, you can enjoy your first 50 trades with zero commission, which is a way to kick things off at Fineco.
Fineco Bank Login
If you are already a Fineco Bank customer and hold a share dealing account, you can click here to login. You will find all your share dealing account details once you login. If you are unable to login, below are Fineco Bank's contact and customer support details.
Fineco Bank Review – Contact and Customer Service
As one of the biggest names in Italian banking, Fineco share dealing offers dependable, well-staffed customer service. There's a live chat facility on the website (8am-7pm, Monday to Friday) and customer service phone line, available from 8am to 9pm Monday to Friday.
If In the event that your Fineco card is lost or stolen, a 24/7 Client Services Team is on hand to offer urgent assistance and block the card.
Our Fineco Bank review found the customer service to be helpful and attentive, an opinion that seems to tally with the majority of Trustpilot reviewers.
Fineco Bank contact number: 0800 640 6667 (UK Fineco Bank account holders)
Fineco Bank email: [email protected]
Fineco Bank address: Piazza Durante 11, Milan 20131 – Headquarters: Via Rivoluzione d'Ottobre 16, Reggio Emilia 42123.
Is Fineco Safe?
As we've mentioned through this Fineco Bank review, Fineco is a relatively new name in UK trading circles, which means it may be viewed with suspicion by some. Fear not though, it may be new and unfamiliar here, but Fineco is well established in Italy, where it was founded over 20 years ago. In fact, it's something of a banking giant in Italy, serving 13 million clients and managing more than €70 billion worth of assets.
Because Fineco is a commercial bank as well as a trading platform, it's subject to an extra level of regulation, which can only be good news from a safety point of view. In addition to FCA regulation, which you should always look for in the UK, Fineco is regulated by the Bank of Italy. It's also a publicly listed company, so it's required to disclose its financials.
But, most importantly for UK residents is the fact that Fineco Bank is covered by the FSCS. As you might well know, this covers your money in the event Fineco ran into financial difficulties. This is the ultimate safeguard, albeit, the FSCS caps the protection at £85,000.
Fineco Bank Review – Expert Verdict
In this Fineco Bank review we have mentioned how Fineco is relatively new to the UK broker market but its formidably low commission fees ensure it's a tempting option. The commission structure is also straightforward, especially if you're only interested in share dealing.
The broker's minimal commission fees (£2.95 per order on UK stocks) are fixed, regardless of the size of your order or monthly activity. Additionally, this flat-rate structure can be unfavourable if you are looking to invest small amounts. It also gives you exposure across lots of international markets, as well as offering a convenient platform.
Sponsored ad. Your capital is at risk
FAQs
When was Fineco launched?
Does Fineco Bank UK offer access to MetaTrader?
Does Fienco offer a mobile app?
What is the minimum deposit at Fineco?