In this guide, we explain the essentials of how to invest in indices and why they are a highly convenient way of gaining fast and cheap exposure to a large basket of companies.
In addition, we show how they can be used to target particular regions to take advantage of the unique makeup of each stock exchange.
Finally, we pick the best indices trading platforms for new investors and how to get up and running by making your first trade.
How to Trade Indices UK – Step by Step Guide 2021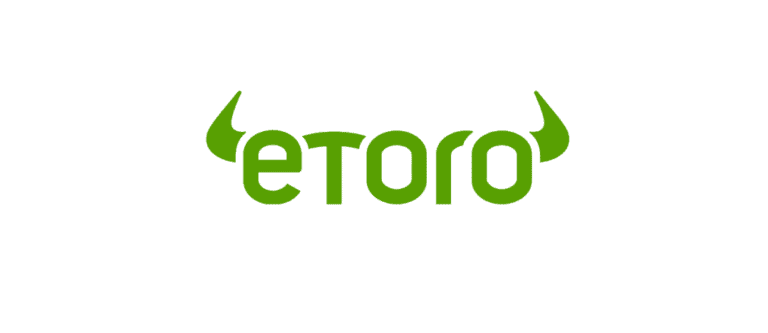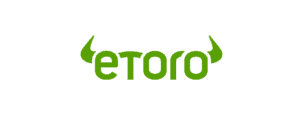 eToro is a global investment platform and the pioneer of social trading, where investors can copy the trades of their fellow traders, thereby leveraging the success of other traders on the platform. It also provides an easy-to-use mobile app and website in addition to commission-free trading and a wealth of research tools.
Step 1: Open an Account and Upload ID
Download the mobile app or head over to the website at www.etoro.com. This guide is based on the website product of the platform. All regulated UK trading platforms are required to collect personal information from prospective customers. Click on the sign-up link labeled 'Join Now' and then fill in all the requested details.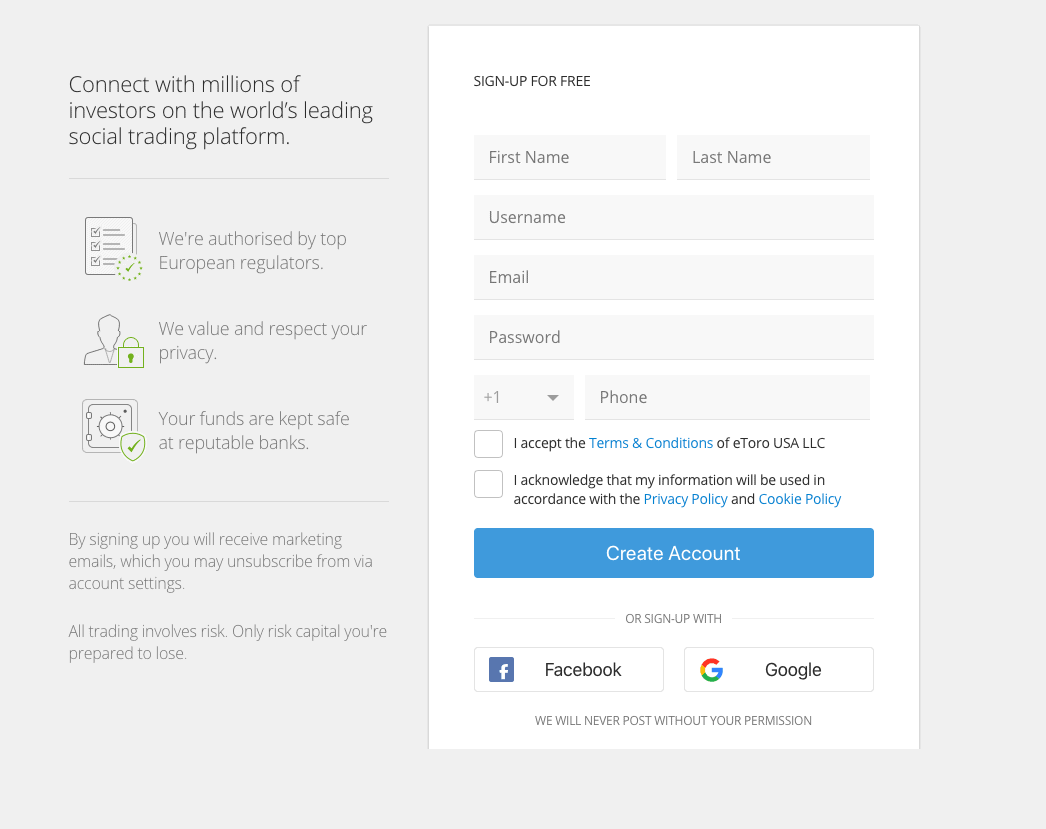 67% of retail investor accounts lose money when trading CFDs with this provider.
In addition to full name, home address, date of birth, you will need to provide your National Insurance number, and of course, enter a username and create a strong password.
Step 2: Confirm Identity
As part of the Know Your Customer process you will need to establish proof of ID by uploading a copy of a government-issued photo ID document and a utility bill or bank statement:
Valid passport or driver's licence
Utility bill or bank account statement
Once submitted, eToro verifies the documents near-instantly.
Note: If you don't have access to the above documents and want to start trading at eToro right now, you can upload them later. You will, however, need to do this if you wish to deposit more than $2,250 and you submit a withdrawal request.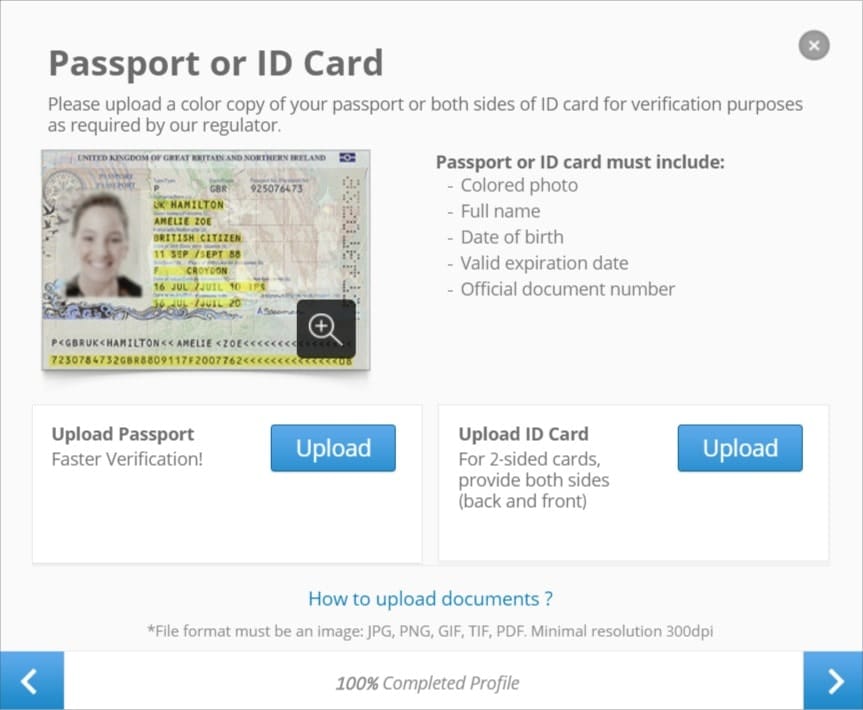 67% of retail investor accounts lose money when trading CFDs with this provider.
Step 3: Add Funds to Your Trading Account
Once you have completed the ID verification, it is time to make a deposit. The minimum deposit is $50, as shown in the screenshot below.
You can deposit funds instantly with your debit/credit card. Alternatively, you can use an e-wallet, such as Paypal, Skrill, or Neteller or initiate a bank transfer, but this can take days to put in place.
Note: Your deposit at eToro will incur a small Forex fee of 0.5% – as all transactions are converted to USD. However, you incur no further FX fees when accessing non-UK markets.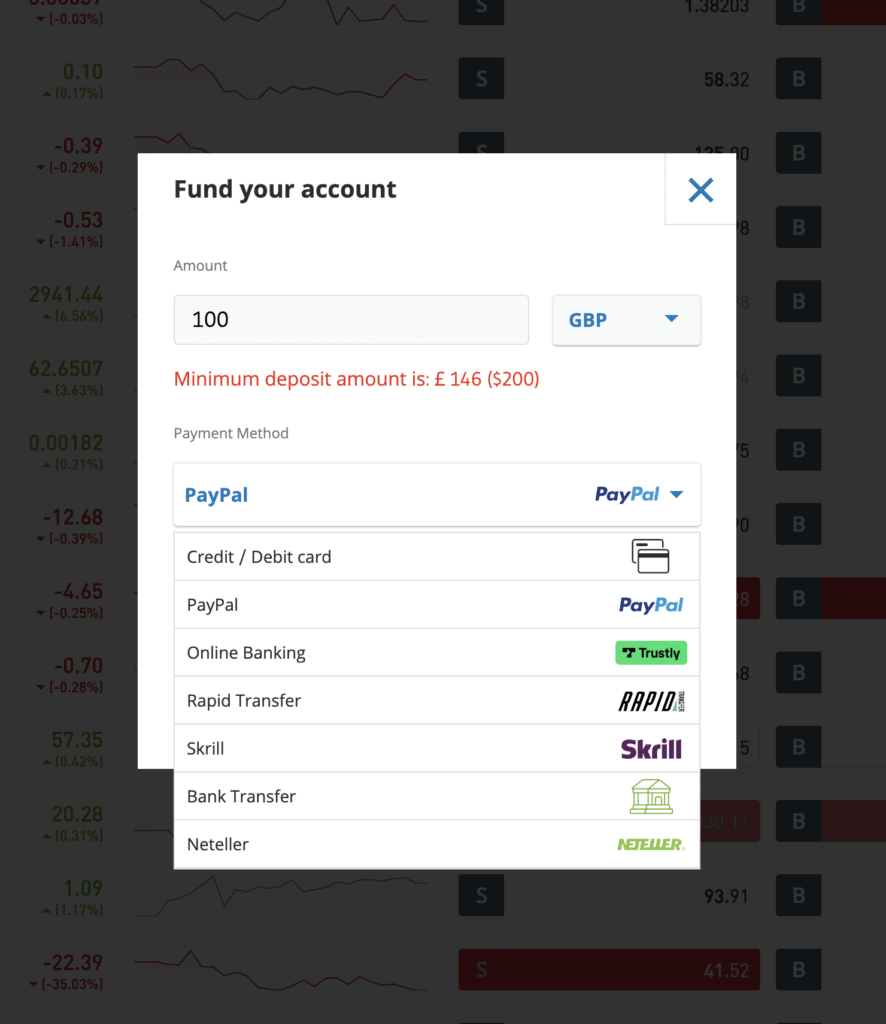 Step 4: Trade Indices
After funding your eToro trading account all you need to do is select the stock index that you wish to trade.
Click on 'trade markets' in the vertical grey menu bar (left, under 'Discover') and then on 'Indices' in the horizontal navigation bar under the search box at the top of the page, which will bring up the listing of indices you can trade on, as shown in the two screenshots below: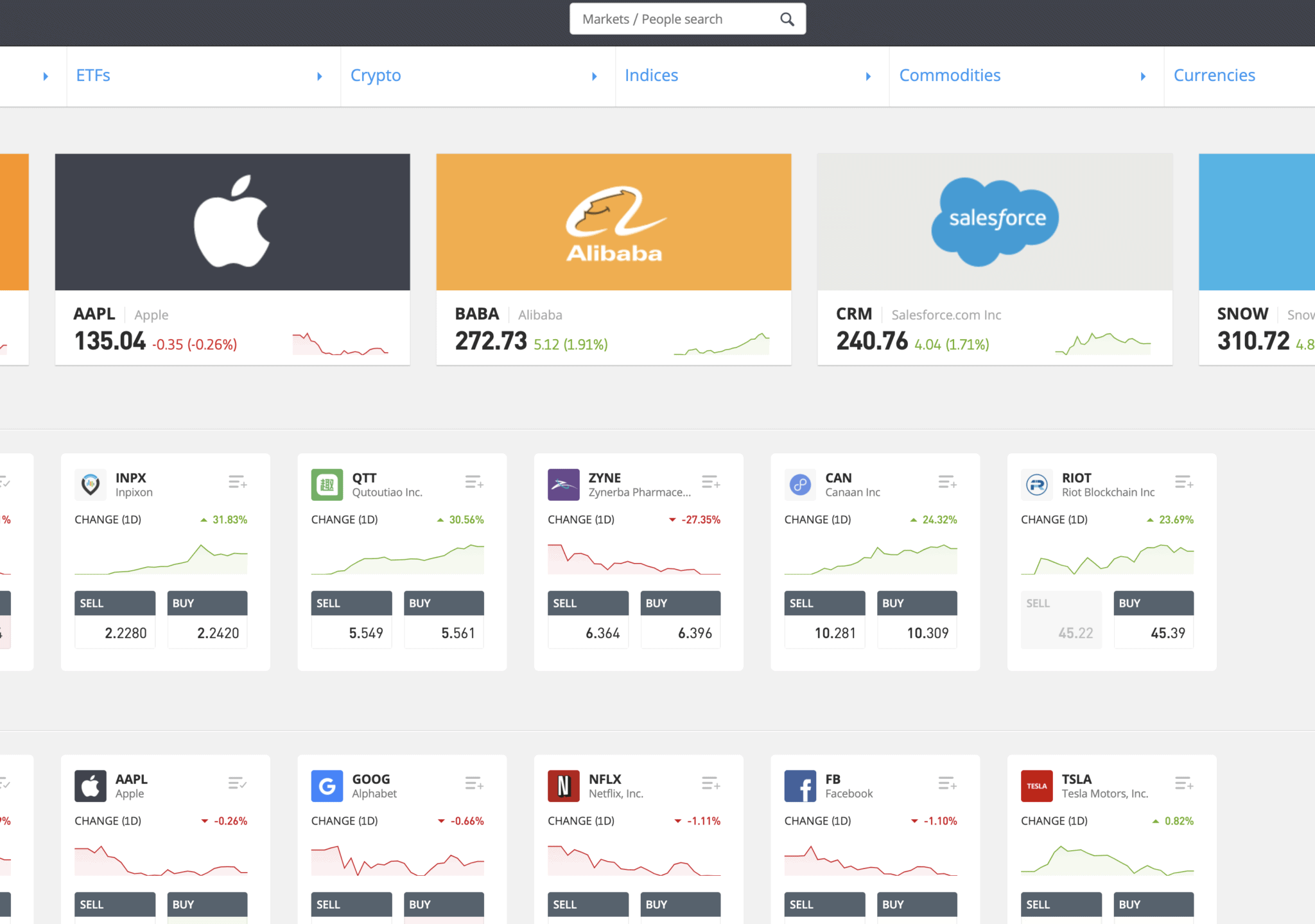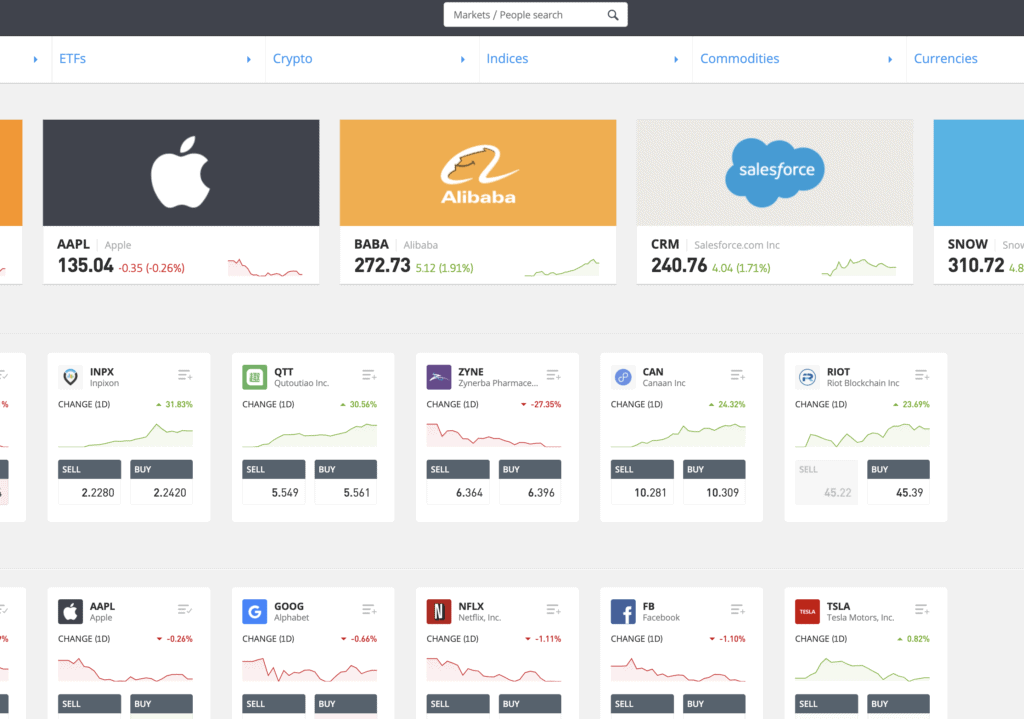 There is a total of 15 indices that you can trade, from the FTSE 100 (UK100) index of the top 100 largest companies to the US tech-focused Nasdaq (NSDQ100) index.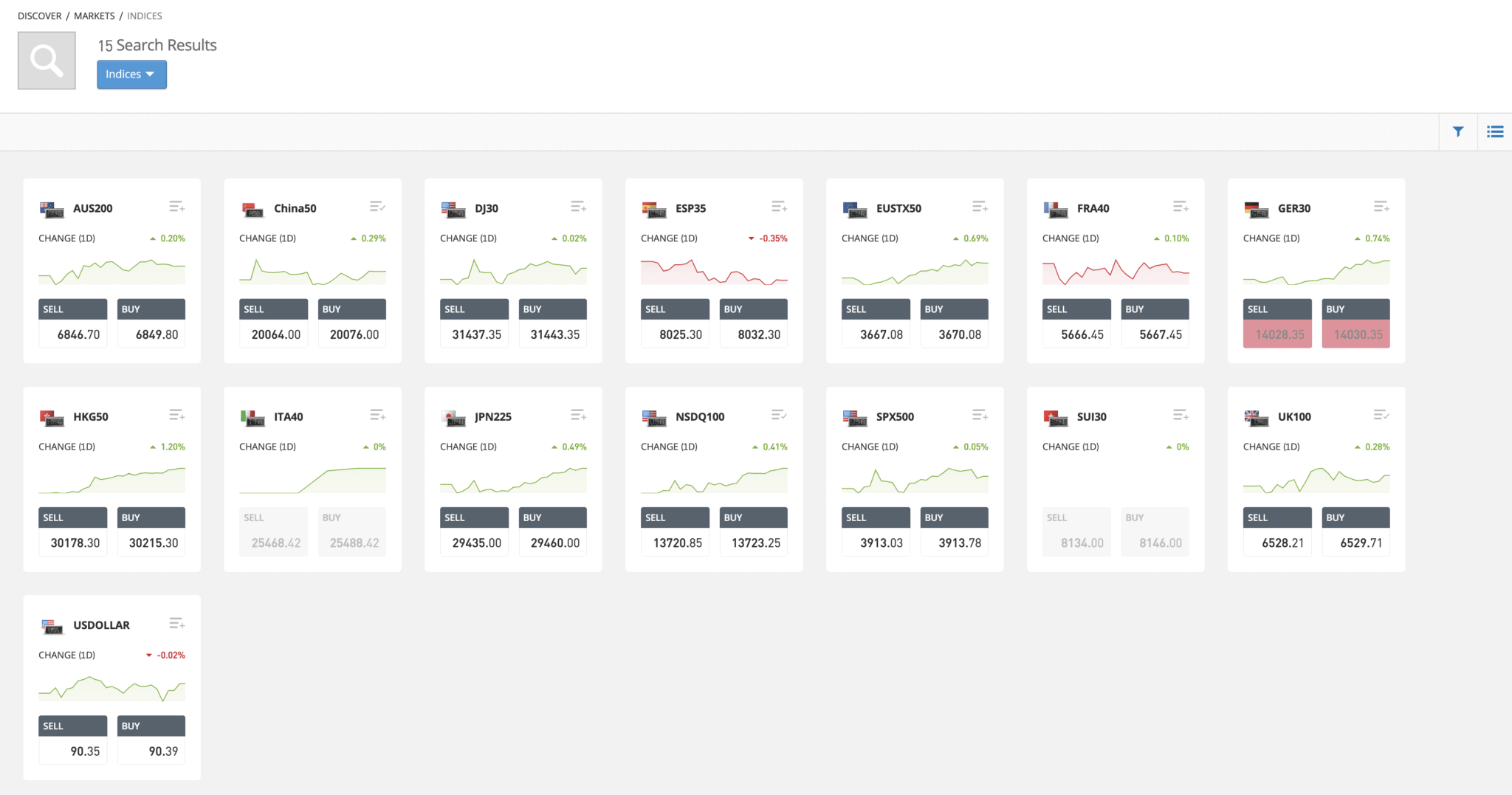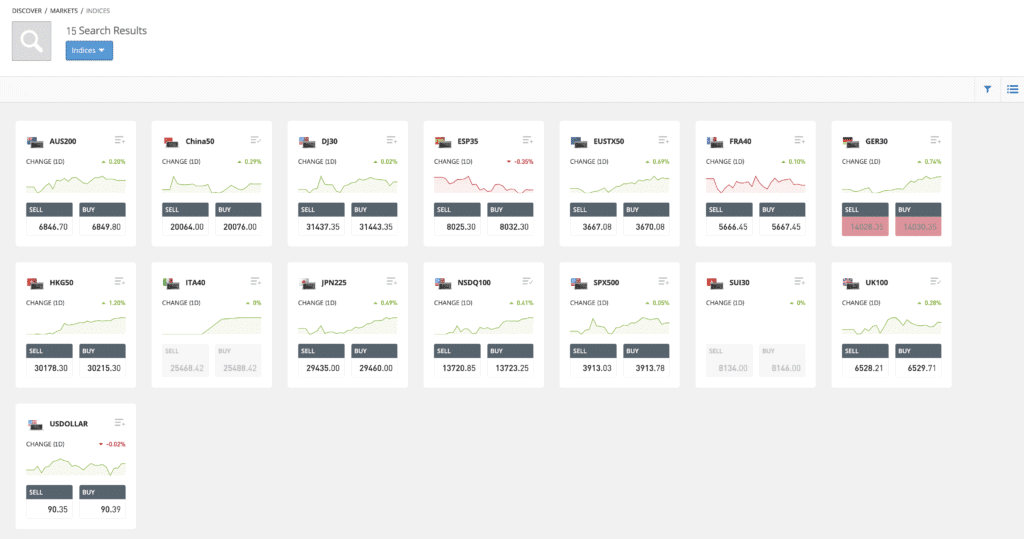 67% of retail investor accounts lose money when trading CFDs with this provider.
What are Indices?
A stock index is comprised of a collection of publicly-traded companies that adds together their values and expresses it in terms of an index number beginning at a base year. By way of an example, the FTSE 100 was launched on 3 January 1984 with a starting value of 1,000
Major stock indices such as the FTSE 100, FTSE 250, the Hang Seng Index and the S&P 500 began life as a way of enabling investors to make better comparisons between stocks and also between different stock markets.
It has not always been the case, but today it is easy for retail investors to gain exposure to the value of a stock index and to benefit from the direction in which it may be moving, either higher or lower.
Who creates indices and what's their methodology?
Indices were often created by data providers and rating agencies, which is why they have names such as FTSE, where the FT stands for Financial Times, and S&P 500, where the S&P stands for Stand & Poor's the rating agency.
The indices have strict methodologies and rules governing how constituent companies are included for entry and when they are ejected. So for example the FTSE 100 includes the 100 largest publicly traded companies on the UK London Stock Exchange and the S&P 500 the 500 largest publicly traded companies on the New York Stock Exchange.
However, there are other rules that companies have to comply with other than their size by market capitalisation, such as liquidity and the period of time that they have traded at the required size. On that last point, for example, there is no point including a stock one quarter only to discovery by the next it has fallen in value to such an extent that it is no longer meets the market cap threshold.
However, not all indices are market cap-weighted. The DJIA is price-weighted, meaning the constituents are selected based on their share price. The FTSE 100 and the German DAX Index 30 are examples of market cap-weighted indices.
Types of Indices Trading and Investing
There are a number of ways to gain exposure to indices, depending on which financial instruments you are most comfortable with and the amount of risk you wish to take.
Index funds
Index funds can be either mutual funds or include some exchange-traded funds. In their mutual fund guise, they are collective investment vehicles in which the funds of investors are pooled to invest in all the companies that make up an index.
These types of mutual funds were known as trackers but are more commonly referred to these days as index funds. They are not confined only to stock indices, but in this guide, we are concentrating on stocks.
A mutual fund will track the stock index by either directly buying each company stock that comprises the index of, if the stock index contains an excessively large number of constituents such as the US stocks small-cap indices the Russell 2000 or Russell 3000, it may sample the index instead. In such circumstances the mutual fund will buy a sample of the stocks that. have been proven historically to mirror the overall performance of the index.
Index funds typically charge fees to investors in the region of 0.25% to 0.85%. That might not seem like much – and they are certainly a lot less than you would expect to pay for an actively managed mutual fund – but nevertheless they can eat into returns because of the effect of compounding. US investment group Vanguard has made a name for its self as a pioneer of index funds and provides some of the cheapest and most popular products in the index funds area.
Index funds of the mutual funds' sort, issue new units when investors buy into a fund. They do not trade on the stock market in the same way that you would buy shares. Instead, they are priced just once a day. When you want to exit a mutual fund investment you will need to redeem your units, which means the fund manager destroys your units and returns cash to the investor to the value of the units owned.
Exchange traded funds
Exchange traded funds are similar to mutual fund trackers in that they track the price of an underlying asset or basket of assets, often represented in an index, but unlike mutual fund index trackers, an ETF trades on the stock market like normal shares – so they have a share price that moves constantly in real-time in relation to supply and demand the stock from buyers and sellers.
ETFs have grown enormously in popularity with retail investors because they are a cheap and flexible way to access stock indices in addition to a vast array of other asset classes and previously hard-to-access niches of the financial universe.
ETFs are even cheaper than index funds, with fees are in the range of around 3% to 4.5%.
Contracts for Differences
Contracts for differences (CFDs) are derivatives products created by a financial institution in which parties to a contract agree to pay the difference between the price when the trade is opened and the price at closure.
These derivatives products, and the CFD brokers that provide them, are popular with UK investors and there are a number of brokers that specialises in them. They can be used to gain exposure to all sorts of financial asset classes, not just stock indices.
They are at higher risk than say an ETF or mutual fund because of the way they are constructed, which means it expensive to hold them for long periods of time because of overnight fees charged by the issuer to keep positions open for the contract holder.
However, as a way of quickly gain exposure to a stock index they can be ideal for day trading purposes – see more on this below in the indices trading strategies section. CFDs allow you to both buy and sell an index. That's to say if the price goes up you benefit, but you can also go short by executing a sell trade, so if the index falls in value you benefit.
Options and futures
An options contract bestows upon the owner the right but not the obligation to buy an asset at a certain price. These derivatives products were once they were the preserve of professional and institutional traders, they have now gone much more mainstream, especially in the US.
To trade options in the UK, you are likely to have to answer correctly a questionnaire to show that you understand how they work and the risks involved. Futures are similar to options except that instead, they are being a right but not an obligation to buy or sell the asset, with futures the contract holder is required to take delivery of the product (unless it is cash-settled) unless the contract has been closed before expiry. Options are the more popular of the two, so let's look at how options work.
There are two types of options contracts – a call or a put. If you expect the price of a stock to rise you would buy a call option and the opposite for a put.
What is In The Money (ITM,  Out of The Money (OTM) and At The Money (ATM)?
A call option has an expiry date and a strike price that represents the price the buyer can sell the contract for upon expiry.
If the price has risen above the strike price then the call option is said to be In The Money (ITM) and if it has not moved above the strike price then it is Out Of the Money (OTM) and worthless. If the contract strike price is equal to the spot price, the contract is said to be At The Money (ATM).
An option usually comes in lots of 100, so a single contract can give you the right to buy or sell 100 shares of stock. This means even small movements in the price of the stock or index are magnified enormously for the owner of the option. Add to that the ability to trade on leverage (using borrow money to magnify the trading position) and the size of gains for a relatively small outlay can be very large, but so too can the losses.
Trading on margin can expose the trader to a margin call, where you have to deposit more funds with the brokerage to cover possible losses if a position moves against you.
Spread betting
Spread betting is another way to get into trading on indices. With this instrument, a trader bets a certain amount per point of movement in the underlying index. As with options and CFDs (and certain so-called inverse ETFs and index funds – see more in the strategy section), you can go short.
Spread betting is arguably even riskier than options or CFDs. A small amount per point can quickly escalate if the index runs into a bout of volatility. The index might fall 200 points – if you have bet £5 per point, then your position would be £1,000 in the red. You can limit risk by using stop-losses. See more on stop-losses below.
One of the advantages of spread betting, however, is there is no capital gains tax on your returns.
Advantages of Trading Indices
Quick, Easy and Cheap
The chief advantage of trading indices is the exposure to an entire index that can be quickly achieved with relative ease and cheapness, depending on which instrument you decide to use.
Imagine how much it would cost in transaction fees to buy every single stock in the FTSE 100. Instead of doing that you can with one click 'buy the index' when you take the index trading approach.
Diversification
Depending on the particular index, it will provide the investor with immediate exposure to a diversified basket of stocks, which is a key way of minimising risk in an investment portfolio. Because the index will have companies operating across the entire range of sectors, you gain exposure to stocks that can be relatively uncorrelated, meaning when one goes down another may go up because of the different attributes of the economic sectors and industries they operate in.
Risks of Indices Trading
Low-risk as a long-term investment
Investing in an index and leaving it alone as part of a long-term investment strategy is a low-risk approach because over time any losses from the index can be made good. Indeed, stocks are the best-performing major asset class over the long term.
Short-term trading is riskier
However, trading is different from medium and long-term investing and takes place typically over a short duration. Because of this short-term investment risk can be higher, especially if you are not able to hold your position open until it moves into a profitable position, or you are unable to meet a margin call, or your position does not have a stop loss and an index drops precipitously, exposing you to large losses.
Again, the calibration of the risks involved will in part depend on which instrument you decide to trade indices with.
Lots of moving parts: weighting, regions and macro environment
An index can go up or down for a variety of reasons and in some ways can be more difficult to make a correct call on than individual stocks.
Each index has unique characteristics. For example, if you want to invest in S&P 500, it has lots of tech stocks (weighting of 28%), while if you were to invest in the FTSE 100 has very few (weighting of just 1.2%). The FTSE 100 includes lots of multinational companies that earn most of their revenues in dollars, which means when the pound falls against the dollar, the value of investments of the UK-resident investor in the FTSE 100 index will rise (the index will have gone up).
Because stock indices are country-specific, the macro environment prevailing in the country (and globally) will be reflected in the returns from the index – for example, a rise in unemployment or inflation might lead index investors to sell.
What Indices Can You Trade in the UK?
Below is a list of the major stock indices in alphabetical order that can be traded in the UK. Most trading venues will follow the short name style. The FTSE 100 is normally simply displayed as 'UK 100' and Dow Jones Industrial Average simply as 'Wall Street' which is worth noting if you are looking at how to invest in Dow Jones UK.
Short name

Full name

Australia 200

S&P/ASX 200

China A50

FTSE China A50

EU Stocks 50

EURO STOXX 50

France 40

CAC 40

Germany 30

DAX 30

Hong Kong 50

Hang Seng China 50

Italy 40

FTSE MIB

Japan 225

Nikkei 225

Netherlands 25

AEX 25

Spain 35

IBEX 35

Switzerland 20

SMI 20 

UK 100

FTSE 100 – known colloquially as

'the Footsie'

US Small Cap 2000

Russell 2000

US SP 500

S&P 500

US Tech 100

NASDAQ 100

Wall Street

Dow Jones Industrial Average (DJIA, Dow 30) – known colloquially as 'the Dow'
Indices Trading Strategies
When learning how to invest in indices, it's important to consider indices trading strategies to help you make informed trades.
1. Get to know the correlations
An index can be strongly correlated with particular sectors and industries because of the weightings (relative dominance) of those areas in the index. If interest rates are going up, then an index with a heavy weighting of financials would be expected to benefit.
In the case of the NASDAQ, which is a tech-focused index, movement in the shares of Big Tech stocks such as Apple will have a substantial impact on the index. Apple is also one of the few and best technology ETFs listed on the Dow, so it will have an impact there as well.
As we mentioned earlier in the guide, foreign exchange movements can impact index performance, so this is another correlating factor to bear in mind. Many FTSE 100 companies earn revenue in dollars and so strengthening of the US dollar against the pound will often be reflected in a rise in the FTSE 100.
Equally, a weak dollar can enhance the returns of US companies that do a lot of their business abroad because their goods and services become more competitively priced in local currencies.
2. Economic events are critical
Economic events can be a major driver of index performance. Having to hand the economic calendar for the country that an index is based in is essential. Major economic news such as the US non-farm payrolls figure, purchasing managers index data, business and consumer sentiment surveys, unemployment data, etc can all have an immediate and direct impact on the movement of an index and should be watched closely for profitable  (or otherwise) trading opportunities as triggers for volatility.
3. Decide to be a day trader or a position trader
You should decide whether you predominantly want to take a day trading approach or prefer to take a position and hold it for a longer time, sometimes years. Those sorts of choices will help you decide what sort of instruments to favour to implement your strategy.
Both day and position traders should learn about technical analysis in order to make sense of price charts. This is perhaps even more important for the day trader looking for entry positions a minute-by-minute and hourly basis. Whether day trader or positions trader, trading with the trend os a useful rule to bear in mind and can fit with a momentum strategy that suggests that if a share is rising it is more likely to continue to do so and if it is falling he may continue to do so. Knowing when such trends are about to reverse is of course of paramount importance also.
4. How to manage risk
You should set 'take profit' and 'stop-loss' positions on all your trades. This helps you to control risk.
In particular, get into the habit of setting stop losses. Exactly where you place it will depend on your assessment of the market, your risk tolerance, which in turn may be influenced by the number of funds you have to invest or your investment goals.
It is also important to take profits. We are all subject to psychological biases when it comes to trading, such as getting greedy and not closing out winning positions in the hope of making even bigger returns. The trouble with doing that with indices – especially for the day trader – is that a winning position could quickly move against you.
Best Indices Trading Platforms
Now we've shown you how to invest in indices, you need to settle on a top indices trading platform.
We've picked out our favourites below.
1. eToro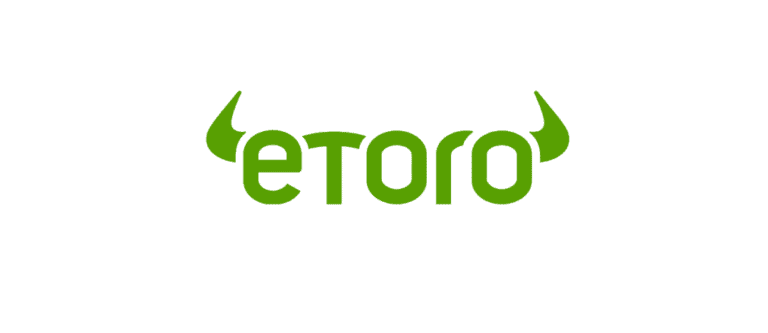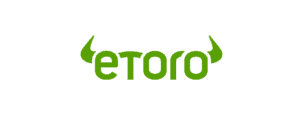 For research, user interface, and price, eToro is hard to beat, so we rate it the best of the bunch for indices trading. eToro lists all the major indices an investor would expect to find – for a total of 15 indices. Trading on the instruments is commission-free. The buy-sell price spreads on indices are also extremely tight, which means you trade nearer to the actual mid-price and less goes to the broker.
The indices are accessed via CFDs, and this is clearly shown in the trading order ticket screen (see below) as well as the overnight fees you will pay. CFDs allow you to rake a view on whether the market will go up or down, allowing you to potentially profit from whichever direction it trades in, as shown in the screenshot below. Key information such as leverage levels is all thoughtfully laid out.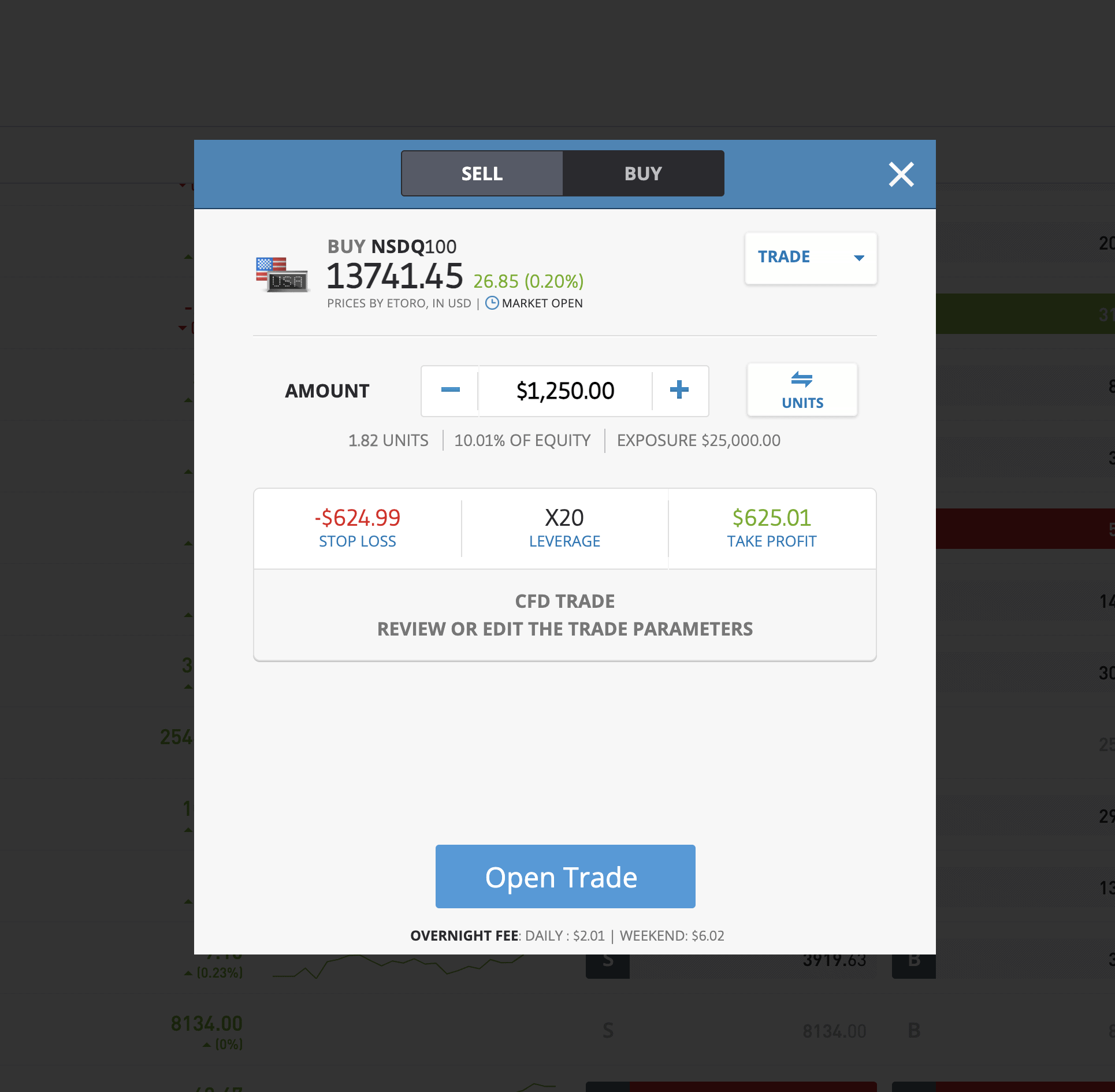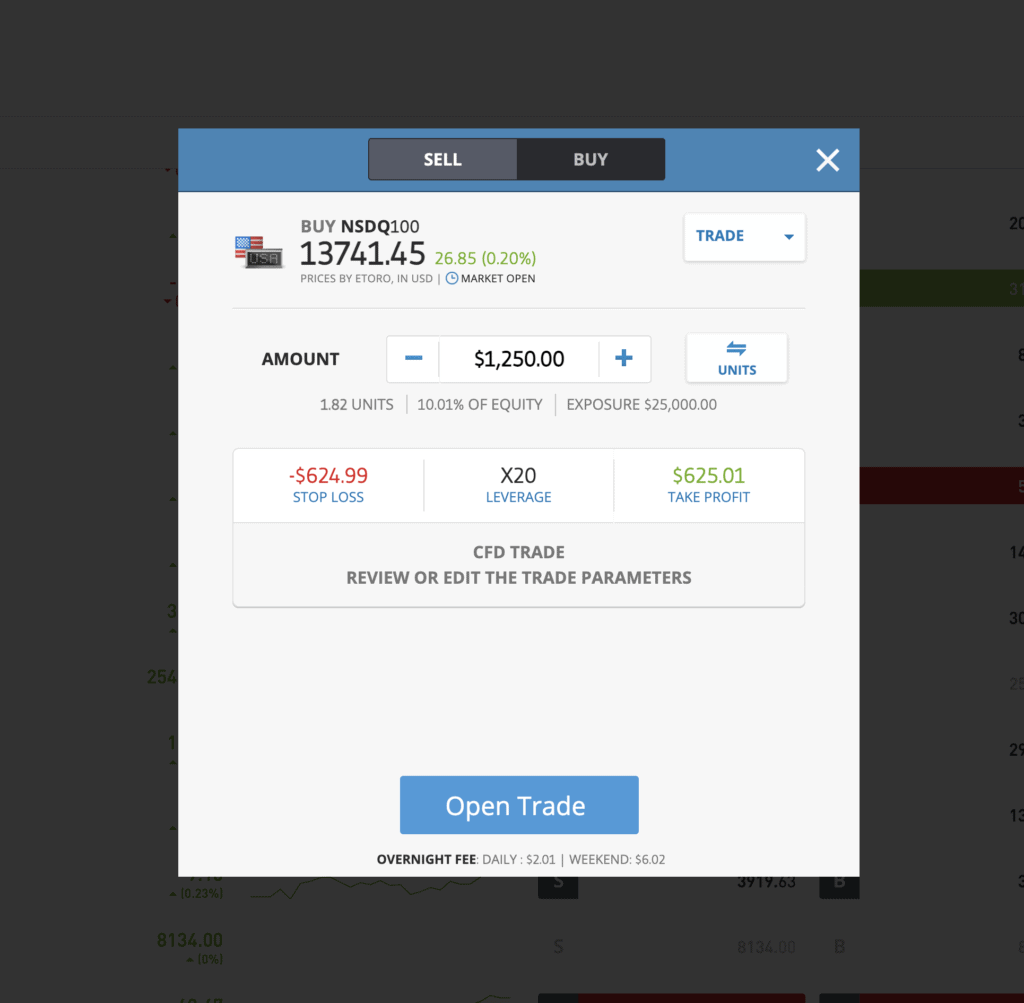 67% of retail investor accounts lose money when trading CFDs with this provider.
eToro is regulated by the Financial Conduct Authority (FCA) and fully covered by the UK's Financial Services Compensation Scheme in the event of platform failure up to £85,000.
If you want to trade on your mobile, eToro offers an excellent trading app for iPhone and Android.
eToro fees:
| | |
| --- | --- |
| Commission | 0% |
| Deposit Fee | Free |
| Withdrawal fee | $5 |
| Inactivity fees | $10 a month after 12 months of inactivity |
Commission-free trading
Leader in social trading
Includes portfolio management tools
Excellent fundamental analysis and commentary
Well-designed portfolio management tools
Fully-featured demo account for beginners
Cons:
15 index markets – could include more
2. Libertex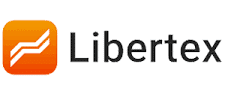 Libertex has a strong offering of indices from which to choose, numbering 25 in total. Making a trade is a breeze, but if you want to find your way around first then the demo account is readily accessible by simply supplying an email and password on the homepage.
Commission on trades varies for each index. On the S&P 500, for example, the standard commission without discount is 0.0148%. The Nasdaq (see screenshot below) is more expensive at 0.0219%
You can trade with leverage of up to 100x, but be sure to change this before you trade if you don't intend to use leverage or wish to reduce the amount of leverage to apply.
Libertex's minimum deposit is just $10, which is ideal for first-time investors who want to feel their way around cautiously, although you will not be able to trade indices with such a small amount.
The platform accepts various payment methods – including debit/credit cards and e-wallets. It holds a licence with CySEC (The Cyprus regulator. Cyprus is a member of the EU), so your money is safe in the event of business failure.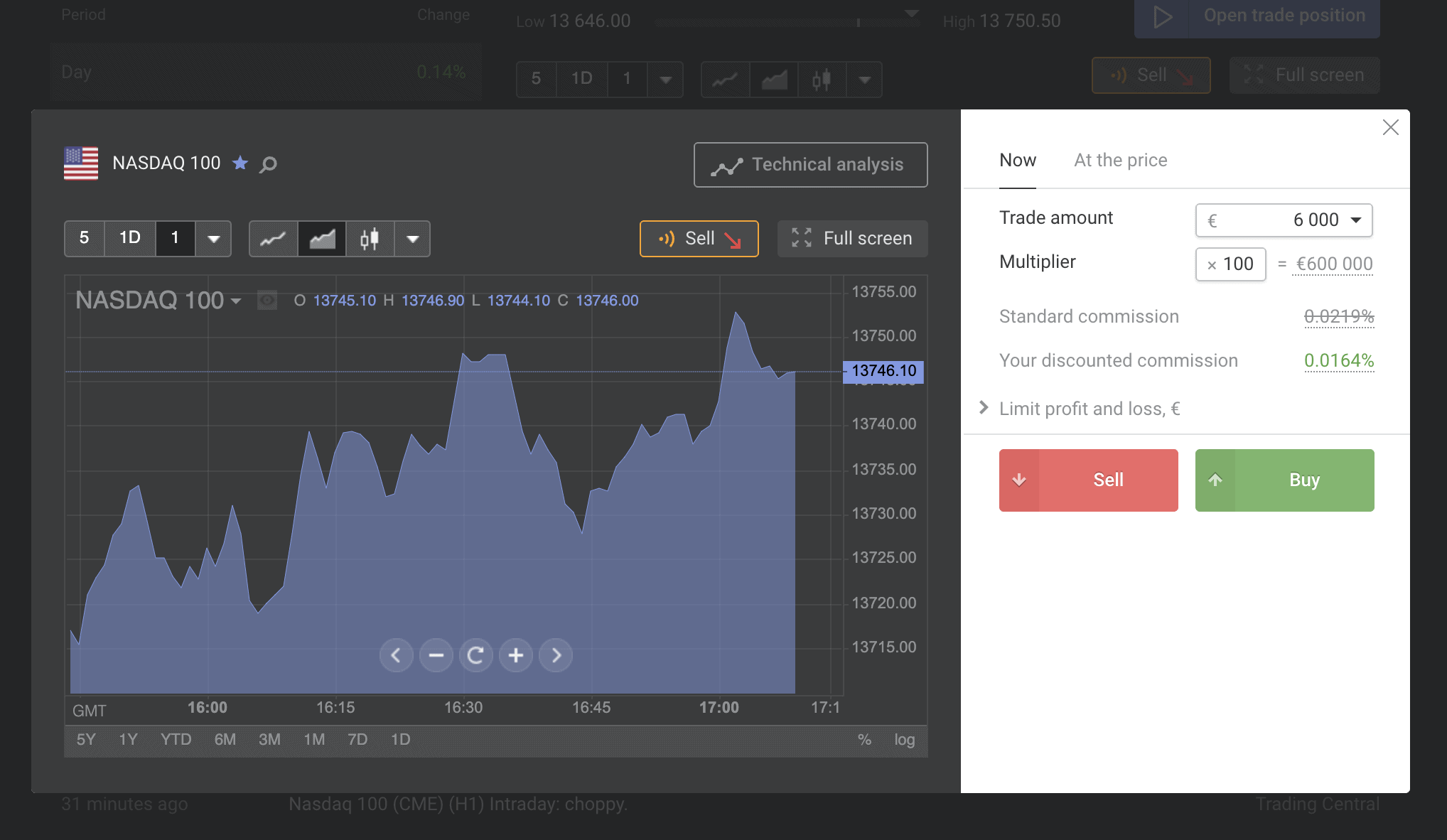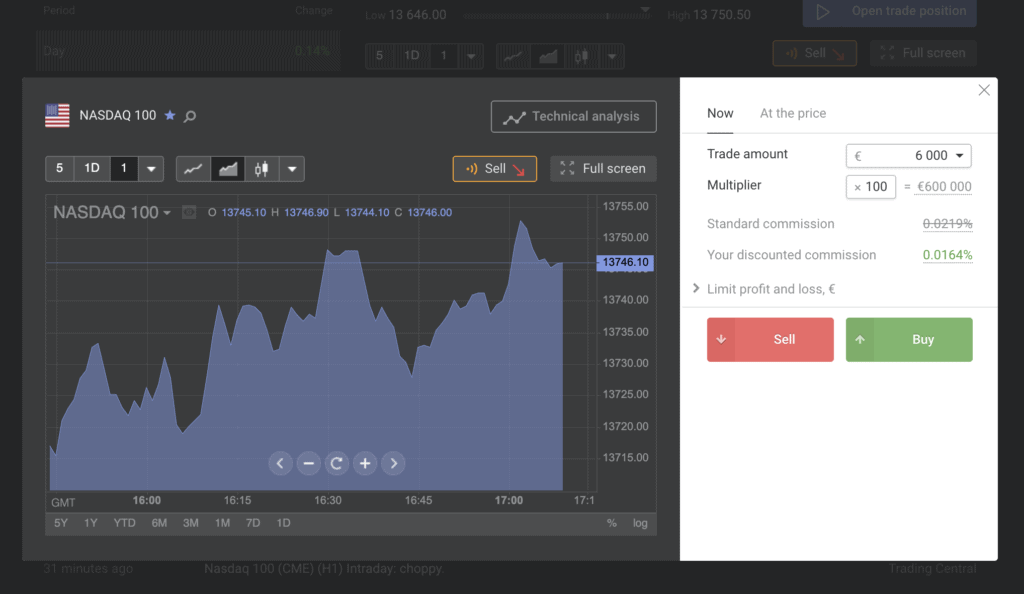 67% of retail investor accounts lose money when trading CFDs with this provider.
Libertex fees:
| | |
| --- | --- |
| Commission | See the discounts table below |
| Deposit Fee | Free |
| Withdrawal fee | 1 EUR for credit/debit card, 1% for Neteller, free for Skrill |
| Inactivity fees | 10 EUR after 180 days |
Commission discounts are available depending on the amount you deposit
GOLD level

Total deposit of €250

GOLD+ level

Total deposit of €1450

PLATINUM level

Total deposit of €1500

VIP level

Total deposit of €5000

Discount rate – 3%

Discount rate – 4%

Discount rate – 20%

Discount rate – 30%

Pros:
Commission discounts
Options trading on indices
25 indices available to trade on
Demo account available
Sentiment indicator
Commission discounts for higher deposit amounts
Cons:
News and analytics service limited
Commission charged for trading
74% of retail investors lose money trading CFDs at this site
3. Capital.com
Capital.com provides access to 19 indices using CFDs. There is no commission. Instead, there is just a spread to pay, which for the Nasdaq 100, for example, is 1.6, and fees for overnight and weekend interest rates (which is common to all CFD providers) are clearly displayed. As with Libertex, you can make use of leverage of up to 100, with the money required to open a trade well laid out in a dynamic graphical design (see screenshot below). You can trade at Capital.com via its website or using its mobile app, where you can instantly deposit funds with a debit/credit card or e-wallet.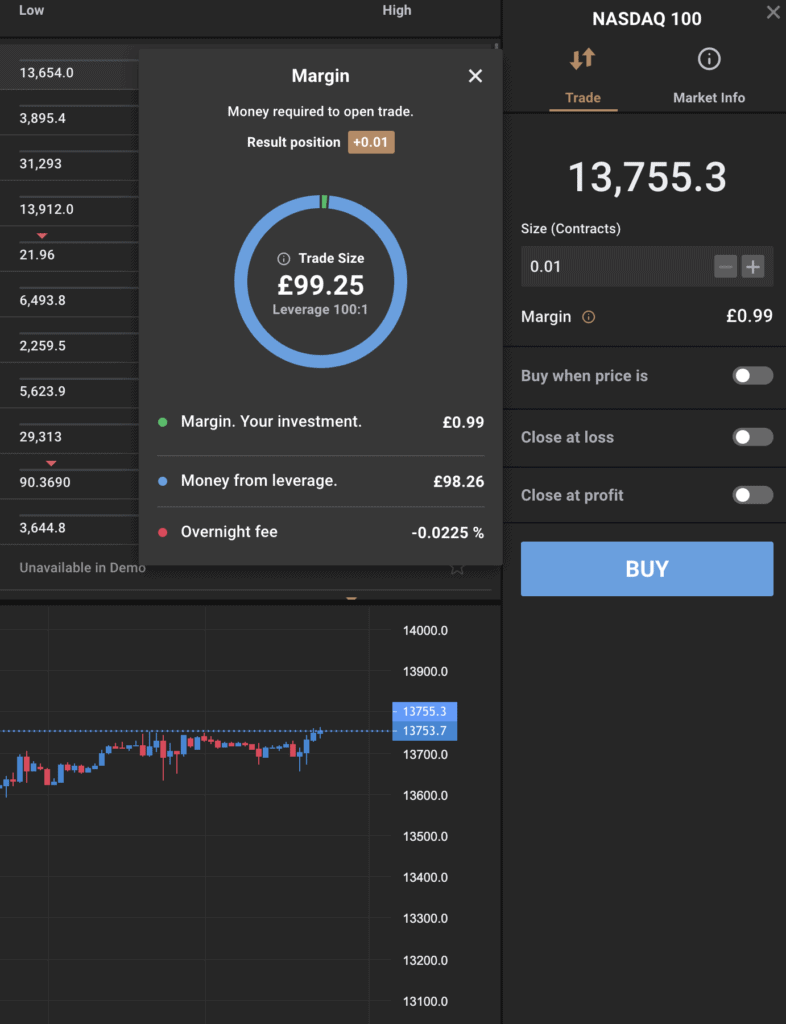 Bank transfers are also supported, but this takes the minimum deposit from £20 to £250. Capital.com is fully licensed in the UK and is authorised and regulated by the FCA and clients are covered for platform business failure up to $85,000 with the UK's Financial Services Compensation Scheme.
Capital.com fees:
| | |
| --- | --- |
| Commission | 0% |
| Deposit Fee | Free |
| Withdrawal fee | Free |
| Inactivity fees | None |

Pros:
Margin and leverage clearly shown
AI assistant identifies your weak points
Trade ideas generated daily
Excellent charting and analysis interface
£20 minimum deposit
Cons:
Difficult to find where to change leverage settings
75.26% of retail investors lose money trading CFDs at this site.
How to Trade Indices Today
Hopefully, you have followed the instructions at the beginning of this guide and set up an eToro account. Now we will walk through how to buy indices on eToro, using the desktop version of the platform.
1. Trade the NASDAQ 100
We are going to trade the NSDQ100 by opening a 'buy' position. Click on the 'NSDQ100' market in the list of indices markets. This brings you to the instrument page where you will find further information on the NASDAQ index market under 'feed', 'stats', and 'chart'. The feed provides a view of the posts made by fellow users, which you can like, comment on or share – this is a great place for getting trading ideas but always do your own due diligence. The stats view (see screenshot below) provides a useful roundup of the features of the market you have selected.
Click the blue trade button on the right-hand side to bring up the order view: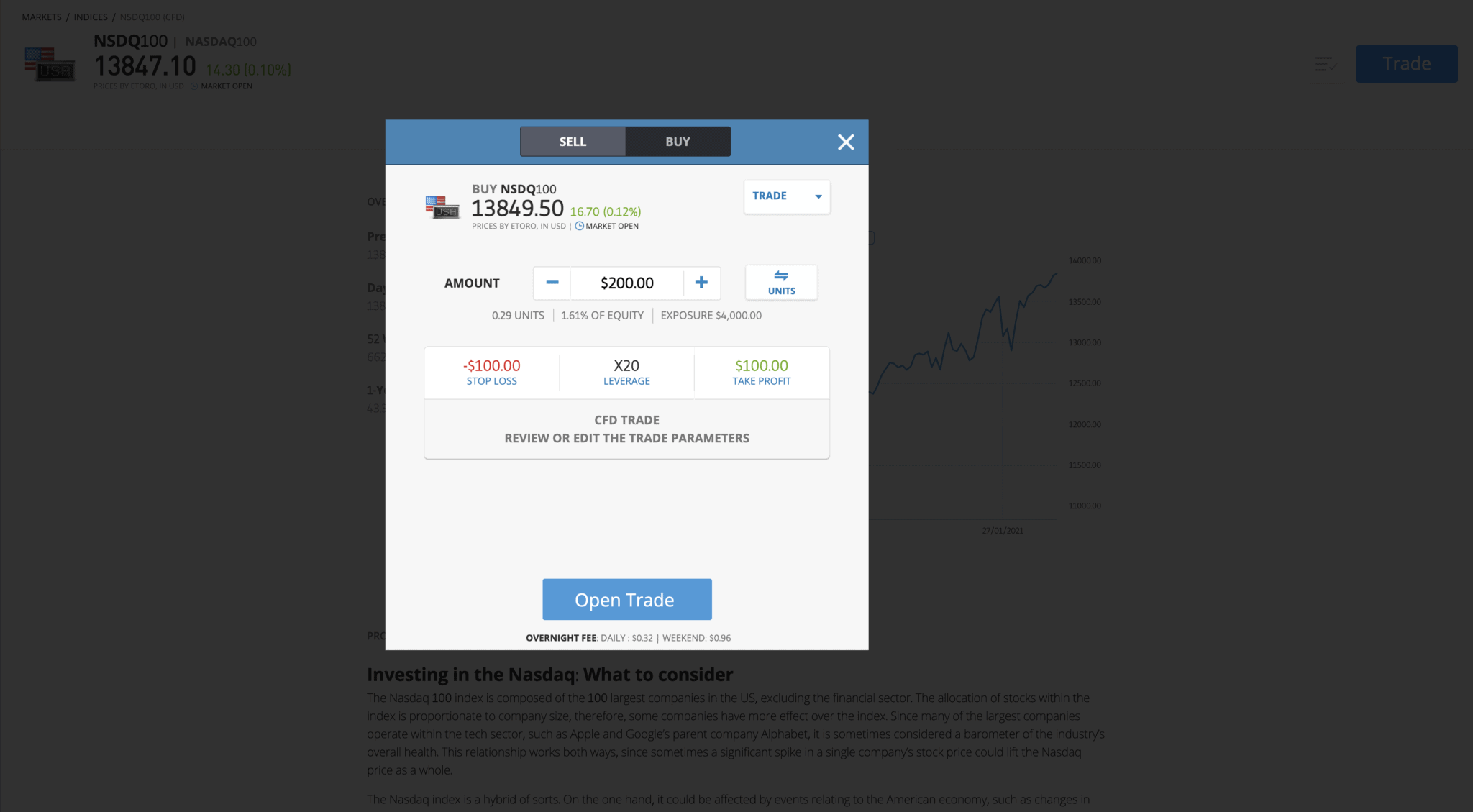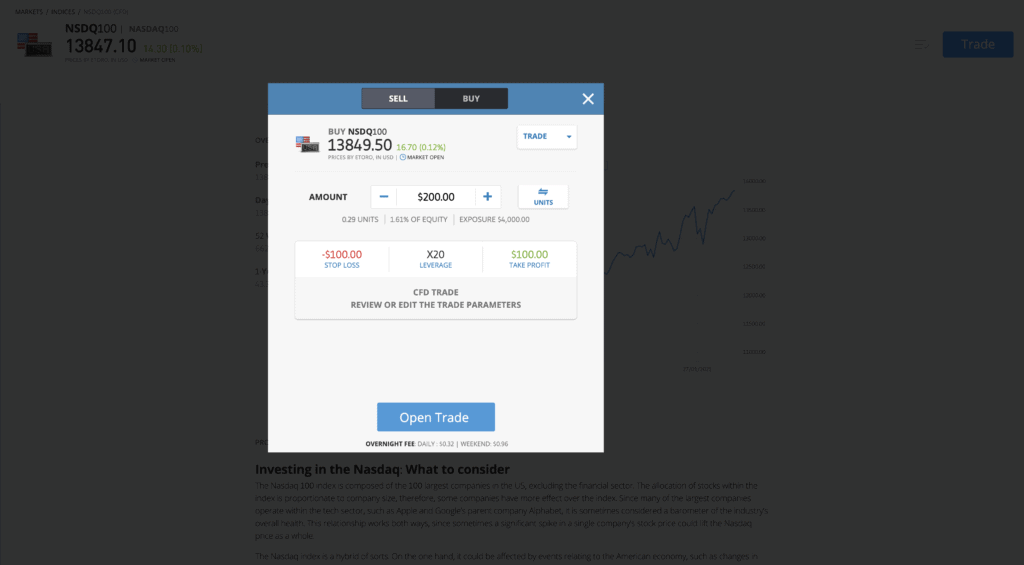 67% of retail investor accounts lose money when trading CFDs with this provider.
2. Set an amount to trade, stop loss and take profit
The minimum amount you can trade is $50. In the example, we are using leverage of x20. eToro automatically sets a 'stop loss' of -$100 and a 'take profit' of $100, which you can adjust for your own risk tolerance and 'take profit' requirements.
Top right on the trading ticket there is a 'trade' drop down which you can change to 'order' if you want to set a 'limit' order. That means instead of taking the market price as shown in the default screen, you can decide at what price you want to trade.
Units need a bit of explanation. This is basically the size of the position you are taking. In the screenshot, it shows the amount ($50), but below it in grey, note the equivalent units is 0.29. Also to the right of the amount entry there is a 'units' button that if clicked on will show the unit equivalent instead of the dollar amount of the trade – see screenshot below: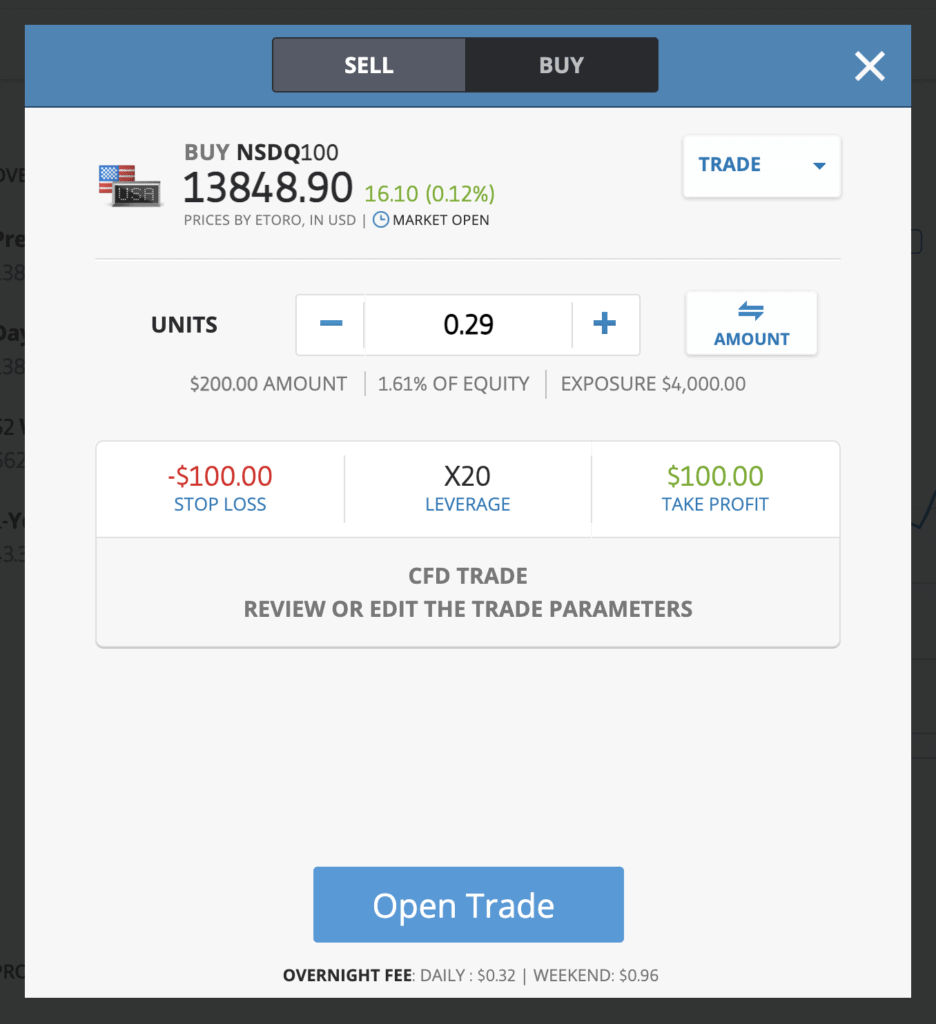 67% of retail investor accounts lose money when trading CFDs with this provider.
What is unit size and how is it calculated?
Unit size for indices is calculated by eToro using the following formula:
Amount invested x leverage/rate when positioned opened
So in the example above:
200 x 20 (= 4,000) / 13848 = 0.2888 (rounded up to 0.29)
Exposure is clearly shown and the amount of total equity committed to the trade. Also at the bottom of the ticket, the overnight fees are clearly stated also.
3. Execute trade
To execute the trade, simply click on the blue 'open trade' button' (see screenshot above).
4. Go to the portfolio page to see your executed order
To see your trade, go to the portfolio page, where all your holdings are listed.


Click on the settings cog icon (screenshot above, right-hand column) and it brings up a drop-down menu, where you can select to open a new trade, write a new post, view chart, and set a price alert for the NSDQ100.
Staying with the portfolio view, the down arrow on the extreme right of the horizontal menu (see screenshots below) brings up the option to switch to 'manual trades view'. This is useful for editing trades all in one place, such as if you wanted to close more than one position quickly:




67% of retail investor accounts lose money when trading CFDs with this provider.
Clicking on the cog icon in the manual trades view brings up different features, namely the trade ticket, where you can directly edit your trade by adjusting the stop loss and take profit positions: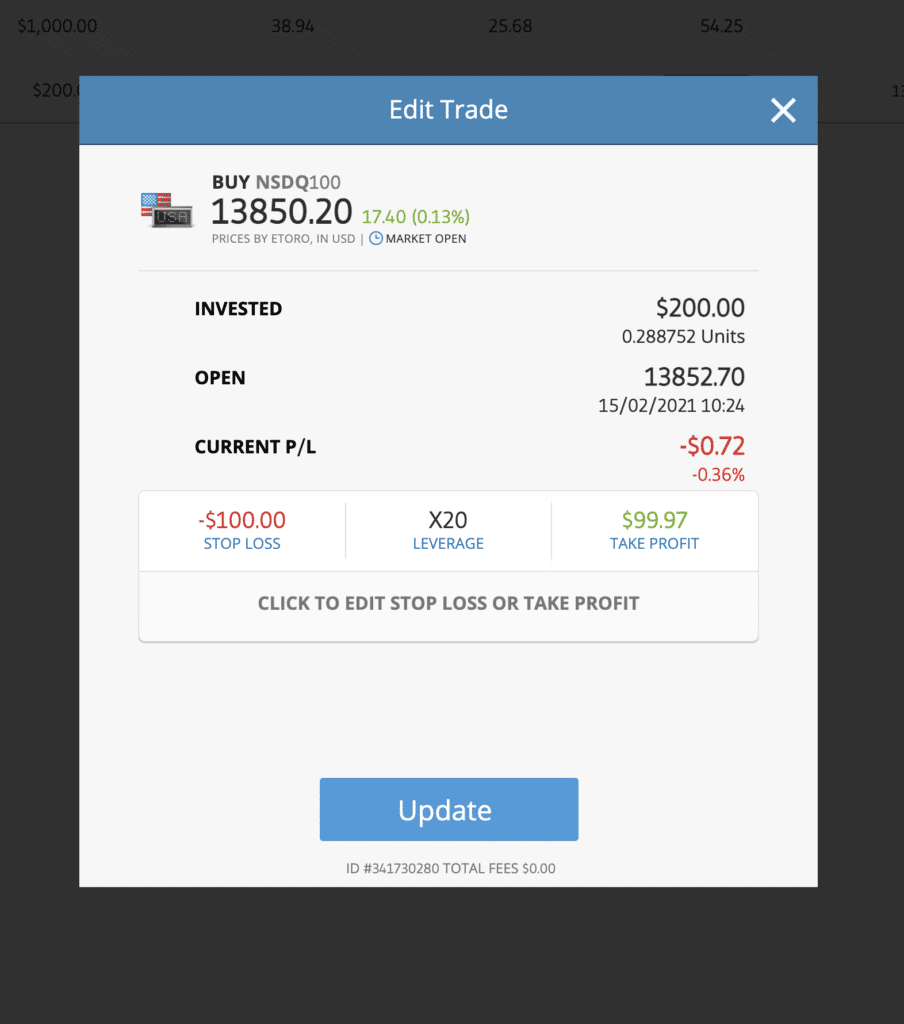 How to Trade Indices UK – Conclusion
In summary, indices trading is available from a wider cross-section of investment platforms in the UK, but for beginners, we think easily understood and accessible trading features and tools are of paramount importance. We rate eToro highly for the ease of use of its platform, the guidance it provides on risk control, with an easily accessible user interface that makes opening and editing orders to change all-important items such as leverage and stop loss, a breeze.
eToro is head and shoulders above the crowd for both new and older investment hands. Although we would have liked to have seen some more indices listed, that is far from being a deal-breaker. We especially like eToro's copy trading and the community of investors it has created. It is also one of the cheapest platforms out there. For good reason then, this popular FCA-regulated trading platform has gone from strength to strength and now boasts 13 million investors across 140 countries globally. The website is the best of the breed but so too is the investment app, which is downloadable from both the Apple and Google app stores.
eToro – Best UK Indices Trading Platform with 0% Commission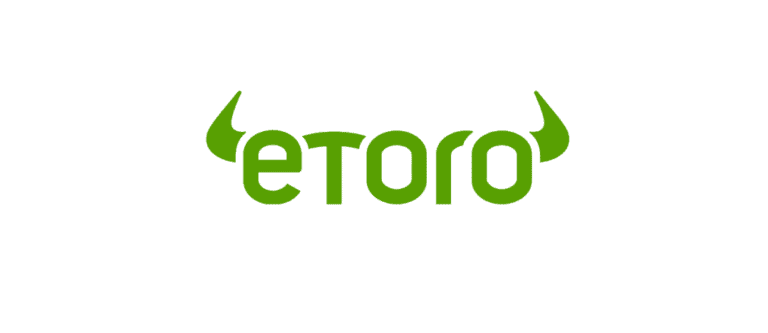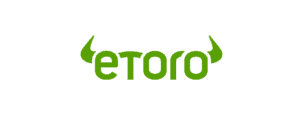 67% of retail investor accounts lose money when trading CFDs with this provider.
Indices Trading FAQs
What is the best indices trading platform in the UK?
Which indices trading platform is best for beginners UK?
Is trading the illegal UK?
Are UK indices trading platforms covered by the FSCS?
How much do you need to trade indices in the UK?
Read next
Best Airline Stocks to Buy UK - Invest with 0% Commission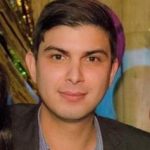 Kane Pepi
February 17th, 2021
In this guide, we explain the essentials of how to invest in indices and why they are a highly convenient way of gaining fast and...