Bitfinex Review UK 2023 – Features, Fees, Pros & Cons Revealed
Fact Checked
Everything you read on our site is provided by expert writers who have many years of experience in the financial markets and have written for other top financial publications. Every piece of information here is fact-checked.
Disclosure
Please note that we are not authorised to provide any investment advice. The information on this page should be construed for information purposes only. We may earn commissions from the products mentioned on this site.
Bitfinex is a Hong Kong-based cryptocurrency exchange that is known for offering some of the lowest trading fees in the industry and in particular as a trading marketplace for cryptocurrency traders seeking high liquidity.
In this Bitfinex review, we are going to help you decide whether Bitfinex is the best cryptocurrency trading platform for you. We'll cover the most important factors and suggest Bitfinex alternative platforms.
Bitfinex Review Summary
Bitfinex is one of the largest and most popular cryptocurrency exchanges
It offers a good range of crypto at low fees
What is Bitfinex?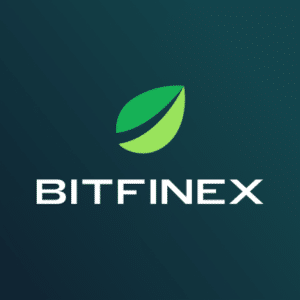 Founded in 2012 by Giancarlo Devasini and Raphael Nicolle, Bitfinex is a Bitcoin and digital asset exchange based in Hong Kong that is owned and operated by iFinex Inc. Initially, the exchange was founded as a peer-to-peer blockchain network for Bitcoin exchange transactions, however, throughout the years Bitfinex added a large number of coins and currently, it offers over 200 coins and tokens on its platform. Additionally, Bitfinex offers many trading options including spot, derivatives, OTC, and margin trading.
While Bitfinex is one of the oldest and most reputable cryptocurrency exchanges in the market, it was subject to several hacks and criticism from investors and global financial agencies. One of the major issues that floats around Bitfinex is the relation to Tether, a very popular cryptocurrency that is pegged to the US Dollar. Both the Bitfinex exchange and the Tether firm were accused of having shared common shareholders and management and recently agreed to pay an $18.5 million fine to end the New York probe.
Supported Coins
Bitfinex, along with Binance and Coinbase, is one of the largest cryptocurrency marketplaces in terms of the number of coins it has. On this crypto exchange, users get access to more than 200 digital coins, including some of the most exotic coins in the market as well as the most popular coins like Bitcoin, Ethereum, Ripple, Litecoin, DASH, Ripple, USDT, IOTA, Polkadot, and Tether. In terms of fiat coins, Bitfinex supports US Dollar (USD), Euro (EUR), Great British Pound (GBP), Japanese Yen (JPY), and Chinese Yuan (CNH).
Bitfinex Fees
Bitfinex, like many cryptocurrency exchanges in the market, has a volume-based fee schedule and additional payment fees. At Bitfinex, the fees that you need to pay depend on several factors such as the payment method, the cryptocurrency, and the trading volume you execute. To help you understand better about Bitfinex's charged fees, below we break down each and every fee that you'll have to pay when you use the platform in order to trade digital currencies.
Payment fees
There are two options to deposit funds to Bitfinex – with cryptocurrencies and with fiat currencies (bank wire transfer, credit and debit card, etc.). When you deposit funds with crypto coins at Bitfinex, the exchange does not charge any fees. However, if you decide to fund your Bitfinex account with fiat currencies, you'll have to pay a fee of 0.100% with a minimum fee of $60.
The same fee applies when you withdraw funds with fiat currencies (0.100% with a minimum fee of $60). However, this time when you withdraw funds with cryptocurrencies you'll have to pay a fee that varies depending on the coin you are using.
Trading fees
Generally, the fee structure at Bitfinex is simple to understand. If your trading volume ranges between 0-500K USD in the last 30 days, you'll pay a maker fee of 0.10% and a taker fee of 0.20%. You should also take into consideration that a minimum of 2.5bps taker fees will be applied.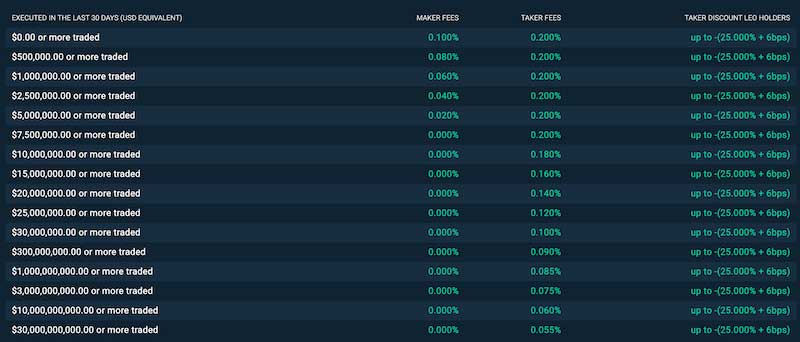 For derivatives, Bitfinex offers you a maker rebate of -0.020% and a taker fee of 0.75%.
Bitfinex Buying Limits
When it comes to order size limits and minimum deposits, this will depend on the payment methods, the channel you decide to choose in order to buy and sell crypto coins, and the digital asset you want to buy. For example, if you want to buy Bitcoin on the spot market, the minimum order size is 0.002, which is around $120. For ETH, the minimum order size is 0.006, which is just around $13.
However, when it comes to buying cryptocurrencies with UK credit or debit card, you'll need to meet a minimum buying requirement of just $25.
Bitfinex Wallet
Besides being a cryptocurrency exchange, Bitfinex is also a digital wallet provider. When you open an account with Bitfinex, you have three different types of wallet – Exchange, Margin, and Funding. These wallets allow users to store, receive and transfer funds between external and internal wallets. In that matter, you can instantly transfer funds from one Bitfinex wallet to another at no cost.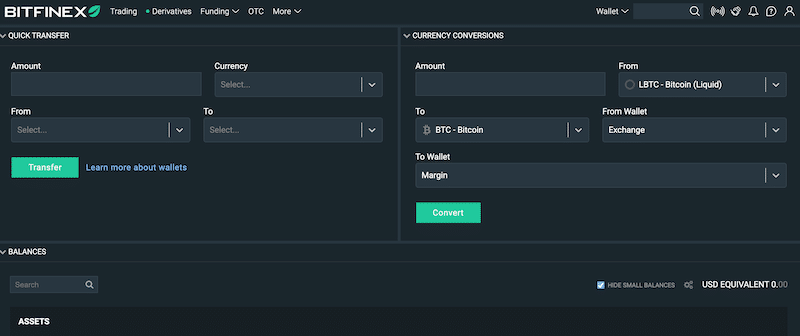 Even though Bitfinex offers plenty of security features and is considered a safe wallet provider, we still suggest you store your coins on a private hardware wallet in order to get maximum security with this exchange. There's a huge selection of crypto and Bitcoin wallet applications including some of the most popular wallets in the market – Trezor Model T, Trezor One, Ledger Nano S, and Billfold Steel Bitcoin Wallet.
Bitfinex Mobile App
Bitfinex also has a mobile app that is available on both Android and iOS devices and can be downloaded on Google Play and Apple Store (the app has a rating score of 3.8 on Google Play and 3.7 on Apple Store). This app sims to adapt the full functionality of the Bitfinex web-based platform and to enable users to utilize 'on-the-go trading.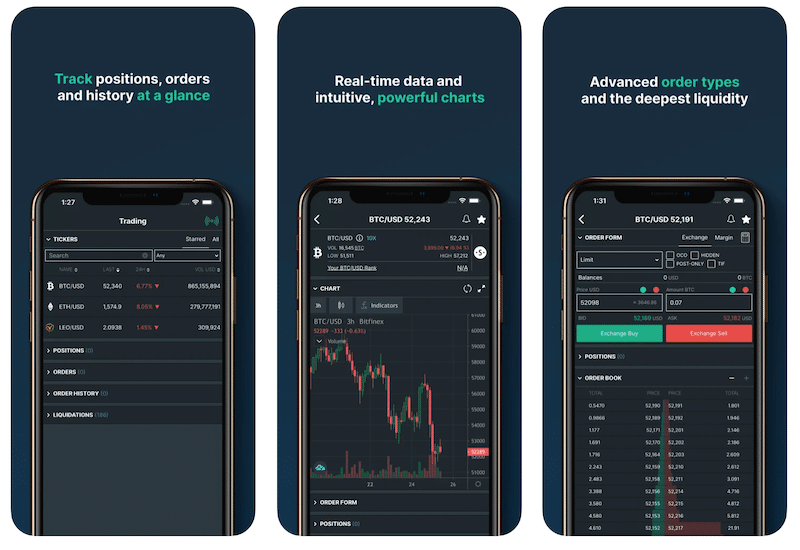 The Bitfinex mobile app gives investors access to the most crucial tools in order to be able to view the markets and trade directly from mobile devices and tablets – this includes real-time quotes, positions, open orders, trading history, and charts. Additionally, you get access to the Bitfinex wallet, and thus, you'll be able to store, receive and send funds directly from your mobile device.
Bitfinex Minimum Deposit
At Bitfinex, the minimum deposit required to buy cryptocurrencies depends on what you are planning to use it for. For example, if you wish to make a one-time purchase with a credit and debit card, then you can simply make a purchase without meeting an initial deposit requirement (Instead, you'll have a minimum order size requirement of $25). If, however, you want to deposit funds with fiat currencies, then you'll have to meet a minimum requirement of 10,000 USD/EUR/GBP and 1,000,000 JPY and 75,000 CNH.
Bithfinex User Experience
If there's one thing we can certainly say about Bitfinex is that the user experience on its platform is seamless. This includes the sign-up process, the navigation on the platform, the deposit and withdrawal process and the access it provides to customer support and relevant educational material.
When it comes to the platform's level of customization and ease of use, Bitfinex has done a great job, compared to competitors like Coinone where the user experience is pretty complicated. With Bitfinex, you have different layout options and you get access to everything you need on one screen – spot trading, OTC market, derivatives, wallet, support, etc.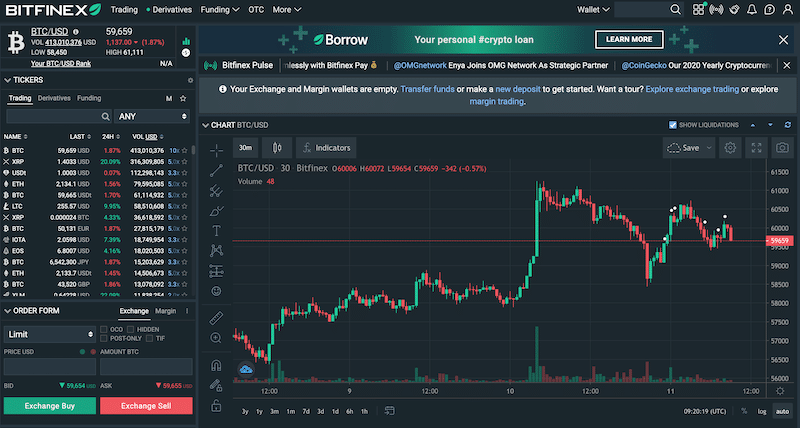 The only thing that is missing, however, is a page where you can easily buy and sell cryptos without getting into the trading platform and inserting an advanced order that enables to buy or sell crypto coins on the Bitfinex platform. This is a feature that is usually available on platforms like Binance and Kraken and helps beginner users or those who want to find an easy way to invest in bitcoin and other cryptos instantly.
Bitfinex Tools and Features
Bitfinex platform is loaded with trading tools and features that can help you get the trading environment you are looking for. The interface is better than most of the other crypto exchanges we have covered so far, and this exchange aims to offer very unique crypto-related tools and services. We have selected some of the most useful features below:
Paper Trading/Demonstration Account
Although you can find a paper trading account on CFD trading platforms like Plus500, only a few cryptocurrency exchanges offer users to trade on a demo account. This account simply allows traders to test trading strategies and the platform's functionalities in a simulated market environment without risking real funds.
To enable your demo account on Bitfinex platform, you'll have to navigate to the Sub-Account section and then create a new sub-account for paper trading.
Staking
Much like most leading cryptocurrency exchanges in the market, Bitfinex offers staking backed loans against various digital assets. The exchange has a soft staking program that enables you to generate rewards by holding your digital tokens on Bitfinex, a process that is very similar to fixed income assets like bonds, and GILTS. According to Bitfinex, rewards can be as high as 10% per year, which is extremely attractive passive income in particular in times of zero interest policy by governments around the world.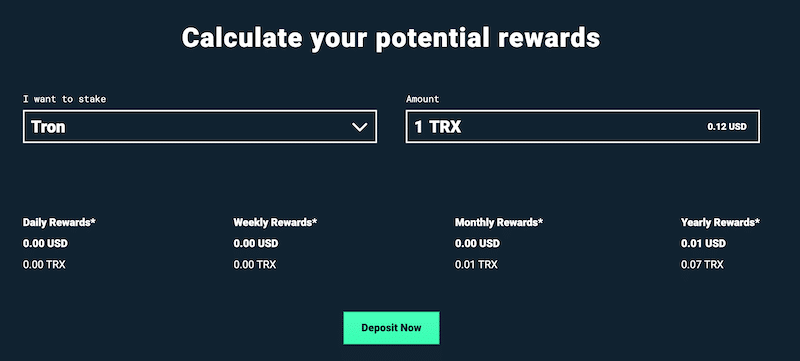 In addition, Bitfinex offers a staking calculator that allows you to calculate your potential rewards based on the coin and the amount you want to stake. When it comes to supported digital tokens that can be staked on this platform, Bitfinex enables you to use the following coins – Tron (TRX), EOS (EOS), Tezos (XTZ), COSMOS (ATOM), Algorand (ALGO), Cardano (ADA), Polkadot (DOT), Ethereum 2 (ETH2), and Kusama (KSM).
Level 2 Order Book/Depth Chart
The level 2 order is one of the most effective tools for active day traders. Basically, it shows you all orders that have been placed and waiting to be filled in real-time and thus, gives you a live market sentiment. Further, Bitfinex also displays a depth chart that visualizes the order 2 book and gives you an extra tool to get a better feeling of the demand and supply of a certain asset.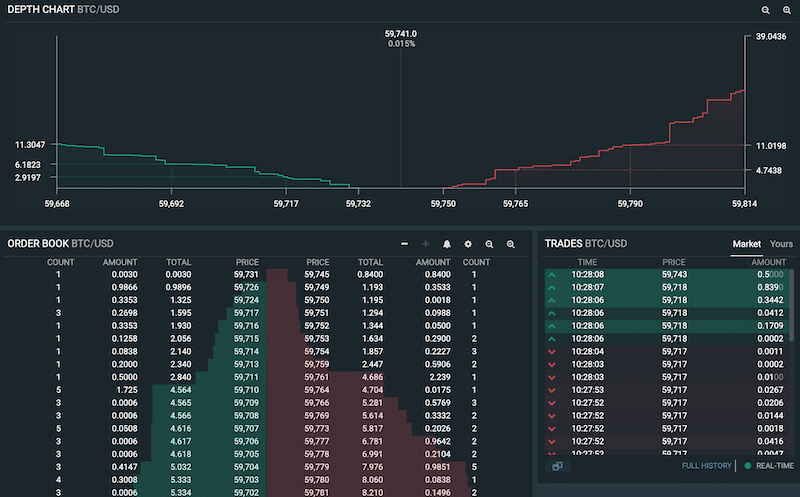 Advanced Order Type
In order to become a leading cryptocurrency platform for professional traders, Bitfinex has created the scaled Orders tool, which is essentially an algorithmic order type that helps traders to focus on strategy instead of manually entering orders. The tool enables users to automatically insert multiple limit orders in the market.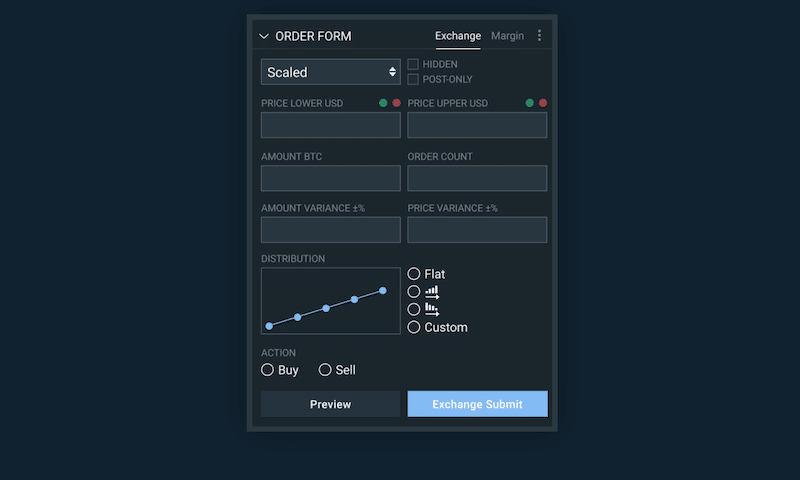 Bitfinex Payments
Bitfinex offers several payment methods for UK users to add funds to their accounts. This includes:
Credit and debit cards
Bank Wire Transfer
Cryptocurrencies
In terms of fiat currencies, Bitfinex supports EUR, USD, CNH, Japanese Yen, Pound Sterling and US Dollar. On the negative side, the exchange does not accept PayPal or any other eWallet solution as a payment method.
Bitfinex Pay
Another great feature that is available on Bitfinex is the BitfinexPay. This is basically a widget that enables you to accept crypto payments seamlessly with no processing commissions. With this tool, you can get paid in Bitcoin, Lightning Network BTC, Ethereum and Tether tokens.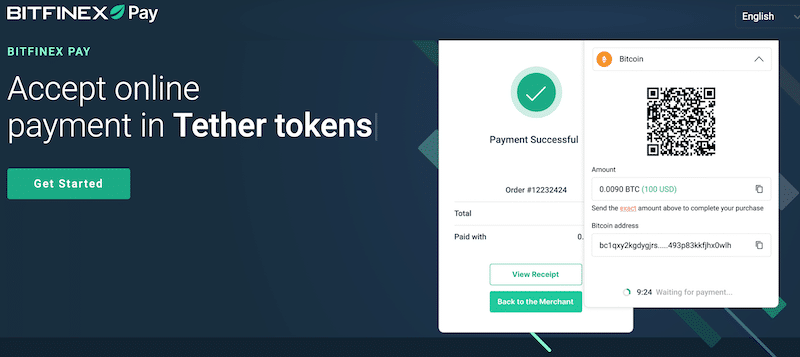 Bitfinex Regulation & Licensing
Bitfinex is a huge financial firm that is owned and operated by iFinex Inc. that is the same company that owns and operates the famous and one of the most traded crypto coin in the market, Tether. You would, therefore, expect Bitfinex to be regulated by at least one financial agency in Hong Kong or globally. However, Bitfinex – like the vast majority of cryptocurrency exchanges – is not yet regulated and autorized as a financial services provider.
According to Bitfinex, it is adopting existing rules from some of the world's largest regulated markets in order to create and enforce best market practices within the Platform.
Bitfinex Contact and Customer Service
The high quality of Bitfinex support service is just one of the reasons why this is a popular crypto exchange. Even though Bitfinex does not offer a live chat service, which is a major disappointment, it has excellent support service and an extensive tours & guides section that makes pretty much everything very clear on this platform.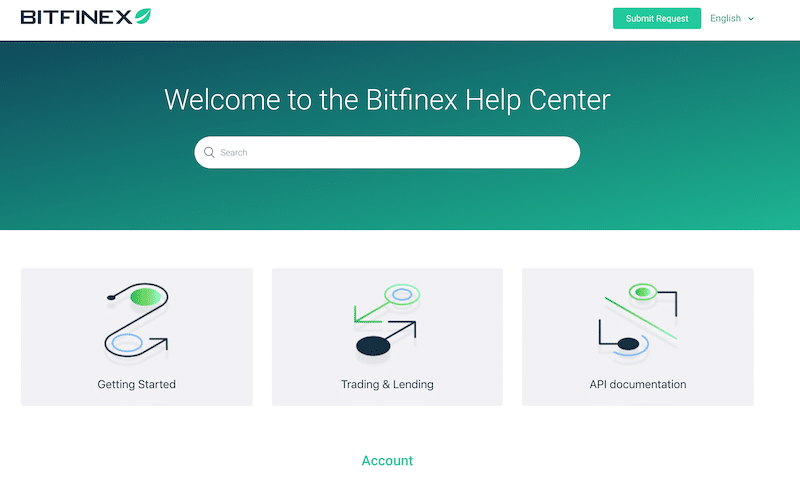 Much like many other Fintech businesses these days, Bitfinex offers only one way to contact its support team – via email or submit a ticket form. In addition, it appears that the team is very active on social media platforms and users can contact them on one of the following social media applications – Twitter, Telegram, Reddit, Instagram, Pulse, Linkedin, Facebook, and CoinGecko.
How to Use Bitfinex
By now, you should have enough information to help you decide whether Bitfinex is the right trading platform for your needs. If you wish to continue with this exchange, simply follow our step-by-step tutorial below.
Step 1: Open an Account with Bitfinex
To get started, go to Bitfinex's website and sign up for an account. In the registration form, Bitfinex requires you to fill in your email address, and then create a username and password.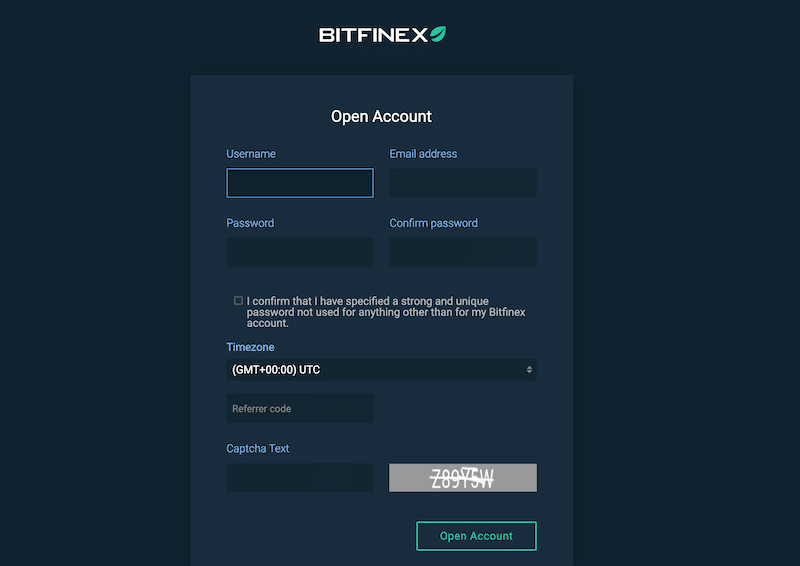 You will then have to confirm your email address in the email sent to you by Bitfinex. And, once again, you need to confirm your login on another email.
Step 2: Enable Security Features
Like many other cryptocurrency exchanges, Bitfinex was hacked several times over the past years. As such, it takes security very seriously and has significantly improved security following the breach. Moreover, the exchange has offered up to $400 million reward for return of stolen bitcoin in 2016.
As such, the first thing you'll see when you log in to the Bitfinex trading dashboard is the security recommendations. At Bitfinex, two-factor authentication (2FA) is mandatory so you must enable it before you can use your account. To do that, you need. to use the FIDO Universal 2nd Factor (U2F) or the Google Authenticator. Then, every time you log in to the platform, you are required to type in the code shown on the authentication app.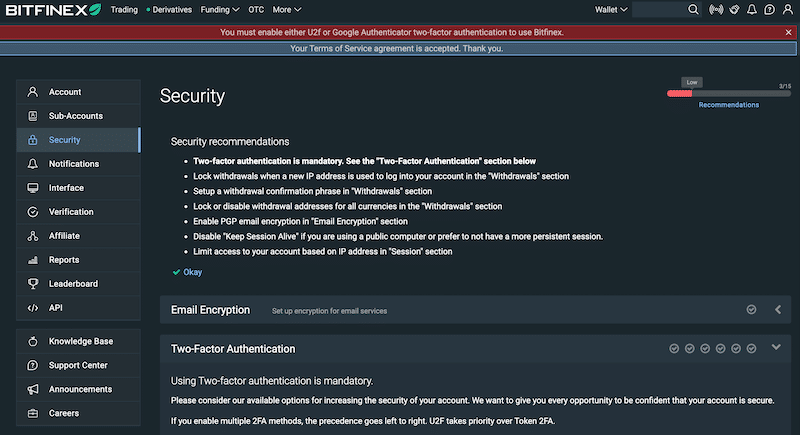 Step 3: Verify Your Identity 
Bitfinex makes the verification process flexible by offering several options for users based on their trading needs. If you wish to get started with the basic account, you do not need to verify your identity. This allows you to deposit and withdraw digital assets, get access to exchange, margin trade, and the OTC market, and use margin funding.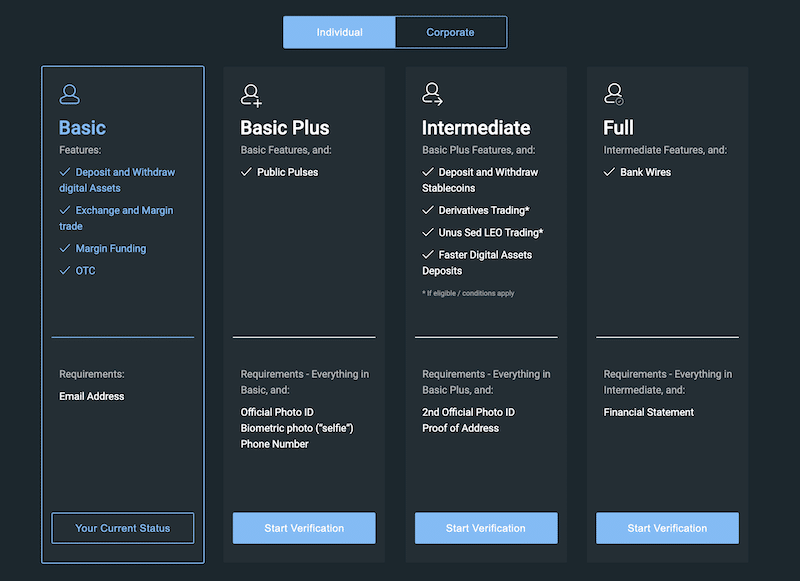 However, if you want to make pulses public and get connected to other investors, or move forward to the intermediate account that gives you access to derivatives trading, Unus Sed LEO Trading, and faster deposits – you'll have to verify your account by submitting Official Photo ID, Biometric photo ("selfie"), and phone number.
Step 4: Deposit Funds and Trade Cryptocurrencies
At this point, you can fund your account and start trading. To add funds, you need to navigate to the Wallet and then choose a deposit method. As previously mentioned, Bitfinex support credit and debit card, bank wire transfer, Tether, and a huge list of cryptocurrencies as payment methods.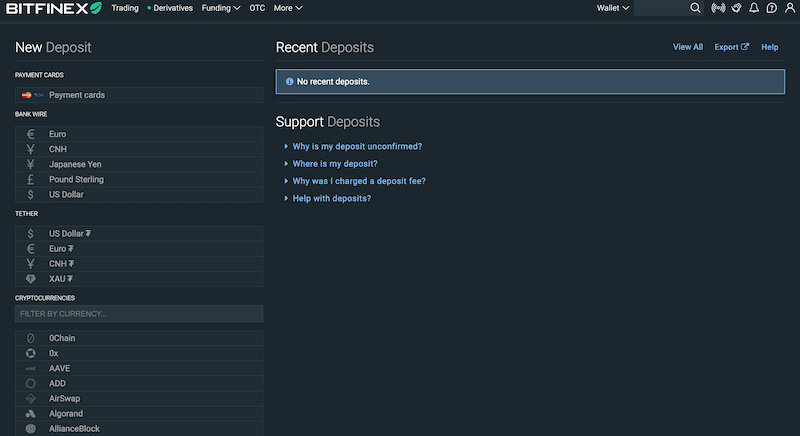 Next, you need to find the cryptocurrency pair you wish to trade on. This can be done from the coin list on the left side box or from the search box on the top menu bar. Then, in the order form, you'll have to choose the type of order you want to place.
If you want to get an instant execution at the available price, choose market order. Then, place the price in USD and the number of coins you want to buy in cryptos. Finally, click on 'Exchange Buy' to complete your transaction.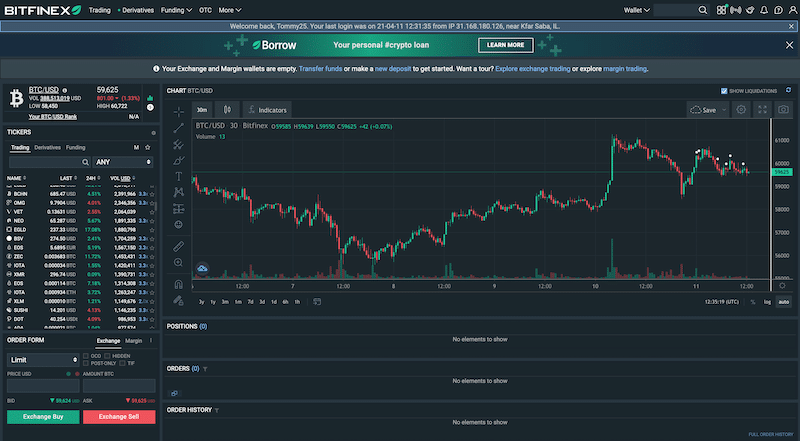 Step 5: Transfer Your Coins to Hardware Digital Wallet
As we mentioned previously, even though Bitfinex wallet is overall safe and secure, we still recommend that you transfer your coins to a hardware wallet. This is simply an external device that works like a USB and is used to store crypto coins offline. After all, Bitfinex wallet is essentially an online wallet that is exposed to hacking and manipulations.
FAQs
Where is Bitfinex located?
Is Bitfinex regulated in the UK?
What cryptocurrencies can buy with a credit card at Bitfinex?
Does Bitfinex support PayPal?
What cryptocurrencies can I trade at Bitfinex?