Even expert traders find it hard to choose a reliable ETF broker in the UK. The reality is that nobody likes to wade through hundreds of search results looking for a popular ETF trading platform UK. With so many options out there it can be hard to choose the right one for your needs and trading goals. In this guide we cover everything you need to know about exchange-traded funds.
Exchange-traded funds (ETFs) offer many benefits to investors based in the UK. In particular, they allow you to diversify across hundreds of assets through a single investment. ETFs are also a option if you want to invest money in the financial markets but you don't have much experience.
Key Points on ETF Brokers in UK
Investors usually trade ETFs on both traditional brokers and CFD brokers in the UK. When using a UK ETF broker, you don't actually own the ETFs, but are instead trading on the price.
Choosing a UK ETF broker that also offers other asset classes allows users to create a diversified portfolio.
List of Popular ETF Brokers in the UK 2022 
Here's an overview of popular ETF brokers in the UK. Scroll down to read our full review on each broker.
Plus500
---
ETF Trading Platform UK – Fees Comparison
Attempting to understand ETF broker fees can be challenging. We cover the main fees that you likely come across in a bit more detail further down. But for now, let's compare the ETF broker fees charged by the above providers so that you have a clearer idea of what you'll need to pay.
As always, the above fees can change at a moment's notice – so make sure that you keep up to date with what your chosen ETF broker UK charges.
ETF Brokers UK Reviewed
There are many UK ETF brokers to choose from. But, you'll need to spend some time researching the platform before signing up. For example, you'll need to look at fees, commissions, tradable ETFs, payment methods, customer support, and of course – regulation.
1. Capital.com
Capital.com takes place at the top of our list of ETF brokers in the UK. Through Capital.com you can trade a variety of ETF CFDs.This means that you do not buy the underlying assets but instead invest into a contract for difference.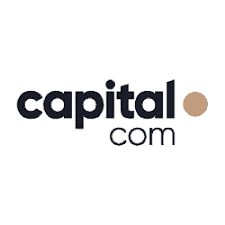 The National Bank of the Republic of Belarus, the Cyprus Securities and Exchange Commission, the Australian Securities and Investments Commission, and the Financial Conduct Authority of the United Kingdom all regulate and approve this global CFD trading platform, which was founded in 2016. (NBRB).
For trading CFDs and currencies, Capital.com offers reduced costs and commissions. Additionally, UK investors can trade real stocks without paying any commissions. You will also benefit from market-beating non-trading fees like no deposit, inactivity, or account fees. The minimum deposit is merely $20, and there are five different base currencies to choose from. You won't incur a conversion fee as a result.
On Capital.com, there are a ton of CFD products, ranging from 3,700 stock CFDs to 115 different ETF CFDs. Given that CFDs are speculative, leveraged financial transactions, it is encouraging to see that Capital.com offers fully interactive charts with a multitude of technical indicators, trading ideas, and fundamental data.
The Capital.com mobile trading app offers the same functionalities as the desktop platform. You may also configure price alerts and push notifications to get real-time quotes so you never miss a unique trade opportunity.
| | |
| --- | --- |
| Stock Trading Fees | 0% commission + spread |
| Deposit Fees | No |
| Withdrawal Fees | No |
| Inactivity Fees | No |
| Monthly Account Fees | No |
83.45% of retail investor accounts lose money when trading CFDs with this provider. You should consider whether you can afford to take the high risk of losing your money.
2. eToro
eToro is making big waves in the UK investment scene as the leading platform to buy ETFs UK. This leading social trading platform is now home to over 20 million traders worldwide. The main attraction of this particular trading platform is that it allows you to invest on a commission-free basis. This means that you won't need to pay any fees when you buy ETFs, shares, or cryptocurrencies.
In addition to this, eToro does not charge any ongoing maintenance fees, which is a major bonus. To put this into perspective, traditional UK ETF brokers will often charge a flat dealing fee every time you invest in an ETF, alongside an annual fee that is based on the amount you have invested at the platform. But, none of these fees will be found at eToro, making it the cheapest ETF broker UK. In terms of tradable assets, you will have access to over 150+ ETFs.
This number is constantly growing, and the ETFs are typically backed by large-scale providers like Vanguard, iShares, and SPDR. This ensures that you will have access to a variety of assets, markets, and economies. For example, if you want to invest in an index fund – there are plenty of ETFs that track the FTSE 100, Dow Jones, S&P 500, and NASDAQ 100. There are also ETFs that track commodities like gold ETFs, corporate bonds, government bonds, and even interest rates.
eToro is also famous for its social and copy trading tools. As a social trading network, you can interact with other users to discuss share tips and investment advice.
On top of low fees, we should note that eToro stands out for its user-friendly service. Put simply, even if you have never invested in ETFs previously, you'll find using eToro a breeze. In terms of getting started, you will need to deposit at least $200 (£160-ish), albeit, the minimum investment per ETF is just $50 (£40-ish). The platform supports several UK payment methods, including a debit/credit card, e-wallet, or bank transfer. eToro is regulated by the FCA, ASIC, and CySEC, and you are covered by the FSCS.
| | | | | | |
| --- | --- | --- | --- | --- | --- |
| Stock Broker | Minimum Deposit | Fractional Shares? | Pricing System | Cost of Buying Amazon Stock | Fees & Charges |
| eToro | $10 | Yes – $10 minimum | 0% commission on ALL real stocks, spreads for CFDs | Market spread is not included when buying real stocks | No Deposit fees, $5 withdrawal fee, $10 inactivity fee, no account management fees. |
Sponsored ad. 68% of retail investors lose money trading CFDs at this site
3. Plus500
Plus500 offers an alternative way to access the multi-trillion pound ETF industry. This is because it offers CFDs as opposed to traditional assets like on other platforms like eToro, as seen in our eToro vs Plus500 review. This means that you will be speculating on whether you think the ETF will increase or decrease in value, rather than owning the underlying assets. For example, if you are trading the Vanguard FTSE Developed Markets Index Fund ETF at Plus500 and it has a real-time market price of $40.96 – the CFD will reflect this like-for-like.
Trading in this manner via Plus500 offers several perks that you won't find at an old-school brokerage house. For example, as per UK limits, Plus500 allows you to trade ETFs with leverage of 1:5. This means a £100 account balance would give you £500 in trading capital. Just remember that ETFs, like all financial instruments, can be high risk and display volatility, so use leverage with caution.
This UK ETF broker also allows you to choose from a buy or sell order. This means that you predict that the value of the ETF will go up or down depending on your own research.
An additional reason why Plus500 makes our list is that it allows you to trade ETFs without paying any commission. Moreover, the CFD trading site offers really tight spreads on its ETF markets. For example, the iShares China ETF and Vanguard Real Estate ETF can be traded with a spread of just 0.13% and 0.18%, respectively. If you do like the sound of CFD trading, Plus500 offers a range of other asset classes, too. This includes stocks, indices, bonds, cryptocurrencies, forex, commodities, and more.
In terms of the fundamentals, Plus500 requires all active traders to first open a brokerage account. In order to do this, you'll need to meet a £100 minimum deposit. The platform supports UK debit/credit cards and Paypal – both of which are instant. You can also elect to transfer funds from your UK bank account. If you want to practice trading CFDs before using your account balance, Plus500 offers a demo account facility. This CFD trading is fully regulated including a license with the FCA.
4. IG
IG
offers the full package to UK investors as a leading ETF platform UK. Crucially, by opening an ETF trading account with this trusted platform you will have access to over 12,000 traditional assets. On top of shares, this includes index tracker funds, investment trusts, and mutual funds. This ensures that you can build a solid portfolio of diversified assets with ease. If it's only ETFs that you are interested in, you'll be pleased to know that IG offers over 2,000 markets.
These are backed by some of the world's largest ETF providers, including but not limited to Invesco, iShares, and Vanguard ETFs. In terms of fees, this will depend on a couple of factors. Firstly, ETF dealing fees will cost you £8 per trade, which needs to be paid when you invest and again when you sell. But, if you place more than 3 trades per month at IG (any asset, not just ETFs), you can get this down to just £3.
In addition to its dealing fees, you also need to pay an ETF maintenance fee. This is charged by the provider in question and subsequently passed on to you as an investor. Major index tracker ETFs can cost as little as 0.04%, albeit, more exotic options will cost more. With that said, it's rarely more than 0.5% annually. We should note that if you do not place at least three trades per month – or hold at least £15,000 worth of investments, IG charges a £24 quarterly fee.
But, any commissions that you pay throughout the respective quarter will be dedicated to this value. For example, if you place two ETF trades at £16 in commission, you'll only pay £8 (£24-£16).   Nevertheless, an additional benefit of using IG as your go-to ETF broker is that it also offers ISAs. This means that you shield the first £20,000 invested annually from HMRC. In terms of getting started, this ETF platform requires a minimum deposit of £250. Debit/credit cards and bank transfers are supported.
Sponsored ad.  Your capital is at risk
5. Fineco
Fineco Bank is an online trading platform that you might not have heard of – not least because it is backed by an Italian financial institution.
If you're a large-scale investor looking for even lower fees, capital held at the platform in excess of £2 million will cost you nothing in annual fees. What we really like about the pricing structure at Fineco Bank is that you can buy or sell 1 ETF per month without paying any commission. If you upgrade to a Silver or Gold account, this goes up to 4 or 10 ETF trades per month, respectively. After this, you will pay a flat commission of £2.95 per ETF investment.
If you plan to invest in non-UK-listed ETFs – such as those based in the US or Europe, you will pay a fee of $/€3.95 per trade.  We should also note that Fineco Bank allows you to buy heaps of shares at £2.95 per trade. This includes UK, US, and European companies. The main flaw that we can identify about Fineco Bank is that you cannot deposit funds with a traditional debit/credit card or e-wallet. Instead, you'll need to transfer the money from your UK bank account.
As such, this means that you will need to wait a few days before the funds arrive.  Nevertheless, the minimum deposit at this UK ETF broker is £100. When it comes to the safety of your funds, Fineco is licensed by the FCA (as well as regulators in its headquarters of Italy). In addition to this, your funds are safeguarded by the FSCS.
Sponsored ad. Your capital is at risk
What Features do ETF Brokers Offer
No two investors in the UK are the same, meaning that you should spend some time searching an ETF broker before signing up.
Regulation
When you come across a UK ETF broker that you think you like the look of, your first port of call should be to check the provider's regulatory standing. This is fairly straightforward, as you should find this information at the bottom of the broker's website. If the platform is FCA regulated, this will be displayed alongside its registration number.
You can verify this yourself by heading over to the FCA online register. In addition to an FCA license, you should also make sure that your funds are covered by the FSCS. This is crucial, as if the broker ran into financial difficulties, your money would be protected up to the first £85,000 (much like you do with a UK bank).
ETF Assets
You need to spend some time reviewing the ETF broker's website to see what financial markets it gives you access to. The whole point of investing in ETFs is to gain exposure to a diversified range of assets. As such, you'll want to make sure that there is plenty of ETFs to choose from.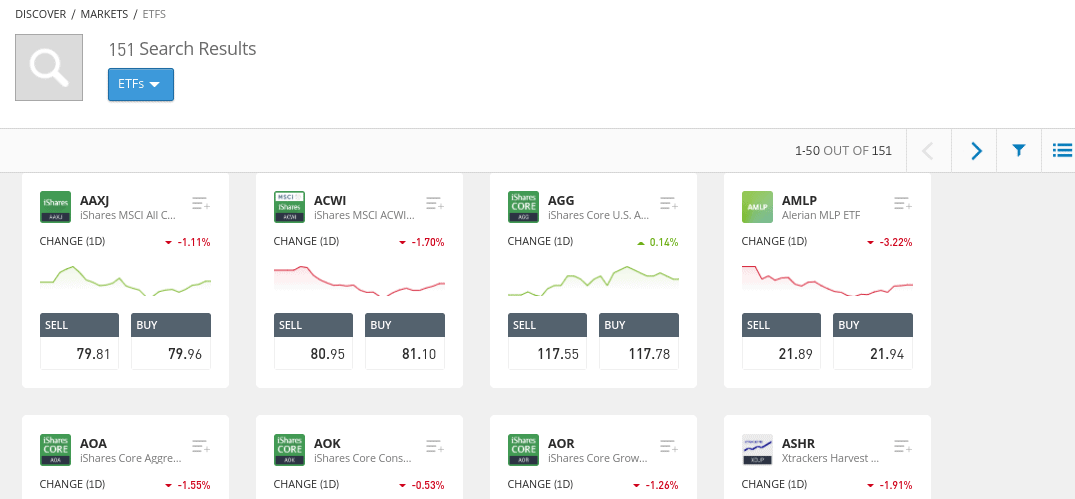 Some of the markets that the ETF broker eToro offers include:
Tracker funds like the FTSE 100 and Down Jones
Global bond funds covering corporate and government bonds
US Treasuries and other high-grade government securities
Commodities like gold
Emerging markets
As a side tip, if you're not sure what an ETF actually gives you access to, you can search for it via the provider's website. This will give you a full breakdown of what shares, bonds, or other assets the ETF holds. You should also make sure that your broker offers ETFs with high liquidity,
Fees
Although we provided a comparison table in the section above, it is important that you have a firm grasp of what fees you are likely to come across when using UK ETF brokers. 
Here's the lowdown:
Dealing Charge
This is a dealing charge that you need to pay every time you trade. A trade is defined as a buy or sell order. For example, if using IG – you will pay an entry-level dealing charge of £8. This means that irrespective of how much you invest, you will pay £8 when you originally buy the ETF. Then, when it comes to selling your position, you will again pay £8. In the case of eToro, you will never pay a single penny in ETF dealing fees.
Annual Maintenance Fee
This is not to be confused with the fee charged by the respective ETF provider (see below). Instead, this is a platform fee charged by your chosen ETF broker.
ETF Expense Ratio
Known as an 'Expense Ratio', this is the fee charged by the ETF provider. For example, let's suppose that you invest Vanguard FTSE U.K. Equity Income Index Fund via your chosen ETF broker.
In this instance, Vanguard charges 0.15% annually. As such – this fee will then be passed on from your broker to you. Be careful here that your chosen UK ETF broker does not apply a mark-up on the ETF expense ratio – especially if they are charging their own platform fees.
Other Fees
On top of the core fees listed above, there are several other charges that you might come across when using an ETF broker.
This includes:
Deposit/Withdrawal Fees: Some UK online ETF brokers charge a deposit and/or withdrawal fee. This might be a flat fee or a percentage against the amount being funded.
Inactivity Fee: This is charged if your account remains dormant for a certain period of time – usually 12 months. Once it kicks in, this will usually be charged every month until your account goes down to zero (or you place a trade).
Overnight Financing: If you decide to trade ETFs in the form of CFDs, then you need to watch out for overnight financing fees. This is because CFDs are leveraged financial products and thus – a fee is paid for each day the trade remains in play.
Spreads: This is the difference between the buy and sell price of your chosen ETF. The larger the gap, the more you are indirectly paying in fees. This is why we always advise sticking with online UK ETF brokers that offer tight spreads.
As you can see from the above, there are heaps of different fees that you need to be made aware of before taking the plunge with an UK ETF broker. With that said, if you don't have time to research this yourself, rest assured that eToro is often regarded as the cheapest ETF broker in the UK.
Platform & Usability
Regardless of what you are trading, investing online can be an intimidating process if you are a complete newbie. After all, you are going to be risking your hard-earned money.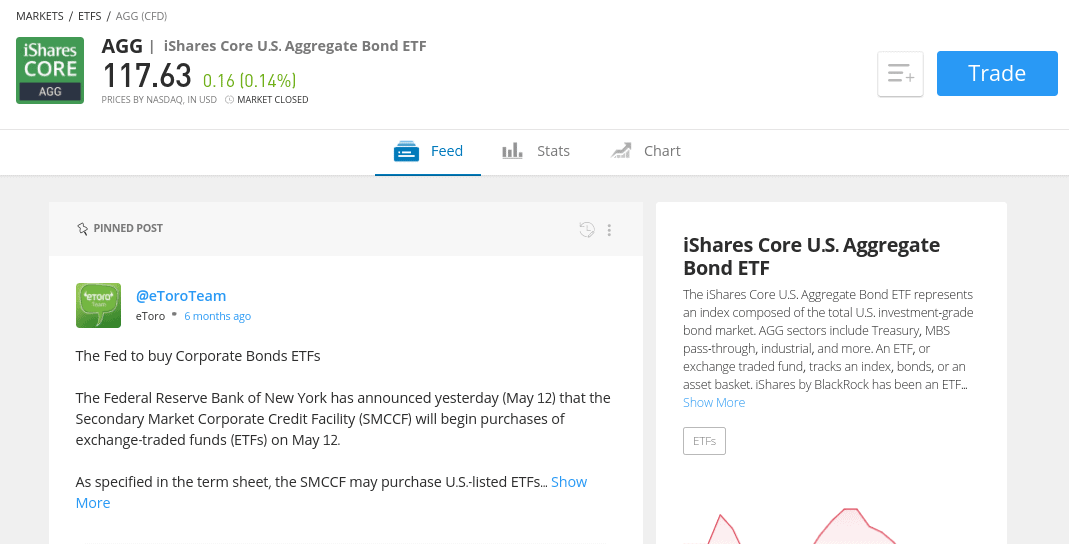 This should begin with the initial setup process in terms of registering and depositing funds. Then, the ETF broker should make it simple to browse the many assets that it offers. This is usually broken down by the asset class – e.g. ETFs, stocks, bonds.
This allows you to search for the specific ETF that you wish to invest in without needing to browse hundreds of options. You then need to look at the actual investment process. You won't want to go with an ETF broker that offers too many bells and whistles if you are a novice.
Trading Tools & Features
Some seasoned investors in the UK may typically opt for an ETF broker UK that offers a range of tools and features. The specific ones that you should be looking out for will ultimately depend on your investment experience. For example, if you are an advanced trader with lots of experience, then you'll likely want access to technical indicators and advanced fundamental research tools.
Education, Research & Analysis
If you're an experienced ETF investor then you likely won't be interested in educational tools. But, these can be invaluable if you are just starting out in the space.
For example, the likes of eToro offer regular webinars where you can tune in to the thought process of an in-house trader. The platform also offers guides and video explainers. Then you have Capital.com – which offers a native educational app.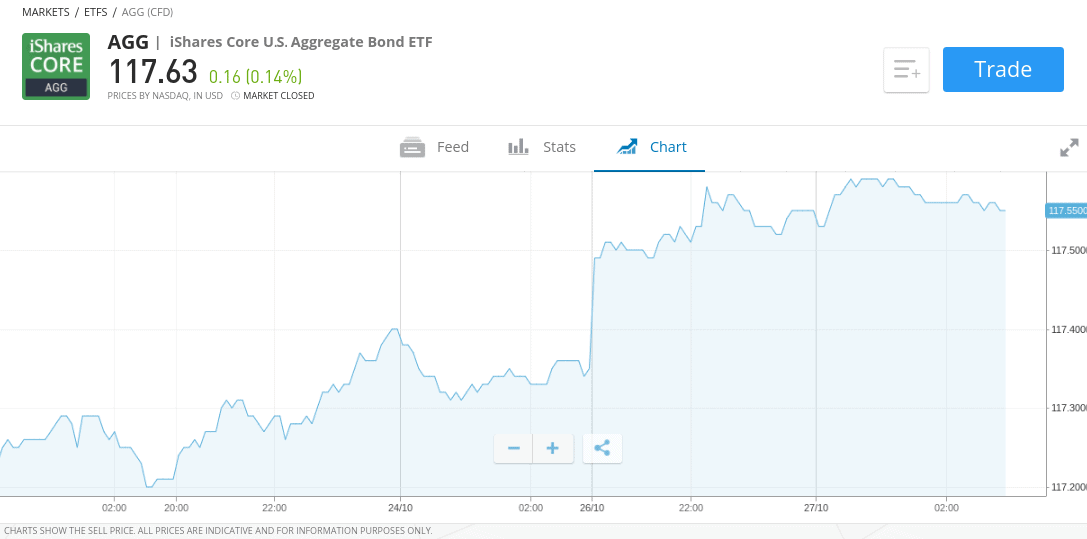 Mobile App & Device Compatibility
If you are thinking about trading or investing in ETFs online – we would also suggest that you look to download a free stock trading app. The UK ETF brokers in the space offer investment apps on both iOS and Android devices. This ensures that you never miss an ETF investing opportunity again. It also allows you to close a losing position when you are away from your desktop device.
Payments
Many UK investors will go through the process of opening an ETF broker account, only to then realize that their preferred payment method isn't supported. Some popular UK ETF brokers support instant payment methods such as a debit/credit card or e-wallet. This allows you to get started straight away, without needing to wait 2-3 days for a bank transfer to arrive.   
On top of the platform's supported payment methods, you also need to explore what fees are involved. As noted above, you might incur a deposit/withdrawal fee. You should also explore how long the ETF broker takes to process withdrawal requests. We prefer it when this is executed in no more than 48 hours.
Customer Service
if you need assistance, you'll want to have an account with a UK ETF broker that offers support. There are various contact channels offered by platforms, although we prefer live chat for ease.
Some ETF brokers UK will also a telephone support line. You'll probably want to avoid online brokers that only offer email support, as it might take a few days to receive a reply. This won't be sufficient if your inquiry is of an urgent nature.
How to Open a ETF Broker Account
By this point in your guide, you should now have an ETF broker that you like the look of. If so, it's now time to open an account, deposit some funds, and make an investment. Below we go through the process of opening an account with a popular and regulated ETF broker.
Step 1: Open an Account and Upload ID
Irrespective of which UK ETF broker you decide to use, you'll need to first open an account.
All you need to do is provide some personal information (full name, home address, etc.) and some contact details. You'll also need to choose a username and a strong password so that you can log in to your eToro account with ease.
Note: As some brokers in the UK are regulated by the FCA it is required to verify the identity of all account holders. This means that before you make a withdrawal (or deposit more than $2,250), you'll need to upload a copy of your ID and a proof of address (utility bill or bank account statement). 
Step 2: Deposit Funds
Deposit funds into your account via any of the supported payment methods offered by the ETF broker.
Step 3: Invest in an ETF
If you know which ETF you wish to invest in, search for it and then click on the result that loads up. If not, click on the 'Trade Markets' button (left-hand side of the screen) followed by 'ETFs). You then be able to view all 150+ ETFs hosted by the platform.
Upon finding an ETF that you want to invest in, you will then need to set up a buy order.
Conclusion
ETFs are getting more and more popular with UK investors. Not only do they allow you to invest without needing to pick individual assets, but they are useful for diversification purposes. However, the important thing is that you choose a ETF broker that offers low fees, heaps of markets.
Frequently Asked Questions on ETF Brokers
How are ETFs taxed in the UK?
Are UK ETF brokers regulated?