How to Buy Unilever (ULVR) Shares UK
Fact Checked
Everything you read on our site is provided by expert writers who have many years of experience in the financial markets and have written for other top financial publications. Every piece of information here is fact-checked.
Disclosure
Please note that we are not authorised to provide any investment advice. The information on this page should be construed for information purposes only. We may earn commissions from the products mentioned on this site.
Owning over 400 different brands and operating in 190 countries worldwide, Unilever is one of the world's largest consumer goods companies and has a stellar reputation for the diverse range of products they provide. Having been in operation for over 90 years, the company is recognised worldwide.
In this guide, we'll show you how to purchase Unilever Shares in UK, highlighting everything you need to know about the company and discussing how to invest in it.
The four quick steps below will show you how to purchase Unilever shares in under ten minutes.
How to purchase Unilever Shares in UK – Quick-Step Tutorial
✅ Step 1: Open a trading account
Visit the platform's official website and tap on 'Join Now'. Enter your details and choose a username and password.
🔎 Step 2: Verify your account
You'll need to verify your account by uploading proof of ID and proof of address.
💳 Step 3: Fund your account
Deposit funds into your trading account via credit/debit card, bank wire transfer, or e-wallets such as PayPal or Skrill.
🛒 Step 4: Purchase Unilever shares
Type "ULVR"  into the search bar and click on 'Trade'.
Step 1: Find a UK Stock Broker That Offers Unilever Shares
The first thing you must do when you decide to purchase Unilever shares UK is to choose a reliable stock broker. These brokers essentially act as the middleman between you and the market and facilitate buy and sell transactions. However, there are so many options on the market these days, it can seem overwhelming trying to decide who to partner with.
Below are a list of popular brokers which will allow users to invest in Unilever and other stocks.
Research Unilever Shares
When you begin stock trading, it's essential to conduct your due diligence before entering the market. This process involves researching important aspects of a company, such as the type of markets they operate in and what their financials look like, to determine whether it makes for a valuable investment.
In the sections that follow, we'll explore all of the crucial areas you'll need to consider when you purchase Unilever shares UK, helping you make a more informed investment decision.
What is Unilever?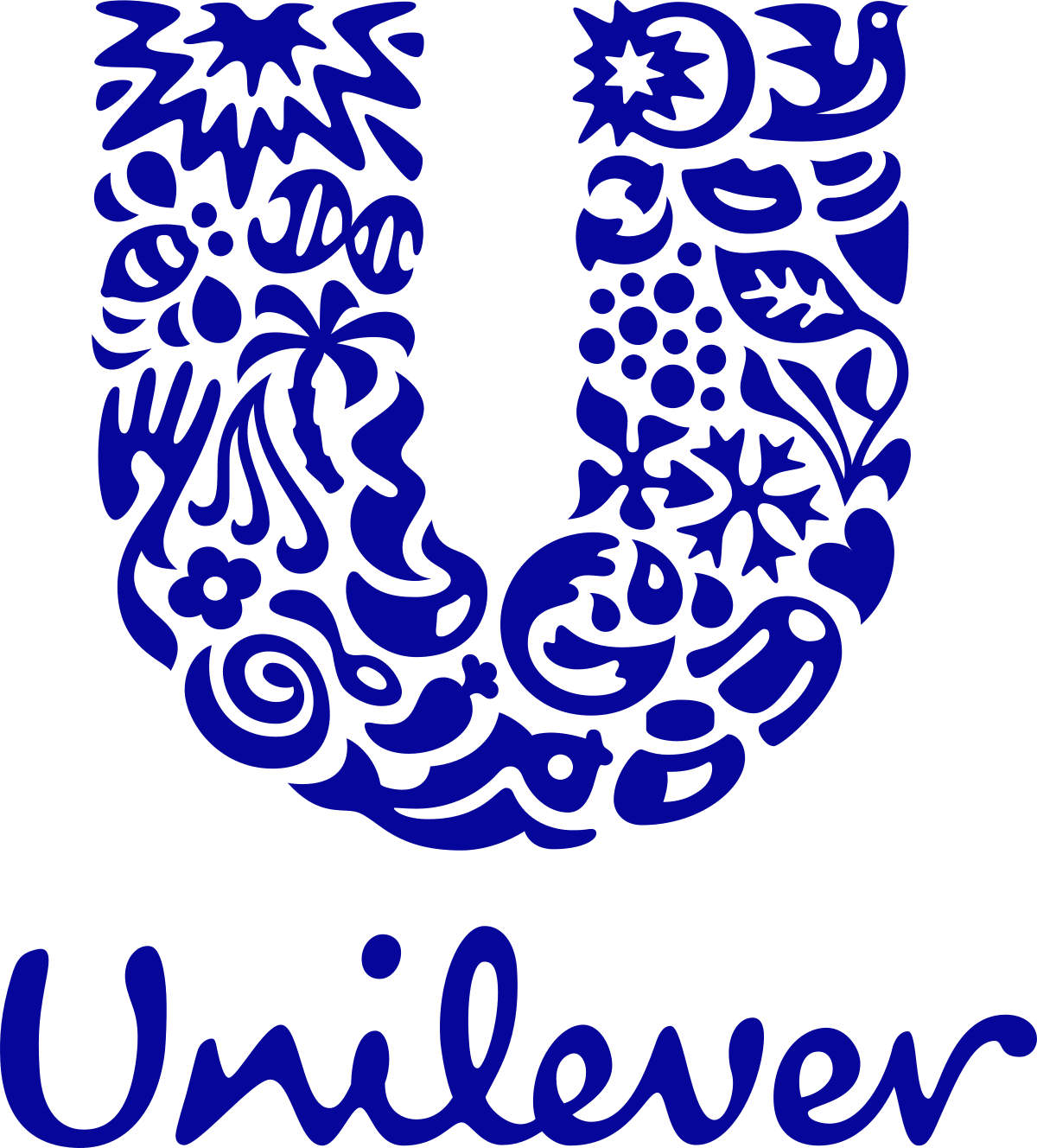 Unilever PLC is a multinational consumer goods company that is headquartered in London and is a constituent of the FTSE 100 index. Being comprised of over 400 brands, Unilever's products are incredibly diverse. They include things like food, energy drinks, ice cream, cheese, cleaning products, bottled water, beauty products, home care products, and many more. Some of the top brands that Unilever own include Lynx, Dove, Lipton, and Magnum.
Having been in operation since 1929, Unilever has expanded across the globe over the past 70 years and is currently listed on the London Stock Exchange, the Euronext Amsterdam Exchange, and the New York Stock Exchange. Notably, Unilever was split into two companies until late-2020 – a Dutch arm and a UK arm. However, in November 2020, the two parts merged to become one London-based firm with one class of shares.
According to data from Statista, Unilever consistently makes over €50 billion in yearly revenue. In fact, it has breached this figure in seven of the past nine years, highlighting the sheer scale of the company. The majority of the company's revenue is derived from personal care products, with food/drink products coming in a close second. Unilever currently has a market cap of $157 billion – making it the 76th largest company in the world.

In recent times, Unilever's operations have been hampered by the ongoing Coronavirus pandemic – although not as much as some other companies. However, as noted in a recent article by the Guardian, sales of Unilever's products have grown over the first three months of 2021 as consumer demand rises. A lot of this was driven by an increase in online sales, which accounted for 11% of the company's total sales.
Unilever Share Price
Now that you've got an idea of who Unilever is, let's take a look at Unilever share price. At the time of writing, shares are currently priced at 4210p – down around 5% in the year-to-date. However, Unilever's share price was actually down over 15% in late February but has recovered since then.
When researching which shares to purchase, it's essential to consider a few different metrics. In the case of Unilever, these metrics include the price-to-earnings (P/E) ratio and earnings per share (EPS).
According to data from YCharts, Unilever's P/E ratio currently stands at 24.82. This metric is calculated by dividing the current stock price by the EPS estimate. Essentially, the P/E ratio can be used as a fundamental way of measuring the value of a company's shares against other shares; if the P/E ratio of one company's shares is higher than another's, it can be thought of as 'more valuable'.
Unilever's P/E ratio has remained in the 21-24 range for most of 2020 and 2021; however, this is a far cry from the lows of 14.25 it was at in December 2019. This shows how much the company has recovered and how it has increased in value over the previous two years.
Moving on to the EPS estimate, this is calculated by dividing a company's profit by the number of shares outstanding. Usually, this metric is used to determine how profitable a company is – the higher the EPS figure, the more profitable the company. There are different types of EPS estimates, but diluted EPS is often used as it incorporates all of the shares the 'could' have been issued, giving a more accurate representation.
Unilever's diluted EPS at the end of 2020 was $2.41 – which was up slightly from the $2.38 seen in December 2019.
Unilever Shares Dividends
If you own Unilever stock, you are entitled to a dividend payment that is made every quarter. The most recent payment came on March 17th, so if you were to invest today, the following payment you'd be entitled to would occur on June 10th.
Dividends are essentially the distribution of a portion of a company's profits to shareholders. Some companies pay dividends, whereas other companies keep the profits to reinvest back into operations. Unilever falls into the former, as they pay a quarterly dividend.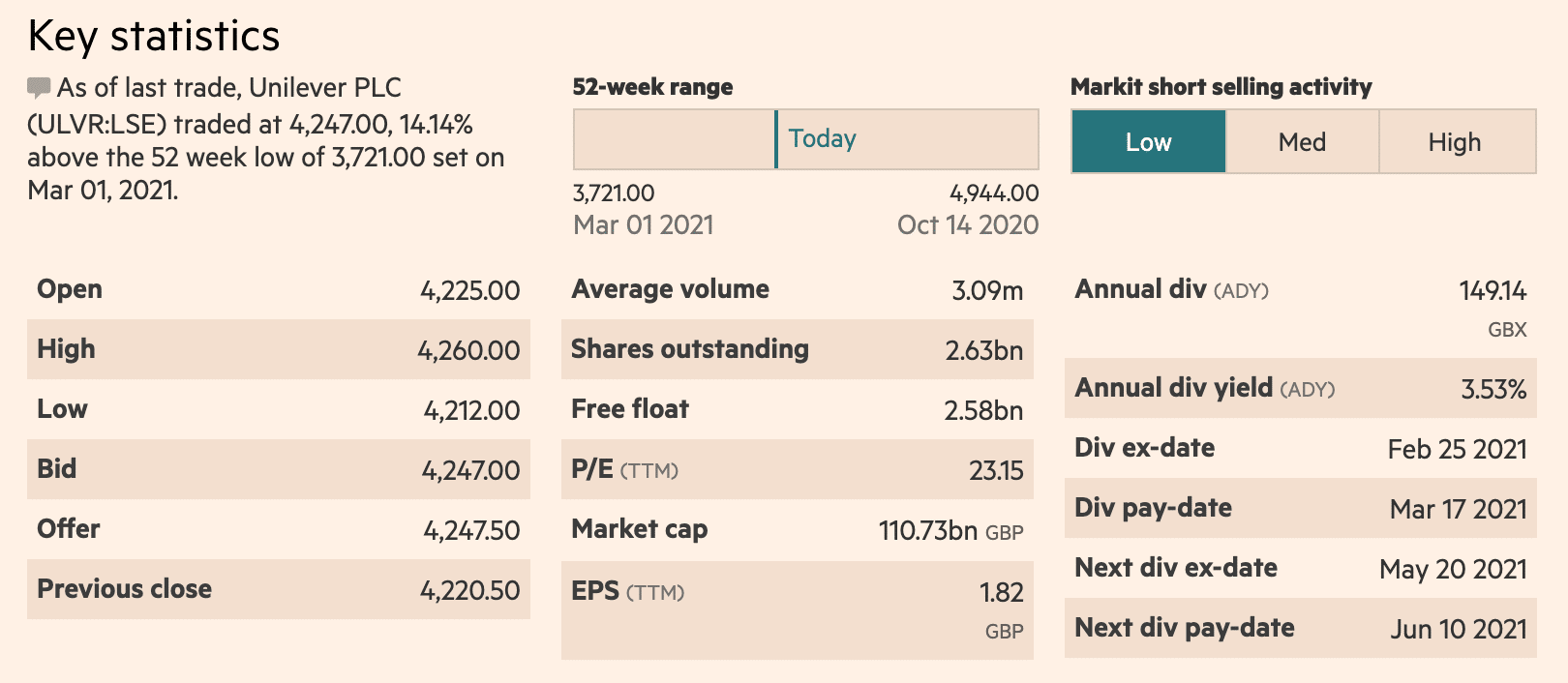 In terms of dividend payout, Unilever's most recent dividend payment came in at 37.6p per share. This is up nearly 3p from the same time a year previous, representing an impressive performance over the past year.
Are Unilever Shares Valuable to Invest in?
As you can see from the previous sections, the company has maintained a steady level of performance in the face of the COVID-19 pandemic. In fact, sales actually grew 1.9% year on year, which is impressive considering the decrease in consumer spending.
In addition to this, a recent article by Forbes noted that Unilever's net profit also rose by around 10%, totalling $7.4 billion for 2020. Product categories such as food and personal care will be expected to receive a boost in sales, which will therefore improve Unilever's bottom line.
Q1 Results
Diving into the Q1 report a little deeper, Unilever reported that sales generated from emerging markets increased by around 9.4%.
E-commerce sales in Q1 also grew by 66%. For a consumer goods company, integrating an e-commerce presence into operations will provide a valuable sales channel for the company.
Positive Outlook
Overall, Unilever has solid margins, which point to a sustainable business model. Furthermore, the company's management team has the experience and know-how to lead them out of the pandemic.
In fact, the Financial Times reported recently that Unilever is beginning the process of purchasing back up to £2.6 billion worth of shares.
Open an Account & Purchase Shares
If you would like to invest in the Unliever stock, you have the option to do so in a few simple steps.
After choosing your preferred brokerage, you will be required to complete a standard account creation process before investing in the stock Here's how to do so:
Step 1: Open an Account
To purchase shares of Unilever, you must first sign up for an account with your broker of choice. This usually takes less than ten minutes to complete. Head over to the platform's website and and start the sign-up process.
Users will be required to fill out their personal details and create a username and password for the account.
Step 2: Verify your ID and Address
Once you've provided your email address and chosen a username and password, you'll also have to verify your account before you begin trading. To do so, upload proof of ID (e.g. a copy of your driver's license or passport) and proof of address (a copy of a bank statement or utility bill). Your brokerage should verify your documents in a couple of minutes.
Step 3: Deposit Funds
After your documents have been verified, you'll be able to fund your trading account. Depending on the broker you use, users could start depositing money from just $10.
Most brokers will provide 1 or more of the following payment methods listed below:
Credit/debit card
Bank transfer
PayPal
Neteller
Skrill
Klarna
Trustly
Choose your preferred payment method and insert the amount of cash you wish to deposit.
Step 4: Purchase Unilever Stock
Once your deposit has been fulfilled, you may instantly begin purchasing shares of Unilever and other stocks. Search for the name of the stock on your navigation bar and click enter.
Once you see the order form, fill in the amount you wish to invest in the stock and confirm your transaction.
Conclusion
Throughout this guide, we've discussed Unilever in detail, examining the company's financials and covering all of the essential points you must consider before investing. If you wish to invest in the stock, users should pick a broker that is well-regulated and offers low fees on trades.
FAQs
Should I purchase Unilever Shares?
Unilever looks set to capitalise on the reopening of economies and an increase in consumer spending by providing household brands such as Dove and Ben & Jerry's. Furthermore, the company is diversified across various sectors. However, users should only invest after conducting their own research and analysis.
How much are my Unilever shares worth?
This depends on when you bought them and is based on the price increase/decrease since you opened your position. For example, if you purchased shares at the beginning of March, the price has increased 15% since then. So, if you invested £1000, you'd have made a £150 gain (minus any fees).
Who owns Unilever?
As Unilever is a public company, it is owned by the company's shareholders. Unilever's primary listing is on the LSE; however, it also has secondary listings on the Euronext Amsterdam exchange and the NYSE.
What does Unilever make?
Unilever owns a variety of brands that produce consumer goods. These goods are diverse and include food, soft drinks, cheese, cleaning products, bottled water, beauty products, cereals, and many more.
Where is Unilever based?
Unilever is headquartered in London and Rotterdam, and its primary listing is on the London Stock Exchange. However, the company operates worldwide and has a presence in 190 different countries.