Poloniex Review UK 2021 – Features, Fees, Pros & Cons Revealed
Fact Checked
Everything you read on our site is provided by expert writers who have many years of experience in the financial markets and have written for other top financial publications. Every piece of information here is fact-checked.
Disclosure
Please note that we are not authorised to provide any investment advice. The information on this page should be construed for information purposes only. We may earn commissions from the products mentioned on this site.
As the popularity of cryptocurrency trading continues to grow at a rapid rate in the UK and across the globe, investors are constantly looking to find the safest and most diversified crypto exchange. Poloniex is a US-based digital marketplace that was, at one point, one of the largest cryptocurrency exchanges in the world. It is mostly known for offering low trading fees, an excellent user interface and lots of trading features.
If you're based in the UK and looking to trade digital assets – you might be thinking about using Poloniex. To help you get the right decision, in this Poloniex Review UK we discuss the ins and outs of this exchange, help you decide if it's the best platform for you and suggest alternative UK platforms.
Poloniex Review Summary
Poloniex is one of the most innovative global marketplaces for digital coins and tokens
It offers competitive trading fees and a wide range of assets
All things considered, our review team was very happy with the Poloniex exchange
What is Poloniex?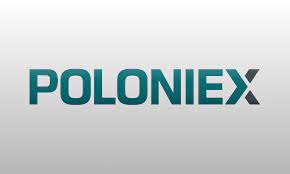 Poloniex is a US-based digital asset exchange that was founded in 2014 by Tristan D'Agosta, who is well-known in the cryptocurrency world. By many opinions, Poloniex is considered to be one of the most prestigious and well-designed crypto exchanges, but above all, the platform gained popularity as it guarantees that users experience the maximum level of security when transacting and storing digital assets.
Since its launch in 2014, Poloniex has faced many accusations, legal issues, and security breaches – which eventually made it lose its position as one of the leading crypto exchanges in the world. This has lead to the acquisition of Poloniex by Circle in 2018 in a mega deal valued at $400 million, and the exchange is now owned by Polo Digital Assets. Further, in 2019 the exchange has announced that it is no longer providing services to US customers.
Supported Coins
As expected from a leading crypto exchange like Poloniex, it offers a wide selection of 182 coins and over 200 assets (crypto derivatives) to trade on. This includes some of the most of the most popular digital coins in the market like Bitcoin, Ethereum, Bitcoin Cash, Litecoin, Cardano, and Ripple and a huge list of exotic altcoins like the Binance Coin, Bittorrent Token, Filecoin, Gas, Chainlink and more.
Poloniex Fees
In essence, Poloniex is considered a low-cost cryptocurrency trading platform. It has a volume-based fee schedule, with a maximum of 0.125% and a minimum of 0.07%. Besides that, Poloniex charges additional fees for purchasing coins with fiat currencies and withdrawing funds.
Payment fees
With Poloniex, there are no deposit fees if you decide to fund your account with one of the crypto assets available on the exchange. You do have to a pay fee of 3.5% or a $10.00 fee, (whichever is greater) when you make a purchase with a credit/debit card or your Simplex bank account. This is cheaper than EXMO and Coinbase, for example, which charges a fee of 3.99% for crypto purchases with credit and debit, however, Poloniex charges a higher fee than Binance that charges a fee of just 2% for the same service.
As for withdrawals, Poloniex (Simplex) charges a fee of 5% for bank transfer and 3.5% for a withdrawal to your credit and debit card. The fee for withdrawing funds with crypto coins varies depending on the coins you choose. For BTC, Poloniex charges a fee of 0.0005 for BTC withdrawals, which is around £20.
Trading fees
Overall, Poloniex has a clear volume-based fee structure and many opportunities for traders to reduce their trading costs. For the average trader, Poloniex charges a maker and taker fee of just 0.125%, which is lower than most exchanges in the market but is more expensive than exchanges like Binance and Bithumb that charge 0.10%.
Nonetheless, active traders that want to reduce their trading costs can apply for the Poloniex Plus Silver (maker and taker fee of 0.0000%/0.0600%), Poloniex Plus Gold (maker and taker fee of 0.0000%/0.0400%), and the Poloniex special market maker program. Another option for Poloniex users is to get a discount of 25% when you pay the fees with Tron (TRX).
| | | | |
| --- | --- | --- | --- |
| Tier | 30 Day Trading Volume | Maker/Taker Fee | TRX Maker/Taker Fee25% OFF |
| 1 | < $50K | 0.125% / 0.125% | |
| 2 | < $50K | 0.0950% / 0.0950% | |
| 3 | $50K – $1M | 0.0850% / 0.0900% | |
| 4 | $1m – $10m | 0.0500% / 0.0850% | |
| 5 | $10m – $50m | 0.0300% / 0.0800% | |
| 6 | $50m+ | 0.0000% / 0.0700% | |
Poloniex Buying Limits
Poloniex has a minimum order size that varies depending on the base trading pair. For example, when you are buying ETH/BTC, the minimum order size is 0.0001 BTC (around 5 USD). Below is the buying limits on some of the main coins on Poloniex:
BTC, 0.0001
USD – 1
TRX, 100
BNB, 0.06
ETH, 0.0001
Poloniex Wallet
As many other crypto exchanges often do so, Poloniex offers investors a multi-asset web digital wallet where you can deposit, withdraw, and store your crypto funds. Once you open an account, you get a wallet address that can be found if navigate to your wallet and click on Deposit, BTC (or any other coin), and then choose the chain (Bitcoin or Tron).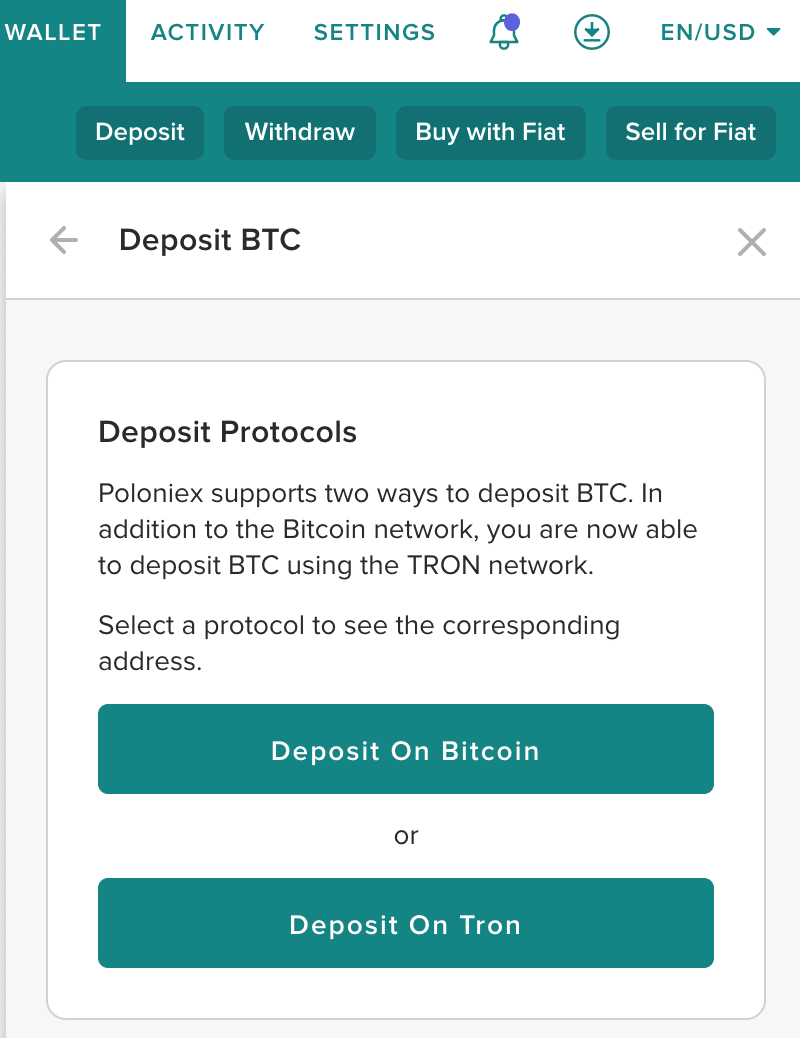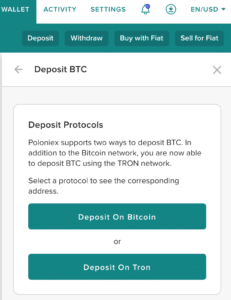 In terms of security, Poloniex ensures that all users' funds are stored on an offline air-gapped cold storage, meaning that the vast majority of the funds are stored offline and cannot be hacked online.
Poloniex Mobile App
The Poloniex mobile app is another way to access your account and trade on the go. The app that is available on Apple Store and Google Play and enables you almost the same trading functionality that you get on the web-based platform. You can view your account balance, trade, deposit, and withdraw directly from the Poloniex mobile app.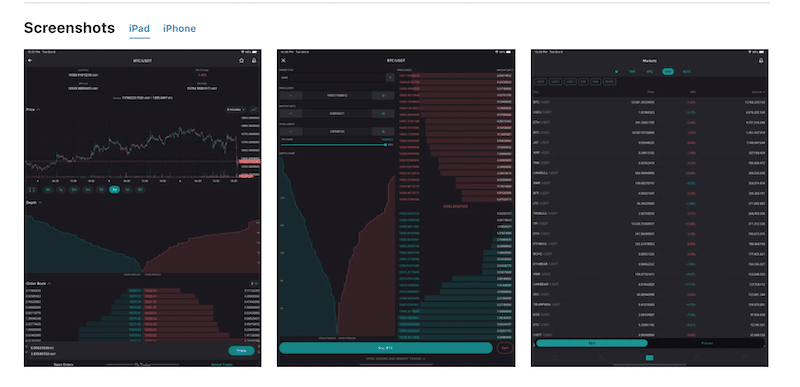 In terms of user reviews, the Poloniex app is clearly very popular among users given the high rating score it has on both Apple Store (4.6 from 1969 reviews) and Google Play (4.2 from 3883 reviews).
Poloniex Minimum Deposit
Poloniex maintains a minimum amount of $50 if you want to buy crypto assets with credit and debit cards. For crypto coins, there's no minimum amount requirement that you need to deposit on the majority of coins including when you buy Bitcoin, however, there are three cryptocurrencies that require a minimum deposit amount:
| | |
| --- | --- |
| Coin Name | Minimum Amount |
| ETC | 0.5 |
| LSK | 1 |
| NXT | 3 |
Poloniex User Experience
As we mentioned previously in this Poloniex UK review, this platform is at the top of the list when it comes to design and user interface. Both the site and web-based platform have a user-friendly and easy-to-use interface and Poloniex has made a huge effort to display all the necessary information about the account opening, and trading terms and conditions.
The platform is organized so that traders can find the most important trading dashboards and account management pages – on the top bar menu, you can easily navigate to the Exchange, Margin, Futures, and Lending. Further, you can also quickly access your wallet, trading activity, and account settings.
Additionally, the layout of each area (Exchange, Margin, Futures, and Lending) is built so trading is simple but at the same time you get access to some of the most advanced tools in the crypto market like the level 2 order book, depth chart, and TradingView interactive charts. Also, it has a 'dark mode' layout for those who prefer dark customization.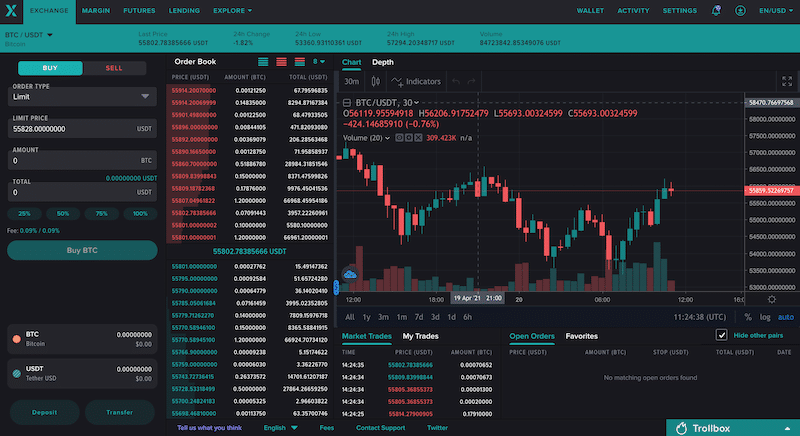 Poloniex Tools and Features
Poloniex packs quite a punch in terms of tools and features, making it an ideal platform for all levels of traders. When we compare Poloniex to other platforms like Binance, Kraken, and Bitfinex – it basically offers the same features that are available on the vast majority of crypto exchanges in the market like margin trading, futures, and level 2 order book. But unlike most platforms in the market, it provides additional features that are not very common on most digital asset marketplaces.
Short-Sell Tokens
Essentially, short selling cryptocurrencies is a little more complex than buying bitcoin and other digital assets. Crypto assets are much like a fiat currency and require a third-party authorization that enables short sell transactions. As such, in order to short bitcoin and other cryptos, you need a trading platform that gives you short sell derivative contracts.
This is where Poloniex comes into play. The exchange enables you to short sell the following crypto coins: Cardano, Bitcoin Cash, Bitcoin, Bitcoin SV, EOS, Ethereum, Chainlink, Litecoin, TRX, Stellar Lumens, and Ripple.
Trollbox
Another feature we really like is the Trollbox, which is a crypto chat room that is available on the Poloniex exchange. Poloniex's Trollbox is simply a forum for traders to talk about all crypto-related topics and share trading ideas in real time.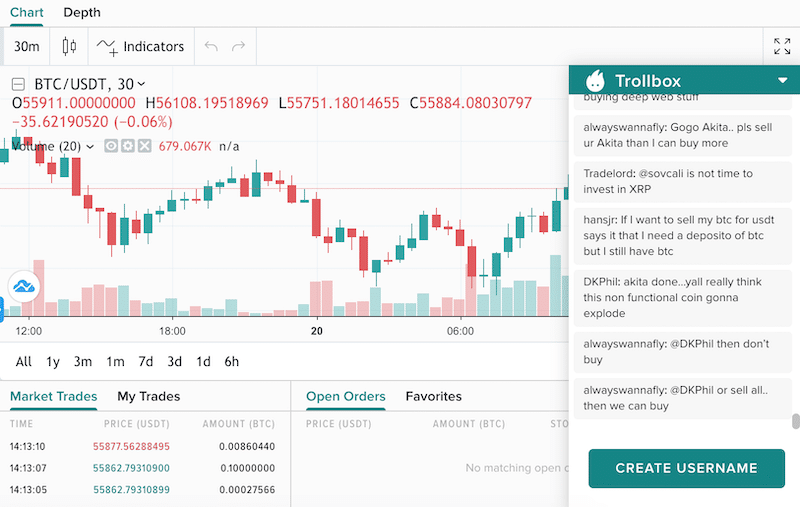 Lending/Staking
Poloniex also offers two methods in which users can make passive income by lending/staking their crypto coins. When you stake your assets on Poloniex, you can get an annual rate of over 20% on some of the coins for a period of one year. That said, Poloniex allows you to stake only five tokens: Cosmos (ATOM), Tron (TRX), BitTorrent (BTT),  WINk (WIN), Tendies (Tend).

Lending is another way on Poloniex's exchange to earn passive income on your cryptos. For that matter, you have a lending trading dashboard where you can offer loans in return for fixed interest. Take note, however, that lending crypto coins to third parties for use in margin trading is considered very risky and you must understand this type of trading before you start lending digital assets.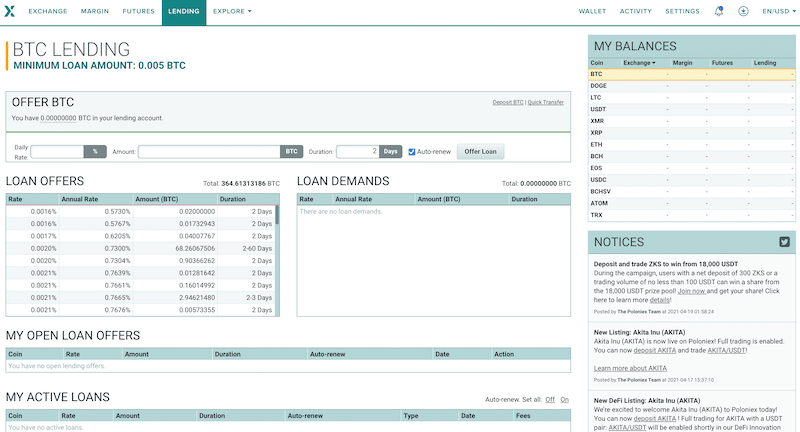 Poloniex Payments
Poloniex offers quite a limited selection of payment methods that include cryptocurrencies, credit and debit cards, and Simplex Banking account. For those of you who are not familiar with Simplex, it is the first global, secure crypto banking account.
Luckily for UK investors, Poloniex customers are able to purchase crypto coins using credit and debit cards as well as through Simplex. In terms of fiat currencies, Poloniex offers a huge selection that includes USD, EUR, AUD, CAD, CHF, CZK, DKK, GBP, HUF, ILS, JPY, KRW, NOK, NZD, PLN, RUB, SEK, TRY, ZAR, ARS, AZN, CLP, CNY, COP, CRC, DOP, GEL, KZT, MDL, NAD, PEN, PHP, QAR, UYU, UZS, or VND. That said, you need to take into consideration a fee of 3.5% or a $10.00 fee, whichever is greater when you buy cryptos with a credit and debit card.
The second option is to fund your account via one of the crypto assets that is available on the Poloniex exchange. There is no charge when you choose this option and it usually does not take more than 4 hours for the crypto funds to appear in your account.
Poloniex Regulation & Licensing
Poloniex is a regulated entity and thus must comply with all applicable laws and regulations in the jurisdiction where it operates. According to Poloniex, it is subject to the laws, regulations, and rules of any applicable governmental or regulatory authority. As such, it states that it complies with the anti-money laundering (AML) and counter-terrorist financing (CTF) provisions.
Poloniex is also registered with the Financial Crimes Enforcement Network (FinCEN) as a Money Services Business under the registration number 31000091844018. And, as the company is registered in the United States, it operates in full compliance with U.S. laws.
Having said that, the Poloniex exchange is not yet regulated or authorized in the UK or in the European Union.
Poloniex Contact and Customer Service
As a global and highly reputable exchange, Poloniex offers top-notch customer support service. First and foremost, it has a live chat service, and submit a ticket form. Secondly, the site and trading platform are available in the following languages: English, Chinese, Russian, Vietnamese, and Turkish. But most important of all is the informative and clear FAQ section provided by Poloniex. On Poloniex FAQ and support center, you can find an answer and explanation for almost every query you may have.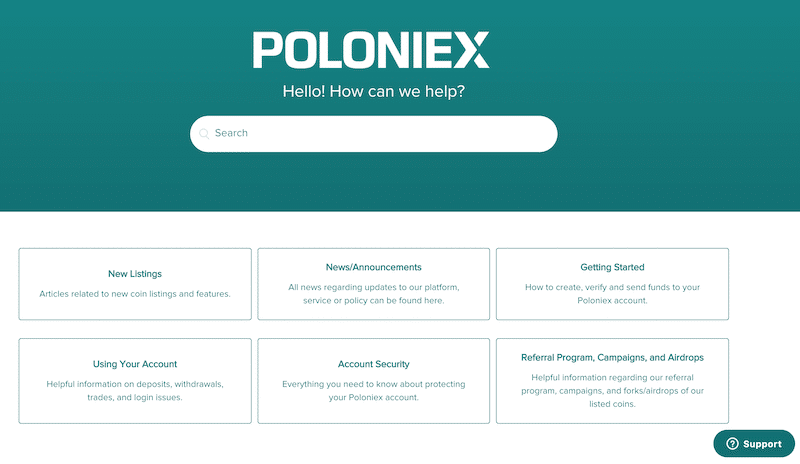 How to Use Poloniex
Now that we have covered all the details about Poloniex, it's time to show you the full process of opening an account and start trading on this cryptocurrency exchange.
Step 1: Sign Up for an Account with Poloniex
Your first port of call is to head over to the Poloniex website and sign up for an account. To do that, click on the Sign-Up button on the exchange's homepage and fill in your email address and password on the registration form.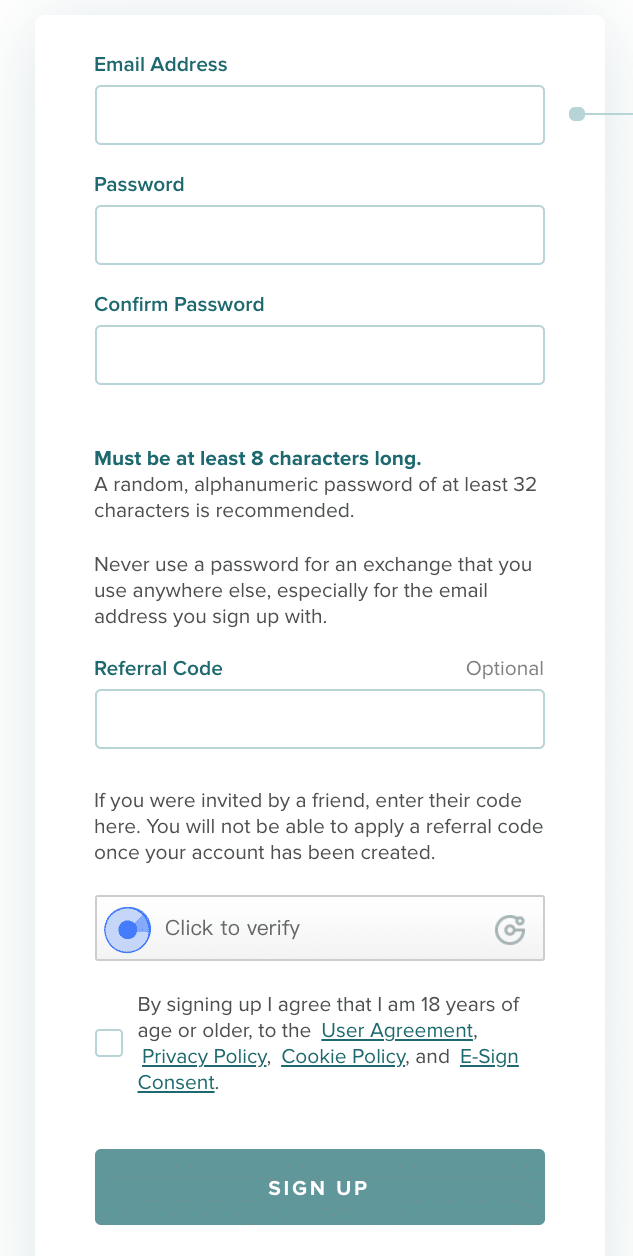 You'll then get an email from Poloniex where you'll be asked to activate your account.
Step 2: Enable Two Factor Authentication
Once you have completed the sign-up process, you are immediately transferred to the Poloniex dashboard. From there, you can manage your account and get access to all the tools and features available on this exchange. But before you start trading, it is highly recommended to set up the 2FA authentication. To enable it, you have to click on the security box on the right side of the dashboard.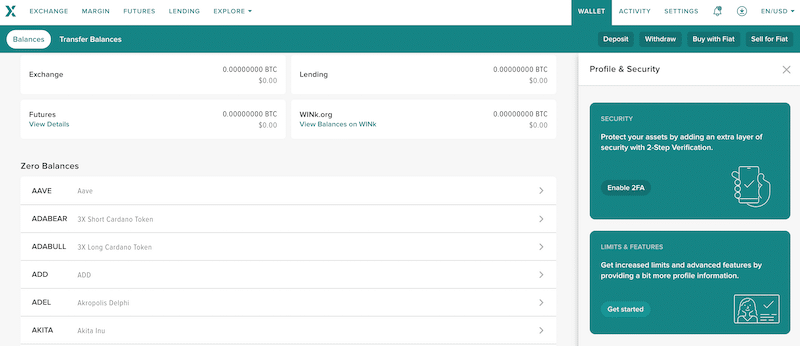 Once you click on it, you'll see a code needed to be scanned on one of the following mobile and desktop applications: Google Authenticator for iOS/Android, Microsoft Authenticator for Windows Phone, Authy for Desktop. Then, you'll have to enter the code you receive on the app every time you want to log in to your Poloniex account.
Step 3: Deposit Funds 
For the level 1 account on Poloniex, users are not required to verify their accounts. Instead, you simply need to enter your email address and password and verify your email. This means you can get started the trading process immediately after you have verified your email address.
When it comes to funding your account, Poloniex offers you to do that with crypto coins or with credit and debit cards. The funding process at Poloniex is extremely simple and all you have to do is to click on the 'Buy with Fiat' button if you want to buy cryptocurrencies with a credit and debit card or click on the Deposit button if you wish to fund your account with digital currencies.

Step 4: Buy and Sell Crypto Coins 
Now that you are ready to make a trade, you need to choose the option that is right for you. As mentioned above, in order to trade on Poloniex's exchange, you can deposit funds with crypto coins by navigating to the Wallet section, click on the Deposit button and choose the coin in which you want to fund your account.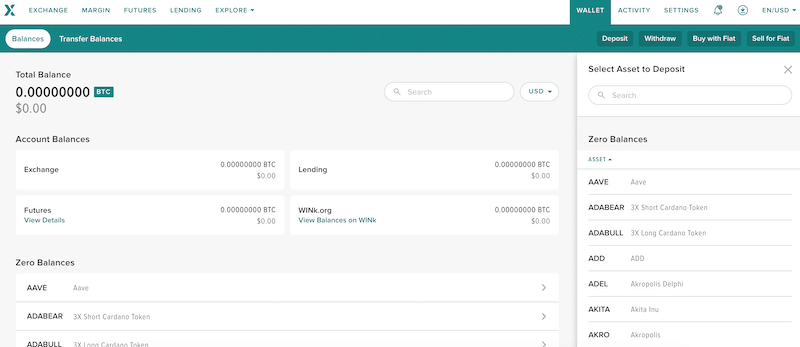 The second option is to buy (or sell) cryptocurrencies with a debit or credit card or a Simplex bank account. On the next page, you'll have to choose the denominated currency, the crypto asset you want to purchase, tick the disclaimer box, and click on the Buy Now button.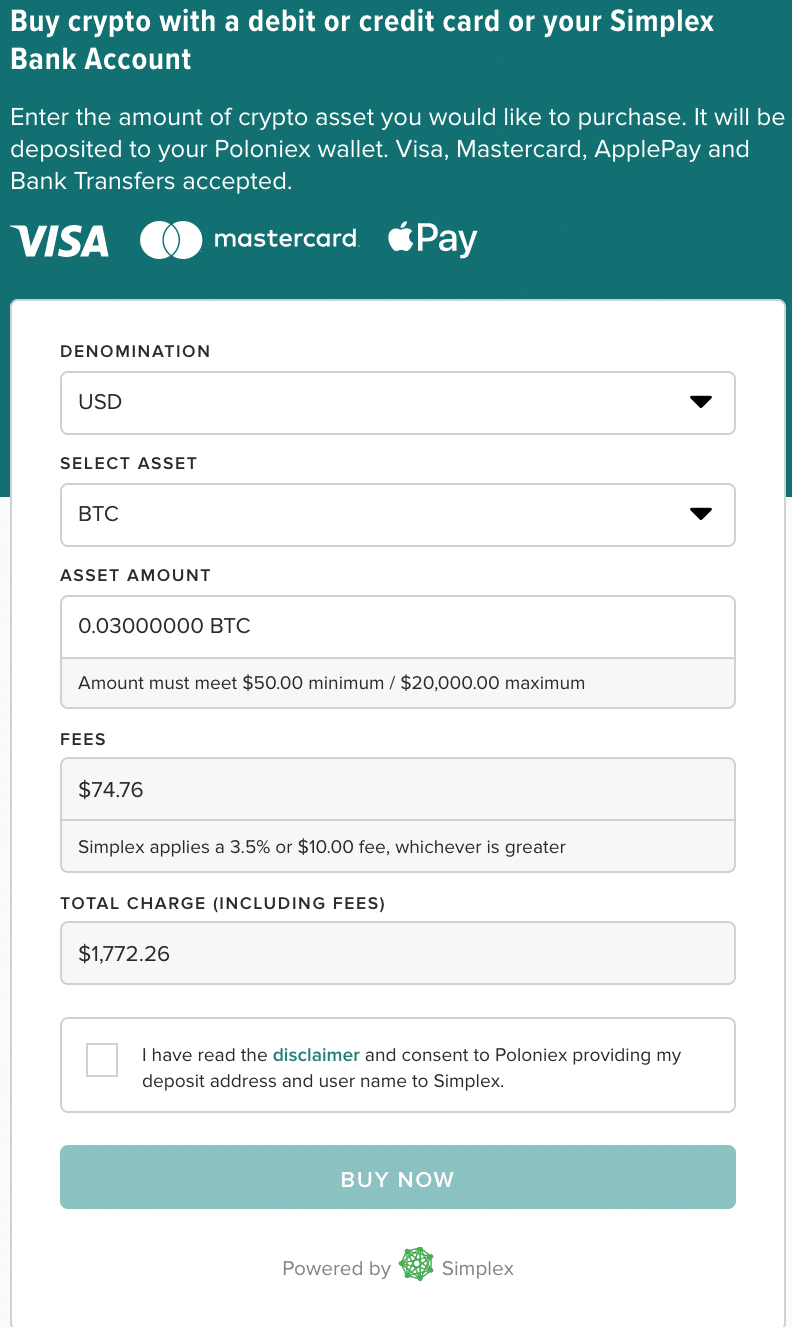 Poloniex – Best Broker to Buy Cryptocurrency in the UK
Overall, we can genuinely say that Poloniex is a great cryptocurrency exchange. Even though it has lost its place as one of the most active crypto exchanges in the world in recent years due to the Circle spun out, and its operation shut down in the US – it is still considered a safe and reliable crypto marketplace.
The Poloniex platform offers a huge list of crypto pairs, low trading fees, a seamless user interface, and the option to option to buy digital coins with credit and debit cards. Moreover, it has a very easy registration process and great trading tools and features.
FAQs
Where is Poloniex located?
Is Poloniex regulated in the UK?
What cryptocurrencies can buy with a credit card at Poloniex?
Does Poloniex support PayPal?
What cryptocurrencies can I trade at Poloniex?