Did you know you can buy crypto under £1? The crypto market has expanded following remarkable adoption in 2022. While Bitcoin remains a top choice, BTC remains out of reach for many investors. However, there are many cryptos under £1 that small investors can take advantage of.
This guide reviews some cheap cryptocurrency you can invest in with little funds. We also review some of the best platforms that offer competitive fees.

Key Points on Crypto Under £1
The crypto market is worth £1.263 trillion, pointing to a flourishing ecosystem.
Bitcoin controls the largest share of the crypto market; however, you can still invest in several crypto under £1.
These cryptos are largely new projects trying to gain market share, and some are a few projects still under development.
The most promising crypto under £1 is the crypto lottery protocol Lucky Block.
The Top 10 Best Crypto Under £1 for 2022
Selecting the best penny crypto can be a chore, given the wide range of options available. However, we have streamlined this process and made it easier for you to pick out the best cryptocurrency to invest in 2022, even as the crypto market prepares for another bull run.
Here are a few to get started with:
A Closer Look at the Best Crypto Under £1 to Buy Today
Let's dive into our top 10 crypto under £1, we'll dive into the crypto projects.
1. Lucky Block – Overall Best New Cryptocurrency to Buy in 2022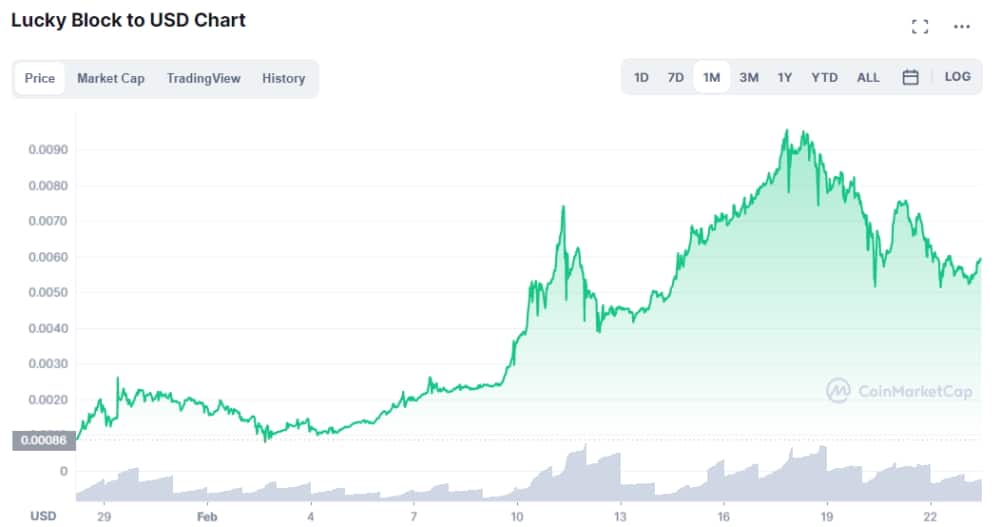 Lucky Block is our overall pick for the best crypto under £1 for many reasons. For one, it addresses a key industry issue in the online gambling space.
The Binance Smart Chain (BSC)-based protocol is a crypto lottery platform that seeks to enable an inclusive ecosystem for online gambling players. Lucky Block also has an investment platform that allows users to generate passive income from holding the LBLOCK token.
Lucky Block has been on a tear since launching in late January. The token hit an all-time high (ATH) of $0.009617 (less than £1) on February 17, rising by 1,500% from its presale price of $0.00015.
LBLOCK has gained waves and is currently enroute to being listed on centralised exchanges like Binance and Kucoin. The Lucky Block app is also in the works and will launch in late March, opening the blockchain protocol to the public. You can also join over 37k members on the Lucky Block Telegram group and stay in the loop regarding all the latest news and updates.
Lucky Block's one of the best new cryptocurrency to invest in 2022. At press time, LBLOCK is trading at $0.0072, up 24.27% in the last 24 hours. The lottery token currently trades at a discount, making the digital token top crypto under £1 to invest in for the long term.
Cryptocurrency markets are highly volatile and your investments are at risk.
2. Cardano – Best Penny Crypto for DeFi Protocols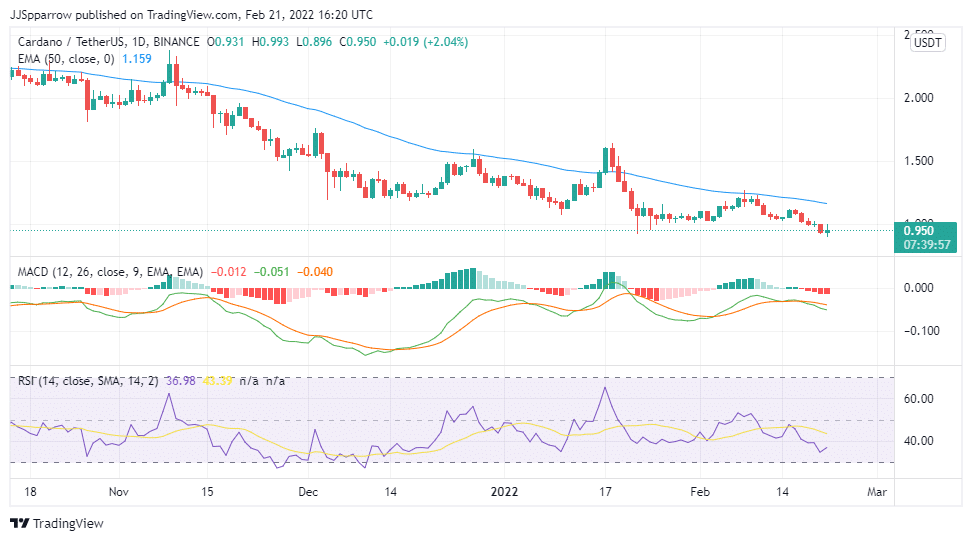 Cardano is one of the heavyweights in the crypto space and a clear Ethereum network rival. It's focused on engendering broader adoption of blockchain and cryptocurrencies. Also, Cardano is a proof-of-stake (PoS) protocol that enables the development of blockchain tools and applications on its network.
The Layer-1 protocol is one of the most popular crypto in the industry. Cardano uses the peer-review approach in developing its blockchain ecosystem. This architecture sees the protocol updates and codes reviewed by a team of experts in the distributed computing field.
Cardano, which is largely undervalued, is one of the crypto under £1 you can buy. The digital token is currently valued at £0.70 and is up 1.92% in the last 24 hours. In the aspect of fundamentals, the Cardano network is still fledgling its ecosystem.
Automated market maker (AMM) and decentralised exchange (DEX) protocol Acardex blockchain recently launched on the Cardano network. The DEX platform is set to enable the seamless exchange of native and non-native tokens on the Cardano protocol.
Cryptocurrency markets are highly volatile and your investments are at risk.
3. Ripple – Most Popular Crypto for Cross-Border Payments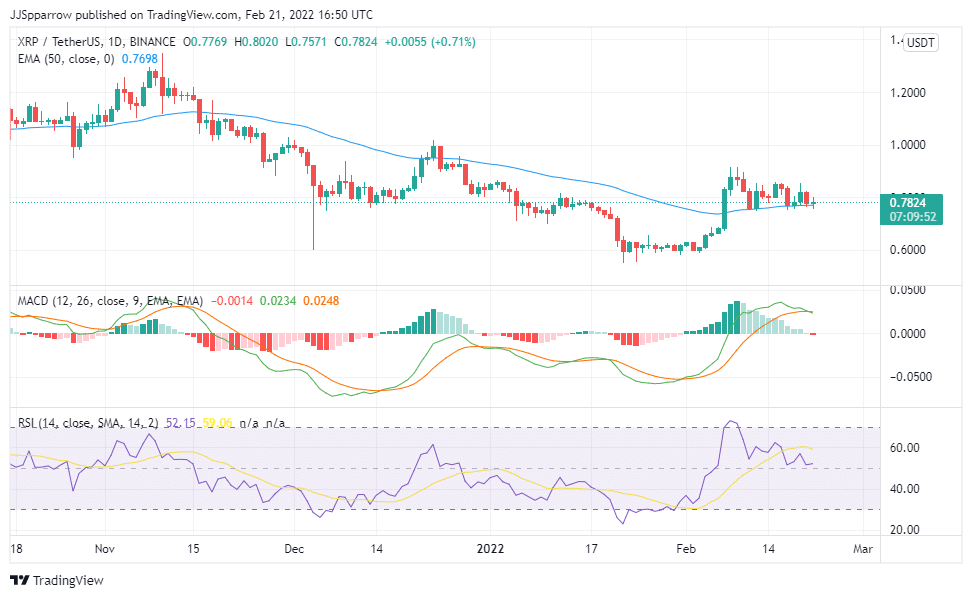 The Ripple blockchain is one of the most popular crypto in the blockchain ecosystem. It serves as a means of enabling seamless transfer of all currencies across borders easily using blockchain technology.
Ripple uses a Federated Consensus Algorithm (FCA), which allows for low transaction fees and energy demands. The protocol has become a major hub for institutions faced with cross-border payment bottlenecks.
In the crypto space, Ripple's XRP has seen its growth stunted largely due to an ongoing battle with (SEC) US Securities and Exchange Commission. However, the protocol has shown resilience. It was recently been picked by the Digital Euro Association (DEA) as a key partner in its ongoing central bank digital currency (CBDC) program.
XRP has been battered with severe bearish trends fostered by its legal woes. The result is a dip in price. However, Ripple is still one of the best crypto under £1 to invest. It's currently trading at $0.7824 (about £0.57), up 0.17% in the last 24 hours.
Cryptocurrency markets are highly volatile and your investments are at risk.
4. Polygon – Best New Cryptocurrency to Invest in 2022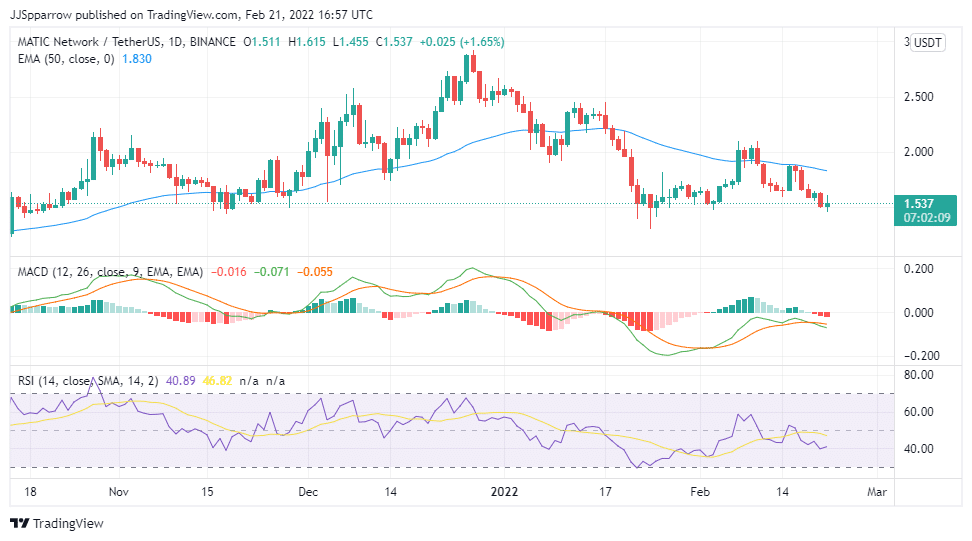 Polygon is another top crypto under £1 no investor can afford to miss. Rebranded from Matic Network in early 2021 to Polygon, this Layer-2 protocol helps the Ethereum network validate transactions.
Polygon comes with a steam backpack of high scalability, low fees, and low energy demand. The platform is also a major destination for dApps looking to tap into the Ethereum network's vast resources without sacrificing speed and low fees.
Polygon recently secured a $450 million investment led by top venture capital (VC) firm Sequoia Capital India. Other core contributors include Galaxy Digital and SoftBank.
Utility token MATIC is currently going for a bargain, trading at £1.10. Although Polygon is currently above £1 , the scaling solution is one investment not to be missed for the world.
Cryptocurrency markets are highly volatile and your investments are at risk.
5. Algorand – Best Cryptocurrency to Buy in 2022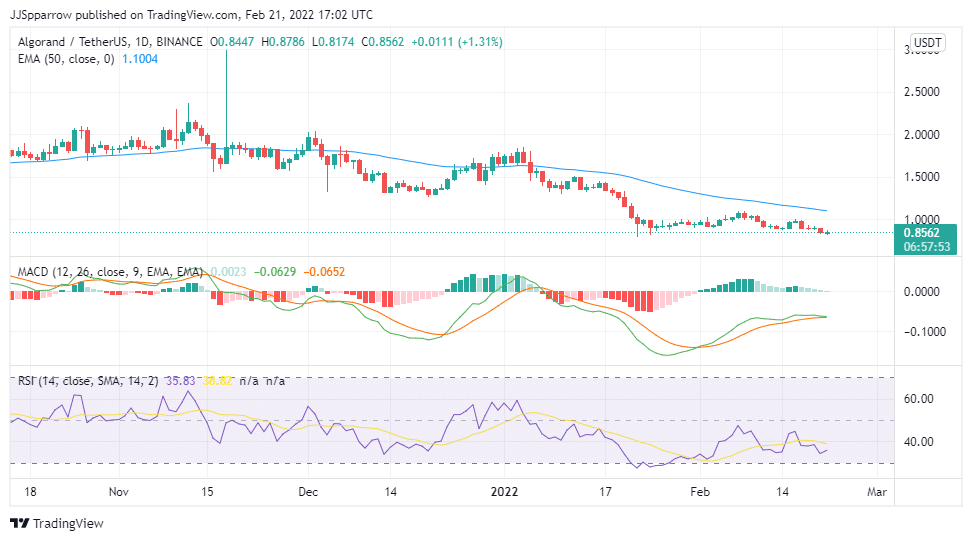 Algorand, a top Layer-1 smart contract platform, has become one of the famous 'Ethereum killers.' Founded in 2016, Algorand enables the development of dApps on its mainnet without compromising on speed, fee, and energy consumption.
This unique digital crypto has since become the go-to protocol for several blockchain protocols. Real-estate NFT platform and marketplace Vesta Equity recently launched on Algorand, following a growing influx of projects into the Algorand ecosystem.
Algorand's ALGO is currently trading at $0.8562 (about £0.62) at press time. This price follows a broader market correction, and ALGO is up 0.69% in the past day.
Cryptocurrency markets are highly volatile and your investments are at risk.
6. Hedera – New Cryptocurrency to Buy in 2022 for Enterprise-Grade Solutions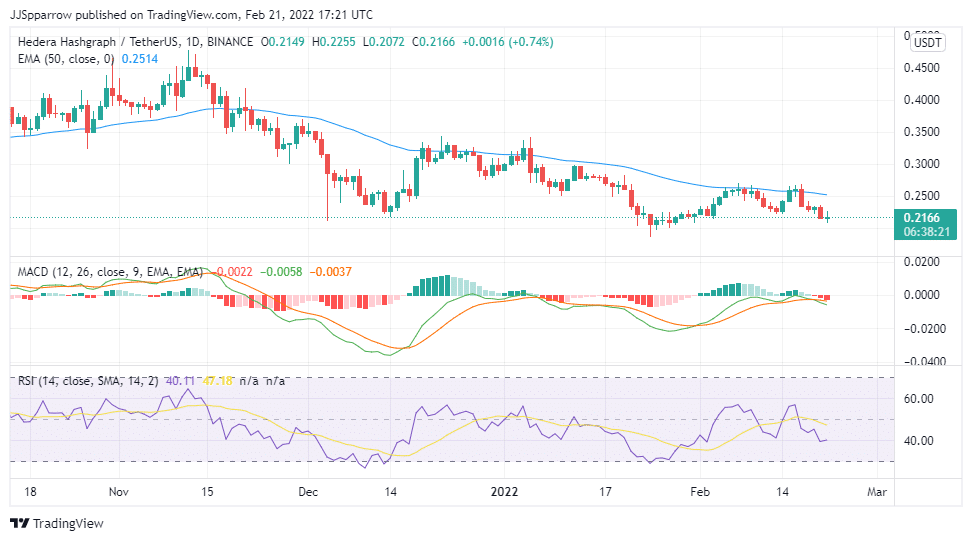 The Hedera blockchain is a one-of-a-kind crypto project. The protocol aims to be a more modernised and updated version of a blockchain protocol. Hedera is carbon negative due to its reliance on an innovative computing technology, Hashgraph.
Hedera is a sustainable, enterprise-grade public network focused on fostering a decentralised economy. It's built to overcome the challenges of older blockchains like Bitcoin and Ethereum, and it comes with a predictable gas fee system.
Recognising the potential of the blockchain protocol, top gaming company Ubisoft has joined the Hedera Governing Council and will be launching its next generation gaming on the Hedera network.
At press time, Hedera's utility token HBAR is currently trading at £0.15, making HBAR one of the most under-priced DeFi-enabling protocols in the ecosystem.
Cryptocurrency markets are highly volatile and your investments are at risk.
7. Klaytn – Top Crypto for Metaverse Ecosystem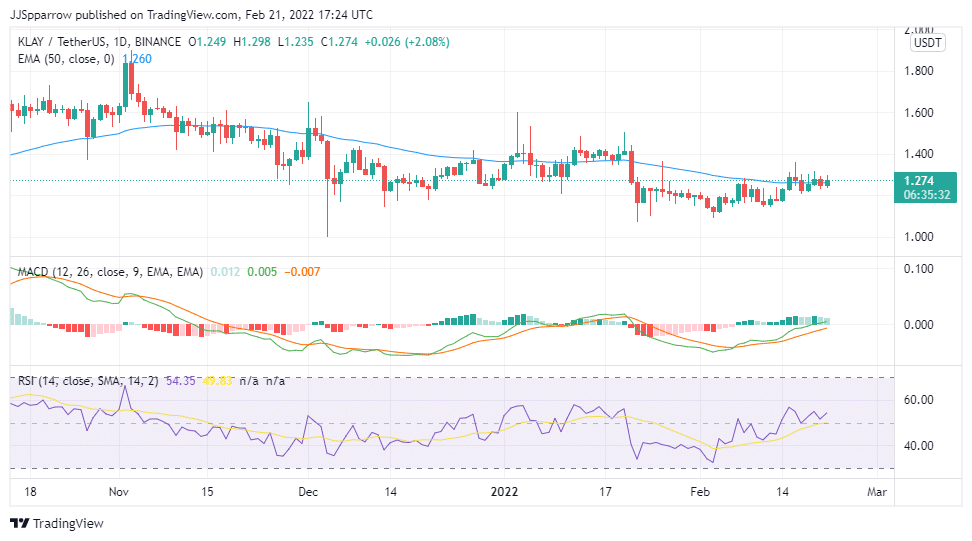 The Klaytn blockchain is an entirely mind-blowing protocol in its own right and has become a major hub for the fast-growing Metaverse ecosystem. The protocol aims to become the iconic centre for the Metaverse, GameFi, and the creator economy.
Klaytn is an enterprise-grade protocol that hopes to engender a user-friendly experience for millions of users. Some of its unique features include 1-second deterministic finality, which allows transactions to be validated within a second.
The blockchain also features an end-to-end Metaverse package, which helps development teams launch customised solutions, SDKs, and smart contract libraries within hours.
Klaytn recently partnered with the Blockchain Game Alliance (BGA) protocol to further expand the frontiers of blockchain into the gaming industry.
Utility token KLAY is trading on the same trendline as the 50-hour exponential moving average (EMA) of $1.274 (about £0.93). The digital asset indicates a buy signal at the moving average convergence and divergence (MACD) indicator.
Cryptocurrency markets are highly volatile and your investments are at risk.
8. VeChain – Best Penny Crypto for Supply Chain Logistics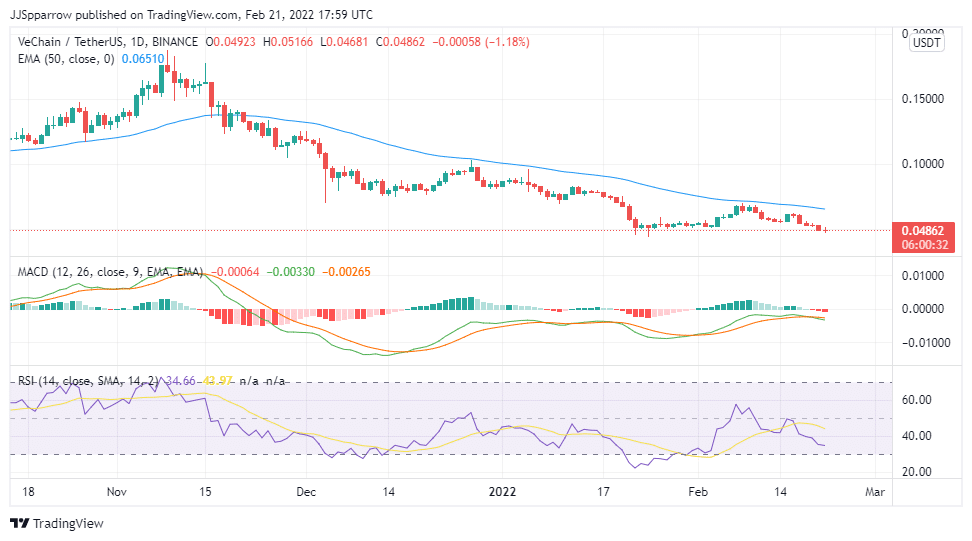 The VeChain network is built on top of the VeChainThor public blockchain. The protocol provides tools for resolving real-world economic challenges faced by users.
Vechain is a versatile protocol, with operations in supply chain and logistics. The protocol enables businesses to use blockchain technology to track and monitor their products in real-time and confirm quality after delivery.
Vechain has multiple use cases and applicable industries, including digitalisation for high-end products, digital vehicle passports, digital assurance solutions, and several others.
Looking to boost its accessibility in the rapidly expanding Web3 ecosystem, the Vechain protocol recently launched its network native stablecoin project called VeUSD. At press time, utility token VET is trading at $0.04862 (about £0.04), down 1.92%.
Cryptocurrency markets are highly volatile and your investments are at risk.
9. IOTA – Best Crypto for Limitless Throughput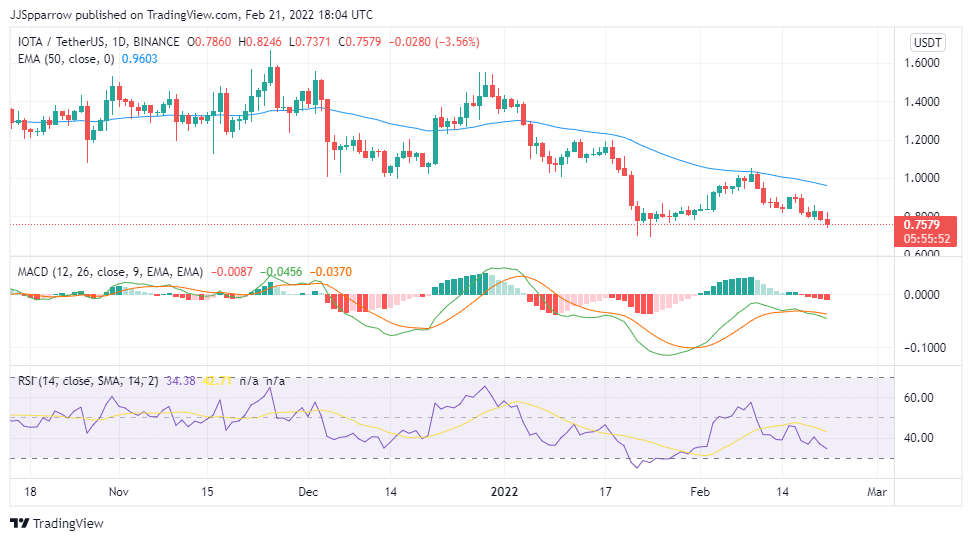 Using an innovative proprietary technology called Tangle, IOTA runs on a system of nodes that confirms transactions on its protocol. This comes with greater speed than the conventional blockchain system.
IOTA's Tangle comes with many perks, including zero miners and zero fees. IOTA's dependence on a new system of validating transactions enables limitless throughput while cutting down on expected fees for using the platform.
IOTA has recently received a funding boost from Dell and Google.org for its work program. The combined effort is expected to yield results in the Sustainable Development Goals (SDGs).
MIOTA is trading at $0.75 (about £0.55) at the press time. The digital asset is currently down 5.86% in the past day.
Cryptocurrency markets are highly volatile and your investments are at risk.
10. The Graph – Best Penny Crypto for Data Indexing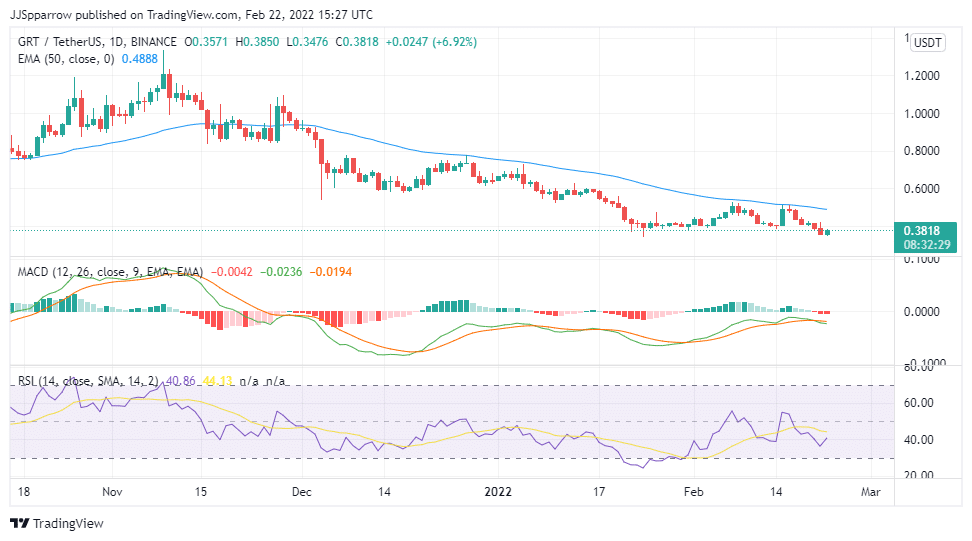 The Graph is an Ethereum-based indexing protocol used for querying data by blockchain networks. With the Graph protocol, blockchain protocols can retrieve blockchain data easily without going through the rigours of generating data during any given scenario.
The Graph is the Google of the Web3 ecosystem and allows development teams to build and publish application programming interfaces (APIs) called subgraphs.
The Graph is seen by many as the web stack for the new iteration of the internet. To that end, it has been very active in the blockchain ecosystem. The Graph Foundation recently supported the Nomic Foundation with $1 million through its grants arm.
The protocol's native crypto token GRT is currently trading at $0.3861 (about £0.279), down 0.72% in the past day.
Cryptocurrency markets are highly volatile and your investments are at risk.
Is Crypto Under £1 a Good Investment?
Getting a low-cost cryptocurrency has several benefits than going after the pricey ones. Here are some reasons you should buy cryptocurrency with low market prices today.
1. More Upside Potential
Bitcoin is a clear investment choice for many. However, the possibility of the premier digital seeing exponential growth or 10x its current price is quite slim. Low-cap digital assets are more suited to give you a higher return on investment since they have more growth potential in the long run.
For example, Avalanche's AVAX token has since grown more than 20x its valuation in two years. Some low-cost tokens could become the next Bitcoin.
2. Buy More For Little
1 BTC currently goes for over £27,000, which means you'll need to be a millionaire to afford a sizable chunk of the foremost digital asset. However, you can easily buy thousands of LBLOCK tokens and other crypto under £1 without suffering a leak in your bank account.
The more you buy for little, the more you make when the digital asset shoots up in value. So low-priced cryptos are a smarter investment choice for retail investors than more established crypto brands.
3. Staking Rewards Are Extra Gains
Most new-generation blockchain protocols are proof-of-stake (PoS) networks. Staking is a peculiar character of PoS networks and it involves users locking up or pledging a particular amount of tokens to secure the network for a particular period.
The purpose of staking is to keep the network safe from malicious attacks. In turn, PoS networks reward stakers with newly minted tokens for safeguarding the network. This feature can end up becoming a viable passive income generation tool for retail investors who don't have to do anything besides committing their token.
Staking rewards are also very high compared to traditional banking rates. You can get as much as 240% within a seven-day window. For more information on staking your crypto holdings you can read our comprehensive guide on the best crypto staking platforms.
4. Low-Cap Cryptos Are The Next Generation
Bitcoin is the trail-blazer for the decentralised economy. However, the premier network's use cases are relatively limited. New generation protocols promise more solutions to real-world challenges than Bitcoin. They are multi-faceted, more versatile, and instinctively a better choice for building a strong crypto portfolio in the coming years.
5. The Season of Altcoins Is Drawing Near
Short for alternative currencies, Altcoins are becoming increasingly popular and a better choice for generating maximum yield in the crypto space. Most altcoins averaged a growth performance well above 10,000% in the past year, showing huge potential.
Several investors are shifting their focus to altcoins due to their high returns. So, this is the season for altcoins to flourish, and you can tap on a few promising ones to build your crypto empire.
Where to Buy Crypto Under £1 in the UK
Deciding where to buy crypto under £1 in the UK can be a bit difficult. Why? There are now several platforms that offer support for these high-yield digital assets. However, we have highlighted a few you can easily tap for low fees, strong regulation, user-friendliness, and an overall great trading experience.
After reviewing the best crypto exchanges we found one crypto broker that stands out from the crowd.
eToro – Overall Best Place to Buy Crypto Under £1 in the UK
eToro is our number one pick for the best platform to buy crypto under £1 in the UK. The platform operates as a social community for investors and traders. The crypto broker allows investors to share, learn, and grow together on its platform.
In terms of security and regulation, eToro is regulated by the Cyprus Securities and Exchange Commission (CySEC), UK's Financial Conduct Authority (FCA), Australian Securities and Investment Commission (ASIC), and the Financial Industry and Regulatory Authority (FINRA).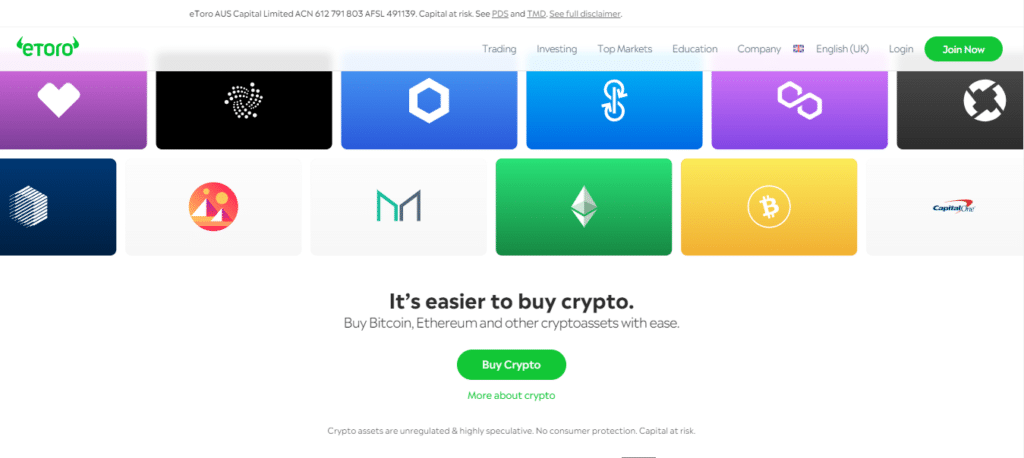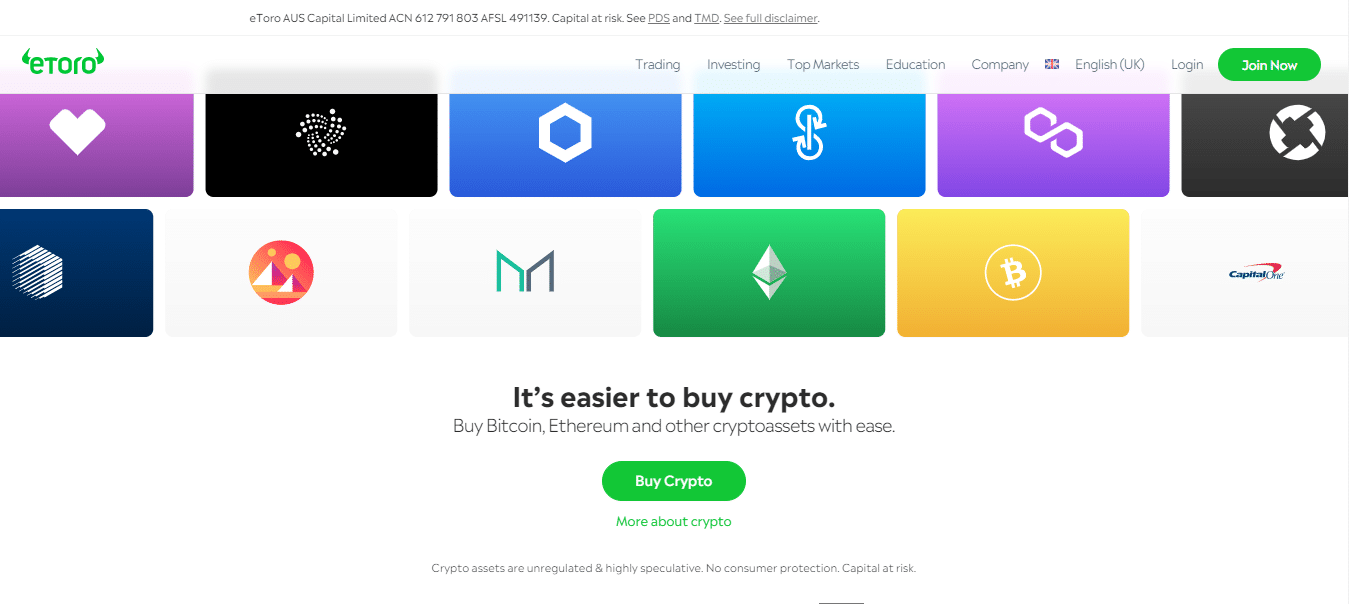 eToro boasts of user-friendly and copy trading tools, including CopyTrader and CopyPortfolio. With the CopyTrader, investors can mirror the successful trades and strategies of more advanced traders for a nominal fee.
eToro also supports around 50 different cryptocurrencies, meaning you can invest in the best meme coins with tight spreads and low fees right now.
CopyPortfolio is useful in diversifying investors' portfolios across top-performing industries and regions. Your portfolio is automatically rebalanced based on the best high-yield sector at the moment.
eToro has a variable minimum deposit based on a user's region, but UK users can get started with a minimum deposit of just $10. You can deposit through a regular bank wire transfer, credit/debit card, PayPal, Skrill, Neteller, and other payment solutions.
There are no deposit and maintenance fees, although you will be charged $5 for withdrawals.
Pros
Heavily regulated
Innovative copy trading features
Social trading platform
Competitive fees and spreads
Cons
Dollar-denominated accounts
Cryptocurrency markets are highly volatile and your investments are at risk.
How to Buy Crypto Under £1 – eToro Tutorial
If you're keen on investing in crypto under £1, follow the steps below to make your first crypto investment.
Step 1. Open an account with eToro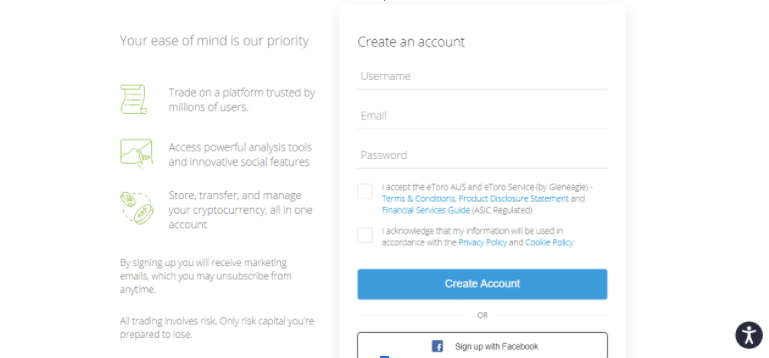 Head over to the eToro website and click on the 'Join Now' button to open up the registration portal. Insert your full name, email address, mobile number, password, and username to get started.
You can also fast-track this process by signing up with your Facebook or Google account by tapping on the appropriate icon below the registration form.
Step 2. Verify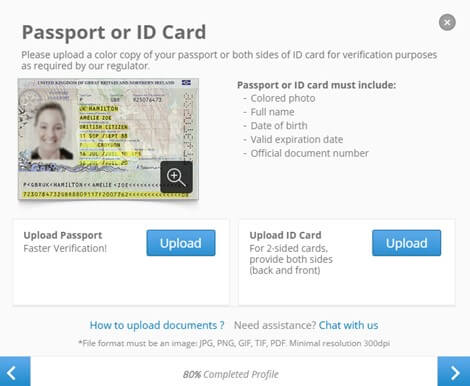 You'll need to complete a know-your-customer (KYC) process to access the full features on the eToro platform. Upload your driver's licence or government-issued ID card and a recent utility bill or bank statement for proof of address. Your account will be verified for full trading activities after that.
Step 3. Deposit
Depositing funds to your eToro account is super-easy. Tap on the action tab below your profile icon and select 'Deposit Funds.' Enter how much you want to fund your account with. Click on 'Deposit' to complete the process.
Step 4. Search for Crypto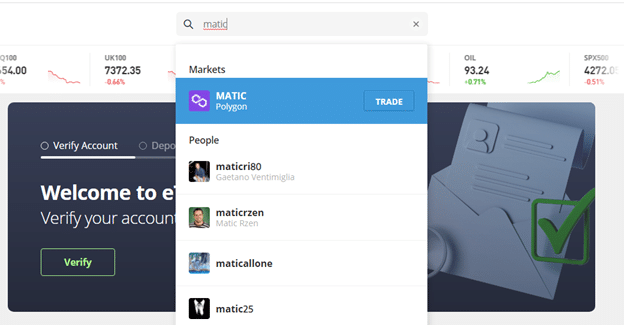 You can manually search for the crypto you want by clicking on the 'Discover' button and selecting 'Crypto.' However, this often consumes much time. To streamline the process, type the ticker symbol of the digital asset and click on the relevant popup result.
Step 5. Buy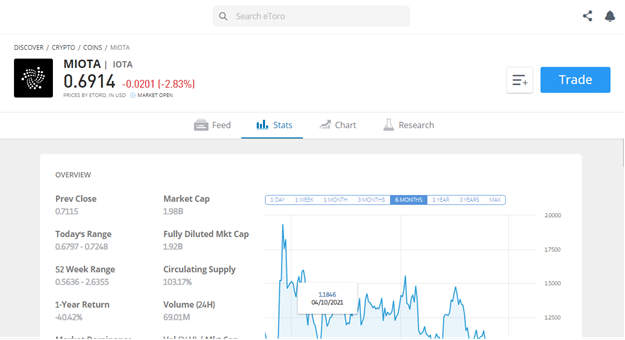 Once you've identified the asset you want to invest in, click 'Trade' in the far right-hand corner. Insert how much of the asset you want to buy and click on 'Open Trade' to conclude the transaction.
Cryptocurrency markets are highly volatile and your investments are at risk.
Conclusion
Low-cap investments are now the choice of many due to their higher yield and growth potential. With many promising prospects now available for a bargain, the crypto space is becoming increasingly enticing to many. If you're looking for the top platform to buy crypto, eToro should fit your bill.
You get to enjoy competitive fees as well as copy trading tools like the CopyTrader. You can also learn about the best digital assets from your peers through the 'Feed' channel on eToro.
Cryptocurrency markets are highly volatile and your investments are at risk.
Frequently Asked Questions on Best Crypto Under £1 for 2022
What is the Cheapest Crypto?
What is the Best Cryptocurrency Under £1?
Can I Invest in Bitcoin with £1?
Where Can I Buy Cheap Cryptocurrency?