Scalable Capital Review UK – Features & Fees Revealed
Fact Checked
Everything you read on our site is provided by expert writers who have many years of experience in the financial markets and have written for other top financial publications. Every piece of information here is fact-checked.
Disclosure
Please note that we are not authorised to provide any investment advice. The information on this page should be construed for information purposes only. We may earn commissions from the products mentioned on this site.
Looking for a way to invest your money without taking on a significant amount of risk or becoming a financial guru? Then Scalable Capital is a robo advisor investing platforms in the United Kingdom that is popular amongst some UK investors.
What is Scalable Capital?


Scalable Capital is a digital wealth manager, robo advisor, and automated investing platform founded in Munich, Germany in 2016. The broker caters to clients in the UK as well, as well as investors in Austria, offering individual savings accounts (ISAs) and self-invested personal pension (SIPP) plans.
What sets Scalable Capital apart is that it focuses on portfolio optimization and risk management. Instead of assigning you a cookie-cutter investment portfolio, this stock broker offers a custom set of exchange-traded funds (ETFs) that match your investing goals and risk tolerance. Scalable Capital uses advanced modeling to predict your portfolio's risk within 95% confidence and continuously optimizes your portfolio to match market conditions.
Over the past four years, Scalable Capital has acquired more than 50,000 clients and has more than £2 billion in assets under management. The broker also has a partnership with German banking firm ING.
Scalable Capital Account Types
Scalable Capital offers two account types for UK investors: a stocks and shares ISA and a SIPP account.
The ISA account is a tax-privileged account that allows for deposits of up to £20,000 per year. You do not pay capital gains taxes on any profits from your investments and there are no limits on when you can withdraw your funds.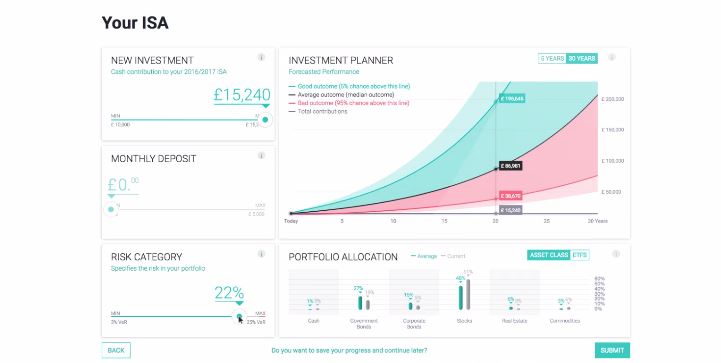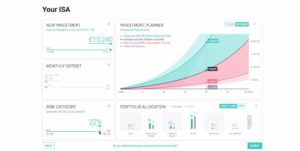 The SIPP account is another tax-privileged account. It allows for deposits of up to £40,000 per year, but you can only withdraw funds once you reach age 55. You get income tax relief on all deposits to a Scalable Capital SIPP and pay no capital gains taxes on investment profits. You can also transfer existing pension plans from an employer to Scalable Capital.
For both the ISA and SIPP accounts, Scalable Capital requires a minimum initial deposit of £10,000.
Scalable Capital Services
Scalable Capital is an automated wealth management and investing platform. When you open an account with this broker, the first thing Scalable Capital does is ask you to complete a questionnaire about your investing goals. In particular, the broker asks about your tolerance for risk to determine the allocation of assets in your investment portfolio.
Based on this information, Scalable Capital will assign you a risk score. This represents the maximum loss your portfolio could suffer in a year, to within 95% probability. That is, in 19 out of 20 years, you should never lose more than a small percentage of your portfolio that corresponds to your assigned risk category. The link between your portfolio allocation and probabilistic risk using risk management technology is one of the main factors that sets Scalable Capital apart from competing for investment apps and robo advisors, such as Nutmeg.
Scalable Capital Available Investments
Scalable Capital only invests in ETFs because they are cost-efficient and give you exposure to a wide range of instruments within an asset class. The company has a range of investment funds across five asset classes: shares, real estate, corporate bonds, government bonds, and commodities.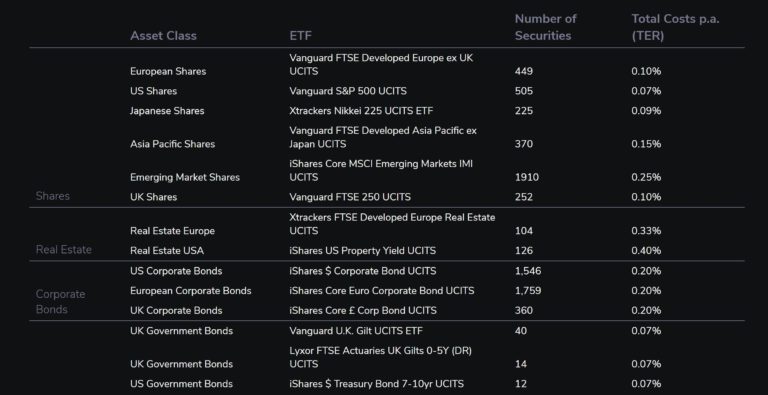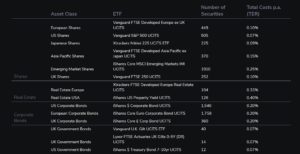 The share funds are organized by region, with individual funds for the US, UK, Japan, Europe, and Asia, plus an additional fund for emerging markets. Real estate funds only cover the US and European real estate, while bond ETFs are exposed to the bond market in the US, UK, and Europe.
In all, Scalable Capital's ETFs offer exposure to more than 8,000 individual securities in over 90 countries. However, you may only invest in a handful of the funds that this broker offers, depending on your portfolio allocation.
Scalable Capital Portfolio Management
One of the nice things about using Scalable Capital is that the investment app takes care of all portfolio management tasks automatically. The app has a team of investment managers that will initially on your behalf according to an investment strategy based on your goals and risk assessment, and then keep your portfolio balanced over time as asset prices and market conditions change.
Moreover, your portfolio isn't completely static at Scalable Capital. As markets shift, it is possible that your current asset allocation exposes you to more risk than you are comfortable with. When that happens, Scalable Capital will automatically shift your holdings to reflect the new conditions and keep your risk within the desired range. This is another key advantage of Scalable Capital's risk modeling – the broker can respond to changing conditions in real-time and adjust your portfolio accordingly.
Scalable Capital Portfolio Performance
Scalable Capital reports performance for portfolios based on risk levels.
The broker's 5% and 10% risk tolerance portfolios have grown noticeably slower than riskier portfolios, in large part because they were less exposed to explosive growth in the stock market from 2016 to 2019. However, these portfolios also saw drops of less than 10% each during the COVID-19 market crash. Since inception, the two portfolios have each returned less than 10%.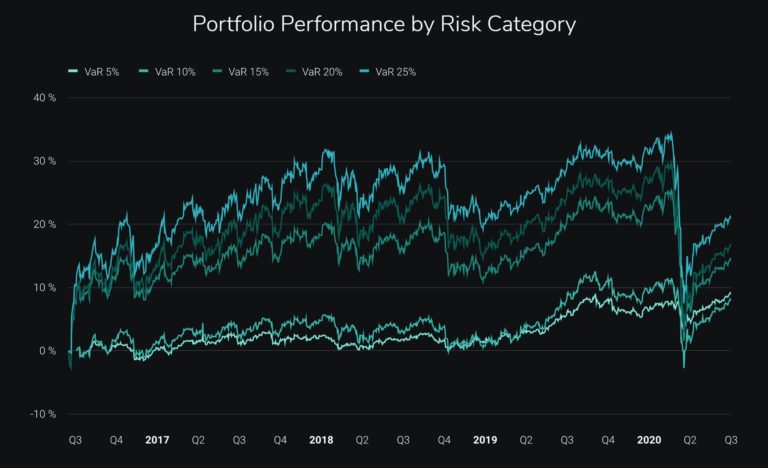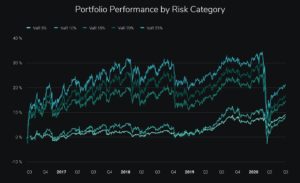 Scalable Capital's 15%, 20%, and 25% risk level portfolios more closely mirror the rise and fall of the stock market. The 25% portfolio had returned more than 30% by the start of 2020, but it also experienced a nearly 25% drop during the COVID-19 market crash. It has since recovered to a net gain of 21% since 2016.
On the whole, Scalable Capital's performance isn't overly impressive. From 2016 to the start of 2020, the S&P 500 index fund had returned 41% compared to 32% for Scalable Capital's most risky portfolio. Scalable Capital's portfolio did experience a smaller drop during the market crash – 25% compared to 32% for the S&P 500. But the S&P 500 still has a net return of 42% since mid-2016 compared to just 21% for Scalable Capital's portfolio.
Scalable Capital Fees
In terms of pricing, Scalable Capital isn't cheap. The broker charges an annual management fee equivalent to 0.75% of your total investment size. While that includes all trading fees, you are also responsible for management fees charged by the ETFs that Scalable Capital invests in. These range from 0.07% per year to as much as 0.45% per year, with an average annual fee of 0.16%.


All told, that means that you'll lose around 0.91% of your investment to fees each year. This can be very significant if you are using a low-risk, low-growth portfolio allocation. It's also notably more expensive than what many other UK investment apps are charging.
| | |
| --- | --- |
| Account Fees | 0.75% per year |
| Deposit/Withdrawal Fees | None |
| ETF Management Fees | 0.16% per year |
Scalable Capital Minimum Investment
Scalable Capital requires a minimum initial investment of at least £10,000. This large amount is required in order to adequately invest in the full range of ETFs that the brokerage offers. You can only make deposits via a UK bank transfer.
Scalable Capital App User Experience
The Scalable Capital web interface offers a relatively limited set of features, in part because most of the work of managing your portfolio is done behind the scenes. The dashboard gives a broad overview of your current account value and your portfolio's performance over time. You can also dive into your portfolio allocation to see what ETFs you own, and what balance of stocks you own through those ETFs.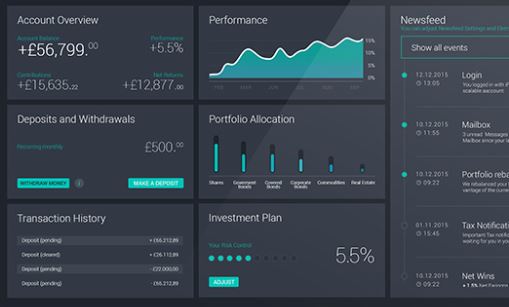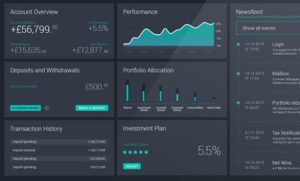 Perhaps the most useful feature of the dashboard is the deposit and withdrawal section. Scalable Capital enables you to make one-time deposits to add money to your portfolio, or you can set up recurring payments on a weekly or monthly schedule.
Scalable Capital also offers a mobile app for iOS and Android that you can use to manage your account and check on your portfolio's performance. Notably, you cannot sign up for a new account through the app – you must do this through the investment platform's website. The mobile app is relatively simple and includes many of the same dashboard views as the web interface.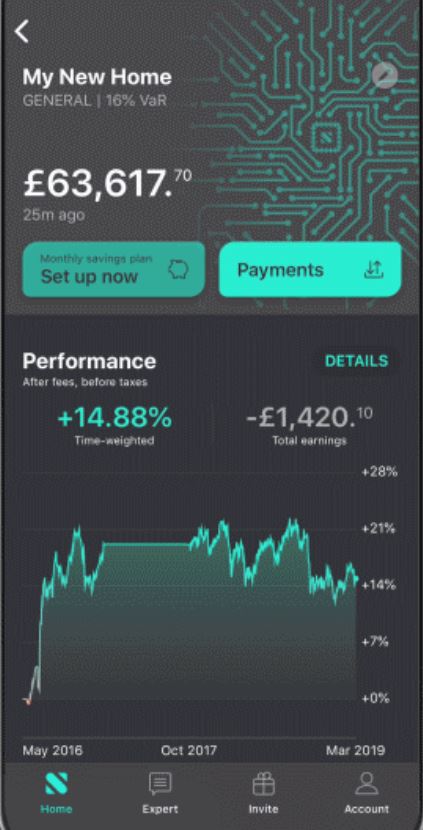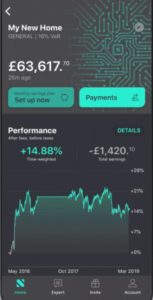 Scalable Capital Features, Education & Resources
Scalable Capital manages your portfolio on your behalf, so the broker offers relatively few resources to help you learn how to invest for yourself. That said, it does have some features to help you get the most out of your portfolio. When you sign up for a Scalable Capital account, for example, you can schedule a free phone call with an investment advisor. (Additional investment advice and financial advice sessions cost £200 each.)
The platform also has a retirement planning tool, which you can use to determine how much you need to invest in order to reach your financial goals. This tool can also be helpful if you are trying to determine your potential return based on Scalable Capital's different risk portfolios.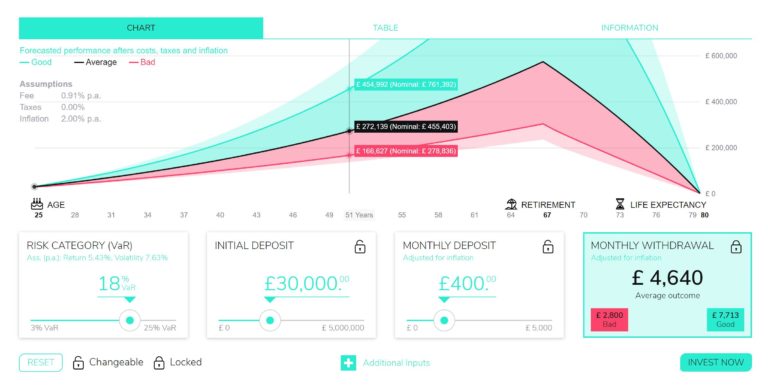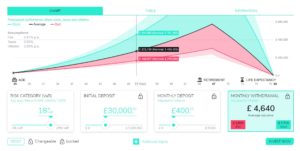 Scalable Capital Contact and Customer Service
Scalable Capital offers customer support from 9 am to 6 pm GMT, Monday to Friday. You can get in touch by phone or email. The platform's website also has a basic FAQs section where you can find answers to common questions about the account setup process.
Email: [email protected]
Phone: +44 (0) 20 3750 0703
Is Scalable Capital Safe?
Scalable Capital is regulated by the UK's Financial Conduct Authority, one of the most trusted financial watchdogs in the world. Since the broker is based in Germany, it is also required by the EU to keep client funds separate from its own. Your assets are held by Winterflood Securities, a custodian bank. In addition, all UK accounts at Scalable Capital are protected by the Financial Services Compensation Scheme for up to £85,000 in the event that the broker runs into financial trouble.
Scalable Capital vs. eToro
In many ways, Scalable Capital and eToro are fundamentally different. Scalable Capital is an automated platform that invests on your behalf, while eToro is a self-directed online brokerage. Whereas Scalpable capital only offers an ISA and SIPP, eToro only offers a general investment account. However, it's worth noting that eToro offers copy portfolios through its social trading network. You can automate your portfolio based on the positions of experienced traders, which takes the work out of investing.

In that sense, automating your investments with eToro can be significantly cheaper than using Scalable Capital. eToro doesn't charge any annual account fee and all trades are completely commission-free. The minimum deposit is also just £160 at eToro, compared to £10,000 at Scalable Capital.
Another plus to using eToro over Scalable Capital is that you can choose what to invest in, in addition to taking advantage of copy portfolios. eToro has a wide selection of financial instruments, including more than 800 stocks and 450 ETFs, as well as supports forex trading, commodity trading, and cryptocurrency trading.
The Verdict
Our Scalable Capital review found that this platform can be a possible option for long-term investors in the UK who want to automate the investment process of building wealth for retirement. The platform's risk management model is relatively unique, and the diversity of ETFs is also a plus. However, Scalable Capital's high minimum deposit and management fees can be off-putting for many investors. It's also important to keep in mind that the platform has underperformed the US stock market since Scalable Capital launched in 2016.
FAQs
What is Scalable Capital's assets under management?
Can I customize my portfolio with Scalable Capital?
Does Scalable Capital offer automatic dividend reinvestment?
Can I open a Lifetime ISA with Scalable Capital?
What happens if I drop below the minimum investment amount?