Wealthify Review UK – Features & Fees Revealed
Fact Checked
Everything you read on our site is provided by expert writers who have many years of experience in the financial markets and have written for other top financial publications. Every piece of information here is fact-checked.
Disclosure
Please note that we are not authorised to provide any investment advice. The information on this page should be construed for information purposes only. We may earn commissions from the products mentioned on this site.
Investing your money with a robo advisor can simplify the process of saving for retirement and other major financial goals. Simply invest your money and watch it grow over time. Wealthify is one of the most popular robo advisor platforms in the UK because it offers a wide variety of investment account types and a low minimum investment.
What is Wealthify?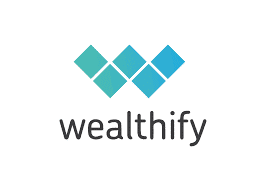 Wealthify is an automated investment platform, also known as a robo advisor, launched in 2016. The platform helps UK residents effortlessly invest for retirement by offering several types of risk-balanced, long-term portfolios. As your investments grow, Wealthify keeps your portfolio in balance and makes adjustments as needed over time.
Wealthify was acquired by Aviva in 2017 and now operates as a subsidiary of the UK insurance giant. However, Wealthify continues to operate independently and is run by its original leadership team. Wealthify does not publicize its total assets under management, but the platform has over 30,000 users in the UK.
Wealthify Account Types
A feature of Wealthify is that this robo advisor offers a wide range of account types. That means you can get the right account to meet your financial goals.
General Investing Account
Wealthify's General Investing Account is a standard investment account that has no tax benefits. Any profits you make from investing through this account are subject to capital gains tax. However, there are no restrictions on how much money you can invest each year or when you can withdraw it.
Individual Savings Account (ISA)
Wealthify also offers a Stocks and Shares ISA account, which is free from capital gains tax. However, you can only deposit up to £20,000 per year in an ISA. There are no limits on when you can withdraw the money or what you can use it for.
Junior ISA
The Junior ISA is similar to the Stocks and Shares ISA, except that it can be set up for minors under 18. Assets in a Junior ISA are only available once the minor turns 18. You can deposit up to £9,000 per year into a Junior ISA.
Self-invested Personal Pension (SIPP)
Wealthify also offers a SIPP plan. There is no annual limit on how much money you can contribute to a SIPP, and you can get tax relief on up to £40,000 worth of contributions. However, you cannot withdraw money from a SIPP until you reach age 55.
Wealthify Services
Wealthify is a robo advisor platform that automatically invests your money on your behalf. The platform uses a style of investing known as passive investing. Essentially, Wealthify will invest your money in a set of ETFs and then leave it alone. The platform does not engage in active trading, nor can you buy and sell shares through Wealthify.
Wealthify does not provide any other services at this time, such as financial planning or financial advising.
Wealthify Available Investments
Wealthify offers five different portfolio options depending on your financial goals and risk tolerance. The plans range from 'Cautious' to 'Adventurous.' The Cautious plan is heavily invested in government and corporate bonds (88% of the portfolio), while the Adventurous plan is heavily invested in stocks (76% of the portfolio). The intermediate 'Tentative,' 'Confident,' and 'Ambitious' plans have an intermediate mix of stocks and bonds.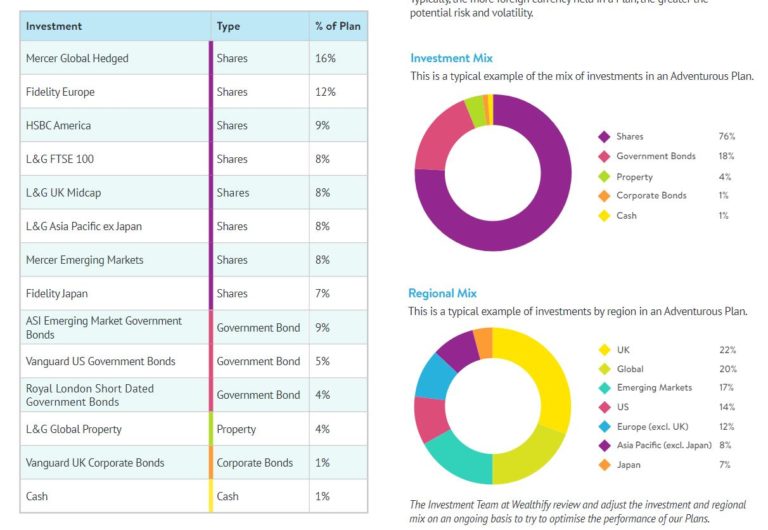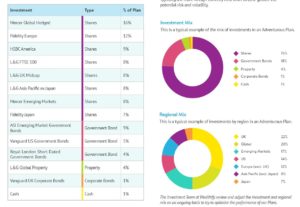 Wealthify only invests your money in ETFs (exchange-traded funds). The funds that Wealthify uses offer broad exposure to the global stock and bond markets. For example, the government and corporate bond ETFs that Wealthify uses for most plans cover the UK, US, and Europe, as well as emerging economies. Share ETFs, even for the Cautious plan, are grouped by region and include funds specifically for the UK, US, Europe, Japan, and emerging markets.
This robo advisor also offers an ethical investing plan, which utilizes a different set of ETFs to modify the five standard portfolios. These ethical ETFs only invest in companies that practice environmental sustainability or focus on corporate governance. However, these funds tend to come with higher fees and lower performance.
Wealthify Portfolio Management
Wealthify manages your portfolio in the background with very little input on your part. To start out, you'll answer some questions about your investing style and goals, and the platform will suggest one of its five primary portfolio balances. You can choose a different portfolio at any time, but you cannot customize the composition of the portfolios or buy shares individually.
Over time, your investments may push your portfolio balance away from its target allocations. Wealthify automatically rebalances your portfolio as needed to keep you on track. This is done anytime your investments get out of line, so you never have to worry about asking for your portfolio to be rebalanced.
Wealthify Portfolio Performance
The performance of Wealthify's portfolios is one of the major drawbacks to this robo advisor. As of 2021, the Adventurous portfolio is up 34.5% and the Cautious portfolio is up 15.7% since its inception in early 2016. Over the same time period, however, the US S&P 500 index fund is up a whopping 42%.


Notably, Wealthify's ethical investing portfolio has performed extremely poorly. The Adventurous ethical portfolio is up 13.0% and the Cautious ethical portfolio is up 9.6%. During the market crash in March 2020, the Confident, Ambitious, and Adventurous portfolios all entered negative territory compared to their value when they launched.
Wealthify Fees
Wealthify charges an annual management fee equivalent to 0.60% of the amount you have invested with the platform. This is slightly more expensive than other robo advising platforms, but not exceptional.
However, the ETFs that Wealthify invests in are surprisingly expensive. The index fees for these funds average 0.22%, meaning that your total annual fees at Wealthify add up to 0.82%.


If you use an ethical investing portfolio, the index fees average a whopping 0.66% – more than Wealthify itself is charging. At a total cost of 1.22% per year, it's extremely hard to justify the low-return ethical investing portfolios from a purely financial standpoint.
Account Fees
0.60% per year
Deposit/Withdrawal Fees
None
ETF Management Fees
0.22% per year

(0.66% per year for ethical investing)
Wealthify Minimum Investment
Wealthify allows you to get started investing with as little as £1.
Wealthify User Experience
Like other robo advisors, Wealthify doesn't offer a significant number of tools for you to manage your investments. The online dashboard primarily serves to show you how much money you have in your account. You can see the balance of asset classes in your portfolio, but there's no way to dig into your portfolio to see exactly what you're invested in. (You can find this information in the plan factsheets.)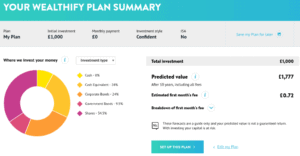 The only other important thing you can do through the Wealthify interface is transfer more money into your account. Wealthify lets you make one-time deposits or set up weekly or monthly recurring deposits.
The platform also has a mobile investment app for iOS and Android. This mirrors the slim design of the web interface, but the Wealthify app can be useful for transferring money to your account on the go.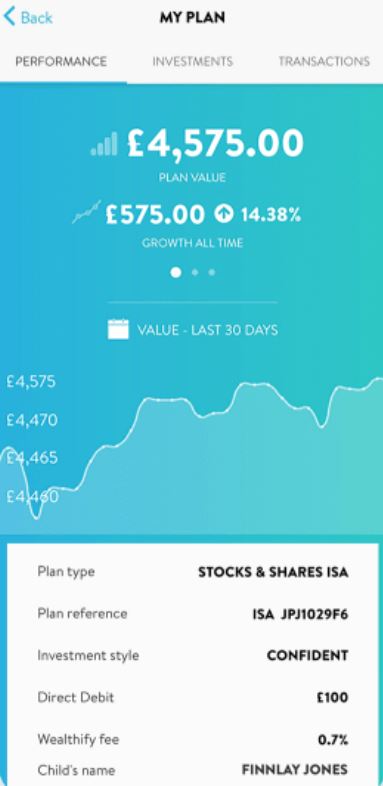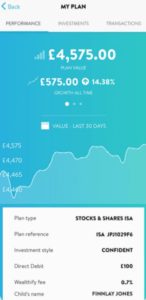 Wealthify Features, Education & Resources
Wealthify has a blog filled with posts about investing basics and how to save for retirement. This is a useful place to start if you're completely new to investing and want to learn more about how Wealthify's investment strategy works.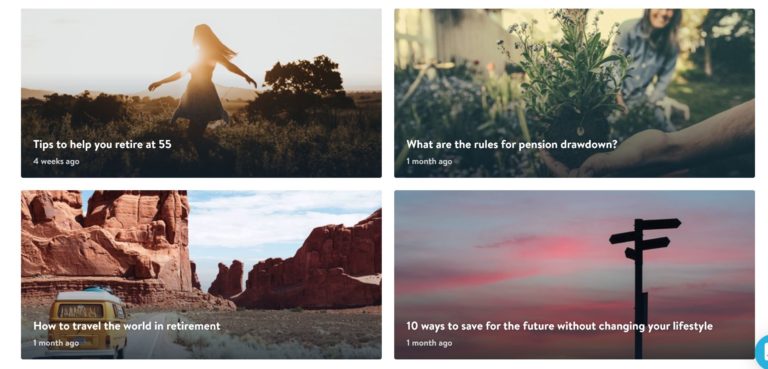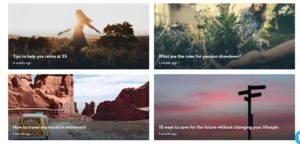 However, Wealthify doesn't offer many other resources. It's worth noting that the platform doesn't have a retirement savings calculator, which is a useful tool that many competing robo advisors offer.
Wealthify Contact and Customer Service
Wealthify offers customer support by phone, email, and live chat six days a week. You can get in touch from 8 am to 6:30 pm Monday to Friday and from 9 am to 12:30 pm on Saturday.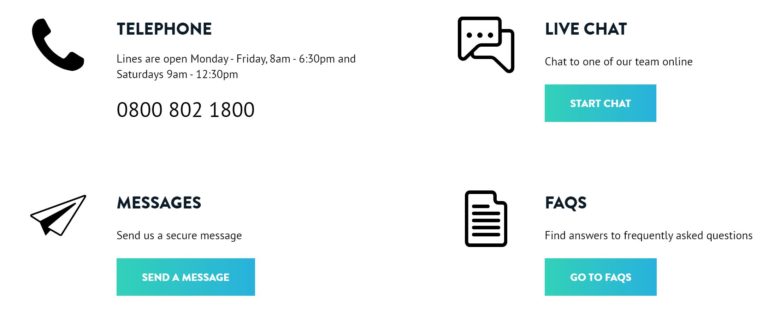 Phone: 0800 802 1800
Email: Only through Wealthify website
Address: Wealthify, Tec Marina, Terra Nova Way, Penarth CF64 1SA
Is Wealthify Safe?
Wealthify is considered very safe since it is wholly owned by the UK insurance giant Aviva, which is a publicly traded company on the FTSE 100 index. In addition, it is regulated by the UK's Financial Conduct Authority, which is widely considered a leading financial regulator. All client accounts at Wealthify are protected by the Financial Services Compensation Scheme, which ensures your account for up to £85,000 in the event of financial problems at the company.
Wealthify vs eToro
Wealthfront can be an attractive option for investors who want to save for retirement without putting in a lot of work.
To start, it's important to note that eToro isn't strictly a robo advisor. It enables you to buy and sell individual stocks from a catalogue of global exchanges. You can also purchase more than 450 ETFs, including many of the same ones that Wealthify invests in. eToro doesn't charge any account management fees and you won't pay any commissions to invest, which makes it significantly cheaper than Wealthify. One thing to note is that eToro only offers general investing accounts, not ISAs and SIPPs.
| | | | | |
| --- | --- | --- | --- | --- |
| | Account Types | Management Fees | Minimum Deposit | Customization |
| Wealthify | GIA, ISA, Junior ISA, SIPP | 0.82%-1.22% per year | £1 | None |
| eToro | GIA | None | £160 | Trade shares, ETFs, and more |
For investors who want to put their portfolio in someone else's hands, eToro offers CopyPortfolios. With this feature, you can set your portfolio to mimic the trades of a professional investor. It's a unique blend of automated investing and active trading that doesn't require any work on your part.
If you're looking to save for the long-term, eToro offers a significantly more cost-effective and flexible service than Wealthify. You can put together a balanced portfolio of ETFs with no account fees, automate your investments with copy portfolios, or customize an automated portfolio with stock trading and ETF trading on your own.
The Verdict
Our Wealthify review found that this robo advisor has a lot to offer, but it ultimately falls short of the mark. We liked that this platform lets you open a General Investing Account, ISA, or SIPP account, and that it offers five different portfolios to adjust to your risk tolerance. However, even the most aggressive of these portfolios has underperformed the broader stock market. At the same time, Wealthify's fees can be high, especially if you want to take advantage of the ethical investing plans.
FAQs
Can I open a Lifetime Savings Account at Wealthify?
Can I add individual stocks or ETFs to my portfolio?
Can I have multiple portfolios at Wealthify?
Are there any limits on how I can withdraw money from Wealthify?
How can I fund my Wealthify account?